A natural prairie landscape surrounds the 800 surface acre Cherry Creek Reservoir at this Colorado state park. Gentle, rolling hills are popular for hiking and biking, while the lake offers an ideal location for water sports. Cherry Creek Reservoir is open to boating, jet skiing, paddle boarding, and fishing.
It's a nice, relaxing park located in Denver's own backyard, Aurora. The reservoir is fed by Cherry Creek. The park is also home to a giant off-leash dog park open to the public for an extra fee, featuring over one hundred acres and a stream for the dogs to play in.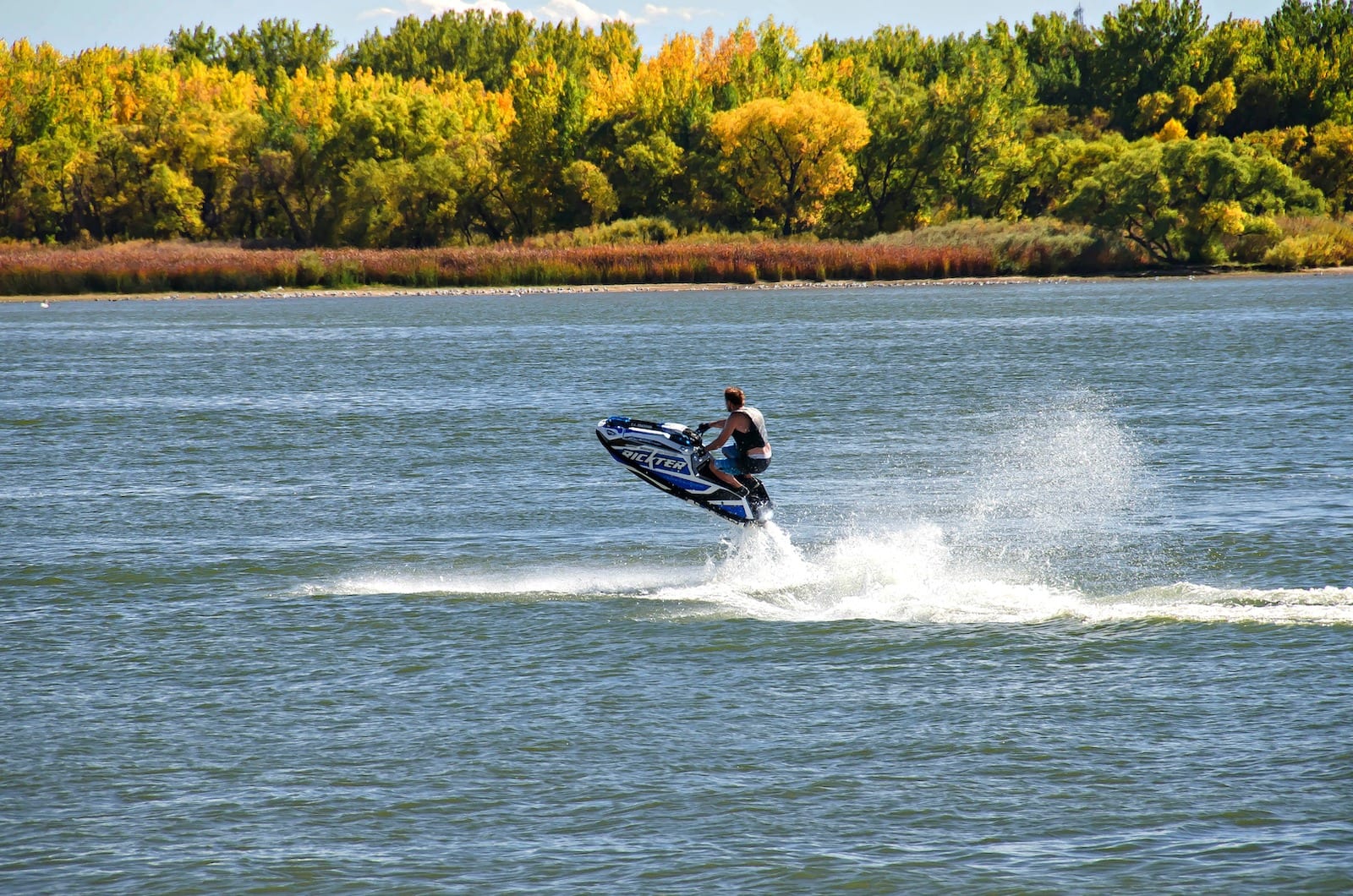 With stunning views of the city and front range mountains, the park offers numerous wetland trails to explore. During the summer months, visitors can cool off in the reservoir's designated swimming area, but it's recommended to bring bug spray or wear long sleeves to fend off mosquitoes.
The park boasts 135 campsites for those interested in camping, while dog owners can take advantage of the 100+ acre off-leash area, one of the state's best. A large shooting range and model airplane airfield are just a few of Cherry Creek's other unique activities.
Visitors can access the park with a daily fee or an annual pass for their vehicles. For those who prefer to avoid the vehicle fee, there is some parking available near the west entrance on East Union Ave, allowing you to walk in and enjoy the park.
Activities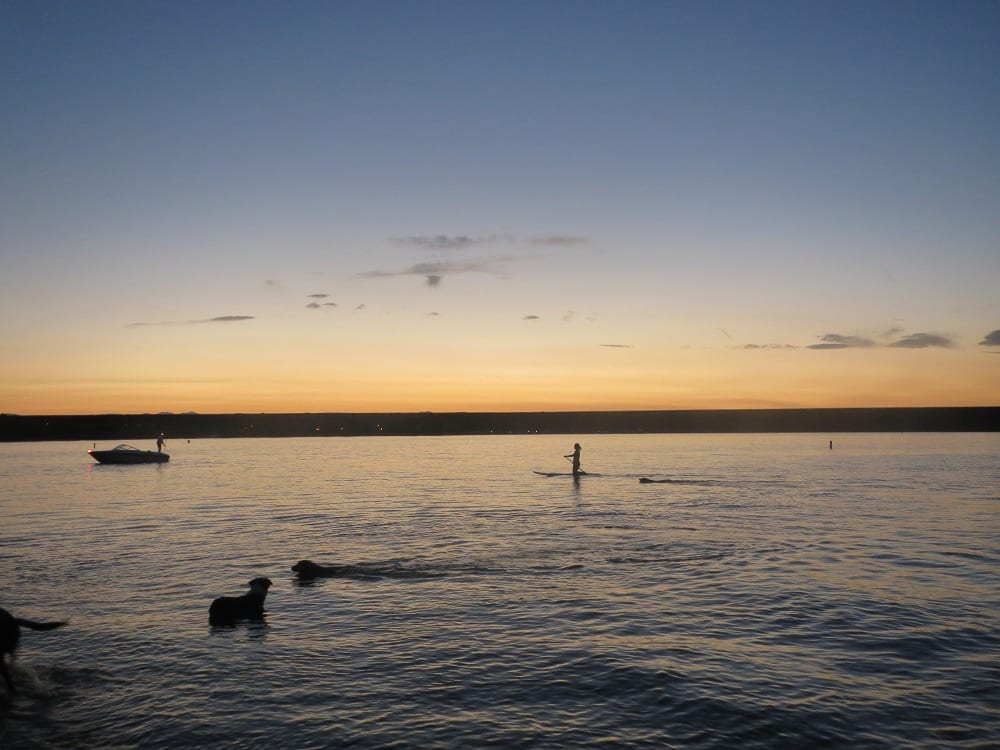 Biking: Cherry Creek State Park offers over 35 miles of multi-use trails for biking, ranging from beginner to advanced levels. Cyclists can enjoy scenic views of the reservoir, wetlands, and prairie while exploring the park's diverse ecosystems.
Hiking:
Cherry Creek Trail is 4.75 miles of smooth pavement that winds around the reservoir and is suitable for all skill levels. Highlights include scenic vistas of the water and opportunities for birdwatching and fishing.
Wetland Loop trail is a 1.5-mile loop that provides access to a diverse array of wetland habitats and is great for birdwatching and nature photography.
Smoky Hill Trail totals 1.65 miles each way and is moderate in difficulty. It leads hikers through rolling prairie and along the Cherry Creek Dam. You'll be treated to sweeping views of the Rocky Mountains and wildflower displays in the spring and summer.
Birding: The park has a bustling ecosystem home to many species including bald eagles, ferruginous hawks, and northern harriers. The wetlands area is home to songbirds and waterfowl, offering even more variety for birding. Stop by the park's office to check out their observation log and see where in the park you're most likely to catch a glimpse of specific birds.
Boating: The 880 surface-acre reservoir is open to powerboating, sailing, jet skiing, canoeing, and water skiing. Boat rentals, including pontoon and speed, are available at Pelican Bay Marina. Boats are only permitted to launch seasonally, April through November.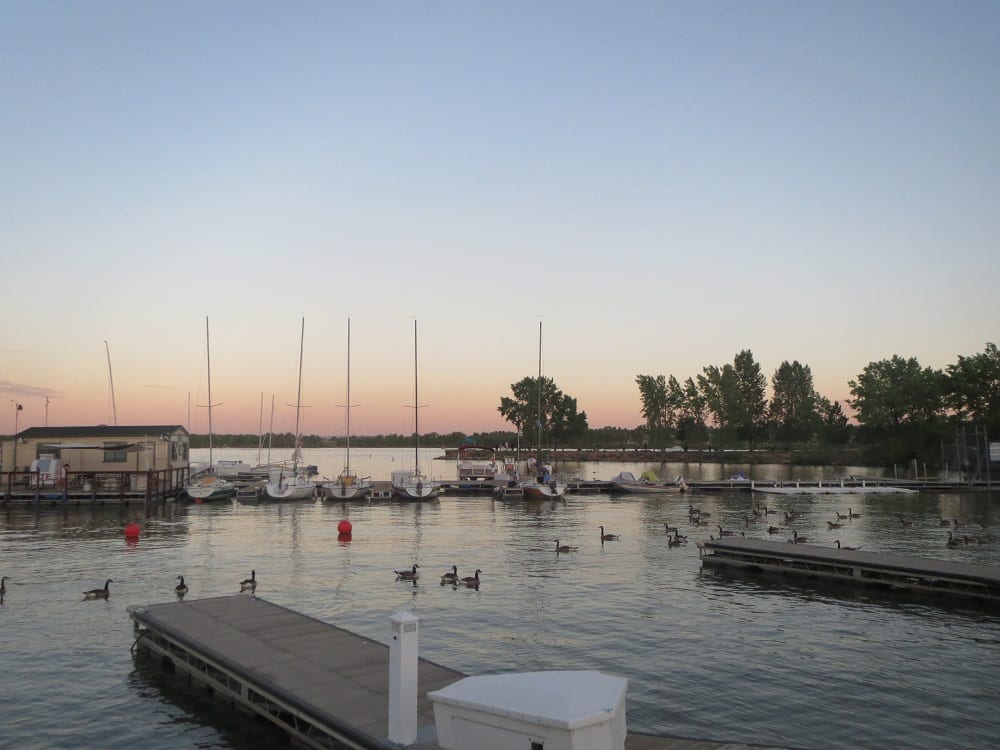 Camping:
There are 135 full hook-up and basic tent sites spread across 6 loops around the park. There are also 3 group campsites, open year-round. On-site there are showers, laundry facilities, and a dump station. For reservations, book online or call 303-470-1144.
Read about the camping near Aurora, Parker, and Brighton.
Fishing: Choose to cast a line from the shore or boat on Cherry Creek for largemouth bass, rainbow trout, and bluegill. Be sure to have a valid fishing license and always stay at least 60 feet away from the large tower structure in the water.
Group Picnicking: There are 6 unique group picnic areas, and 3 are reservable from Memorial Day through Labor Day. Each of the 3 can hold from 100 to 250 people and include restrooms, grills, and various other amenities. Trash receptacles are not provided though, so be sure to bring your own.
Horseback Riding: The 12 Mile Stables at Cherry Creek offers horse rentals, hayrides, day camps, riding lessons, and horse boarding.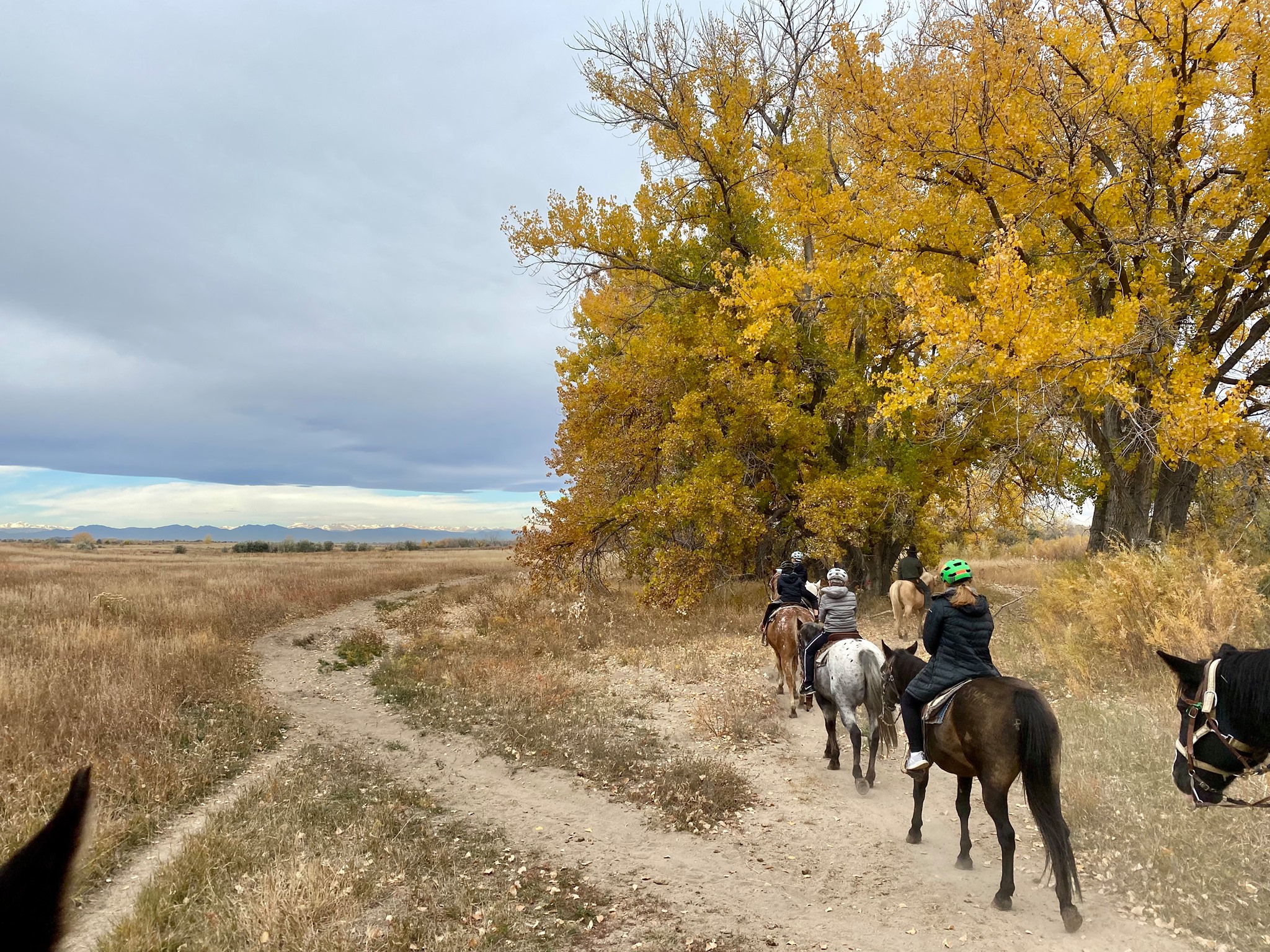 Model Airplane Flying: On the west side of the park, you'll find Suhaka airfield with 2 asphalt runways, frequency posts, a pit, and paved taxiways. The field is owned by Denver R/C Eagles Flying Club and although you do not have to be a member to use the area, all pilots need an Academy of Model Aeronautics membership,
Off-Leash Dog Area: A large, 125-acre off-leash dog area is open daily until 10 pm. It costs a small day fee or you can opt for an annual pass if you frequent the area. There is a small trail system, water features, and plenty of space for your furry friends to roam. Limit of 3 dogs per handler and all waste must be picked up and disposed of.
Sailing: Cherry Creek is a Community Sailing of Colorado location, meaning they offer a variety of learn-to-sail programs and even a junior racing team.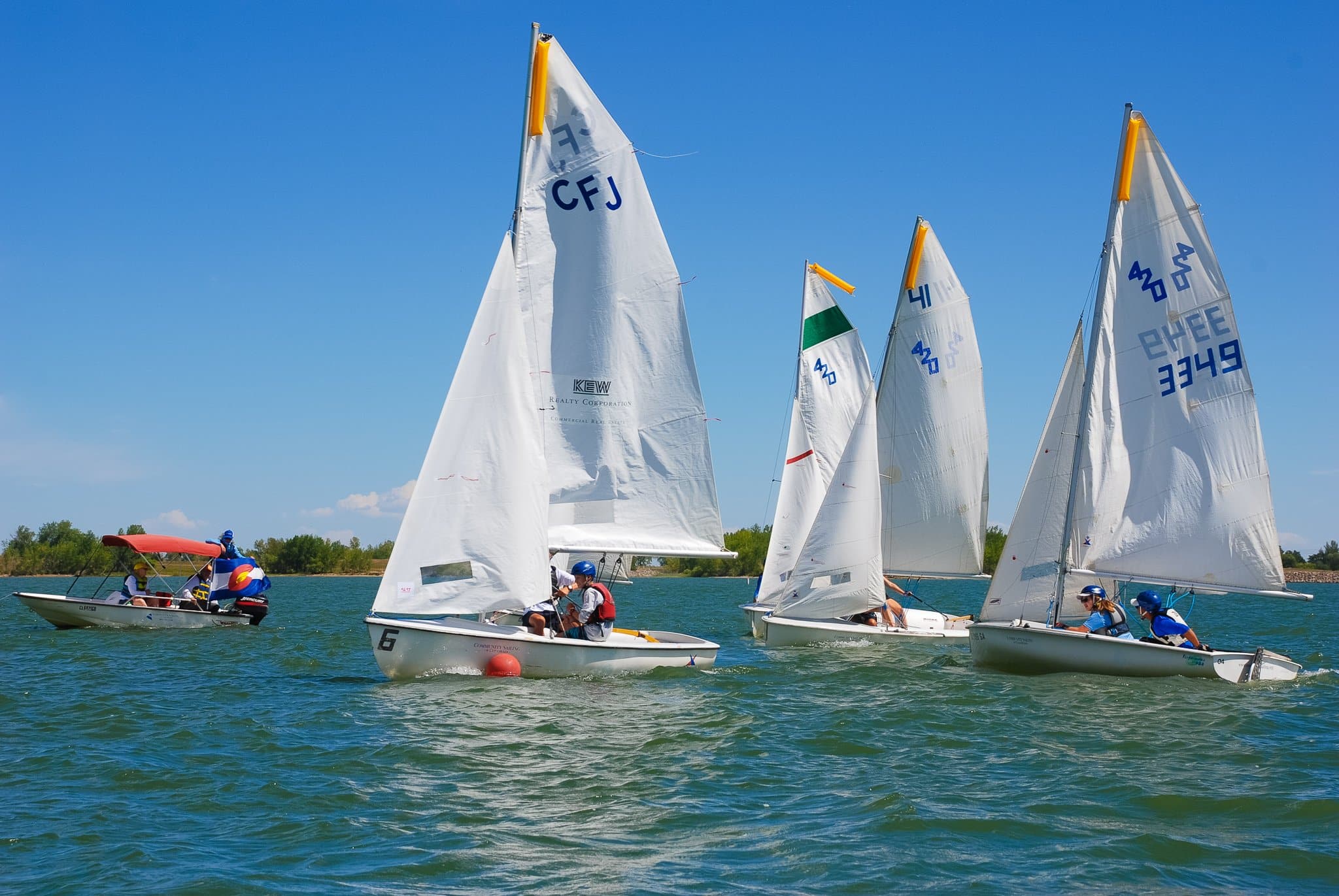 Shooting Range: Located in the southwest region of the park is the Family Shooting Center. There are pistol, rifle, shotgun, and archery ranges in addition to a general store.
Swimming: Swim beach is open during summer. It's a sandy beach with a roped-off swim area. There are no lifeguards, so swimmers enter at their own risk and children should be supervised at all times.
Volleyball: Poles are already in place, bring your own net and ball.
Winter Recreation: Ice fishing, ice skating, cross-country skiing, snowshoeing, and sledding are allowed when conditions permit.
Getting There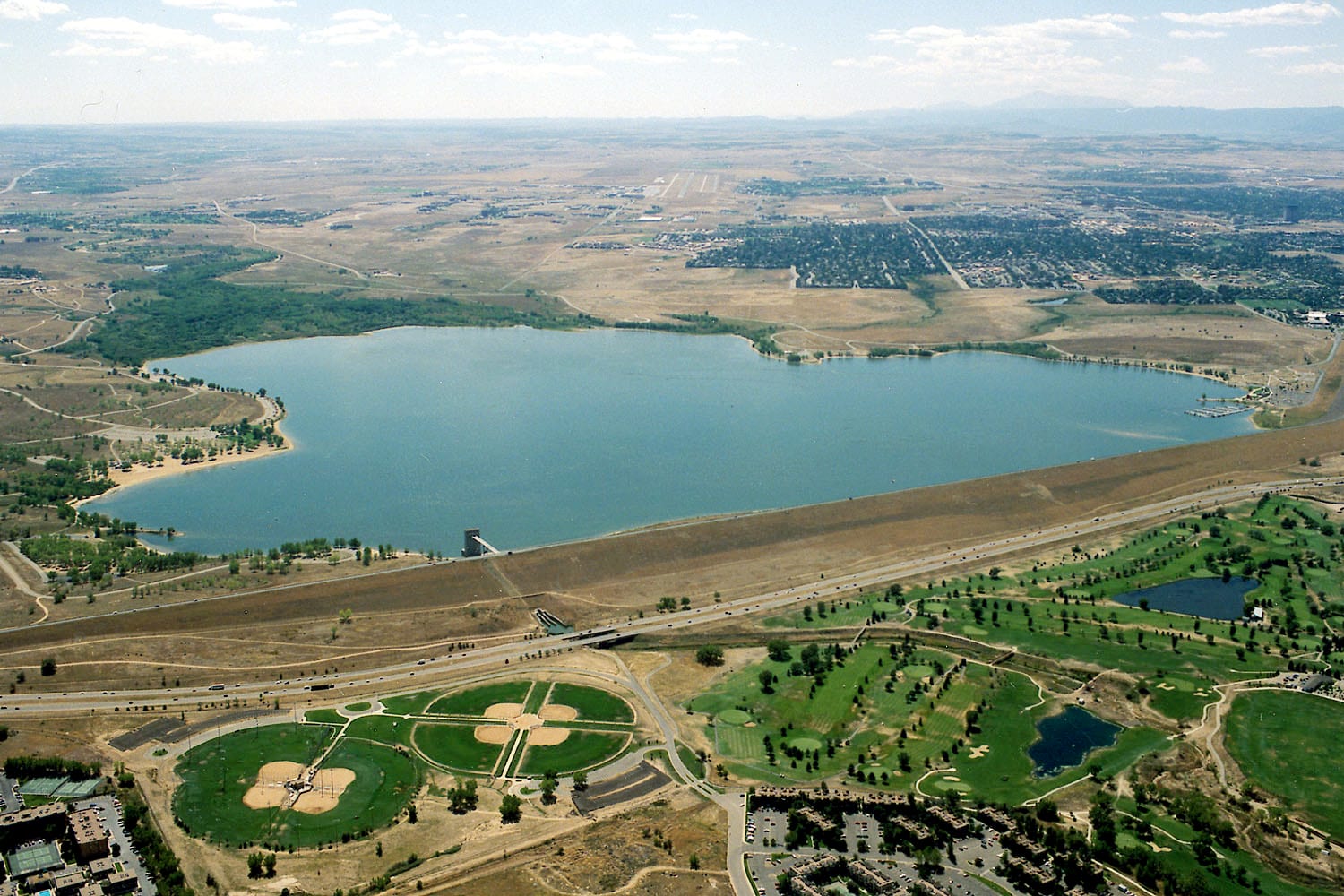 To get to Cherry Creek State Park from Denver, start by heading southeast on either I-25 or I-225. Take the exit for Arapahoe Road and head east for about 2.5 miles.
Turn right onto South Dayton Street and continue south for about half a mile. Turn left onto East Lake Drive and follow the signs to the park entrance, which will be on your right-hand side.
Once you arrive, be prepared to pay a daily entrance fee or use a valid state park pass and follow the signs to your desired activity area, such as the swim beach, marina, or campground. Enjoy the natural beauty and recreational opportunities that Cherry Creek State Park has to offer!
Details
Address: 4201 S Parker Rd, Aurora, CO 80014
Phone: 303-690-1166
Season: Year-round
Pets: Yes, on a leash
Fees: Vehicle entry (per day)
Map: Cherry Creek​ (PDF)
Campground: Reservations
Website: cpw.state.co.us/…
Latest in Cherry Creek State Park