Bear Creek Lake Park is hidden away in the Front Range next to C-470 and Red Rocks. It's centered around three lakes in the foothills between Lakewood and Morrison: Bear Creek Lake, Big Soda Lake, and Little Soda Lake.
Biking, boating, fishing, and camping are the main attractions at this 2,624-acre park. Bear Creek Dam was the last of three dams built to protect the Denver area from floods. It's a surprisingly big park that's home to its namesake Bear Creek Lake.
Bear Creek Lake, Big Soda Lake, Little Soda Lake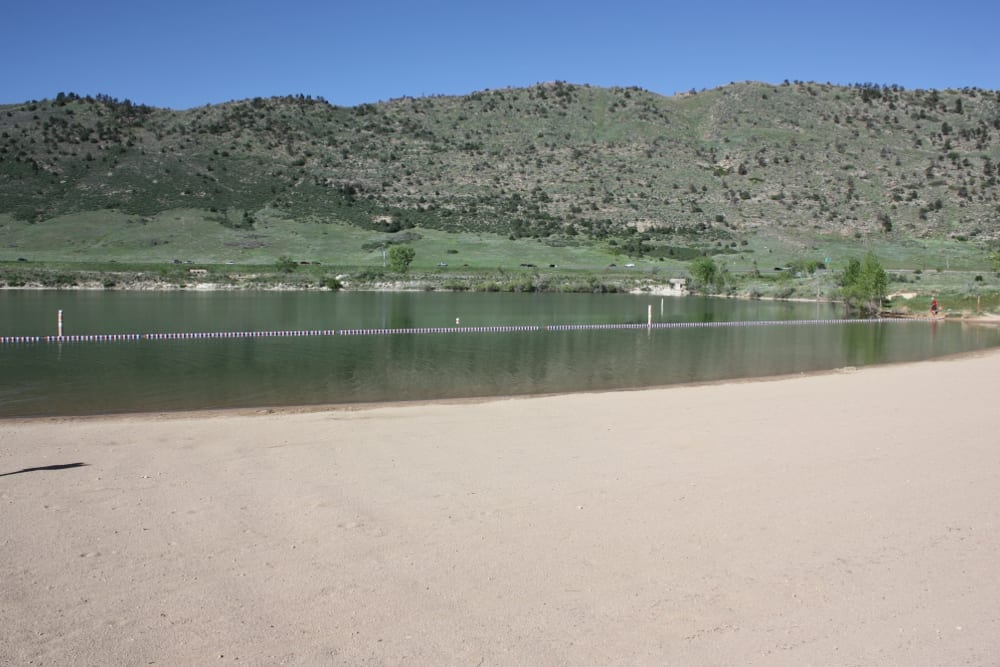 Bear Creek Lake is the largest of the three, at around one hundred acres. It's open to motorized boating from March 15 to November 15.
Big Soda Lake is nearly the same size and is limited to non-motorized boats.
Little Soda Lake is only open to private boats with the Water Ski School.
The Soda Lake Marina is open from Memorial Day to Labor Day and offers paddleboat, canoe, kayak, and paddleboard rentals. Little Soda Lake has a Water Ski School, with a variety of lessons and camps. Lakewood's Bear Creek Lake Park is a choice spot for water skiing schools in the Denver Metro.
There is an admission fee for general use and a discount for seniors. Camping has a nightly fee and you can make reservations in advance.
Activities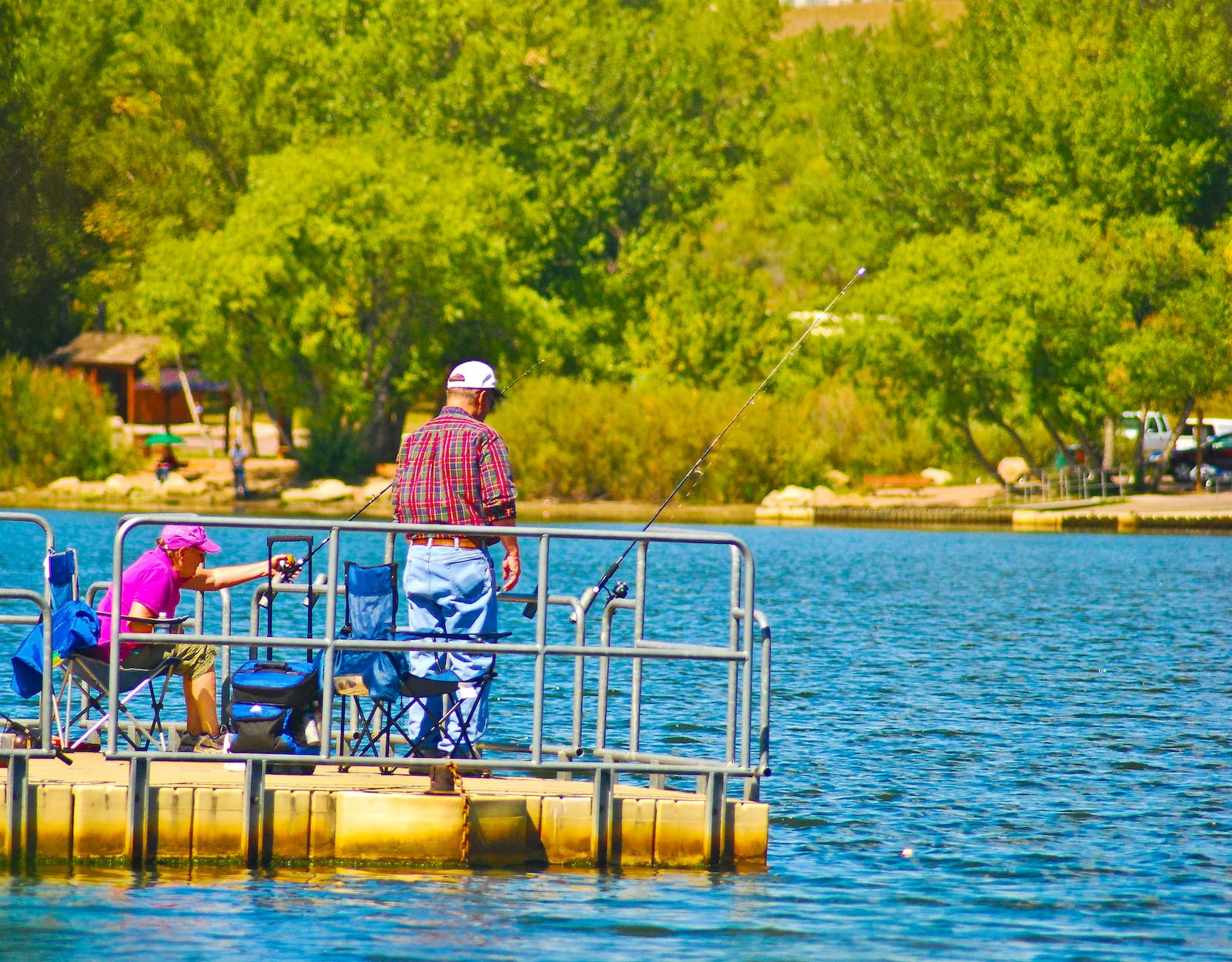 Archery: The range is open year-round.
Biking/Hiking: Horseback riding, biking, and hiking are popular on the park's trails. There are 15 miles of multi-use dirt trails located within the park. Pets are welcome on leash everywhere except the Swim Beach.
Boating: Two lakes for public boating, one just for water ski school.
Bear Creek Lake – Motorized boating | March 15 – November 15
Big Soda Lake – Non-motorized craft
Little Soda Lake – Limited to private boats for Water Ski School
More water recreation can be found twenty minutes south at Chatfield State Park.
Camping: There are 47 campsites at the park, two yurts, and three cabins. It's the closest campground to Red Rocks, which makes it great for concerts. Read about the camping near Lakewood and Red Rocks.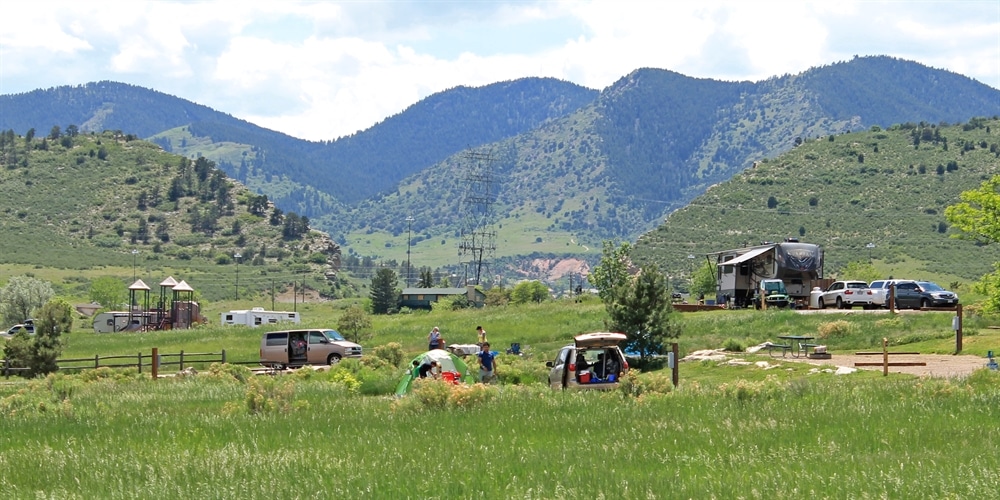 Fishing: Bear Creek Lake is stocked with rainbow trout, saugeye, and smallmouth bass. Every year in May, there is a Trout Fishing Tournament open to 25 two-person watercraft teams and 25 two-person shore fishing teams.
Horseback Riding: The Bear Creek Ranch Stables is open from April to October and offers horseback riding, lessons, and hayrides.
Swimming: If you're looking to cool off, Big Soda Lake allows swimming from Memorial Day to Labor Day.
Visitor Center: Open daily, features wildlife exhibits.
Winter Recreation: Ice fishing, snowshoeing, and cross-country skiing, conditions permitting.
Details
Address: 15600 West Morrison Rd, Lakewood, CO 80228
Phone: 303-697-6159
Season: Year-round
Hours: May – Sept ( 6 am – 10 pm) | Nov- Feb ( 8 am – 6 pm) | March, April, Oct (7 am – 8 pm)
Pets: Yes, on-leash
Fees: Day Pass (per vehicle) | Camping
Map: lakewood.org…
Website: ci.lakewood.co…
Latest in Bear Creek Lake Park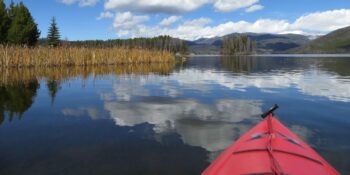 While Colorado is best known for its mountains, there are plenty of beautiful lakes and rivers…