Evergreen is one of the closest mountain towns to the capital. Naturally, many locals commute to work to the Denver Metro. The historic section of Evergreen has a charming strip of small shops and restaurants.
Beau Jo's offers Colorado style pizza, noted for it's fat crust and whole milk mozzarella. If you're in a hurry, go to Da Kind Soups for their extensive selection of made-from-scratch soups, as well as sandwiches. One World Cafe is a good choice for local, healthy and tasty food. Vietnamese, Thai and Chinese cuisine is served at the Saigon Landing. Tin Star Smokehouse is a discreet BBQ cafe on the boardwalk in town.
For beers go to Cactus Jack's Saloon, a laid-back biker bar with regular live music and good burgers. Or head to Little Bear Saloon, an Old West bar with live entertainment six days a week. Try Creekside Cellars, for house made wine.
Main Attractions
Evergreen Lake – A large lake situated in downtown Evergreen. It's popular year round for recreation including wake-less boating in the summer and ice skating in the winter. The Lake House rents boats, including canoes, paddle boats, kayaks, sailboats and fishing boats from early May to mid September.
Recreation
Camping:
Echo Lake has an eighteen site campground, with spots for RV's and tents only. From downtown, take CO 74 north to Squaw Pass Rd. Follow for seventeen miles to campground.
Golden Gate Canyon State Park has several nice campgrounds, about 45 minutes away.
Fishing:
​Evergreen Lake, in the heart of Evergreen, offers fishing year round.
Echo Lake is a windy, scenic 20 mile drive from Evergreen. It's stocked annually with trout. In the summer you can continue a scenic drive up Mt Evans Byway, which closes in late Sept/early Oct and reopens in late May. Summit Lake, further up the byway, freezes over too long to keep trout.
Hiking:
Some of the area's best hiking is right in town. There is a paved trail that follows Bear Creek from downtown up past Evergreen Lake.
Special Events
Feb – Winter Festival at Evergreen Lake – Held in February, events include a ski and snowboard rail jam competition, an ice bike race, an ice fishing derby, ice skating, family activities, a beer garden, "The Village" and nighttime fireworks.
Jul – Evergreen Jazz Festival – Three day traditional jazz festival in a beautiful mountain setting, with nearly a dozen bands and numerous intimate venues.
Jul – Evergreen Summerfest – Thousands attend this festival in Buchanan Park. It showcases arts, crafts, concerts, and beer and wine tastings over two days.
Nov – Evergreen Winterfest – Head over to Evergreen High School's mock "Main Street" for hallways lined with arts and crafts vendors. Pick up something one-of-a-kind to gift to someone for the upcoming holidays.
Things to do near Evergreen
Casinos:
City Parks:
Ghost Towns:
Ice Skating:
National Lands:
Performing Arts:
Red Rocks Amphitheater (10mi)
Scenic Drives:
State Parks:
Wildlife:
Towns:
Popular Evergreen Posts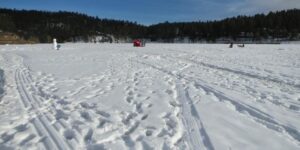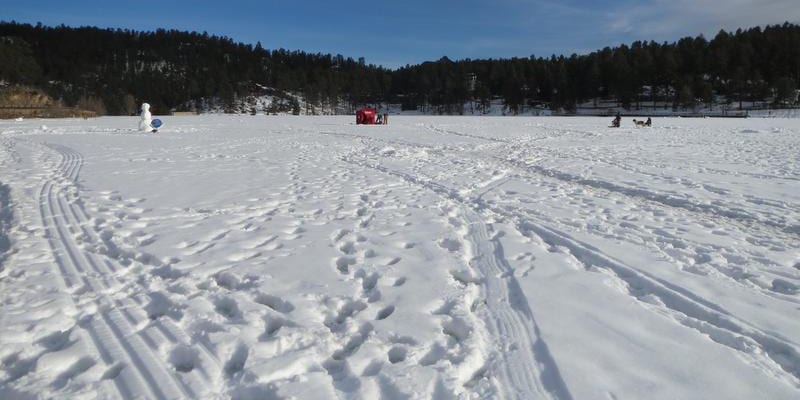 Frozen Fishing on Evergreen Lake – Once Evergreen Lake freezes over for the season, usually in December, ice fishing and skating take over the lake. There's no fee to fish the lake, as long as you have a fishing license, and parking is free. Evergreen features a large..