Jefferson County Open Space manages more than 52,000 acres and 210 trails along the Front Range. There are twenty-eight parks within JCOS that are free to access year round.
Each offers a variety of recreation from hiking and biking to rock climbing and horseback riding. This well-managed network of parks make living along the Front Range a mountain experience. The parks are located throughout Jefferson County, in the towns of Golden, Morrison and Evergreen.
Activities
See the Activity Guide (PDF) for things to do at each park.
Jefferson County Parks
Alderfer/Three Sisters
Apex
Cathedral Spires
Centennial Cone
Clear Creek Canyon
Crown Hill
Deer Creek Canyon
Flying J Ranch
Hildebrand Ranch
Hiwan Homestead Museum
Lair o' the Bear
Lookout Mtn Nature Center
Matthews/Winters
Meyer Ranch
Mount Galbraith
Mount Falcon
North Table Mountain
Pine Valley Ranch
*Reynolds (camping)
South Table Mountain
South Valley
Van Bibber
Welchester Tree Grant
*White Ranch (camping)
Windy Saddle
With more than two hundred trails it's easy to find a scenic hike or bike ride. Each park offers something unique, like massive sandstones or quiet aspen groves. *Free walk-in camping is available by permit only at only two parks: White Ranch and Reynolds.
More Jefferson County recreation can be found at number of city parks and two state parks including Chatfield and Golden Gate Canyon.
Details
Address: 100 Jefferson County Parkway, Golden
Phone: 303-271-8528
Season: Year round
Fees: None
Map: Jeff Co Open Space Parks (PDF)
Website: jeffco.us/…
Popular Posts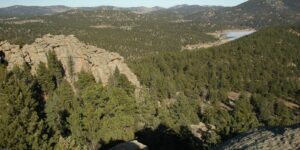 Terrific Day Hiking Trails Around Evergreen – As one of the closest mountain towns to the capitol, Evergreen attracts its fair share of nature enthusiasts. Especially with parks such as Alderfer/Three Sisters Park and Dedisse Park. There are some of the best day hiking…
3 Dazzling Day Hiking Destinations around Golden – If you enjoy being outside, taking in those scenic views as you get your work out in, and live in the Denver Metropolitan Area, then you should really check out the Old West town of Golden, Colorado. The local hiking trails…