Pine Valley Ranch Park, located in Pine, Colorado, less than an hour away from Denver on Highway 285, offers a wide variety of beautiful, accessible recreation year-round for visitors.
Bought by Jefferson County Open Space in 1987, the park includes the historic Baehrden Lodge. It was built by a Chicago business tycoon as a summer house in 1927 and now offers free tours to the public.
Part of the JeffCo Open Space, Pine Valley Ranch is one of more than two dozen parks managed by the county. Most are located throughout the front range foothills, in the towns of Golden, Morrison and Evergreen. This one, of course, is located further west, almost hidden away in lovely, Pine, Colo.
Activities
Biking/Hiking/Horseback Riding – There are nearly six miles of trails to explore, some of them exclusive to hikers. Pine Valley Ranch Park also offers opportunities for mountain biking and horseback riding. The park is a popular picnic spot, with two large pavilions and picnic tables onsite, ready for visitors to use.
Fishing – Between Pine Lake and the scenic Platte River, there are an abundance of great spots for anglers looking to kick back and relax under the spruce trees while fishing. The park includes a bridge between the pavilions to a man-made island in the middle of the river with a gazebo on it, and dogs are permitted as long as they're leashed.
Winter Recreation – If you're interested in winter options, the park is still a good choice—in addition to hiking, Pine Lake is open to ice fishing and skating as long as the ice is thick enough. Check the official Jefferson County Open Space website for guidance on what's permitted when you're planning your trip.
Hiking Trails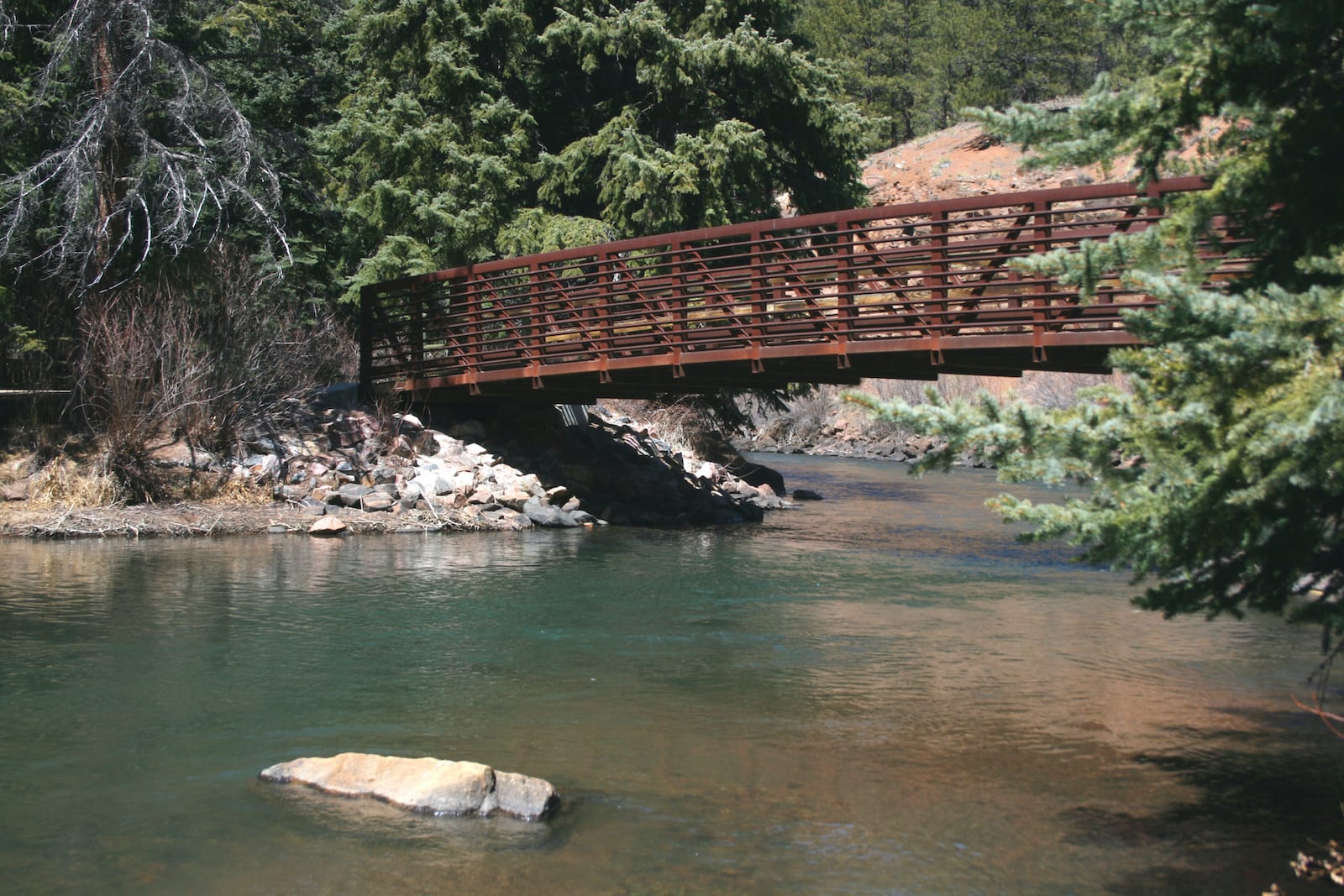 Park View Trail – At around two miles roundtrip, this moderately difficult trail offers beautiful views of Pine National Forest and the Platte River.
Pine Valley Loop – This one is a full-day hike at almost seven miles if you take the full loop. Follow the signs to the trail heading out of the parking lot up steep but sturdy terrain, until intersecting with Strawberry Jack Trail. Continue to gain elevation until reaching the burn zone, which offers a unique opportunity to spot wildlife, then take a right at the intersection onto Skipper Trail.
This flat, easy section of trail eventually intersects with Buck Gulch Trail, which begins the descent back to the trailhead.
Narrow Gauge Trail – Anywhere from a mile to over three miles depending on which way you go, one fork takes you along the South Platte River, with ample opportunities for trout fishermen hidden among the willows on the banks, while the other direction follows the river around Pine Lake.
Details
Address: 30400 Crystal Lake Rd, Pine, CO 80470
Phone: 303-271-5925
Season: Year round
Website: jeffco.us/1428/Pine-Valley-Ranch-Park