If you haven't yet experienced the wonder, awe, and slight dread of visiting Black Canyon of the Gunnison National Park, it's time to plan your late summer/fall trip. Black Canyon is that rare combination of abundant natural beauty and sparse crowds.
It's one of the often-forgotten gems of the National Park System, which frequently gets overshadowed in Colorado by Rocky Mountain, Great Sand Dunes, and Mesa Verde. These are the other three designated national parks in Colorado, in addition to Black Canyon. They are all given the national park status for a reason, they are rare geological, recreational or in the case of Mesa Verde, cultural wonderments.
Black Canyon of the Gunnison History and Facts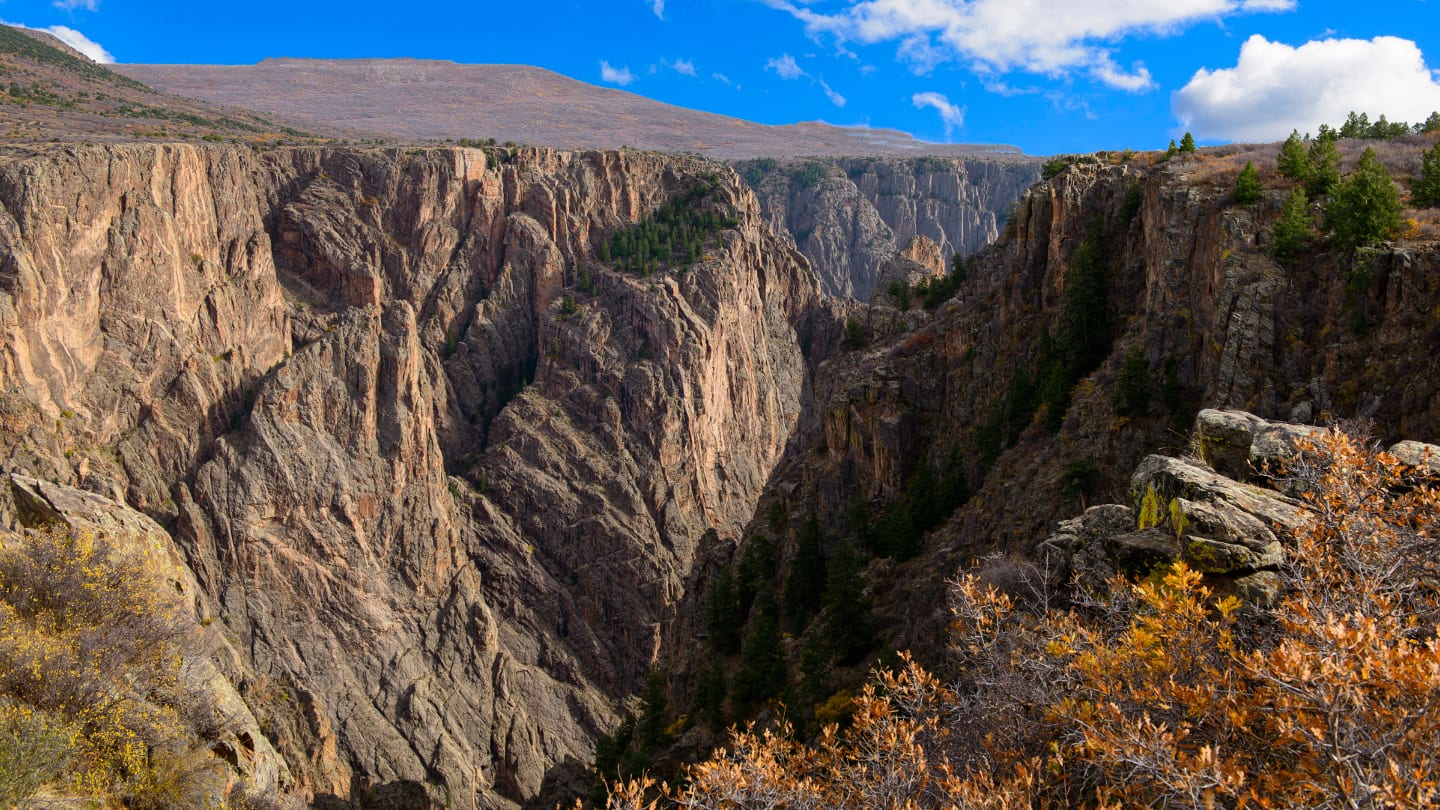 There are two entry points for this western slope park, one from the west (South Rim) in Montrose and another accessing the east side (North Rim) from Crawford. Interestingly, there is no bridge connecting the sides, and you must drive all the way around, several hours, to access the opposite half. Or hike down and up, which is a days long, advanced excursion.
With a fascinating history and enough natural wonder to both shock and awe, it's a Colorado treasure worth knowing more about. These ten surprising facts will make you even more eager to add it to your Colorado bucket list:
1. The Gunnison River drops an average of 43 feet per mile through the canyon, SIX times more than the Colorado River through the Grand Canyon.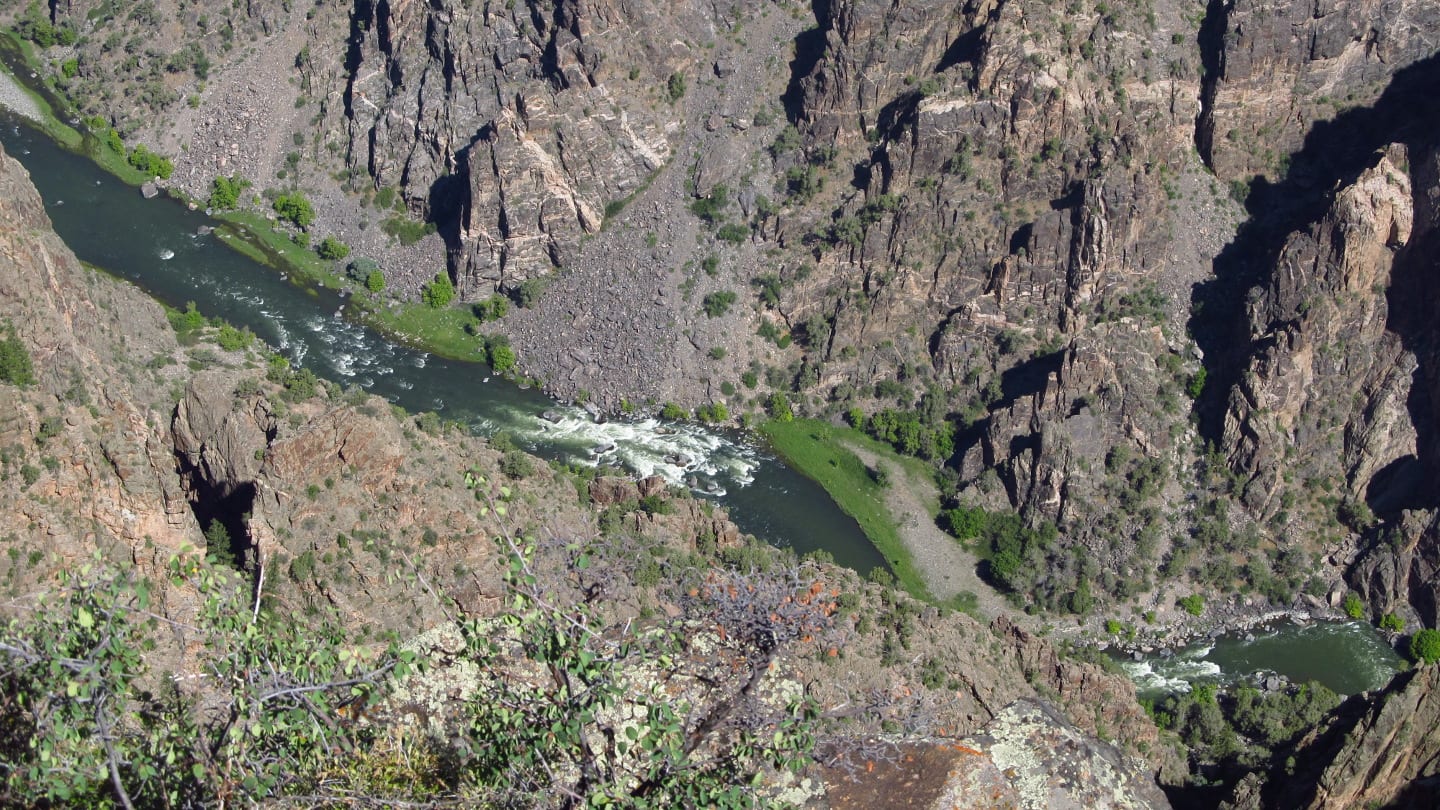 Often referred to as "Colorado's own Grand Canyon," Black Canyon of the Gunnison boasts many of the same jaw-dropping features of the Grand Canyon, just on a smaller scale. Importantly though, there is one area in which Black Canyon mightily surpasses the Grand Canyon, and that's in just how steeply its infamous river drops.
While the Colorado River drops an average of 7.5 feet per mile in the Grand Canyon, the Gunnison River drops an average of 43 feet per mile through Black Canyon and hits its most dramatic descent in the park at Chasm View, where it descends 240 feet per mile.
2. Black Canyon has inspired dread for centuries.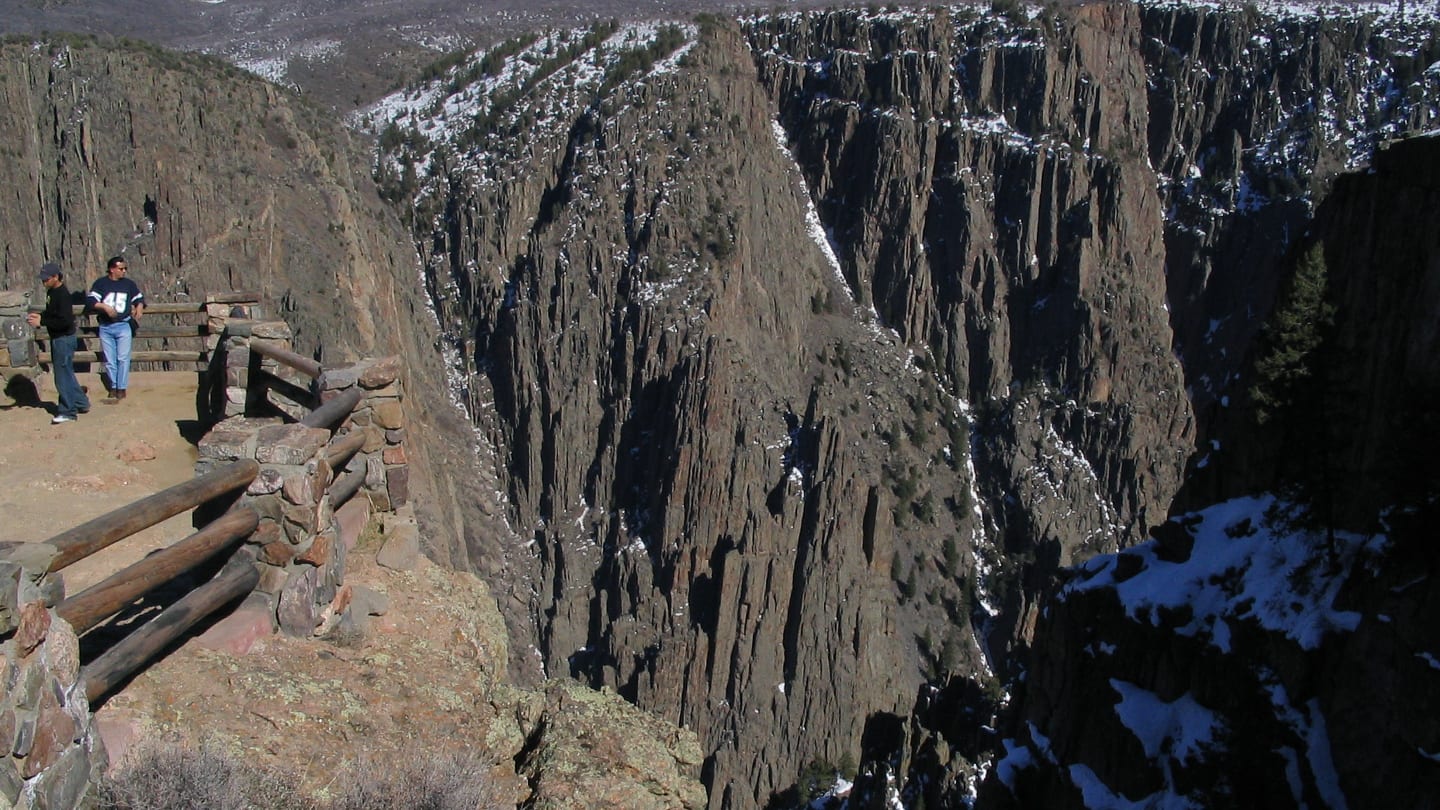 If you visit the Black Canyon of the Gunnison National Park official website, you'll notice they do not shy away from the word "death" on more than one page. For every activity taking place anywhere within the canyon (kayaking, climbing, backpacking), the NPS is very upfront that you're taking on a risky endeavor. But this caution of the dangers regarding anything deep within the canyon is nothing new.
Members of the Ute Tribe were familiar with Black Canyon long before white explorers reached it, and while they called the area home for centuries, even they feared and avoided the Gunnison River far below, referring to it as "much rocks, big water."
3. Colorado's biggest cliff is the Black Canyon's Painted Wall.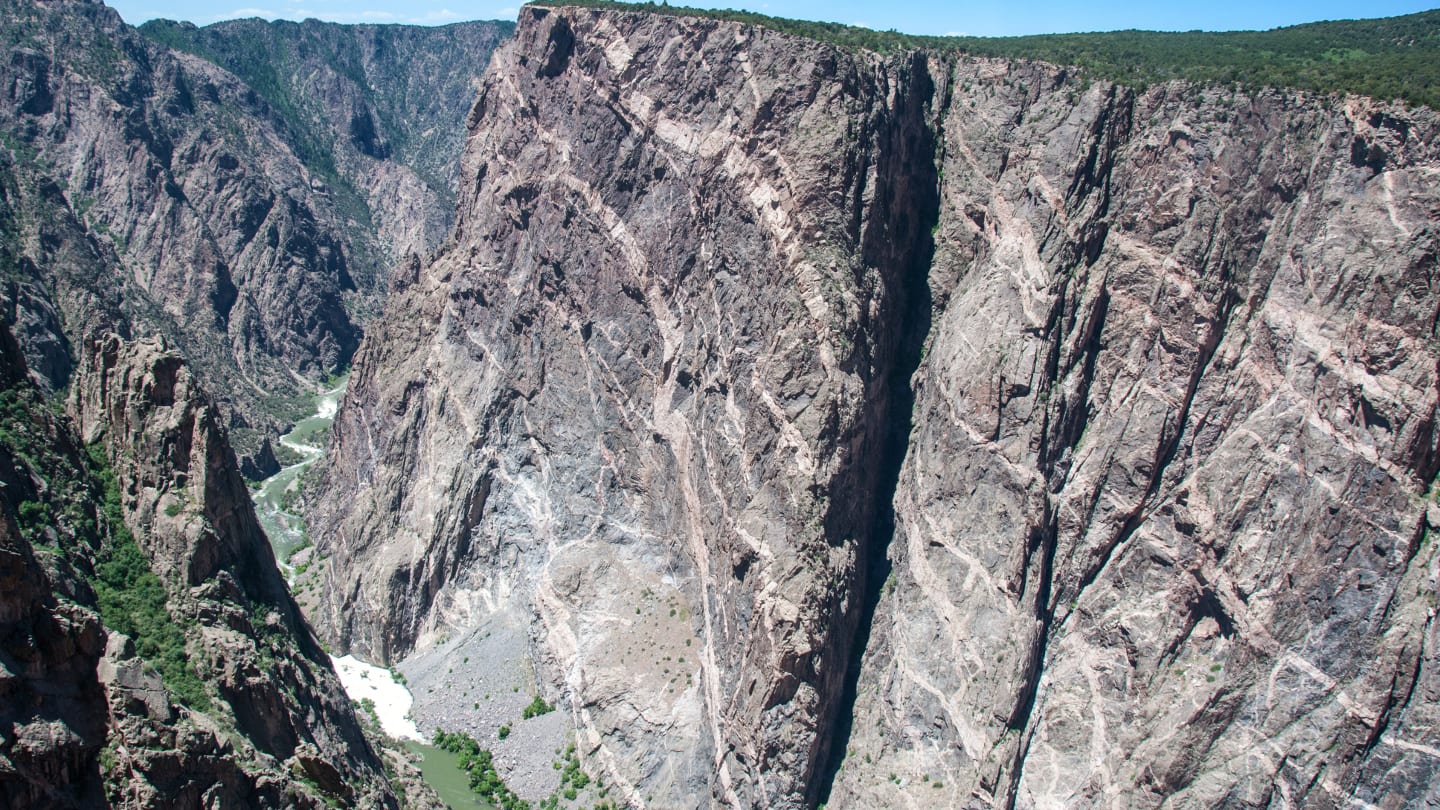 Standing 2,250 feet tall from river to rim, Black Canyon's Painted Wall is the tallest cliff in Colorado and the third tallest in the lower 48, after El Cap and Notch Peak. For comparison, the Washington Monument stands at a measly 555 feet and the Empire State Building stands at just 1,250 feet.
If your ego is getting a bit big and you're eager to feel a little smaller, head to Black Canyon, hike in even just a few hundred feet and prepare to feel like a tiny speck of sand on a massive beach.
4. Black Canyon gets its name because some parts of the gorge receive only 33 total minutes of sunlight per day.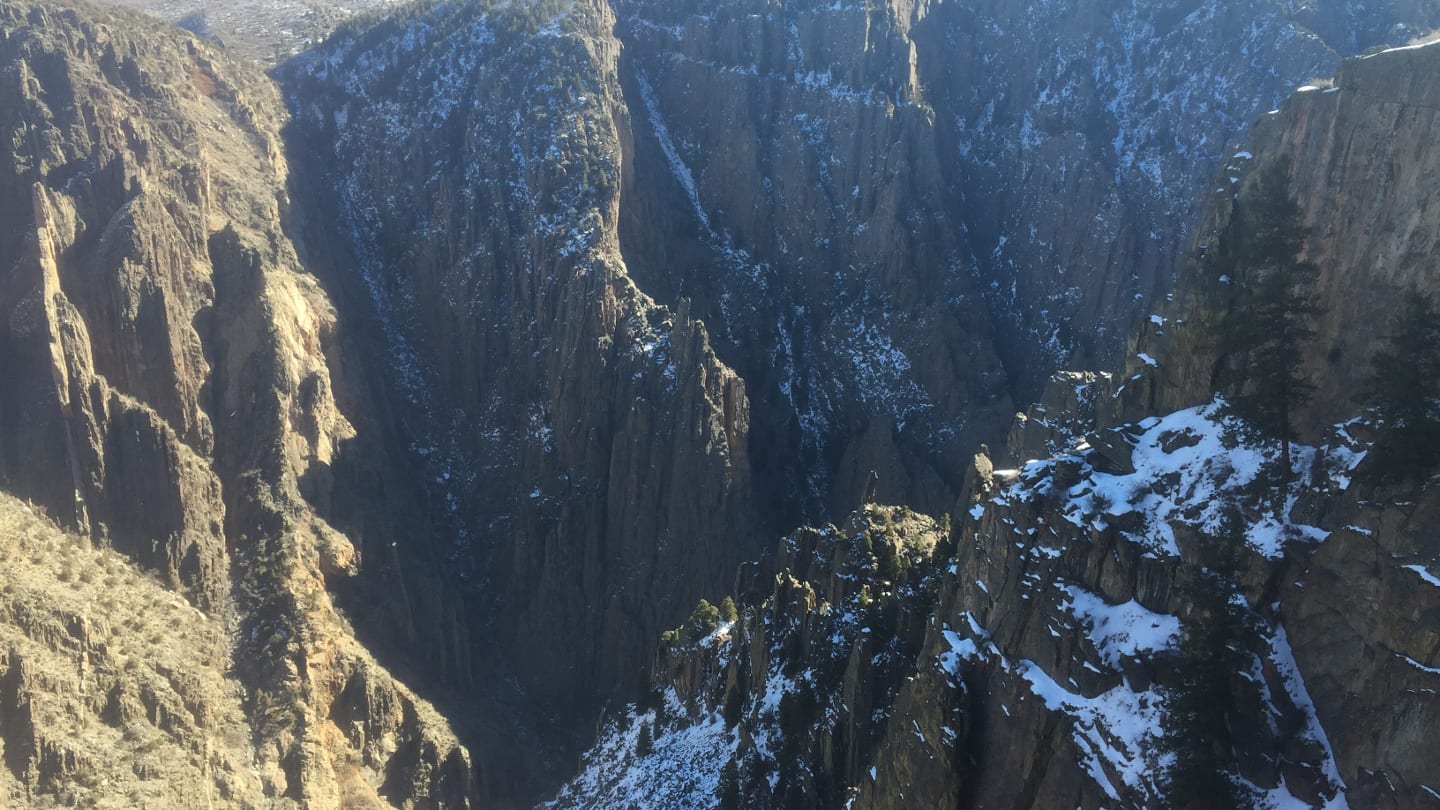 There's nothing lofty or mysterious about Black Canyon's name: some parts of the canyon receive so little sunlight that they look black, hence the very literal name "Black Canyon"—straight to the point, nothing to over-think.
The canyon is so narrow and so deep—spanning, just 40 feet at its narrowest point, "The Narrows," and reaching a greatest depth of 2,722 feet at Warner Point—that sunlight only barely reaches parts of the gorge each day, giving off an almost-spooky vibe.
5. It is one of the youngest national parks.
Even though Black Canyon was proclaimed a national monument in 1933, it didn't become a national park until 1999, making it the sixth youngest national park in the country. Notably though, it is not actually the youngest national park in Colorado: it is 5 years older than Great Sand Dunes, making it a dreaded middle child. Maybe middle child syndrome is partly to blame for Black Canyon's often-forgotten status?
6. It has some of the world's oldest exposed rock.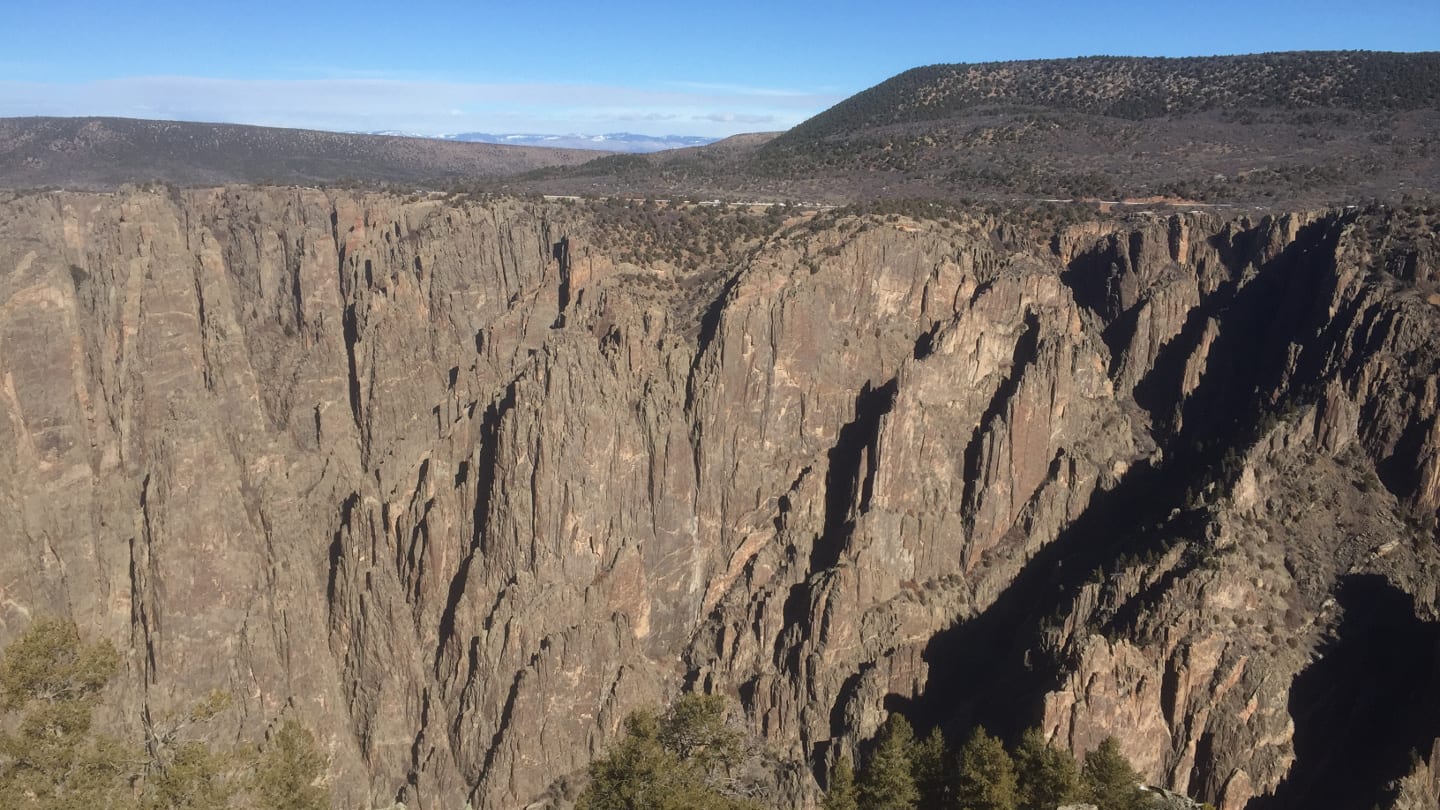 Whether you're a geology nerd or couldn't care less about it, there's something undeniably cool about being able to see something that reminds you just how tiny of a blip we, as humans, are on the geologic time scale. That is exactly what you get at Black Canyon of the Gunnison: the rocks exposed at the bottom of the canyon are nearly 2 billion years old, dating from the Precambrian era.
We can thank the Gunnison River for carving through these mammoth walls of rock over the past 2 million years.
7. It is the least-visited national park in Colorado, and one of the lesser visited parks overall.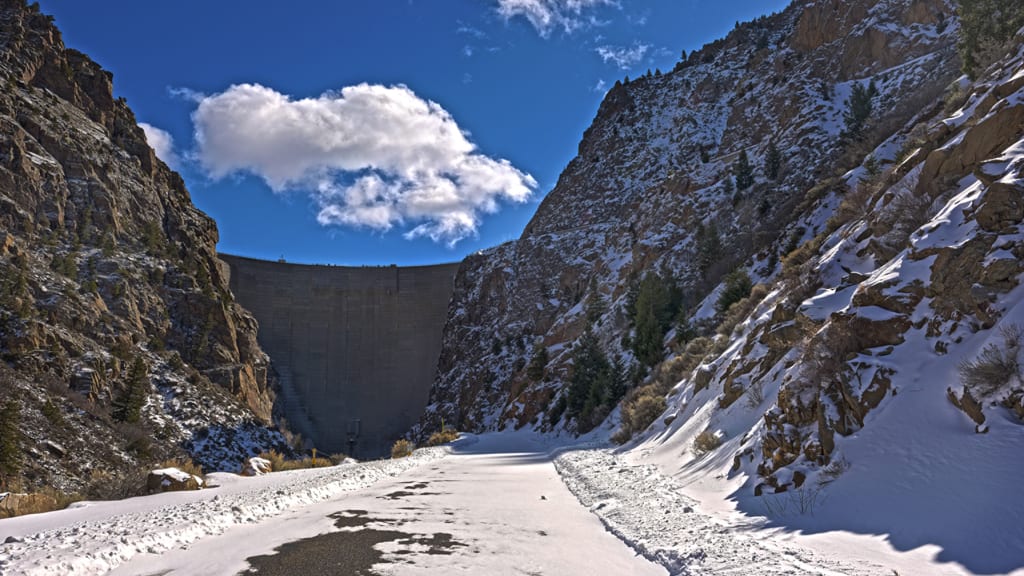 As you've probably guessed by now, Black Canyon is the least-visited national park in Colorado, and one of the lesser-visited national parks in the country, ranking 43rd out of 59 overall in annual visits for 2017. For reference, Rocky Mountain National Park boasted a whopping 4.43 million visits, Mesa Verde had 613,788, and Great Sand Dunes boasted a still-respectable 486,935, towering over Black Canyon's 307,143 visits.
What all this means is that if you're looking for a lower-key, less crowded, more peaceful national park experience in Colorado, Black Canyon is your ticket.
8. The Denver and Rio Grande Railroad made its Black Canyon route the cornerstone of its "Scenic Line of the World" promotions.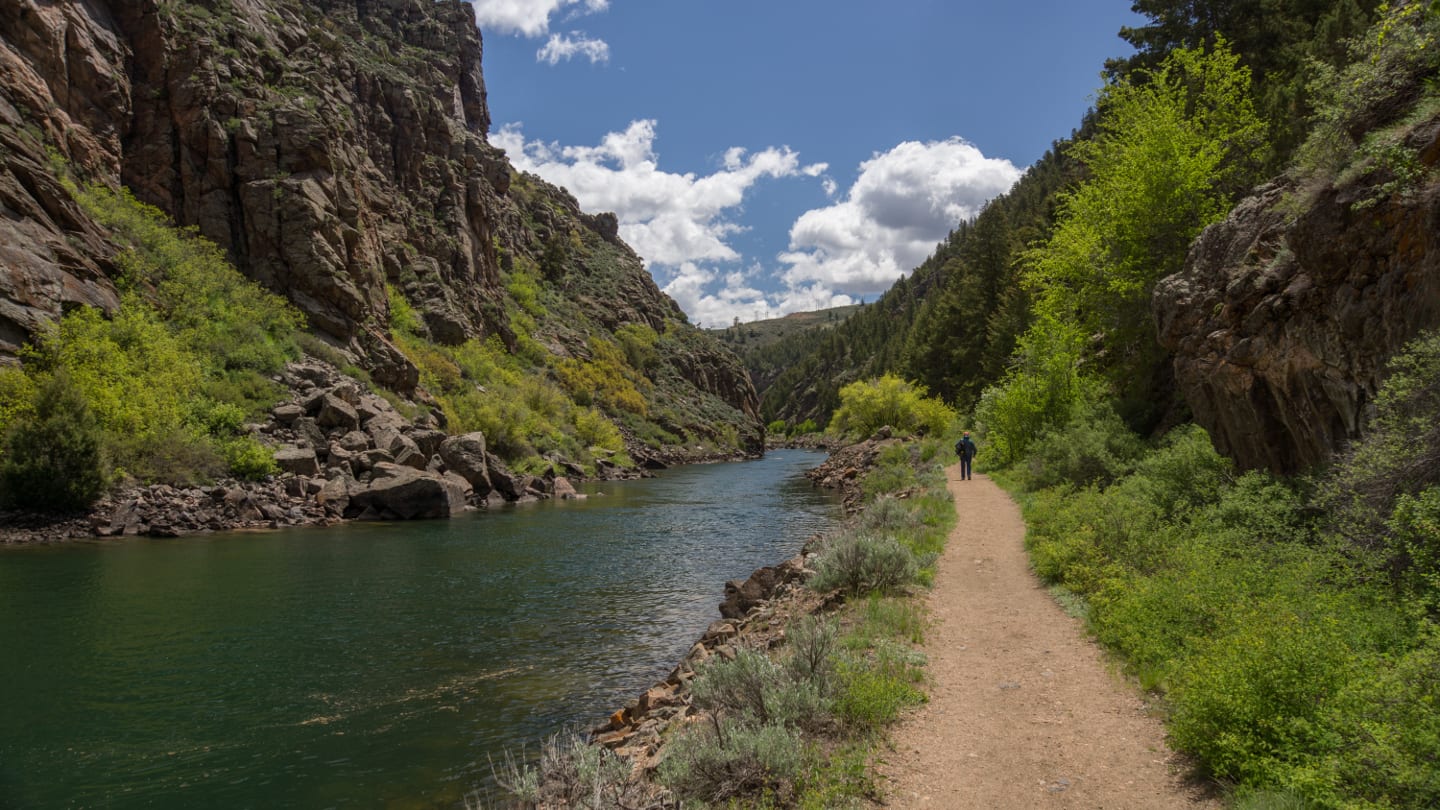 In 1889, Rudyard Kipling rode through Black Canyon on the Denver and Rio Grande Narrow Gauge Railroad, and perfectly captured the beauty and dread of the canyon in his description:
"There was a glory and a wonder and a mystery about the mad ride, which I felt keenly…until I had to offer prayers for the safety of the train."
Fueled by the promise of tapping into the traffic and wealth in the nearby gold and silver mines, the Denver and Rio Grande Railroad built its narrow gauge railroad through the canyon in 1882 for a monumental cost of $165,000 ($3.7 million today) a mile. Despite the risks, cost, and on-going repairs, the route was a hit amongst passengers and the Denver and Rio Grande made its Black Canyon route the keystone of its "Scenic Line of the World" passenger promotions, even featuring the Curecanti Needle on its emblem.
Most of the old railroad bed is now buried beneath the waters of Morrow Point Reservoir, but it left its mark on visitors in its day.
9. It's a phenomenal place for cross-country skiing, rock climbing, hiking, backpacking, and kayaking.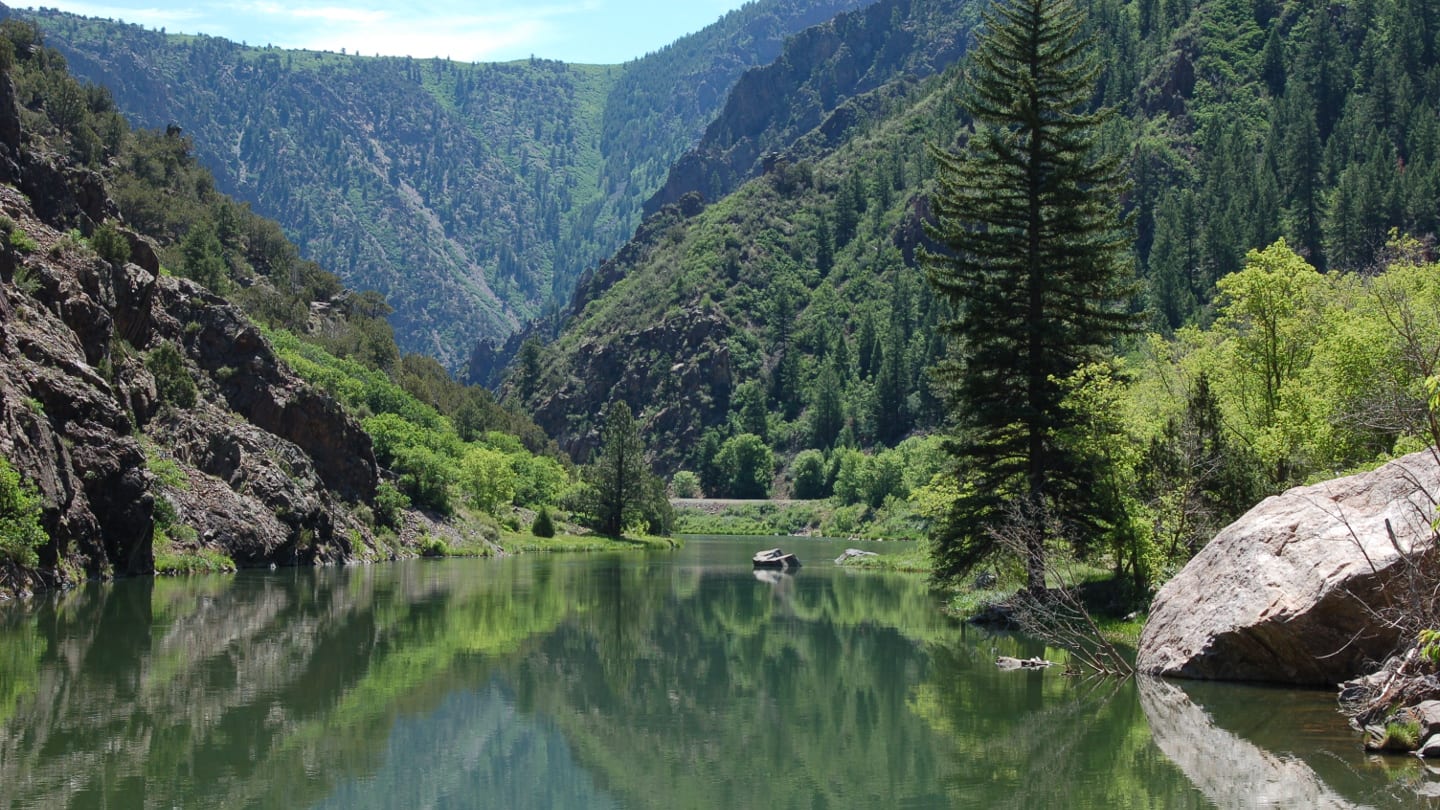 For those who know Black Canyon, this one is common knowledge. But for those who don't, take note: if you're looking for long stretches of cross-country ski trails with gorgeous views, expert-level climbing, hard-on-your knees but well-worth-it backpacking, or Class V rapids for expert-level kayaking, Black Canyon is your kind of place.
10. It became "sisters" with Tara National Park in Serbia.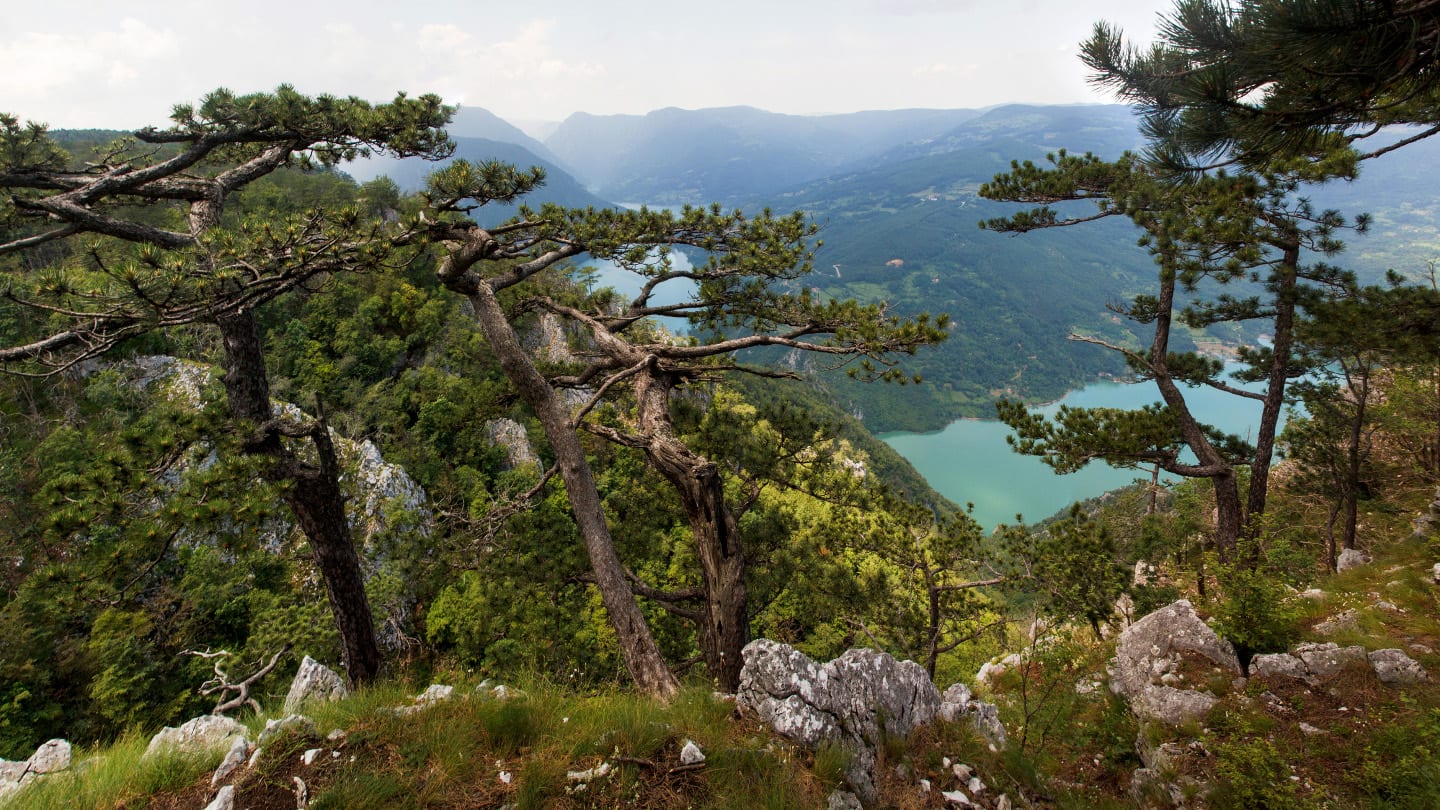 In summer of 2017, Black Canyon of the Gunnison National Park signed a Sister Park Agreement with Tara National Park in Serbia, which means that the two parks will collaborate to share best practices and to address common issues. While these parks are separated by distance and culture, even a quick glance at photos of Tara National Park immediately shows the reason for the partnership: both parks boast awe-inspiring canyons as their central feature.
This is a cool development because it will help Black Canyon become a better and better place for visitors and plant and animal inhabitants alike. Enough talking about it, now go get your canyon on!