Whether you're looking to move into the Rocky Mountains or just visit on holiday, and prefer a bit of city life, there are some sizable towns to choose from. While all the largest mountain towns in Colorado are inherently small due to the nature of life at elevation and seclusion from big cities, some are considerably more populated than others.
Mountain life in the Rockies has its up and downs, just like any other place you'll ever call home. The quality of your natural surroundings skyrockets though, and traffic plummets. Population alone doesn't make these towns any better or worse than smaller mountain towns, but it usually ensures an increased amount of facilities, whether it's restaurants, shopping, jobs, or medical services.
Some of Colorado's most iconic mountain towns didn't make this list because it's based solely on population.
Biggest Mountain Towns in CO by Population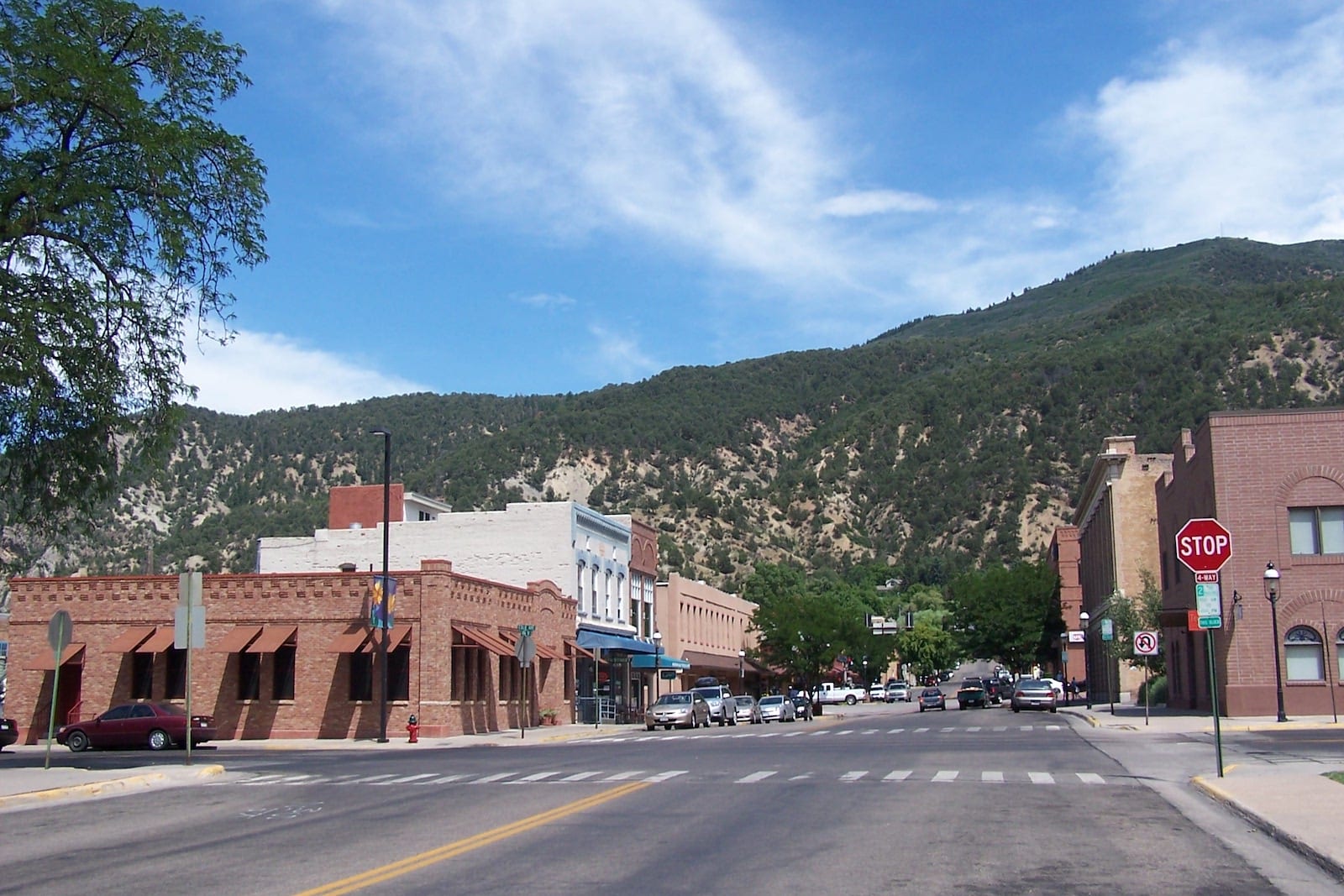 The population cut-off was 5,000 estimated people or more. We used data from the 2020 US Census population and also included the 2010 and 2000 U.S. Census to show growth or decline, and give you the best estimate going forward.
---
*NOTE: We used some liberties in what a "mountain town" is and included anything that's not in the Front Range Urban Corridor, which spans from Fort Collins to Pueblo, CO, as well as the Eastern Plains.
Therefore far western slope towns like Grand Junction, Fruita, Delta, and Montrose made the cut, even though they aren't exactly mountain towns and are more Western Plateau. Cañon City also made the cut and is at the base of the mountains.  But if you're looking to get out of the Denver sprawl, they all fit the bill.
---
Here are the largest mountain towns in Colorado, in order of estimated population:
*Grand Junction – Western Plateau at 4,583′
62,218 (2020); 58,566 (2010); 41,986 (2000)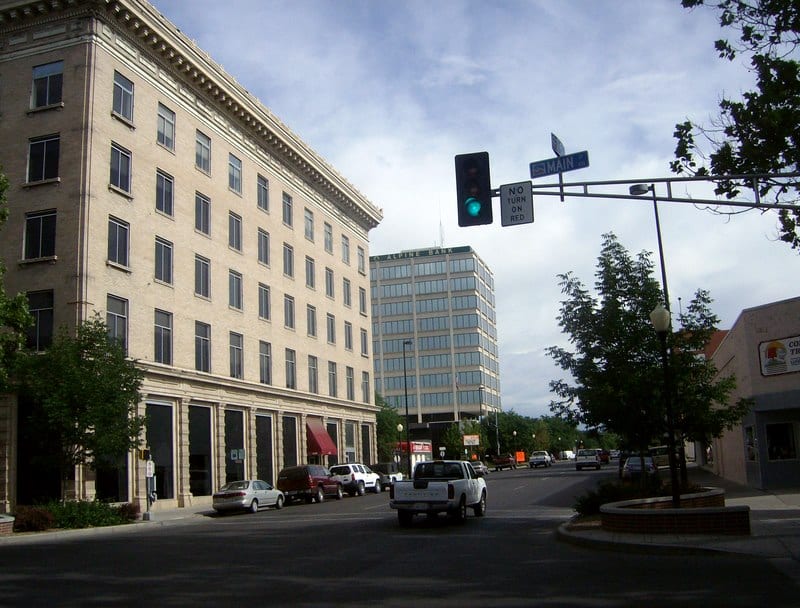 Located on the opposite side of Interstate 70 from Denver, less than a 5 hour's drive, Grand Junction (GJ) is the biggest town in Colorado west of the continental divide. It is the Mesa County Seat, aptly named for the abundance of flat topped mountains in the region. In fact, the largest and grandest one in the world lies a little more than an hour east of town.
Colorado National Monument is sandwiched between Grand Junction and its western neighbor Fruita, providing everything from rock climbing and mountain biking, to a scenic auto tour.
*Montrose – Western Plateau at 5,807′
19,396 (2020); 19,132 (2010); 12,344 (2000)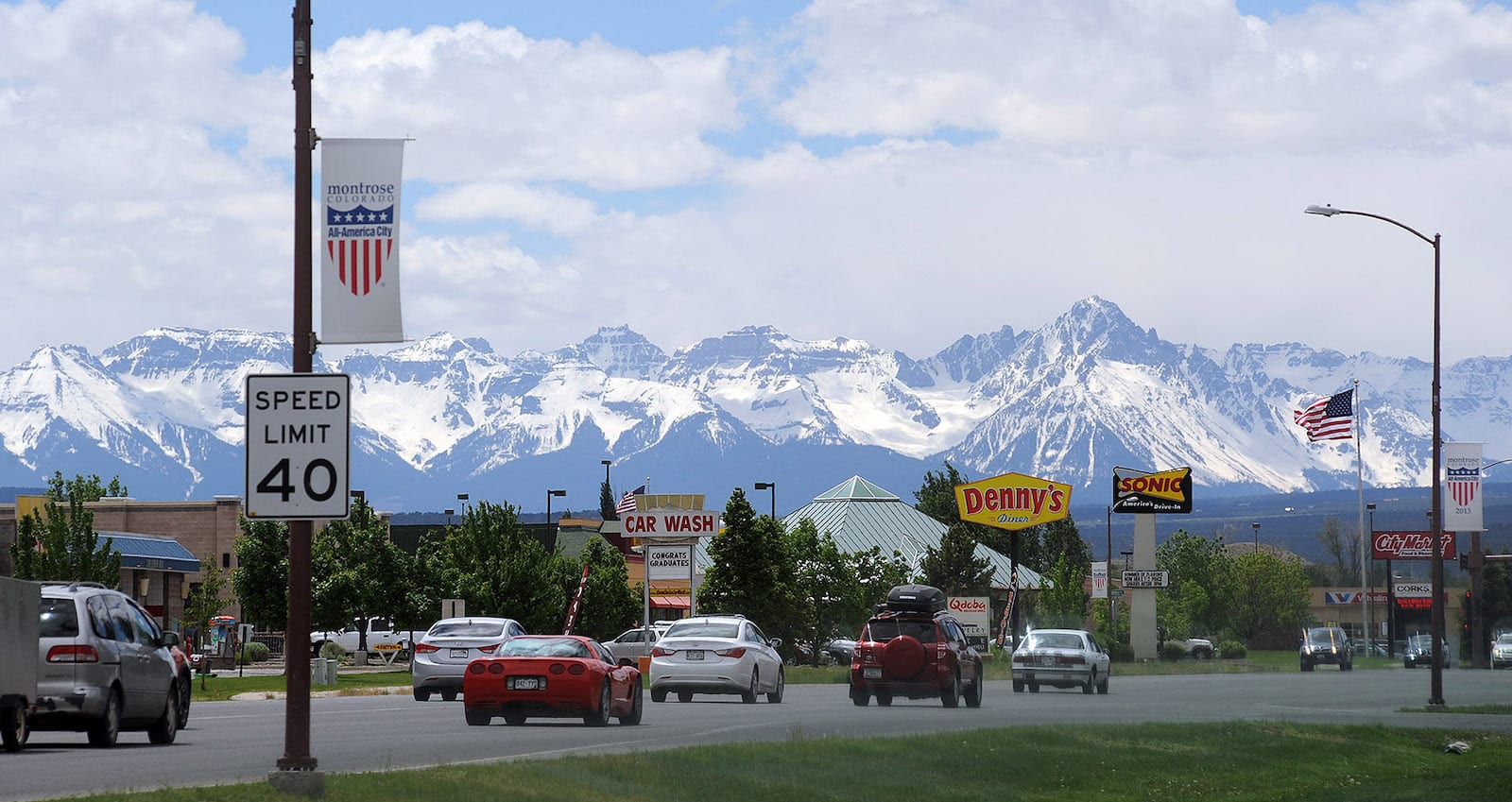 An hour south of Grand Junction on the amazing Highway 50 lies Montrose. It has a large historic district and plenty of big box stores, fast food restaurants, and whatever else you may be looking for. It's a slower-paced town and gateway to the South Rim of the Black Canyon of the Gunnison, which is located just twenty minutes northeast of town.
Durango – Southwest at 6,522′
19,413 (2020); 16,887 (2010); 13,922 (2000)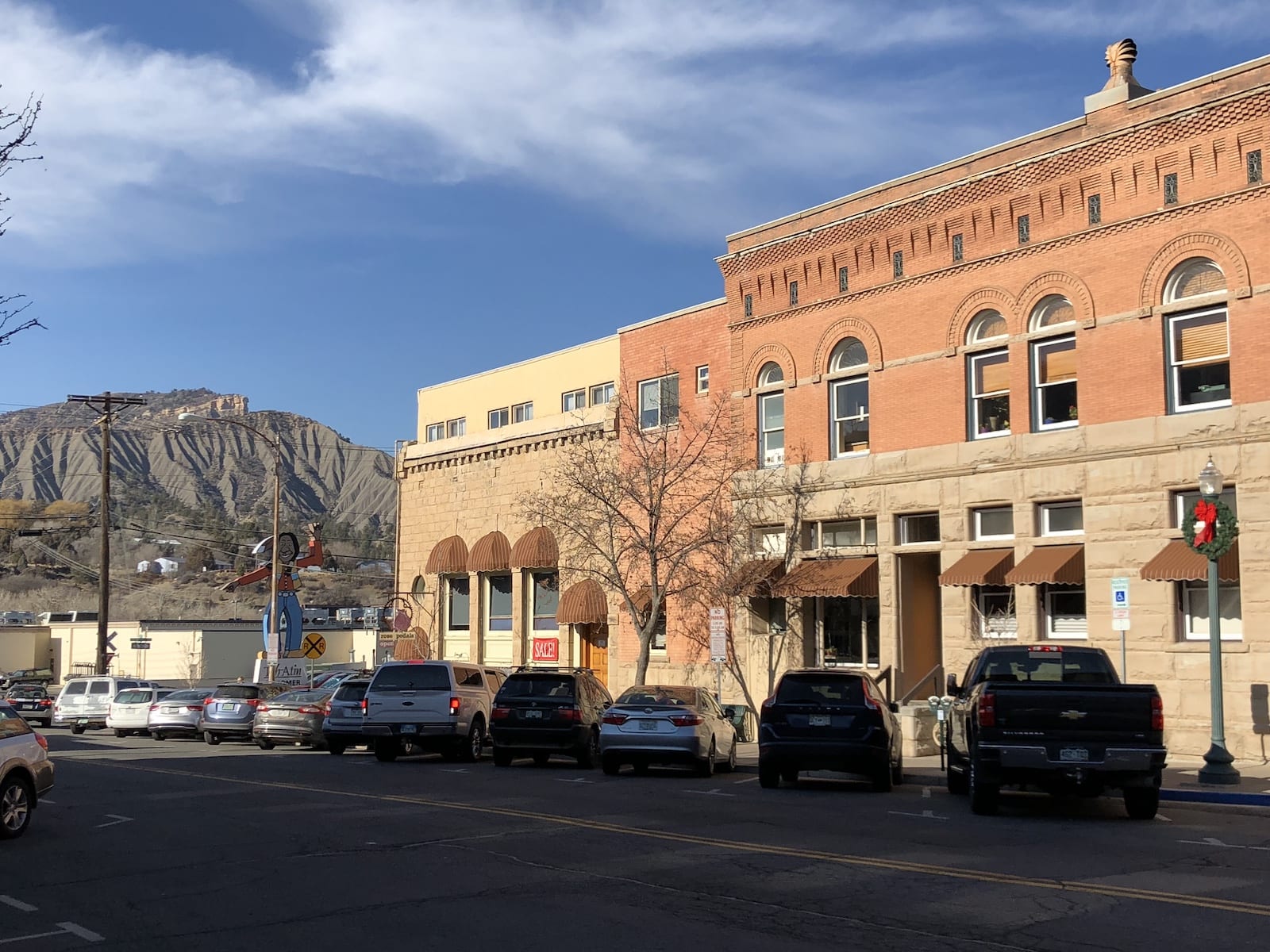 The hub of Southwest Colorado, Durango is arguably Colorado's largest real mountain town. It attracts a worldwide crowd of travelers to experience its Old West narrow gauge train, which goes back and forth to Silverton. Thirty minutes north of town you have the secluded slopes of Purgatory, which offer fast rolling groomers packed with light dry snow.
So while it's a ski town, the ski resort isn't the focus and therefore doesn't attract the usual ski bum crowd, who to prefer the more epic slopes in other ski towns like Telluride, Aspen, and Steamboat. Fort Lewis College is housed in town, bringing additional population and culture to the La Plata County Seat.
*Cañon City – Southern Front Range at 5,331′
16,369 (2020); 16,400 (2010); 15,431 (2000)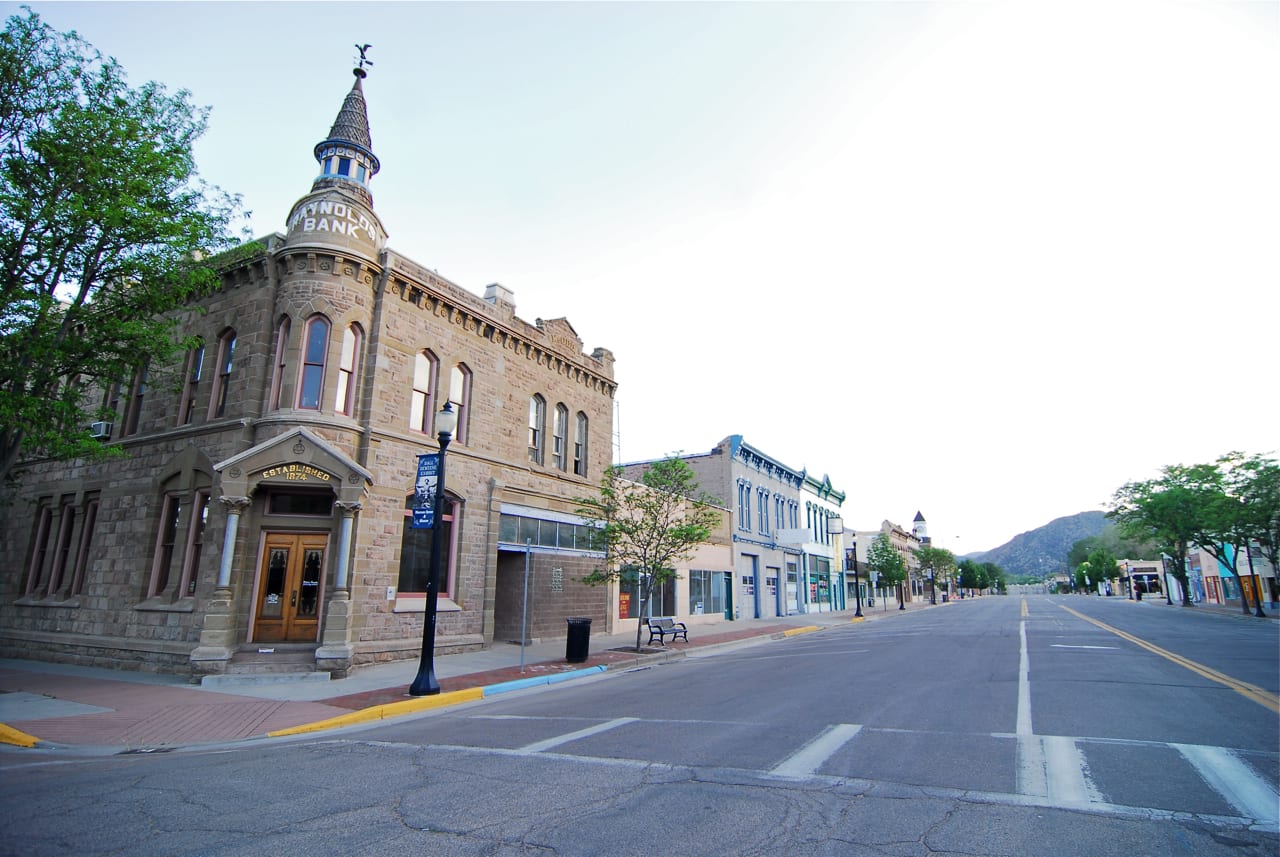 Only 45 minutes west of Pueblo and 50 minutes southwest of Colorado Springs, is Cañon City, situated on the banks of the mighty Arkansas River. It probably owes its large population in part to the convenience of being close to two of Colorado's largest cities. It also boasts its own natural wonders and world-renowned attraction in the Royal Gorge.
This deep canyon was carved by the Arkansas River and features the state's highest suspension bridge, as well as an alpine adventure park on-site, a train that goes through the Gorge, and the most popular whitewater rafting in the state. In the summer in Cañon City everybody takes full advantage of the water sports provided by the famous river.
*Fruita – Western Plateau at 4,514′
14,068 (2020); 12,646 (2010); 6,478 (2000)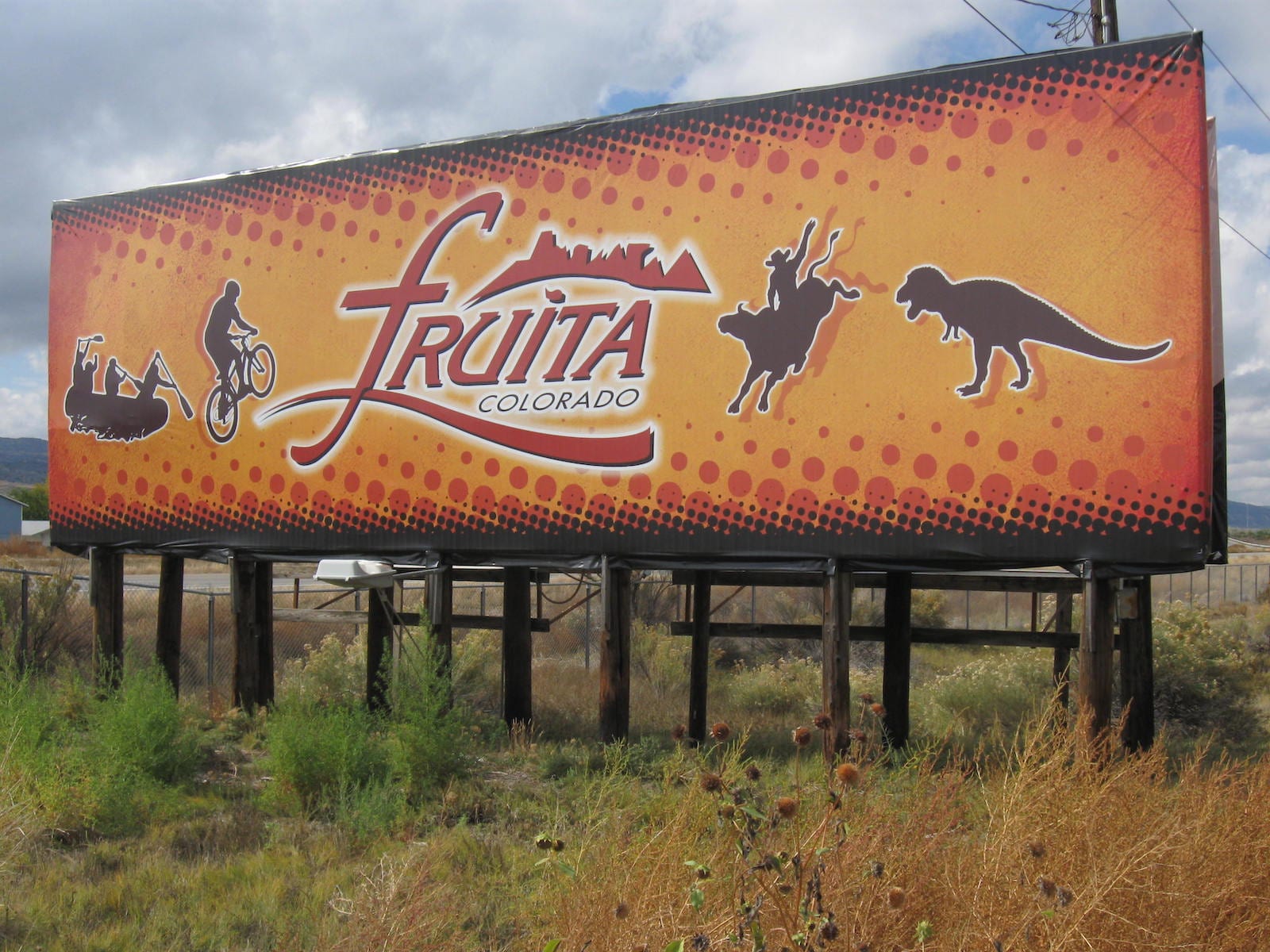 Like its eastern neighbor GJ, Fruita is situated in the high desert of the Grand Valley surrounded by mesas. And also like GJ, it has exceptional mountain biking. If you're into that hobby, either of these towns makes a fantastic base. Fruita has a nice strollable downtown, with plenty of art and dining. There's great hiking too.
Steamboat Springs – Northwest at 6,732′
13,048 (2020); 12,088 (2010); 9,815 (2000)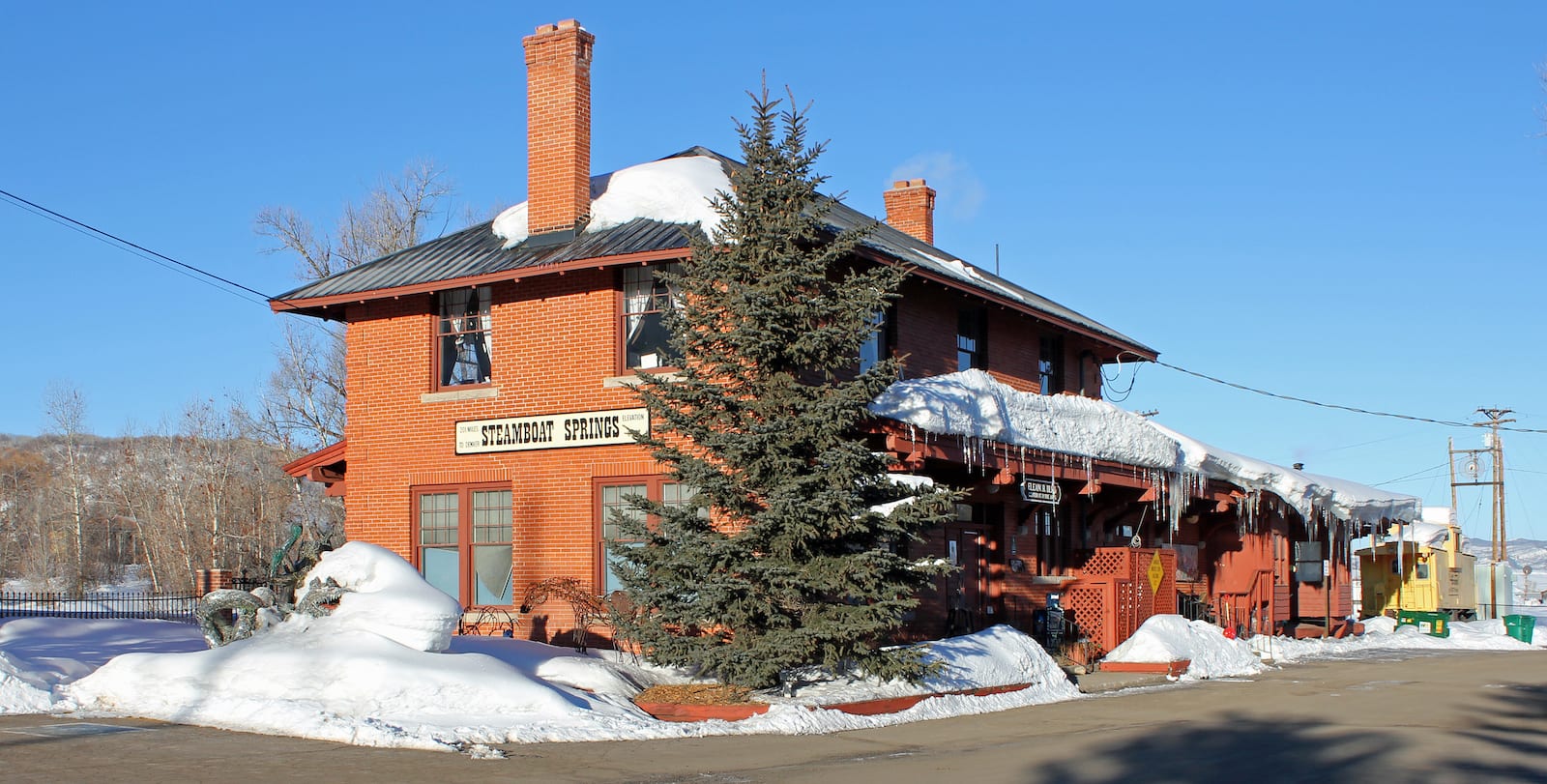 The 'Boat as its called by locals, is a lovely ski town situated just far enough away from Denver at 3 hours to avoid the day trippers and heavy congestion of places like Summit County. As its name implies, Steamboat Springs has a couple of hot springs resorts to offer visitors looking to relax.
It features a real downtown area with wide western streets (for turning around cattle) and a separate mountain village at the base of its first-rate ski resort. Who's up for some Champagne Powder®?!
Glenwood Springs – Western at 5,761′
10,048 (2020); 9,614 (2010); 7,736 (2000)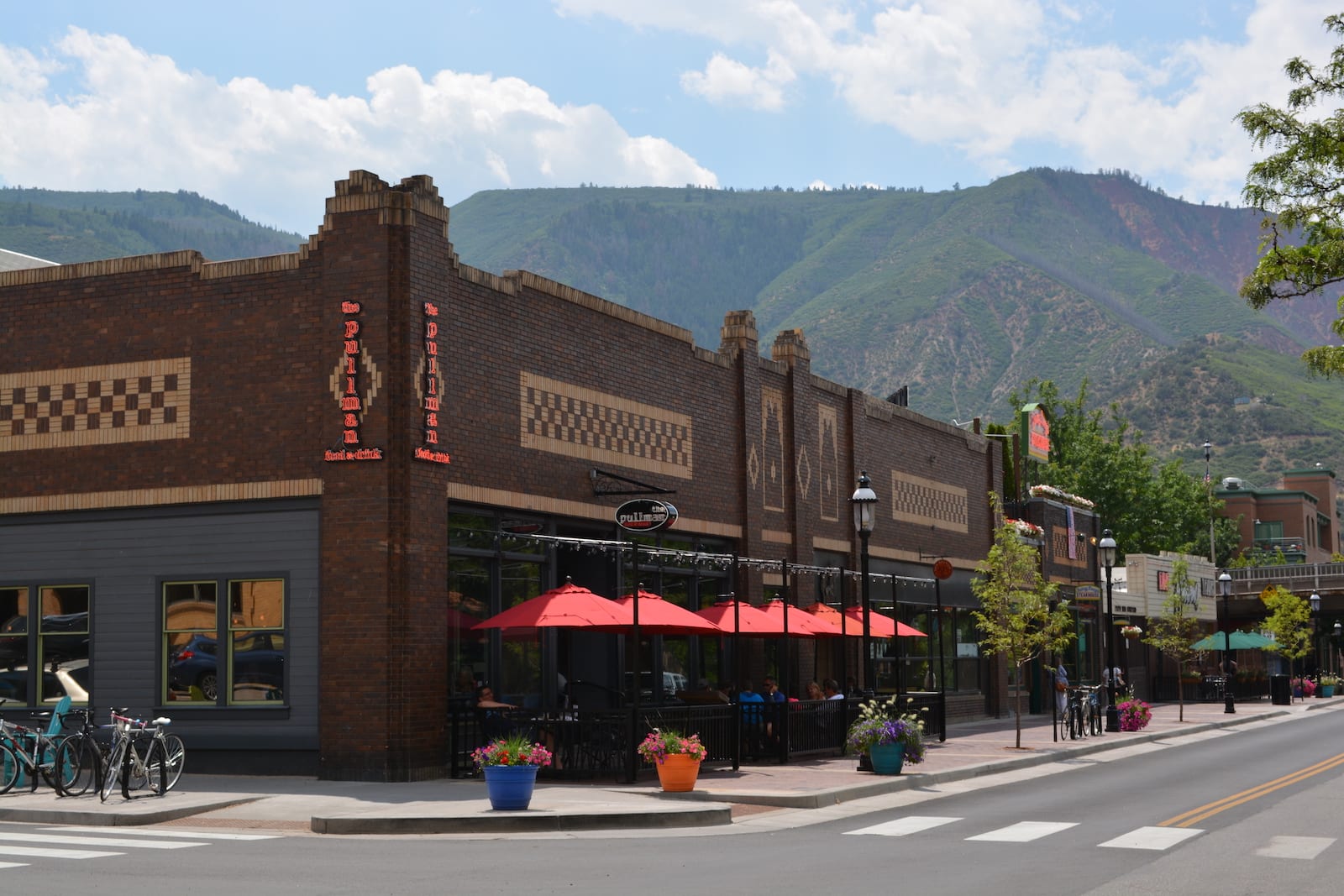 At the northern start of the riveting Roaring Fork Valley is the tourist-favorite town of Glenwood Springs. Home to the largest hot springs swimming pool in the world, plus vapor caves and another top riverside hot springs resort, Glenwood is all about rest, relaxation, and recreation.
Sunlight Mountain Resort in-town provides a fun ski area with good tree skiing and fluffy, dry powder. Aspen's world-class activities are less than an hour south on the scenic Highway 82. It's less than a 3-hour trip to Denver to the east, and 1.5 hours to Grand Junction to the west, all highway driving via I-70, so city amenities aren't too far away.
Bailey – Central Front Range at 7,740′
9,931 (2020); 8,042 (2010); 8,150 (2000)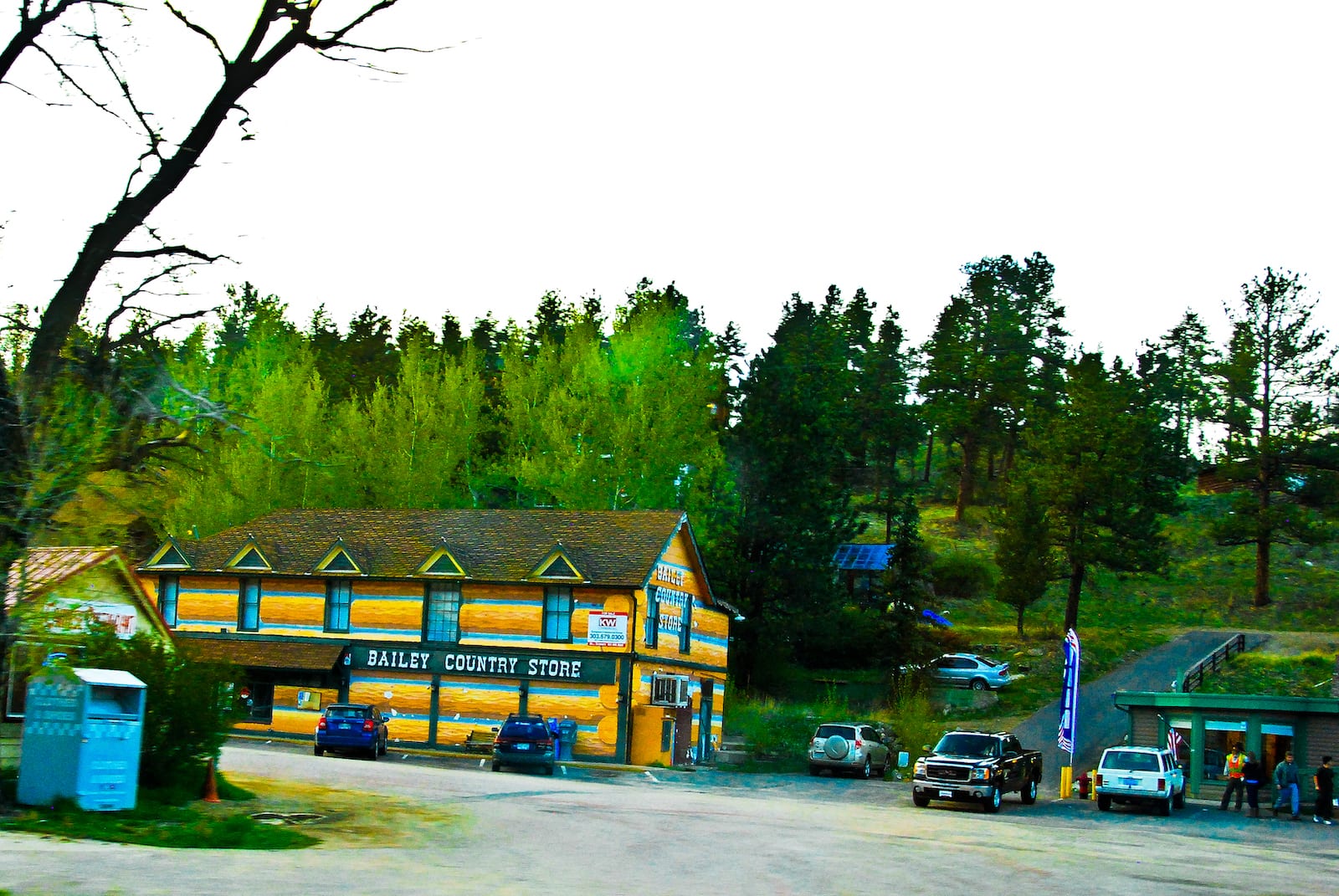 An hour southwest of Downtown Denver sits Bailey along Highway 285. It's within the realm of possibility to live here and commute to the metro for work, and I've known more than one person to do it, but it's pretty far. There's a tiny downtown area with a few shops and restaurants, but it's not as strollable as others in Colorado.
The creekside town is also spread out quite a bit on Highway 285, which is hilly, so a lot of up and down driving is required when staying in Bailey. The rolling forests span for miles and miles from town, providing terrific hiking trails and a beautiful backdrop.
Rifle – Western at 5,348′
9,771 (2020); 9,172 (2010); 6,784 (2000)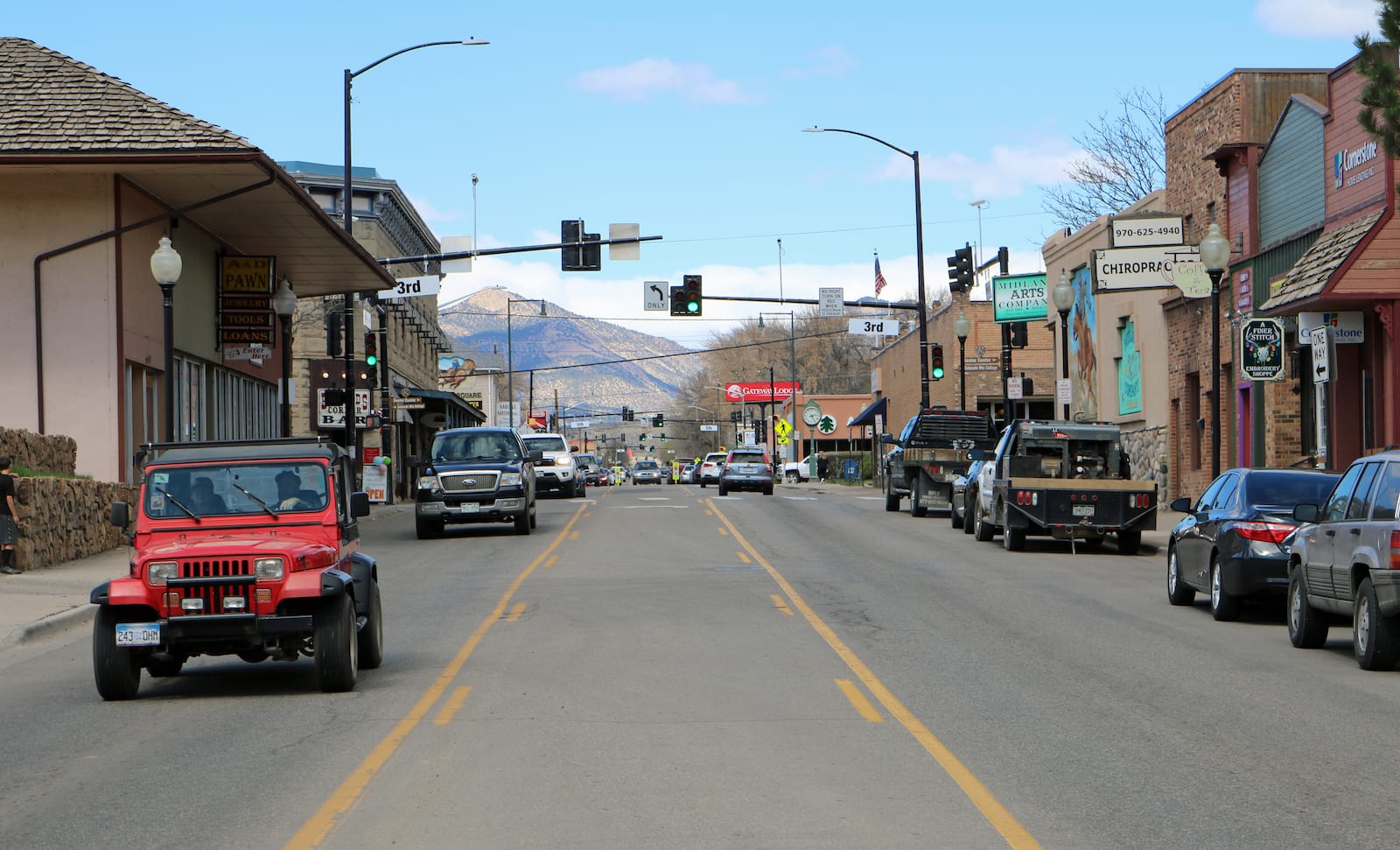 Thirty minutes west of Glenwood Springs and an hour east of Grand Junction sits Rifle on I-70. It's a true western town attracting hunters, fishermen, and other outdoor lovers to discover its exceptional nature. Three state parks are located close to town, Rifle Gap, Rifle Falls, and Harvey Gap, each showcasing their own unique gems. Downtown Rifle has some walkable historic streets, with ample businesses to utilize.
Evergreen – Central Front Range at 7,220′
9,475 (2020); 9,038 (2010); 9,216 (2000)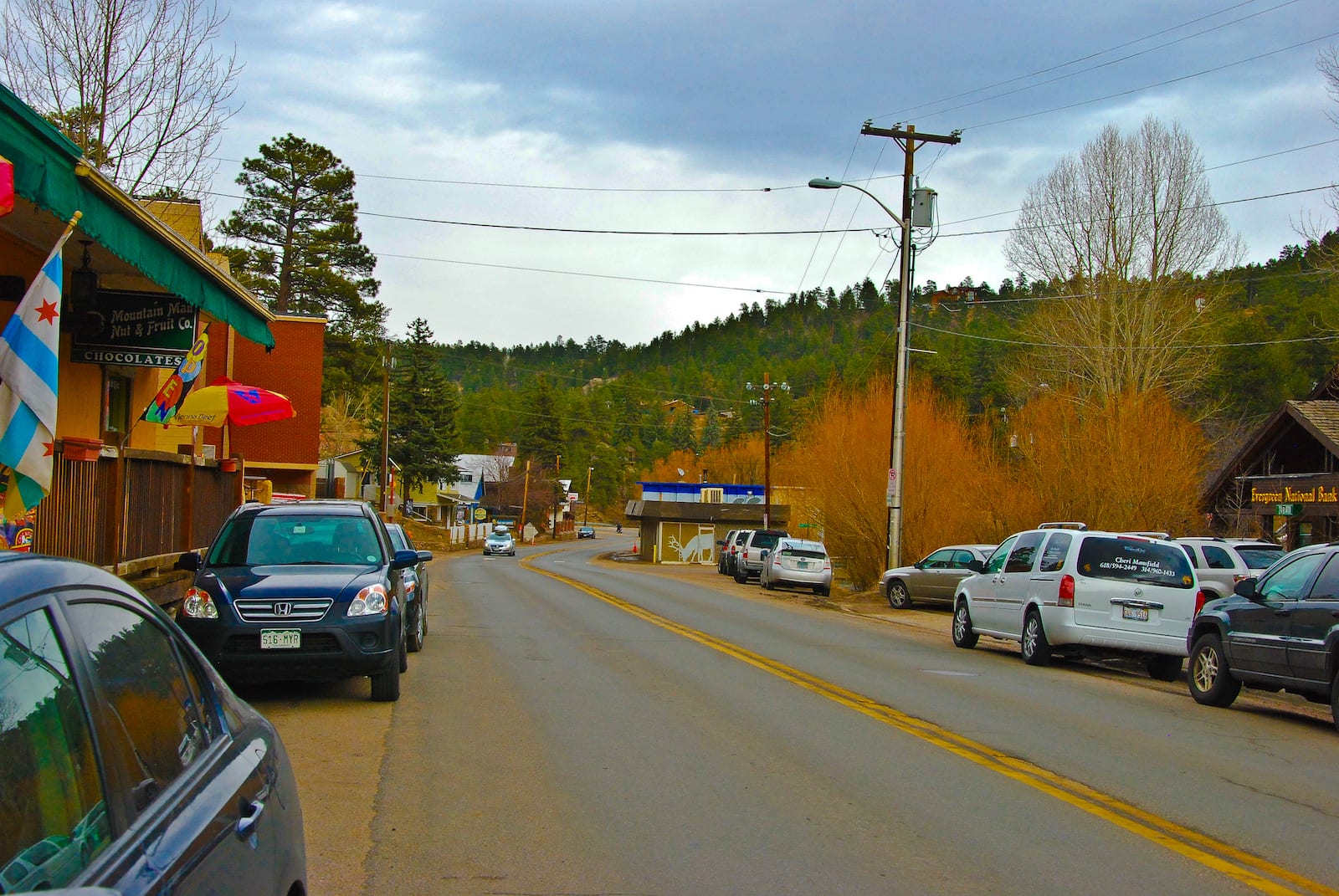 Denver's mountain suburb of Evergreen is a desirable place to live and visit. It features a neat little downtown with just enough places to eat and browse, as well as Evergreen Lake, which adds a lot of water sports to the town's repertoire of recreation.
Considering it's less than a 45-minute trip to Denver, or even less if you live in North Evergreen beside I-70, the town's real estate is highly sought after, especially for those commuting to Denver but wanting to escape the masses after their work day. The downside is sky-high prices and lack of diversity.
Alamosa – San Luis Valley at 7,543′
9,360 (2020); 8,780 (2010); 7,960 (2000)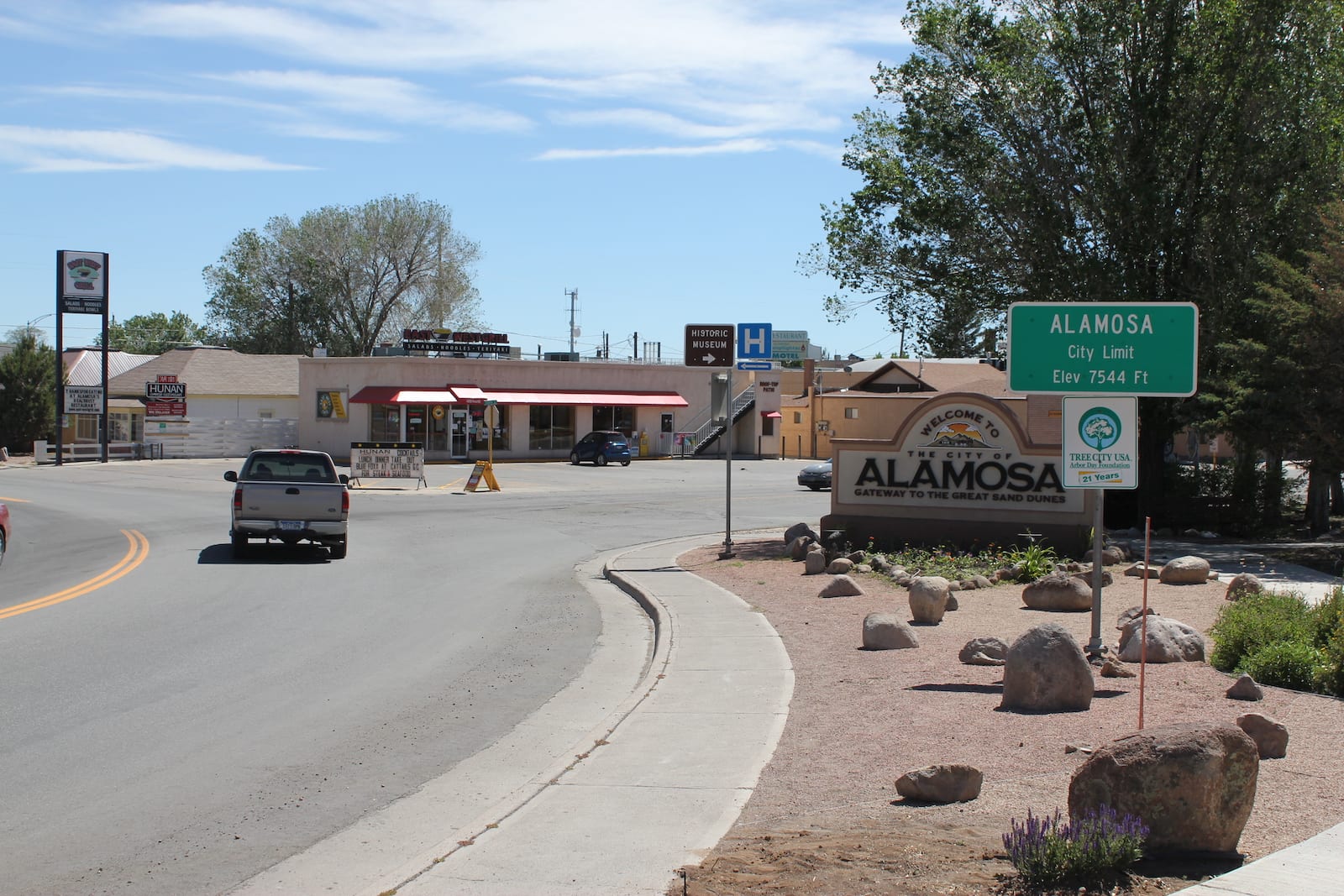 The hub of the San Luis Valley, this town is both the largest town and county seat of Alamosa County. While it lacks a ski resort or other big name draws directly in town, a wild region of gems is waiting to be discovered in all directions, and Alamosa acts as the basecamp and gateway to much of it. The Great Sand Dunes is only thirty minutes northeast of downtown, and the powdery slopes of Wolf Creek are a little over an hour west.
Downtown Alamosa has plenty of restaurants, shopping, lodging, and whatever else you may need to fulfill your day-to-day. The Rio Grande River flows by town too. One of the big downfalls, aside from maybe its seclusion, is its weather. Alamosa just might be the coldest town in Colorado, or at least among the top few.
Craig – Northwest at 6,198′
8,978 (2020); 9,464 (2010); 9,189 (2000)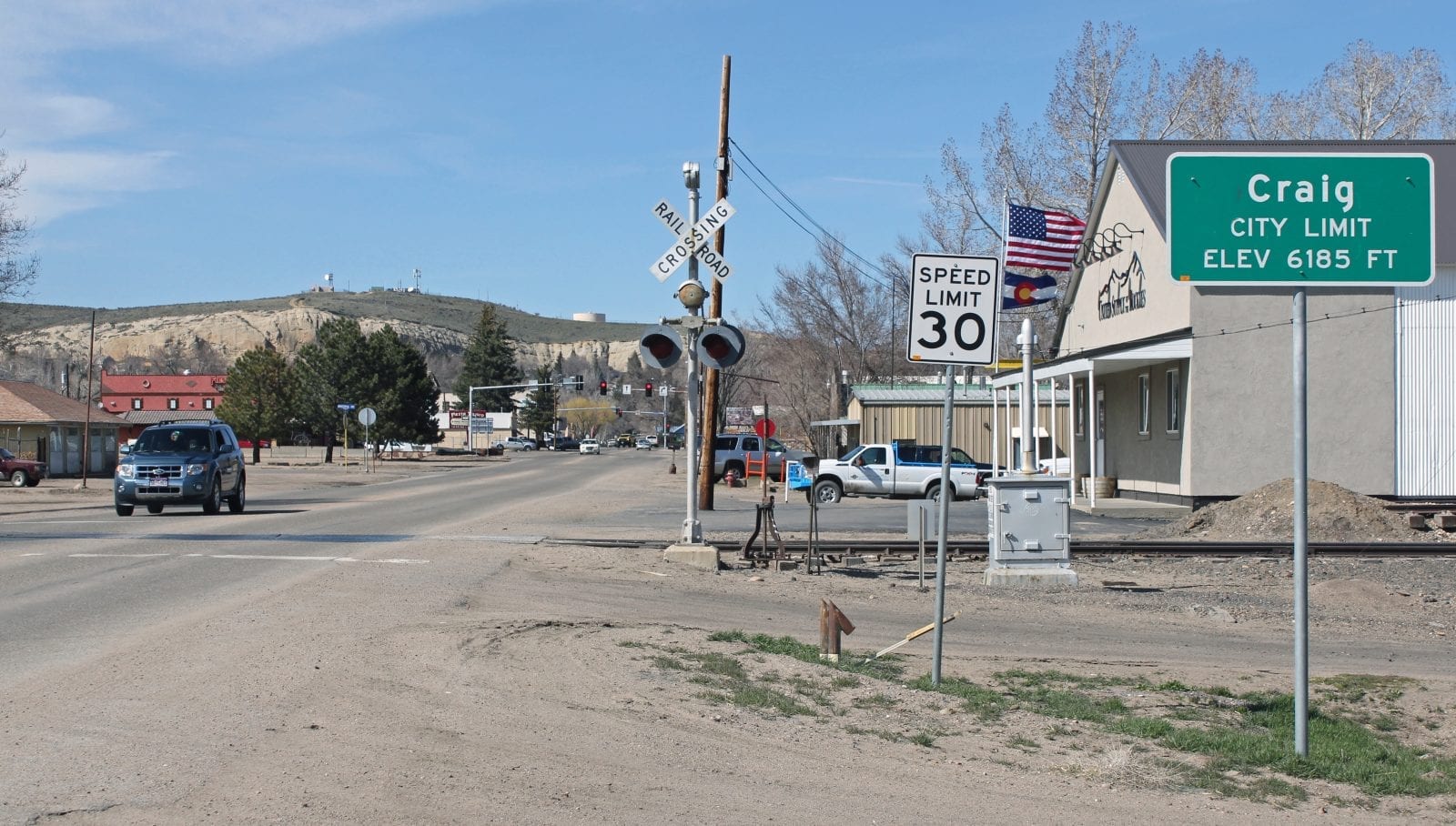 Like Rifle, Craig is another true western town with a lot to offer the outdoorsman. It sits about fifty minutes west of Steamboat Springs in the remote northwest part of Colorado. Hunting and fishing are among the main nature draw, with plenty of BLM land and national forest within an easy drive. If visiting stop by the Elkhead Reservoir State Park for some fishing and camping.
*Delta – Western Plateau at 4,875′
8,893 (2020); 8,915 (2010); 6,400 (2000)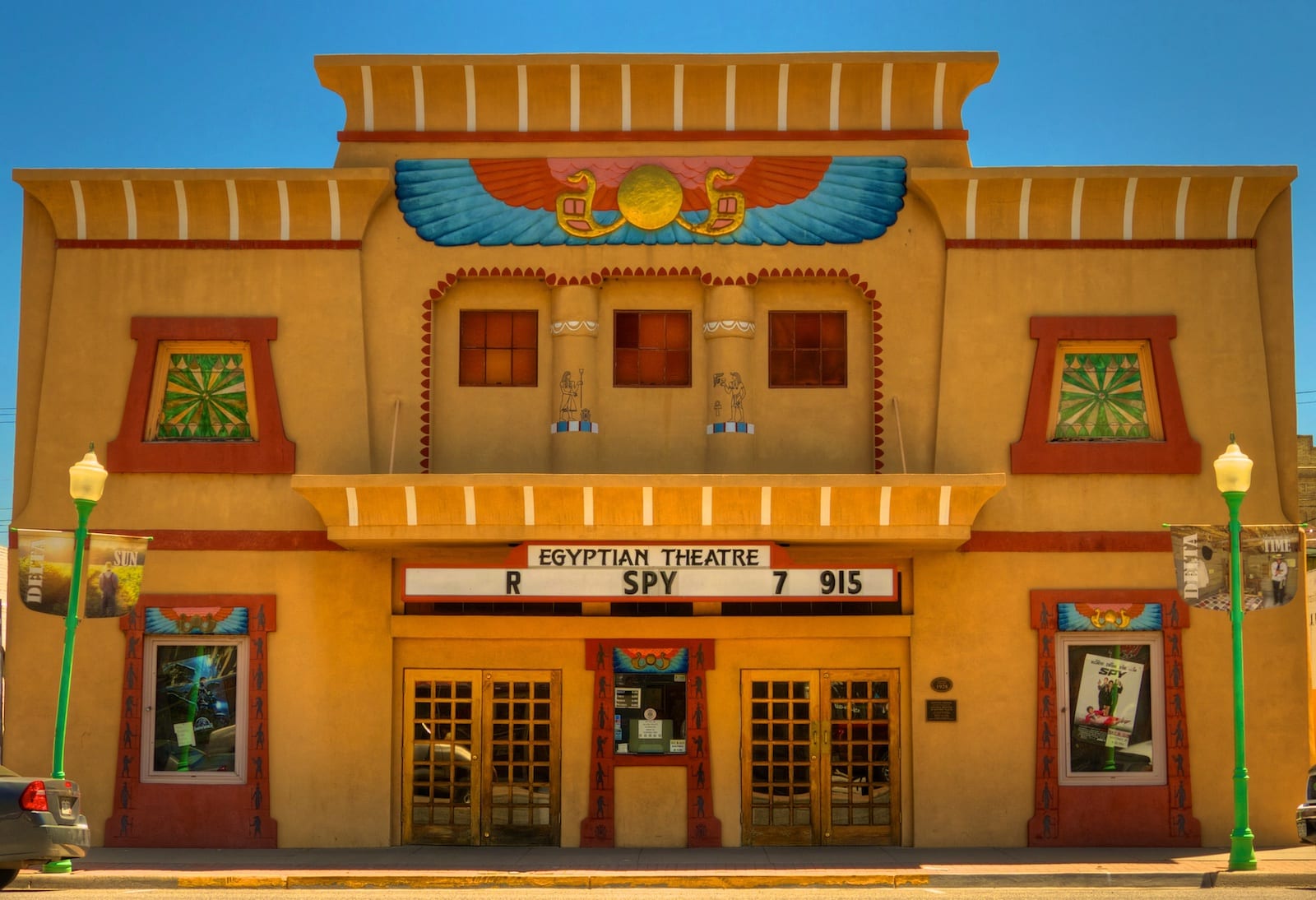 Sandwiched between GJ and Montrose on Hwy 50, Delta is quite similar to the aforementioned Western Plateau town of Montrose. It has a historic district spanning several blocks and a slower, almost sleepy way of life. The Gunnison River passes by north of town and outdoor recreation can be found in all directions.
Conifer – Central Front Range at 8,277′
8,751 (2020)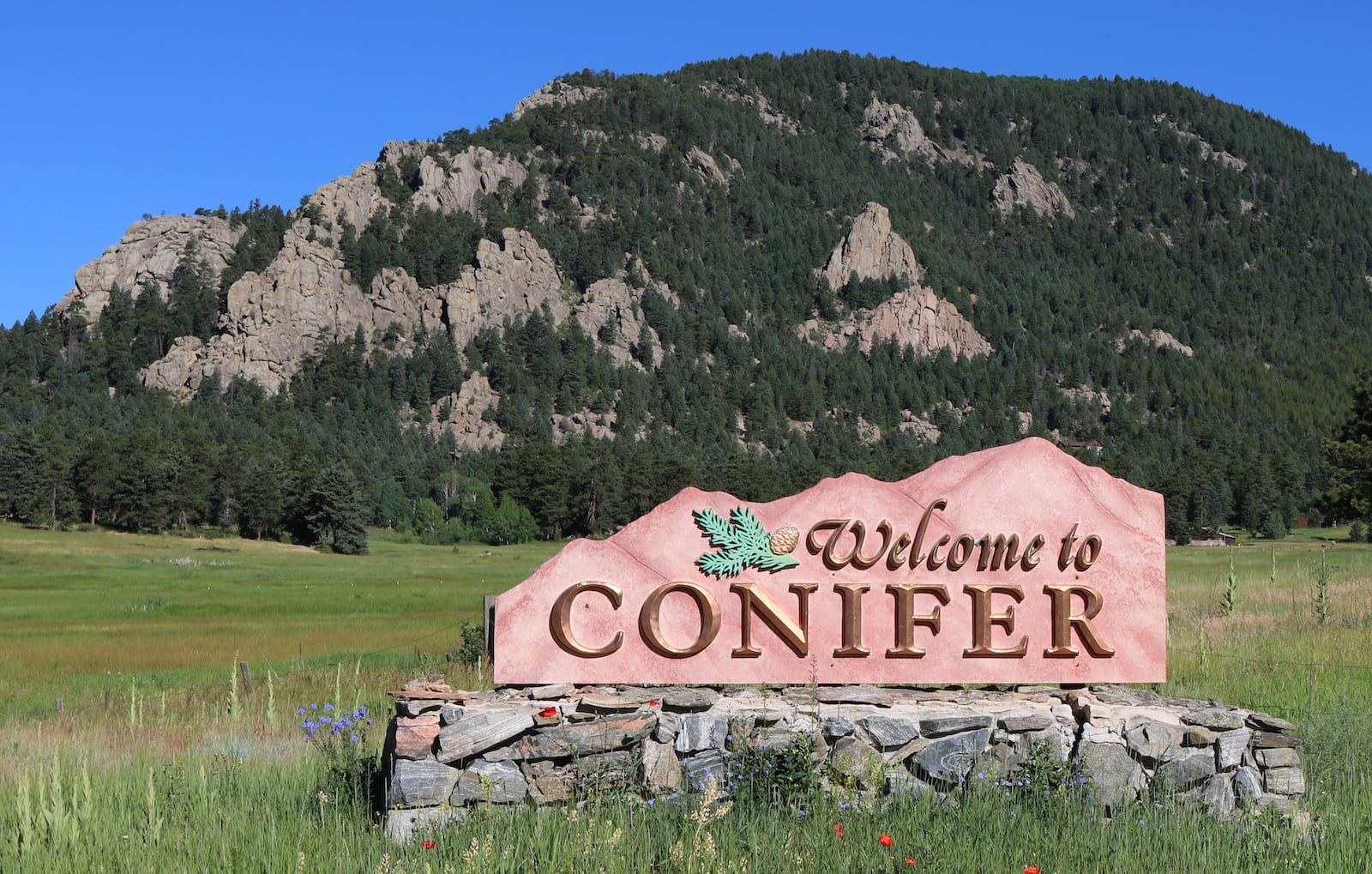 Tucked away above the Denver sprawl on Highway 285, Conifer provides its residents a friendly, safe and beautiful residence, with the ability to commute to the capital city for work. At roughly forty minutes to Denver from town, it's just close enough to frequent the metro more than once a month. Unlike Evergreen, Conifer lacks a real downtown area, but it has plenty of shops and restaurants to accommodate. It's a tad bit hilly too, so you'll have to get used to driving up and down a lot.
Cortez – Southwest at 6,191′
8,729 (2020); 8,482 (2010); 7,977 (2000)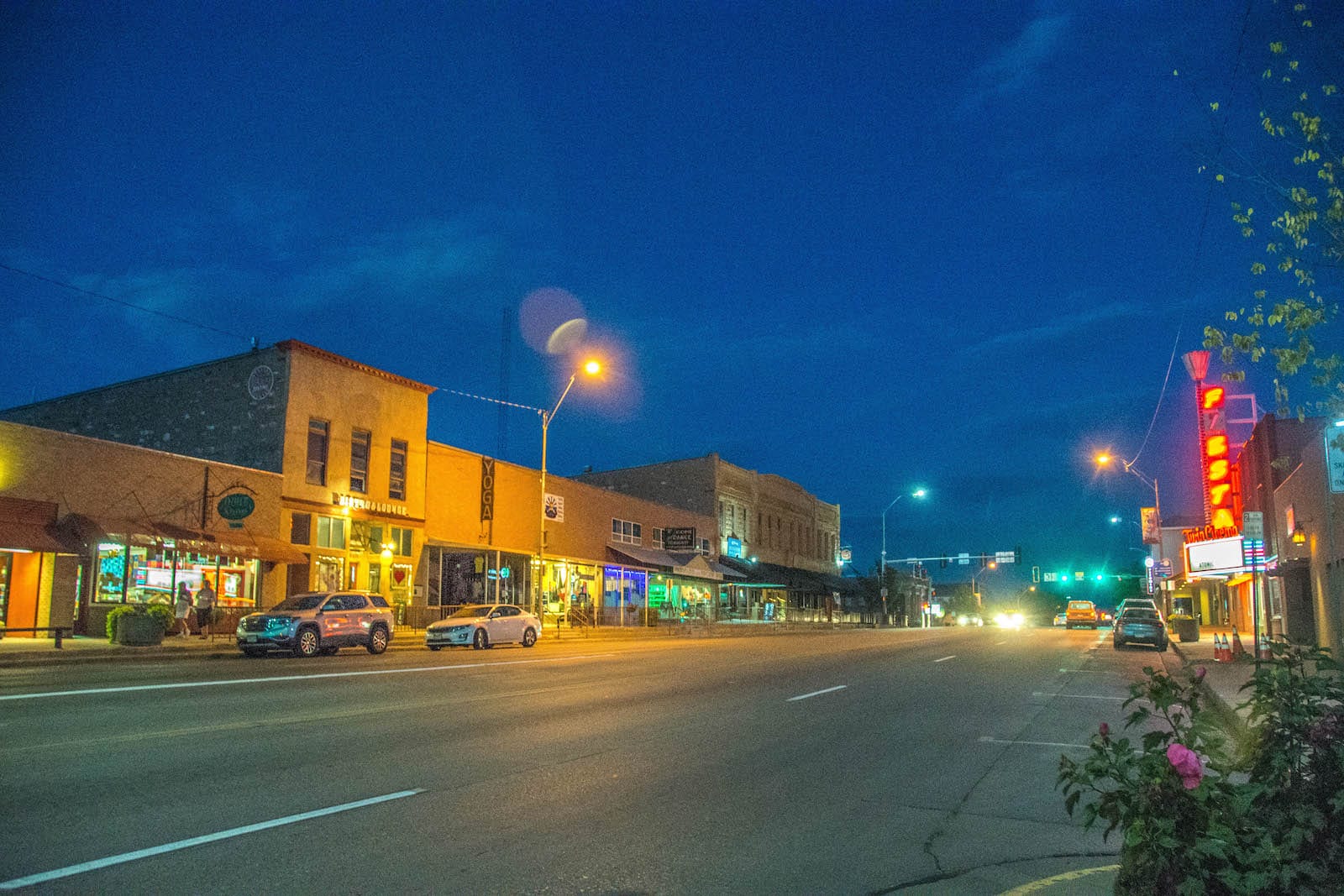 The county seat and largest town in Montezuma County is Cortez. Its secluded southwestern streets come alive in the summer with folks passing through town while exploring Mesa Verde, and other landmarks in the Four Corners region. In the winter, it's far quieter and nowhere nearly as lively as Southwest Colorado neighbor Durango, 45 minutes to the east.
Being so far to the southwest, if you're looking for big city life, your closest option is surprisingly Albuquerque, NM, at four hours, versus five to seven to hit the front range cities.
Trinidad – Sangre de Cristos at 6,010′
8,076 (2020); 9,096 (2010); 9,078 (2000)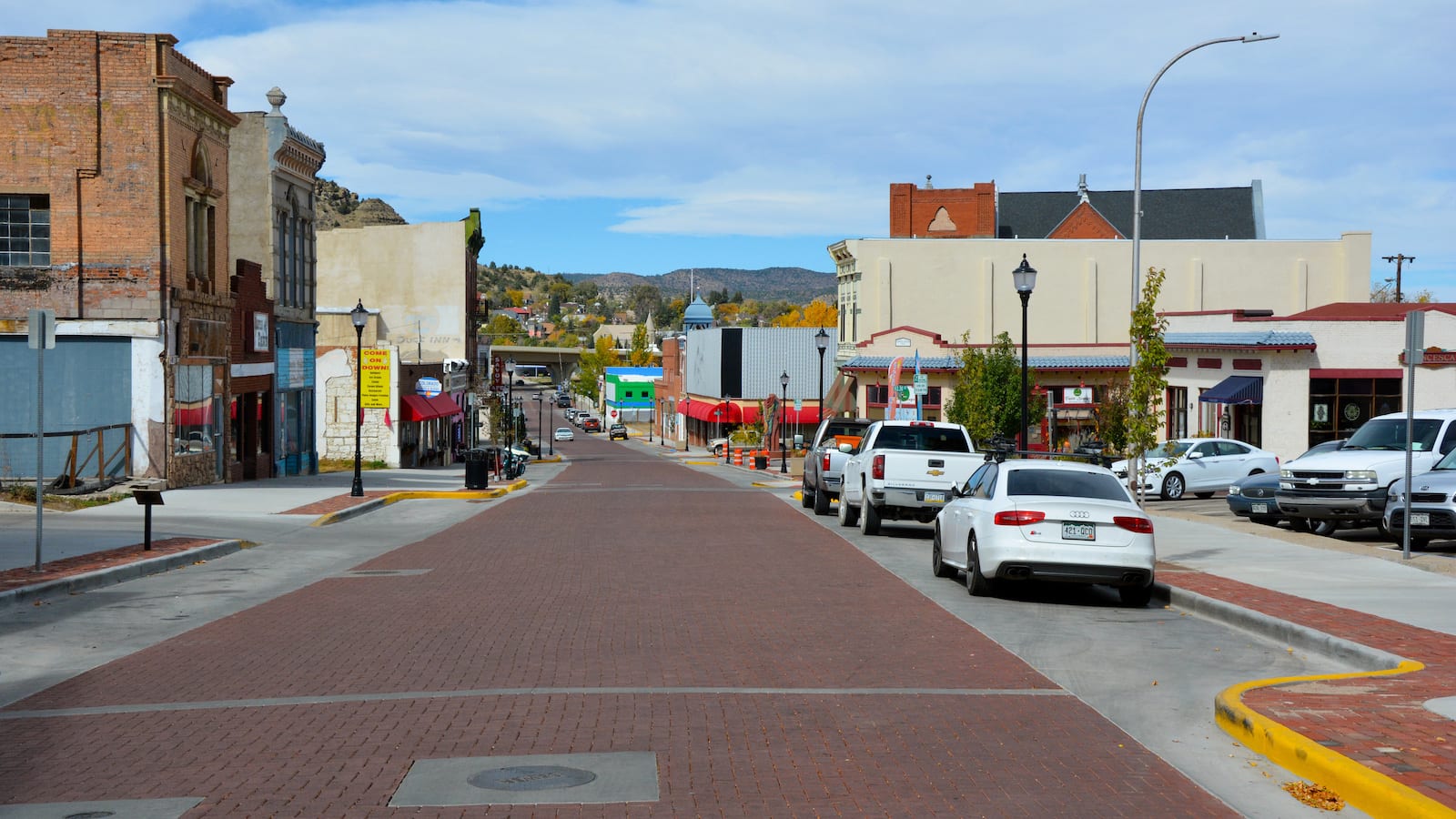 One of Colorado's southernmost towns, Trinidad is located nearby Raton Pass and the New Mexico border. It sits roughly three hours from Denver, two hours from Colorado Springs, and one hour from Pueblo. So Colorado's more populated Front Range Urban Corridor is within easy reach via I-25.
This historic community has an older, sleepy feel, with a lovely downtown and natural landmarks surrounding the town. The locals are friendly and happy to welcome visitors to their part of the state.
Woodland Park – Pikes Peak Region at 8,465′
7,943 (2020); 7,200 (2010); 6,515 (2000)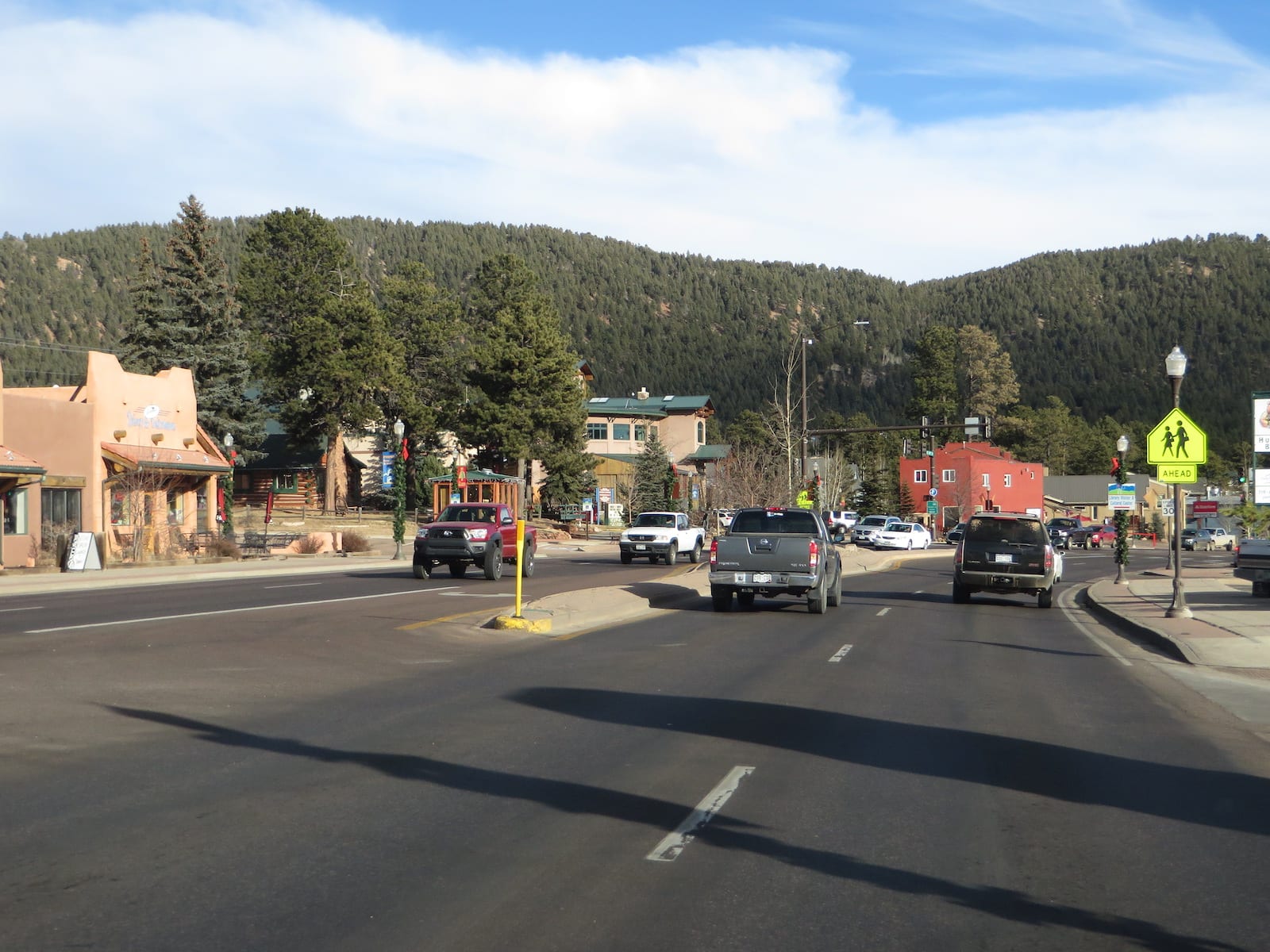 Like Evergreen to Denver, Woodland Park is Colorado Springs' alpine suburb and among its closest mountain communities. It sits near the top of Ute Pass, though the actual summit lies seven miles further in little Divide, CO. Woodland Park is surrounded by recreation with views of the 14,110-foot Pikes Peak from town.
It also offers far more in terms of nearby fishing than Evergreen, in places like Rampart Reservoir, the nearby South Platte River, and the reservoirs of South Park to the west. With The Springs only thirty minutes to the southeast, the downside to Woodland Park is all the through traffic that congests its main street/downtown each summer via Highway 24.
Aspen – Western at 8,000′
7,721 (2020); 6,658 (2010); 5,914 (2000)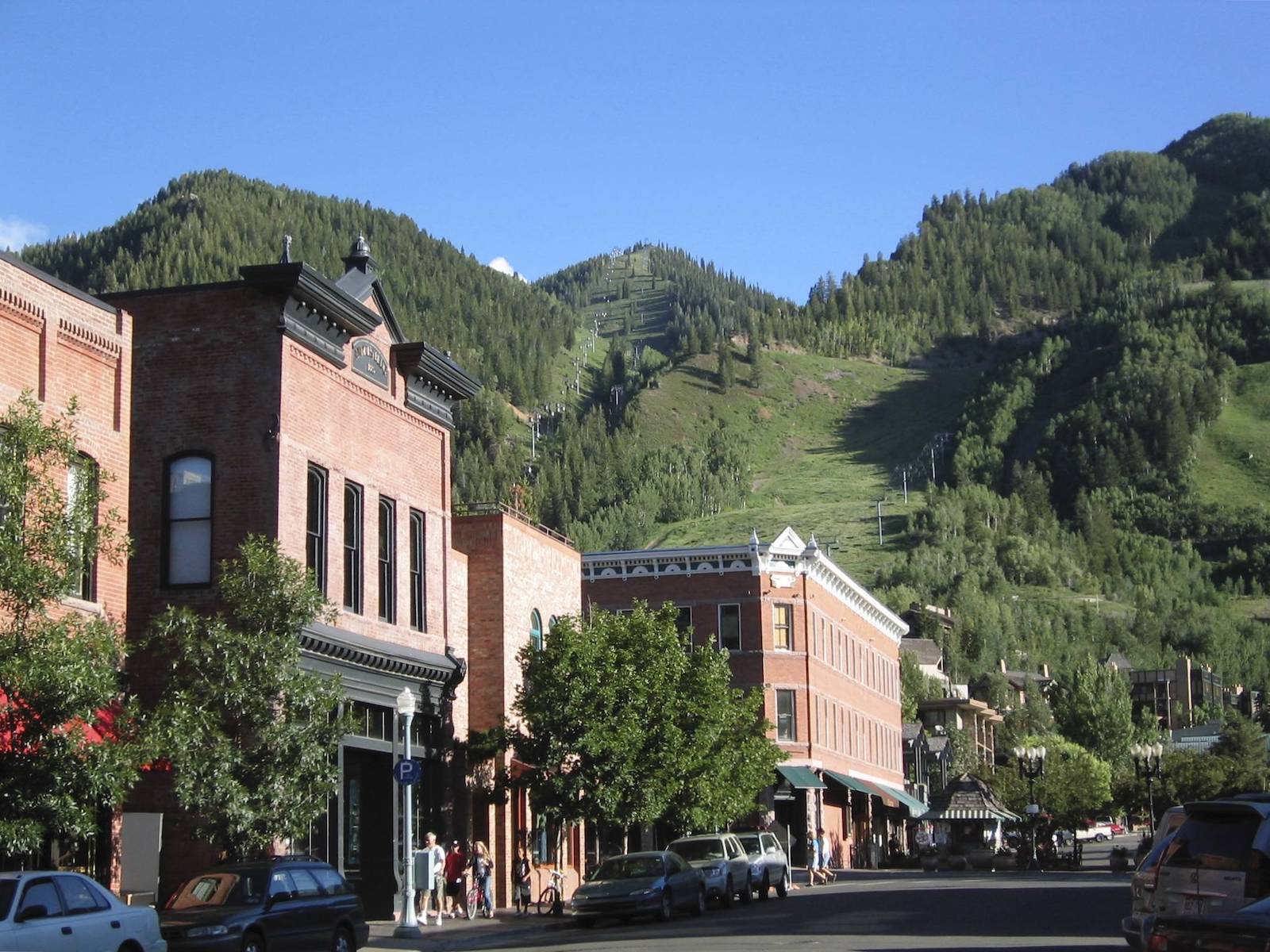 Every time this town is mentioned, I and probably many others, recite the hilarious Dumb and Dumb quote in our heads…
A place where the beer flows like wine. Where beautiful women instinctively flock like the salmon of Capistrano. I'm talking about a little place called Aspen.
This iconic ski town is arguably the most well-known of mountain towns in Colorado, with the other being Vail. Unlike Vail though, Aspen actually boasts a large historic district versus a Disney-esque mountain village. But like Vail, Aspen has high pricing in everything from lift tickets to shopping to real estate. Alpine activities are front and center, with four resorts to choose from, sandwiched between Aspen and neighbor Snowmass Village.
Eagle – Western at 6,601′
6,896 (2020); 6,508 (2010); 3,032 (2000)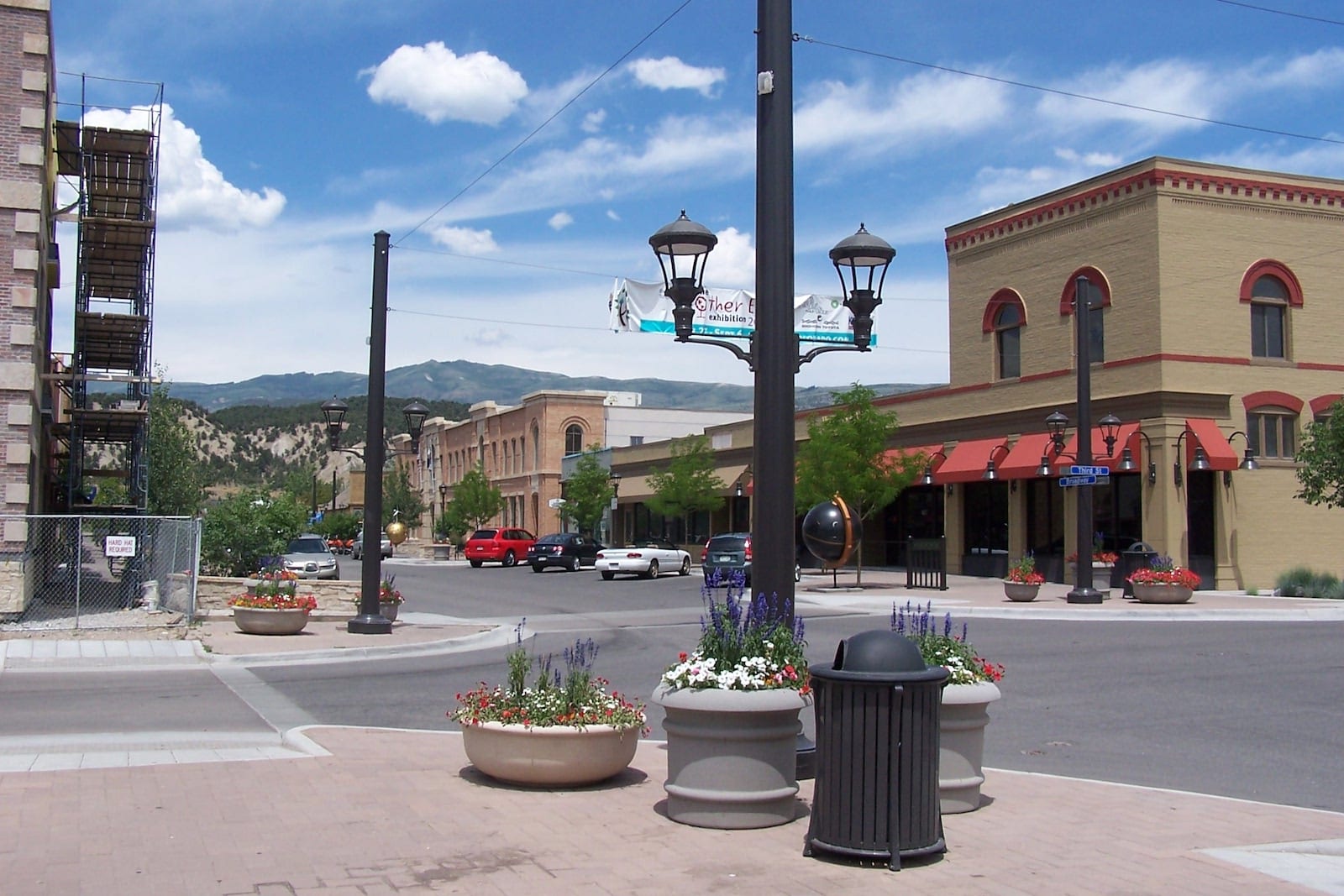 Thirty miles west of Vail on I-70 leads you to the county seat and largest town in the county by the same name, Eagle. Just far enough away from the bustle of the Vail Valley, prices here are reduced and the living is good. The White River National Forest and Sylvan Lake State Park lie hidden south of town, so outdoor recreation is readily available. Eagle boasts a nice downtown too, with enough restaurants and places to peruse to keep you accommodated.
Avon – Central at 7,431′
6,711 (2020); 6,447 (2010); 5,561 (2000)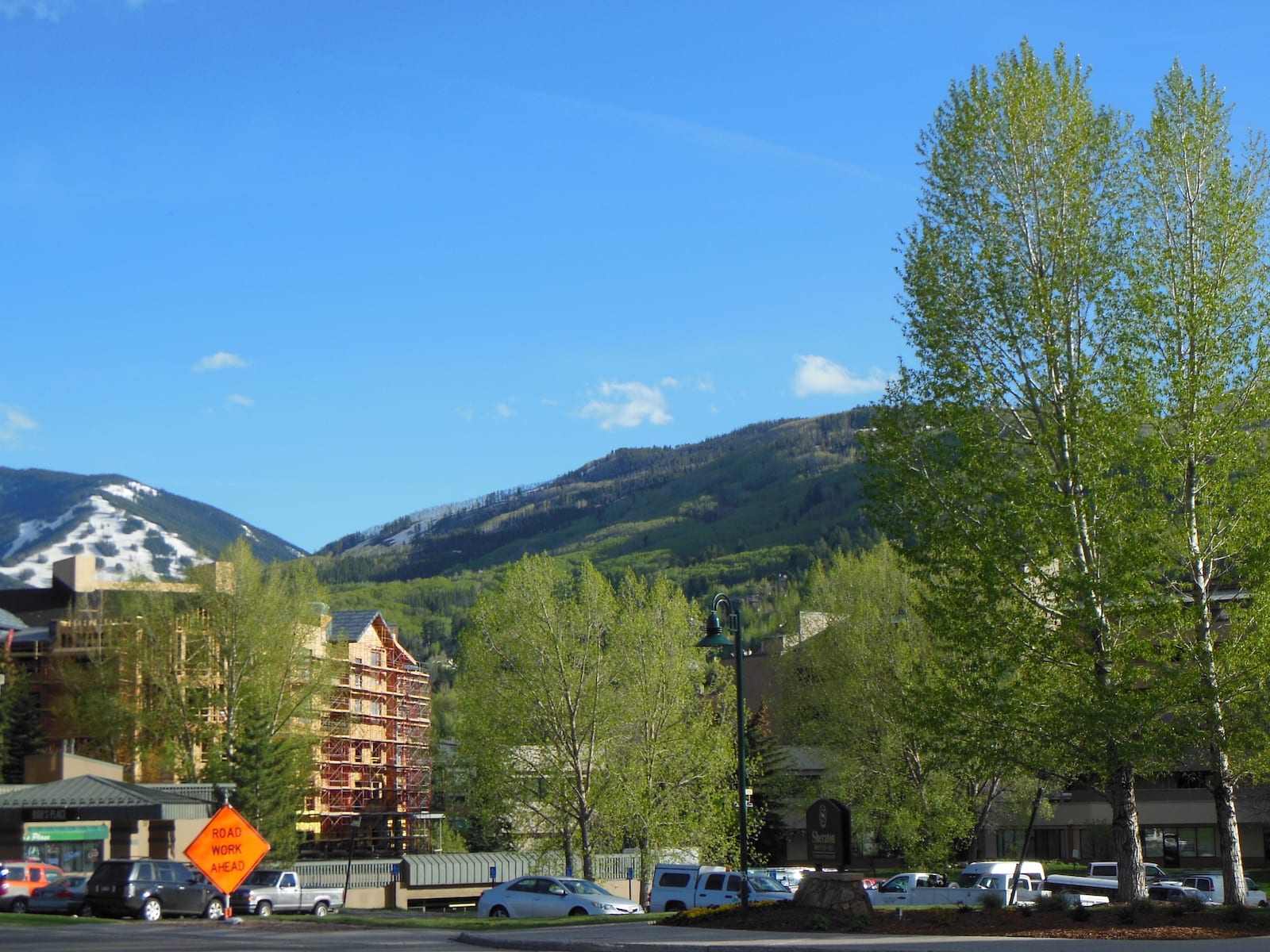 Located just ten miles west of Vail on I-70, Avon is the gateway to Beaver Creek Resort. The population also includes the Beaver Creek Village, which sits above Avon. Like its ski town neighbor Vail, Avon boasts a range of upscale shopping, dining, and accommodations. Unlike Vail, the vast majority of the town sits south of I-70 versus being split into two by the highway.
Carbondale – Western at 6,181′
6,658 (2020); 6,427 (2010); 5,196 (2000)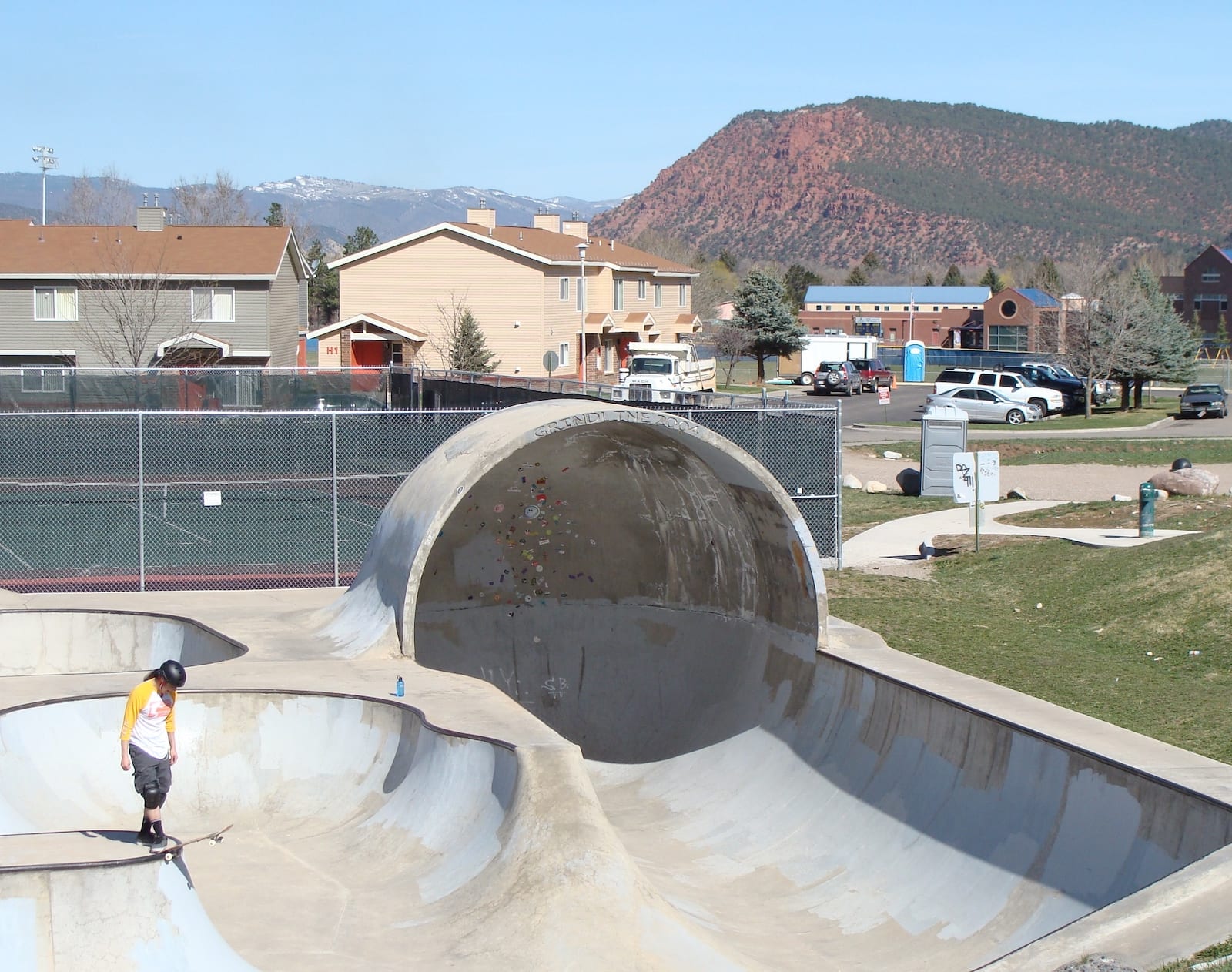 Carbondale is a cool arty community sandwiched between Glenwood Springs and Aspen in the Roaring Fork Valley. Life here is relaxed and avoids the congestion and heavy tourism found in the two aforementioned resort towns. Mount Sopris rises above the town, providing high mountain scenery, and both the Roaring Fork and Crystal rivers are located by the town. It sits at the northern start of the West Elk Loop National Scenic Byway.
Gunnison – Central at 7,703′
6,653 (2020); 5,854 (2010); 5,409 (2000)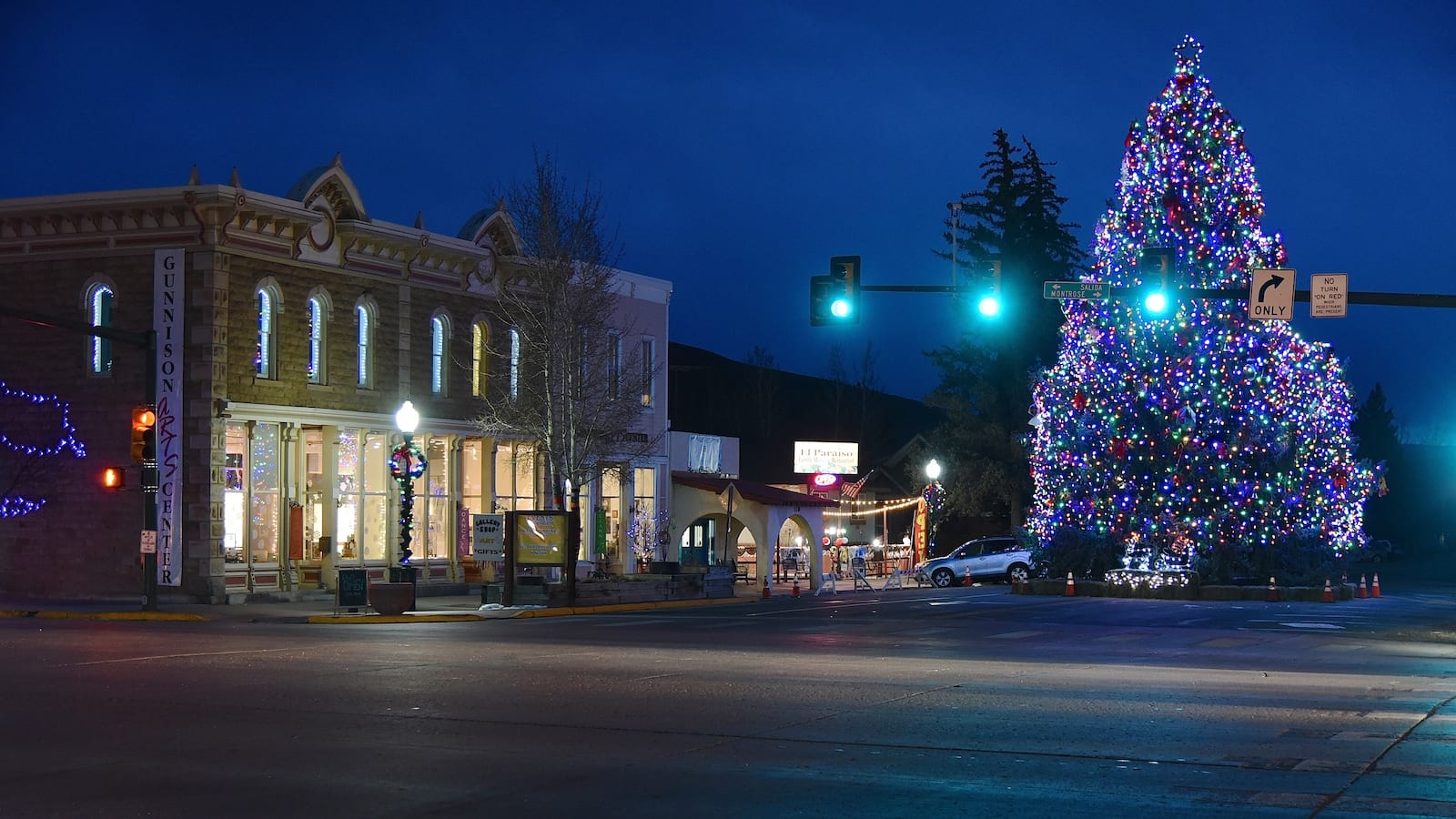 Gunny as the locals call it is a secluded Rocky Mountain town tucked away in the vast Gunnison Valley. Gunnison is home to Western State University, so it brings a small college town feel to this western community. Downtown features several blocks of shopping and dining, and excellent skiing is just thirty minutes north in Crested Butte.
The Blue Mesa Reservoir begins shortly west of town and provides a terrific place to fish or rent a boat. It does get cold here, but that's pretty standard at elevation in the Rockies.
Estes Park – Northern Front Range at 7,522′
6,504 (2018); 5,858 (2010); 5,413 (2000)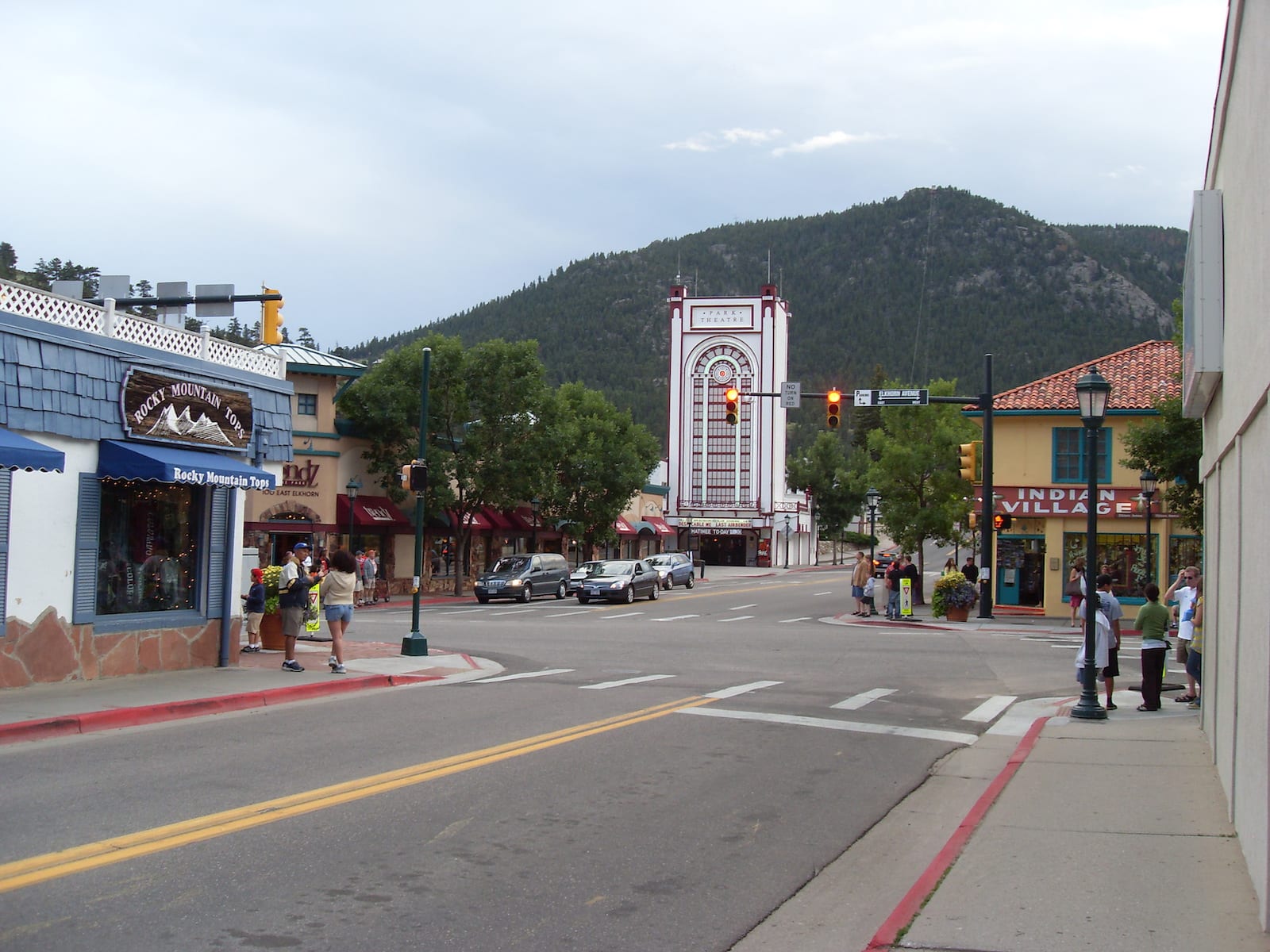 The eastern gateway to Rocky Mountain National Park, Estes Park is a resort town that attracts large crowds year round. It's especially popular in the summer for its abundant recreation and during the fall elk rut. It's well known for elk roaming the streets of the town at times, so this beautiful mountain town has wildlife to discover in all directions. While it's only 45 minutes west of Loveland, and 1.5 hours northwest of Denver, you'll feel a world away in this charming community.
Salida – Central at 7,083′
5,543 (2020); 5,236 (2010); 5,504 (2000)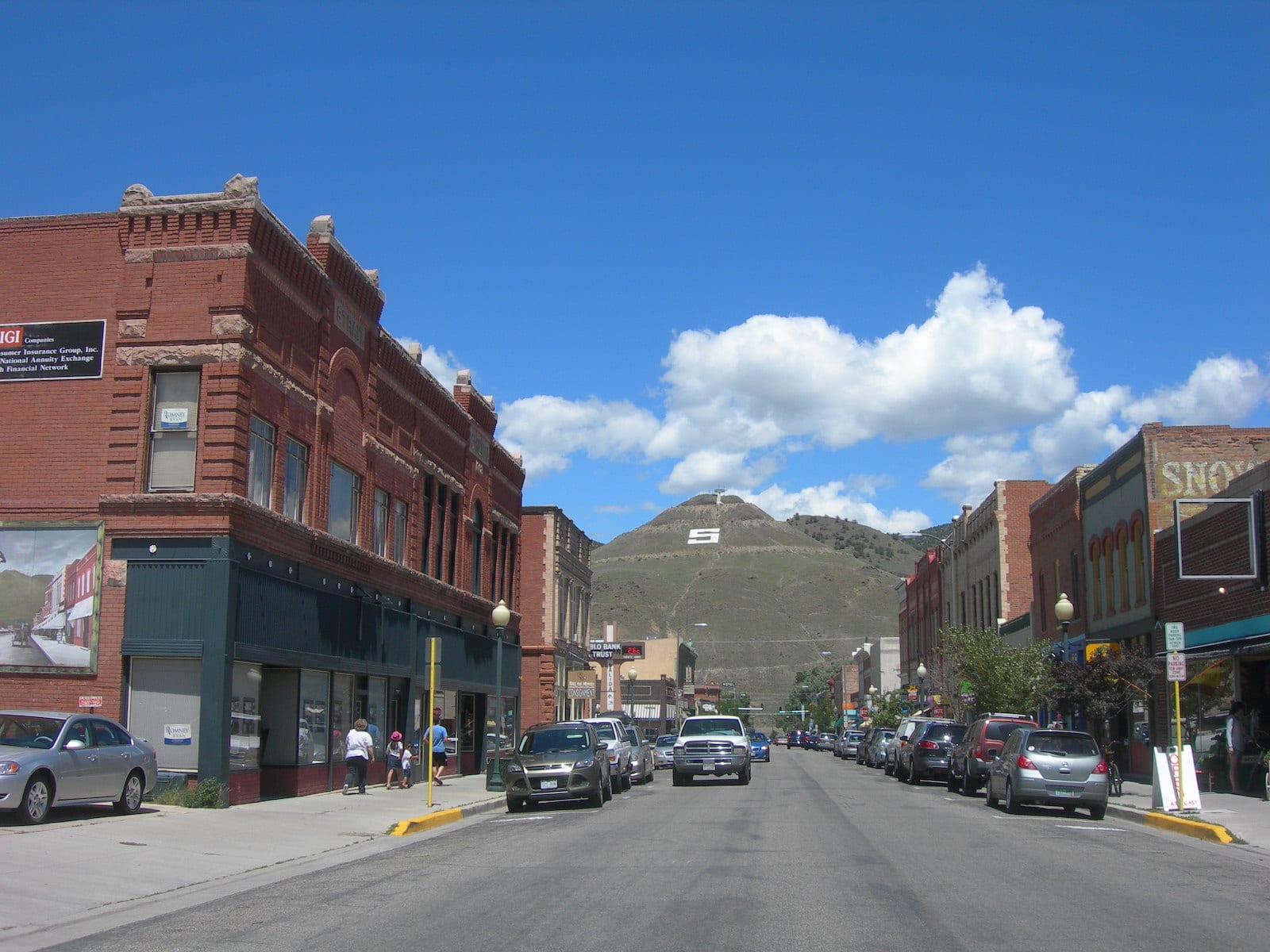 Salida was once a sleepy little secret of a mountain town but has since grown and developed. Like most of the in-demand places in Colorado, the result is more expensive real estate and less availability. Nestled on the banks of the Arkansas River, downtown Salida boasts a big historic district, one of the nicest in the state.
It's also less than 3 hours to Denver and 2 hours to Colorado Springs, so this front range town provides a moderate drive if you're in need of big city life. Monarch Mountain offers great ski slopes thirty minutes west.
Vail – Central at 8,150′
5,450 (2018); 5,305 (2010); 4,531 (2000)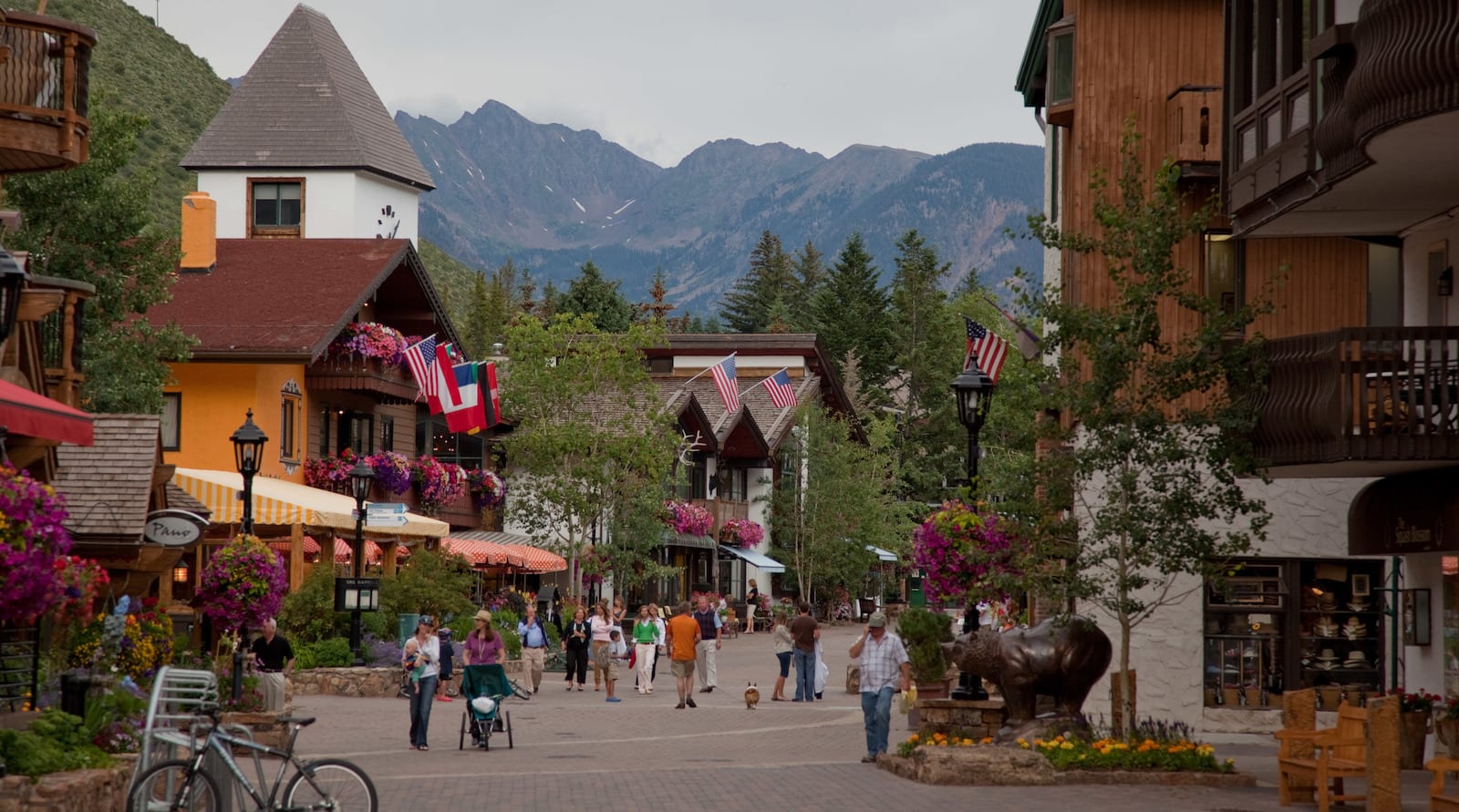 This town is modeled after an Austrian ski village and features the biggest ski resort in the state, at more than 5,000 skiable acres. Vail is pricey, but if you have money there are plenty of top-notch ways to spend it. The interstate divides the town in two, which is kind of a bummer, but the plus is easy access back to Denver or west to GJ.
And while some ski towns boast both a downtown and mountain village, Vail's is combined into two separate mountain villages at the base of the slopes: Vail Village and Lionshead Village.
Manitou Springs – Pikes Peak Region at 6,412′
5,346 (2018); 4,992 (2010); 4,980 (2000)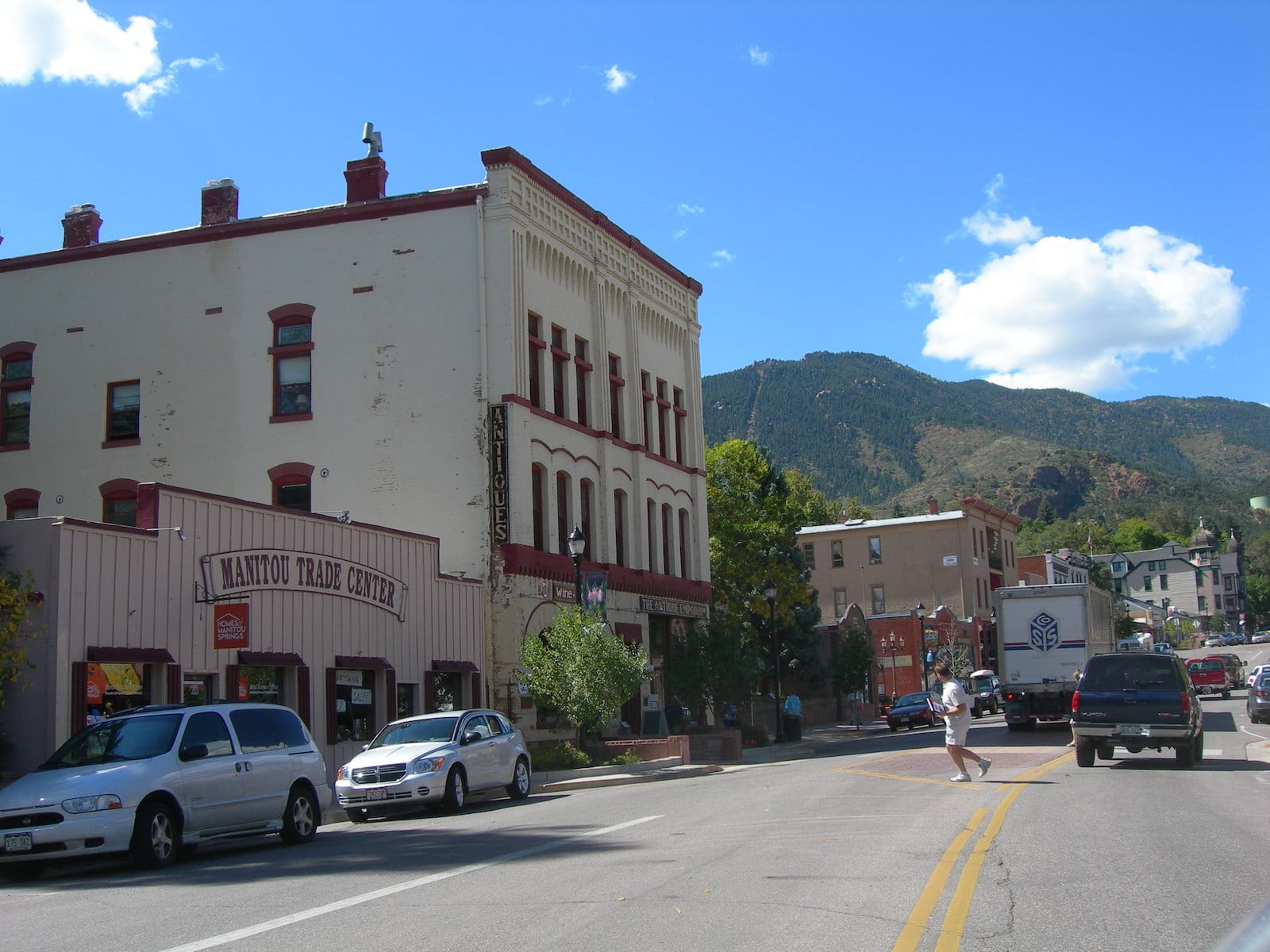 Really just a suburb of Colorado Springs (COS), Manitou Springs is just tucked into the foothills of the Rockies enough to be a mountain town. It features all the same positives as living in Colorado's second largest city, but its own unique town feel.
It's a resort town at heart, with attractions like the Manitou Cliff Dwellings, Cave of the Winds, and the region's only recreational marijuana dispensaries. Plus, it's got free natural springs and water fountains around town. It's situated minutes from downtown COS at the start of Ute Pass, which winds up to Woodland Park.
New Castle – Western at 5,597′
5,024 (2018); 4,518 (2010); 1,984 (2000)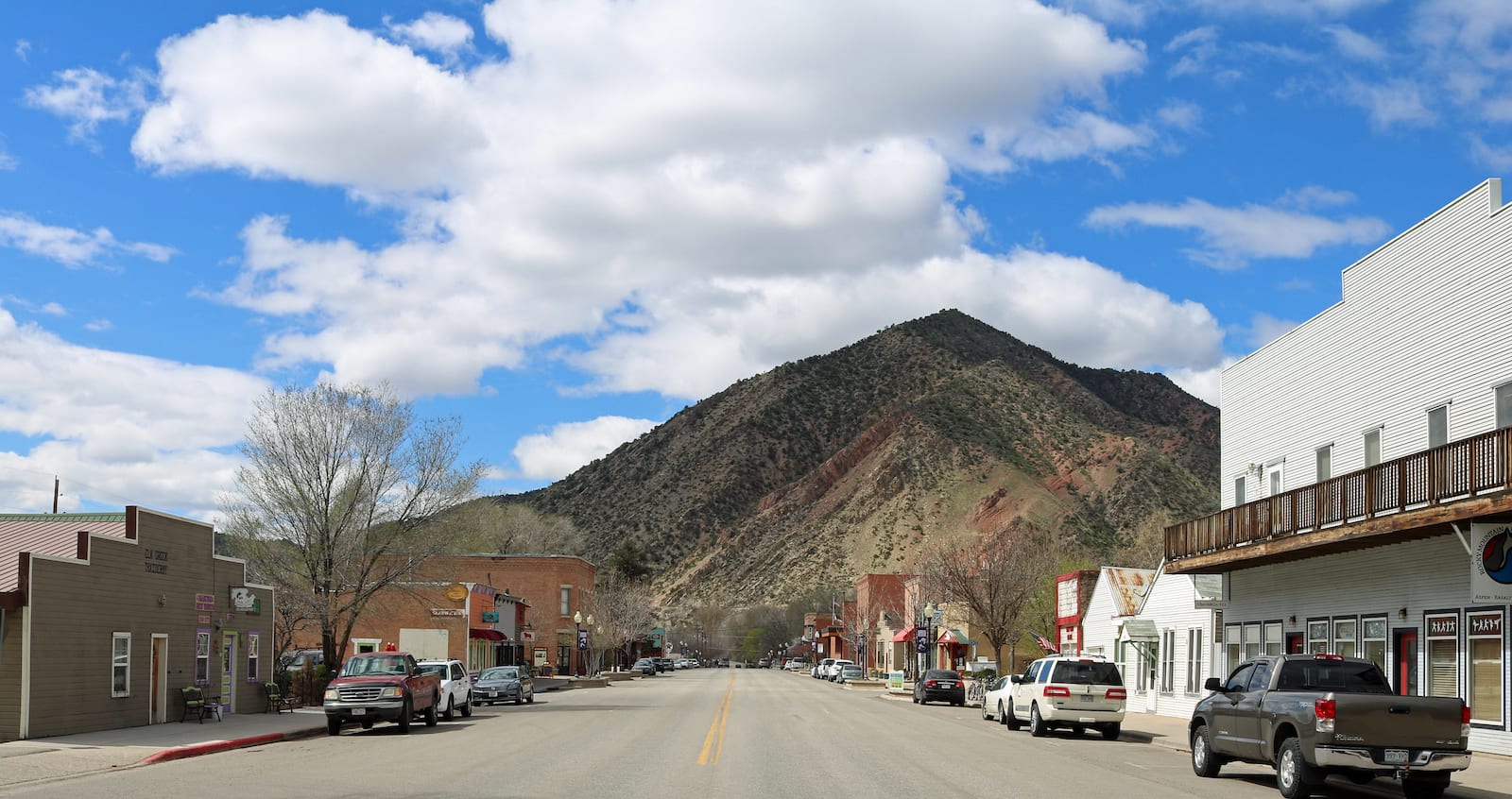 Located just 15 minutes west of Glenwood Springs on I-70, New Castle provides a lot of the same benefits of living in the Roaring Fork Valley at a reduced cost. The downtown features a few small blocks and the White River National Forest provides ample recreation in all directions. The Colorado River flows by town, but is on the opposite side of I-70 making access a little cumbersome.
Breckenridge – Central at 9,600′
5,054 (2020); 4,540 (2010); 2,408 (2000)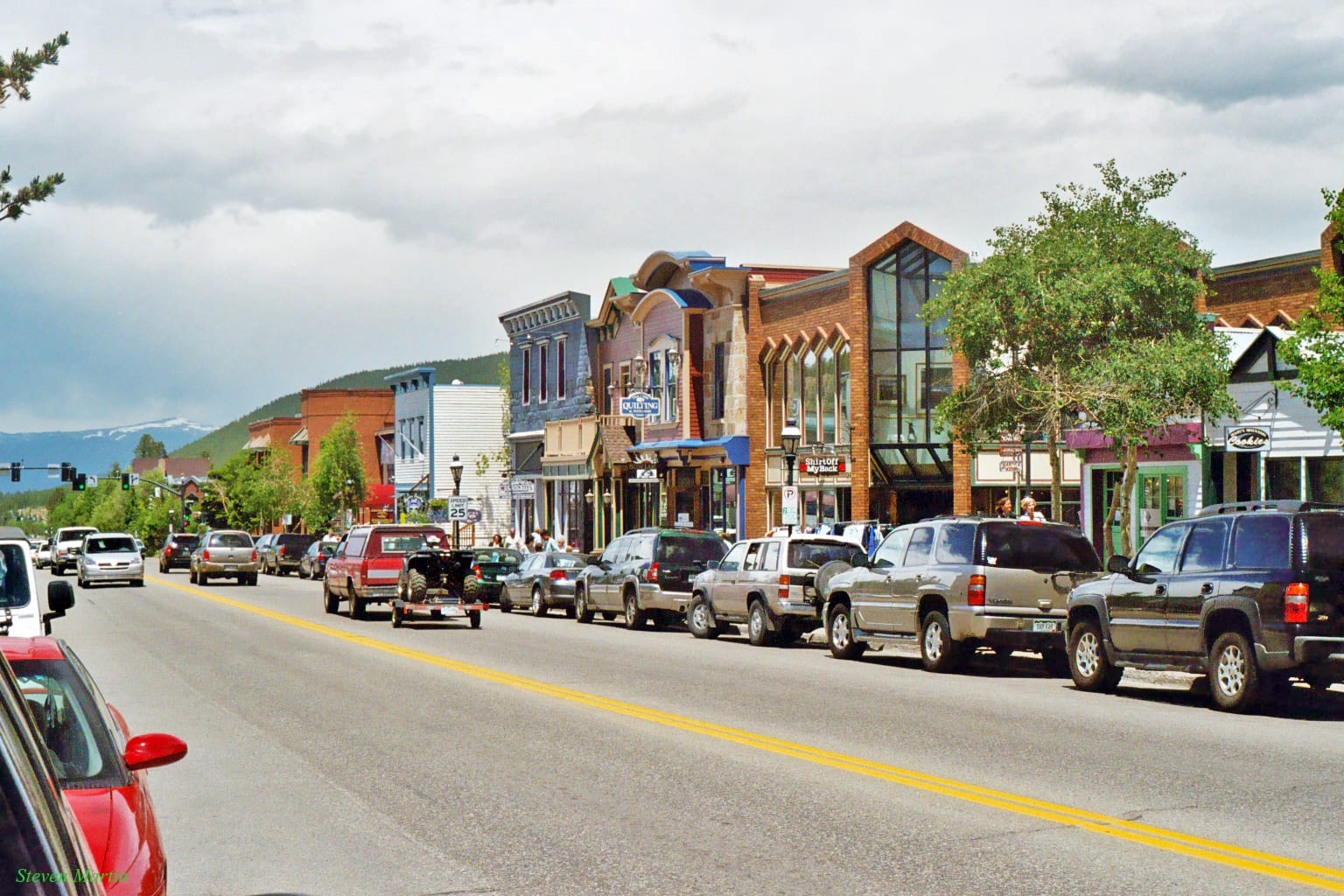 Breckenridge is the highest elevated mountain town that made the list, at only four hundred feet shy of 10,000. Nobody said living at altitude was easy. Everything you do is a little tougher, be it strolling the gorgeous streets of downtown Breck, or shoveling your driveway.
With that said, your body acclimatizes, you get used to it, and you'll certainly love the myriad of world-class dining, alpine recreation, and tourist attractions at your fingertips. Like other resort towns mentioned, real estate and the resulting cost for everything are more expensive.
While Breck is the county seat and largest town in Summit County, the others nearby (Frisco, Dillon, Silverthorne, and Keystone) all share close proximity to one another and thus provide all the benefits (and pitfalls) of a higher populated metro. Copper is the tiniest at around 300 people and is more of a resort-only town than the others.
That's a roundup of the largest mountain towns in Colorado. If we missed one that's over 5,000 people, please let us know! Now onto the biggest cities in Colorado by population, 19 of the 20 are on the front range urban corridor.
*not mountain towns, but far removed from the Denver Metroplian Area, so good enough