"Gateway to the Great Sand Dunes" – Alamosa is the largest town in the San Luis Valley with a popular near 8,000. The downtown section is lined with historic shops, restaurants and bars. Like most of Colorado, Alamosa has a sunny climate, but it can get very cold there.
Main Attractions
Great Sand Dunes – On a clear day you can see them from town. This national park boasts fun hikes, good camping and a one-of-a-kind experience.
Rio Grande Scenic Railway – This historic railroad hosts a slew of exciting trips through southern Colorado, including concert trains, dinner rides and winter excursions.
Recreation
Camping:
​Local San Luis State Wildlife Area and nearby Great Sand Dunes both offer well maintained campgrounds year round for a fee.
A few miles south on Hwy 150 from Great Sand Dunes are the Zepata Falls. Free to explore and a nice campground which is cheaper than the above national and state parks. There are 20 or so campsites, and a couple of RV spots. There is a sign along Hwy 150 indicating the entrance. The road from there is about 4 miles and also a bumpy, rocky ride.
Fishing:
The San Luis River passes by town.​
The Smith Reservoir is located 25 miles east of town in Blanca. Take US 160 east for 19 miles to Airport Rd. Follow that for a few miles to the lake.
Hiking:
Hike to the top of the Sand Dunes.
Accommodations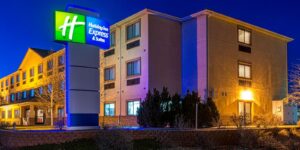 Top 7 Cool Hotels in Alamosa – Plan your next trip to the "Gateway to the Great Sand Dunes!" As the biggest town in San Luis Valley, Alamosa has a lot to offer. There are top hotels and vacation rentals to accommodate all travelers to the county seat. Tucked away in…
Special Events
Jan – Rio Frio Ice Fest – Combing an Ice Festival with the Rio Frio 5K Race on Ice, it's a party in one of Colorado's coldest places, held in late January over three days.
Activities near Alamosa
Federal Lands:
Hiking:
Hot Springs:
Landmarks:
Museums:
Railroads:
State Wildlife Areas:
Towns:
Transportation:
Waterfalls:
Wildlife:
Trending in Alamosa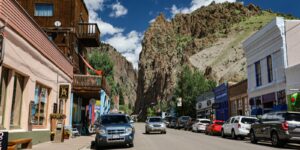 Visit These Ten Small Town Gems in Colorado – They may be small, but these Colorado towns have plenty to offer. From epic mountain landscapes to historic landmarks, each one of them offers a bit of something special. All of these Colorado towns are…