Locally known as the "Hooper Pool", the family-owned Sand Dunes Pool is fun year round. It's located north of Alamosa, near the Great Sand Dunes.
Facility
The resort includes a large swimming pool, a smaller relaxation pool, decks, picnic areas and a greenhouse lounge. It's fed by an artesian well that reaches 4,400 feet deep. The well was originally drilled in the early 1930's in search of oil.
The water is 118°F at the source. The swimming pool is maintained between 98-100°F. There is a diving board too.
For those that enjoy it a little bit hotter, there is a 25 person therapy pool kept around 106°F. It's great for soothing muscles and joints.
The resort offers swimming classes and aerobics classes. Swim lessons are scheduled each June and July. Aerobics classes take place in the pool and make a great, low-impact fitness workout.
The Mile Deep Grille located at the pool is sure to keep your stomach full. The menu is quite extensive, especially for a pool-side cafe. Fresh produce like tomatoes, cucumbers and basil are grow onsite in a greenhouse.
Lodging
There is a Family Travel Trailer to rent, which is fully furnished with a kitchen, bathroom, living room and sleeps four. There is a picnic table and fire pit. There are also three cabins for rent.
Both RV campgrounds and tent sites are available. There are ten tent sites that include tables, grass, fire-pits and parking. Campers get half-priced admission to pools.
​​
Atmosphere
Family-friendly hot springs swimming pool; Pool-side restaurant with large menu; Scenic views of the Sand Dunes and Sangre de Cristo Mountains
Getting There
From Alamosa to the south (Junction of Hwy 160 and 285) – Take CO-17 N for 20.2 miles before turning right onto County Rd B. Go for 1.5 miles and take a left onto County Rd 63. Proceed for 1 mile.
From Poncha Springs to the north (Junction of Hwy 50 and 285) – Take US-285 S for 26.1 miles until you reach CO-17 S. Turn left on CO-17 S and head 29.4 miles. Turn left onto County Rd B. Follow above.
Details
Address: 1991 Co Rd 63, Hooper (near Alamosa)
Phone: 719-378-2807
Season: Year round
Hours: Daily except Thursday for cleaning
March 1-Nov 30, 10am-10pm
Dec 1-Feb 28, 1pm-8pm
Clothing: Required
Temp: 98°-100°, 105°-107° F
Website: sanddunespool.com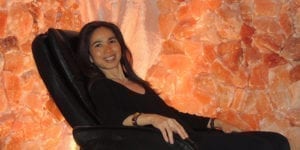 Breath clearly at a Denver Salt Cave (affiliate) - 46-47% off $19 ($35 value) for one 50-minute salt cave session , $56 ($105) for three 50-minute salt cave sessions at 5 Star Salt Caves in Denver. Europeans have long held that breathing in salt has therapeutic properties...