In Costilla County, Colorado, the Smith Reservoir State Wildlife Area offers 278 acres of outdoor activities south of Blanca in the San Luis Valley. The area is centered around Smith Reservoir which stores 14,058 acre-feet of water at an elevation of 7,716 feet.
In 1914, the Smith Dam was built to create the Smith Reservoir by impounding the Sangre De Cristo Creek, Trinchera Creek, and several other small waterways. Today, the Smith Reservoir is owned and operated by the Trinchera Irrigation Company, while the surrounding SWA is managed by the Colorado Parks & Wildlife.
Activities at Smith Reservoir State Wildlife Area
The Smith Reservoir SWA is very easy to access via Airport Road. There are vault toilets and information is available on the eastern and southern shores of the water. Vehicles are prohibited from within 50 feet of the water.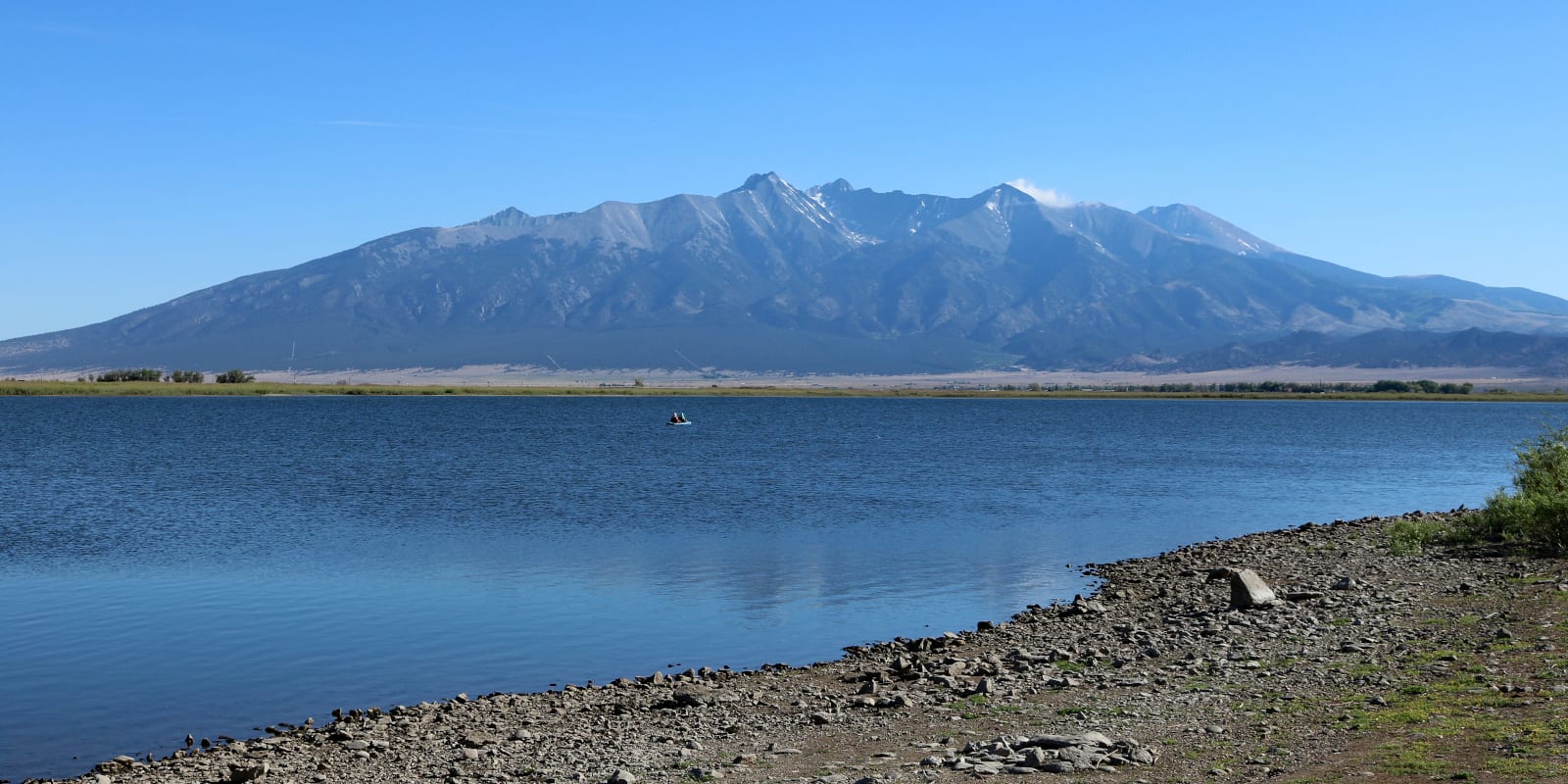 Birding: The Smith Reservoir State Wildlife Area is a highlight for those birding within the San Luis Valley. Visitors are likely to spot terns, gulls, hawks, herons, ducks, geese, and more as the area is home to nearly every waterfowl species in Colorado.
Boating: There are two boat ramps located near the parking area on the southwest shore of the reservoir. Both motorized and non-motorized boats are permitted on the Smith Reservoir, with many visitors fishing from kayaks and canoes.
Camping: There are three designated dispersed, primitive camping areas available for visitors along the shorelines roads of the Smith Reservoir SWA. At the sites, there is plenty of room for both large RVs and tent camping. Camping is first-come, first-served, and is free to those with a valid Colorado hunting/fishing or Public Lands license.
Fishing: Fishing is permitted year-round, and Smith Reservoir is popular for ice fishing when the water freezes over. However, from November 1 until the last day of the waterfowl season, fishing is only permitted within 200 yards of the dam. Most commonly, licensed anglers may catch several species of stocked trout in the Smith Reservoir and surrounding creeks.
Hunting: Locally licensed hunters flock to Smith Reservoir for some of the best waterfowl hunting in southern Colorado. Beyond this, the area is also good for permitted hunting of big game like elk and moose in the nearby Rio Grande and San Isabel National Forests.
Swimming: Swimming and surface-contact activities such as water skiing are prohibited in the Smith Reservoir SWA.
Wildlife Viewing: Within the Smith Reservoir State Wildlife Area, many animal species can be viewed from a safe distance. Most commonly, visitors may see coyotes, pronghorn, deer, and rabbits around the reservoir.
Details
Address: Smith Reservoir, Blanca, CO 81123 (near Alamosa)
Phone: 719-587-6900
Season: Year-round | North & East Shores are closed from February 15 – July 15
Hours: 24/7
Fees: Public Land or Colorado State Hunting/Fishing License Required (16+)
Maps: Smith Reservoir SWA (PDF)
Website: cpw.state.co.us…