Vail is the largest ski resort in Colorado, with over 5,000 skiable acres. Travelers from all over come to Colorado to ski Vail's world-class slopes and back bowls.
Whatever you're looking for terrain-wise, Vail's got it. It's by-far the largest resort in the state with more than 5,000 skiable acres. 31 lifts serve 193 trails. Vail is known for delivering a top-notch ski experience. All levels of riders will find terrain they love.
Terrain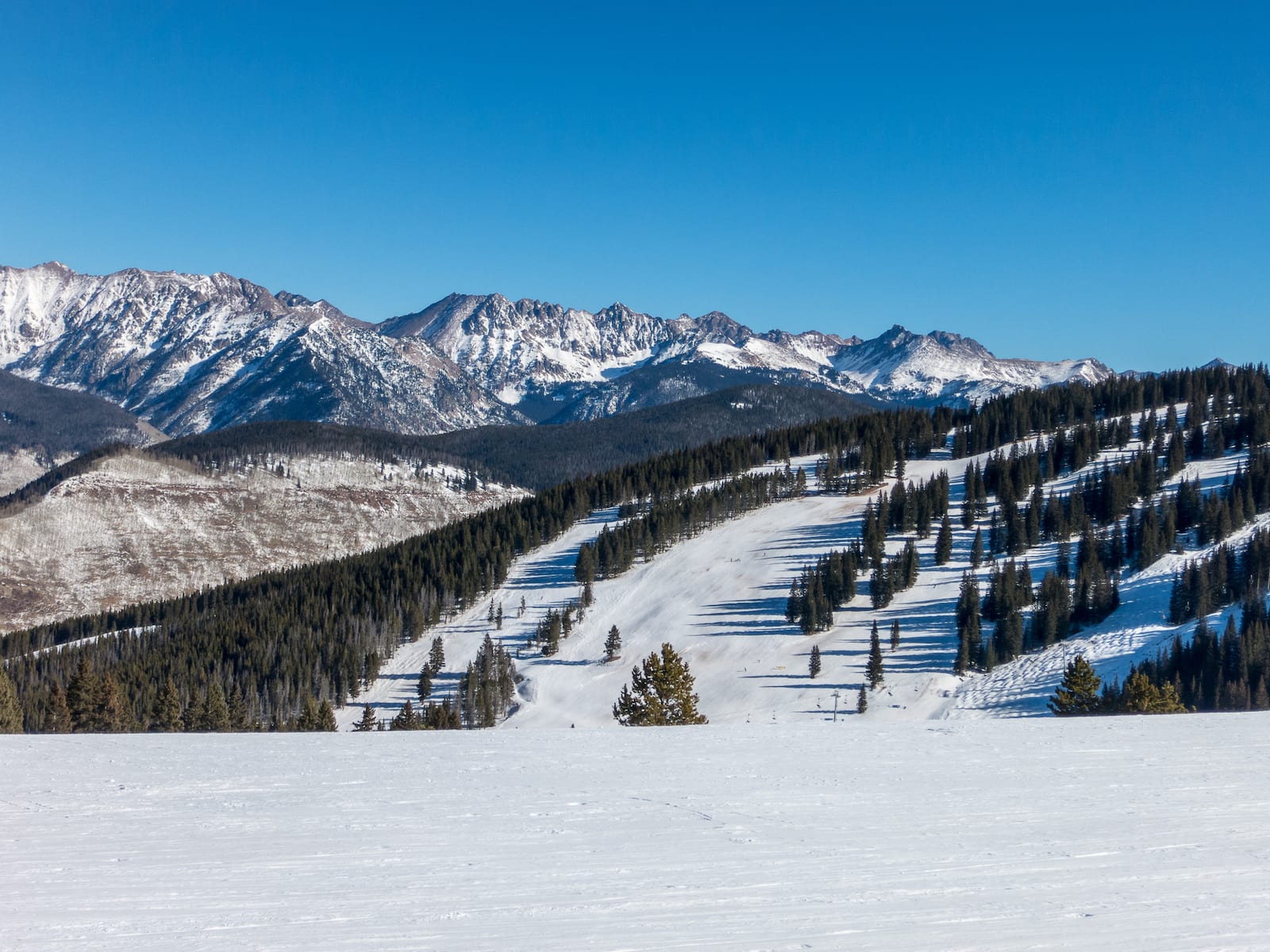 Beginners will find easy-to-access greens and gentle blues throughout the front-side of Vail Mountain. For lessons, Vail Snowsports School offers both group and private instruction to skiers/snowboarders. They also have a number of focused learning clinics, like freestyle riding.
Intermediates will have a great time skiing Vail's long, fast cruisers. From nearly all of Vail's lifts, you'll be able to access at least one blue or green run back down. Vail grooms more terrain than any resort in Colorado, assuring favorable conditions and nice corduroy.
On a powder day, Vail is unreal! Strong skiers and riders will have a blast dealing with more than 2600 skiable acres of expert terrain. Vail offers steep mogul runs, fantastic tree skiing, narrow chutes, big cliffs, large cornices, and every other kind of terrain you may be looking for. Vail also has some of the best terrain parks in the state, 3 to choose from, with 1 superpipe and 1 halfpipe.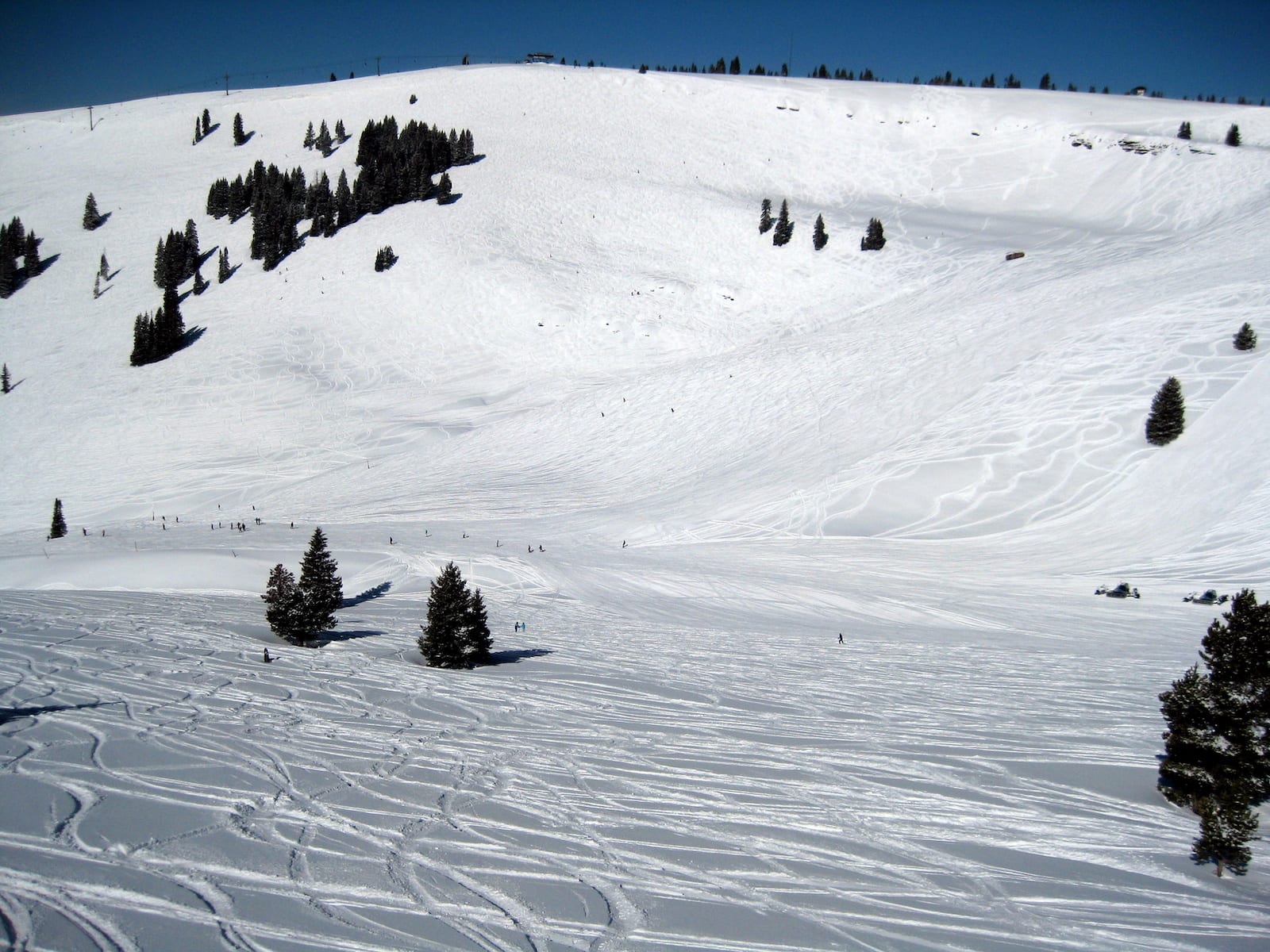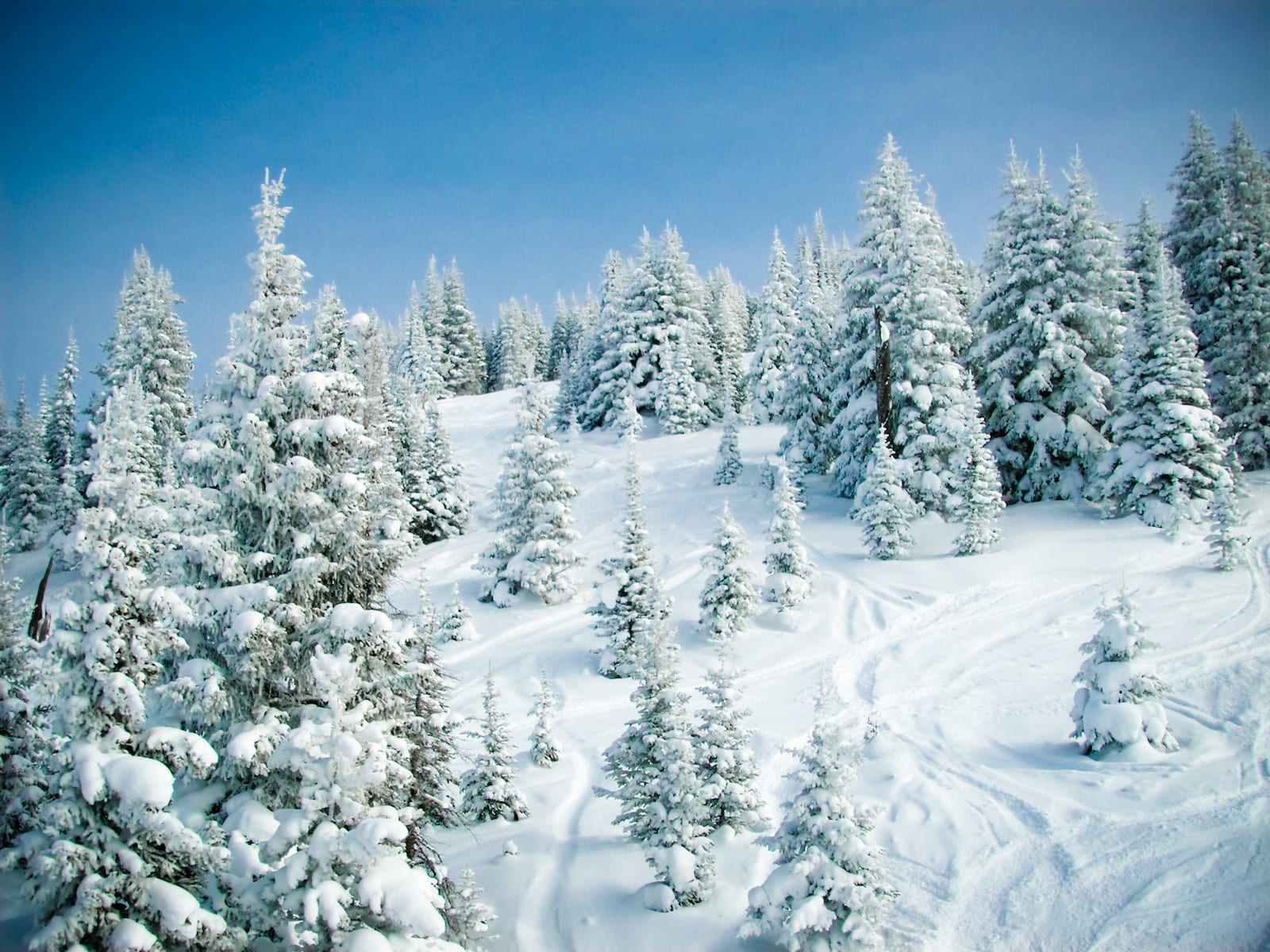 Vail is most known for its legendary Back Bowls. They seem to stretch endlessly in all directions, a breathtaking site. By themselves they are nearly 3,000 skiable acres of wide-open terrain. On the far end of Vail's back-side are the Mongolia Bowls. Late into a powder day, these are a good place to find powder stashes.
From the backside of Vail, you can take a cat walk to Blue-Sky Basin. Blue Sky Basin is Vail's newest addition and offers advanced skiing with plenty of natural trails.
Village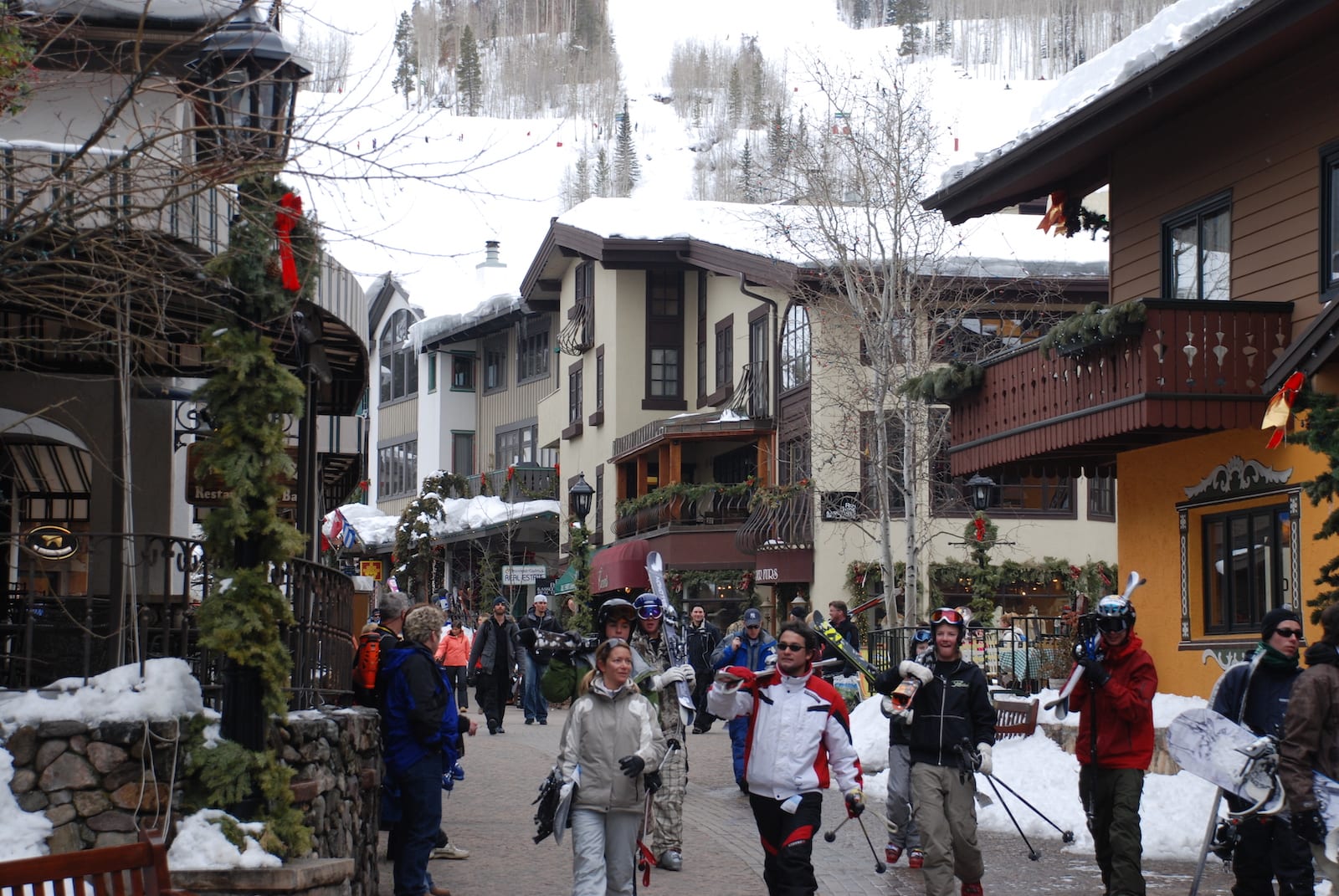 The center of the Vail Valley is Vail Village, located directly at the bottom of the slopes. It's modeled after an Austrian village and has an upscale, inviting feel to it. The main streets of the village are car-free and lined with great restaurants, wonderful shops, and luxury hotels.
Lionhead is Vail's second mountain village, adjacent to Vail Village. To help get around, there is a free bus system between Lionhead and Vail Village. There is also a free bus around the Vail Valley. Lionhead has it's own set of nice shops, restaurants and lodging.
On-mountain, Vail has a plethora of dining options. At the top of the Gondola, Vail has multiple levels of restaurants/cafeterias. For a delicious burger, try the Epic Burger, available on the top floor of the Gondola Station. If you prefer to grill your own burgers
or hot dogs
, Vail provides free grills for use atop Blue Sky Basin.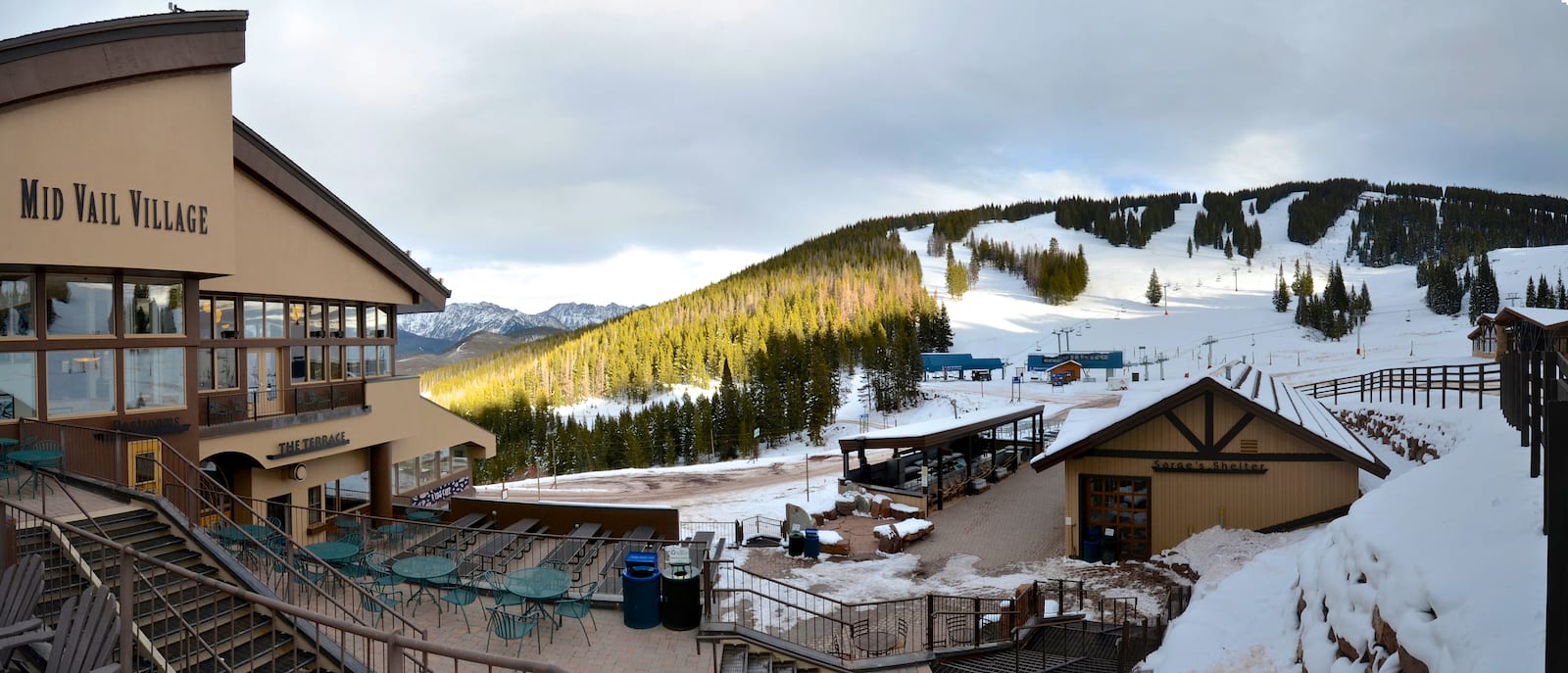 There are two main covered parking structures at Vail: Lionshead and Vail Village Parking. Both are located at the edge of village attractions. Parking cost $5/hour in the winter (first 2 hours are free, 3rd hour is $15), with a daily max around $25. These structures will fill up on busier weekends/holidays. Once this happens, you can park for free on South Frontage Road (which then also fills up).
Other winter activities in Vail include its on-mountain tubing hill and cross country skiing at the local Vail Nordic Center. Another resort attraction that's available during the winter season (and summer), is the raised alpine coaster. You can take laps on the Forest Flyer Mountain Coaster.
Read about the Top 19 Cool Hotels in Vail.
Read about the Luxury 4 and 5 Star Hotels in Vail.
Details
Address: 450 East Lionshead Circle, Vail, CO
Phone: 970-754-8245
Season: mid November-mid April
Lift Hours: 8:30am-3:30pm
Mountain Stats:
Elevation: 8,120 ft – 11,570 ft
Vertical – 3,450 ft
Ski Area: 5,289 acres
Average Snowfall: 350 in
Trail Maps: (jpg)
Website: vail.com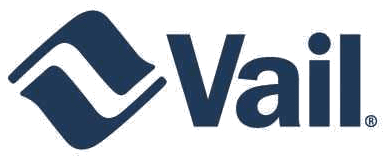 Latest in Vail Ski Resort
Peak Season Vail Snowboarding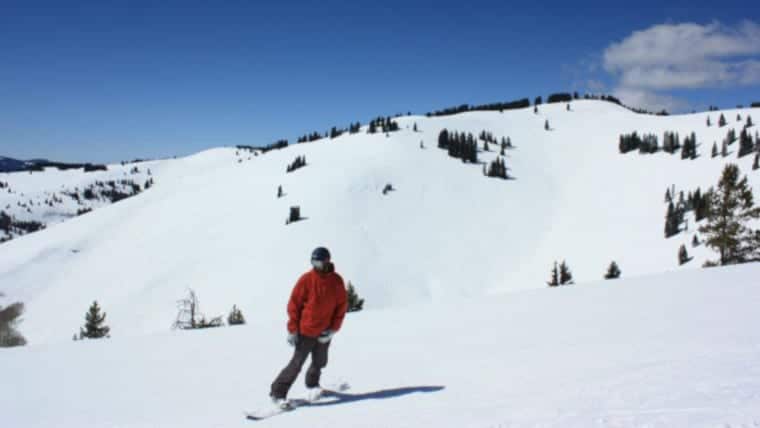 March 20, 2010 – We arrived at Vail around noon, anxious for a blue sky day and nearly foot of fresh snow. On the drive out, we passed some bison and a crazy ski rack.
Parking was tough. We just managed to back the car into the last spot on Frontage Road. The conditions were great at Vail. The trees runs had plenty of powder and the groomers were fast. Unfortunately, the sun had done work on the back bowls. We got mainly chewed up snow and tried to stick to the trees.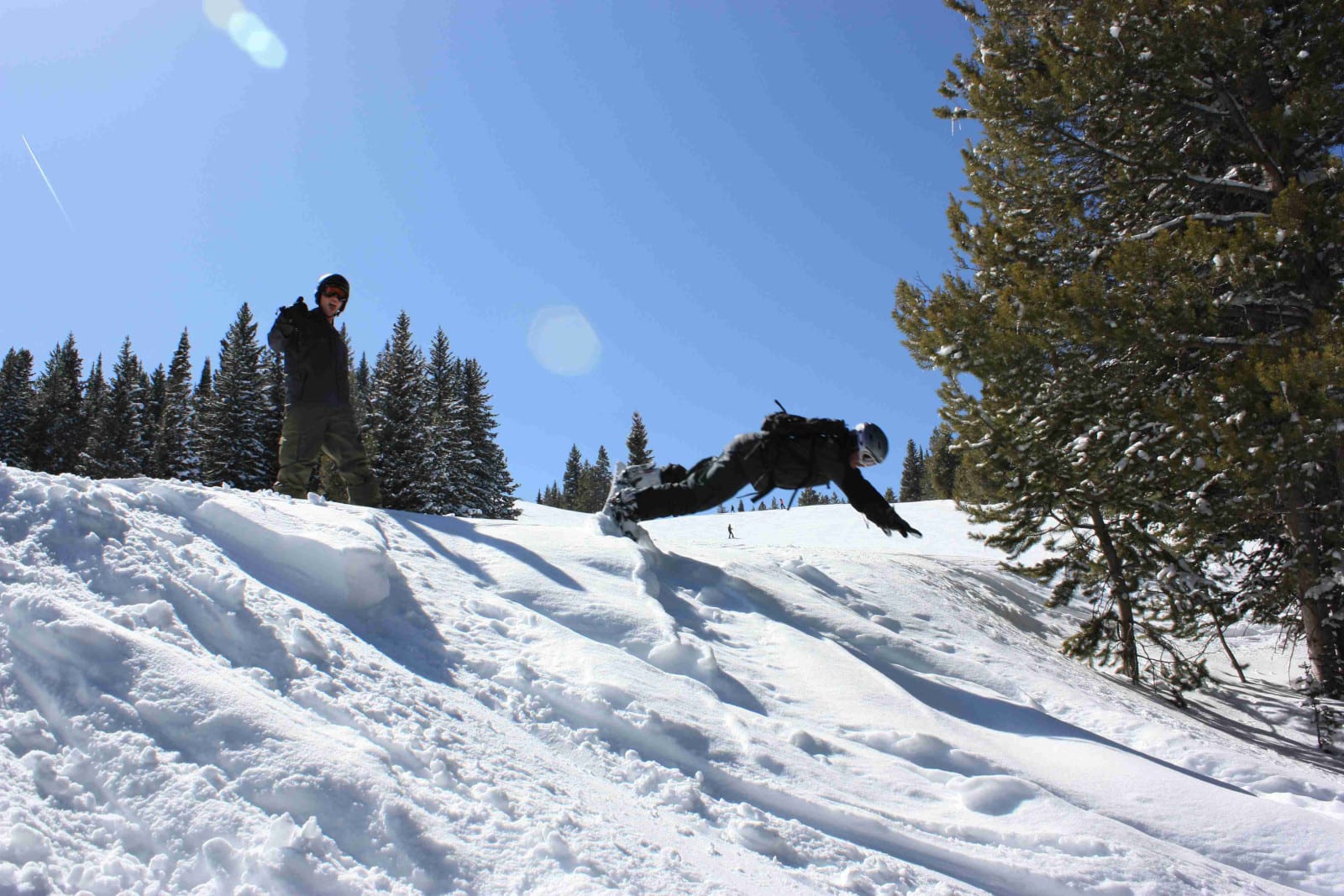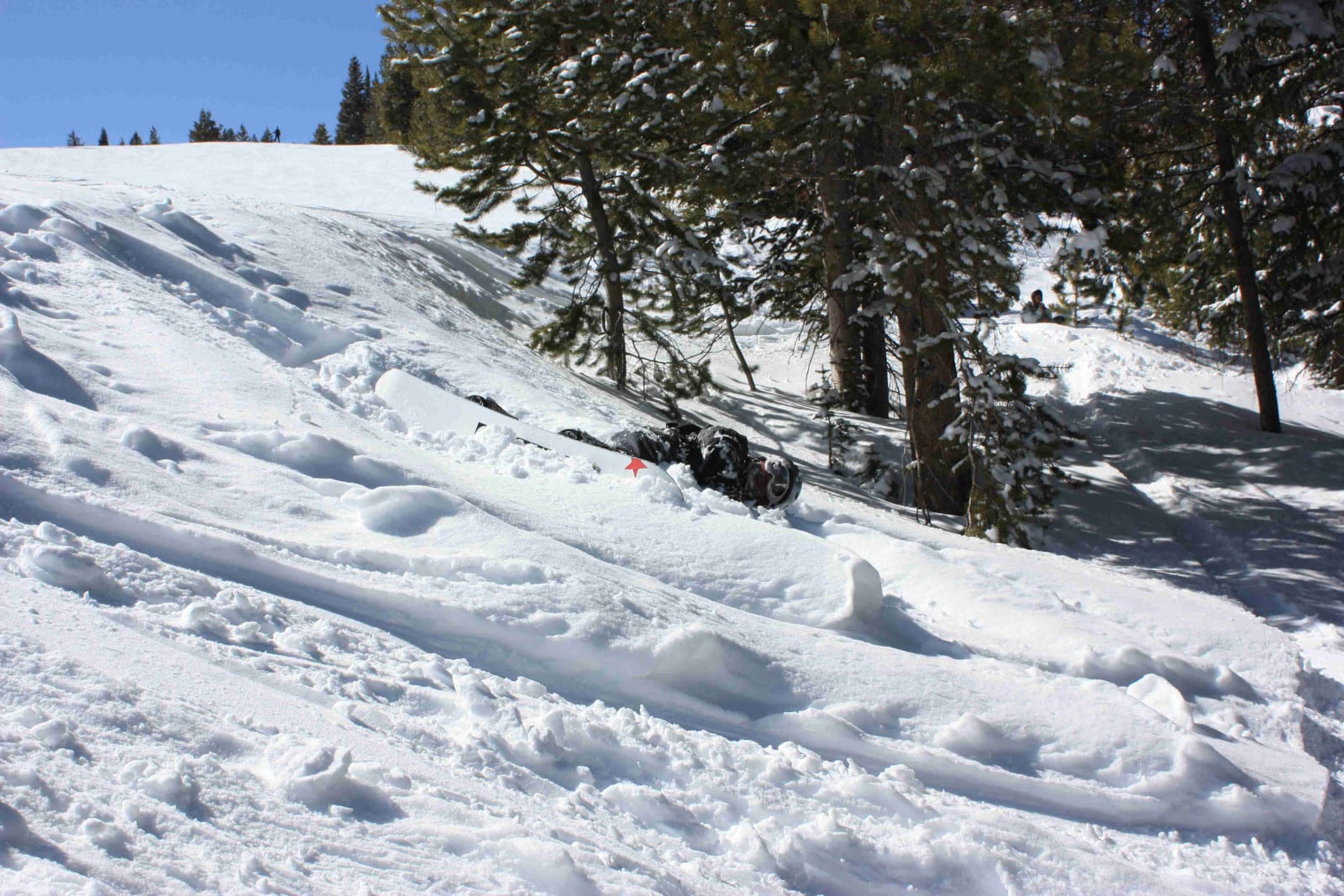 We pass a brigade of snow cats at closing time. Our last run of the day we ducked rope so we could ski the fresh snow under the lift. This was the best run of the day. The base wasn't super thick, but it covered what was needed for an easy ride down.
For after ski we grabbed a pizza at Old Forge Pizza in Lionshead Village (no longer there). It's a style of pizza from Old Forge, Pennsylvania and is excellent. Discover more Colorado ski areas.
Peak Season Vail Snowboarding Again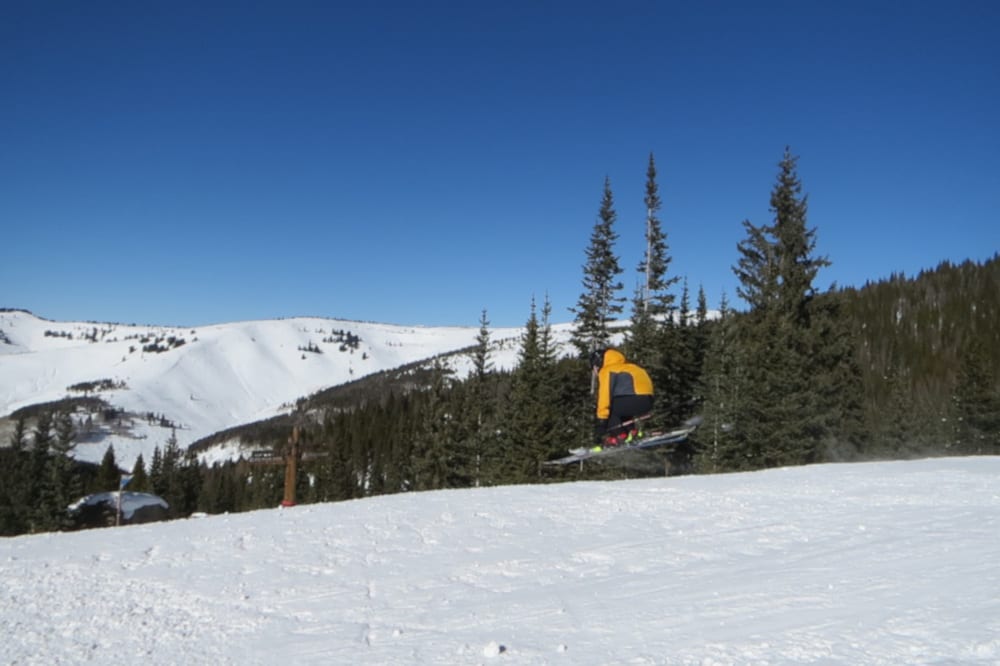 January 9, 2013 – Vail is the largest resort in the state, at 5,289 acres. Epic Local Pass holders get ten days to use between Vail and Beaver Creek.
Yesterday we skied Beaver Creek, and today Vail. The mountain was nearly fully open, with about 5,000 acres. It was a beautiful blue sky day to enjoy all that this giant ski area has to offer.
Parking at Vail is the only drawback, which costs $25 for one of their two parking structures. The first 2 hours are free, then $15 for 3, $20 for 4, and $25 for 5+. Sometimes cars are permitted to park on Frontage Road for free, but usually only if the garages fill up.