Hoosier Pass is a high-elevation mountain pass that is part of the Great Continental Divide in Colorado. The 11,542-foot pass can be reached via State Highway 9 between the towns of Alma and Breckenridge. There is also another "Hoosier Pass", which sits at 10,313 feet in Teller County, Colorado.
Serving as the dividing line between the Tenmile and Mosquito mountain ranges, Hoosier Pass lies on the border between Park and Summit County, Colorado. The pass straddles the Continental Divide, an unbroken, north-to-south ridgeline across the country that dictates whether the water flows into the Pacific or Atlantic Oceans.
History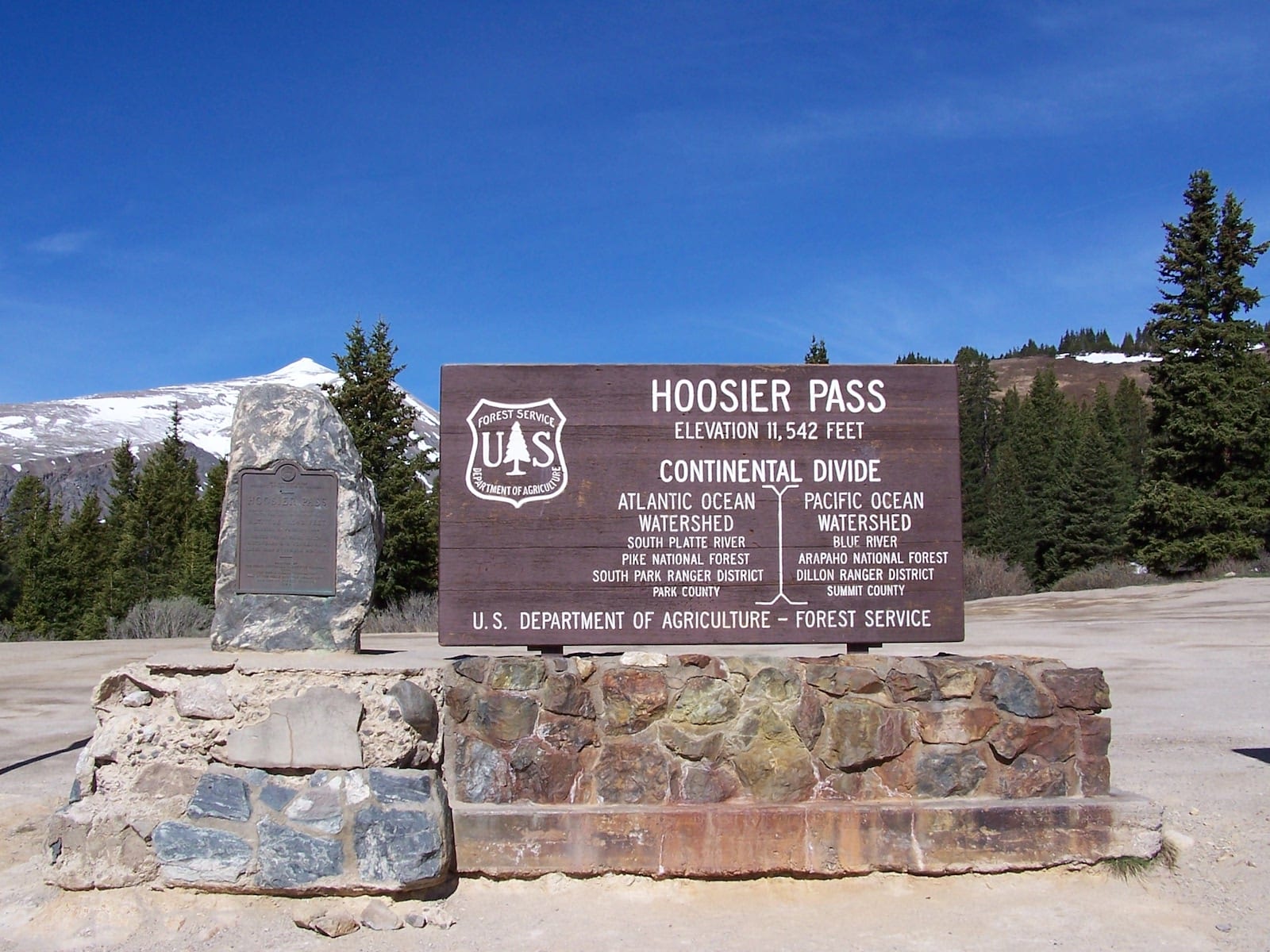 Native American Tribes, such as the Ute Indians, were the first known users of Hoosier Pass. There is a historical marker along the pass that commemorates the first crossing in 1844 by the Fremont Expedition. However, the pass gets its modern name from the "Hoosier State" of Indiana, where many of the area's first mine camp residents originated from during the 1860s.
Because of its location on the continental divide, Hoosier Pass became the location for Colorado's first trans-basin water diversion. In 1929, water on the divide's western side was aggregated east to the town of Alma, the highest unincorporated town in the United States. In 1951, the larger city of Colorado Springs purchased the rights to the water and installed a pipeline to deliver it 70 miles east of the divide.
Hoosier Pass Accessibility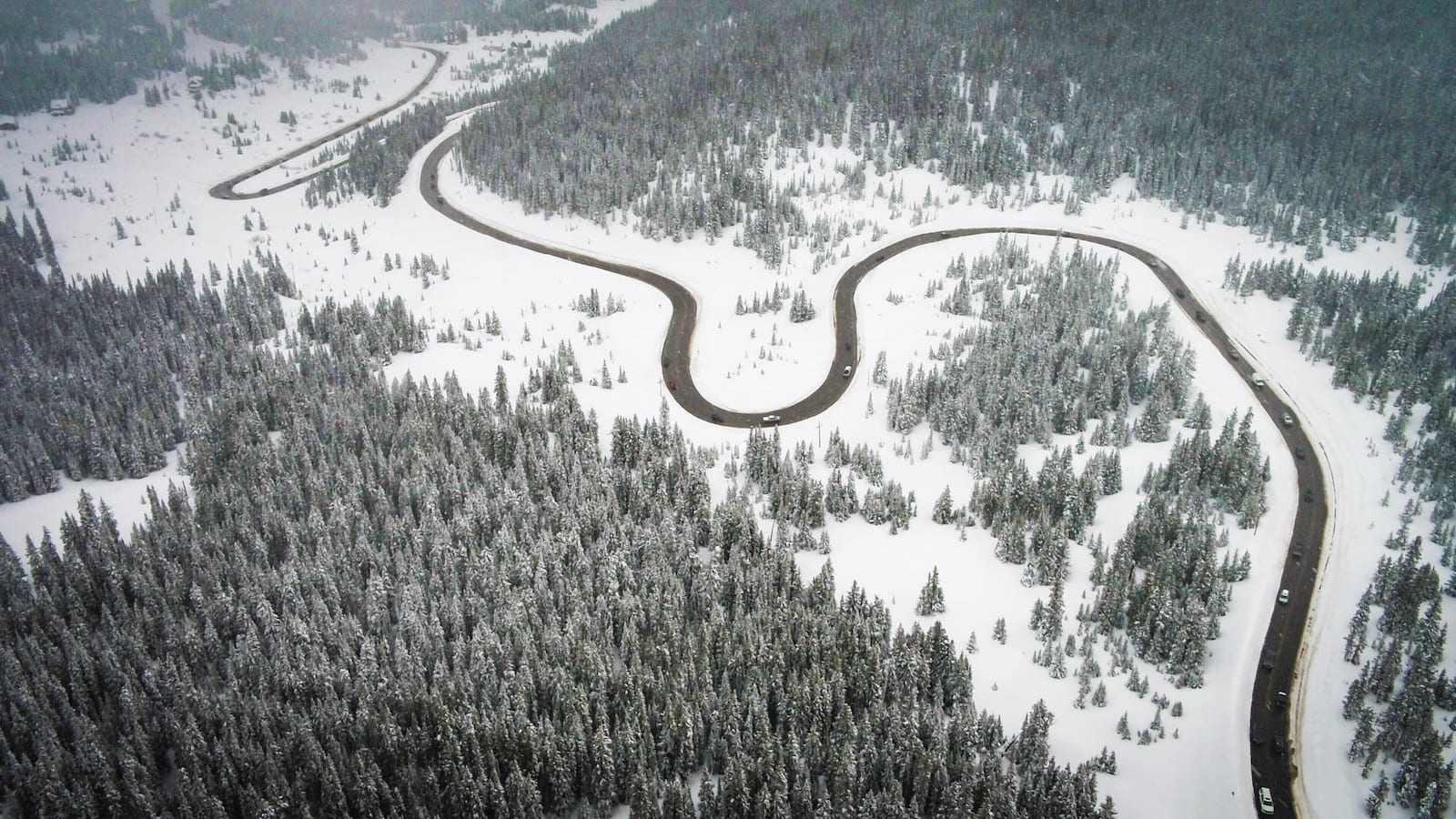 Hoosier Pass lies along State Highway 9, which is a paved path that has been in use for over 100 years. With that said, the steep grades (up to 8%) and sharp turns may be a little much for an inexperienced driver if the weather turns.
Seasonality – As an alternate access route to many of Colorado's popular ski areas, Hoosier Pass is generally kept open year round. Although it is subject to closure during heavy snowstorms.
Vehicle Restrictions – In good weather conditions, most passenger vehicles should have no problem driving over Hoosier Pass. In the winter, State Highway 9 will sometimes enforce traction and chain laws for Colorado drivers. There is a proposed chain-up area in construction near the town of Blue River.
Activities by Hoosier Pass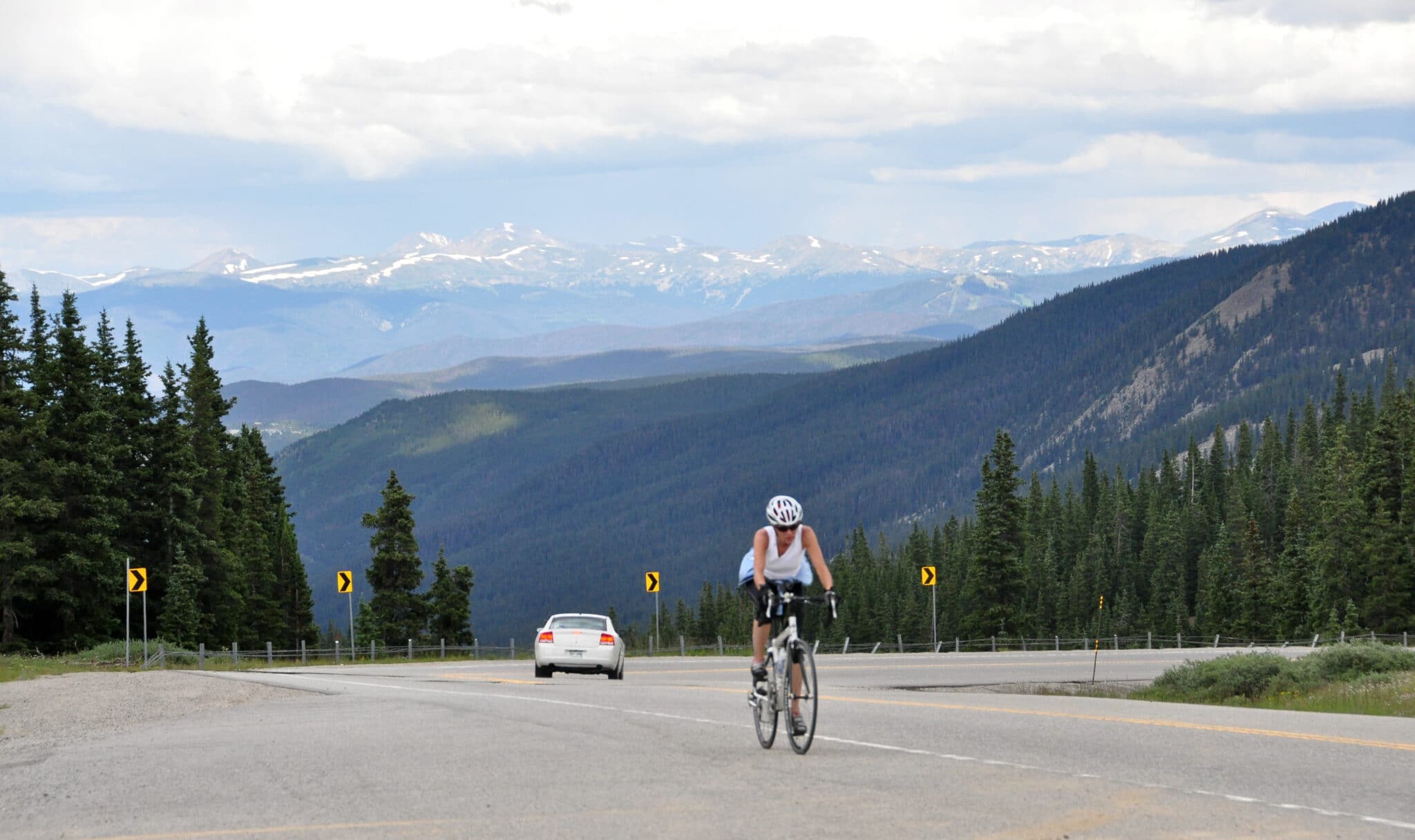 In Alma and Breck before and after the pass, there are plenty of opportunities to grab a bite to eat or even stay the night to take in the views. There are also tremendous hiking, off-road, and mountain biking trails nearby to explore the area's beautiful scenery and mining history. Although rare, avalanches do occur during the winter months and have proven fatal, so it's important to understand where you are and what risks may be encountered.
Biking – Hoosier Pass is the highest point along the TransAmerica bike trail, a 4,200 mile trail from Oregon to Virginia. Get a taste of this notable trail and conquer the Continental Divide on bike if you're up for an adventure.
Hiking –
Hoosier Pass Loop is a very popular 2.8 mile loop that starts near Breckenridge. It has minimal elevation change so it's a good place for families and casual hikers.
Between Breckenridge and Hoosier Pass sits Quandary Peak, which is Colorado's most popular 14,000-foot mountain. It takes a little over 5 hours to cover the 6.6 mile trail to the summit.
If you have 2 cars in your hiking group, an excellent hike would be to leave one car at Hoosier Pass and travel east along the divide. Once you break the treeline, the views back towards the pass are stunning and you'll be able to make out the profiles of Quandary Peak, Mt. Bross, and Mt. Lincoln. Leave another car at Boreas Pass which is a little more than 7.5 miles east of Hoosier if you stick to the ridgelines.
McCollough Gulch trailhead is within White River National Forest and is a 6.4 mile trail with gorgeous meadows, a waterfall, and an alpine lake.

Camping –
Selkirk Campground is located within Pike National Forest and has 15 campsites that are available from May until snow blocks the road.
Kite Lake Campground is about 5 miles northwest of Alma and has 5 campsites that are only recommended for tent camping. Each site has a picnic table, fire ring, and there are vault toilets on the property.
Winter Sports –
Roughly 8 miles north of Hoosier Pass lies the popular ski town of Breckenridge, which has endless world-class ski trails to explore.
Backcountry skiing and snowboarding are also very popular along the pass, which can be accessed from the parking lot of the summit.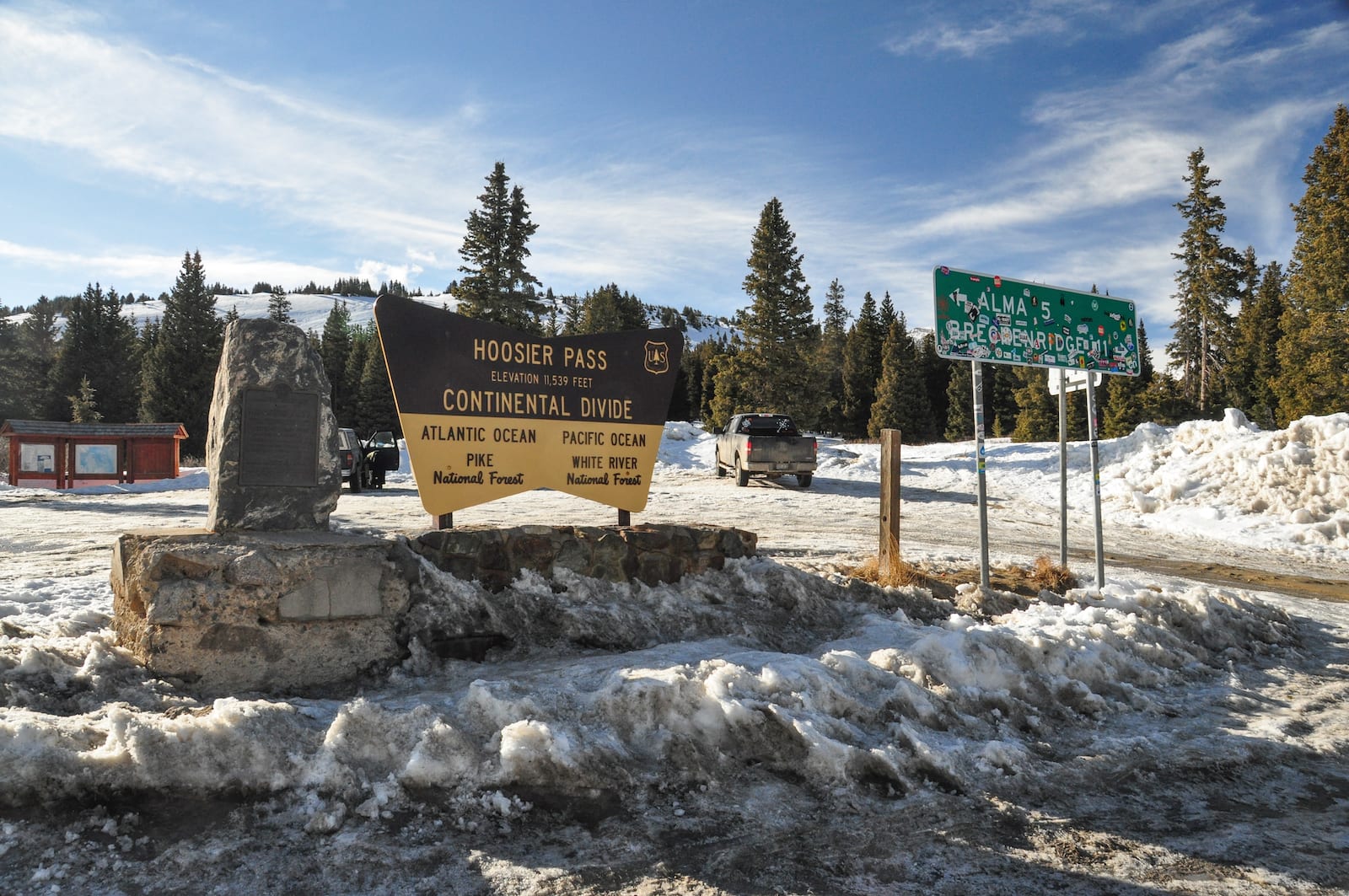 Details
Address: State Highway 9, Alma to Breckenridge, CO
Season: Year round
Elevation: 11,542 ft (3,518 m)
County: Park County and Summit County
Mountain Range: Mosquito
Coordinates: 39°21′42″N 106°03′45″W
Access: State Highway 9