Silver Plume is a former mining town tucked in a narrow canyon at over 9,000 feet. It's located only a few miles up from Georgetown, and connected via I-70 and the Georgetown Loop Railroad. The town is part of the Georgetown-Silver Plume National Historic District.
There isn't a whole lot of commerce in Silver Plume, but there's still a lot to see. Some consider it a "Living Ghost Town", as only about 200 people live in town. Today only a few businesses exist. Silver Plume Tea Room is housed in an former mercantile and saloon. They serve homestyle breakfast, lunch and baked goods. Marvel at original relics and soak up the ambiance. There's also a cocktail bar at the corner in the old bakery.
History
Silver Plume is a semi ghost town tucked away just west of Georgetown on I-70. It's often overlooked as there's not too much reason to stop while passing by. Only a few businesses exist in town and are usually just open on weekends.
As of 2011 there was still one bar calling Silver Plume home, The Plume Saloon. The George Rowe Museum highlights Silver Plume's exciting past, open from Memorial through Labor days.
The Georgetown Loop Railroad makes a stop at the Silver Plume Depot. There is bakery turned cocktail bar on the corner in historic downtown, called the Bread Bar. It's a popular hidden spot in the summer evenings for live music. The Silver Plume Tea Room serves breakfast and lunch, open Thursday through Sunday.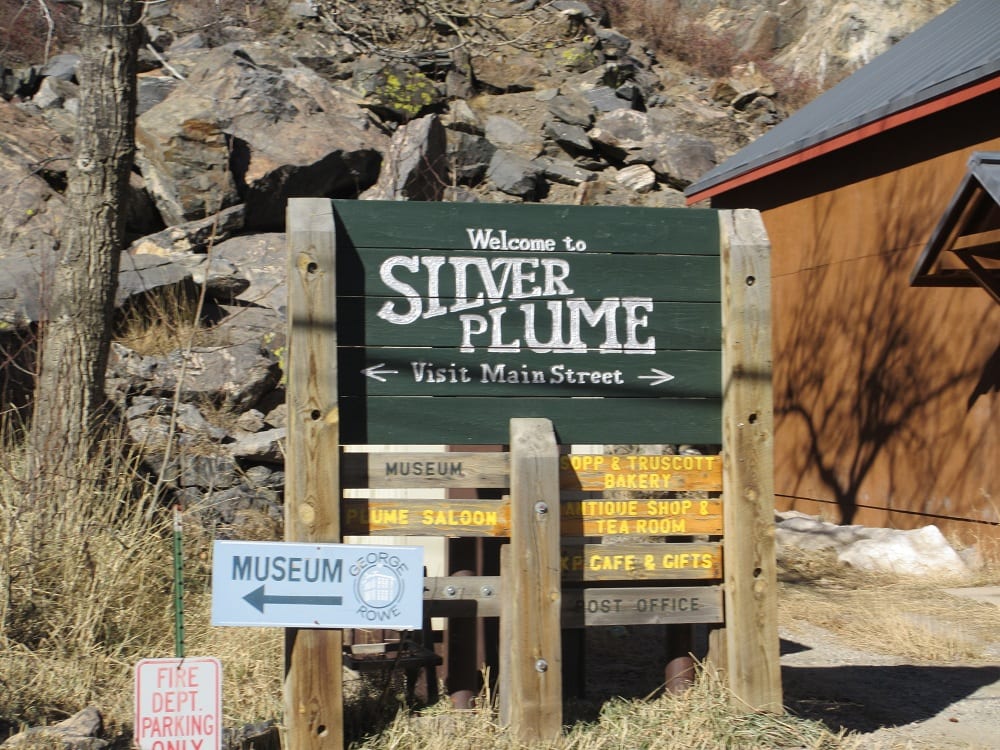 Main Attractions
Georgetown Loop Railroad – Departs Georgetown, loops through Silver Plume and back to Georgetown. There is an optional mine tour in between the towns.
George Rowe Museum – Original schoolhouse of the town, built in 1894 and converted into a museum in 1960.
Recreation
Fishing:
Clear Creek runs by town and into the Georgetown Reservoir, both offer good fishing.
Hiking:
The 7:30 Mine Trail gives visitors a grand view of town and the Silver Plume valley. It's named after the 7:30 mine in town, which was named because the miners' shift started at 7:30am, an hour later than other mines). The mine sits about 1500 feet above town and is still visible. A ten foot tall Gunnison Granite monument sits directly in front of the mine, which is honor of Clifford Griffin, beloved owner of the 7:30 mine.
Accommodations
Activities near Silver Plume
Federal Lands:
Hot Springs:
Landmarks:
Museums:
Railroads:
Scenic Drives:
Ski Areas:
Towns:
Latest in Silver Plume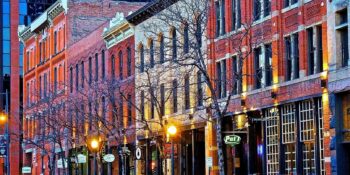 Take a peek into Colorado's past with a visit to one of these historic districts. Each…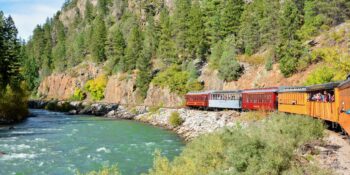 From utility to tourist attraction, Colorado's railroad system has seen its share of twists and turns…