Guanella Pass ambles through two national forests on its way from I-70 to US 285. It begins in Georgetown, CO, in the Arapaho National Forest and climbs to an elevation of 11,669 feet in 12 miles. After the summit, it crosses into the Pike National Forest, before ending in Grant.
It's breathtaking the whole way and definitely worth a trip, which takes about an hour, not including stops. September and early October are the most popular times to drive the pass due to the beautiful fall foliage everywhere. Both sides of Guanella offer something unique, with plenty of forests and mountains to explore.
National Scenic Byway connecting I-70 and Hwy 285
Guanella Pass is a remarkable drive between two major highways. This national scenic byway connects I-70 and Georgetown, to the north, with Highway 285 and Grant, to the south.
It begins directly from downtown Georgetown and quickly climbs 12 miles to its summit of 11,669 feet. The whole drive to Grant takes about an hour if you drive straight through, but you'll definitely want to take your time and stop for a few photo ops.
Camping and hiking are the main activities on the byway. Mount Bierstadt (14,065′) is one of the easier 14'ers in the state to hike and is accessible from the Summit Area of the pass. Mt Evans is another 14'er with a route off the Bierstadt trail. The drive up Mt Evans is in the area as well, but not accessible from the pass itself.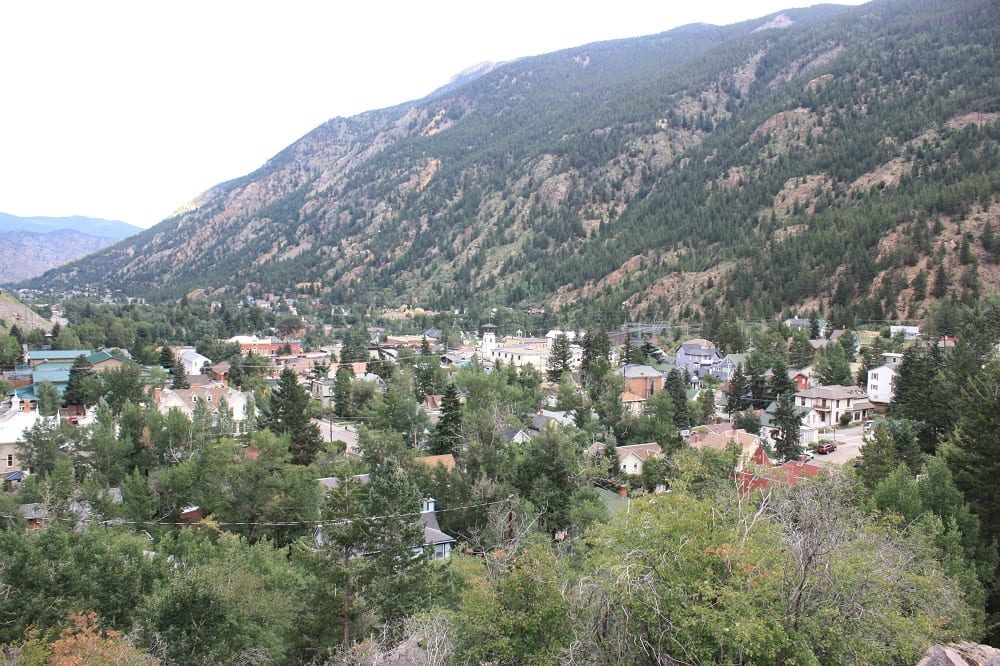 (listed from north to south)
Georgetown & Georgetown Lake
Silverdale Interpretive Site
Clear Lake & Campground
Silver Dollar Lake Trailhead
Guanella Pass Campground
Guanella Pass Trailhead
Duck Creek Picnic Area
Geneva Park Campground
Burning Bear Campground
Abyss Trailhead
Three Mile Trailhead
Whiteside Picnic Area
Grant
Activities near Guanella Pass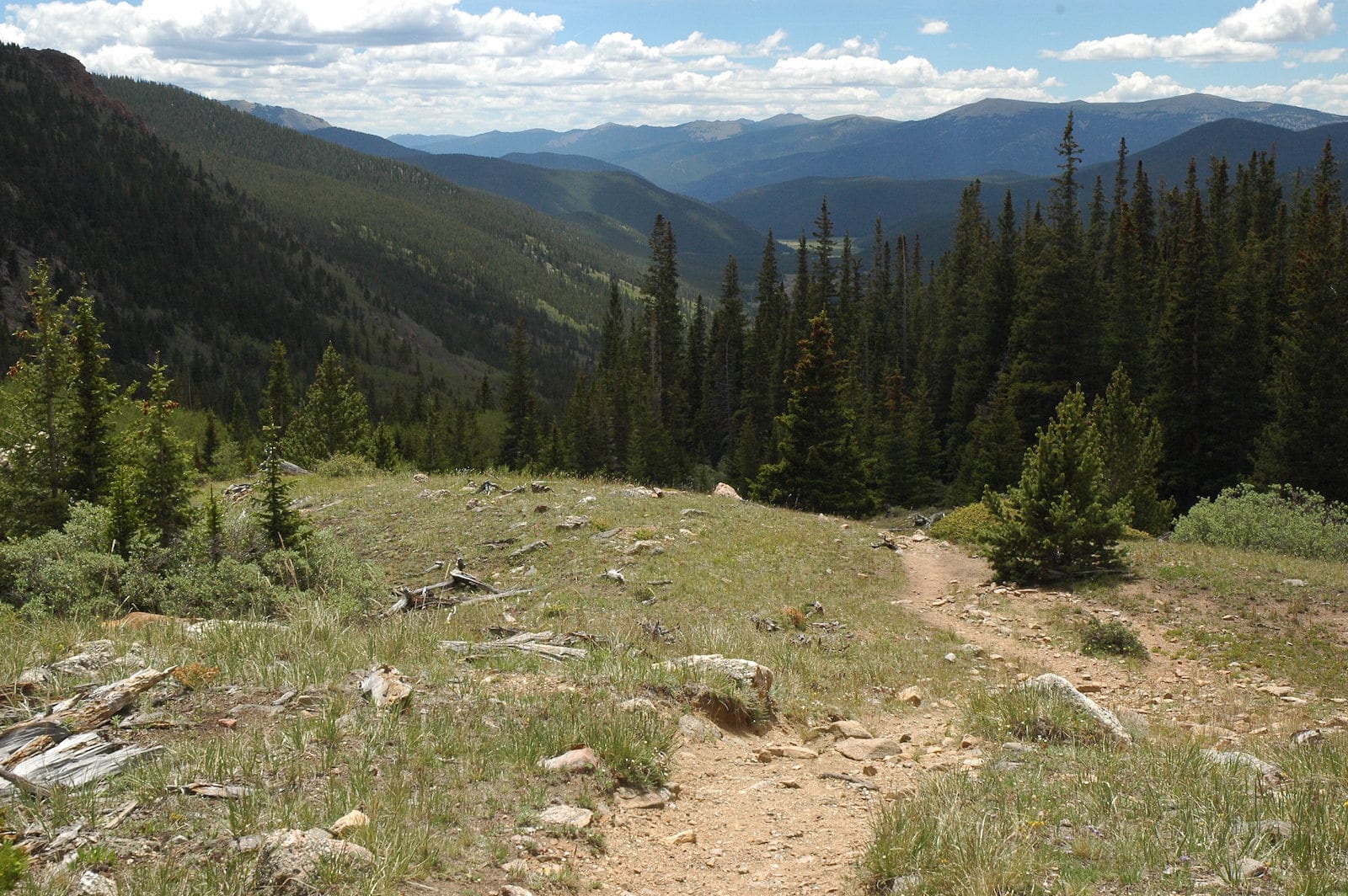 Biking – Some folks bike the pass and explore a handful of trails off the road that allow bikers, namely the South Park and Burning Bear loops.
Camping – There are four campgrounds on Guanella Pass, as well as dispersed camping on the south side of Guanella Pass. Georgetown is near two Arapaho National Forest campgrounds and there are also two within the Pike National Forest by Grant.
Clear Lake Campground is closest to Georgetown, with 8 sites that are non-reservable and suitable for tent campers or small trailers. There are fire grates, tent pads, restrooms, and drinking water available.
Guanella Pass Campground is just past Clear Lake CG and has 18 reservable sites for RVs or tents. There are no electrical hookups, but vault toilets and drinking water are available for guests.
Geneva Park Campground is toward Grant with 26 reservable sites for tents and RVs. Sites are pretty private, nonelectric, and have a BBQ grill.
Burning Bear Campground is also near Grant and features 13 reservable sites with drinking water and vault toilets.
Dispersed camping is ONLY AVAILABLE on the Park County (Grant, CO) side of Guanella Pass. There is no free camping on the Georgetown side.
Read about the camping near Grant and Guanella Pass.
Read about the camping near Georgetown and Guanella Pass.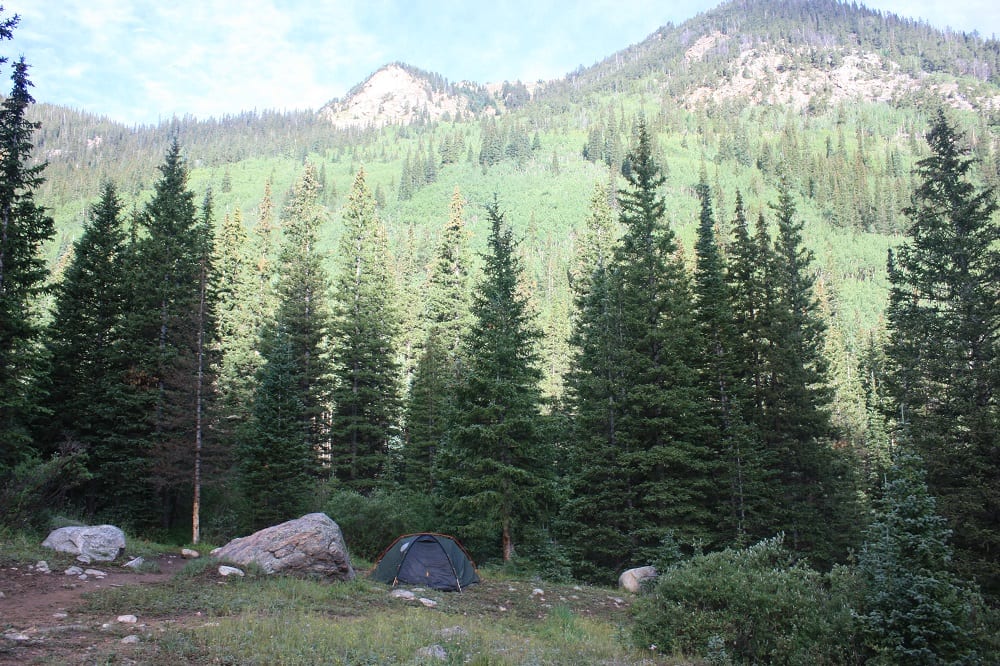 Fishing –
Georgetown Lake and Clear Lake are the closest to Georgetown and are stocked with a variety of trout, arctic char, and kokanee salmon to cast a line for.
There are also a few lakes along the pass, as well as the Scott Gomer Creek which is most easily accessed from Burning Bear campground. You'll find plenty of brook trout in each spot.
Hiking – Beautiful trails are found dotted along the drive but most of the big hikes have trailheads that start near the higher points of the route.
At the top are big 13K peaks and the 14,065 foot Mount Bierstadt. It's a 3-mile hike (one-way) up 2,391 feet of elevation gain to the top of it. The hike is considered one of the easier 14ers to summit but is still challenging. Parking spots fill up quickly at the trailhead so be sure to arrive early.
About a mile into the Bierstadt trail, there is a fork to continue north toward Mt. Evans. The trail is one of the least popular routes up to the peak, so be sure to take a map and navigation tool. Expect 9.25 Miles round trip with 3,100 feet of elevation gain.
Silver Dollar Lake is a 1.75-mile (one-way) hike from the top, and the trailhead is about 9 miles from Georgetown. You can add Murray Lake onto the hike if you continue past Silver Dollar Lake for about .5 miles.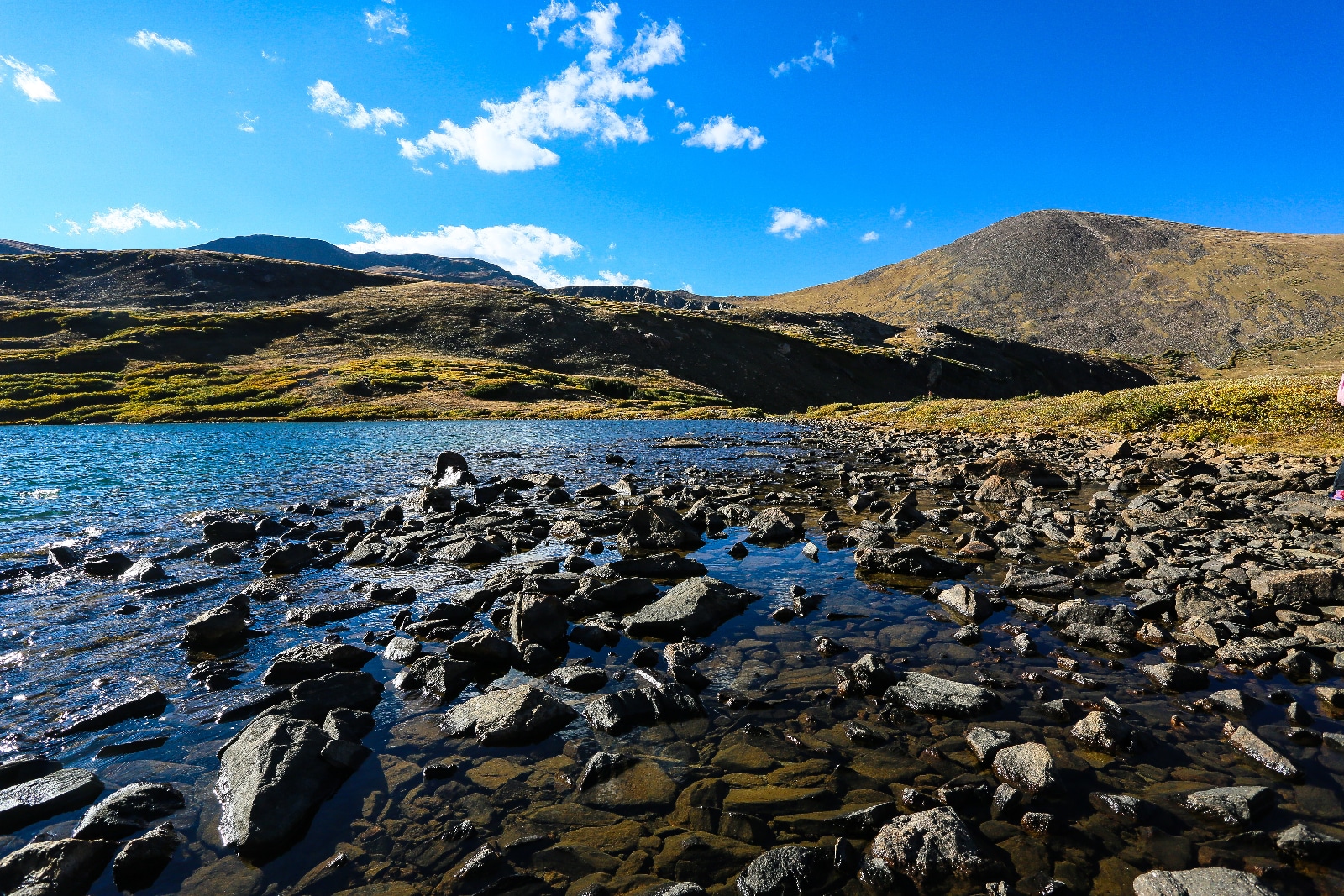 Horseback Riding – Horses are allowed on certain multi-use trails.
Burning Bear Trailhead is immediately south of Burning Bear campground and offers a 7.5 mile trail following the creek that is suitable for horses. There are several old log cabins and beautiful views along the way.
Hunting – Permitted in parts of the federal land during appropriate seasons.
OHV – There are several forest service roads that allow off-highway vehicles. Argentine Pass is a popular route that totals 27 miles out-and-back with several side trails to explore.
Winter Recreation – The pass may close if there is avalanche risk. Otherwise, trails are open to cross-country skiing and snowshoeing with adequate snowpack.
Burning Bear trailhead is open to snowshoeing in the colder months, but be aware of moose and high winds while you prepare for the trek.
Duck Creek Picnic Area serves as a starting point for a few longer trails in the area to explore in the winter such as Geneva Creek and Buno Gulch.
Getting There

Lately, the pass has been closed during the winter months, starting in late November and continuing into late May. However, there are two areas that remain open for winter recreation access, one at the Naylor Lake Road intersection on the Georgetown side and one at the Duck Creek Picnic Area.
The 22-mile, 2WD route takes about an hour and is fine for all cars. From downtown Georgetown, take Co Rd 381/Guanella Pass Road out of either the historic district or 'downtown' Grant on Highway 285.
Tips for Your Trip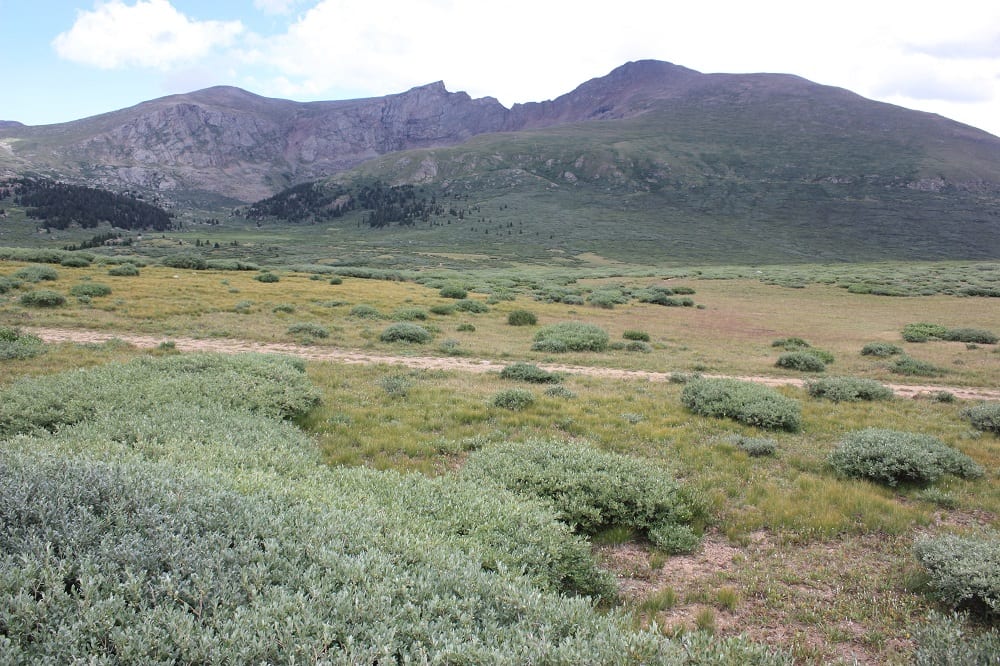 Guanella provides stunning scenery, plentiful recreation opportunities, and abundant chances to glimpse some wildlife. No matter if you're just passing through for a day or spending a night or two camping along the high-elevation road, here are a few tips to make your trip successful.
Visit in autumn or spring for a chance to see the beautiful colors of the changing aspen trees or blooming wildflowers. Summer is also a lovely time if you want to camp or hike.
Be sure to pack layers and be prepared for all types of weather. Because of the tundra landscape after you drive above the treeline, the weather has a tendency to be a bit colder and windier. Don't get caught unprepared!
If you're lucky enough to spot any animals along the way, be sure to keep your distance and don't do anything risky for the sake of a selfie. Stay in your car or give the animal plenty of space so you can both stay safe.
You can contact the Guanella Pass Road Information Line if you are unsure if the pass is open or not after heavy snowfall.
Stop for a meal and stroll around Georgetown on either end of your trip, it's a quaint historic town with a ton of charm and small-town friendliness.
Details
Address: Guanella Pass, Georgetown to Grant, CO
Season: May – November
Length: 24 miles
Roads: 2WD, Free
Map: Guanella Pass (.jpg)
Campground Reservations:
Website: codot.gov/…
Latest in Guanella Pass