One of the most popular 14ers tucked within the Rocky Mountains is the gorgeous Mount Bierstadt stretching up to 14,065 ft. Despite it being a Class 2, this hike is widely known as the easiest to accomplish while also offering various hiking trails for more seasoned adventurers.
Located about an hour and half west of Denver, Georgetown is the nearest town roughly 12 miles away. Though you'll have to drive up the paved switchbacks of Guanella Pass to the reach parking and then the primary trailhead to Mt Bierstadt. Peak baggers also have the chance to take on the additional nearby summit of Mount Evans for an intensive loop.
Trail Routes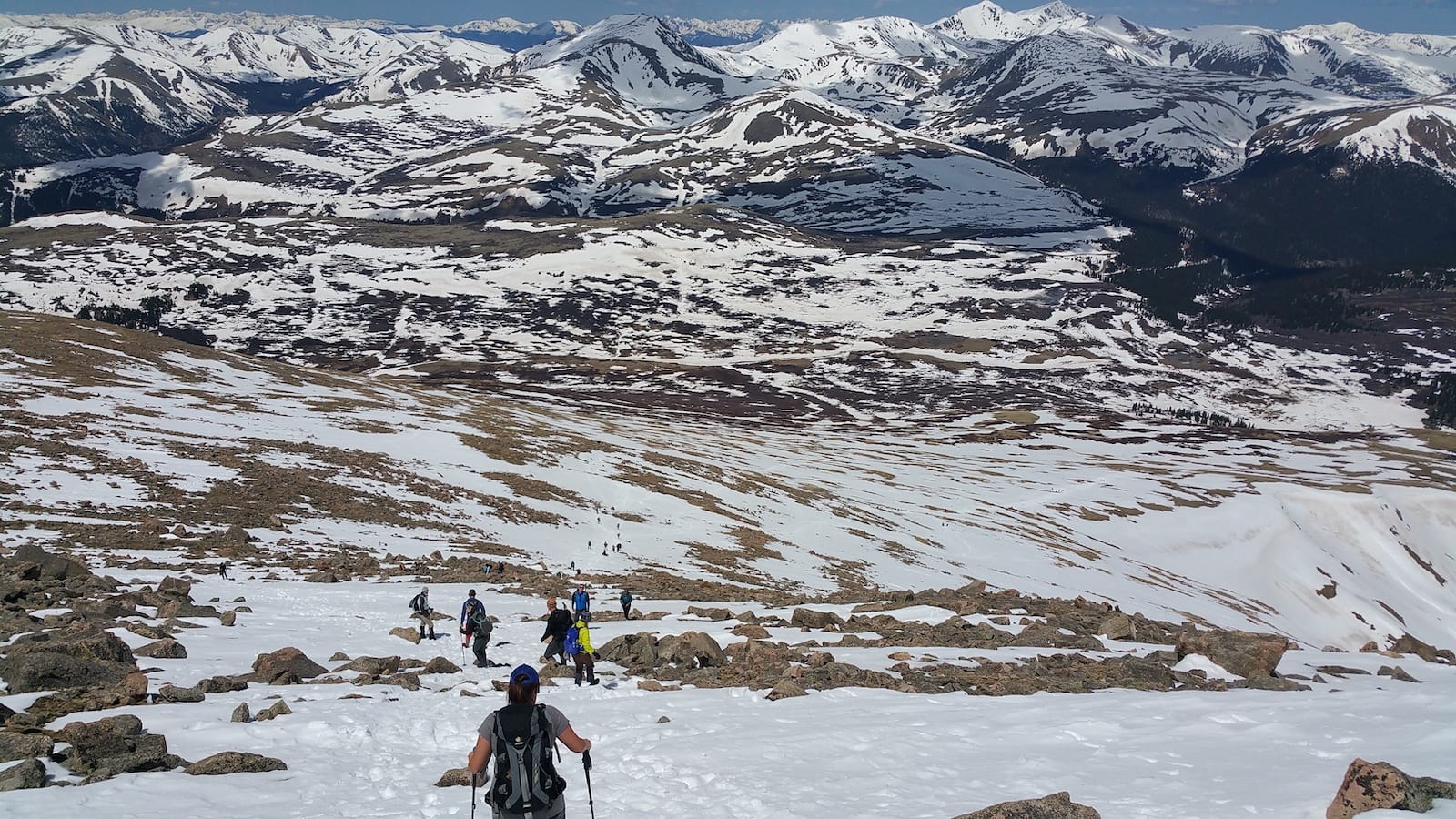 Mount Bierstadt has the option of 3 trail routes with the West Slopes being the only Class 2. The shared Bierstadt, Sawtooth, and Evans combo alongside the East Ridge route are both Class 3.
The Mount Bierstadt Trail is an out-and-back roundtrip of 15 miles. The hike is considered difficult and with heavy traffic during spring and summer the time may vary, but on average can be about 6 hours. If hiking during winter, an additional 3 miles will need to be added due to the two seasonal trailheads, one for summer one for winter.
Activities
Self-issued permits are available at every trailhead and are mandated for anyone within the Mount Evans Wilderness.
Backpacking – With various camping locations to choose from, backpackers can make the most of this "easy" mountain while enjoying the local wildlife.
Camping – Multiple campground sites are available along both sides of Guanella Pass, fee required, with dispersed camping on US Forest and wilderness areas.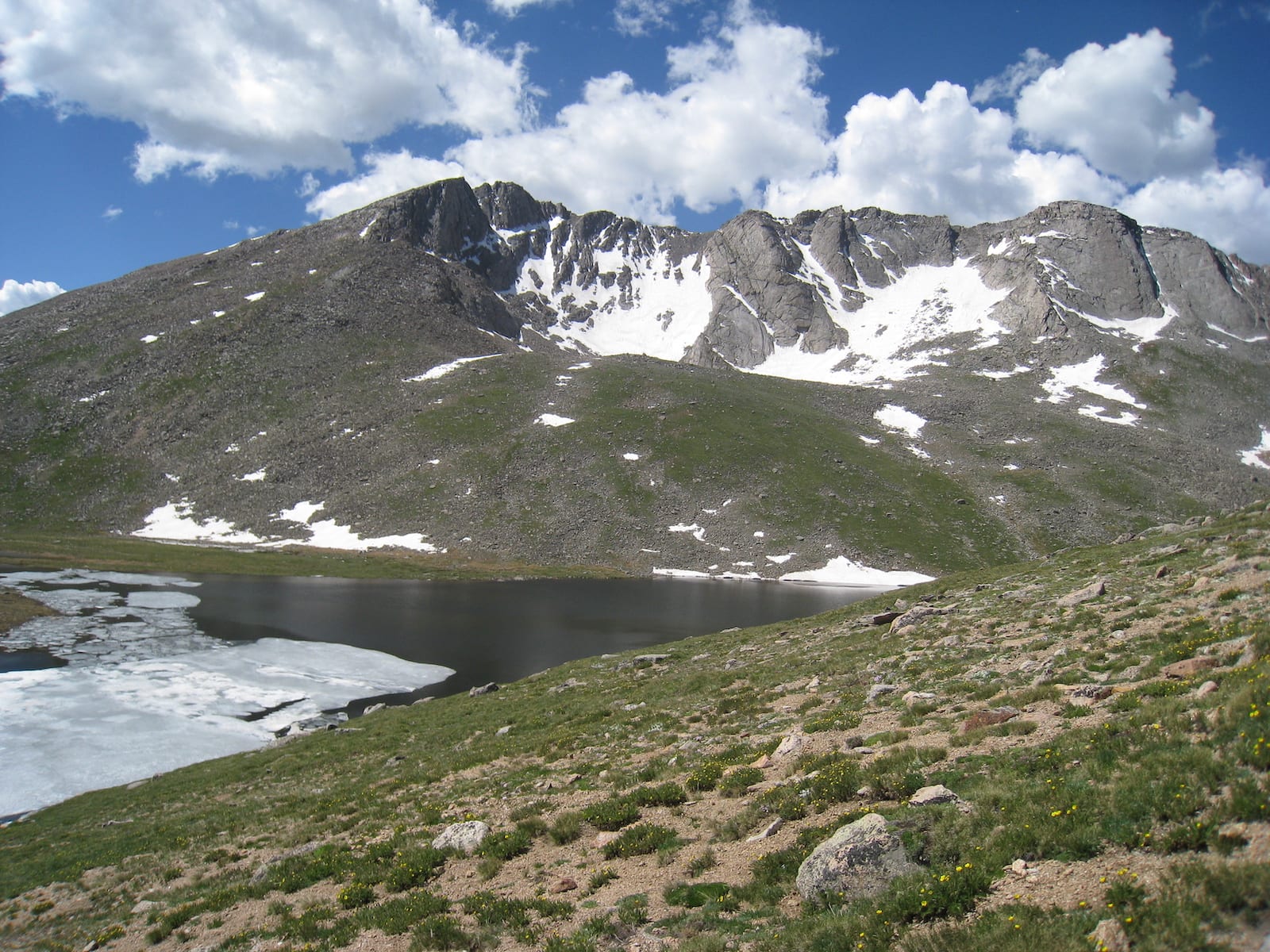 Fishing – Both lakes and streams offer some fishing locations. Ice fishing is also possible during colder seasons. Before you head up Guanella Pass, try casting in Georgetown Lake in the community of Georgetown.
Hiking – Trails are clearly marked providing easy navigation throughout. Be aware of weather reports as well as season due to possible weather changes or remaining snow and ice. There is no shelter along any of the well-maintained trails making hats highly advisable.
Trail-running – These particular trails do have increasing difficulty as visitors reach higher elevations, but having well-maintained and clearly marked trails makes trail-running a favored activity amongst guests. Be aware the popularity of Mount Bierstadt in warmer months brings a lot of visitors to the area and trails are to be shared.
The southern (Grant) side of Guanella Pass lies within the Pike National Forest, while the northern (Georgetown) side is in the Arapaho National Forest.
Details
Address: Arapahoe and Pike National Forests, Clear Creek County, CO
Nearby Towns:
Elevation: 14,065 feet (4,287 meters)
Pets: Yes, on-leash only
Season: Year-round with seasonal amenities