Located at the northwestern edge of Colorado's expansive South Park region, the town of Fairplay is set in one of the state's most extreme, rewarding, arresting and landscapes. From imposing 14,000-foot peaks, to flower-covered meadows so serene they look like something out of a fairy tale, Fairplay is surrounded by excellent hikes.
Some are accessible to hikers of every age and experience level, while others demand proven experience and preparation to master. If you're in Fairplay and are looking for a stellar nearby hike, check out the following list of recommendations:
Rich Creek Trail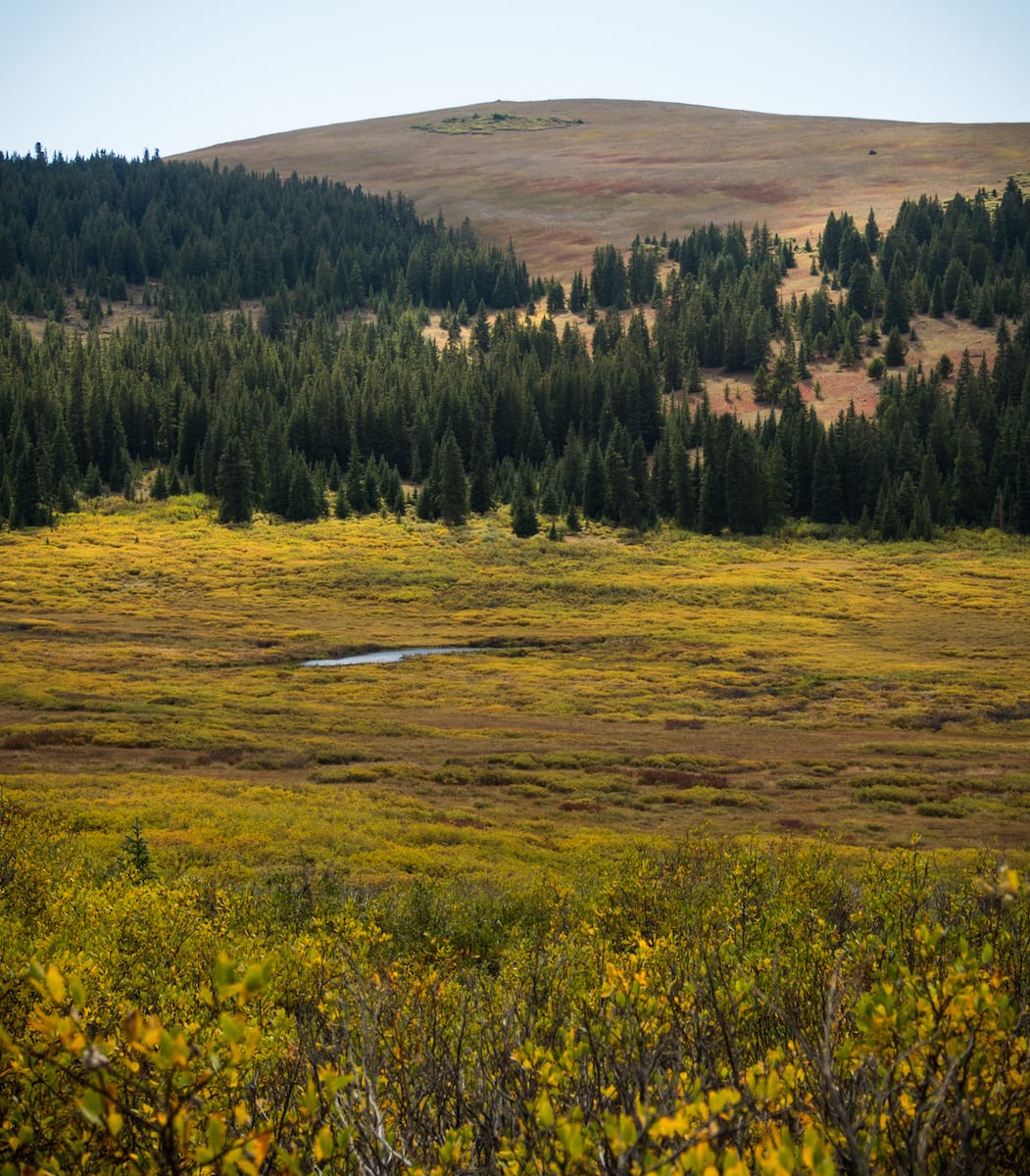 This scenic hike southwest of Fairplay offers access to the Buffalo Peaks Wilderness. Dotted with stately evergreen trees, quaint brooks, and lush meadows, this five-mile trail is moderately challenging , not especially popular during most of the year, and offers gorgeous mountain views. If you stick to the path, this is an out and back trail but it can be hiked as a loop when combined with the Tumble Creek Trail.
Wheeler Lake Trail
Located near the high-elevation community of Alma north of town on Highway 9, the Wheeler Lake Trail offers seven miles of stellar mountain views, unique sights of abandoned mining structures, and otherworldly landscapes that exist above the timberline.
Typically uncrowded and always challenging, this intense hike transports you between some of the state's most iconic 14,ooo-foot peaks, including Quandary Peak, Mt. Lincoln, Mt. Bross, and Mt. Democrat. The pristine alpine lake at the end is a perfect reward for completing this fun and difficult trek.
Beaver Creek Trail
Aptly named for the serene beaver ponds that line this hike, the Beaver Creek Trail is a short and rewarding hike located north of Fairplay. Great for dogs, kids, and inexperienced hikers, this easy trail passes through gorgeous meadows and forests over the course of almost two miles. It's a great hike especially in the fall when the aspens turn gold.
Eleven Mile State Park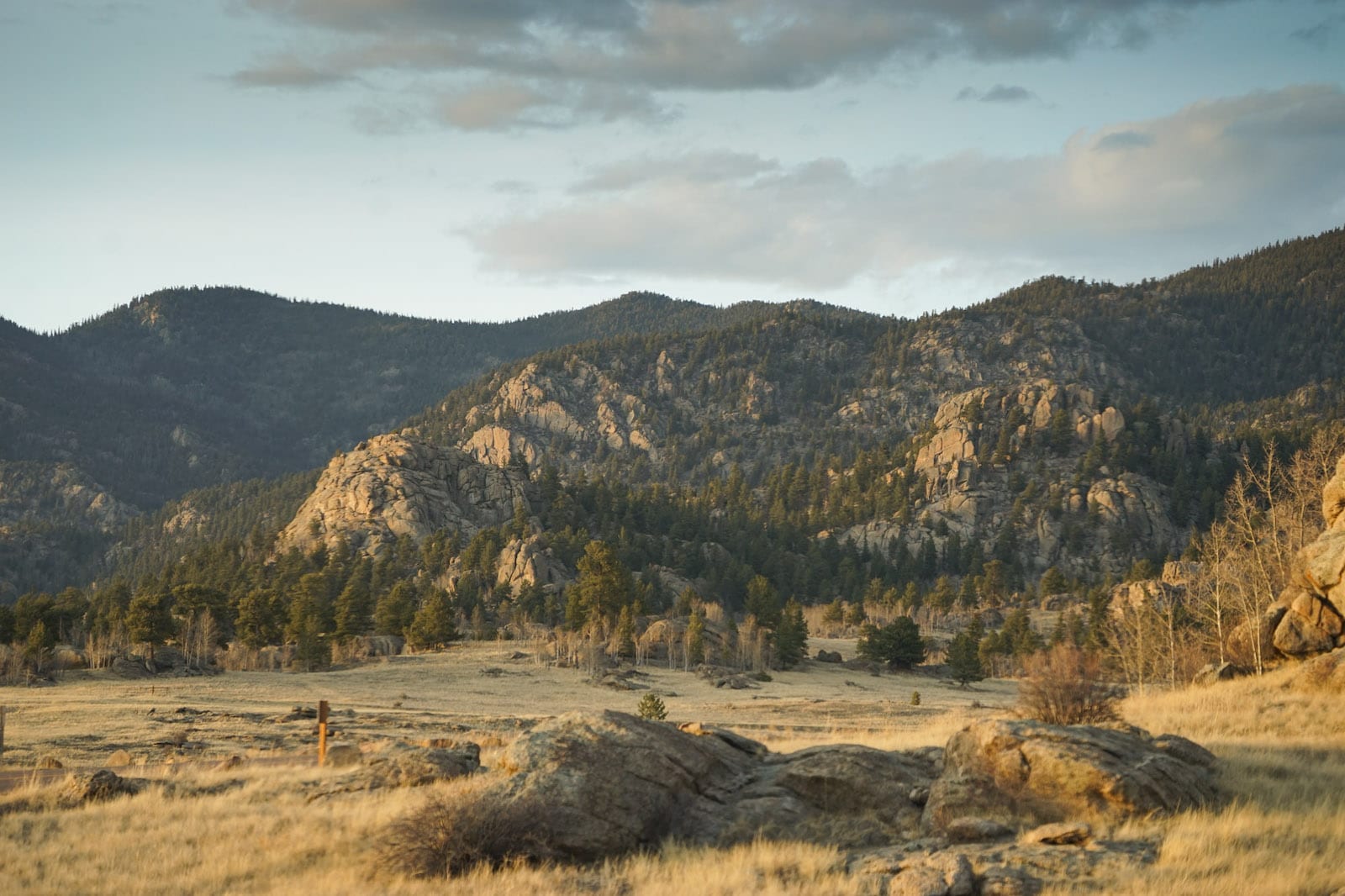 This state park centered around Eleven Mile Reservoir offers multiple hikes with stunning views of South Park and the surrounding mountains. Each is relatively short and not particularly challenging. However, the park's three-mile orienteering hike is an exception.
Unlike a conventional hike with a set path, this trek can only be completed with a set of instructions and a compass. If you're feeling ambitious, download the Eleven Mile Orienteering Trail Brochure and have at it.
Goose Creek Trail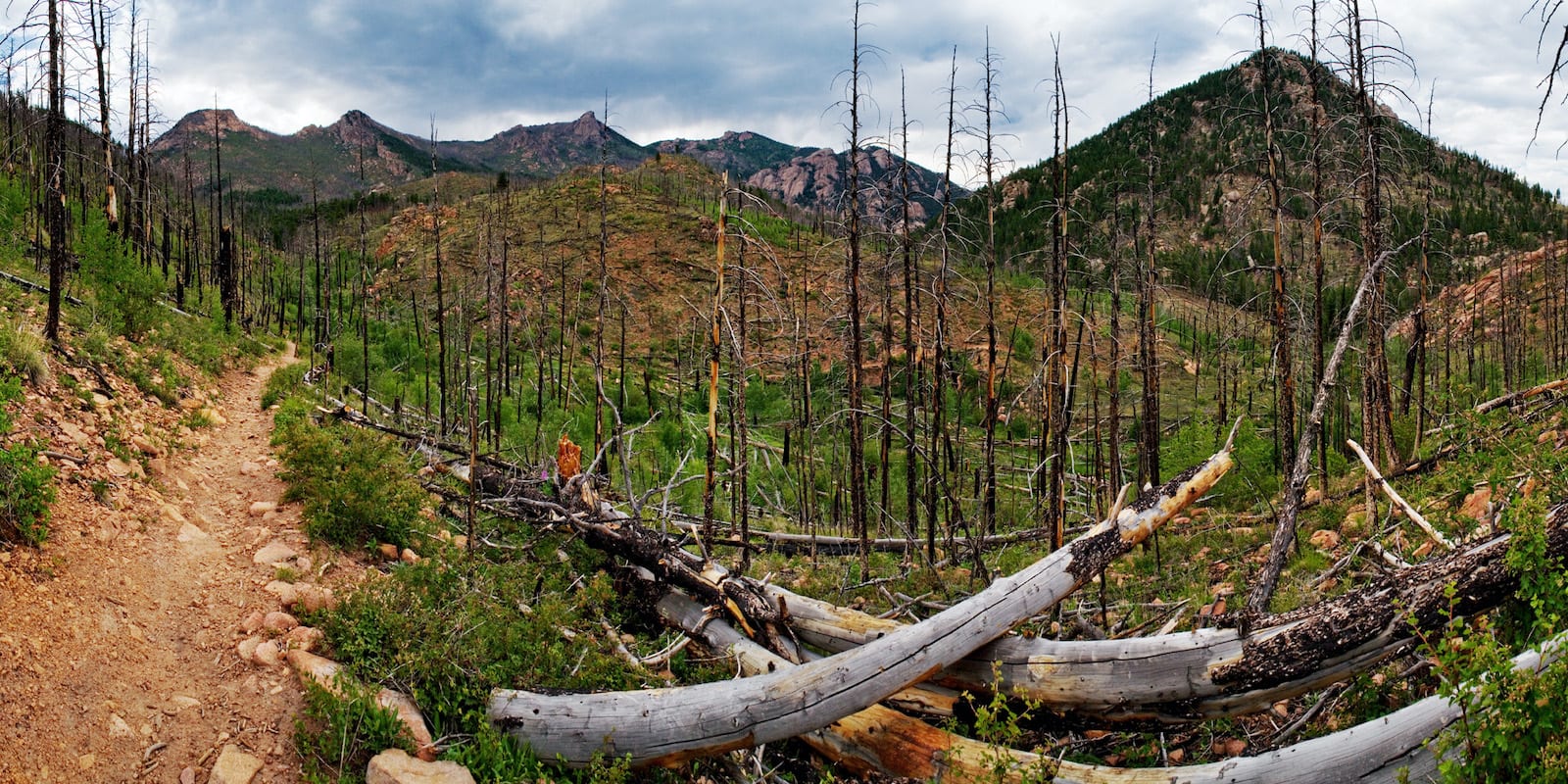 To reach this hike's trailhead, you'll have to drive an hour and a half east of town, but don't let the time in the car deter you. The Goose Creek Trail passes through some absolutely pristine and unforgettable mountain terrain. It also transports you through an area that was ravaged by wildfire in an important reminder of how fragile forests can be.
At almost 13 miles long, this moderately challenging hike winds through lush aspen meadows, between enormous boulders, and beneath profound peaks. This is a can't-miss hike.
Rainbow Lake Trail
An easy mile and a half loop hike, the Rainbow Lake Trail passes through meadows and aspen groves before wrapping around Rainbow Lake, which is a stunning spot by any standards. Great for inexperienced hikers and families exploring nature with small kids, the Rainbow Lake Trail is located in Frisco just under and hour north of Fairplay. Open year round, it's a popular hike, so look elsewhere if you prefer hiking alone.
Pika Trail
This trail is easy to hike, but you wouldn't know that by the astounding panoramic mountain views it offers. Towering above quaint meadows stand some of the state's tallest peaks, all of which are on full display during this brief but wondrous mile-long loop. Located in the Pike National Forest, the Pika Trail sits just 20 minutes west of town.
The Decalibron: Mounts Democrat, Cameron, Lincoln, and Bross Trail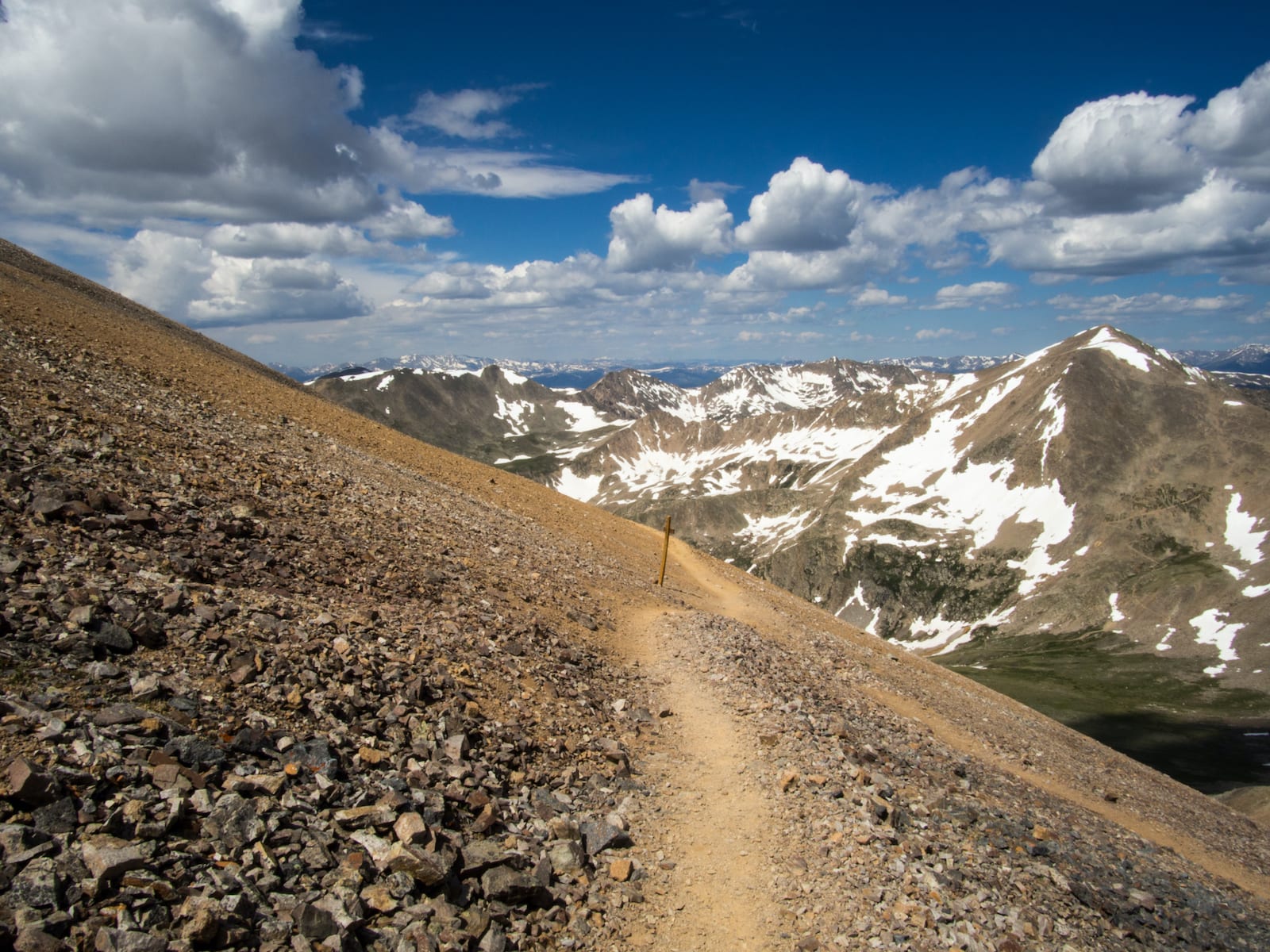 What if there was a way to climb four 14,000-foot peaks in a single day-long hike? Look no further than this hike if attempting this sounds like fun for you. The Decalibron is only an eight-mile loop, but it indeed explores the summits of four such peaks in its relatively short but considerably challenging duration.
This trail is entirely exposed and treks through some intensely steep and challenging terrain. It should go without saying, but don't try this one unless you are thoroughly experienced and ready. If you've done a little moderate mountain hiking here and there, this is not the trail for you––yet. However, our next trail would be a good 14er to start with.
Quandary Peak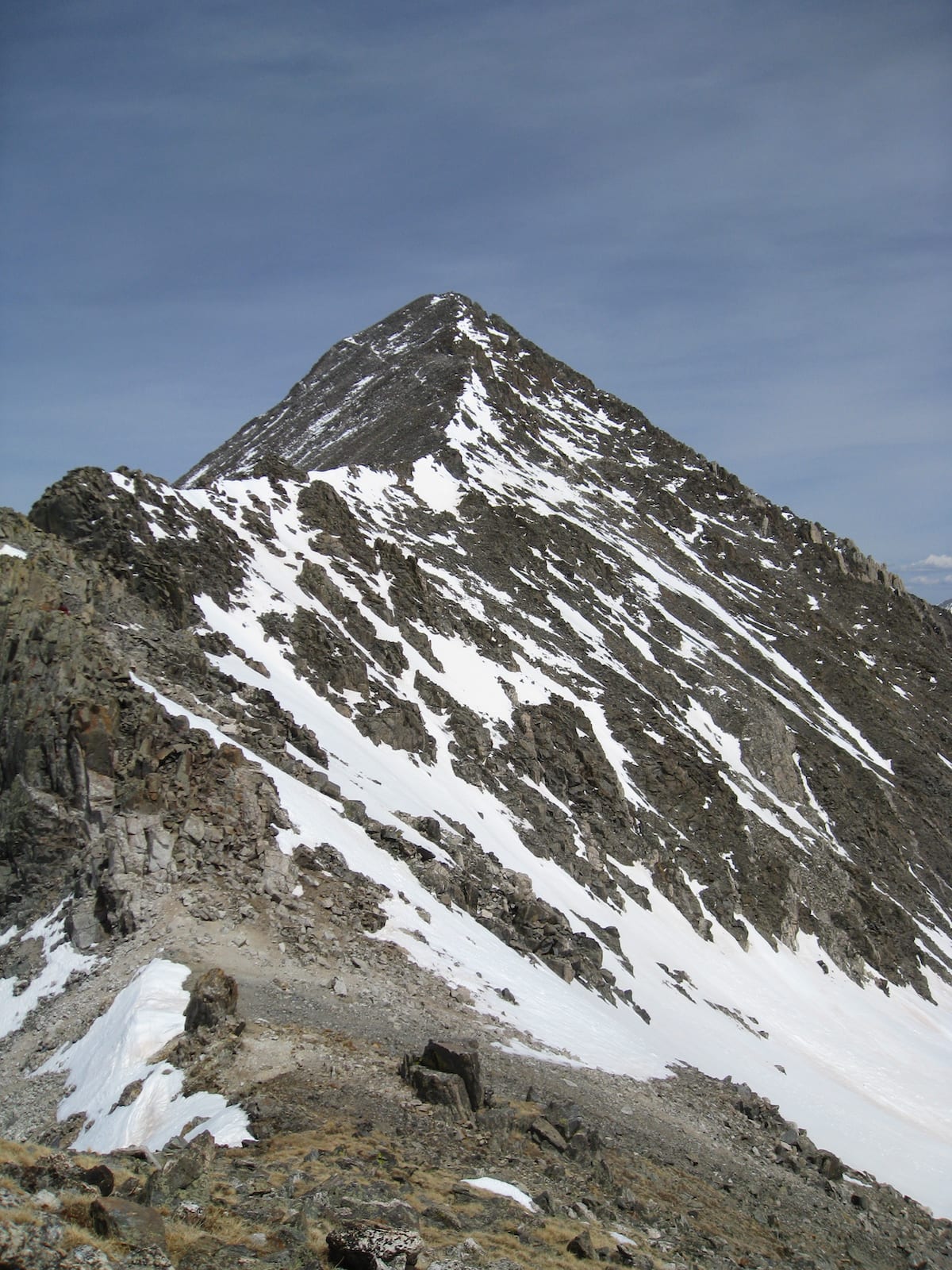 By far one of the most popular 14,000-foot peaks to climb in the United States, the Quandary Peak Trailhead sits just 20 minutes north of Fairplay. At over seven miles long, this trail is certainly challenging, but it's nothing like climbing four 14,000-foot peaks in a day. This trail gets extremely crowded during summer weekends, as it's many hikers' first crack at climbing a 14er. But it offers some truly exhilarating views of the surrounding mountains, the expansive of South Park valley, and far beyond.
Spruce Creek Trail
Located a half hour north of town, the Spruce Creek Trail leads to some truly special alpine lakes. Open all year round, it poses a decent challenge during the spring and summer, and is especially tough when it's packed with snow.  It's a high-elevation hike that will be more challenging for those visiting than locals who are used to working with less oxygen when they hike. But no matter who you are or where you're from, this is a spectacular hike near town you won't want to miss if you're up for a challenge.
Colorado Trail at Kenosha Pass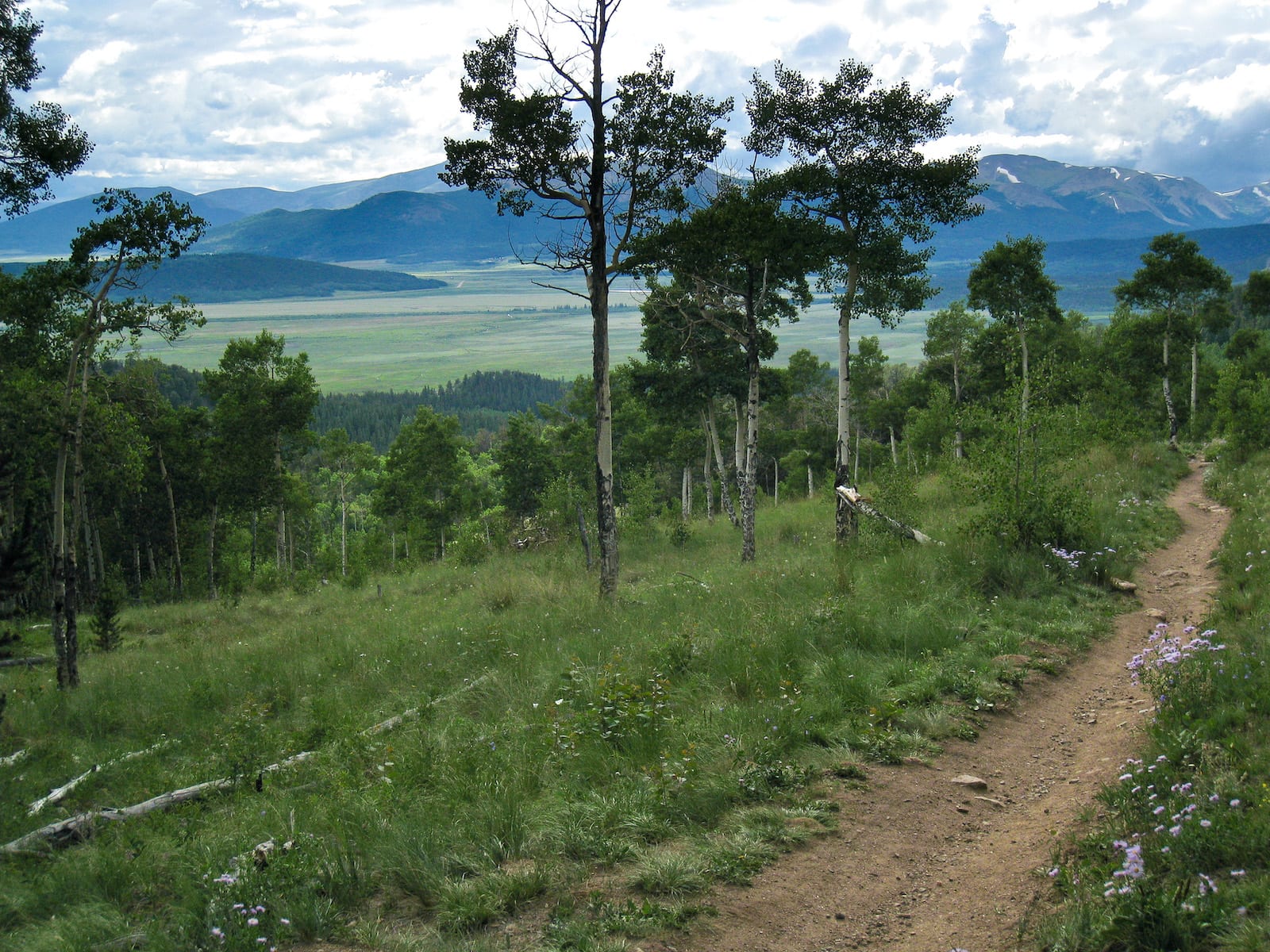 With a length of nearly 12 miles, the section of the Colorado Trail from Kenosha Pass to Georgia Pass delivers stellar views of South Park and the surrounding peaks. But the standout feature of this part of the Colorado Trail is its abundance of aspen trees, which burst into spectacular displays of gold ever fall. Located 25 minutes east of town, it's not especially crowded other than the early fall when its known to be popular enough to disrupt traffic on Highway 285.
B&B Mine Trail
This popular trail offers views of abandoned mining structures, picturesque beaver ponds, and dazzling, snow-capped peaks. Despite the crowds, wildlife is said to be abundant here, and the trail treks through some undeniably gorgeous sections of Summit County. This trail is accessible during the winter months, but snowshoes are recommended.
Miners Creek Trail/Road
Showcasing nearly ten miles of pristine Rocky Mountain splendor, this trail features a gorgeous alpine lake. Open year round, it's profoundly beautiful whether its caked with snow or bursting with life during the spring and summer. You just might encounter a moose or two on this trail, so hike with caution. Miners Creek Trail is moderately difficult to hike and can get crowded depending on the time of year.
Those are among the best hiking trails nearby Fairplay, Colorado.