The town of Bailey isn't too far from Denver, but it might as well be on a different planet. Tucked underneath tall forested peaks and immense rock faces, Bailey has the great fortune of being surrounded by excellent hiking trails.
Some are so popular that they're considered to be among the most well-known trails in the state. But others are far lesser known and allow hikers the chance to trek alone immersed in the grandeur of the mountains. If you're in Bailey and are looking for somewhere close by to hike, check out this list of recommendations:
Deer Creek Trail
Just 20 minutes north of town, this popular trail delivers hikers through the Mt. Evans Wilderness to the boundary between the Pike and Arapaho national forests. It's considered to be moderately difficult, and hikers should bring adequate clothing and supplies since the trail will take them to elevations of 13,000 feet.
Despite the inevitable weekend crowds, it's still a place where it's possible to see moose, bear, and other wildlife. The Deer Creek Trail might be too crowded for some, but it's a well-maintained trek that has lots of scenery to offer.
Colorado Trail
During the fall when the leaves of aspen trees burn into stunning yellow and gold hues, the Colorado Trail is so inundated with hikers that traffic on Highway 285 often grinds to a halt. It's a stunning hike any time during the year, but Coloradans flock to it especially in September and early October.
If you simply can't stand hiking in the presence of others, stay away from this one. But if you don't mind sharing nature with other people, you'll be handsomely rewarded. The Colorado Trailhead #6 is 20 minutes west of town and takes hikers through some absolutely stellar mountain terrain.
Staunton State Park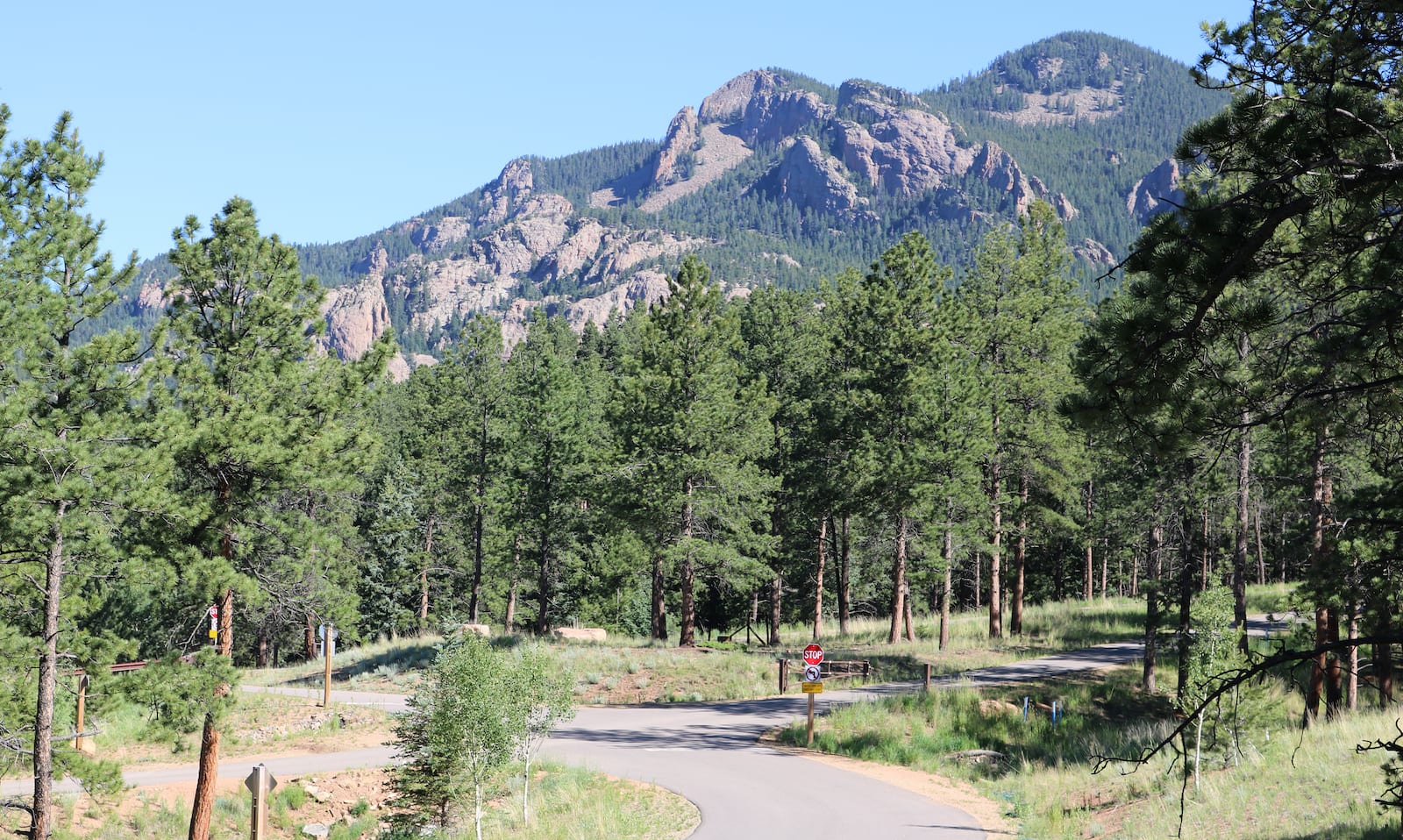 From easy two-mile loops to challenging hikes that will take you all day to explore, Staunton State Park has a lot to offer hikers, and it's a mere 15 minutes away from Bailey. One of the standout hikes here is the trail that leads to the Elk Falls Waterfall.
At 12 miles round-trip, it takes a commitment, but is well worth the trek. Other trails here offer excellent views of animals and wildflowers, and some offer access to secluded fishing spots if you're hiking with your fishing gear in tow. If you love this State Park so much that one day isn't enough, you're free to camp here at one of its 25 campsites.
Burning Bear Trail
This is a gorgeous trail even by Colorado's high standards. At five and a half miles of easy conditions, this hike offers views of craggy rock formations, pristine alpine lakes, towering peaks, and bucolic streams. In the fall, it's a stellar option to view aspen foliage on a trail that's far less crowded than the nearby Colorado.
And at a quick 25-minute drive from Bailey, you won't have to spend loads of time in the car to enjoy it.
Shelf Lake Trail
Located on the south end of the Guanella Pass, the Shelf Lake Trail is steep in sections, which makes it moderately difficult to hike. The signage indicates it takes three and a half miles to reach Shelf Lake, but some hikers report hiking longer than that.
On this hike you'll encounter otherworldly mountain views, pleasant streams, and thick evergreen forests. The view once you get past the timberline is said to be especially gorgeous. It takes about 40 minutes to reach this trail from Bailey.
Guanella Pass trails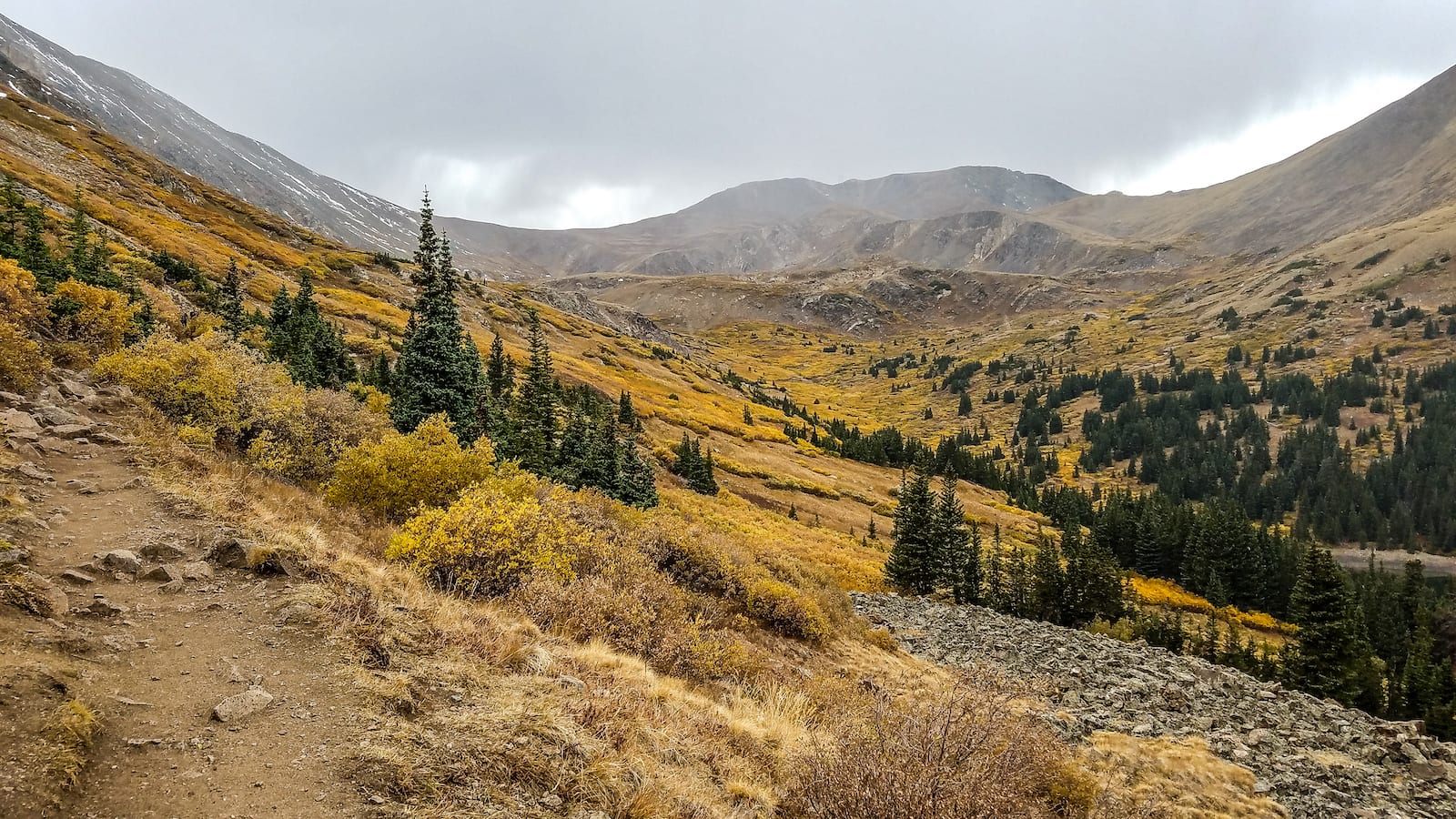 Depending on when you visit, the parking lots for these high-altitude trails can quickly fill up, especially on summer weekends. Usually the only negative thing hikers have to say about the arrestingly gorgeous Guanella Pass trails is that they're often packed with hikers. However, don't let this keep you from checking them out.
A hike on the Bierstadt Trail offers stellar panoramic views especially for those who make it to the top of the 14,065-foot mountain of the same name. In the summer, you might just spot pikas, marmots, and fields of wildflowers here.
The Square Tops Lake Trail is just across the street and rewards hikers with abundant scenery, wildlife, and views of alpine lakes. Just up the road you'll find the beautiful Silver Dollar Lake Trail, which is peaceful in the summer and ideal for snowshoeing in the winter months.
If you're not used to high elevation hiking, it's best to take it slow on these trails.
Nice Kitty Trail
This adorably named loop trail is moderately difficult to hike and clocks in at 12.6 miles. Open to mountain bikers as well as hikers, reviews of the trail mention incredible mountain views but also a challenging lack of shade from start to finish (the surrounding forest was burned in a forest fire).
The lack of trees provide mile after mile of views of blue sky and immense mountains. Just 30 minutes outside of town, the Nice Kitty Trail is mostly used for biking, truth be told, but it's still a great place to hike.
Brookside-MCcurdy Trail
Located right outside of the main part of town near the Coney Island Boardwalk, the out and back Brookside-MCcurdy Trail clocks in at nearly 15 miles and is considered a challenging hike for its steep inclines and rocky conditions. It's open during the winter months, but you won't want to try hiking here without the appropriate gear if you visit between November and May.
For being so close to Bailey, this trail is generally uncrowded, especially the further in you hike. You'll encounter open meadows, thick forests, and enchanting streams.
Pine Valley Ranch Park
Ideal for novices and expert hikers alike, Pine Valley Ranch Park has multiple hikes to choose from. Just over a mile and a half, the Narrow Gauge and North Fork View Loop is an easy hike that follows alongside the North Fork of the South Platte River. But on the other end of the hiking difficulty spectrum, the 18.5-mile Buffalo Creek Loop is a difficult hike filled with pristine views, wildflowers, and stately meadows.
Many hikers split this trail into three-day backpacking excursions. This gorgeous park is just 20 minutes outside of Bailey.
Have a safe and fun time exploring Bailey's amazing hiking trails!