Fort Collins is Colorado's fourth largest city, nestled in the northern foothills of the Front Range. It's gorgeous all year long, with mild enough weather for day hiking opportunities each season.
Whether you're strolling through Old Town, City Park, or amongst the prairies, the town provides plenty of opportunities for a simple hike. Fort Collins is a beautiful city with numerous parks, trees, bike paths and walking trails. Nature is nearby and that includes more than hiking if you're looking to combine a trek with outdoor recreation like fishing or camping.
Located about an hour's drive north of Denver, and on the outskirts of Arapaho and Roosevelt National Forest, Fort Collins is a unique gem of Colorado at the gateway to the Rockies. This town is tourist friendly and just the place you'd want to go for day hikes. With numerous sights to see, all you need to do is get your gear, pick a hike and get going.
Remember to hike safely and be on the lookout for wildlife. If you see wildlife, leave them alone and do not approach. Follow the park's rules. Most require your dogs on a leash. Bring some water and a snack, dress in layers, always expect the weather can shift in Colorado quickly. Here are among the top hiking trails near Fort Collins:
1. Horsetooth Reservoir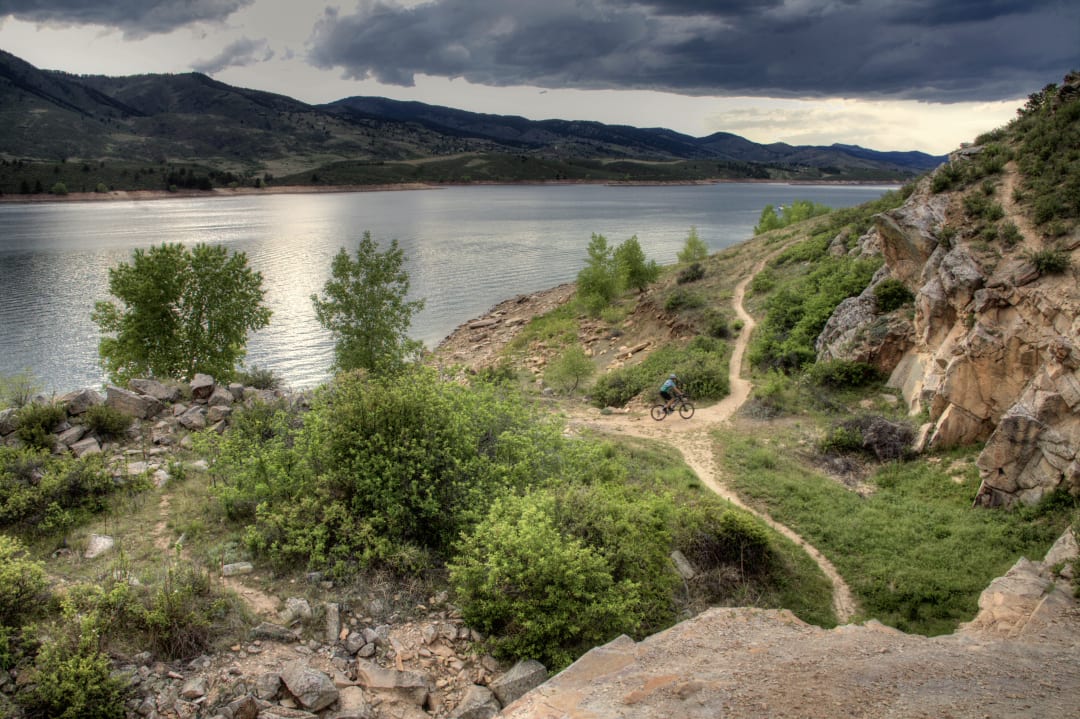 Let's start off with the most popular, Horsetooth Reservoir. It brings together biking, hiking, fishing, boating and camping opportunities only minutes 15 minutes from downtown Fort Collins. It lies on the western side the Dakota Hogback mountain, which you can see from town.
Tucked into the start of the Rocky Mountains at 5,420 feet, Horsetooth provides fun dynamic terrain. The vertical gains on the hikes are relatively low, keeping them relatively simple. However, the nature is high and landscape spectacular. It's definitely a smart idea to wear a good pair of hiking boots. Your feet will thank you later!
The best part of hiking here aside from the scenery, would have to be the convenience to other amenities: boating, water skiing, swimming, scuba diving, rock climbing and picnicking. You can spend the night here in a beautiful campground. Boat all summer long on 6 and 1/2 miles of water, with available rentals at the marina.
Surrounded by 1,900 acres of public land, hiking is great here. The park is open all year long, with fees for entry and camping. An Information Center is open to the visitors Monday to Friday during the winter, and daily summer. Head there for tips on any of the above activities, especially the low down on hiking.
Horsetooth Rock Trail at Horsetooth Reservoir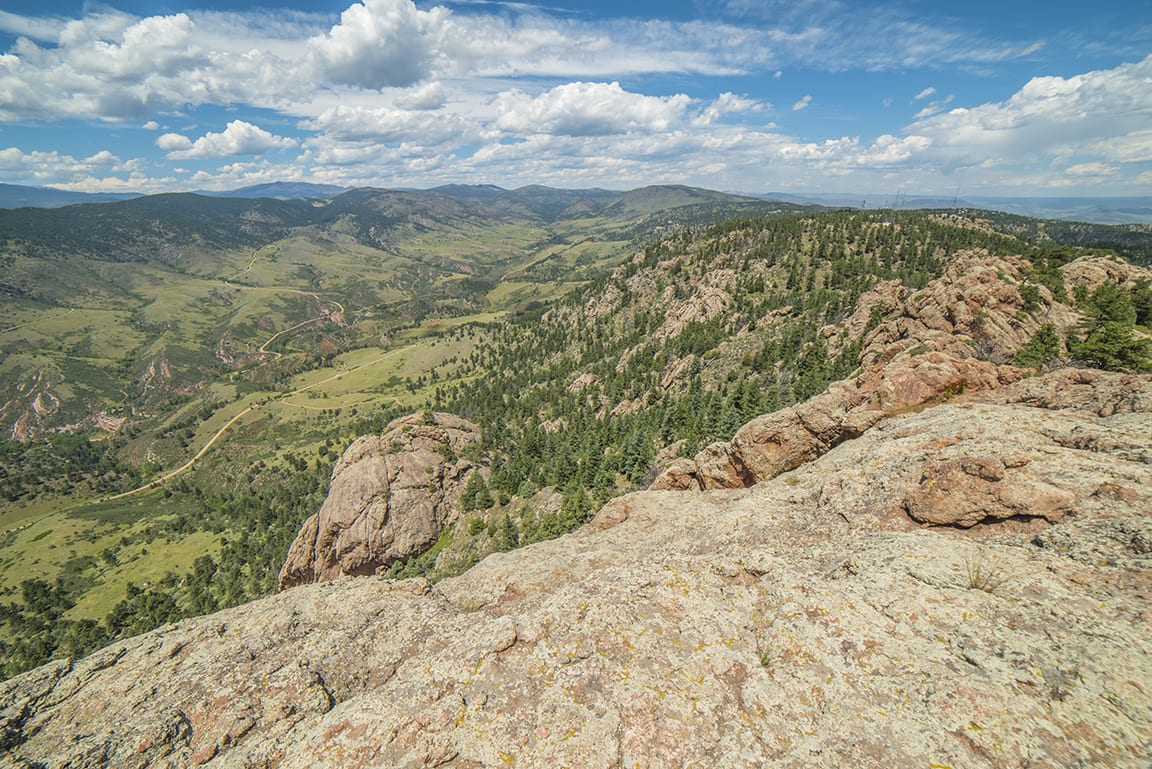 Horsetooth Rock Trail is nestled just west of the local reservoir and 4 miles from Fort Collins. With beautiful scenery it is one of the more often visited trails in the Fort Collins area. This trail is open 24 hours a day.
Some of the terrain seen on this hike consist of a gradual merge of grass into pine trees. The distance of your hike and the trail will run 5.7 miles.
In order to get to the trail from Fort Collins, you will need to head west on Sherwood St. Continue until you get to Canyon Ave and then take a slight right onto the road. At the end of Canyon Ave, turn onto West Mulberry St. Take this road for 1.5 miles until S Taft Hill Rd, where you will turn left. For 3.5 miles stay on Taft Hill until W County Rd 38 E. Drive for about 6.5 miles then turn right. This will bring you to your destination. With a spectacular mountainous view and beaten path, all there is left to do is enjoy the hike.
Distance from Fort Collins: 4 miles
Difficulty: Moderate
Dogs allowed: Yes
Elevation range: 5815-7256 feet (1441 ft)
Trail shape: No loop, up and back down
2. Lory State Park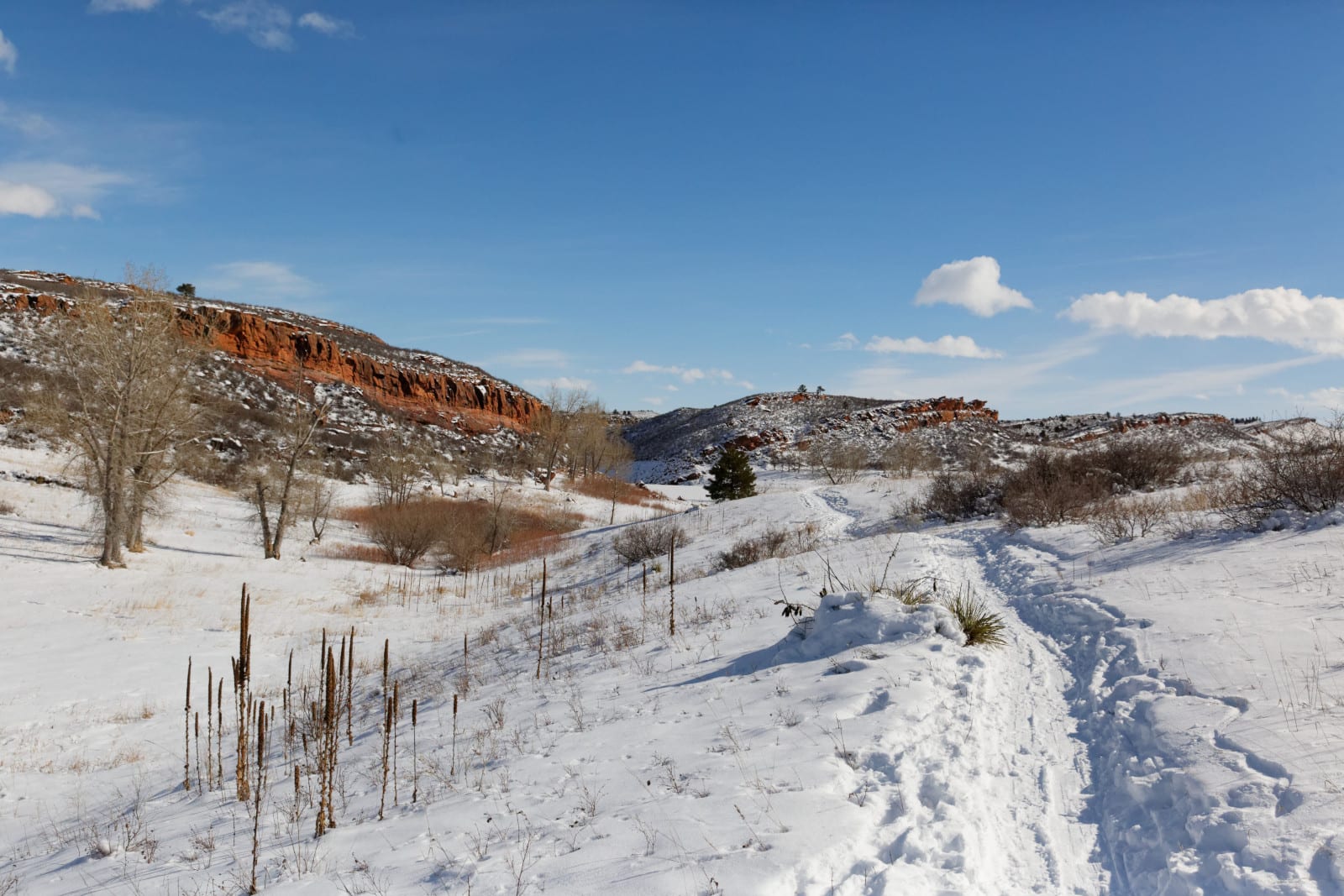 Located on the other shore of Horsetooth Reservoir, focused less on water sports and more on hiking is Lory State Park. Situated in Bellvue, it's a 20 minute drive from downtown to the park.
There are a myriad of day hikes at this state park, spread across more than 20 miles of hiking trails. While out and about, there's a geocache stashed at @ N 40 34.067 W 105 11.252. Be mindful as hikers share the trail with bikers and horseback riders. Rock climbing, fishing and hand launched boats are some of the other activities at Lory.
Backcountry camping is the only type of overnight stays permitted at Lory. So if you're looking for a longer hike, consider obtaining a backcountry camping permit. The hike in is at least 2 miles to the first primitive campsite. Unfortunately, there are no facilities and no fires allowed.
Arthur's Rock Trail at Lory State Park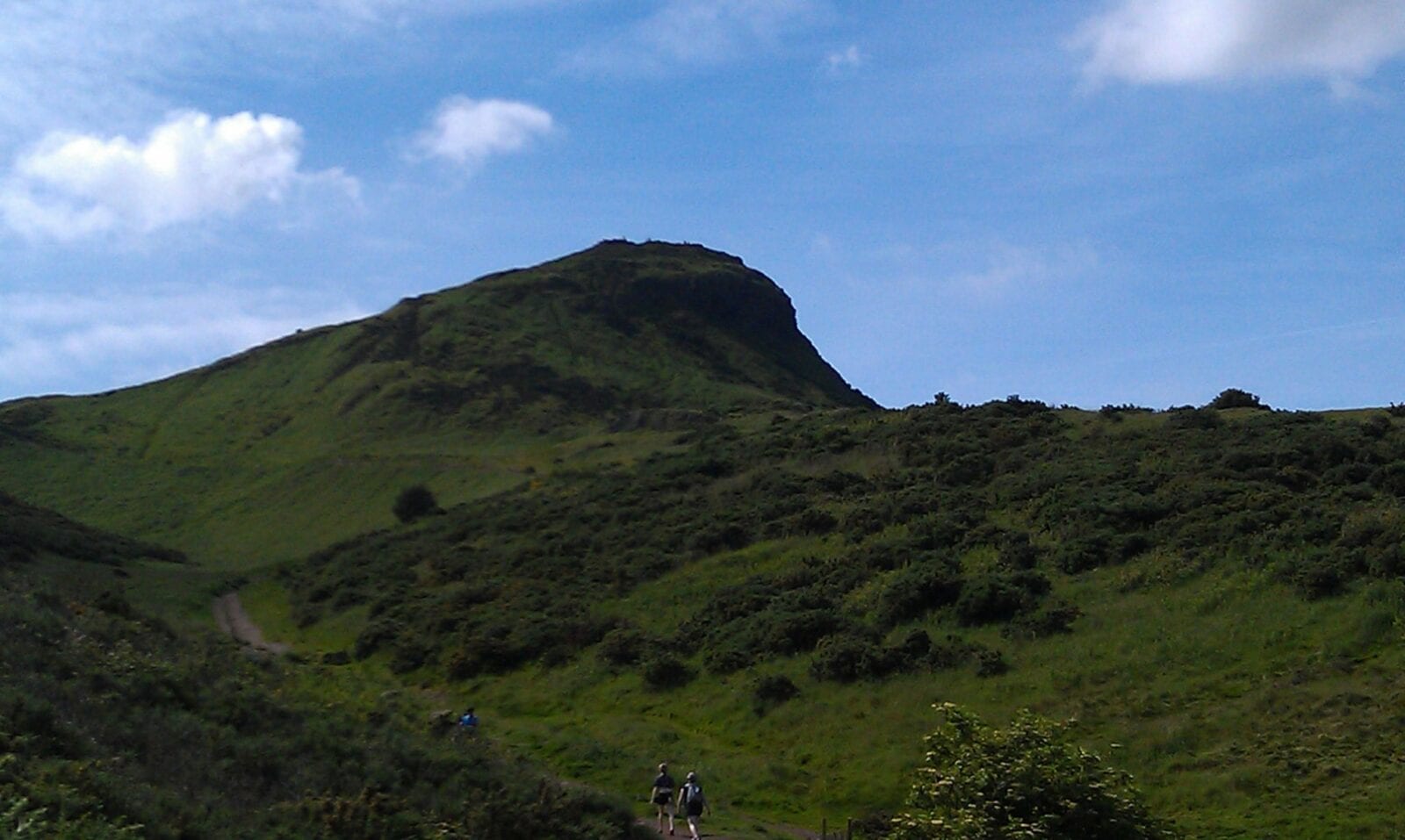 Arthur's Rock Trail is in Lory State Park, which is situated right outside of Fort Collins towards the west about 40 minutes away in Bellevue Colorado. The visiting hours for Lory State Park run from Monday to Friday, 8 to 4, and 8-6 Saturday and Sunday. This trail has a mixed terrain of low grasslands, meadows and lush pine forests as you make your way up the mountain.
Arthur's rock also has a split in the trail. Arthur's Rock trail's counterpart, Howard Trail, is a slightly more difficult path for the more experienced hiker. The hike of Arthur's Rock trail is a reward within itself, offering numerous opportunities to get under shade if needed along the trail. The tail is about 3.4 miles total, beginning to end and back. The view as you progress up the trail and reach the top is truly spectacular.
In order to get to this trail from Fort Collins, head west on Mulberry St until you reach Taft Hill Rd, onto which you will turn south. Stay on Taft Hill Rd for 3.5 miles to W County Rd 38 E. County Rd will run for 8 miles until you run right onto N Co Rd 25 E. The next turn to take will be 2.3 miles away at Red Canyon Ranch Rd. About 3 miles later take your last turn right onto Steller Ridge Rd and this will bring you to the trail. Arthur's Rock trail is one that is beautiful but should be trekked with caution and is considered a hike of moderate difficulty.
Distance from Fort Collins: 18.6 miles
Difficulty: Moderate-Hard
Dogs: Only if on a leash
Elevation range: About 1100 feet
Trial type: Forward and back
3. Coyote Ridge Natural Area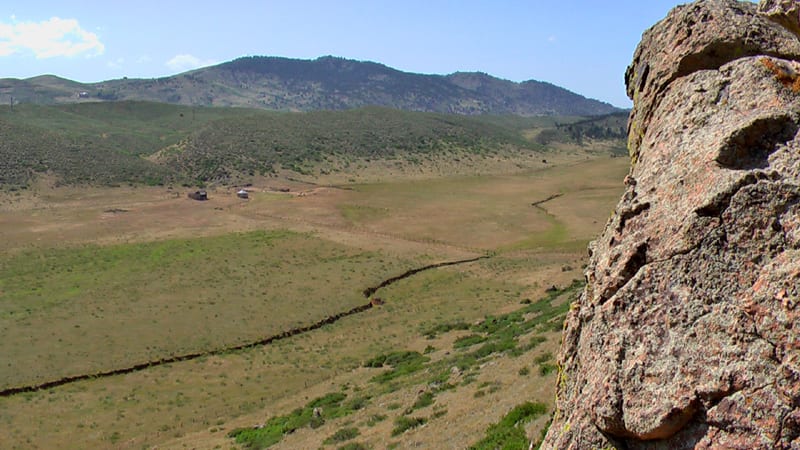 More year round hiking lies within the Coyote Ridge Natural Area. It's another super easy to reach trailhead, located only 8 miles from Old Town, and just south of Horsetooth Reservoir. You'll get to witness a variety of habitats in this preserved public space.
You'll find plains life meeting the foothills at Coyote Ridge. The main draws are hiking, mountain biking and horseback riding. There are 2.3 miles of multi-use trails. The primary Coyote Ridge Trail connects with Devil's Backbone Open Space and Blue Sky Trail. Don't miss the 1/4 mile interpretive loop Hidden Clues Trail, tucked away about a mile into Coyote Ridge.
Wildlife includes the occasional mountain lion or bear sighting, numerous coyote, lizards, rattlesnake, deer and songbirds. There's only a mild elevation gain of some 600 feet, just enough to rise above the plains offering an endless view of the Front Range. Cheyenne Ridge is visible to the north. Views west to the Rockies are phenomenal.
It's open from every day from 5am to 11pm. There's no overnight camping here. And unfortunately, this preserve does not permit dogs.
Coyote Ridge Trail at Coyote Ridge Natural Area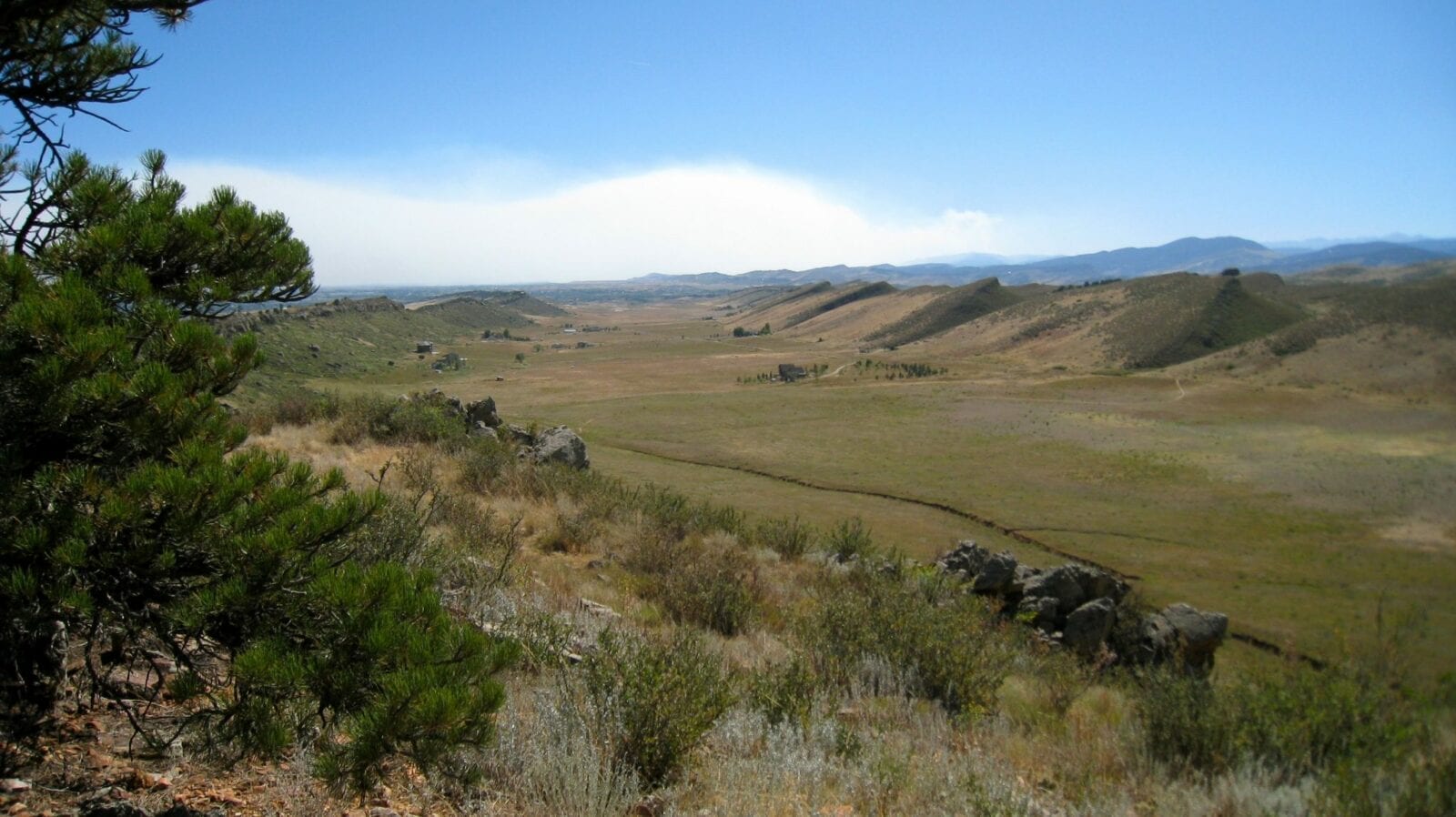 Coyote Ridge Trail is situated in the Coyote Ridge Natural Area. The hours of operation are daily through the week from 5am to 11pm. This specific trail's length is about 4 miles, with an increase in elevation of 564 feet from start to finish and is not lacking in its scenery.
It's noted by many as one that is not too difficult to hike, even for beginners. Another great attribute that this trail is known for is the wildlife that has been seen while hiking.
To get to the Coyote Ridge trail, get onto W Mulberry St and continue until S Taft Rd. Turn south onto Taft Rd and continue 7 miles until you approach Spring Mesa Rd. Enjoy the scenery and your hike on this pleasant trail.
Distance from Fort Collins: 9.7 miles
Difficulty: Beginners
Dogs allowed: No
Elevation range: 564 ft
Trail shape: Up and back down
4. Devil's Backbone Open Space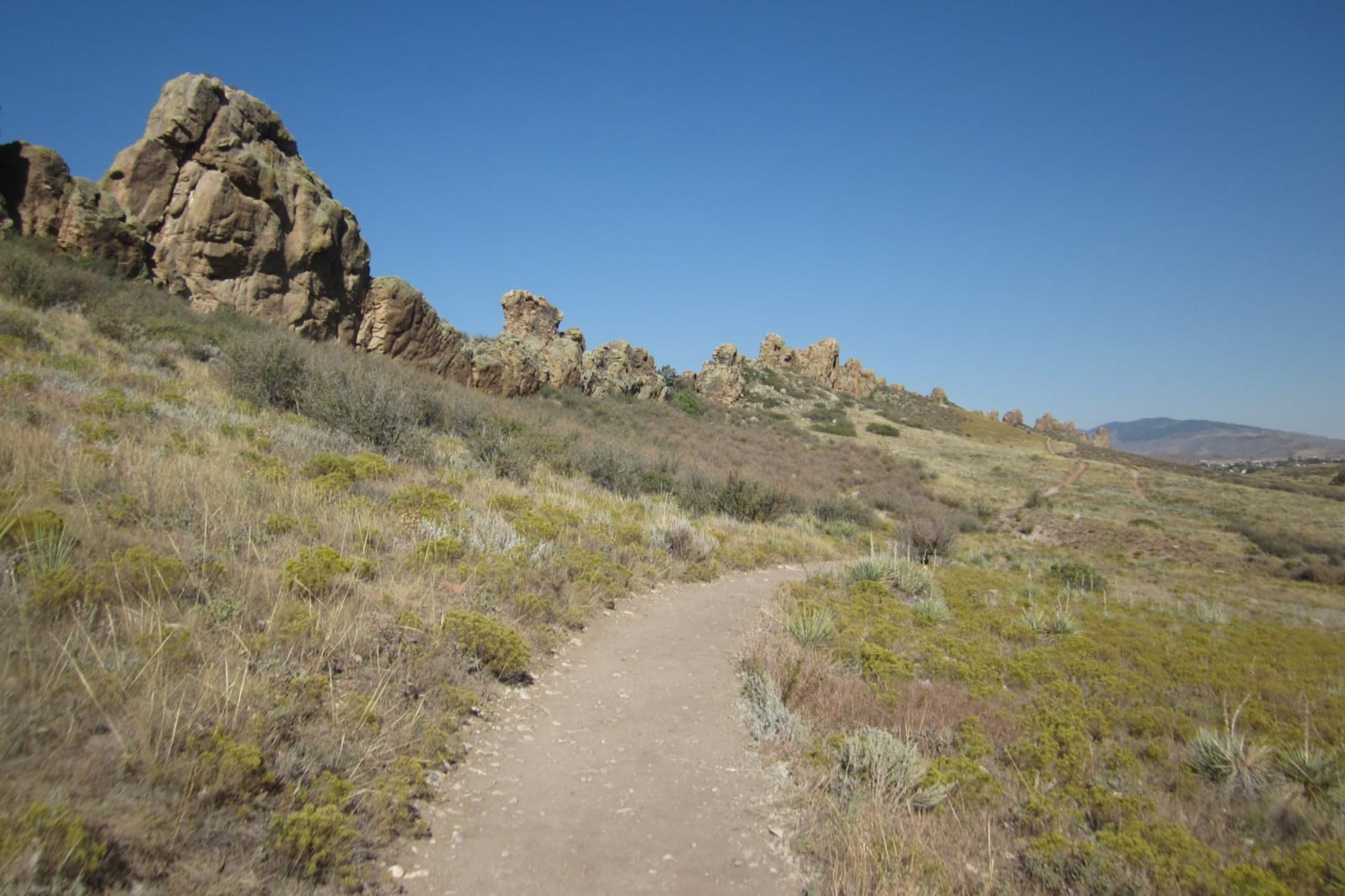 Places with cool names like this often back it up, and Devil's Backbone is no exception. This Open Space showcases one of Mother Nature's magnificent wonders. Technically located in Loveland, this trailhead lies just south of Coyote Ridge, which lies south of Horsetooth Reservoir. It's one spectacular hike after the next.
There are plenty of pretty hikes in the foothills of Larimer County. Easy day strolls that are perfect for all levels and the whole family. Devil's Backbone sits with flower covered grasslands on 2,198 acres. Connected with Coyote Ridge Trail to the north, the park's 12 miles of trail also link up with Rimrock Open Space and Horsetooth Mountain Open Space. Horseback riders and bikers share the path with runners and hikers.
Remember to pack enough water for your hike. Potable drinking water can be found at the start of the trail. Parking can reach capacity on busy summer weekends, so consider another nearby hike if that happens to you. It's open from dawn to dusk year round, with no entry fee.
5. Cache La Poudre River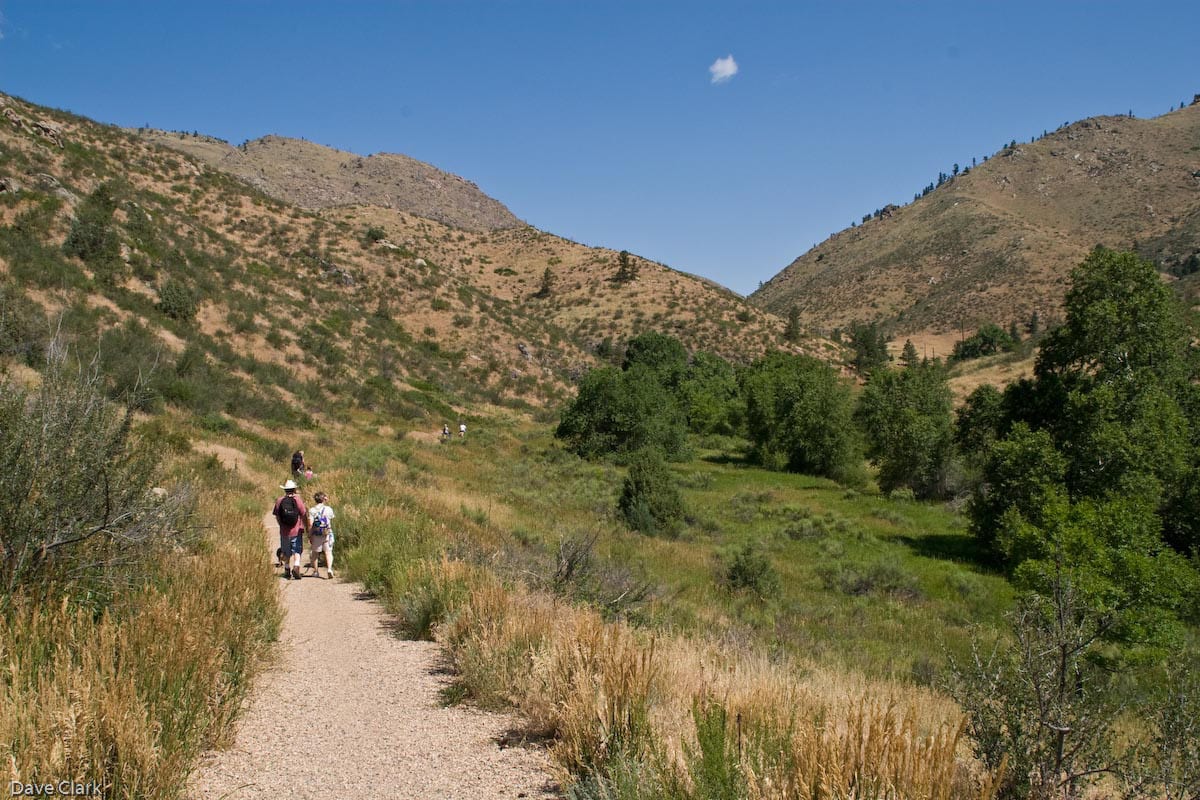 As one of Colorado's most stunning rivers, Cache La Poudre holds the claim to fame as the Front Range's only free-flowing, undammed river. That's an impressive feat along its entire 70-mile stretch. It flows directly through the town of Fort Collins, so you can feel its beauty close by.
There are several points you can hike along. We'll cover the easiest access to the Poudre Trail, a 12.3 mile stretch. It begins from the Bellevue Watson Fish Hatchery and follows the river southwest to the CSU Environmental Learning Center in Fort Collins. It's an easy stroll on a concrete/asphalt surface, suitable for all abilities of hikers. Although it sounds city-like, you'll pass small lakes, woodlands, grasslands, farms, parks and some industry.
Others head west of town on Highway 14 for the best access to nature. Highway 14 from Fort Collins west to Walden is known as the Cache La Poudre-North Park Scenic Byway. It holds treasures along its entire 101 paved drive to moose country. There are more than 10 campgrounds in route.
6. Red Fox Meadows Natural Area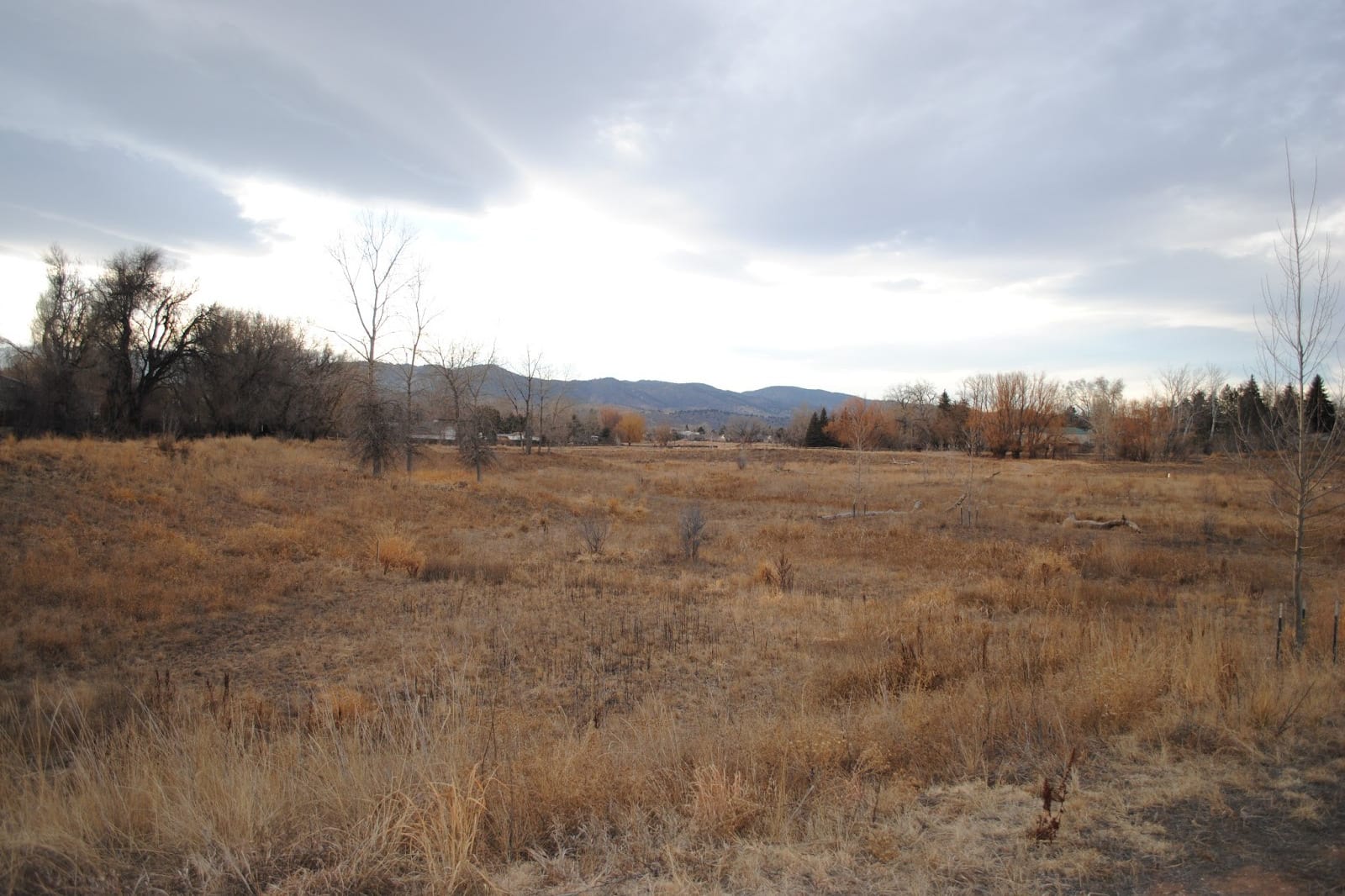 This natural oasis resides right in the heart of town, hidden within a residential area. Red Fox Meadows is among the easiest to pop into for a quick stroll, providing much needed reprieve from city life. It serves as flood control, wildlife habitat preservation and a way to improve water quality in streams and groundwater.
The short trails are open year round, although exceptionally lush in the spring and summer. It's a wonderful location for a stroll or afternoon bike ride, passing by ponds and prairies. Fox, fish, deer, turtles, rabbit, birds, and even black tailed prairie dogs are all native wildlife. The trail connects with Roland Moore Park if you'd like to keep going.
Because of its wetlands habitat, remember to cover your skin and expect mosquitos during the spring and summer especially. Dogs are welcome on-leash. It's free to use with no entry fee.
7. Pineridge Natural Area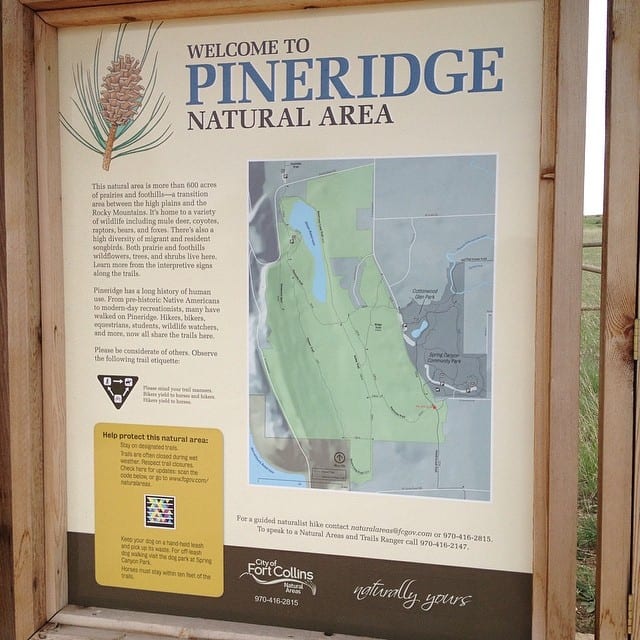 Pineridge Natural Area has a hiking trail that is highly rated and easily accessible. The trail is nestled next to a beautiful lake. It consists of grasslands with a view of patched pine trees along the rise of the valley. The general length of this particular Pineridge trail is estimated at 4 miles.
The route is a good place to bring kids along or to take your dog for a walk. Pineridge Natural area is open from 5am to 11pm.
In order to get to the trail from Fort Collins, head toward west Mulberry street. Once on Mulberry, continue heading west until you get to Taft Hill road and head south. Stay on south Taft for 1 ½ miles until you get to W County rd. Continue for about 6 miles unto you see the signs for the Pineridge nature area. Pineridge's trails are excellent for beginning hikers or anyone who wants to go on a nice scenic stroll without having to trek too hard. It's recommended for outdoor hikes and activities that will involve kids.
Distance from Fort Collins: 5.6 miles
Difficulty: Beginners
Dogs allowed: Yes
Elevation range: 252 ft
Trail type: Loop
8. Maxwell Natural Area Foothills Trail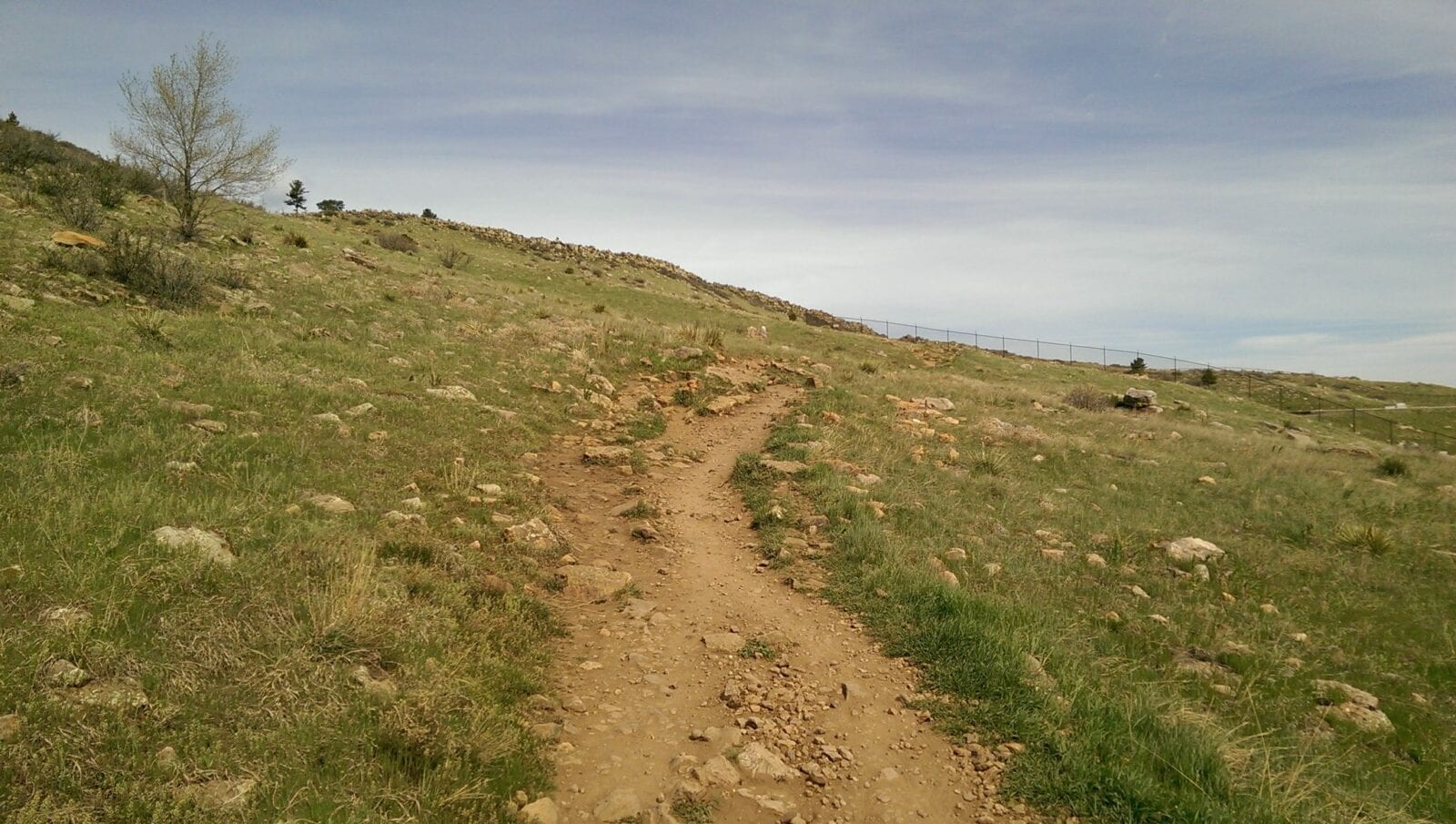 The foothill trails of Maxwell Nature Area are covered in lush grasslands and hills that are great for hiking. There are numerous events and activities for the family that take place in the summer and fall months. Like many of the other nature trails in the surrounding area, the Maxwell trail connects to others, including the Pineridge, and stretches for an estimated 4 miles.
This trail is also known to have prairie dogs and other native wildlife visible while hiking this trail. The visiting hours to the area are 5am to 11pm.
In order to get to the Maxwell Natural area, get onto W Mulberry St and stay west until Overland Trail is approached. Turn south and continue for about 1 ½ mills until you get to Dixon Canyon Rd. Turn right onto Dixon and this road will bring you to the Maxwell Natural Area.
Distance from Fort Collins: 10-12 minutes from city center
Dogs: Yes, on a leash
Difficulty: Beginners
Elevation range: About 593 feet
Trail type: Forward and back
After the Hike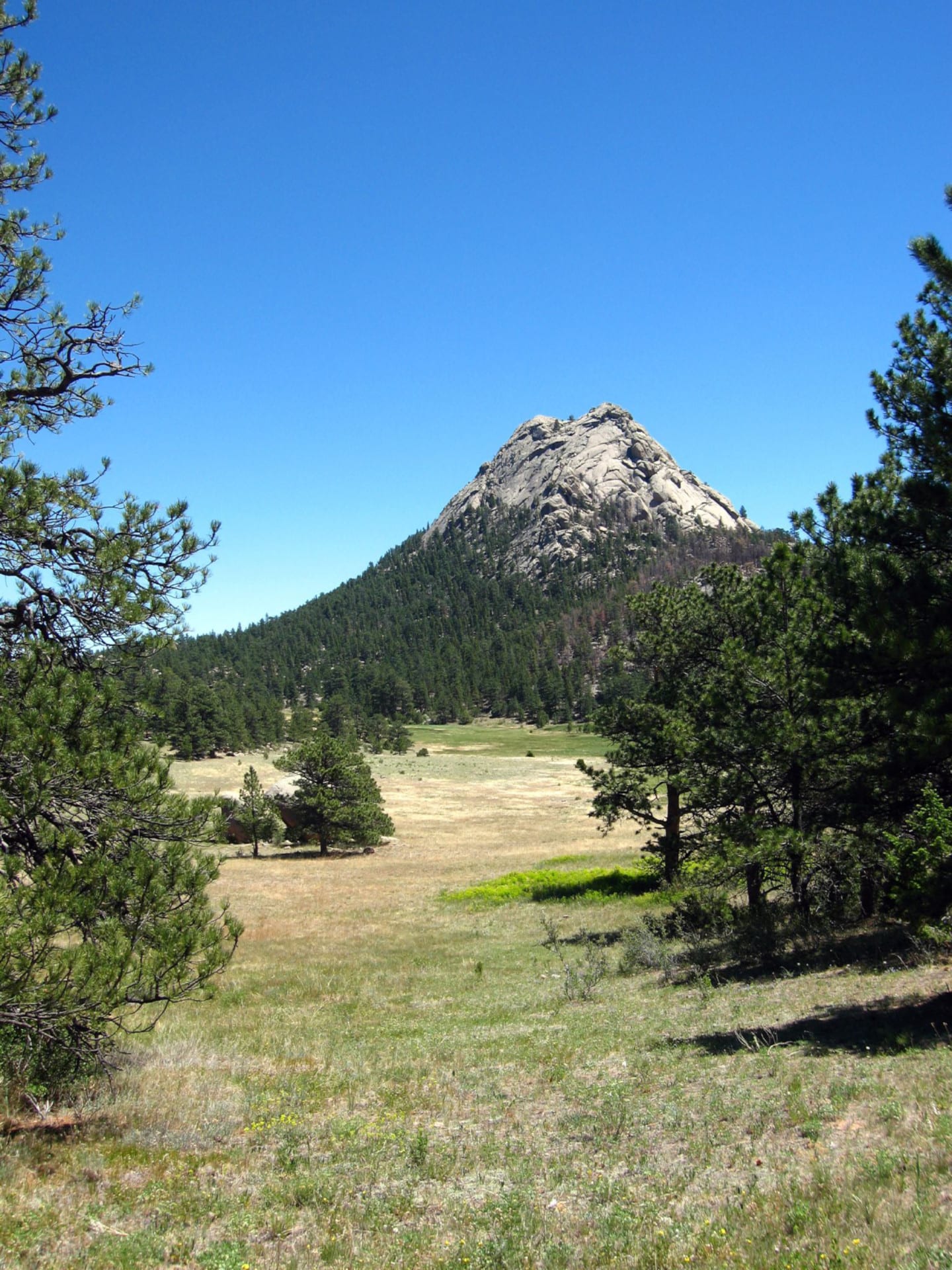 There's also plenty to do after you're finished hiking. Fort Collins is one of the brewery meccas of Colorado, so you'll have your hands full on which one to choose. Dining is excellent as well, with the choices you'd expect from one of Colorado's largest towns.
Once you've gotten a good meal in and refueled, it's time to shower up, and hit the town. There are ample spots for a fun date night, in lieu of traditional restaurants. If you're from out of town consider spending the night because there are a lot of cool Fort Collins hotels. The historic Armstrong Hotel is one of the town's most popular places to stay.
Thanks for checking out our favorite hikes around Fort Collins! Stay safe and happy hiking!