As the gateway to Rocky Mountain National Park, Estes Park offers plenty of opportunities to enjoy the outdoors. Hit the trails this summer and discover these top Estes Park hikes, rated from easy to difficult.
The town of Estes Park is tucked into the front range of Colorado about 45 minutes west of Loveland, Colorado. Many of the best hiking trails are situated within Rocky Mountain National Park (RMNP). They are rated easy, moderate or difficult. All hikes mentioned below are perfect for day hikes.
The official website for RMNP has up-to-date news on trail conditions, so take a look before you head out. With elevations ranging from 7,860 feet to 14,259 feet, it can get cold during any time of year here, and possibly snow. For other extraordinary hikes, check out these waterfalls near Estes Park, most of which are also in RMNP.
Easy Day Hikes in Estes Park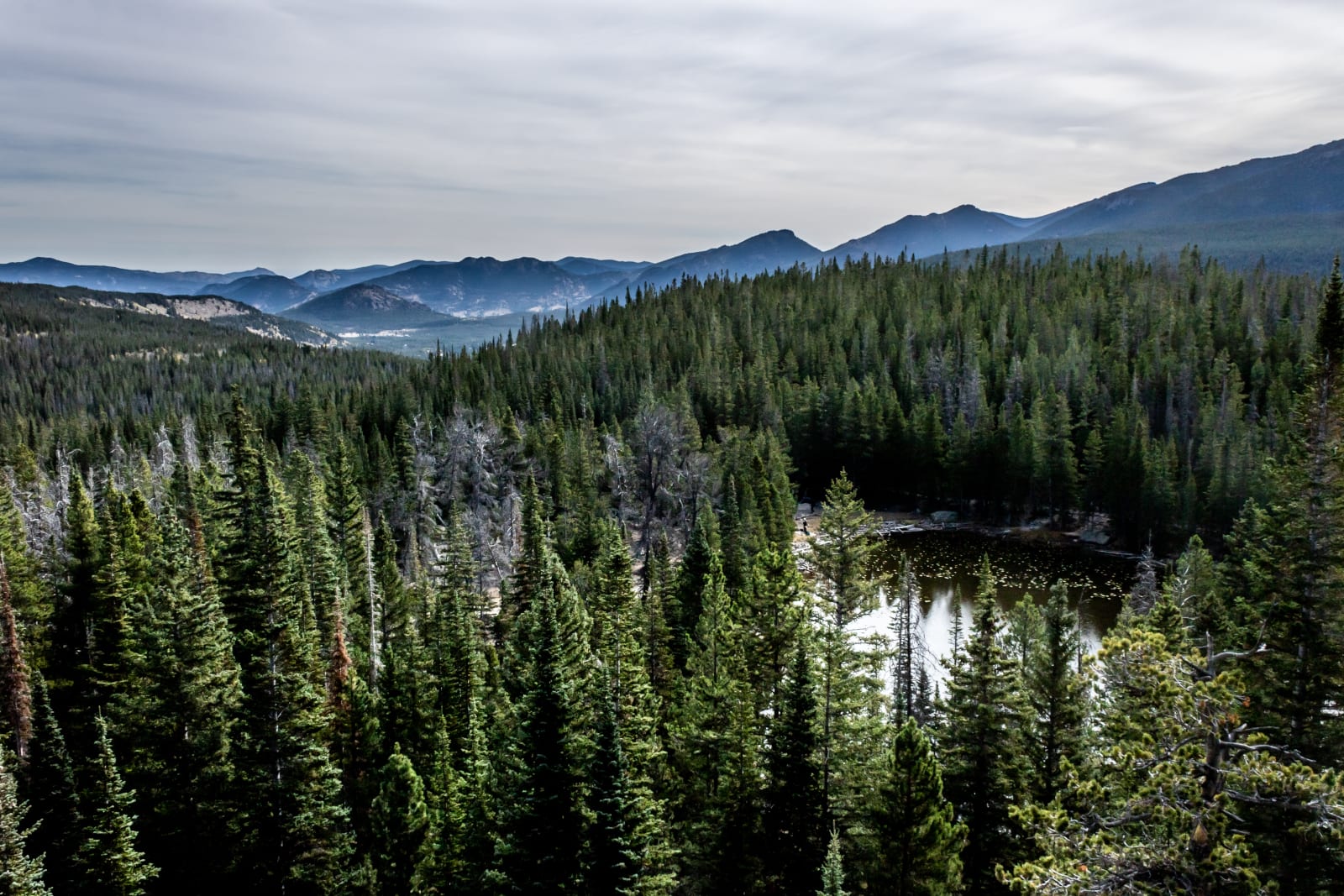 Nymph Lake
Enjoy the short and quick half-mile route from Bear Lake to Nymph Lake. With lake, mountain, and wildflower views, this hike has it all. In late spring to early July, the lake is sprinkled with yellow-colored floating pond lilies, surrounded by a vibrant green landscape. In the fall, hikers will be greeted with colorful aspens that fill the mountainside. Continue a bit further and you will be greeted with breathtaking views of Hallett Peak plus an abundance of wildflowers along the way. Begin at Bear Lake Loop Trail and check out the beautiful landscape from the east shore before continuing onto Nymph Lake.
Where: Bear Lake in Rocky Mountain National Park
Length: 1.1 out and back
Difficulty: easy
Bierstadt Lake Loop
For those who are seeking mountain views and wildlife encounters, the three-mile Bierstadt Lake Loop is a great option. Without a lot of effort, hikers are quickly rewarded with stunning mountain views along the Continental Divide. A steady incline, in the beginning, brings hikers to the top of Bierstadt Moraine (a large pile of stone left over from a glacier) for panoramic mountain views. Located inside Rocky Mountain National Park, the trail begins at the Bierstadt Lake Trailhead – near the Glacier Basin Campground.
Where: Bierstadt Lake Trail in Rocky Mountain National Park
Length: 3.2 out and back (with a loop around the lake)
Difficulty: easy
Lily Lake
Bring the entire family for this easy day hike. The flat hike to Lily Lake is great for a morning stroll or early evening outing. The trail guides hikers around the lake for just over ¾ of a mile. Continuing along the main loop, hikers will be greeted with views of the Estes Cone, Mt. Meeker, and Longs Peak. This hike is particularly enjoyed in fall due to the large aspen groves that surround the lake. Fishing is another favorite activity at Lily Lake.
Where: Rocky Mountain National Park at the Lily Lake parking area
Length: 0.8-mile loop around the lake
Difficulty: easy
Moderate Day Hikes in Estes Park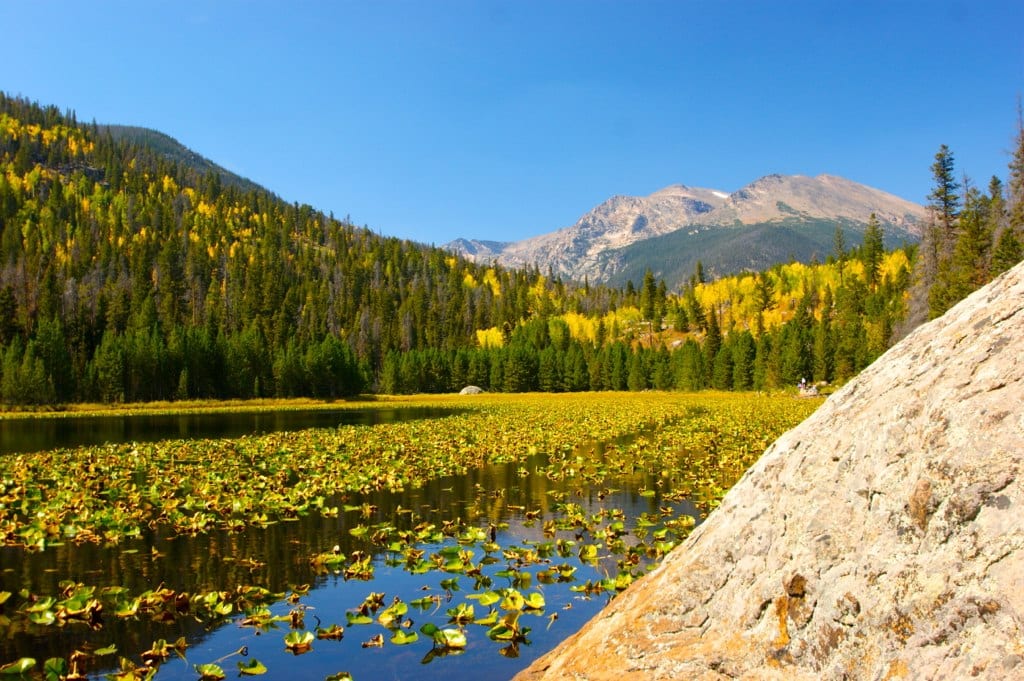 Cub Lake
If you want a trail that has it all, Cub Lake is a great option. With mountain views, a pristine lake, wildflowers, and wildlife we're not really sure what is missing from the list. View a variety of colorful blooms in the summer, golden aspen in the fall, glimpses of Stones Peak, and elk herds in the fall. If you choose to extend your hike, connecting trails to The Pool and Fern Falls is available.
Where: Moraine Park in Rocky Mountain National Park
Length: 4.8 miles out and back
Difficulty: moderate
Lily Mountain
Grab your pup for this Estes Park hike. As one of the only dog-friendly trails in the area, Lily Mountain is a moderate day hike located just outside of Rocky Mountain National Park. In a relatively short distance, the trail takes you high above the park for views of Mt. Meeker, Longs Peak, Twin Sisters Peak, and more. But you'll have to work for the views, with a steep climb and a bit of scrambling to get to the top.
Where: 6 miles south of Estes Park at the Lily Mountain trailhead
Length: 4 miles out and back
Difficulty: moderate
Kruger Rock
East of Estes Park sits Hermit Park Open Space which offers plenty of trails but one to make sure you add to your list is Kruger Rock. Great for families and dogs, Kruger Rock is a fairly flat trail, only 3.5 miles in length with a few steep sections and rock scramble to get to the top of Kruger Rock. Once you've made it, feel instantly rewarded with panoramic views of Estes Park and the Rocky Mountains. There is a $9 entrance fee for day use at the park.
Where: 2 miles southeast of Estes Park
Distance: 3.5 miles round trip
Difficulty: moderate
Ouzel Falls
Located at the southeastern corner of Rocky Mountain National Park at the Wild Basin Trailhead, the hike to Ouzel Falls offers hikers plenty of waterfall views. Encounter the Copeland Falls and the Calypso Cascades along the 2.7-mile hike to Ouzel Falls. Crashing into Ouzel Creek, Ouzel Falls is an impressive 40-foot cascading waterfall that is best observed by staying on the trail along the newly built footbridge. Best viewed in late spring or early summer when the water flow is at its peak. There is an option to extend the hike another 2.5 miles to Ouzel Lake for even more breathtaking scenery.
Where: Beginning at Wild Basin Trailhead in RMNP
Distance: 5.4 miles round trip
Difficulty: moderate
Difficult Day Hikes in Estes Park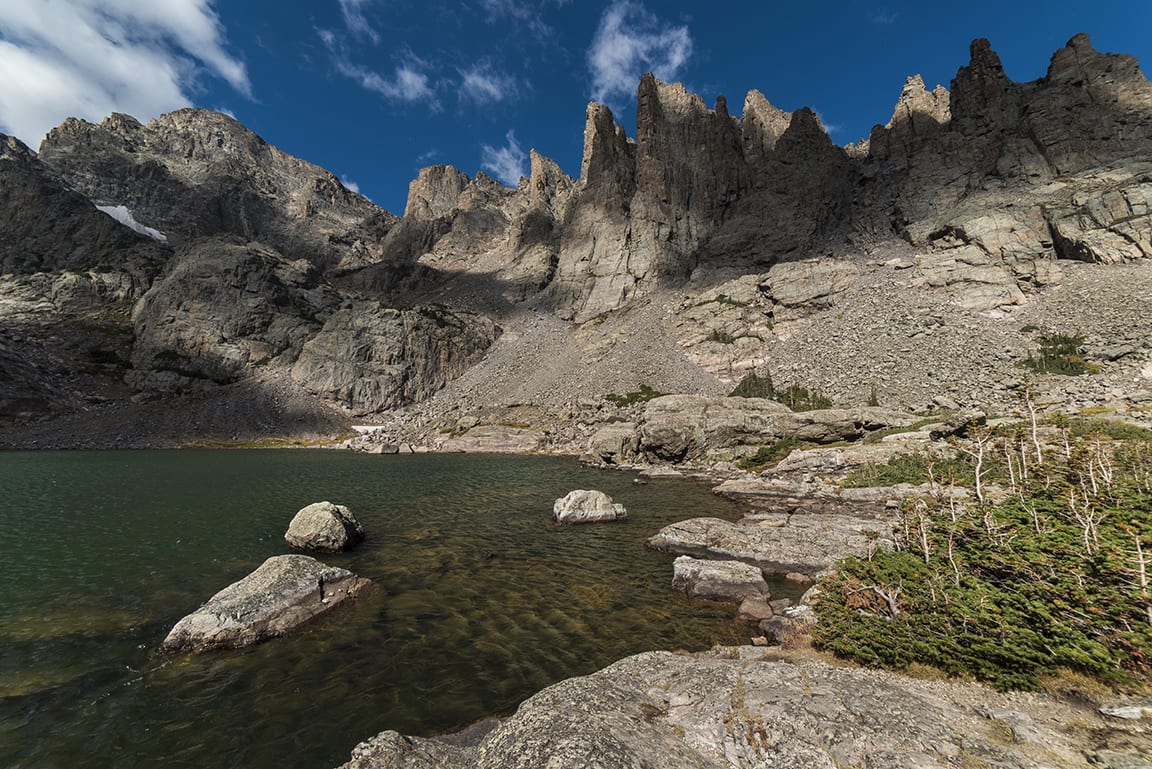 Chasm Lake
Maybe one of the best hikes in Rocky Mountain National Park, Chasm Lake is part of the trail network that makes its way up to Longs Peak. There is no shortage of panoramic views, alpine terrain, mountain peaks, and once at the top a bird's eye view of Emerald Lake. Once at the lake take a moment and admire at the "Diamond", the east-facing side of Longs Peak that reaches 2,400 feet above the lake.
Where: Beginning at Longs Peak Trailhead in RMNP
Distance: 8.5 miles round trip
Difficulty: Difficult
Mount Ida
Both difficult and rewarding Mount Ida is best suited for experienced hikers. Be prepared for harsh weather conditions on the trek to the top. Starting at the Poudre Lake Trailhead, hikers will soon reach the open tundra after just a few miles. With the last several miles filled with rugged terrain, be sure to stick to the trail and follow signs and Cairns. Once at the top, enjoy panoramic views of the Never Summer Mountains, Longs Peak, the Mummy Range, and more. Come prepared to start early for this hike and dress for unpredictable weather. Distance is 9.6 miles with 2,465 ft. in elevation gain.
Where: Beginning at Poudre Lake Trailhead in RMNP
Distance: 9.6 miles round trip
Difficulty: Difficult
Sky Pond via Glacier Gorge
Don't skip the drama and take in the dramatic views of Sky Pond's sheer cliff walls that surround this alpine lake. To distract along the way, hikers will come across waterfalls, such as Alberta Falls and other lakes such as Glass Lake. As hikers reach the top at 10,900 ft., the views open up to Sky Pond surrounded by jagged cliff walls of the Sharktooth granite spires with Taylor Peak and Powell Peak filling around the lake.
Where: Glacier Gorge in RMNP
Distance: 9 miles round trip
Difficulty: Difficult
That's a round up of some of the best day hiking trails around Estes Park. Enjoy your time exploring Larimer County!
Read about some other things to do in Rocky Mountain National Park.