This majestic beauty is the 29th highest peak in Colorado at 14,148 ft. Nestled in the Mosquito Range alongside Mt Bross, Mt Cameron, and Mt Lincoln, many underestimate this "easy" hike due to the high elevation start – this is still a Class 2 climb.
Near the town of Alma, it's a quick drive from the quaint town to the Kite Lake trailhead and is the first peak stop when undertaking the Decalibron.
Trail Routes
Mount Democrat has a total of 3 trail routes – one of which is snow-only and another being the combo loop.
East Slope is easy to reach by driving north on Colorado 9 and turning left onto Buckskin Street. After approximately 6 miles, the Kite Lake parking lot will be reached. Note the final mile to Kite Lake can be rough at times and caution should be taken in low-profile or 2WD vehicles. The route is 4 miles roundtrip.
South Slope is the snow-only route, is 2.5-miles roundtrip, and begins at the same trailhead as the East Slope. Stable snow conditions apply alongside the use of crampons and an ax.
Combo loop route will take adventurers to Mt Bross starting from Mt Democrat. This route is around 7.5-mile roundtrip and begins at the same trailhead as above. It takes 6-8 hours to complete the entire loop.
Activities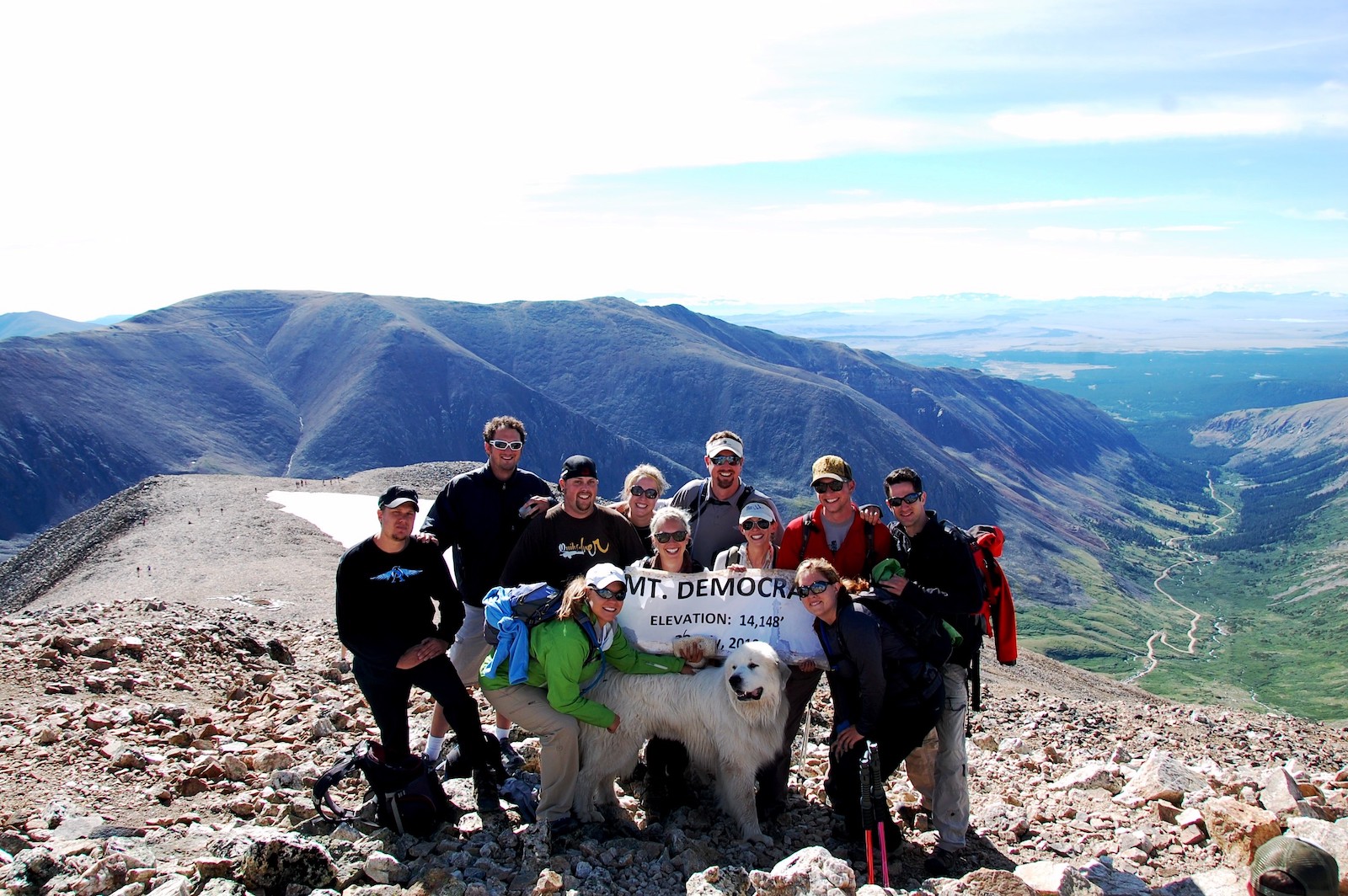 There is a fee for both parking and camping which can be paid in cash at any trailhead parking lot.
Camping – Tent spaces are available around Kite Lake, though there are only five and all are on a first-come, first-serve basis. Those who wish to camp are also able to set up tents beside their vehicle in the parking lot. Firepits, picnic tables, and restrooms are in the area of Kite Lake.
Read about the camping near Alma and Fairplay.
Fishing – Creeks and streams provide relaxing fly-fishing or head to either Emma Lake or Kite Lake where anglers can get their fill of trout. A fishing license is required for those 16+.
Hiking – Noted as one of the easiest 14ers to peak, Mt Democrat is typically busy through the spring and summer months. However, enthusiastic adventurers can also take on the peak-bagging achievement of the Decalibron and summit four different peaks all in one trip.
Beautiful views and breathtaking scenery make this hike one-for-the-books. It's advisable to bring a pole or walking stick if attempting the Decalibron. Mt Democrat is often the first with Cameron and Lincoln and being the middle ones, finishing out at Bross.
Details
Address: Pike National Forest, Park County, Colorado
Elevation: 14,148 feet (4,312 meters)
Pets: Yes – On leash
Season: Year-round