Mt Sherman is a gentle beast among the other 14ers with delicate slopes and is often missed when scanning the horizon for its peak. Reaching an altitude of 14,036 ft, this stunner is an absolute must for testing the waters of peaking 14ers.
Near Leadville, Colorado, it was named in honor of General William Tecumseh Sherman and is located in the Mosquito Range. Between the years of 1968 and 1982, over 10 million ounces of silver had been mined from the Sherman Mine.
Trail Routes
Three trail routes are available in the area, one of which is recommended as snow-only.
The standard route of Southwest Ridge is an 8.5-mile roundtrip if starting at the Leavick site, 5.25-mile roundtrip from the 12,000-foot gate, and 10.5-mile roundtrip from the winter closure starting point. Driving south on U.S. 285, turn right onto County Road 18.
About 8 miles in is the winter closure parking area with the Leavick site roughly 10 miles in. From here the road can be incredibly rough and 4WD vehicles are highly advised. Between Leavick and the 12,000-foot gate are a few pull-offs before reaching the parking area. Expect a 5-6 hour hike.
West Slopes from Iowa Gulch is a 4.5-mile roundtrip. Driving south on U.S. 24, turn left onto Monroe Street, and turn right on Toledo Street. Once reaching the fork, take the left turn which takes you to the Iowa Gulch trailhead.
South Slope is an 8.5-mile roundtrip snow-only route. You can reach this trailhead the same way as the standard Southwest Ridge route.
Activities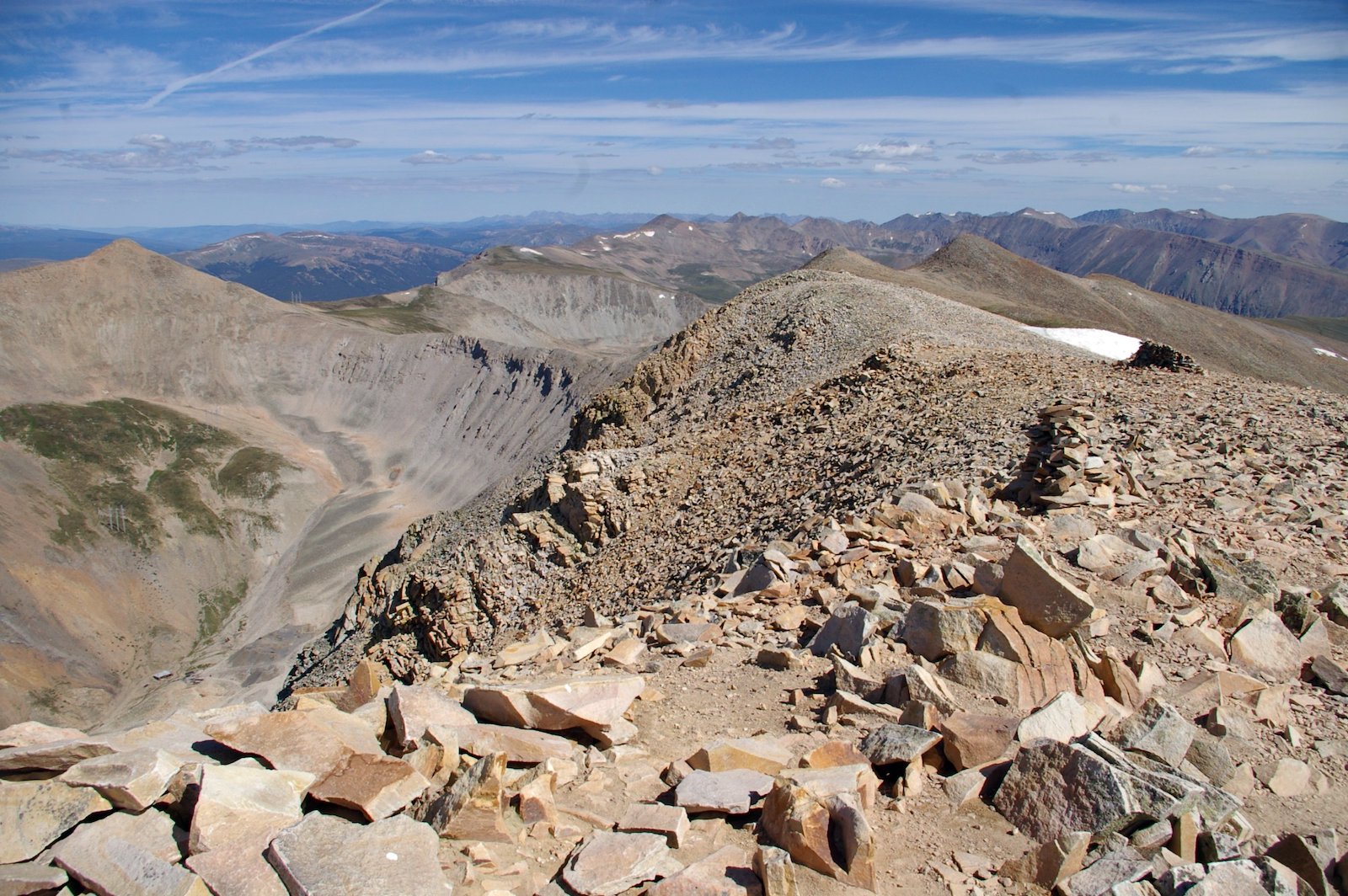 Camping – Along County Road 18, car camping spots are available. Be aware of any private property signs as they are common in the area.
For campgrounds near Fourmile trailhead (standard route), the convenient Horseshoe and Fourmile campgrounds are the best bet. If entering from the Iowa Gulch trailhead, there's a campground a few miles west of Leadville at Turquoise Lake.
Read about the camping near Leadville and Twin Lakes.
Hiking – An out-and-back hike, it's fairly easy to traverse the well-marked trails. However, the majority of the hike is above treeline and temperatures can drop dramatically.
High wind, lack of water sources, and the possibility of weather change demand hikers come prepared with proper attire such as hats, gloves, and an extra jacket, as well as snacks and plenty of water.
Photography – With gorgeous flora and fauna alongside the ruins of historic buildings, photographers can enjoy capturing the rich mining history of the area or the breathtaking nature around them. The Hilltop Mine showcases a lot of these incredible structures.
Details
Address: Pike National Forest, Lake and Park County, Colorado
Elevation: 14,036 feet (4,278 meters)
Pets: Yes – on leash
Season: Year-round