Leadville is surrounded by some of the best scenery in Colorado, Mount Elbert and Mount Massive, the largest mountains in the state. Those, along with several large lakes, makes Leadville an excellent hub for outdoor recreation. Hiking, biking, camping and skiing are all common.
Downtown is a national historic district, full of Old West structures, Victorian houses and sites from Leadville's mining past. There are a number of bars and restaurants throughout town. Dining options are several. Quincy's Tavern features only item on the menu, steak, served with baked potato and house salad. The Silver Dollar Saloon was built in 1883 and still the place grab a drink in town.
Accommodations are easy to find in this low-budget town. Just far enough from Denver, Leaville provides the peace and quiet you need, when you need it. Leadville's central location in the Rockies make it an outdoor playground. Anything high mountain is game here, including hiking, camping, fishing, biking and climbing.
History
When silver was discovered nearby in 1877, Leadville sprang up and led the Colorado Silver Boom. In the late 19th century, it was the second most populous city in Colorado. It's said to be named by the founding fathers because there were too many "silver" named towns at the time. Doc Holiday lived in town for a period around 1883.
Today it's population is about 3,000 people. Locals enjoy the high-altitude living at 10,152 feet, which makes Leadville the highest incorporated city in the United States. Alma, CO is the highest incorporated municipality in the country at 10,578 feet.
Main Attractions
Mount Elbert – The largest mountain in Colorado lies just outside town. Takes US 24 East three miles out of town to CO 300. Follow signs toward Emerald Lake and Mount Elbert.
Recreation
Camping – Easy to find in much of the federally owned land near town.
Twin Lakes is less than a 30 minute drive south. There are several national forest campgrounds, as well as dispersed car camping permitted on certain dirt roads. Take US 24 East out of town for 14 miles and take right onto CO 82 toward Independence Pass. There are several dirt roads off this road that permit camping. Look for established campsites.
Fishing – Bring your fishing rod. The headwaters of the Arkansas River is nearby.
Twin Lakes is popular year round for fishing, with ice fishing in the winter.
Turquoise Lake is easy to access from downtown. Take County Road 4 and follow signs to lake.
Crystal Lake is just south of down on Highway 24 (East).
Things to do near Leadville
Ghost Towns:
Museums:
National Lands:
Railroads:
Scenic Drives:
Ski Areas:
Snow Tubing:
Towns:
Featured Leadville blog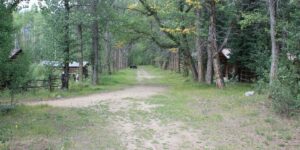 4 Ghost Towns of Clear Creek Canyon – Clear Creek Canyon is full of ruins from Colorado's early mining days. There are four remaining ghost towns in the canyon, which lies just west of Clear Creek Reservoir from Highway 24. Clear Creek runs the length…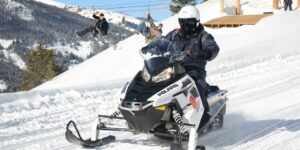 White Mountain Tours: Get Your Zip On! – White Mountain Tours has been guiding guests through thrilling, unique adventures since 1990 on their 2,500-acre piece of private heaven. Located seven miles north of Leadville and fifteen miles south of Copper…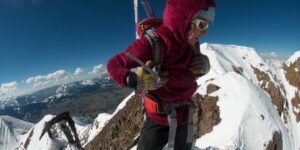 Melanzana: Putting the Soul in Artisan Apparel – Smack in the middle of the heart of downtown Leadville sits a free spirited outdoor clothing company that has been doing things very differently, by design, for over 20 years. Melanzana is a small, fiercely proud…