A favorite among travelers and locals alike, Mount Belford is a gorgeous, well-maintained hike nestled within the Chaffee County parts of the San Isabel National Forest. This incredible mountain features a peak reaching 14,197 ft (4327 meters) and close proximity to two other amazing 14ers – Mount Missouri and Mount Oxford.
The closest towns to this beautiful hike are Buena Vista, Leadville, and the ghost town of Vicksburg. Mount Belford was named after a Colorado U.S. Representative, James B. Belford, the "Red-Headed Rooster of the Rockies".
Trail Routes
Mount Belford has two different trail routes, both sharing the Missouri Gulch Trailhead. To locate the trailhead, from US Hwy 24 between Leadville and Buena Vista, turn west onto County Road 390. After roughly 8 miles there will be a sign for the Missouri Gulch Trailhead with parking and restrooms.
The trails for Mt. Belford can also be used to reach both neighboring 14ers Mount Oxford and Missouri Mountain.
The Northwest Ridge trail is about an 8-mile roundtrip with a 4,500 ft gain at a Class 2 difficulty.
The Northwest Gully trail is great to also use as a winter snow route at roughly 7.25-miles roundtrip, a Class 2, with a 4,500 ft elevation gain.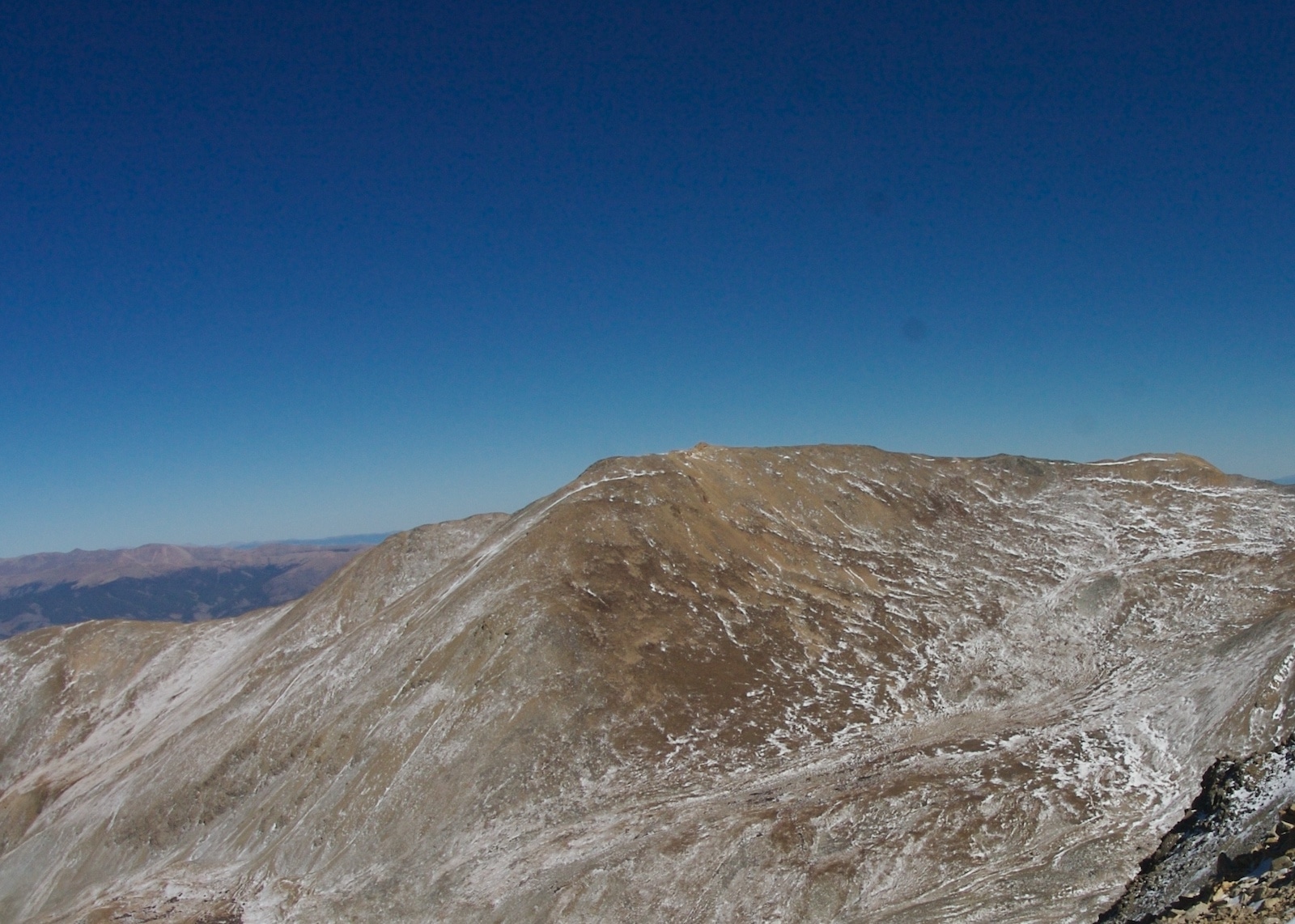 Activities
Camping – Dispersed, low-impact camping is available anywhere in the area except for at the trailhead as well as a campground at Clear Creek Reservoir. The campground is also free, has restrooms, and is accessible for RVs. There is an abandoned cabin just before the end of the treeline that makes for a good place to stop and rest, but the cabin itself is without a roof and filled with scrap metal, so camping inside is not advised.
Hiking – The hike here can be tough in places, but is overall an easy enough climb for most. From sharp switchbacks to a false summit, rock climbers and hikers alike will enjoy their ascent. There's plenty of room along most of the trail to stop and take a breather, find inspiration in the pristine scenery, or snap photos of local wildlife. With close proximity to Buena Vista and Leadville, it makes Mt. Belford a very popular hiking location for both travelers and locals.
Horseback Riding – Those who wish to sit back and relax while tackling this beautiful 14er are able to bring their own horses or connect with local outfitters in the area. The parking lot at the shared trailhead is large and can easily accommodate horse trailers when parking is available. All outfitters do charge a fee for providing various trail rides in the area.
Mountaineering – The winter season can be a great time to explore Mount Belford if adventurers are willing to tackle the crisp Colorado cold. Skiing and snowshoeing are popular among those who are looking for a bigger challenge on the trails with the majority ascending via poles or another assistive gear and descending on skis. Proper clothing and equipment should be used when attempting to climb in extreme weather.
Details
Address: San Isabel National Forest, Chaffee County, Colorado
Nearby Towns:
Elevation: 14,197 ft (4327 meters)
Pets: Yes – on leash
Season: Year-round