Let's face it. Aside from the Arkansas River flowing through the heart of town, Pueblo is an incredibly dry place. Luckily, this doesn't change the fact that there are some great places to fish nearby.
From a picturesque alpine lake to fish-filled reservoirs stretching out over the eastern plains, here are some great spots to fish in and around the southern Colorado city of Pueblo.
List of the top lakes and a river to fish near Pueblo, CO, in order of proximity:
Lake Isabel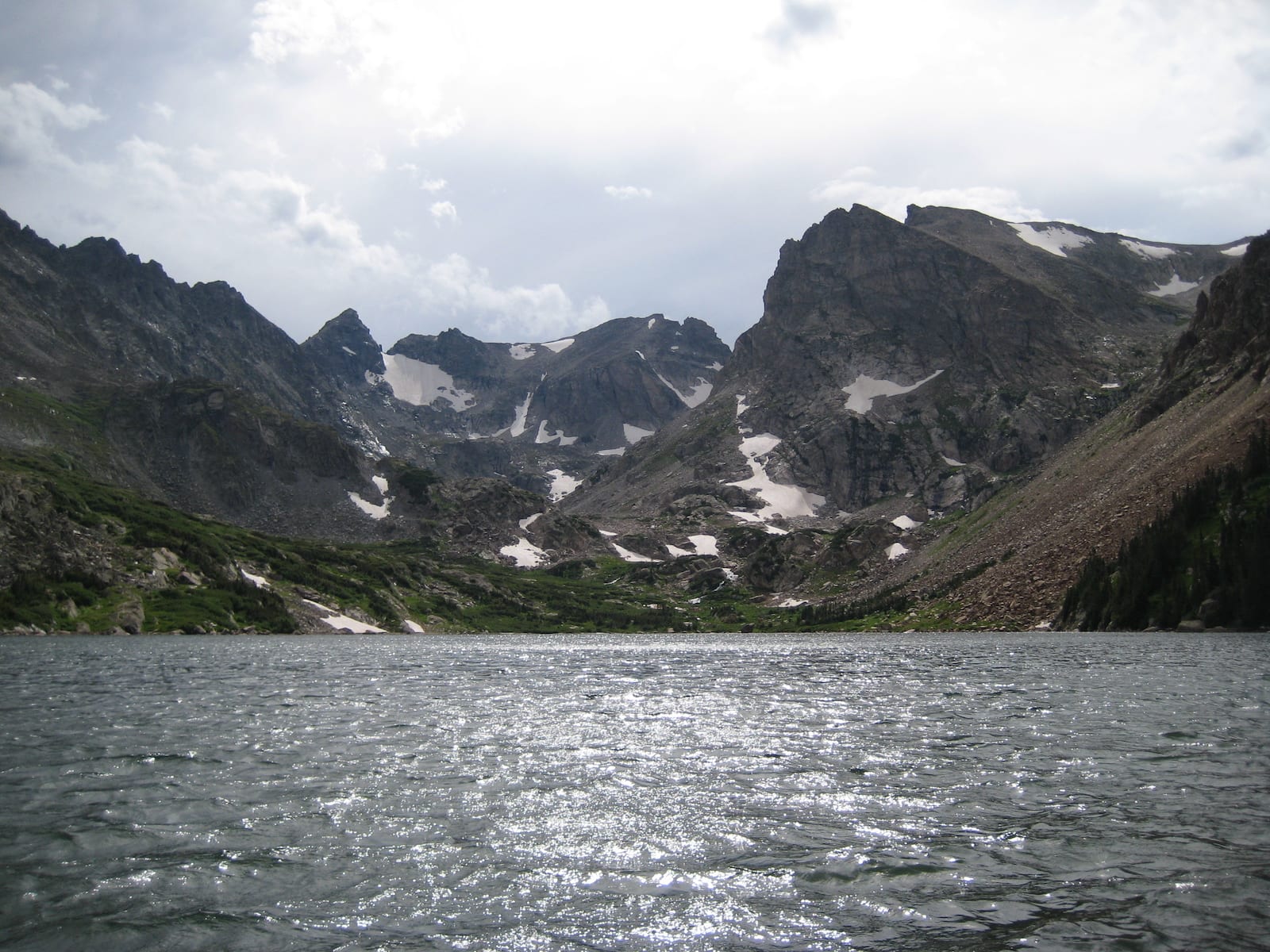 This gorgeous 40-acre reservoir is surrounded by scenic mountain views and trees that produce captivating patches of gold every fall. Unlike some many of the bodies of water surrounding Pueblo that are treeless and exposed to the elements, Lake Isabel is tucked away deep in the San Isabel National Forest and offers terrific mountain views. With fishing available here year-round, you're likely to catch Rainbow, Brook, and Brown Trout in this fine fishing spot.
At a manageable 45-minute drive from town, Lake Isabel is close enough to make a day trip out of, but pretty enough that you won't want to. There are numerous campsites available near the water, as well as the Lodge at San Isabel if sleeping in a bed is more your style.
Brush Hollow Reservoir
Located just 45 minutes northwest of Pueblo, the Brush Hollow Reservoir has public bathrooms, shade shelters, a boat ramp, and a decent amount of fish, according to Colorado Parks and Wildlife. Black Crappie, Bluegill, Channel Catfish, Rainbow Trout, Largemouth Bass, and Walleye are regularly stocked in this reservoir, and the minimum takeaway size regulation for all bass is 15 inches if that tells you anything.
This tree-less body of water might be a little plain compared to other Colorado fishing spots, but it lights up beautifully during dawn and dusk and is large enough to claim your own isolated spot to fish in.
Fountain Creek Regional Park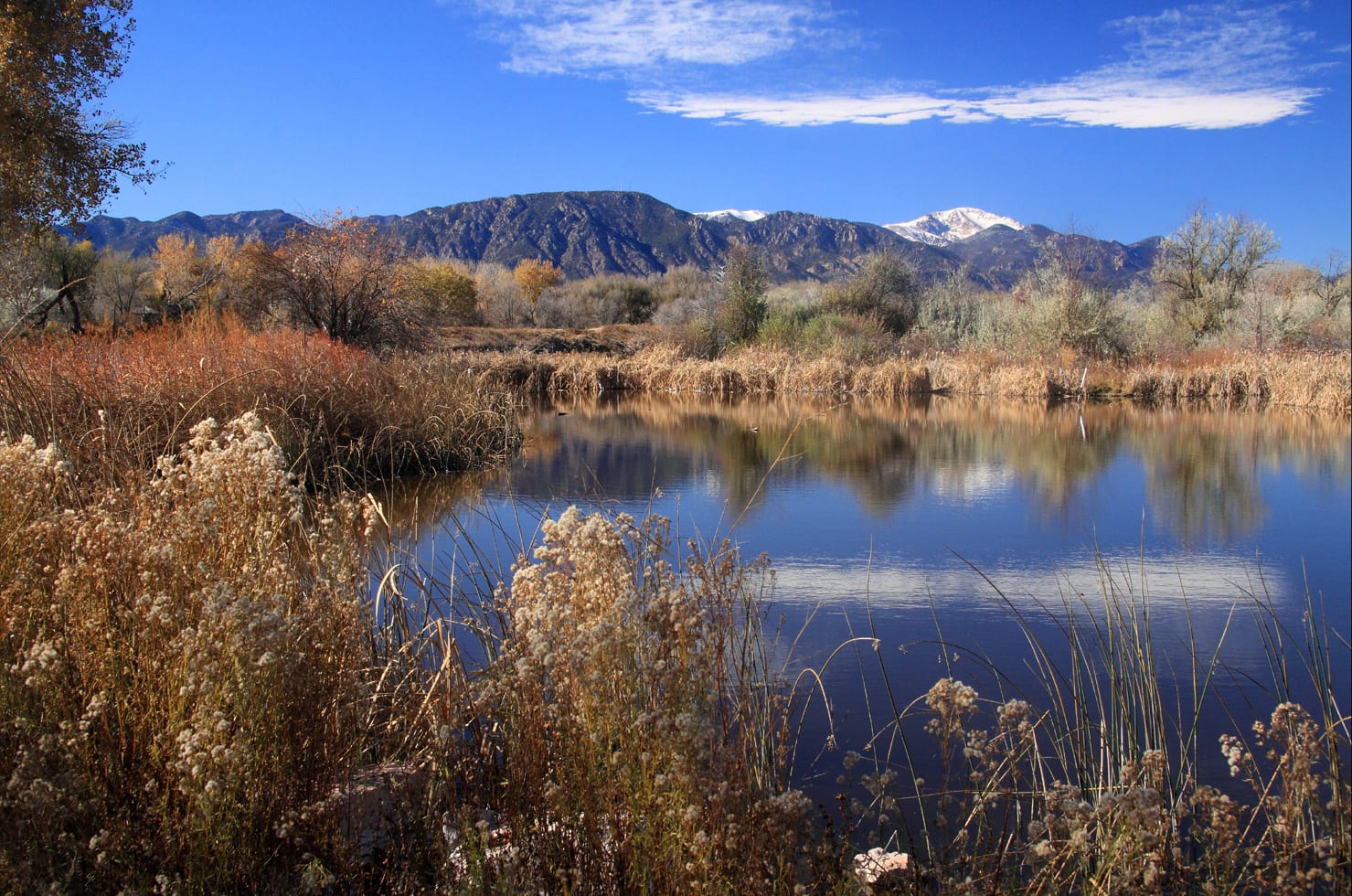 Up 30 minutes north of town you'll find the quaint and easily accessible Fountain Creek Regional Park. In what can be described as fishing on "easy mode," the ponds in this park are regularly stocked with fish, and are surrounded by shade shelters, paved paths, and public bathrooms.
If you want to be one with nature and have a challenging fishing experience, this isn't the spot for you. But if you plan on fishing with small children or are looking for an easy introduction to fishing, Fountain Creek Regional Park is worth a shot.
DeWeese Reservoir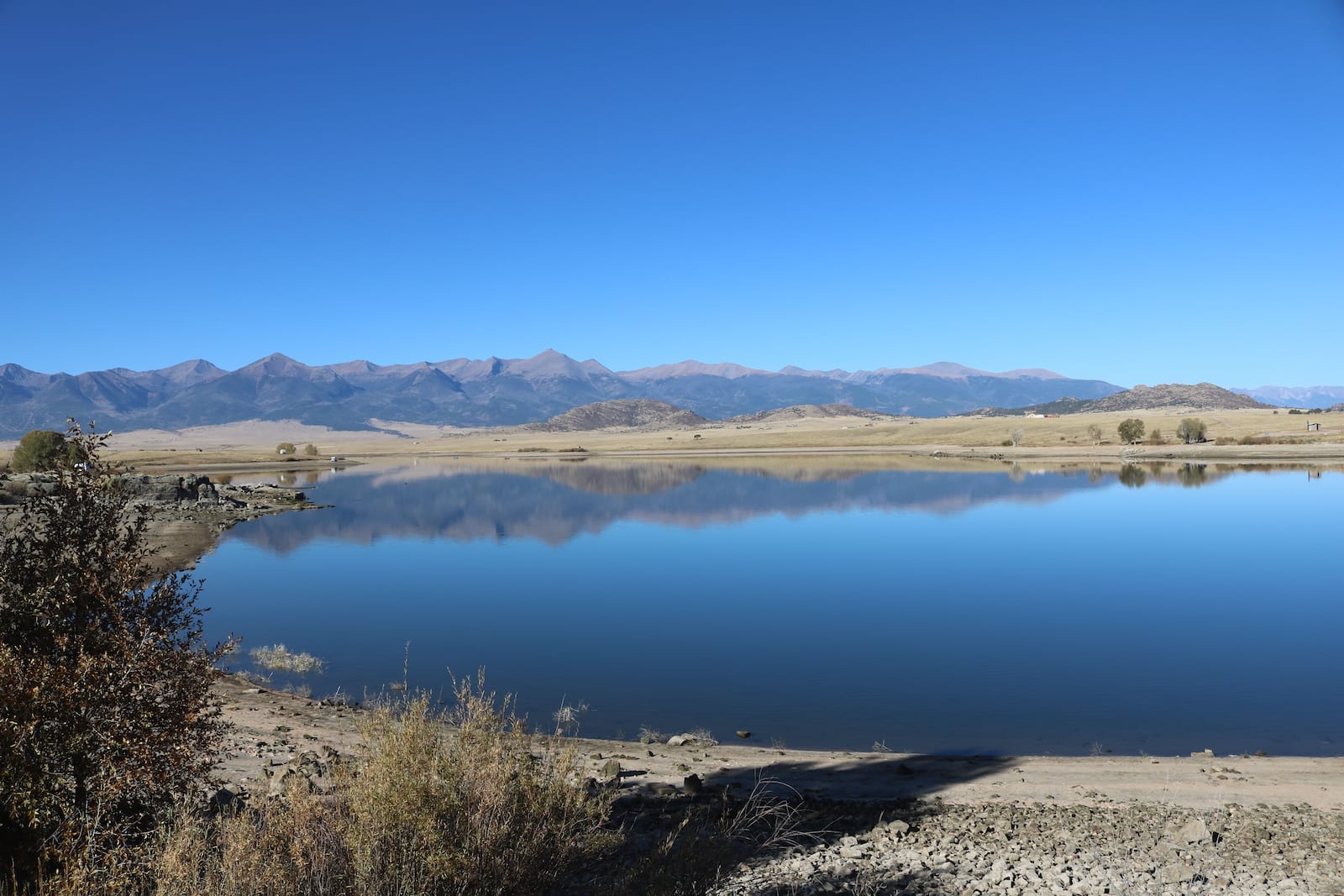 According to Colorado Parks and Wildlife, this 300-acre reservoir is a solid spot for reeling in Rainbow Trout and Smallmouth Bass. As part of the DeWeese Reservoir State Wildlife Area, the hour and 15 minute drive from Pueblo is a considerable trek, but is worth it for anglers intent on catching as many smallmouth bass as possible, since there's no takeaway limit on those fish here. There are, however, strict limits on taking home Tiger Muskie, which also roam these waters.
Since the DeWesse Reservoir is located just north of the town of Westcliffe, it makes sense to grab a bite to eat there or post up for the night at a charming spot like the Lamp Post Lodge (affiliate link). Boating, camping, and public restrooms are available at the reservoir.
John Martin Reservoir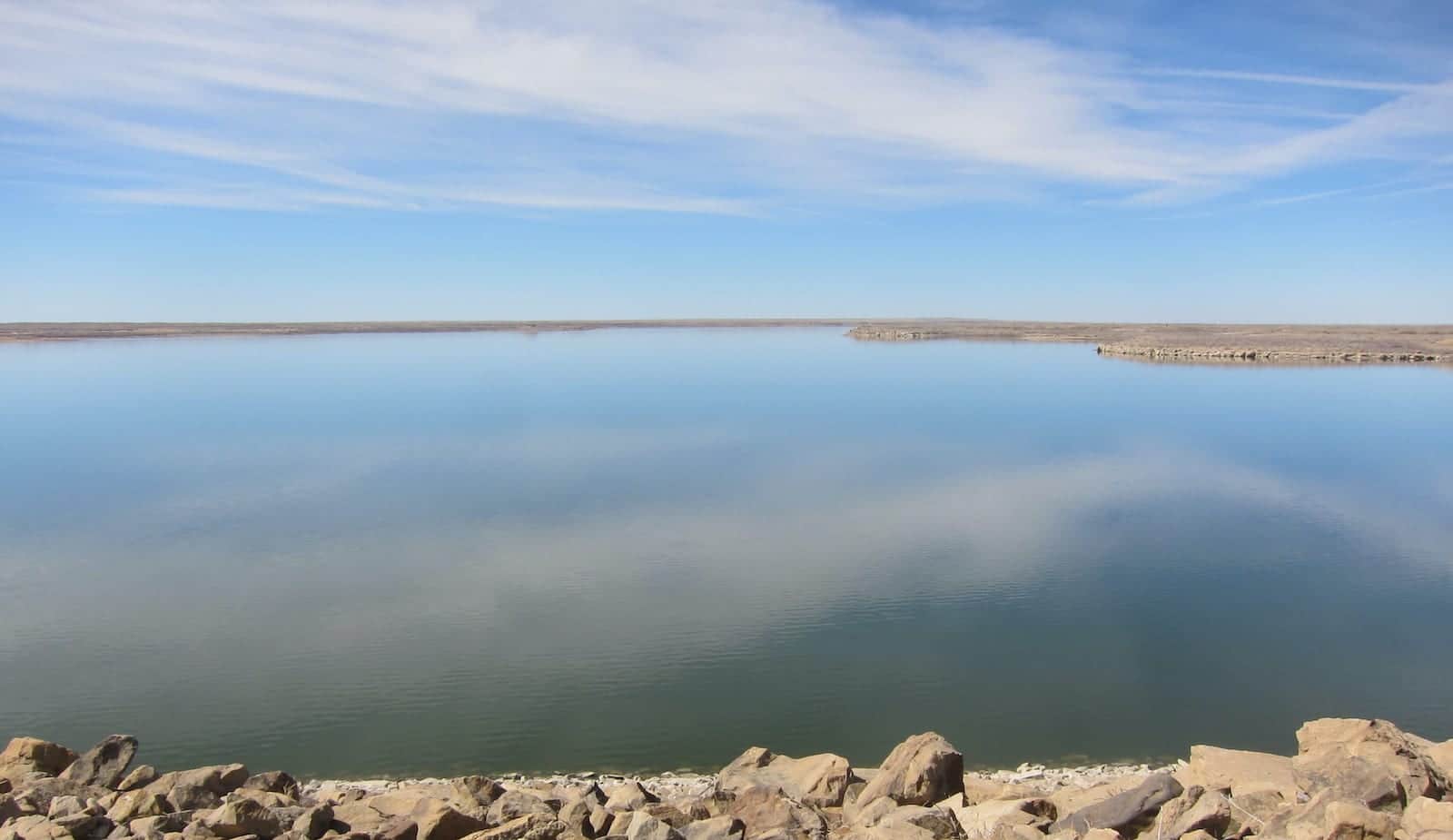 One of Colorado's favorite spots for warm-water fishing, the John Martin Reservoir and nearby Lake Hasty are popping with everything from Saugeye to Striper to Crappie depending on the time of year you visit. Bass are also regular fixtures here.
Getting to the John Martin Reservoir from Pueblo is an hour and 40 minute drive, so it's definitely a commitment. But with multiple campsites, RV sites, and a cozy hotel nearby, it's easy to fish all weekend at this welcoming spot on the plains just east of Las Animas. This is a great place to bring out the boat while you're searching for the biggest and most elusive warm-water fish you can find.
Arkansas River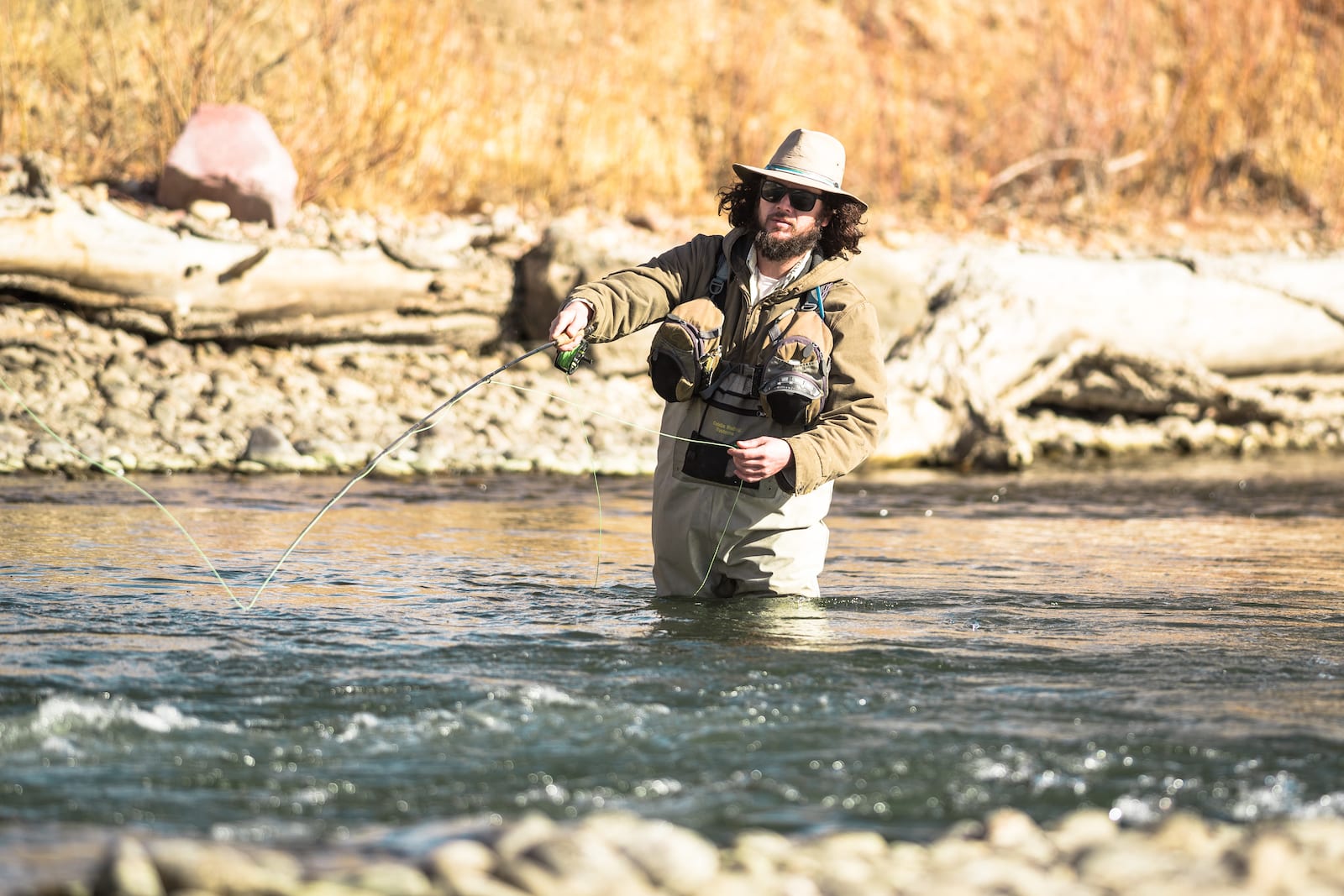 By all accounts, the Arkansas River is a stellar place to fish. A massive 102-mile stretch of the Arkansas is designated as Gold Medal waters, meaning that lengthy section of the river offers outstanding fishing opportunities. The designation spans from the Highway 50 bridge northwest of the Royal Gorge Bridge and Park all the way to where the Arkansas meets the Lake Fork River south of the town of Leadville.
With the easternmost part of the Gold Medal waters sitting at just over an hour's drive from town, Pueblo residents are in close proximity to some of the best fishing conditions in the American West. But be warned: Strict regulations are in place on this section of the river to protect its impressive trout population. Always thoroughly ready and follow local guidelines when fishing, but especially while casting out on this stretch of the Arkansas River.
From Cañon City, the Arksanas River does flow all the way into and through the town of Pueblo, offering you chances to fish even closer to town. They just aren't designated Gold Medal waters. The Pueblo Riverwalk is a nice place to stroll on the river's edge in town.
Pueblo Reservoir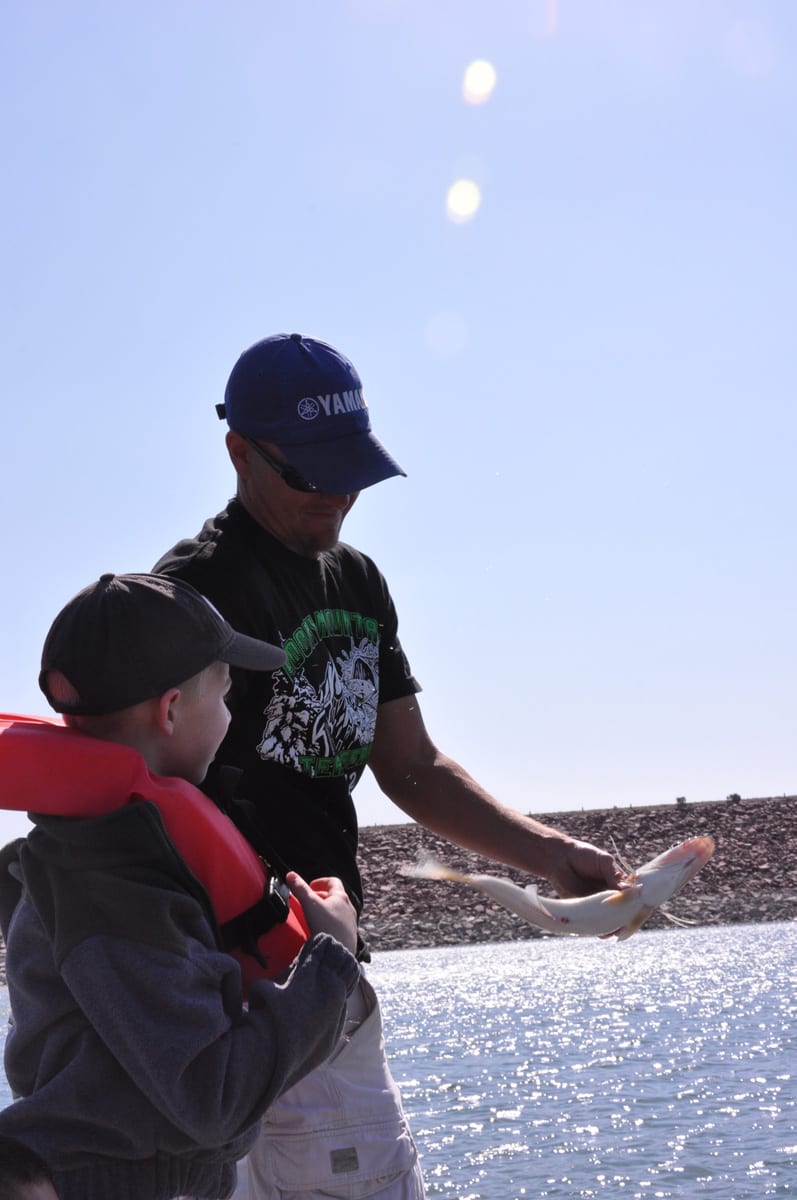 Also known as Lake Pueblo, this famed body of water is known to contain some absolute monster-sized specimens ranging from behemoth Black Crappie to larger than life Largemouth Bass. Located just west of Pueblo, the 4,000-acre reservoir offers much better fishing conditions by boat than it does by shore.
From boat ramps to hiking trails to public restrooms, it's got all the amenities you need and is large enough to get lost in, so you won't need to compete with other anglers for a spot. This regularly stocked and massive body of water is known to be flush with fish, but it's far from a "keep everything you catch" situation. Refer to local guidelines to make sure you're on the up and up before fishing here.
Lake Meredith Reservoir and Lake Henry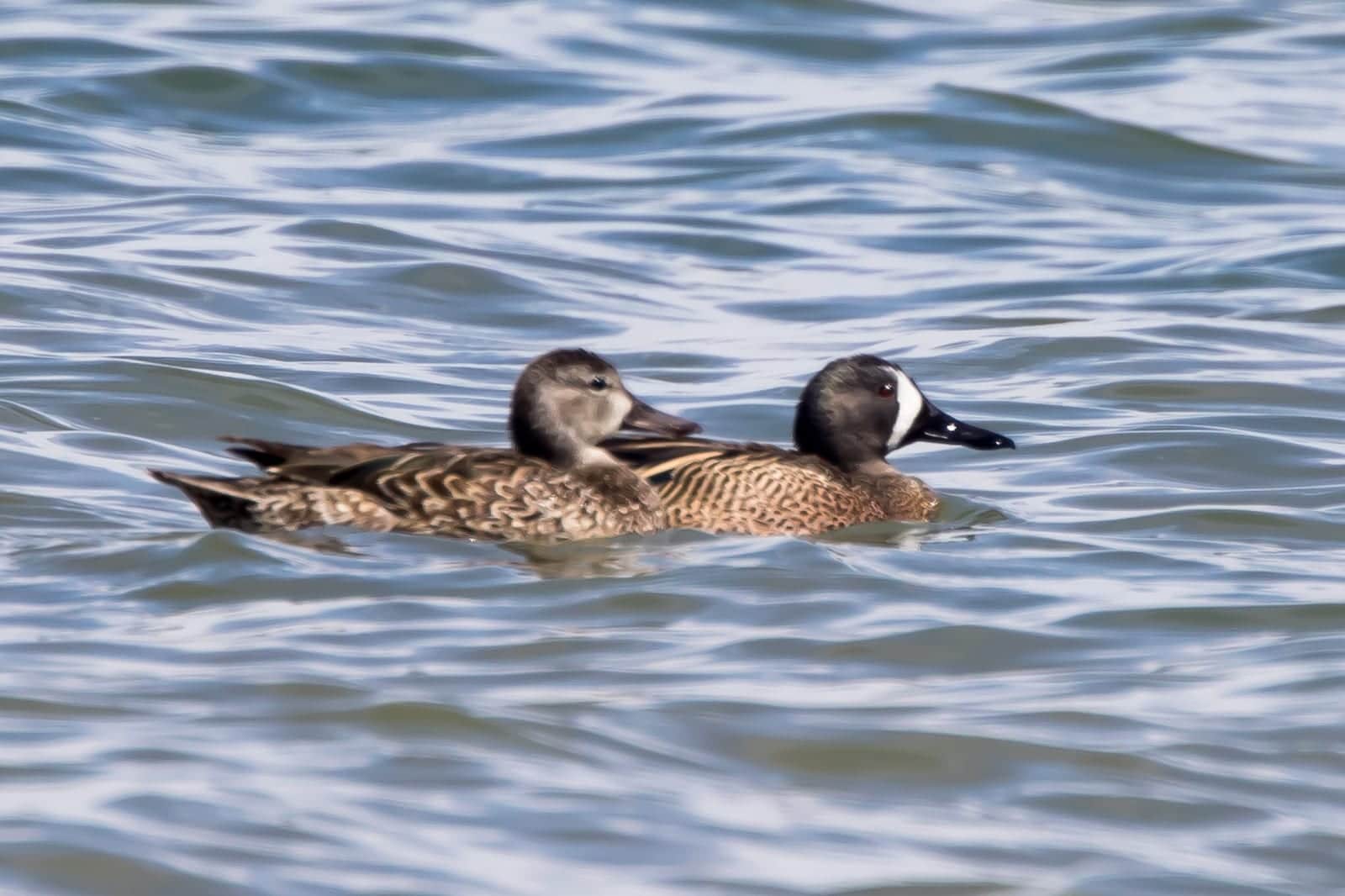 After being drained in 2013 and 2014, Lake Meredith Reservoir is said to be recovering swiftly as far as fish go. An hour east of town south of the small community of Ordway, this decent-sized body of water is regularly stocked with warm-water favorites like Black Crappie, Channel Catfish, Largemouth Bass, Largemouth Bass, Saugeye, Walleye, and Wiper.
Boating is permitted here, and there's even free camping with fire pits offered at Lake Merideth. But in case you need a little something extra to be convinced to try this spot out, consider the fact that Lake Henry, another formidable fishing spot, sits just to the north, making this area a two-for-one deal. Not too shabby.
Colorado's second largest city is located only forty minutes north of Pueblo. If you're visiting its northern neighbor, consider these fishing spots near Colorado Springs, for some fresh road trip ideas.