Highline Lake State Park is an oasis in the high desert, hidden in western Mesa County in the small town of Loma, CO. There is one very large lake for boating, fishing, and swimming, and a second smaller one for fishing and smaller boats.
Located just northwest of Fruita and the Colorado National Monument, there is one large lake as well as a smaller one, both of which are great for fishing, hiking around, or picnicking beside the lake. The park also boasts a large, lush grassy area that's used for camping, picnicking, and all-around recreation in addition to a playground, volleyball net, and swim beach close-by.
Close to the lake and swim beach, a decent-sized campground is situated in a nice grassy area with plenty of large trees. The campground also benefits from the park's close proximity to area destinations like Grand Junction. And part of the Colorado River State Park is located in nearby Fruita.
Activities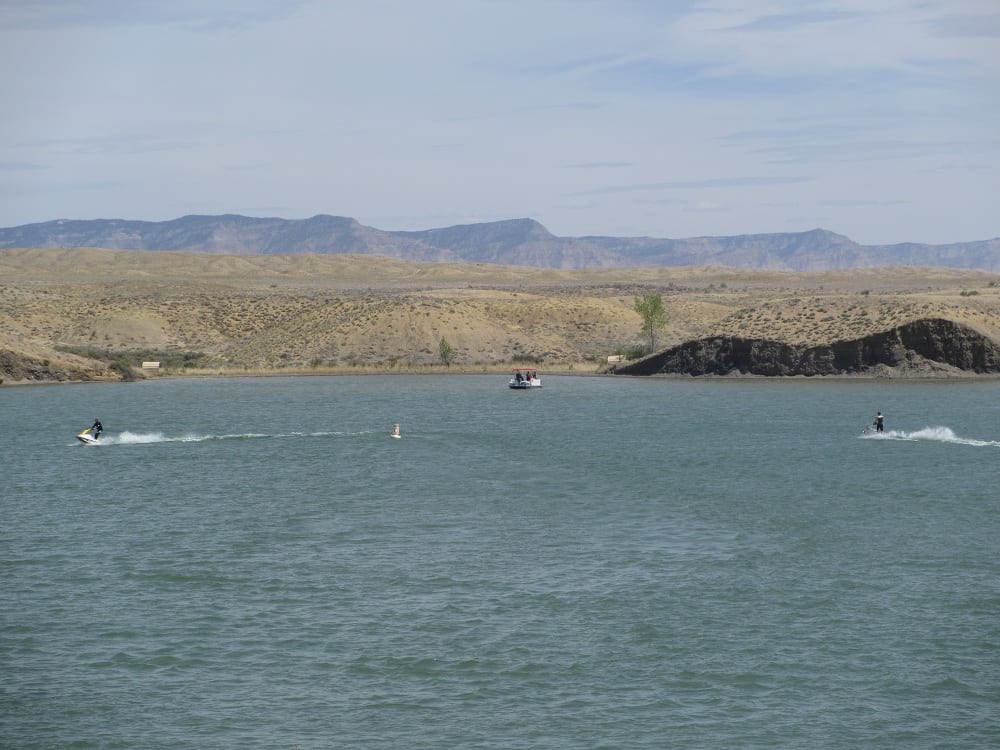 Biking, Hiking, and Horseback Riding Trails: There are several trails for hiking, biking, and horseback riding.
Highline Lake Trail – An easy 3.5-mile gravel trail that's suitable for hiking, horseback riding, and biking.
18 Hours of Fruita Trail – A 6-mile trail used the first week of every May for the celebrated 18 Hours of Fruita Endurance Race.
Engle Loop – A new 0.9-mile addition to the 18 Hour Trail.
East Bluffs Loop – A difficult 1.7-mile unpaved single-track trail with some steeps.
Greasewood Flats Loop – An easy, 0.7-mile trail.
Mack Mesa Loop – An easy 1-mile trail that takes you atop Mack Hill with awesome, far-stretching views.
Blue Heron Ponds Loop – An easy 1-mile trail great for seeing wildlife that runs just below the dam.
Boating: Permitted from March 1 – September 30. On weekends, the lake regularly meets capacity, requiring boats to wait to enter until other guests leave. Highline Lake is open to power boating, jet skiing, water skiing, sailboating, and sailboarding. Meanwhile, Mack Mesa Lake only allows hand or electric-powered boats.
Camping: There are 31 tent and RV sites open year-round for a nightly fee. While there is no electric, there are coin-operated hot showers and a laundry facility. Water hydrants and dump stations are also available. Visitors can make reservations in advance.
Read about the camping near Loma and Grand Junction.
Fishing: You can cast a line in both Highline Lake & Mack Mesa Lake. Largemouth bass, black crappie, black bullhead, and channel catfish are common and both lakes are stocked with rainbow trout in spring and fall.
Geocaches: There are eleven caches in the park.
Hunting: Waterfowl hunting is permitted during the season. From Monday – Friday, starting half an hour before sunrise and after sunset, hunters can use 7 blinds.
Swimming: Swim beach and buoyed off swim area located next to the grassy recreation area.
Visitor Center: Exhibits and small gift shop.
Details
Address: 1800 11.8 Rd, Loma, CO
Phone: 970-858-7208
Season: Year-round
Hours: 5 am-10 pm (unless fishing/camping)
Fees: Vehicle (daily)
Map: Highline Lake​ (PDF)
Campground: Reservations
Website: cpw.state.co.us/…
Latest in Highline Lake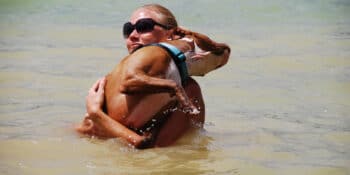 The Centennial State may be known for beautiful hiking trails, but there are also several lakes…