Dinosaur National Monument is home to numerous dinosaur fossil beds. It's situated on over 210,000 acres of land spread across two states, Utah and Colorado.
Dinosaurs once ruled this land and fossil evidence can be found on the Utah side near Vernal. Today the area of ​​mountains, deserts, and rivers support a vast array of life. There is also a load of outdoor recreation to enjoy within the national monument.
Dinosaur Fossils and Prehistoric Rock Art

Isolated in the northwest corner of Colorado, Dinosaur National Monument definitely feels secluded. Even the town of Dinosaur itself is very tiny. There is one gas station, a bar/restaurant, and not much else. The best place to stay when visiting is probably Vernal, UT, or Rangely, CO.
There are two main sides of the park: northwest Colorado and northeast Utah. All the dinosaur fossils for viewing are located on the Utah side, as well as the largest campground. Camping on the Colorado side is limited to 4×4 roads, and some dispersed camping can be found on BLM lands.
The Colorado side features a 20 mile or so scenic drive to an overlook of the Colorado and Green Rivers. Plus old homesteads and rock art.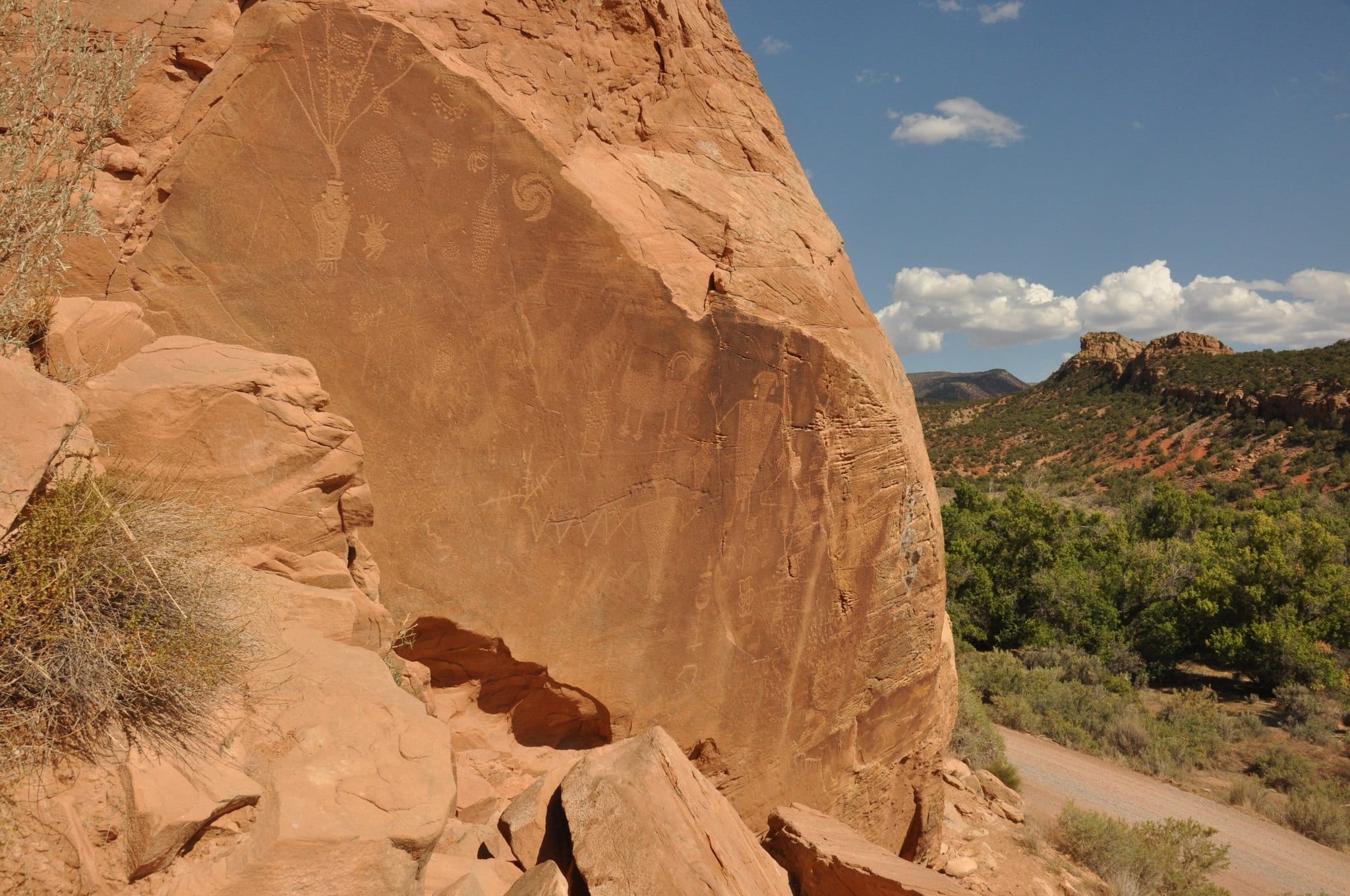 The Quarry Exhibit Hall is situated over the world-famous Carnegie Dinosaur Quarry near Vernal, UT. It's open year round and features approximately 1500 dinosaur bones. The Colorado side of the monument does not feature any dinosaur exhibits, just breathtaking scenery.
Tips when visiting:
Many of the dirt roads become impassable in the rain.
Fill up your gas tank before visiting.
It can take over 4 hours to drive from the Gates of Lodore area on the north end of the monument in Colorado to the Quarry Visitor Center in Utah. Nearest amenities could be over an hours drive.
Bring food and water.
Activities at Dinosaur NM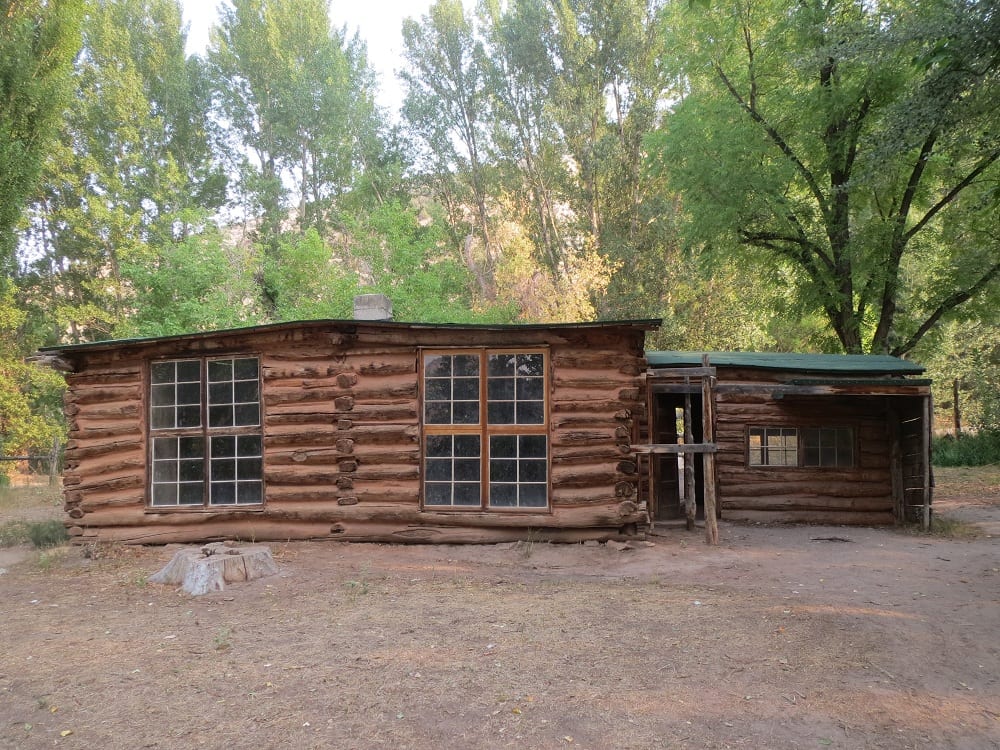 Biking: Permitted on any road within the monument, but not on any trails.
Camping: 6 campgrounds, 133 sites. Many sites are open year-round. There are a variety of campgrounds from RVs to tent-only. The most popular and largest camping area is Green River near Utah Visitor Center. Backcountry camping is also available.
Green River – UT, 81 sites, fee, Reservations during peak season
Split Mountain – UT, 4 group sites, fee, min. 8 people, Reservations during peak season
Rainbow Park – UT, 4 sites, free, no reservations
Echo Park – CO, 22 sites, fee/site, no reservations, need 4×4
Gates of Lodore – 17 sites, fee/night, no reservations
Deerlodge Park – 7 sites, fee/night, no reservations
Read about the camping near Rangely and Dinosaur.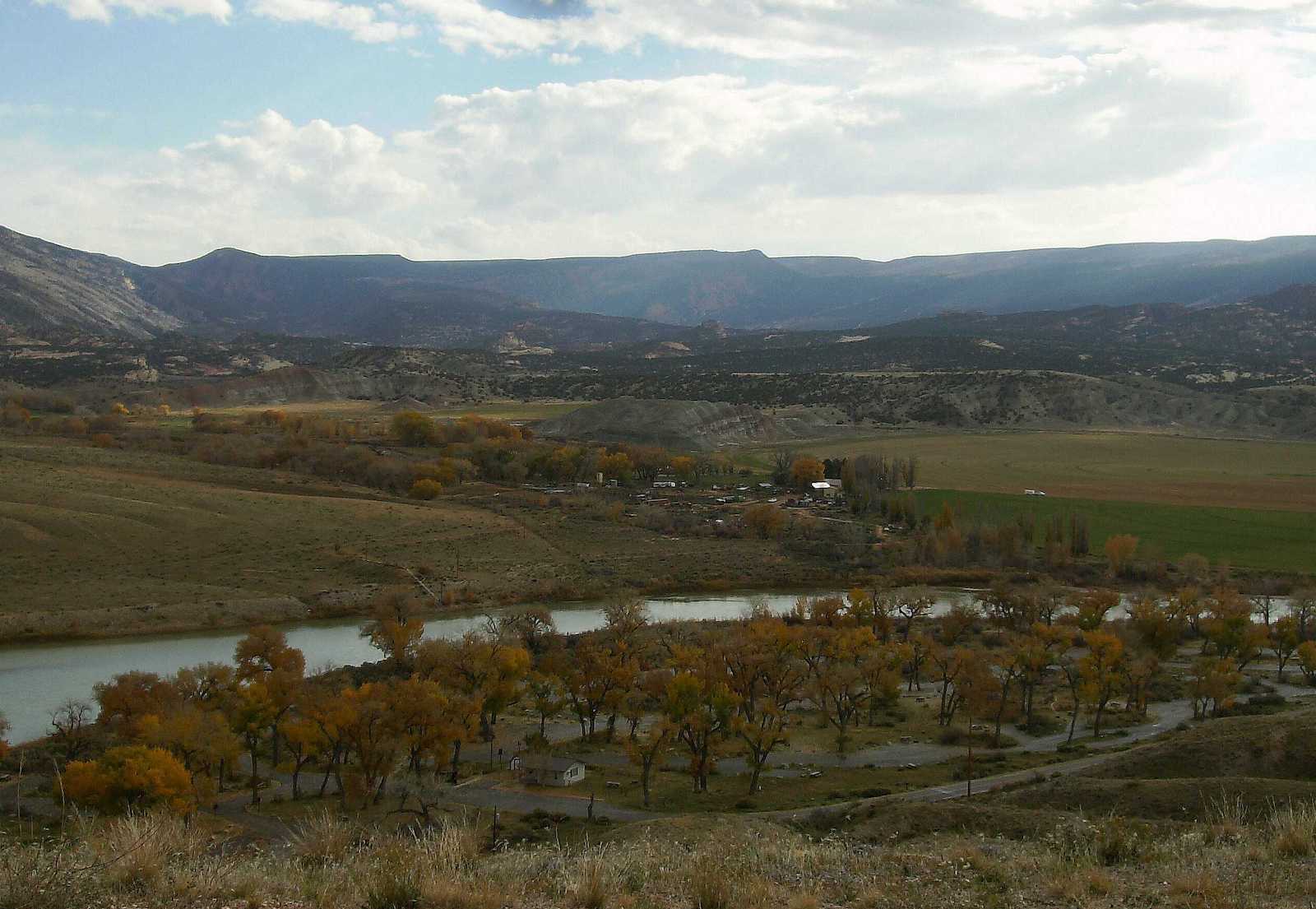 Fishing: Permitted with CO Fishing License. Both the Green River and Yampa River pass through the park.
Hiking: Most trails begin along the two paved roads inside the park and the visitor centers. Other more remote trails exist. Remember to bring water and wear sunscreen, sunglasses and a hat. At the end of the 31 mile Harpers Corner Scenic Drive there is a short hike to Harpers Corner Overlook. It gazes out on the connection of the Green and Yampa rivers.
Horseback Riding: Horses, mules, donkeys, and llamas are permitted on all dirt roads open to vehicle traffic, not including Cub Creek Road to the Josie Basset Cabin.
Scenic Drives: The Tour of the Tilted Rocks is a 10 mile, one-way trip along Cub Creek Road, beginning at the Quarry Visitor Center, north of Jensen, UT. Dinosaur's other paved road, Harpers Corner Road takes you 31 miles one way from the Canyon Area Visitor Center.
Whitewater Rafting: The Green River offers challenging Class III and IV rapids. The Yampa River has several exciting Class III rapids and one Class IV known as the Warm Springs Rapid. Many commercial outfits offer tours through DNM. Private boating permits are available.
Details
Address: 4545 US 40, Dinosaur, CO
Phone: 435-781-7700
Season: Year-round
Fees: Vehicle, motorcycle, walk-in, and bicycle | Valid for 7 days.
Pets: Permitted in the park but not on trails or backcountry.
Website: nps.gov/dino
Latest in Dinosaur National Monument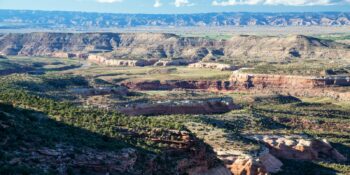 Perched in the vast desert landscape of northeastern Colorado, the tiny community of Dinosaur is located…