North Sterling State Park, nestled within the high plains in Northeast Colorado, encompasses 5,700 acres of grasslands and water. It's centered around North Sterling Reservoir, which is nearly 3,000 surface acres when full. The park is located about 30 minutes north of town and is a premier place to boat and fish in northeastern Colorado.
There's a lot to do in this oasis in the desert, including biking, birding, boating, fishing, hiking, hunting, and horseback riding. Due to its location, North Sterling gets a lot of wind and afternoon thunderstorms in the spring.
There are 3 campgrounds and 141 campsites, most with electric hookup, some basic. They charge for either electric or basic campsites, all of which have picnic tables, fire pits, and shade shelters. A plus to camping at the park is the camper services building, which has 24/7 restrooms, showers, laundry, and water faucets.
Activities at North Sterling Reservoir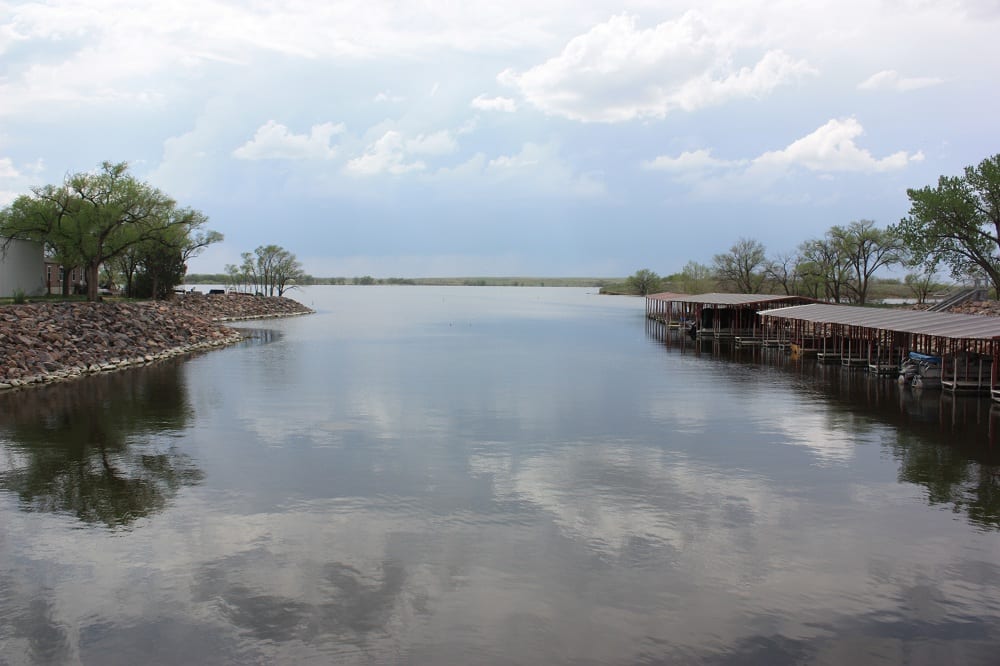 Biking: The South Shoreline Trail ​is a 3.5-mile prairie trail along the reservoir.
Boating: The park is centered around the 3,000 acres, 74,590 volume (acre-feet) North Sterling Reservoir. There are 2 boat ramps open to motorboats, jet skis, water skiing, and sailboarding. The reservoir is closed to boating from October 1st through April 15th.
Camping: There are 2 lakeside campgrounds with 141 sites open year-round, one of which is on a hillside overlooking the lake. There are fees for basic and electric sites as well as coin-operated showers and laundry services located in 2 camper buildings. Reservations can be made online in advance.
Read about the camping near Sterling and North Sterling Reservoir.
Fishing: The reservoir is a great place to catch bass, channel catfish, pike, trout, walleye, wiper bass, yellow perch. The reservoir has several access points:
Darby Arm – Stellar for catching wiper, walleye, and channel catfish
Cunningham Arm – Head to Goose Island and Rookery Point for walleye
Trolling Along the Dam – Great for wiper, crappie, bluegill, and yellow perch
Hiking: Enjoy peace, quiet, and wildlife on these non-motorized trails.
Balanced Rock Trail – 1250 feet (round-trip)
Sunset Point Trail Loop – 0.2 miles (round-trip)
Inlet Triangle Loop – 1 mile (round trip)
Dam Pedestrian Path – 1 mile (one way
South Shoreline Trail – 3.1 miles (one way)
Horseback Riding: Allowed on South Shoreline Trail, south of the Inlet Canal. There are no stable or horses for rent.
Hunting: Waterfowl, small game, mule deer hunting in fall and early winter is allowed in designated areas from the Tuesday after Labor Day to the Thursday before Memorial Day. Only shotgun and bowhunting are permitted.
Picnicking: 38 picnic sites and two reservable group campgrounds.
Swimming: During the summer season, visitors can swim at Cottonwood Cove Swim Beach. A pavilion, playground, and picnic areas are also nearby and pets aren't allowed on the beach.
Winter Recreation: Camping, hunting, hiking, and wildlife watching. Ice fishing may be available, conditions permitting.
Visitor Center: Provides free equipment rentals including life jackets, family activity backpacks with binoculars, field guides, and a GPS for geocaching. Firewood, bagged ice, fishing supplies, soda, and other supplies are for sale. Additionally, the visitor center provides information about the park as well as having exhibits and a gift shop.
Two other Northeast Colorado attractions include the Pawnee National Grassland and Prewitt Reservoir.
Details
Address: 24005 County Rd 330, Sterling, CO 80751
Phone: 970-522-3657
Season: Year-round
Hours: 24 hours (for camping) | Day-use areas closed 6 am – 10 pm
Pets: Yes, on leash
Fees: Vehicle (per day) | Camping
Maps: (PDF)
Campground: Reservations
Website: cpw.state.co.us/…
Latest in North Sterling State Park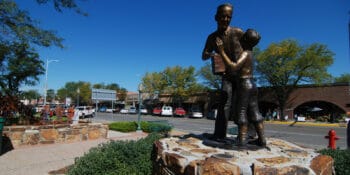 Sterling is one of the principal cities on Colorado's eastern plains, located in the northeast corner.…