Prewitt Reservoir is nestled in a vibrant ecosystem in Northeast Colorado. The lake is around 2,400 acres when full and offers year-round recreation. The tiny towns of Merino and Hillrose are located on either side of Prewitt on Highway 6. Each has a place or two to eat and drink.
The park sits on about 3,047 acres, a mix of grasslands, wetlands, and lakes. Amenities include a boat ramp, picnic areas, primitive restrooms, and hiking trails. Visitors age 19 through 64 must possess an Annual Jumbo SWA / Prewitt SWA access permit, or a valid hunting or fishing license.
Camping, Fishing, Hunting in Northeastern Colorado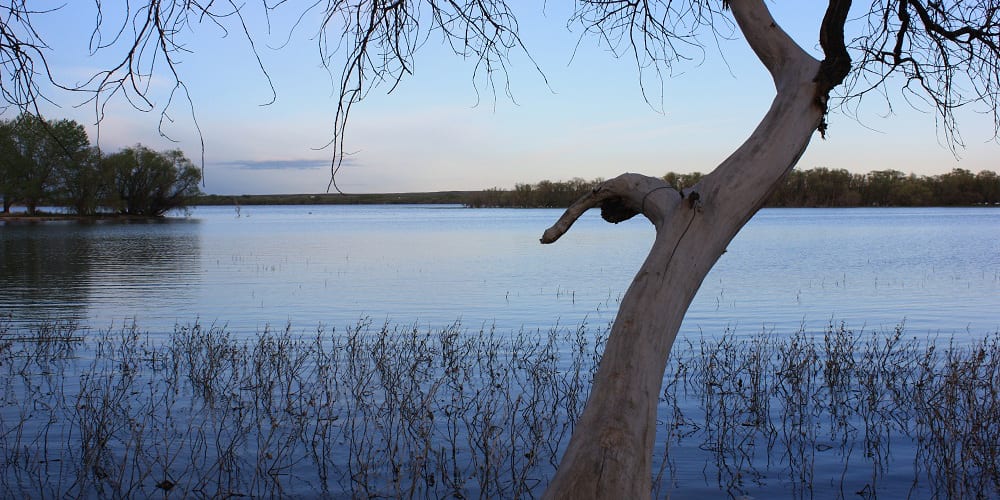 Prewitt Reservoir is a picturesque lake, situated southwest of Sterling on Highway 6 or 76. Activities at the park include wakeless boating, camping, fishing, and hunting. Visitors ages 19-64 must have a state hunting or fishing license, or an Annual Jumbo SWA / Prewitt SWA to access the property.
The area is full of wildlife, especially waterfowl. They flutter around, flying to and from the lake. It's quite a sight. The reservoir is also calmer, and less windy than nearby North Sterling Res or Jackson Lake.
One of over three state wildlife areas in Colorado, Prewitt Reservoir welcomes visitors year-round. Nature viewing and birding is phenomenal in the park, with a unique prairie land setting in Colorado.
Activities at Prewitt Reservoir

Boating: 2,431-acre lake open to wakeless boating.
Camping: There are no established campgrounds, but dispersed camping is permitted around the property unless posted. There are numerous lakeside campsites marked by a fire ring. It's the closest free, lakeside, camping to Denver for those with a valid Colorado hunting or fishing license.
Fishing: Warm-water reservoir stocked with walleye, saugeye, rainbow, and cuttbow trout. Other fills include bluegill, crappie, and channel catfish.
Hiking: A dirt road wraps around most of the lake, offering something to follow.
Hunting: Waterfowl is the main draw, as well as pheasant, bobwhite quail, and deer during appropriate seasons.
Nearby Attractions
The town tiny plains town of Merino is about ten minutes north of 6. There is one restaurant in town called Jambalaya's that's worth a visit. Hillrose is also just to the south and has a restaurant and a bar. The closest large town is Sterling, which is only 20 minutes northeast of US 6. Fort Morgan is the largest town to the southwest of Prewitt, about thirty minutes east on 76.
Two other lakes in the northeast are Jackson Lake and North Sterling Reservoir. Both are state parks, and about an hour away.
Details
Address: Highway 6, Merino, CO
Phone: 970-842-6300 – area CPW office
Season: Year-round
Fee: Need fishing or hunting license
Camping: No campgrounds, but dispersed camping is permitted.
Pets: Yes, on-leash (unless hunting)
Fishing: Fish Survey and Management Data (PDF)
Map: Prewitt Reservoir (PDF)
Website: cpw.state.co.us/swa / …