Some of the most stunning landscapes on Earth are found in Colorado, and for good reason. This amazing state is home to so many different microclimates, ecosystems, and geological marvels that it would take an entire lifetime to explore.
One landmark in particular that you will find an array of in the Rockies are caves and caverns. Cut through over the eons by underground rivers and flash floods, these caves and caverns will blow your mind with their gorgeous geological formations, narrow passageways, and underground lakes to explore.
We explore eight different caves and caverns for you today, from easy to advanced. This will give you a broad overview of the types of cave and cavern exploration that you'll find the great state of Colorado. Whether you're an expert spelunker or just want to bring your family on an interesting, unique trip, you'll want to check out what the caves of Colorado have in store for you.
Caves to Visit with the Whole Family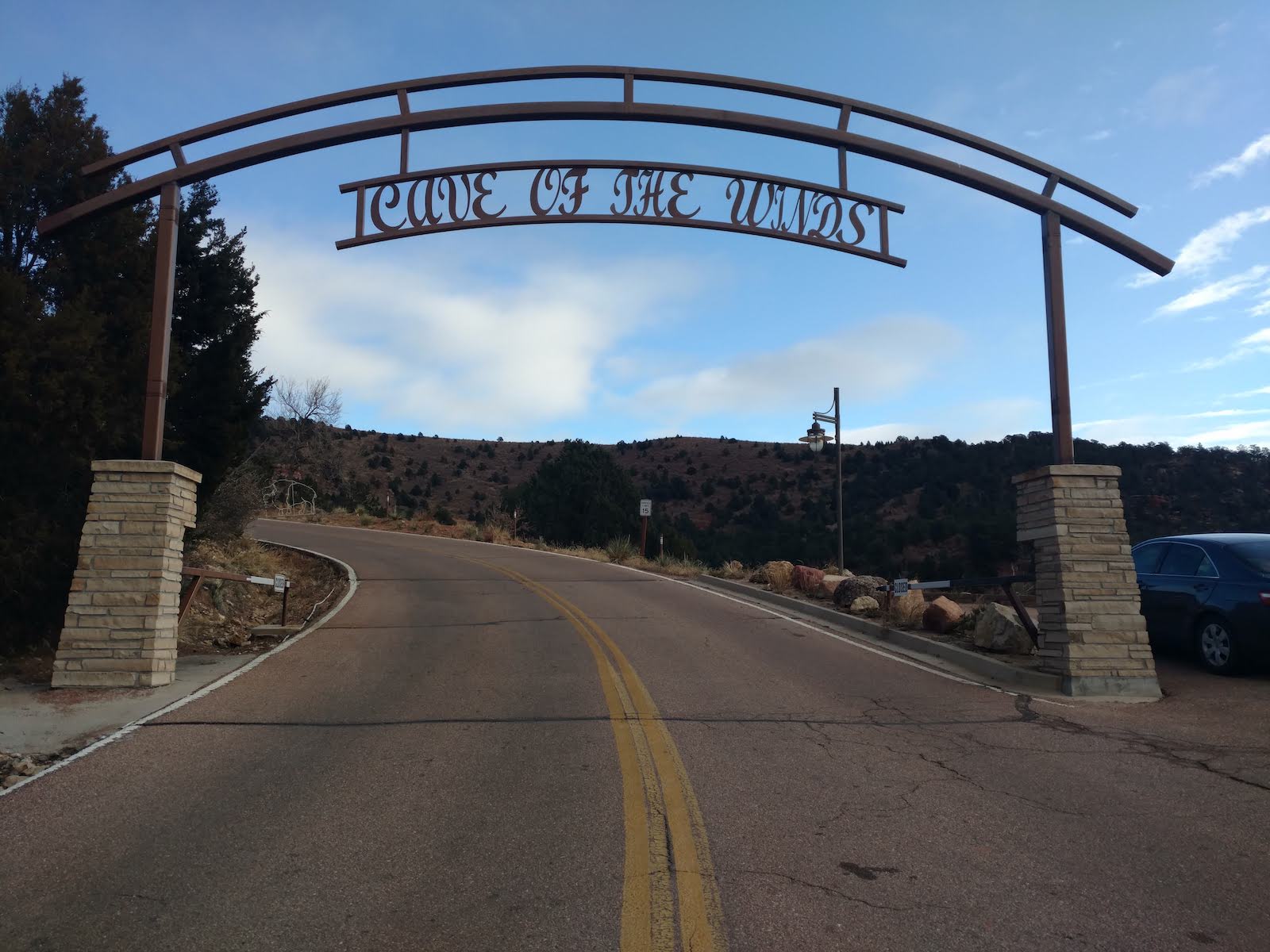 Explore these family-friendly, dark and slightly spooky caves in Colorado year round. Both Manitou Springs and Glenwood Springs offer guided tours of their vast caverns, including a lantern led tour. Rifle simply provides a couple public parks with some smaller caves that are open for self-exploration.
Cave of the Winds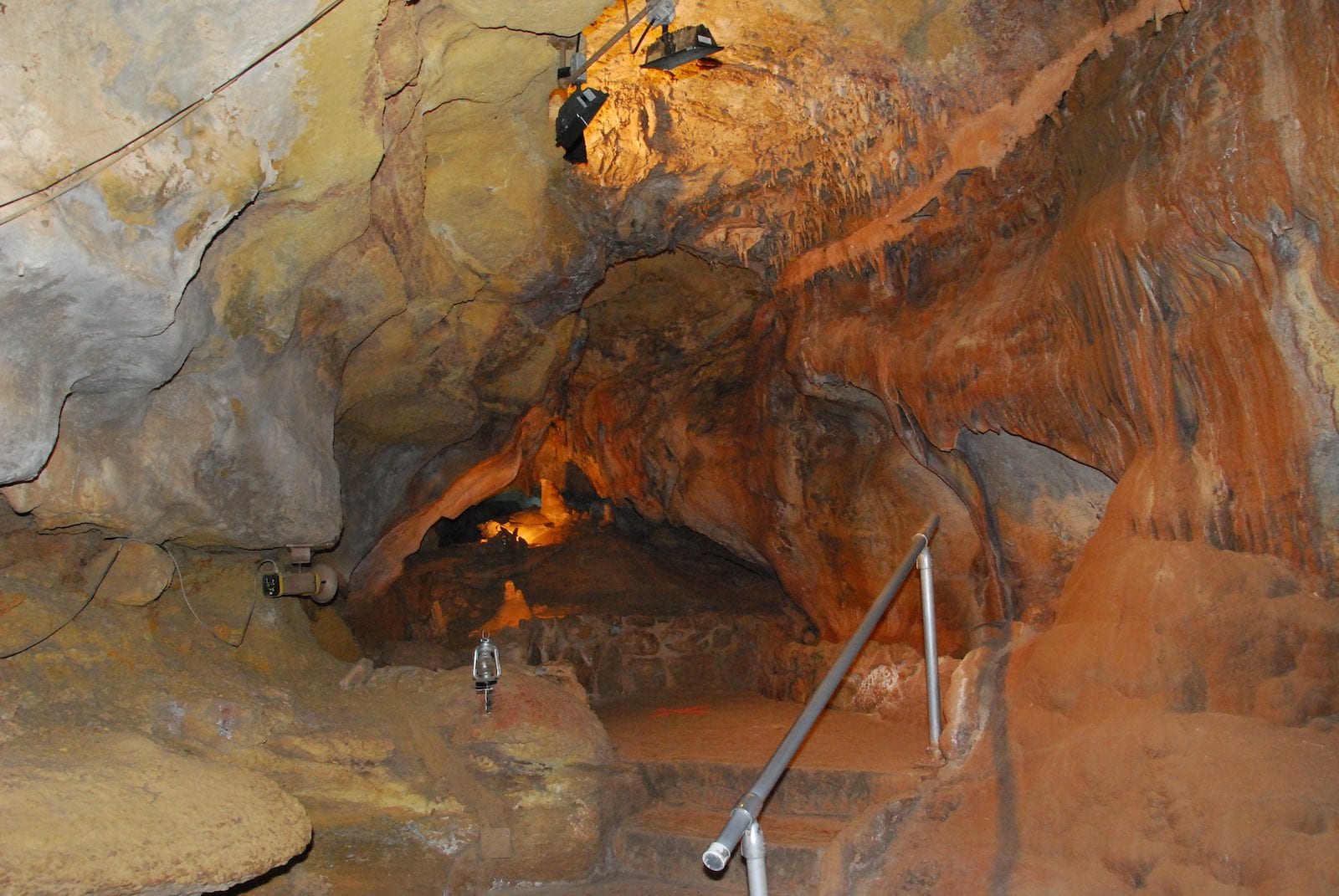 Cave of the Winds has a long history. It was known to the local Apaches as a sacred place for centuries, but it wasn't until 1880 that it was explored and then opened to the public a year later as an attraction. Cave of the Winds remains one of the oldest continuously-operating attractions in Colorado.
This incredible monument, located in Manitou Springs, offers more than just cave exploration. Though there are three different tours to choose from at varying levels of difficulty, that's not all you'll find.
There are also a few attractions, like the Frontier Zipline, the Via Feratta climbing wall, the Wind Walker Challenge Course, and two adrenaline-pumping rides: the Terror-Dactyl and the Bat-A-Pult. These thrill ride both throw you right over the mouth of the canyon. These attractions give you a glimpse of the gorgeous landscapes that lay below you and will definitely get your heart pumping.
Cave of the Winds is truly a phenominal attraction for the entire family. Visit it to explore gorgeous caves and get some of the thrills you've been missing in your life.
Glenwood Caverns Adventure Park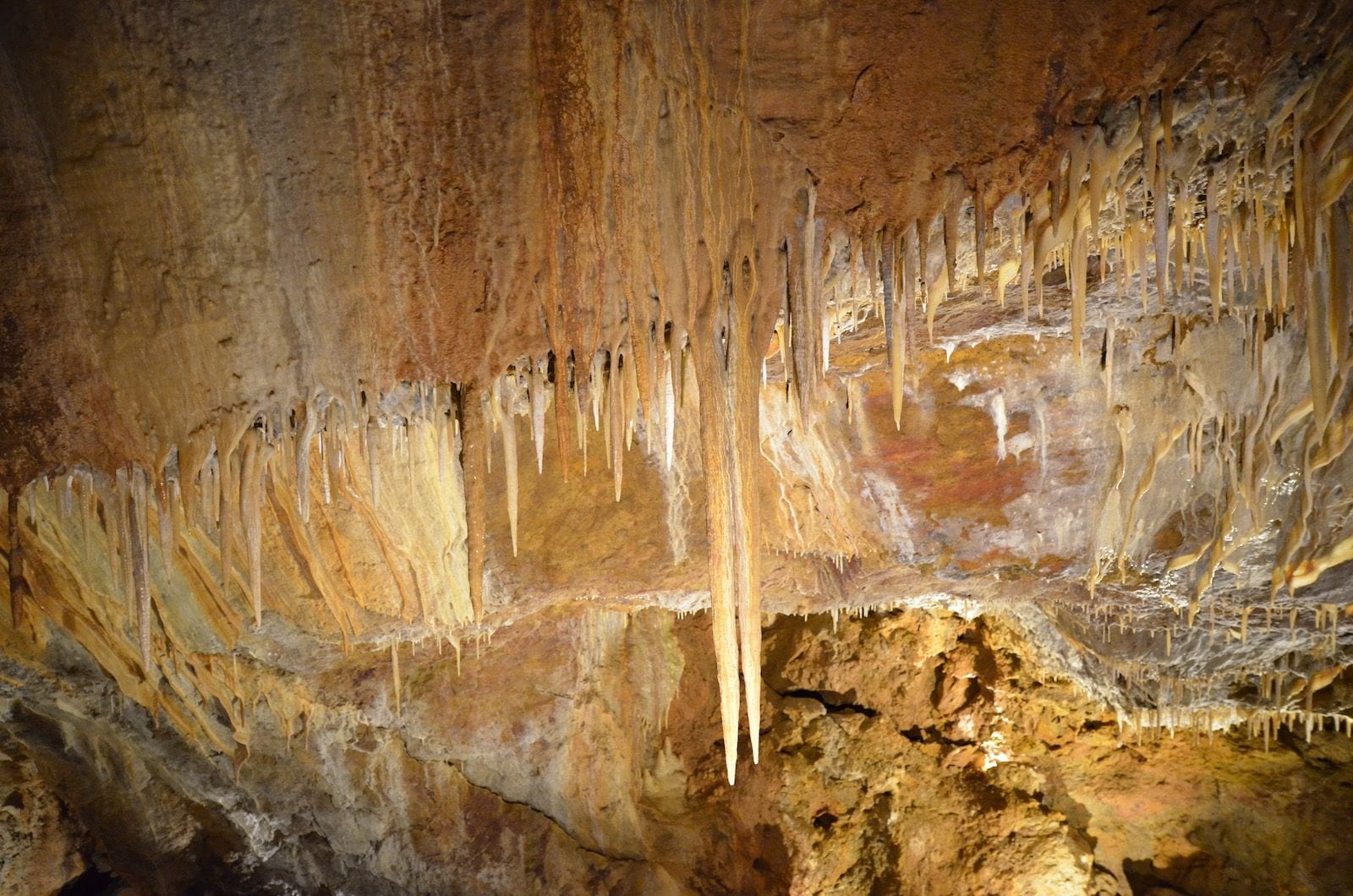 Glenwood Caverns Adventure Park offers visitors more than just a cavern exploration. Located at 7,100 feet of elevation, it also is America's only mountain-top theme park. Not only is this park a wonderful place for the entire family, it also has a wholesome history that everybody should learn.
In the 80s, these caverns were known as Fairy Cave and not open to the public, guarded by the landowner who didn't want cavers on his property. But one couple, the Beckleys, wanted to explore Fairy Cave and wrote the landowner letters for years, asking him to reconsider.
Finally, he did, and the Beckleys fell in love with the cave, exploring it every chance that they got. In 1998, the landowner finally sold them the property they loved so much and they turned it into Glenwood Caverns, originally adding on the adventure park to help deal with the long lines for the cavern tours but then expanding it as their success grew. Later they opened another local attraction, Iron Mountain Hot Springs, overlooking the Colorado River.
Take one of the many cave tours, like the easier Historic Fairy Cave Tour and the more advanced Wild Cave Tours, to see the amazing caves that have made this attraction so famous. If you're seeking thrills, you have to take a ride on the Cliffhanger Roller Coaster and the Giant Canyon Swing–the views will make your stomach drop!
For the ultimate in fun and cavern exploration, Glenwood Caverns Adventure Park is an extraordinary place that will please not only cave lovers, but thrill-seekers and adrenaline junkies as well. So book a weekend in Glenwood Springs for exploration and relaxation.
Rifle Mountain Park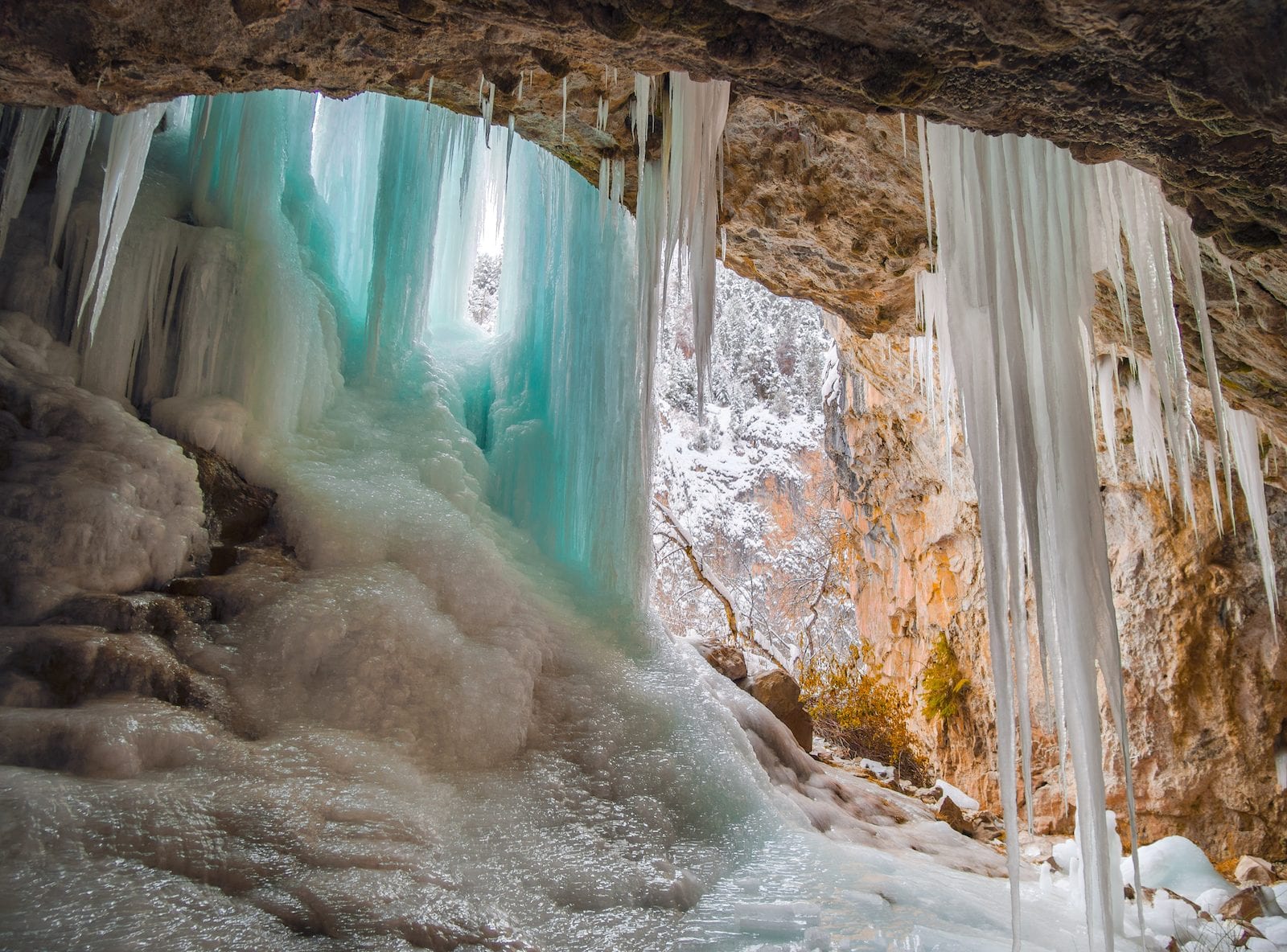 Looking for a truly magical experience that's only available at certain times of the year? Then the ice caves at Rifle Mountain Park are worth looking into.
These incredible caves form each year as the falls freeze, and you can explore the backsides of two frozen waterfalls during the winter. You'll marvel at the gorgeous, crystalline blue ice that coats the ground and walls of these beautiful ice caves. It's truly a unique caving experience.
Rifle Falls State Park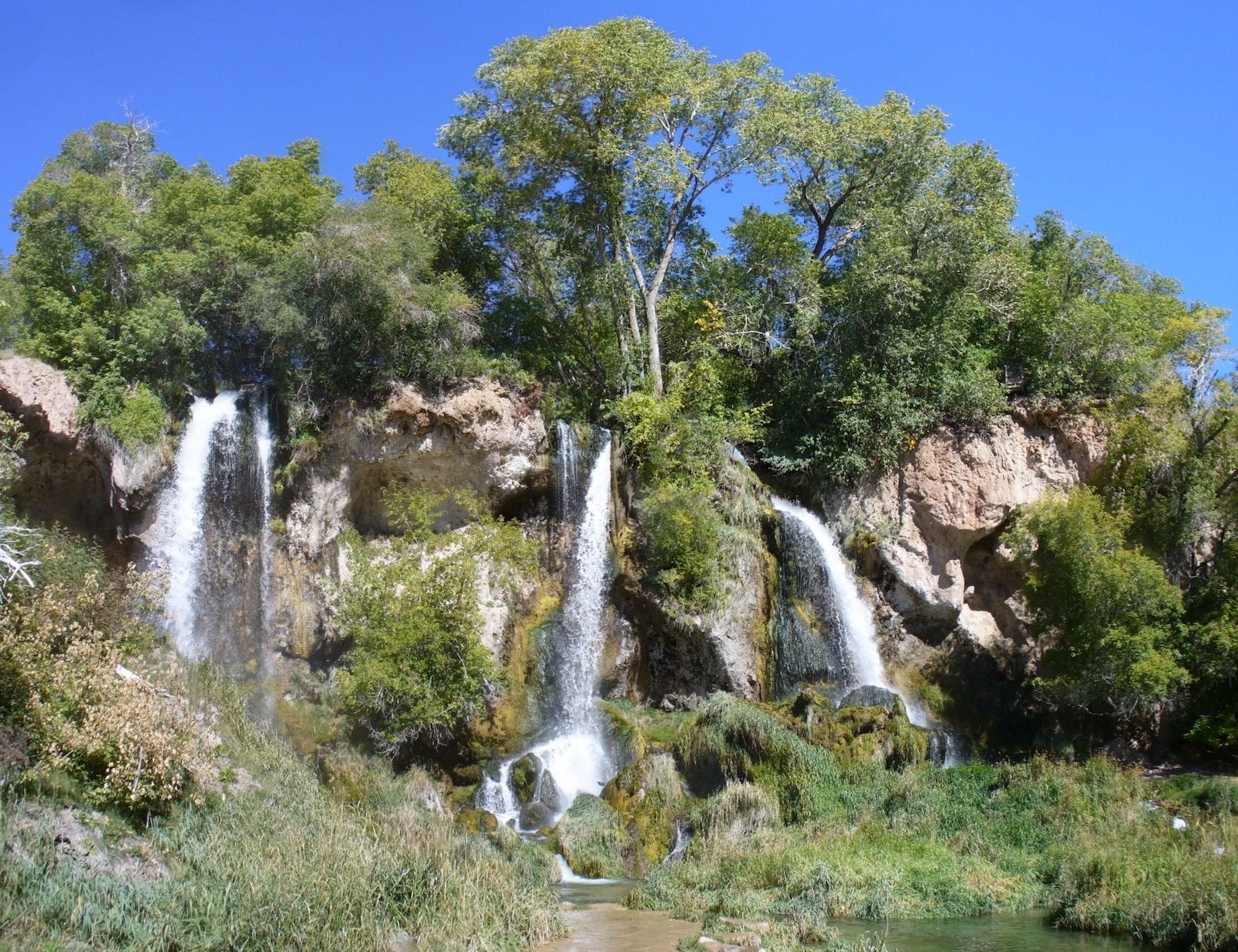 Want a more traditional caving experience? Head right down the road to Rifle Falls State Park, just three miles away, to explore the limestone caves at the top of the triple waterfall there.
No matter what age you are, you will be awed by the beautiful natural surroundings of these two parks. Best of all, these parks also offer other trails to hike as well if you want to spend all day steeped in nature's wonders. The town of Rifle makes an authentic base for adventuring the I-70 corridor of Western Colorado, between Glenwood Springs and Grand Junction.
Yampah Vapor Cave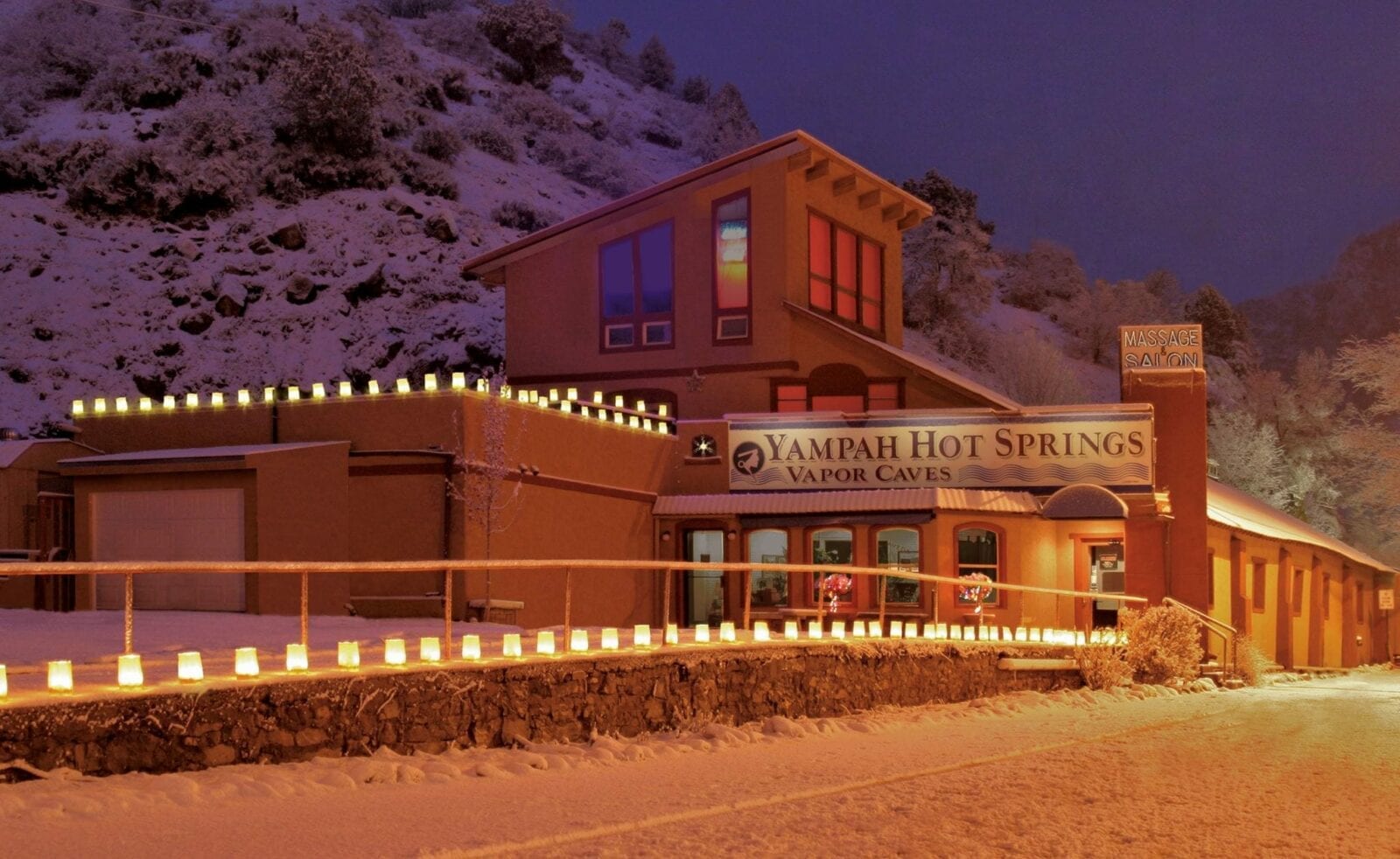 Do you want to experience one of the most luxurious caving experiences of your life? Enter the Yampah Vapor Cave, located inside of a mountain retreat in Glenwood Springs. Though you must pay admission just for entry, you won't regret what that admission gets you.
This series of three rooms get their steam from the hot and soothing mineral waters that flow through the caves at 125 degrees F, keeping the caves at a sweat-inducing 110-112 degrees. There is also a cooling room with cold water and cold tubs to allow you to come back to a normal temperature before you head back into the heat to sweat all of the toxins out again.
This is an altogether different cave experience than the rest and one that luxury-seekers don't want to miss. If you're in Glenwood Springs and you're looking for a day at the spa, don't miss out on the Yampah Spa.
Caves to Visit for the Advanced Spelunker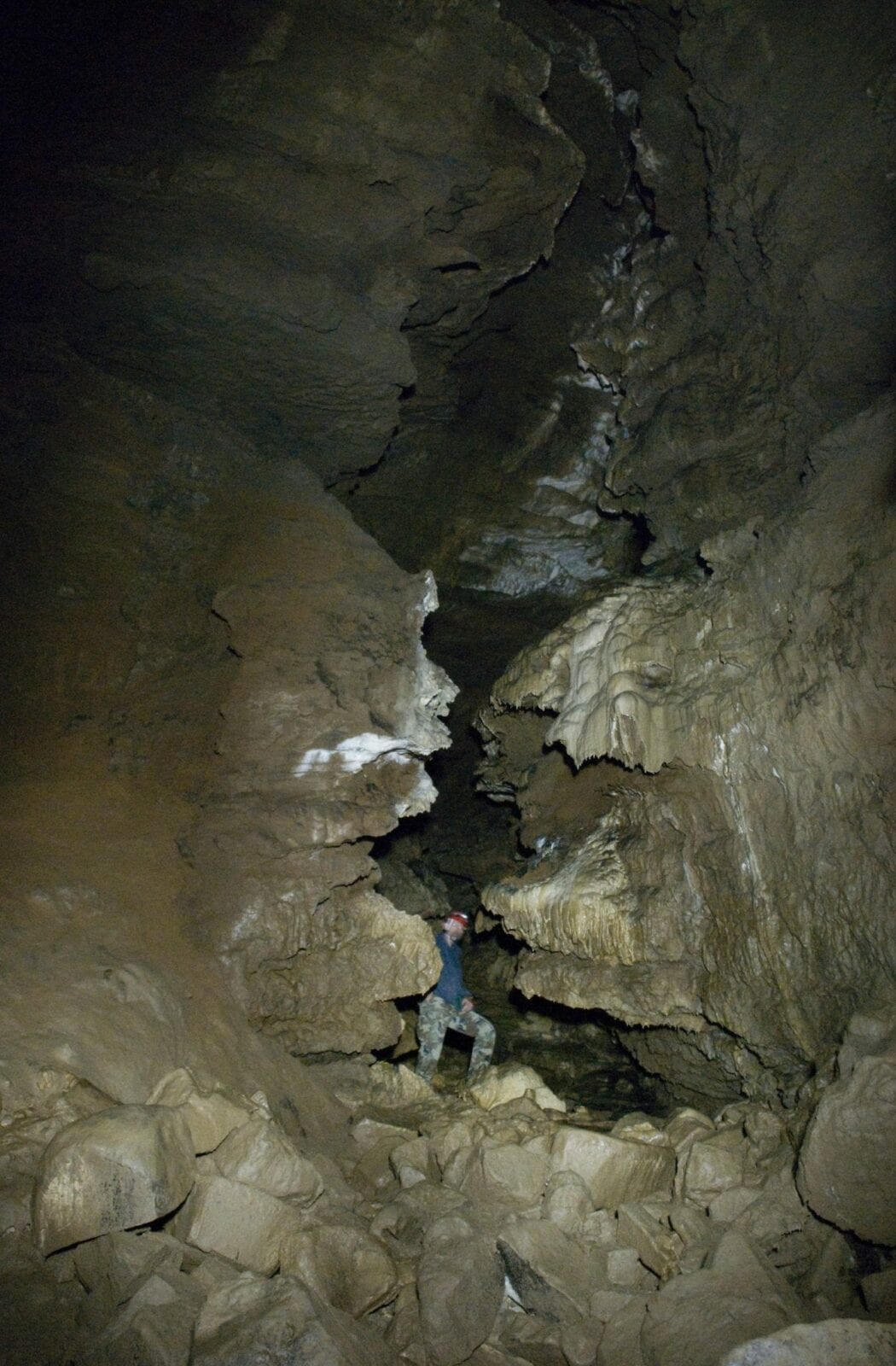 If you are looking for caving adventures that are more off the beaten path, check out our list of underground Colorado caverns for the more adventurous spelunker. Some of these caves require you to register or get a permit before entering, so keep that in mind before beginning your trips into the wilderness.
Fulford Cave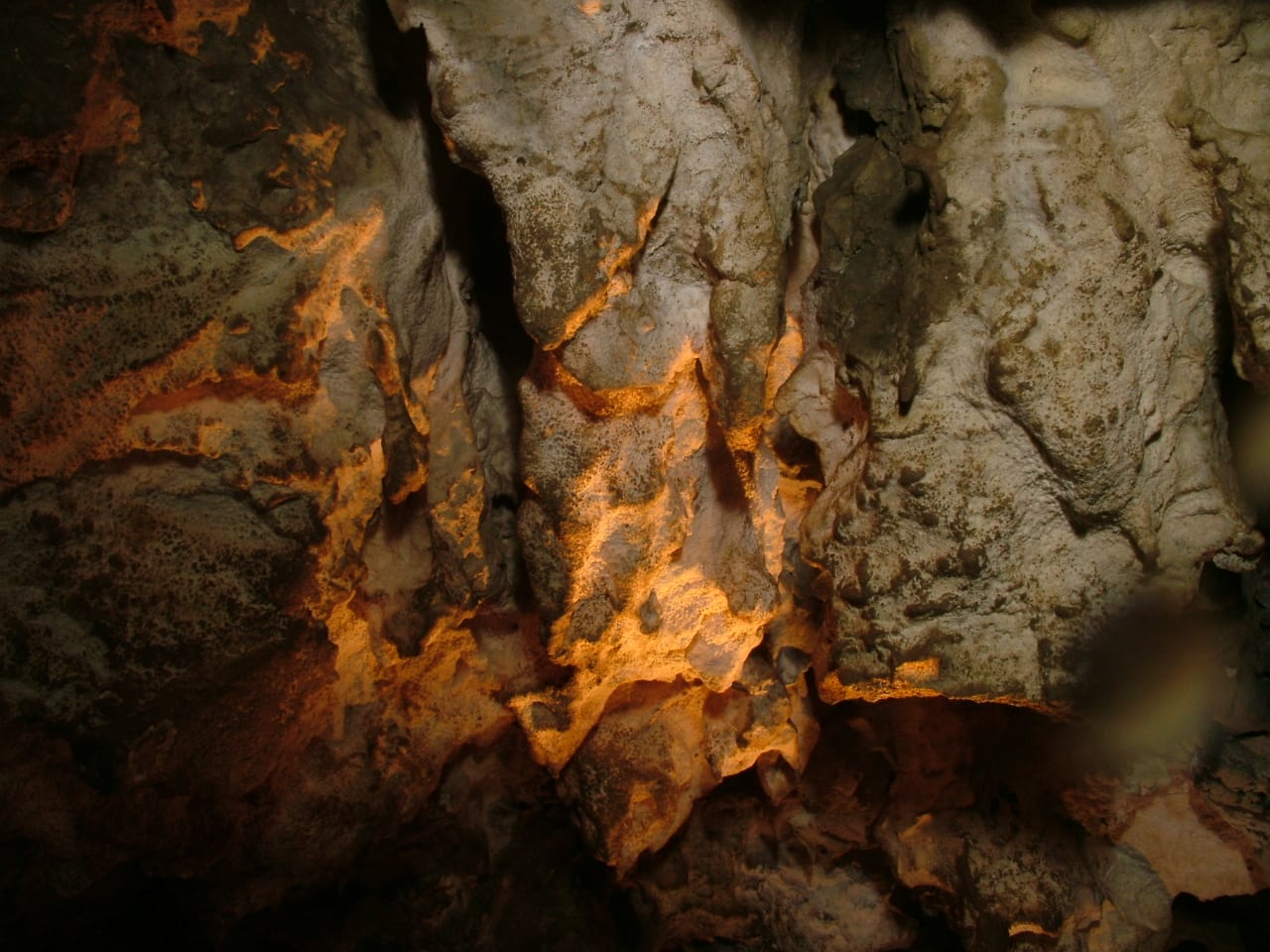 Fulford Cave is just outside of Eagle, in the White River National Forest. Registration with the Forest Service is required to explore this cave, along with appropriate gear and a map. There are rules in place to help protect the local bat populations, which can succumb easily to illnesses that unsuspecting cavers bring to Fulford.
Once inside of Fulford Cave, which was formed by a melting glacier, you'll find one of the longest caves in Colorado, complete with cavernous 80-foot ceilings and an underground creek flowing through. Discovered in the late 1800s by explorers, Fulford has long been known to locals as a popular destination for beginning and advanced spelunkers alike. No matter what your skill level, there is something in this gorgeous cave to trigger an intense appreciation of nature.
The cave is closed every year from October 15th to April 15th, so plan a late spring thru early fall outing. There's a Fulford Cave Campground located near the entrance to setup basecamp.
Fault Cave
The Fault Caves, located outside of Golden, were formed a bit differently than most of the other caves in the region. Instead of flowing water, these caves were formed by a series of faults in the surrounding rocks, which created the tight spaces and hallway-shaped passages that give this cave its name.
No permit is required to explore Fault Cave, just a short and steep hike up the mountain to the spot. Be aware that these are not traditional, cavernous caves that you might be used to. They can be cramped and small, not great for the claustrophobic. The entrance can also sometimes be hard to find, so do your research before you leave.
Fault Cave is a great natural cave for more casual exploration that's still off the beaten path.
Spring Cave
If you're looking for a more advanced option, Spring Cave might be more your style. Spring Cave is about 30 miles east of Meeker, and is also located in White River National Forest. Exploring this cave system requires a permit from the Forest Service as well as following decontamination procedures on your gear before going in. This prevents any unknown bacteria from entering the cave and harming the sensitive bat populations.
Hike up a steep and gorgeous trail to the mouth of Spring Cave, and there you'll enter one of the two entrances accessible from the Spring Cave Trail. Ropes are required, as once you get past the first large ladder, your journey through the caves is all up to you. This cave system was cut by an underground river and still features a massive underground lake to explore, so this is a great place for the more advanced and adventurous spelunkers to visit.
Even if you're a novice, there's still lots to be found in this great cave. Those looking for an adventure will love visiting Spring Cave.
Enjoy the Natural Beauty of Colorado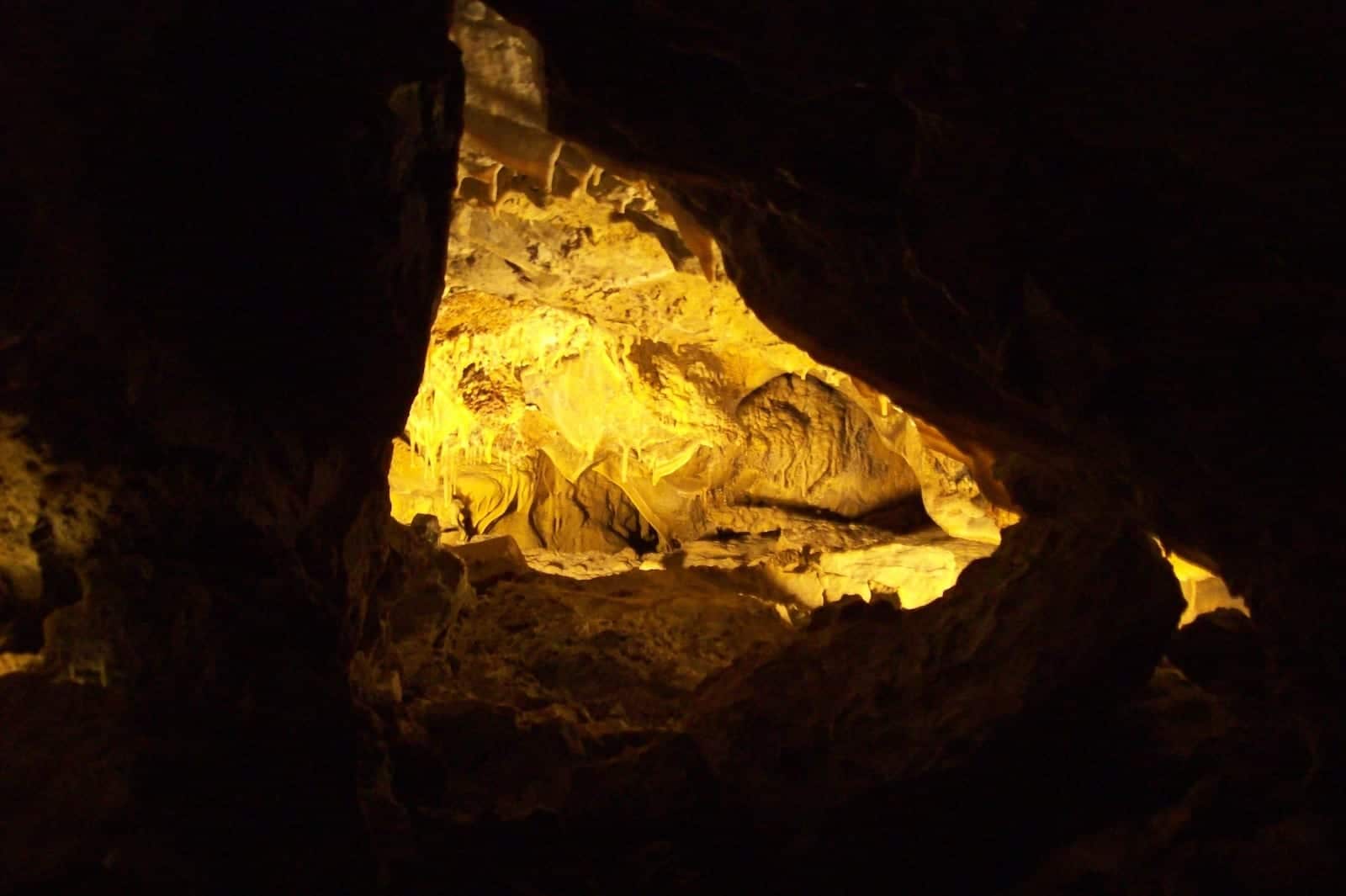 Another uniquely Colorado cave experience, not mentioned above, is available at Indian Hot Springs in Idaho Springs. For adults 17 and older there are a set of geo-thermal caves that were carved out of the mountainside between 1903 and 1911. One for women and one for men, these caverns are clothing optional and feature a number of hot tubs filled natural mineral water between 104° and 112° F. Guests traveling from the Denver Metro on I-70 can stop by for a soak on your way to/from the Western Slope.
People come to Colorado for the beautiful mountain vistas, the gorgeous ski towns nestled in deep valleys, and the incredible national parks our great state has. But we also hope that visitors and locals alike will enjoy exploring Cololorado's other natural wonders, like the aforementioned caves and caverns.
Whether you're looking to bring the whole family to a mountain attraction like Cave of the Winds or Glenwood Caverns, or you're looking to do some spelunking in a more remote location like Spring Cave or Fulford Cave, the Rocky Mountains have it all. So next time you want to go underground, visit one of the locations on this list and explore to your heart's desire!