Durango isn't known for its waterfalls but that doesn't mean you won't find some impressive ones nearby. Many of them are unnamed, little-known waterfalls tucked in the backcountry.
You'll likely stumble upon them as you are exploring the amazing hiking trails in the area. We've tracked down four great areas where you are able to see waterfalls near Durango. Read on for inspiration and happy exploring!
Here are the best waterfalls near Durango, CO, in no particular order:
Cascade Creek Trail
Cascade Creek Trail is an out-and-back hiking trail with two notable waterfalls and several small ones. The trail is pretty simple to reach and is a fairly easy hike. The creek gets its water mostly from snowmelt from the surrounding peaks, so the waterfalls are best in the late spring and early summer. The two main waterfalls are easy to find, right along the trail.
However, if you want to explore more and look for some of the more hidden falls, you can check out many of the off-shoot trails along Cascade Creek's many tributaries. You are likely to get your feet wet on this hike, so waterproof footwear is recommended. Poles can also be helpful for crossing streams.
There are two trails along the creek. The west trail is the more pleasant of the two as the east trail, a stock driveway, is quite steep and can be very muddy in sections. Approximately three miles from the parking lot, you'll reach a bridge over Engine Creek. A nice waterfall is just 20 feet up the side trail just past the bridge. It's a great place to stop for a break.
Hike for another 0.75 miles and you'll reach a short, 15-foot waterfall with a deep pool. There are many other small waterfalls in the area, most of which remain unnamed. The Cascade Creek Trail is approximately 6 miles one way, but eventually merges with the Colorado Trail, offering nearly endless hiking opportunities.
How to get to Cascade Creek Trail:
Cascade Creek is located just about 2 miles past Purgatory Resort. You'll turn left on a dirt road (FR 783) that intersects US 550 right in a hairpin turn. Unless you have a 4×4 with high clearance, you'll want to park in the lower parking lot and hike in on the road to a red gate which marks the trailhead. If your vehicle is up for the trip, you can park right at the red gate. There's room for about four vehicles here.
Lime Creek Road Waterfalls
Lime Creek is a 12-mile dirt road that once was the only way to get from Durango to Silverton. Today, the road is mostly used by ATVs and jeeps. The most popular and easy-to-reach waterfall along this road is located along Coal Creek near where a paved bridge on Lime Creek Road crosses the creek.
Reaching the waterfall involves an easy, 15-minute walk up a trail that follows Coal Creek. You can't miss it if you stay on the trail and follow the sound of the water.
Once you've checked out this Coal Creek waterfall, don't stop there. The Lime Creek Road area has many waterfalls along the different streams and tributaries. It's an exciting place to set out and just see what you come across. The waterfalls in this area are seasonal and are best enjoyed in the late spring and early summer.
How to get to the Lime Creek Road Waterfalls:
Drive north on Highway 550 toward Silverton. The north entrance to Lime Creek will be on your right a bit past Coal Bank Pass. From here, take the dirt road for about 2 miles. When you reach the paved bridge that crosses Coal Creek, you can park on the side of the road. There's a wide shoulder and enough room for a couple of cars. You'll find the trailhead on the right side of the road.
Adrenaline Falls
While it technically could be considered part of the Lime Creek Road Waterfalls listed above, Adrenaline Falls deserves special mention. This waterfall is shrouded with much mystery and intrigue as even though it is often discussed, most non-locals don't know exactly where it is located.
If you make it, you'll be rewarded with an incredible view of a beautiful waterfall. You may even be able to enjoy it all alone, which makes it even more special.
The powerful, 18-foot tall waterfall is accessed by a short but steep hike. Cliff jumping is popular here but can be quite dangerous, especially if you don't know what you are doing. The waterfall plunges into a deep pool, which is a nice place to take a swim and cool off on a hot day before returning to your car.
How to Get to Adrenaline Falls: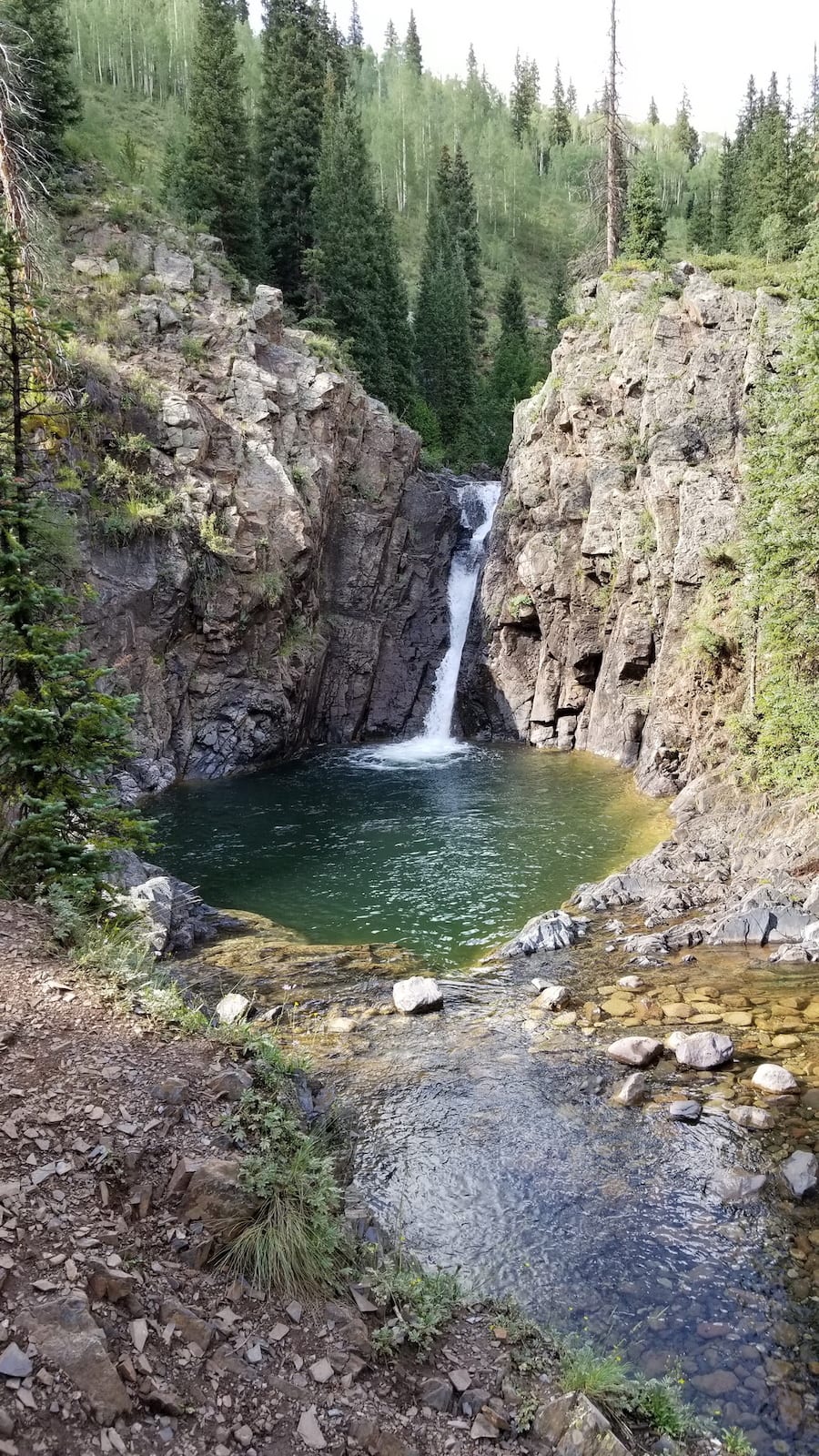 The best way to find Adrenaline Falls is to befriend a local and ask them to take you. The trail access is along Lime Creek Road and it's not always easy to find. It's located about 2.2 miles on Lime Creek Road from the north entrance. After crossing a paved bridge, look out for an Aspen grove. You can pull off and park here and take the trail straight down to the waterfall. 4×4 is recommended on Lime Creek Road.
Ice Lake Basin Trail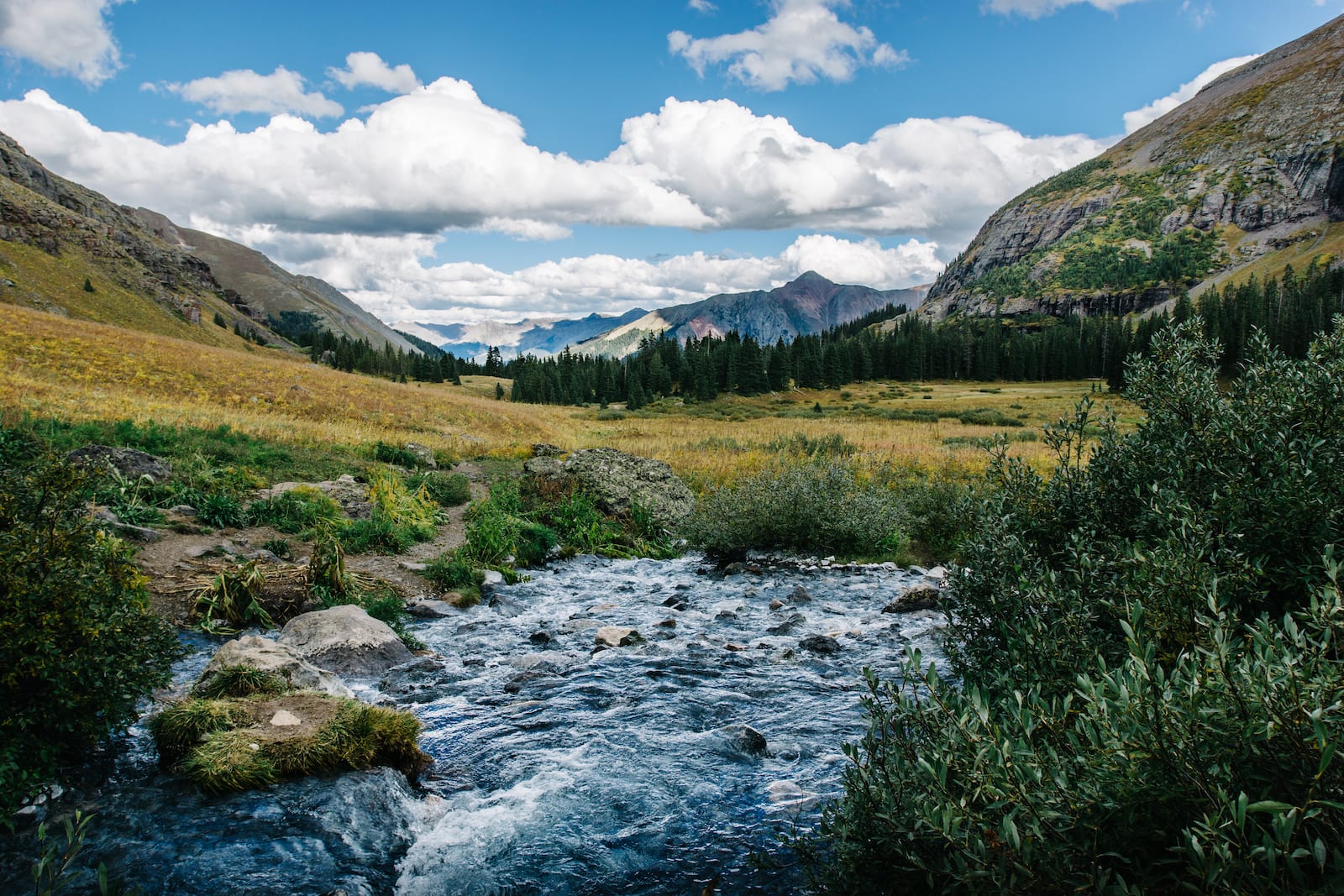 The Ice Lake Basin Trail passes along the banks of South Mineral Creek near the town of Silverton. The area is marked by dramatic cliffs and numerous waterfalls you can spot along the way. Many of them can be seen from a distance as you drive up to the trailhead.
The Ice Lake Basin Trail is 8.1 miles long and one of the more difficult hiking trails in the area. However, you won't have to hike that far to see an amazing waterfall. There's a tall, beautiful waterfall that requires just walking a fraction of the total trail. The trail is challenging and can be especially tricky in wet weather or when there is snow, so it's best to do this as a summer hike.
There are two trailheads, the upper and lower, which both offer unique experiences of the falls. The lower section is the most difficult but offers the best vertical view of the waterfall.  If you take the lower route, you'll reach the falls at around the 1-mile mark.
Reaching the falls by the upper route just requires walking a couple of hundred yards.  So, it's better for those who are short on time. This route offers expansive views of the valley below and the chance to have a unique waterfall crossing opportunity.
If you're up for a challenge, both the upper and lower trails travel to Ice Lake and other alpine lakes via side trails. The hike offers some absolutely amazing views.
How to reach Ice Lake Basin Trail: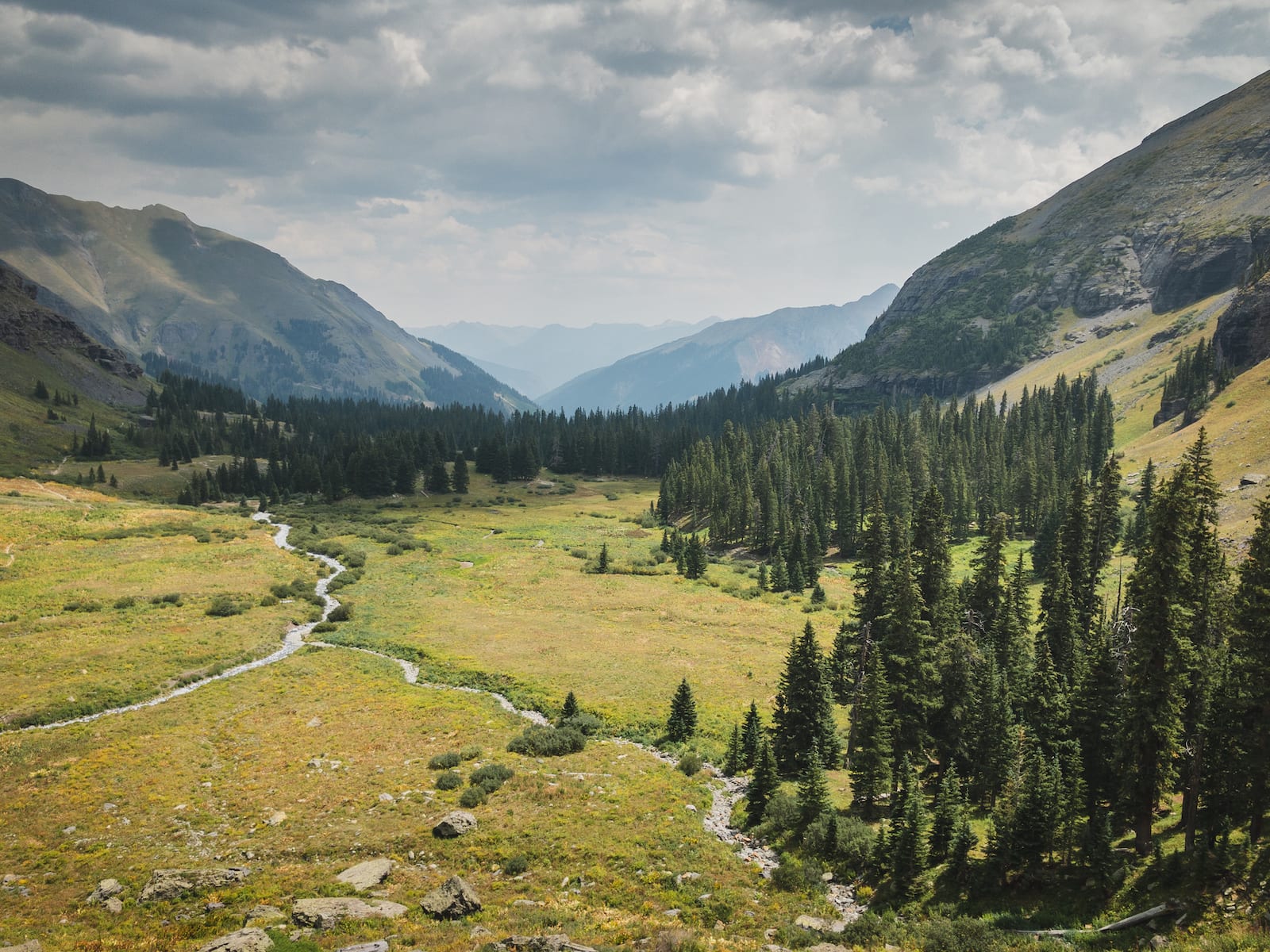 Ice Lake Basin Trail is located near Silverton within the San Juan National Forest. From the intersection of Hwy 550 and Hwy 110, drive two miles north on Hwy 550 toward Ouray. The Ice Lakes Basin Trailhead starts from a dirt parking lot that is just across the road from South Mineral Campground.
You can reach the trailhead by two-wheel drive vehicle, however, just after the campground the road quality deteriorates sharply and 4WD is required. Travel slow and steady!
Those are some of the San Juan Mountain waterfalls that happen to be near the Old West town of Durango. Hopefully, you get a chance to visit at least one of them. If not you can check out another of Colorado's top waterfalls.