Located about 30 minutes south of Denver in Castle Rock, The EDGE Zipline & Adventures is an outdoor excitement center designed for those looking to add some thrill to their lives. Set right in the front range of the Rocky Mountains, visitors can choose their adventure between four separate attractions or bundle them together.
Challenge yourself and plan a day of fun and living life on the edge.
Reservations are currently required for all activities, and guests are asked to arrive half an hour before their scheduled time. Refunds are not offered, but if visitors can't make their appointment, they will be able to reschedule for another time up to 24 hours beforehand.
The company isn't responsible for lost or broken personal items, and they recommend leaving phones and other electronic devices at home. People who are injured or pregnant should not participate in these attractions.
Attractions
There are four activities for guests to experience.
Ziplines
The zipline tour at this venue was one of the first of its kind in Colorado. With ten zip lines in this experience, visitors fly over the wild countryside at speeds up to 50 miles per hour. The length of these zip lines is some of the longest in the state, taking people soaring over two miles at 110 feet in the air.
Some moderate hiking is involved in reaching the take-off points, so having decent physical fitness is required.
Guests are asked to wear closed-toe shoes and comfortable clothing that is not too loose. Everyone riding the zipline must be between 70 and 250 pounds. There is no age limit as long as weight requirements are met, but everyone will be asked to sign a waiver before taking off.
Sky Trek
The Sky Trek is a four-story challenge course that takes about four hours to complete. There are three levels of difficulty and 110 unique elements to play, climb, and scramble on at this exciting jungle gym in the air. Guests can choose their level of thrill.
There are no weight requirements at this attraction, but kids need to have a reach of 5 feet on the lower level and 6.5 feet on the upper level. Kids ages 4-8 have to be accompanied by an adult, and all guests have to be able to jump, climb, and balance to use the equipment. Closed-toe shoes and comfortable clothing are necessary.
Adventure Tower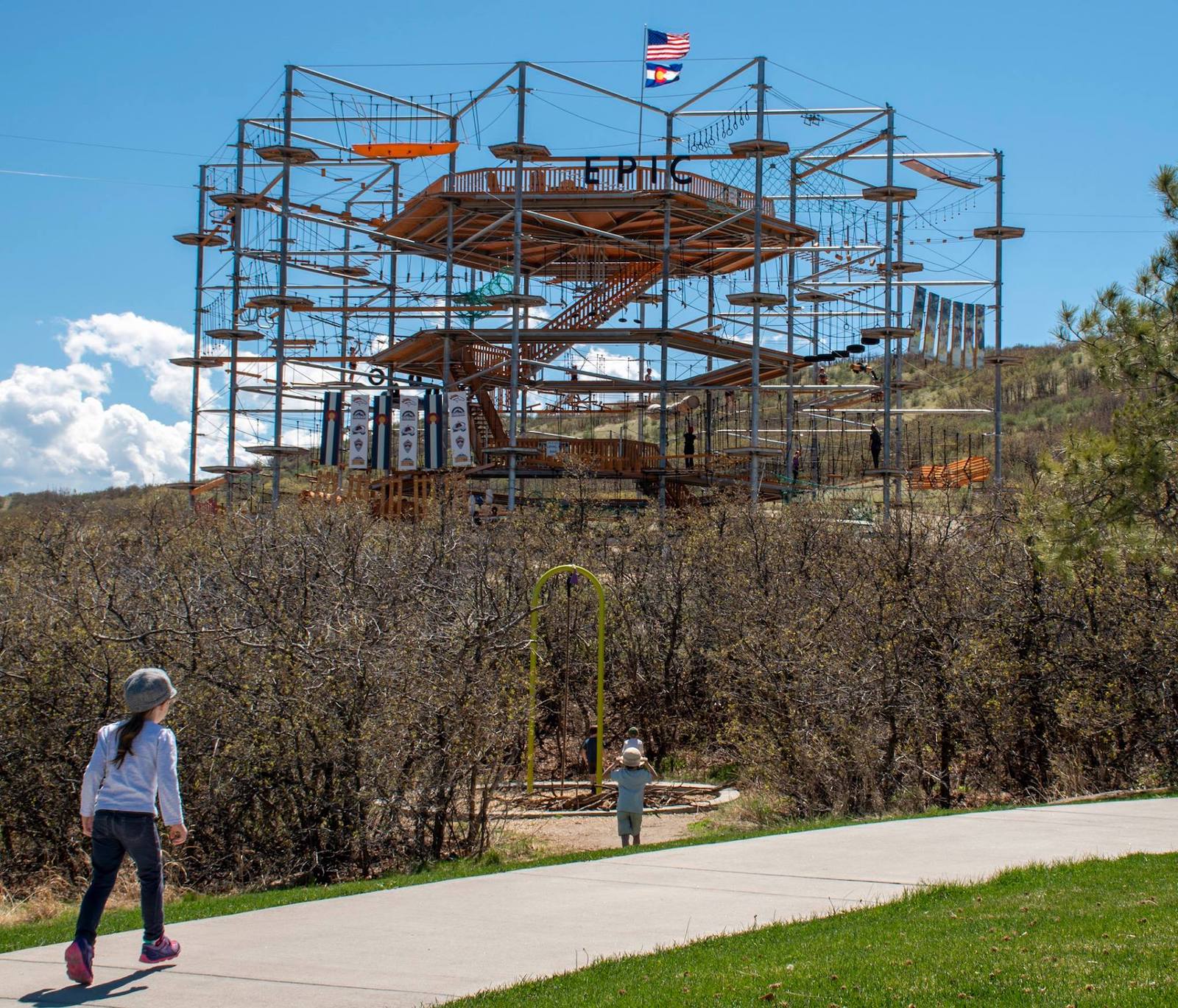 The 13 elements at the Adventure Tower will get your blood pumping. This climb and free-fall activity allow guests to boost their adrenaline with three thrilling options.
The 20-foot level includes a trust fall and a "quickflight" free fall. The 50-foot middle level involves going up a rock climbing wall using multiple tools like a fireman's pole and ladder, two rappelling stations, a leap of faith zipline, and more. Using a state-of-the-art delay system, Daredevils can go up the 75-foot aerial rappel to the Eagles Nest.
Depending on which level of difficulty guests go on, there are weight requirements in the range of 30-270 pounds. There aren't age restrictions as long as the weights are met, and people must be in good physical condition for climbing, jumping, and balancing. Closed-toe shoes are required for this activity.
Ninja Course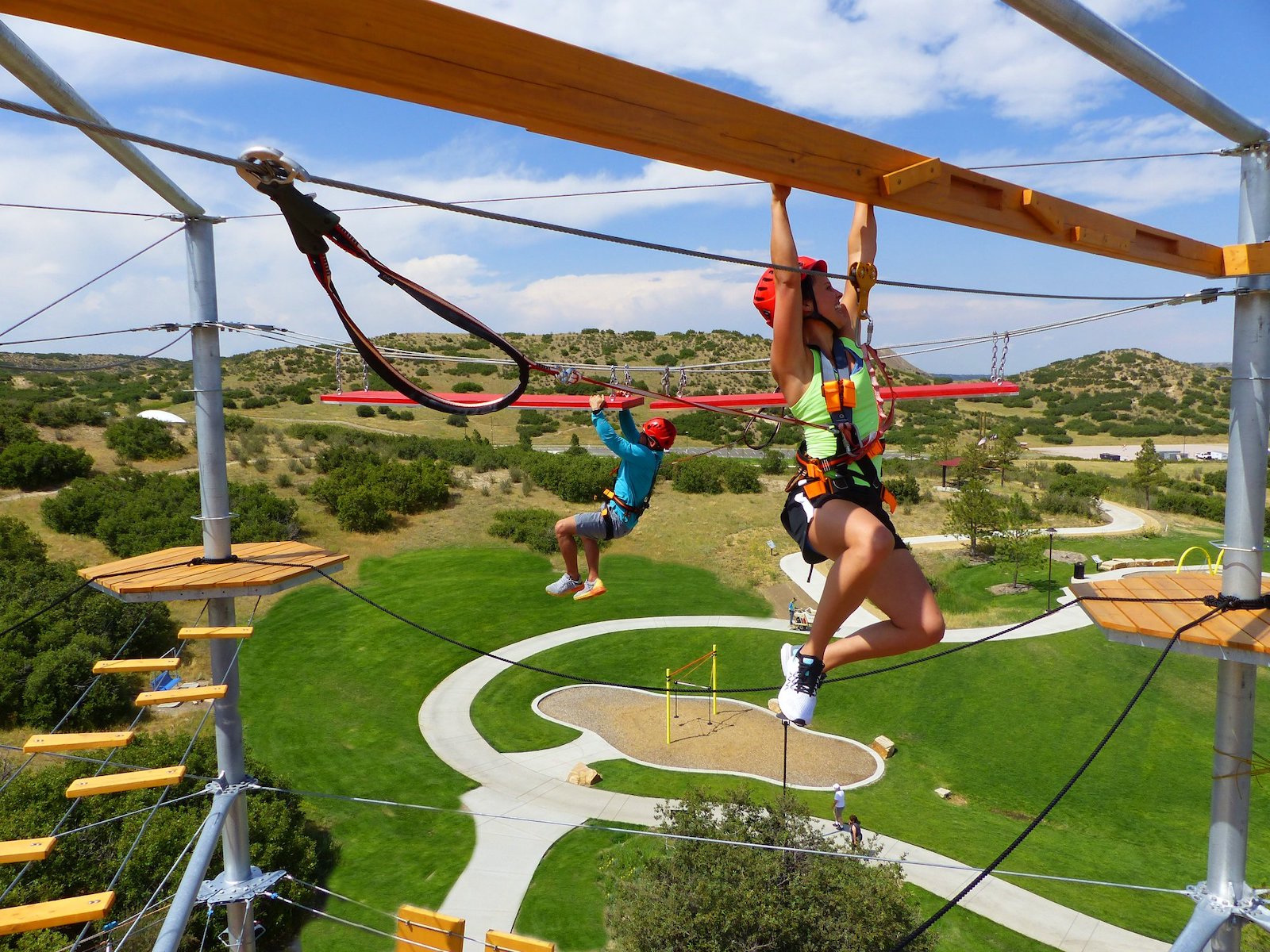 Featuring six challenging levels and the most giant warped wall in Colorado, the Ninja Course is a test of agility, endurance, and speed. This obstacle course is similar to those seen on TV and promises about two hours of intense fun and plenty of opportunities to get your heart pumping. Three rock walls will push you to your limits, but this course can be done at your most comfortable pace.
There is no weight or age requirement for this course, but it's recommended for adults and kids starting in the 8-10-year-old range. Good physical shape is required, as well as closed-toe shoes and functional, airy clothing.
Group Events
The EDGE Zipline & Adventures is the perfect setting for birthday parties, bachelor parties, business retreats, girls' days out, and more. The facility can accommodate group events and challenge everyone to get out of their comfort zone while having a great time. Attentive staff, catering options, and private rentals are available to provide a smooth-running event for all.
Deals
Guests who anticipate wanting to do more than just one activity can apply add-ons to their experiences or purchase one of three packages designed for multi-hour fun. Individual and family season passes are also available.
Details
Address: 1375 W Plum Creek Pkwy, Castle Rock, CO 80109
Phone: 720-733-9477
Season: Year-round
Hours: Daily 9 am – 4 pm
Website: theedgezip.com