Situated just west of Cañon City, Colorado, the Royal Gorge Bridge is an engineering marvel, stretching over a spectacular canyon carved by the Arkansas River. The year-round park covers 360 acres of breathtaking terrain and features numerous mountain activities including a via ferrata and zip line.
The bridge deck towers 955 feet above the river floor, making it the second-highest in the world, behind the Liuguanghe Bridge in China. ​There are shows and events throughout the summer. The Gazebo Theater hosts live family entertainment like magic shows, while the Plaza Theater runs a continuous 13 min video presentation about the Gorge.
Activities at Royal Gorge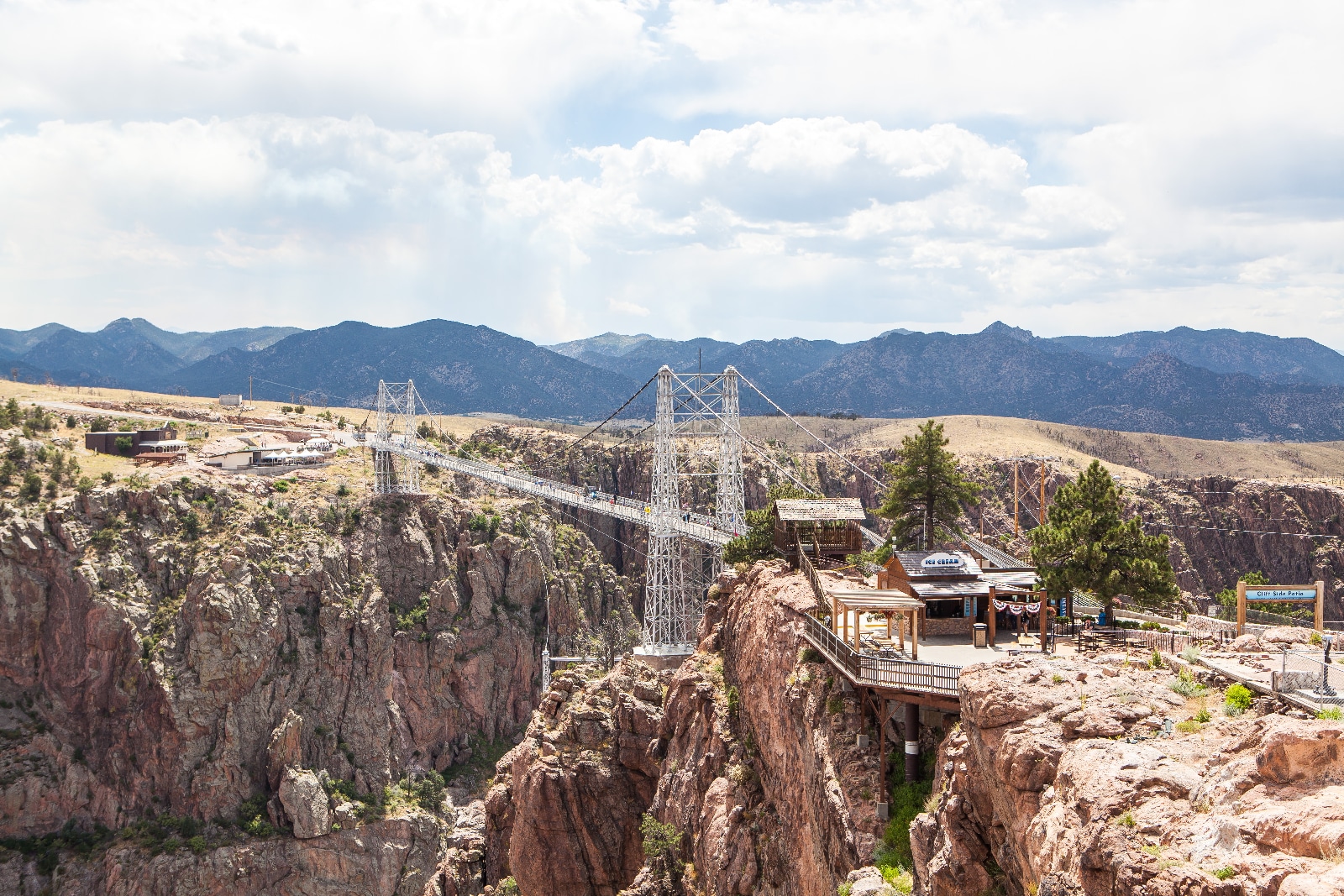 Camping – Primitive tent camping is available at a half dozen designated campsites on the grounds near the Gorge at the Royal Gorge East Ridge Campground. Each site is free, has a fire pit, and table, and there are trash cans and bathrooms nearby.
The Bighorn Mountaintop Lodge, also on the grounds, has 3 bedrooms and is within walking distance of the park. There is also plenty of lodging in Cañon City.
Read about the camping near Cañon City and the Royal Gorge.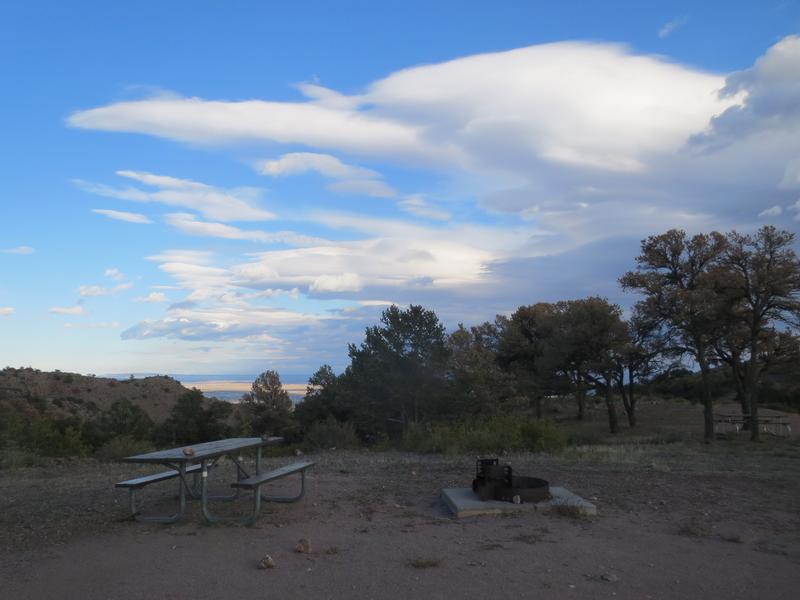 Shopping – The Visitors Center, Stryker Rich Trading Post, Royal Village Shirts & Tattoos, Colorado Country Shop, Prospector Pan, and Custom Beadwork By Connie
Dining – Royal Grill, The Pizza And Sub Garden, The Cliff Terrace, and more snack vendors throughout park.
Royal Gorge Via Ferrata
A Via Ferrata is a fun sport that combines rock climbing, hiking, grappling, and mountaineering in a way that provides some of the most elite climbing experiences to those who are new to this type of outdoor activity. Using a secure lanyard harness, adventurers use rungs, ladders, and steel cables to traverse along cliffs safely.
The Royal Gorge Via Ferrata is an exciting Colorado experience that can be done by anyone with a love for the outdoors, no rock climbing skills are necessary. However, those who wish to do this Via Ferrata are recommended to have a decent fitness level and health.
Tours are led by an expert guide and takes participants through routes on the south rim of the gorge, offering a one-of-a-kind viewpoint of Royal Gorge. The steep walls of the gorge make for some of the best Via Ferrate conditions in the state, making this an outstanding Colorado experience.
This Via Ferrata is available to anyone older than 10 years of age, and there are two paths that you can sign up for. The shorter of the two can last between 2.5-3 hours, while the longer one is 4.5-5 hours in length. Reservations aren't required for either course, but they are recommended to ensure that you can get on the trip that you want.
Attractions
Cliff Walk
Mountain Man Encampment
Petting Zoo
Point Sublime
Royal Gorge
Royal Gorge Bridge
Visitor Center
Wapiti Western Wildlife Park
Water Clock
Rides
Aerial Tram
Burro Rides
Carousel
Incline Railway
Royal Rush Skycoaster (Mar – Jan)
Silver Rock Railroad
Cloudscraper Zip Line (Mar – Oct)
Trolley
In addition to the activities at the Royal Gorge Bridge & Park, the amazing natural landmarks offers a few more gems. You can go whitewater rafting on the Arkansas River directly through the Royal Gorge. Or hop aboard the Royal Gorge Route Railroad for a one-of-a-kind train ride in the heart of the canyon.
Details
Address: 4218 Co Rd 3A, Cañon City, CO
Phone: 719-275-7507
Season: Year round
Hours: 10am – 4pm to 7pm (depending on season). Bridge only opens at 7am daily.
Admission: Daily admission passport includes all rides except Zip Line and Skycoaster.
Bridge only admission is available from 7am-9:30am and one hour before ride closing time to dusk, daily.
There is a free scenic overlook for those just looking to sight-see.
Pets: Yes, on-leash, allowed in park but not in buildings or rides, kennels available first-come first-serve.
Maps: (PDF)
Website: royalgorgebridge.com
Latest in Royal Gorge Bridge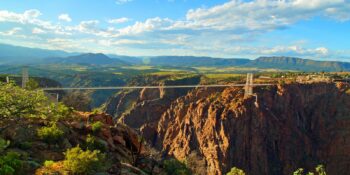 Bridges have been the cornerstone of landscape architecture since Roman times, so it's no surprise that…