The little western slope town of Parachute welcomes laid-back travelers looking to unwind around its timeless beauty. With great convenience to both Glenwood Springs and the Grand Junction area, any one of these top hotels makes a terrific base for your vacation.
Although small, with a population of around 1,800 people, the town has plenty of amenities for its visitors. Parachute sits 35 minutes from Palisade and 45 minutes from Grand Junction, both to the west. Heading east you can reach Rifle in 20 minutes and Glenwood Springs in 40 min. Then there's also the Grand Mesa, the world's largest flat top mountain, the start of which is only 30 minutes drive southwest.
This section contains referral links. If you click through and take action, we may receive a commission, at no additional cost to you. 
Here are our choices for the top hotels in Parachute, CO, in no particular order:
Grand Vista Hotel Parachute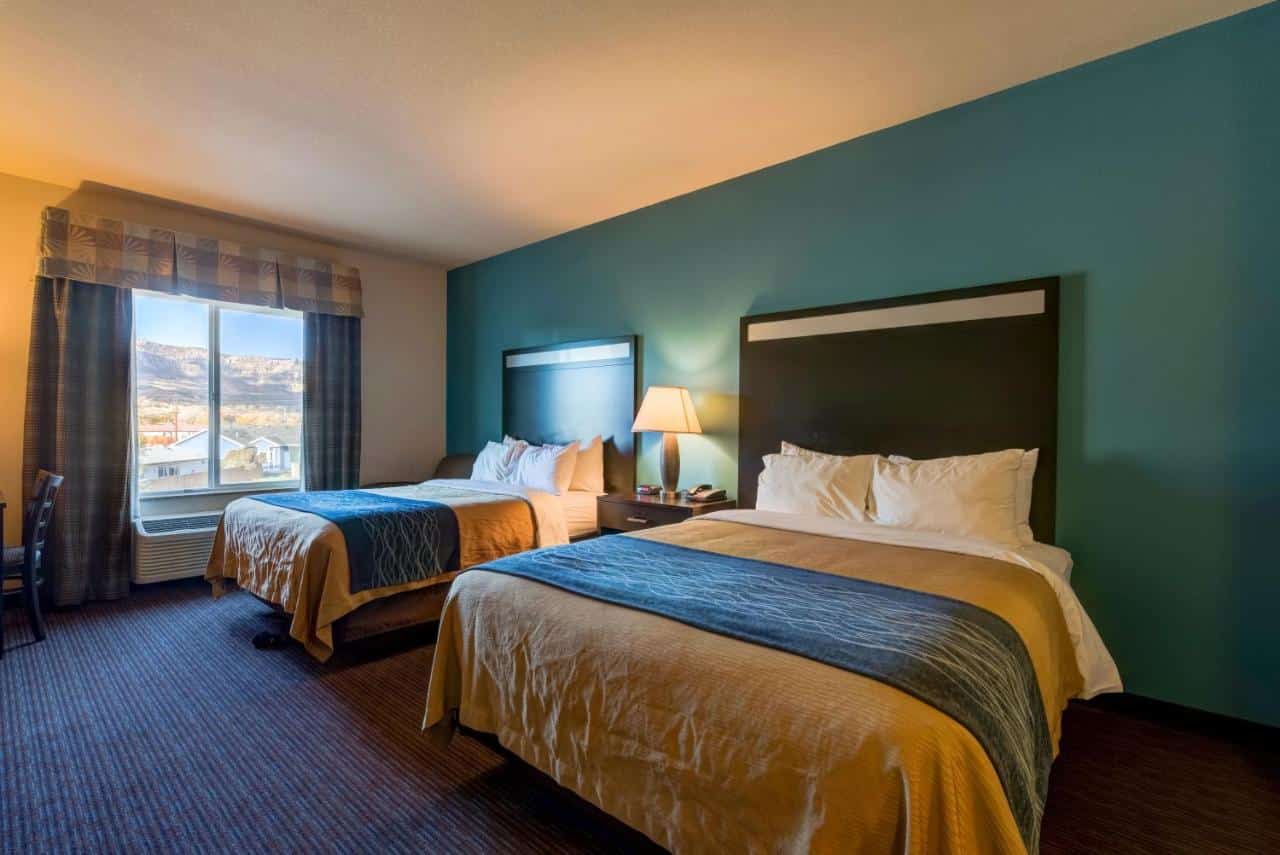 Located on the north side of town, the Grand Vista Hotel Parachute is conveniently set along the I-70. The three-star property is comfortable yet slightly elegant, providing guests with a few modern luxuries to make their stay more enjoyable.
The property has three floors with 71 rooms and suites spread among them. Every guest room has air conditioning, free WiFi, a microwave, a fridge, and a flat-screen TV with cable channels. All lodging includes private bathrooms that come with towels and hairdryers. Families traveling with little ones can get a rollaway crib for no extra charge.
Travelers spending time in the Parachute area don't have to go anywhere to get some exercise, thanks to the on-site swimming pool and gym. There's also plenty to do away from the hotel, such as golfing, hiking, biking, and fishing with pretty Colorado scenery in the background.
Breakfast options are served at the property, which can be handy since there aren't many restaurants nearby. All the buildings at the Grand Vista are smoke-free, and the front desk is staffed with 24-hour customer service.
Grand River Hotel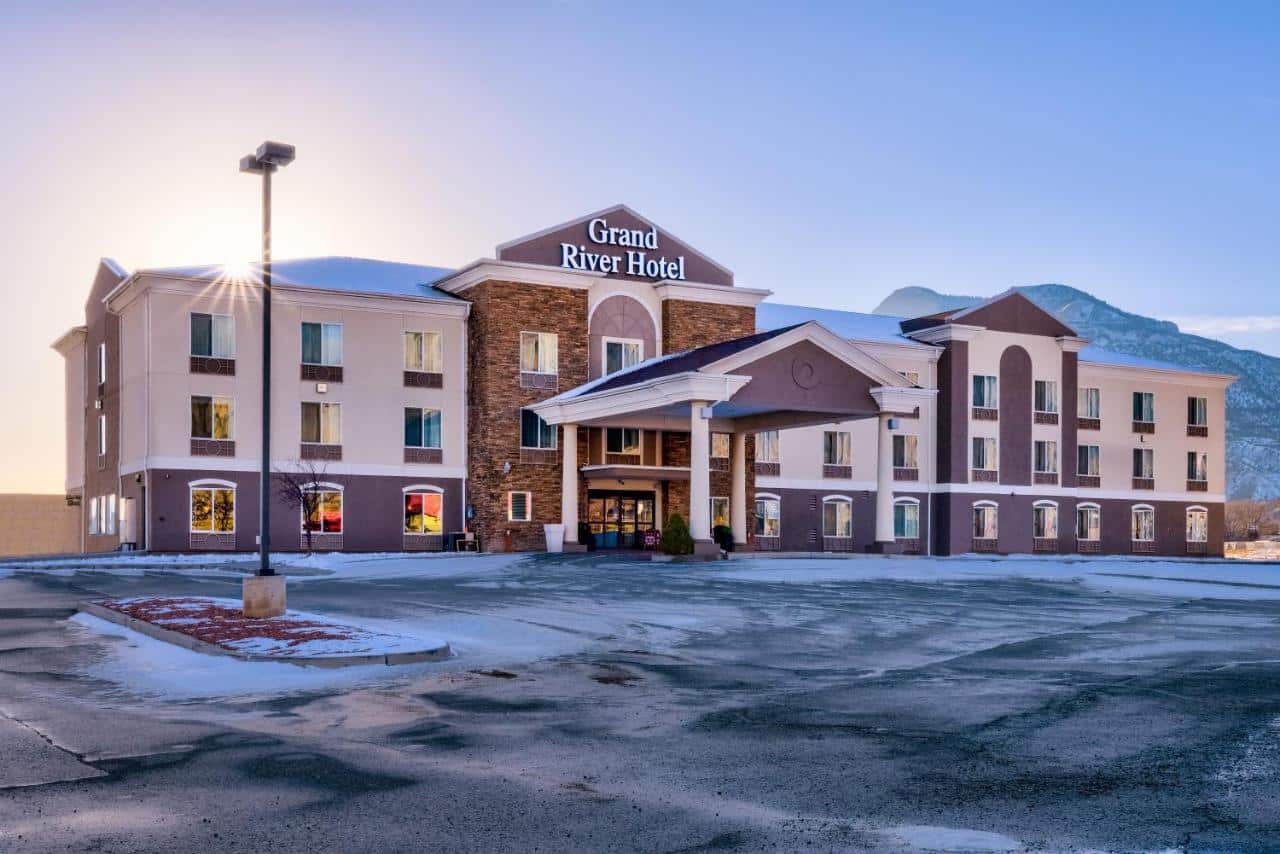 Travelers driving on Colorado's I-70 through Parachute can stay at this pleasant and pet-friendly two-star hotel. Set along the Colorado River, this property is just feet from Cottonwood Park, Beasley Park, and 44 miles from Grand Junction Regional Airport.
The three-story Grand River Hotel has a few great on-site amenities like a heated swimming pool, restaurant, fitness center, hot tub, and breakfast available each morning. People in town on business can always stay connected with the free WiFi and use the hotel's meeting room and center to get work done. Early check-in and late check-out often make arriving and departing easier.
Each accommodation at the Grand River has air conditioning, a microwave, a refrigerator, and a flat-screen TV. Room service and housekeeping services are available. Bathrooms are private and come equipped with towels and a hairdryer. Families on the road together can take advantage of the "kids stay free" policy, especially with rollaway cribs and extra beds provided.
221 Grand Valley Way, Parachute, CO 81635| 970-285-2330
Check prices, availability or book Grand River Hotel
Candlewood Suites Parachute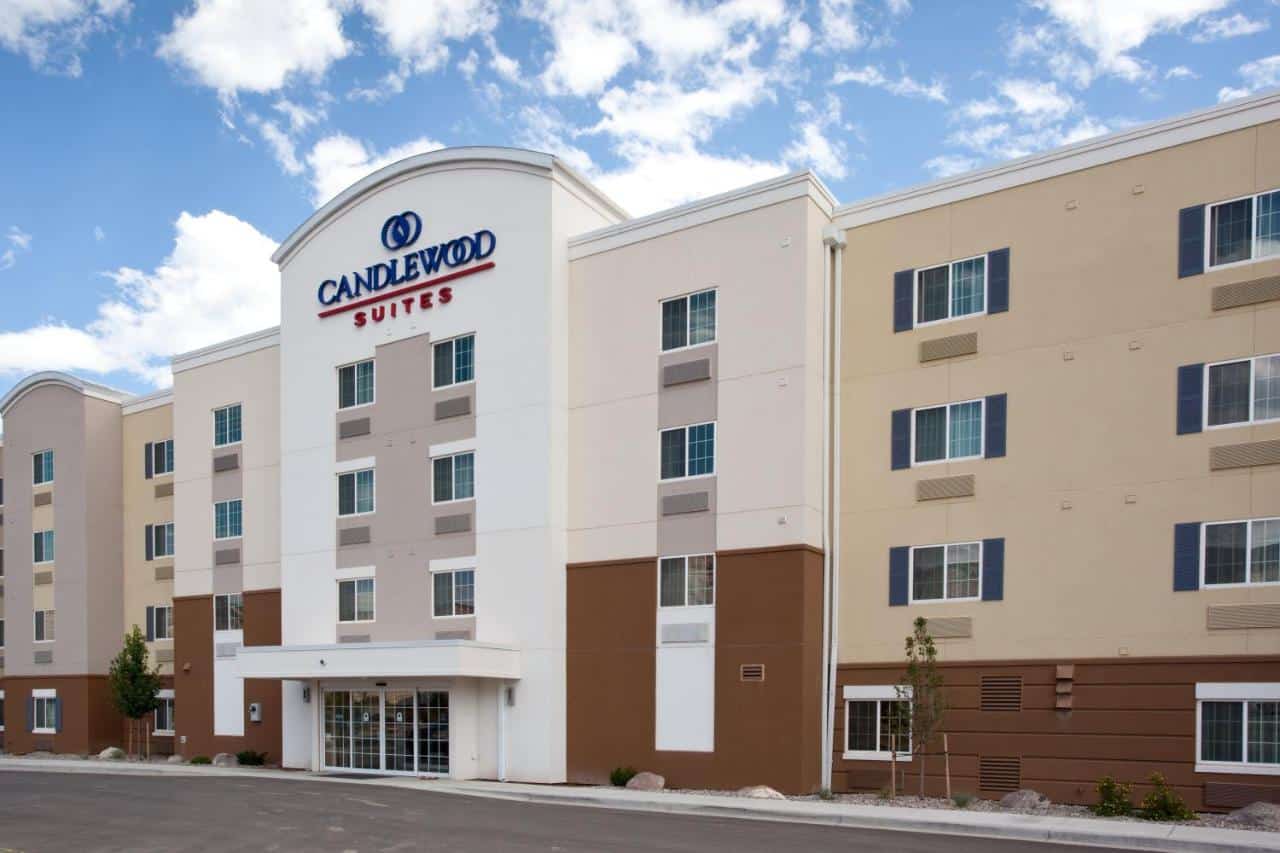 Candlewood Suites Parachute is a well-kept and comfortable hotel in the heart of the Rocky Mountains and a stone's throw from the Colorado River. These convenient accommodations are located just off Colorado's I-70 and are ideal for anyone looking to spend some time exploring the area or indulge in some outdoor recreation.
Complimentary WiFi is supplied to all areas of the hotel, including guest rooms. Accommodation options range from standard rooms to suites equipped with air conditioning, kitchens, full-sized refrigerators, and flat-screen TVs with premium channels.
Groups or families traveling together who want connected rooms have that option at this lodge. Breakfast is served each morning for a surcharge fee, but coffee/tea is always in the lobby.
The hotel is within a 40-minute drive from two golf courses and Rifle State Park, and the Powderhorn Ski Resort is about 45 minutes away. There are plenty of opportunities for hiking and off-site canoeing, kayaking, fishing, and boating nearby on the river.
Other property amenities include a 24-hour fitness center with a workout room, BBQ facilities, free parking, a picnic area, and an on-site 24-hour convenience store. Visitors in town on business can take advantage of the business center that never closes, the mail room, and office supplies.
Thanks for checking out our roundup of the best hotels in Parachute! Enjoy your visit to this lovely region of western Garfield County.