Visit the lovely town of Antonito and get inspired by its vintage trains. This southern Colorado town is only 6 miles from New Mexico and features a few lovely hotels and unique abodes.
To enjoy your stay in Antonito, we curated the top inns and hotels for you to check out. Although small, the town boasts several historic accommodations and even a luxurious guest ranch, for those needing western recreation directly at their lodge. Because of its famous train, there are plenty of shops and restaurants in town to host the tourists.
Probably Antonito's Top Hotel Accommodations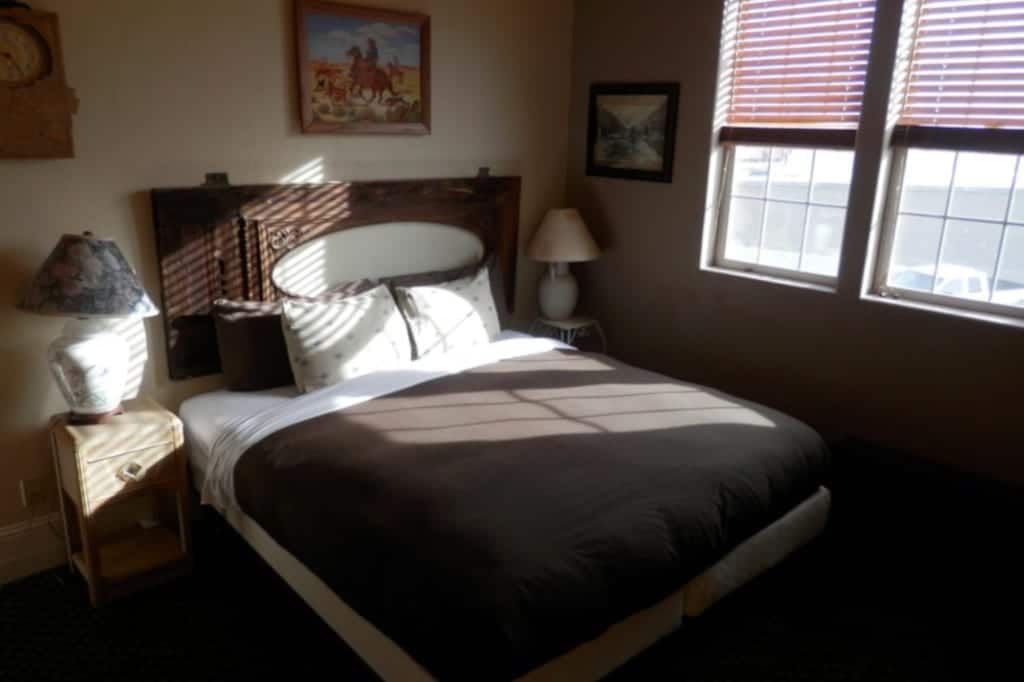 If you're heading to Antonito, chances are high that you're looking to ride the historic Cumbres & Toltec Scenic Railroad. It connects Antonito with Chama, NM, via an incredible 64-mile rolling journey among the New Mexico/Colorado border. Book a night in Antonito and a night in Chama for the ultimate train ride getaway!
Nature is also extremely close. Just head west on Highway 17 for 20 minutes or so and you'll reach the Rio Grande National Forest. Camp, go fishing, hiking, and ride your ATVs. You can do it all in your national forests. The highway also connects with Chama in New Mexico, a slightly different route than the Cumbres & Toltec train ride takes.
This section contains referral links. If you click through and take action, we may receive a commission, at no additional cost to you.
Here are our choices for the top hotels in Antonito, CO, in no particular order:
Rainbow Trout Ranch – authentic 5-star dude ranch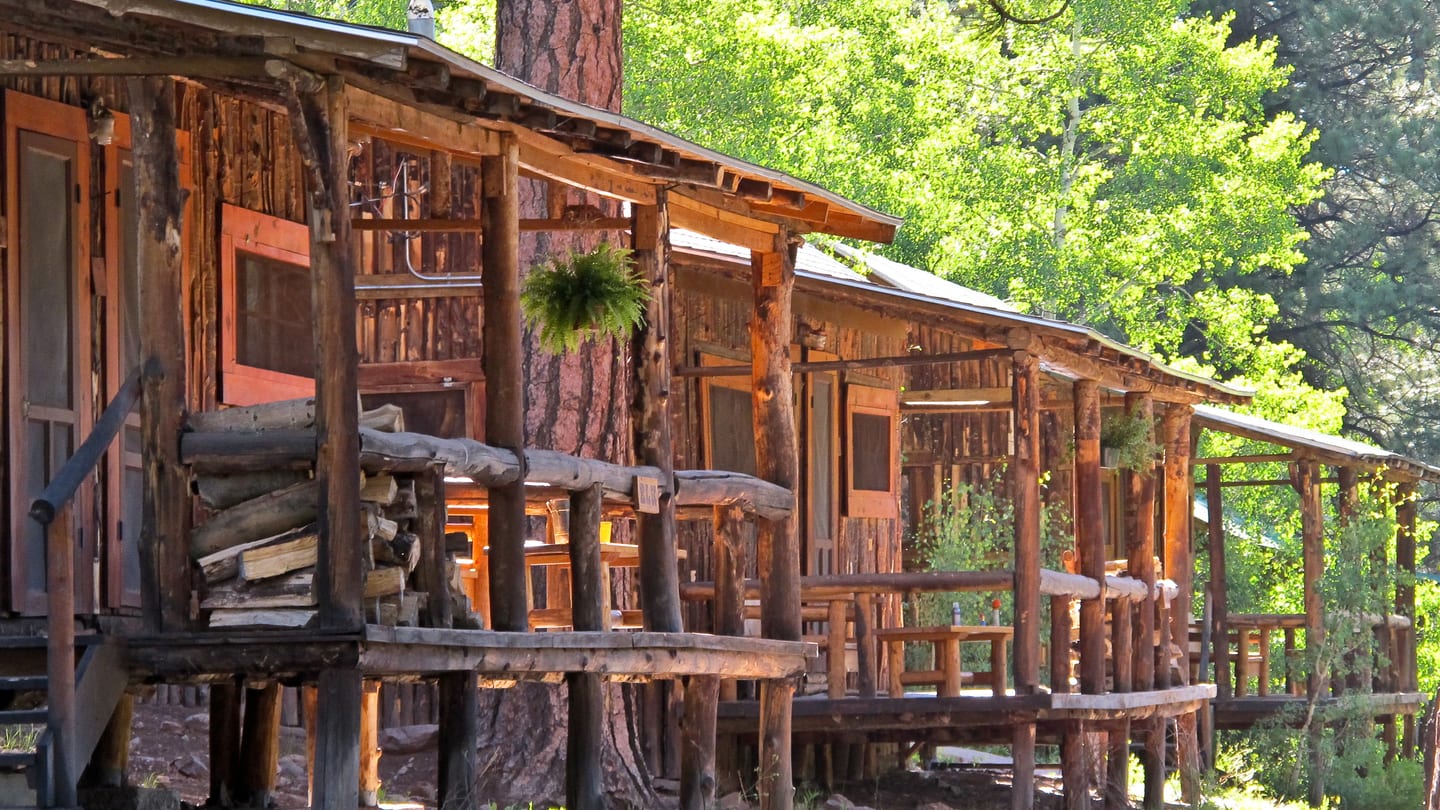 Antonito is a small town, but you won't lack any scenic tours or activities. In Rainbow Trout Ranch, you are encouraged to experience Antonito to the fullest. From horseback riding, fly-fishing, whitewater rafting, historic excursions, and more, they've got you covered.
By staying at Rainbow Trout Ranch, you will feel like you're back in the Wild West. It's duly advised to show off your cowboy boots and hats because you never know when it's time to jive to line dance. In one of their tours, you will also get a closer look at famous characters of the Wild West including Butch Cassidy and Sundance Kid.
Rainbow Trout Ranch is a family-friendly accommodation. RTR notes that they are known not only for their 5-star service, their fun activities, and breathtaking scenery but also for the bonds that are formed during the stay.
"At RTR we truly enjoy bringing spirits to life, establishing life-long relationships, and helping you create memories you'll treasure for a lifetime."
The Ranch has a horse safety program, massages, airport shuttle, hot tub, cabins, game rooms, internet, and swimming pool. It can house up to 60 people. The sizes of the cabins vary; smaller cabins have two bedrooms and bathrooms, while bigger ones can sleep from 6 to 8 people. Larger cabins also have a separate living room/ fireplace area.
1484 FDR 250, Antonito, CO 81120 | 719-376-2440
Check prices, availability or book Rainbow Trout Ranch
Indiana Jones Bed & Breakfast – Indy's childhood home in The Last Crusade!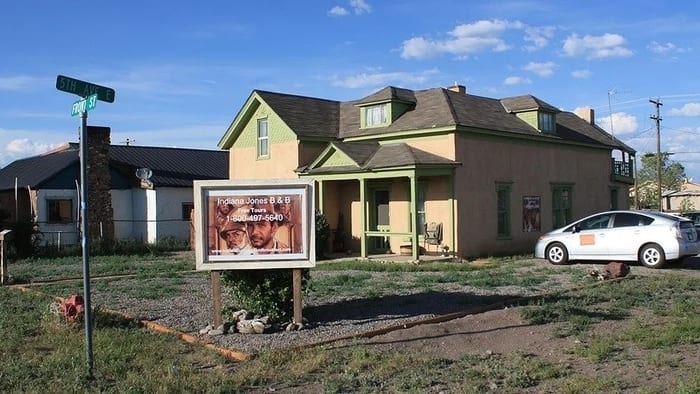 For those looking for a charming B&B that not only serves great food but also features Hollywood film memorabilia, then Indiana Jones Bed & Breakfast is your best bet.
From the inn, you will see the "Cumbres and Toltec Scenic Railroad train from the opening scenes of 'Indiana Jones and the Last Crusade.'" It'll be an exciting experience to watch the movie from the sitting room where an exact scene was filmed (as other guests have done before)!
The Indiana Jones Home has two floors and four rooms, so it's good for solo travelers and big groups. The lounge room has ample space, and there are two more sitting areas upstairs and in the hallway.
Every corner of the house features interesting Indiana Jones and Antonito antiques that will pique your interest. The inn also has a very welcoming housekeeper who cooks a fantastic breakfast. Guests are allowed to do BBQs on weekends (depending on the weather).
The Indiana Jones Bed & Breakfast is also an ideal location if you will explore Antonito. Aside from the railroad, it's even close to the Great Sand Dunes National Park, Jack Dempsey Museum, and Fort Garland Museum.
Steam Train Hotel – charming 2-star minutes to train depot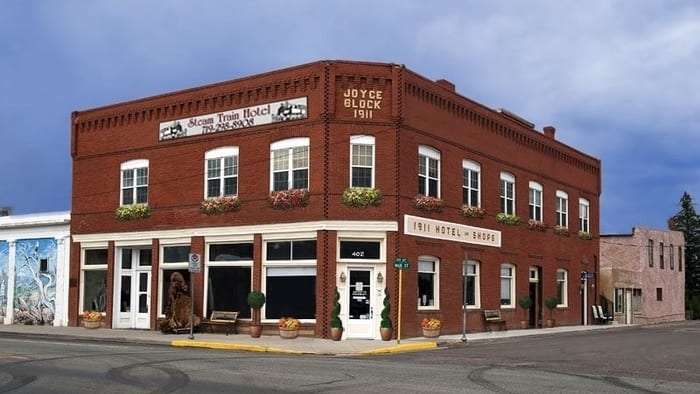 Steam Train Hotel is another unique accommodation in Antonito, but that's what's great about this hotel. The eclectic decor and old American interiors really match the Wild West vibe of the town.
Rooms have a unique charm in them, but they won't deny you modern amenities like updated bathrooms, cable TV, and the Internet. Guests can even request different types of room configurations. Since Antonito is an open marijuana town, they have 420-friendly rooms, single rooms, doubles, suites, and ground-level easy-access suites.
There are plenty of activities to do around the Steam Train Hotel because it's located in the heart of town. Guests will also have access to 360-degree mountain views, and they can even enjoy a peaceful view of the sunset at the hotel's rooftop deck.
402 Main St, Antonito, CO 81120 | 719-298-8908
Check prices, availability or book Steam Train Hotel
Add the Cumbres & Toltec Scenic Railroad to your bucket list and head on down to Southern Colorado. It's sure to be a stunning ride that you won't soon forget! Thanks for browsing our top hotel choices in Antonito.