With its large historic district and surrounding San Juan Mountains, Lake City boasts strong tourism throughout the summer. The town has plenty of top hotels and vacation rentals to accommodate the influx of new faces.
By visiting the "most remote county in the Lower 48," you can expect vast open spaces, historic, natural wonders, and interesting ghost towns. Lake City is known as one of the best places in Colorado to explore the outdoors. It's about a 5-hour drive from Denver or you can fly into Gunnison Regional Airport.
Probably Lake City's Best Hotel Accommodations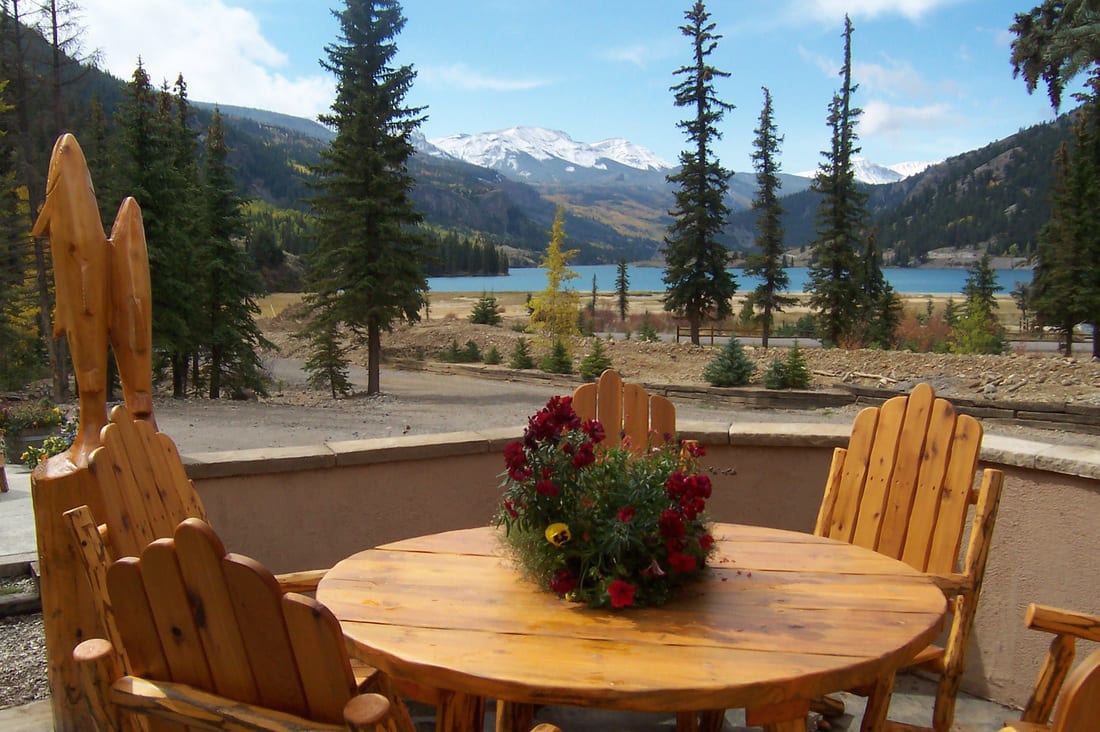 You can get started with the challenging Alpine Loop route that requires high-clearance 4×4 driving. This seasonal backcountry 4×4 only road connects with Ouray and Silverton. In town, you can book a Jeep rental for the day or longer. Stay a couple of nights in Lake City and another in Ouray for hot springs.
If you're up for a history tour, go to the National Historic District and visit buildings erected more than a hundred years ago. Along the Silver Thread Byway there are camping sites, fishing lakes, as well as the Slumgullion Earthflow, a National Natural Landmark close to Lake City. It connects Highway 50 by Gunnison to Highway 285 near South Fork.
This section contains referral links. If you click through and take action, we may receive a commission, at no additional cost to you. 
Here are our choices for the top hotels in Lake City, CO, in no particular order:
The North Face Lodge – mountain-side lodging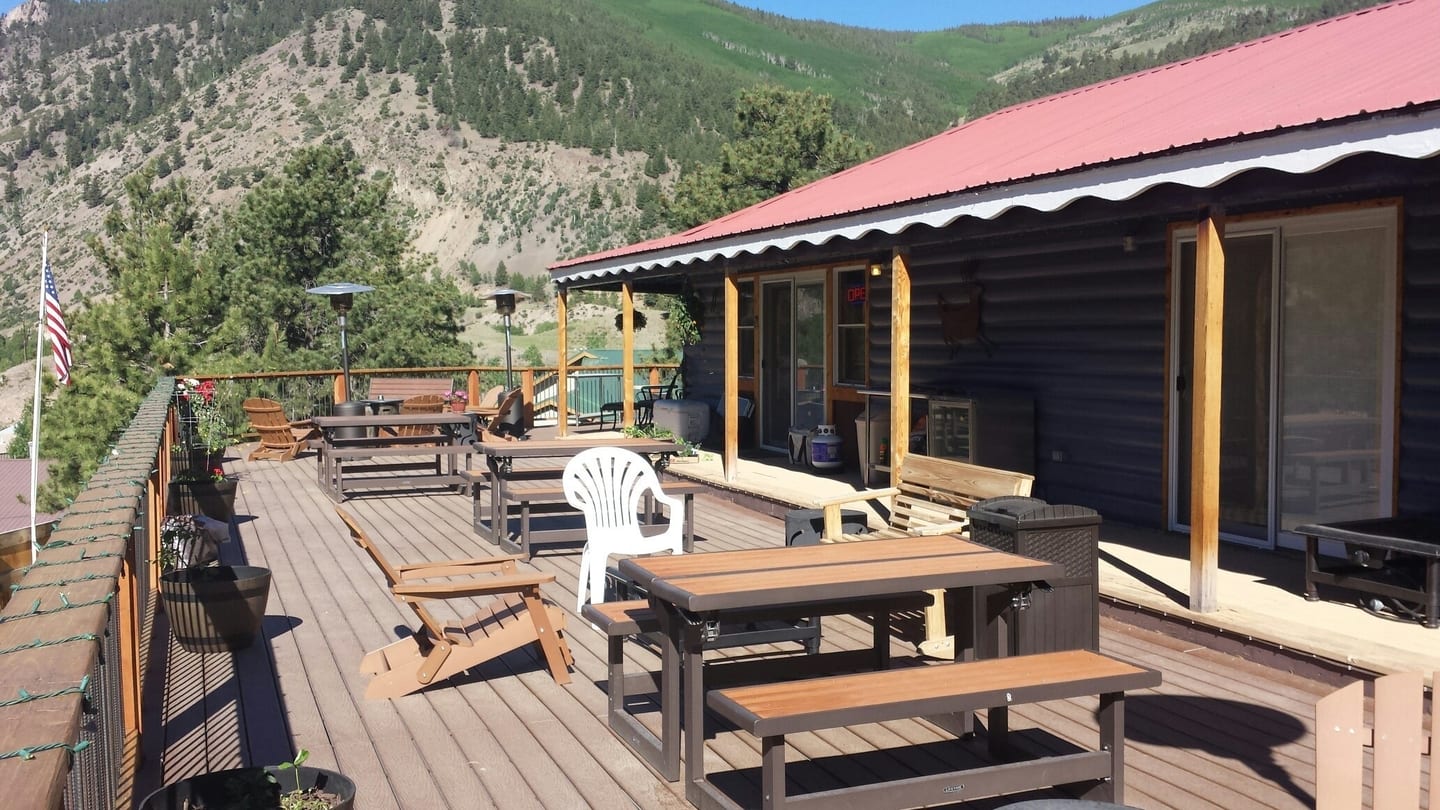 Co-owned by Robin and Ed Charlesworth and Barbara and Hugh Conway, these friends of over 30 years created a utopia where mountain travelers can bask in the beauty of Lake City. The owners believe that connectivity to nature is the key to creating these amazing Lake City memories.
The property's focal point is the deck: people gather in one place, celebrating, eating, and reading. And on top of it, everyone's mellowing out on the views of the mountain peaks, the valleys, and the town.
The North Face Lodge features accommodations with local mountain themes. They have renovated the entire property and upgraded the amenities for each room.
The spacious rooms are complete with A/C, queen to king-sized beds, and WiFi. If you want extended suites with kitchenettes, you'll have in-room amenities like microwaves, refrigerators, TVs, coffee makers, and hot pots.
Whether it's that eccentric cabinet or that old-aged leather loveseat, the rooms imbibe the mountain ambiance. Though the community and the hotel vibe are low-key, the customer service isn't compromised by this..
If you're looking for comfort, a quiet place to stay, or an accommodation that speaks, of  "home-grown comfort," then staying at the North Face Lodge is the best choice for you.
Wildflower Cabins – seasonal lodging
If you're looking to get away from the hustle of city life, book a low-key cabin at Wildflower Cabins, formerly known as the Cannibal Cabins. But, before we go over the amenities and features of the property, let's clear the elephant in the room: Why is was named "Cannibal Cabins?"
According to the property management, they mimicked the name of the infamous Alferd Packer (the cannibal). The property's close to the Alferd Packer Massacre Site. Packer used to be one of the five explorers who left for Gunnison to find gold.
As they were traveling, they eventually got hit by the harsh wild in the area and their provisions ran out. His four other companions were discovered to be dead (and butchered). As Packer traveled south, he defended his innocence, but he was found guilty in 1874.
The property is not a haven for cannibals, but the owners decided to honor the history behind the incident. Packer's case had a lot of firsts in American history. And that's about it when it comes to the name of the lodging.
If you're into a little bit of creepy history, then touring the place may be more than enough for you to book. On the other hand, Wildflower Cabins is an entirely peaceful property.
The nine rustic cabins are located near each other; designed more like a mini mountain town than an isolated cabin sanctuary. They have a variety of choices from studio rooms to 2-bedroom cabins.
The cabins are fully-equipped lodging. The furniture and appliances are dated, but the home feel is there. What makes this a very unique experience is that moment of waking up, feeling like you live in an old rustic, American town, and seeing the nature surrounding the land. And for a competitive price, this makes for one of Lake City's more interesting gems.
Matterhorn Motel – iconic winter lodging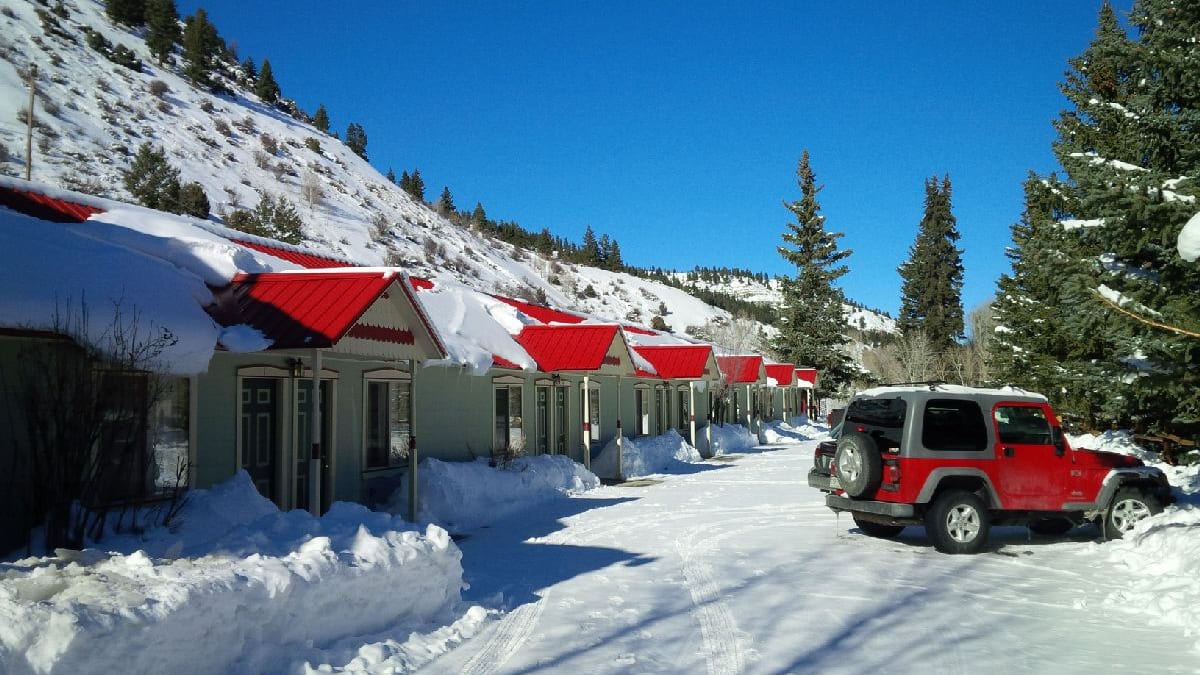 Since Lake City is filled with amazing mountain slopes and steep ranges, during winter, Matterhorn Motel is one of the most iconic accommodations in town. Established back in 1949, the vintage neon sign is reminiscent of that old vibe.
Even though it's just a two-level property, with less extravagant hotel amenities (they have a pool, spa, jacuzzies, cable TV, and kitchens) the motel is known for its outstanding hospitality service, cleanliness, and overall ambiance. Imagine you traveled to Lake City and you've been tired from hours of driving. If you just need a place to crash, one of the most reliable accommodations in the entire town is Matterhorn Motel.
They have the aptly named "Efficiency Rooms": generous studio rooms paces, kitchenette, and WiFi. You'll also get a daily linen replacement as well as a coffee service. If you need a bigger space, you can book the Double Room, with two comfortable Queen Beds, a couch (that can also be extended as a pull-out bed), a mini fridge, and Wifi.
Now, especially, as mentioned above during the winter season, the Matterhorn Hotel truly stands out as you see the entire building wrapped around with snow, seated just beside the foot of the mountain. From afar, it feels like the building is actually a part of the mountain.
If you want a more intimate experience, you can book either the "Historic Cottage on the Bluff" or the "Historic Cottage Mountainside." These two are separate, fully-equipped cottages tucked up against the mountain. You'll have a private porch, overlooking the mountain and the wildlife in the area. You never know when a deer may pass by!
Most of their suites have wheelchair access, but the only accommodation that's not available for the entire year would be the Historic Cottage Mountainside.
G & M Cabins – campground and modern cabins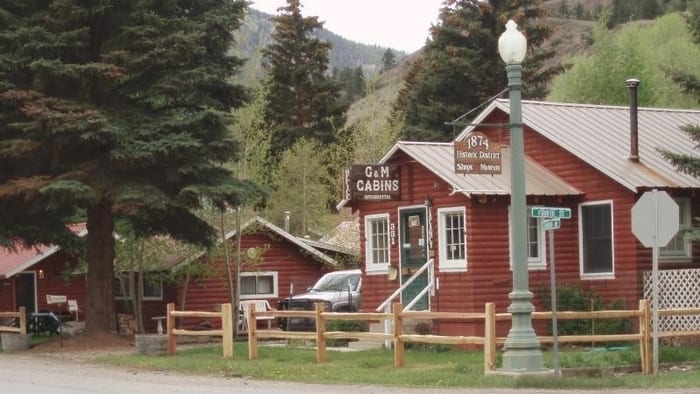 G&M Cabins is an affordable alternative if you're looking to explore Lake City. It's located in the downtown area so you'll be just minutes away from the shopping, dining, and recreational spots in town.
They have fifteen cabins on site, each customized based on the size of the property. These fully-equipped cabins come with a room, private bathroom, TV, WiFi, living area, full kitchen, kitchen table, and outdoor furniture. If you need housekeeping, there's an additional fee per stay.
Since the cabins vary in design and size, there's accommodation for all types of travelers. Cabin 15, for example, is one of the smaller cabins with 1 large room, and full house amenities. It has a simple outdoor porch. This is perfect for backpackers, writers who need that solitude and peaceful environment for inspiration, or honeymooners who are on a budget.
If you need a bigger space, you can check out Cabin 11. Though it only has one bedroom, the entire loft floor can be extended bedrooms. The cabin looks a lot more spacious because of the higher ceiling in the living area. This cabin has a bigger front porch. At night, you can have a BBQ grill and eat outside.
The entire property is homey and welcoming. When there are other occupants, it just looks and feels like a normal suburban mountain community.
If you need a break outside the cabin to get that touch of the "modern world," you can still party in the nearby restaurants and tourist attractions within a mile of the campground like the Packer Saloon and Cannibal Grill.
The Inn At the Lake – low-key rejuvenation retreat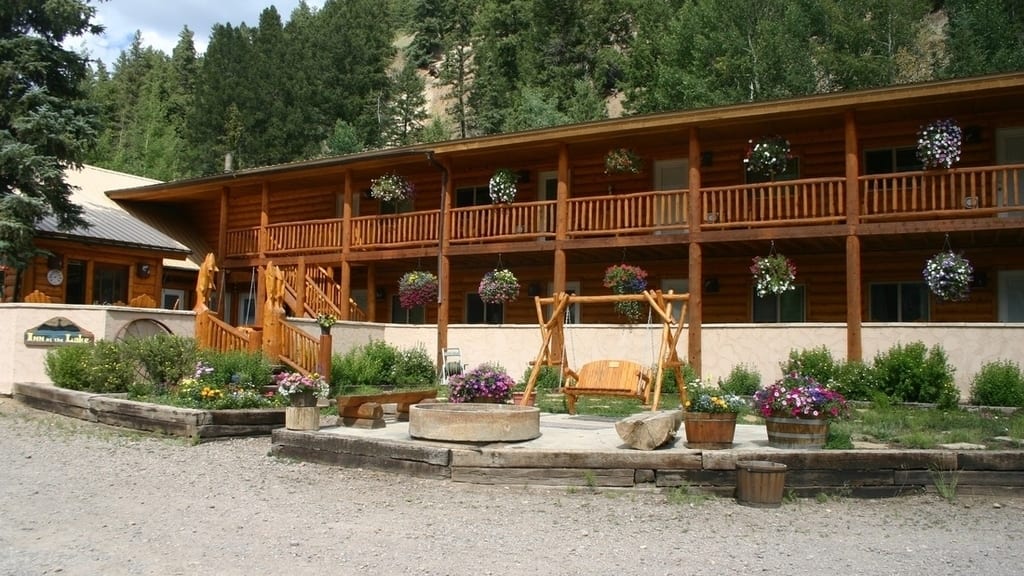 If you're looking for an alternative accommodation that focuses on healing and relaxation, you've come to the right place. The Inn at the Lake is the perfect location for the ultimate Lake City vacation. This cozy retreat location is located just minutes away from Lake San Cristobal. They have ten guest rooms that feature the natural beauty of the mountain lifestyle.
The Inn at the Lake Hosts David and Rosie Whitelock knew the place is special the moment they saw the land. Native Houstonians and pastors, the couple began looking for "post-retirement ministry opportunities." With half a million dollar gift from their friends and the community, they were able to create a non-profit, the Whitelock Ministries.
There's no requirement to join the ministry before checking in. The couple as well as the volunteers who welcome guests at the inn, just want guests to feel welcome and to have that place that connects them to Lake San Cristobal.
Every room has a unique view of the mountain ranges, an overview of the surrounding forests, as well as the great blue of the Lake. They have a campfire in front of the villa so you can enjoy BBQs and marshmallows at night.
It's such a peaceful place that allows you to not stress out about itineraries or to-do lists; The Inn at the Lake is, arguably, a little piece of heaven in Lake City.
Pleasant View Resort – cabin cottages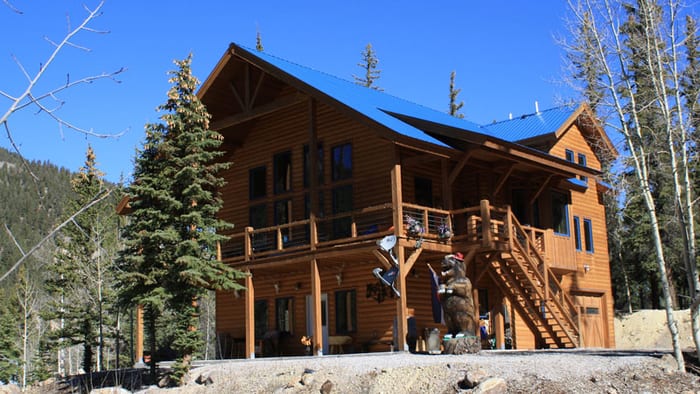 Enjoy a family atmosphere at the Pleasant View Resort. This is a property that focuses on community building and retreats.
Since it's quite big, you can enjoy a lot of wide open spaces as well as a variety of cabins. If you plan to make an annual trip tradition with your family and friends, each cabin is customized based on size and location. They have the "Pleasant View Cabins," "Aspen Grove Cabins," "Silver Dream," and "Anna's Piece of Paradise."
The Pleasant View Cabins are a row of neighbor cabins that are fully equipped for long-term and family stay. You'll have an ample living area with a couch, chair, and TV. It has multiple bedrooms, and a complete kitchen (perfect for home-cooking and food storage). Outside, there's a beautiful porch with a glider, charcoal grills, picnic tables, and community fire pits.
Aspen Grove Cabins have a single bed and a two-bedroom option. Both of these cabins are located behind the Pleasant View Resort groups so it's a little isolated, giving you more privacy. Children under the age of 3 are free to stay.
Silver Dream Cabin is named after its location, Silver Street, just a couple of blocks away from the historic downtown. If you want to have close proximity to the shopping district, and the walking trails, while still enjoying that cabin ambiance, this is a perfect choice. No pets are allowed, however.
The last cabin is interestingly named Anna's Piece of Paradise. This gorgeous cabin mansion is seated right in front of Lake San Cristobal. You'll enjoy lots of privacy, as well as spectacular views of the landscape and wildlife. There are four bedrooms, two full bathrooms, the main floor where the kitchen, fireplace, and living area are located, then a second floor for the master bedroom and the loft.
The property also rents out jeeps and RVs if you want to explore the surrounding land in the resort.
Alpine Village – cabin life in heart of city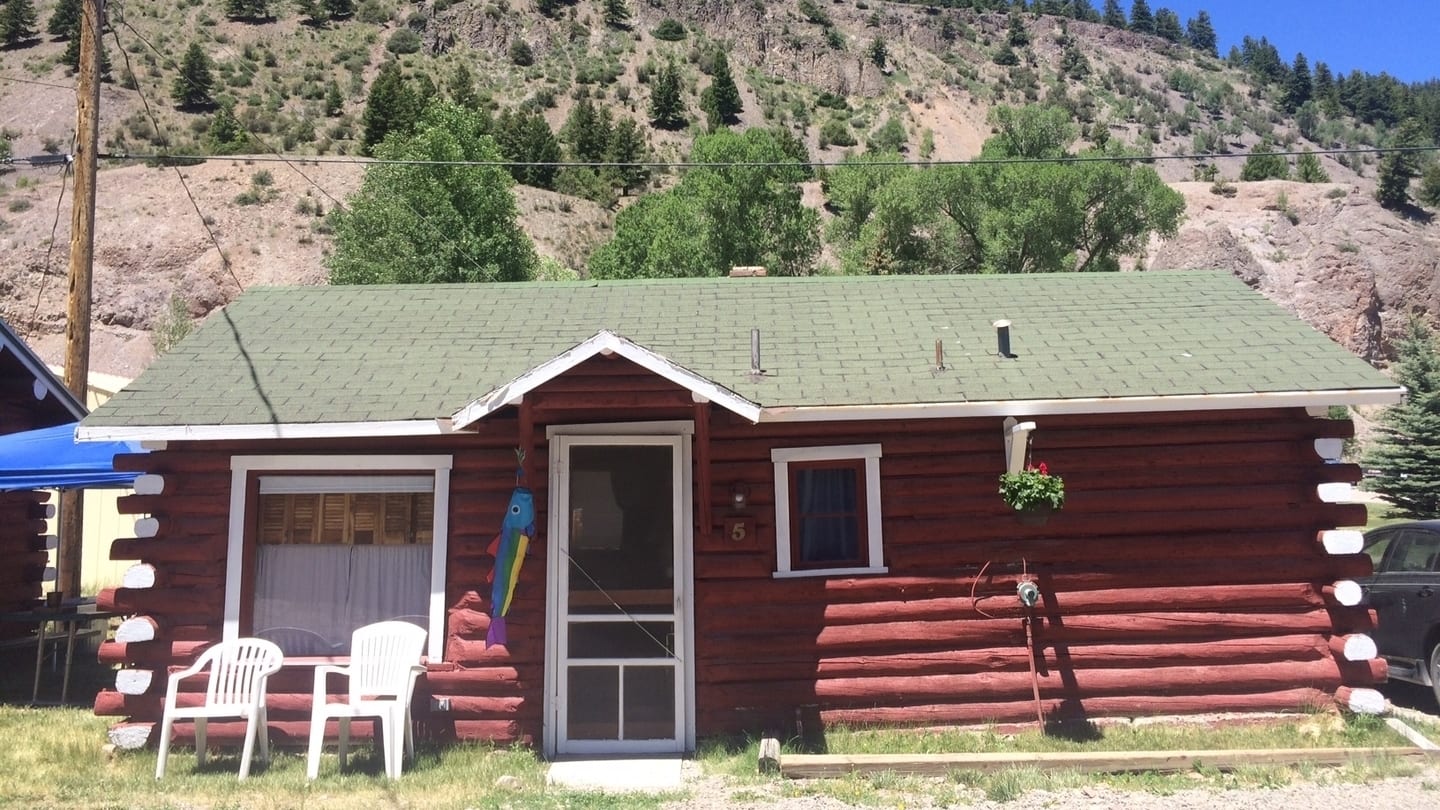 Alpine Village is a down-to-earth accommodation that sits at the center of Lake City. This family-owned business is beloved by locals and tourists because of the warm hospitality you get when you arrive. It's the perfect balance of zoning out of the city life and getting in touch with nature, and having that access to town.
The entire Alpine Village is surrounded by National Forests and the mountainside of the San Juan Mountains. When you arrive, you'll be welcomed by onsite managers Philip and Jennifer. They make the entire check-in/check-out process a breeze.
The cabins are pretty straightforward. They have eleven cabins in total. There may be minor design changes in each room, but most of them can accommodate from one to five people.
These fully-equipped cabins come with a heater, hangers, hot water, WiFi, Cable TV, bathroom (with walk-in shower), two beds, and a full kitchen.
There are a lot of walking paths and bicycle routes you can enjoy during your stay. To elevate the cabin experience, you can build a campfire at night. In the morning, you can rent out jeeps, go fishing, or do light hiking!
Plan your great outdoor exploration in Lake City today, with a stay at one of these fine hotels. You're sure to sleep well in the middle of the Rocky Mountains.