[Best Western Plus in Castle Rock.] Explore the town that houses the iconic castle-shaped rock. Located in central Colorado, between Denver and Colorado Springs, Castle Rock makes an amazing getaway over the weekend. It's easily accessible via Interstate 25, so it's full of modern hotels to accommodate.
Castle Rock lies just outside the Denver Metro bubble, so rest assured you are truly escaping the hustle and bustle. It has a small town feel, with all the commercialization you need, yet nature at your fingertips. If you're stuck on whether to adventure in Denver or Colorado Springs, stay in Castle Rock and do both!
Probably Castle Rock's Top Hotel Accommodations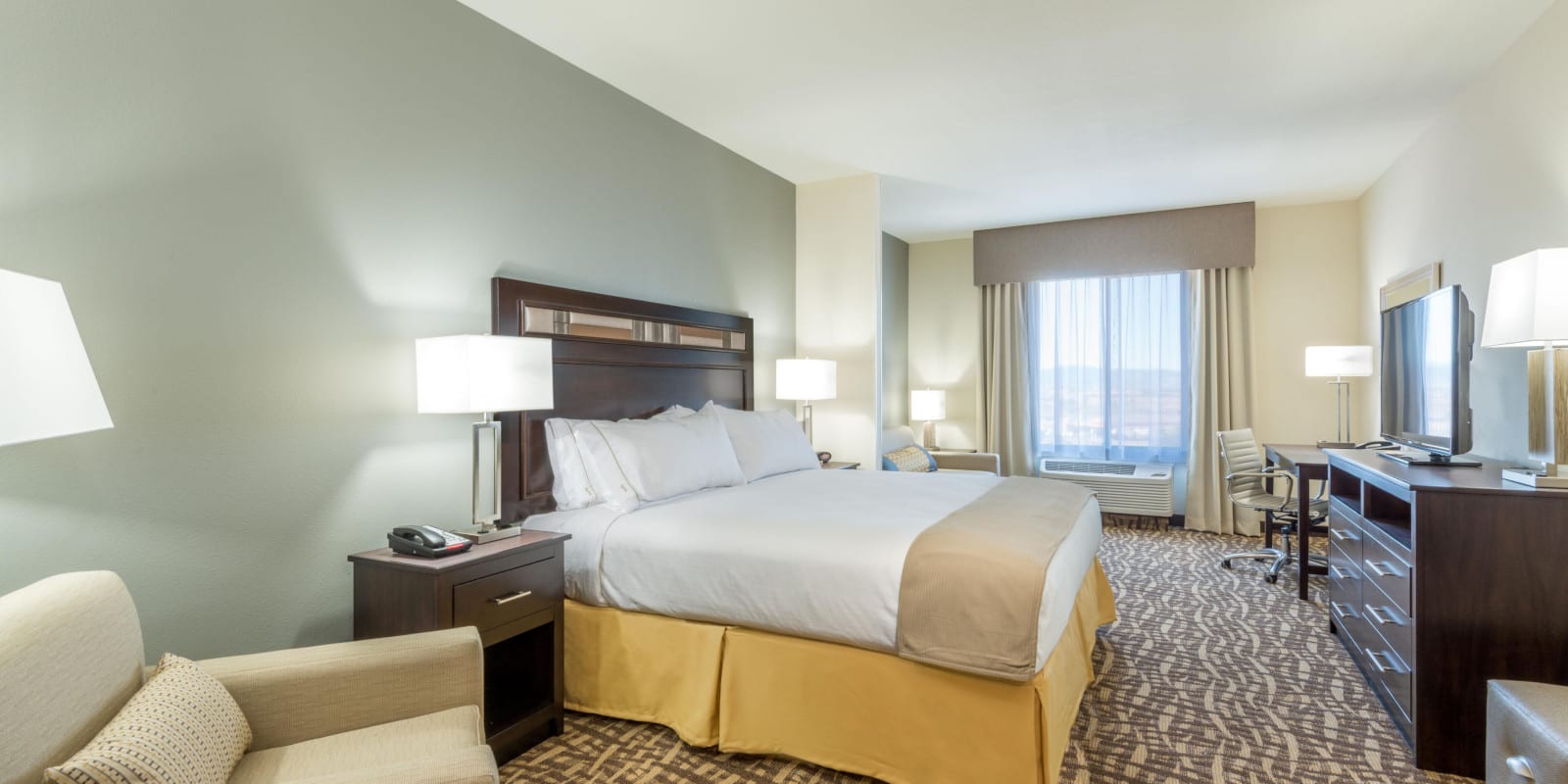 The town has many natural wonders like the Castlewood Canyon State Park. This tourist attraction is lined with tremendous biking, hiking, and long stretching views. For further sightseeing, you can also check out the Foothills Life Zone where you can see hillsides masked with lush greeneries and pinewoods.
Because the local forestry is abundant in the area, the wildlife is also rich. You can see animals like the American badger, bobcats, the Colorado chipmunk, gray fox, mountain lions, and mule deer.
Castle Rock is considered to be an "affluent home rule municipality" in Douglas County, so it's not too shabby. In town, you can enjoy shopping at the Outlets, great golf, or sit back and relax as you slumber in any of these amazing vacation hotels and inns!
This section contains referral links. If you click through and take action, we may receive a commission, at no additional cost to you. 
Here are our choices for the top hotels in Castle Rock, CO, in no particular order:
Comfort Suites – a home away from home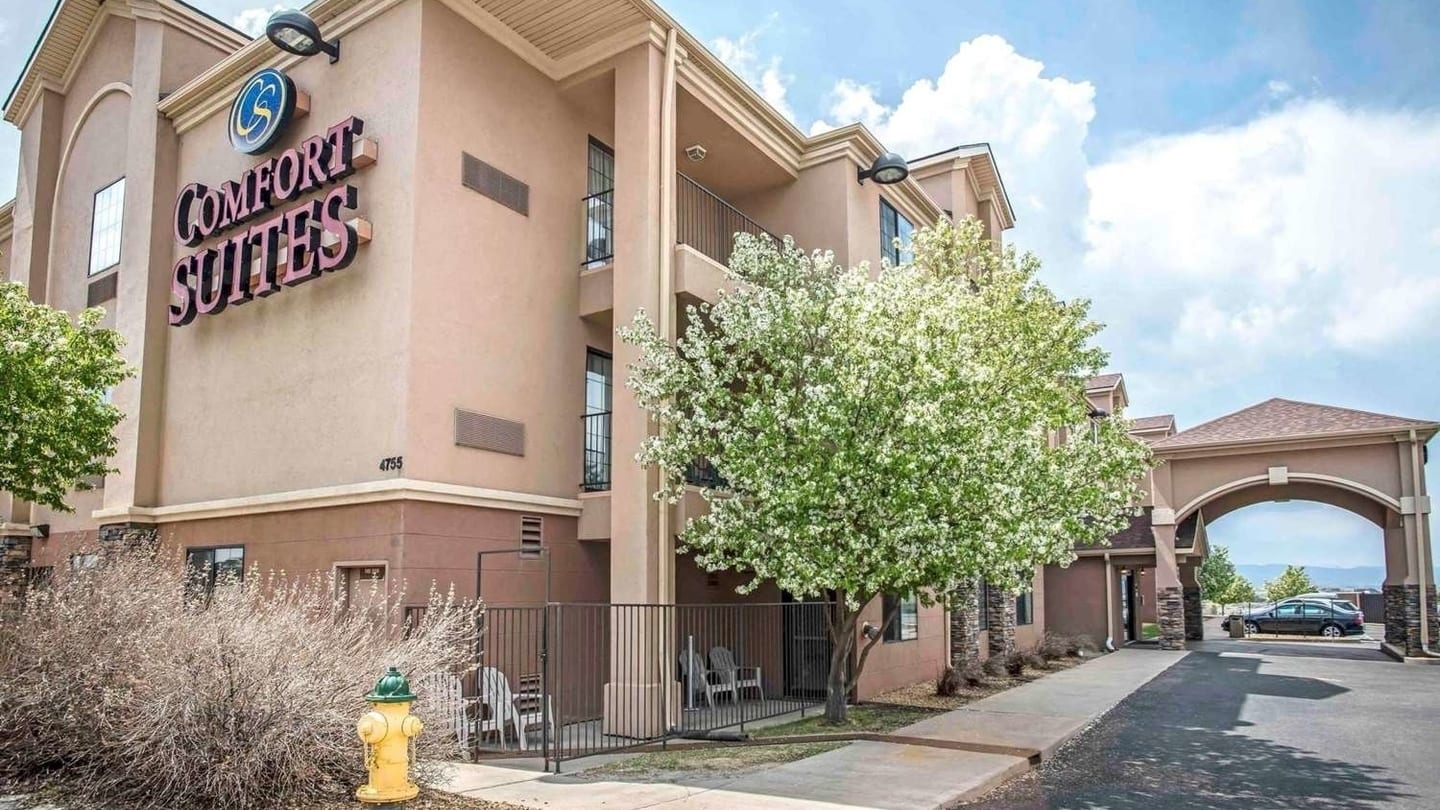 There are many yearly events in Castle Rock, including the Castle Rock Winefest every July, and the Colorado Artfest held every weekend after Labor Day. If you're in town for these activities, or you're here to check out the vibrant shopping center and local gems, it's great to stay at Comfort Suites Castle Rock.
The hotel is comfortably located near the outlets and other attractions like the Cherokee Ranch & Castle, Colorado Horse Park, or the Douglas County Fairgrounds. You can shower, take a nap, and enjoy Castle Rock's finest within minutes. It's just like living in a more comfortable "dorm" as you stay in town.
Whether you are traveling alone or with family, Comfort Suites rooms are quite generous in space. Most of the rooms have a sitting sofa, mini kitchen with microwave and refrigerator, premium bedding, and TV. It's not the flashiest, slickest interior design, but as the hotel name implies, it's actually very comfortable.
The hotel also has this casual atmosphere that will make you feel like the hotel staff are just one of your old buddies. Of course, still with a sense of hotel hospitality and professionalism. These are the type of people you want if you're planning to have a fun and memorable getaway.
Holiday Inn Express & Suites Denver South Castle Rock – bright and modern amenities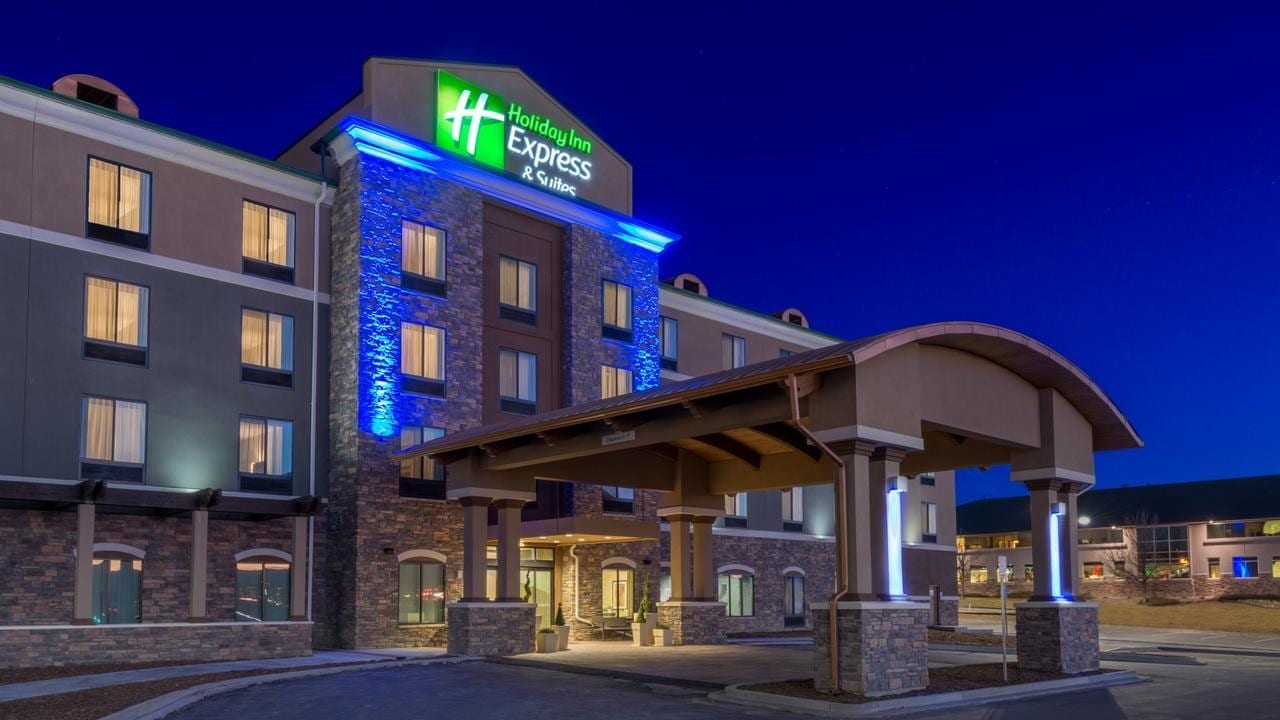 If you're looking for a more sophisticated stay with amenities that are for everyone in the family, check out the Holiday Inn Express in Castle Rock. For the past years, this Holiday Inn branch has been rated as the top accommodation in town. And there are several good reasons why they always are the pick for casual and business travelers.
First of all, the Holiday Inn has a more modern interior. From the lobby to the common areas to your own suite, the design is a mix of corporate America with classy upscale suburban touch. There's a cleaning service as well as various business amenities.
If you also just want to stay in and enjoy the views from your room, you can check out the indoor amenities at Holiday Inn which include a swimming pool with beach chairs and lounges, a fitness center, a heated pool, and a hot tub/jacuzzi.
For outdoor activities, there are various off-site locations where you can do cycling, horseback riding, hiking, fishing, and even golf. Just ask the front desk about their partner facilities and recommendations.
As if their impeccable service, and amazing suites and amenities, are not enough, every stay here at Holiday Inn is topped off with an amazing breakfast.
Best Western Plus Castle Rock – spacious, family-friendly rooms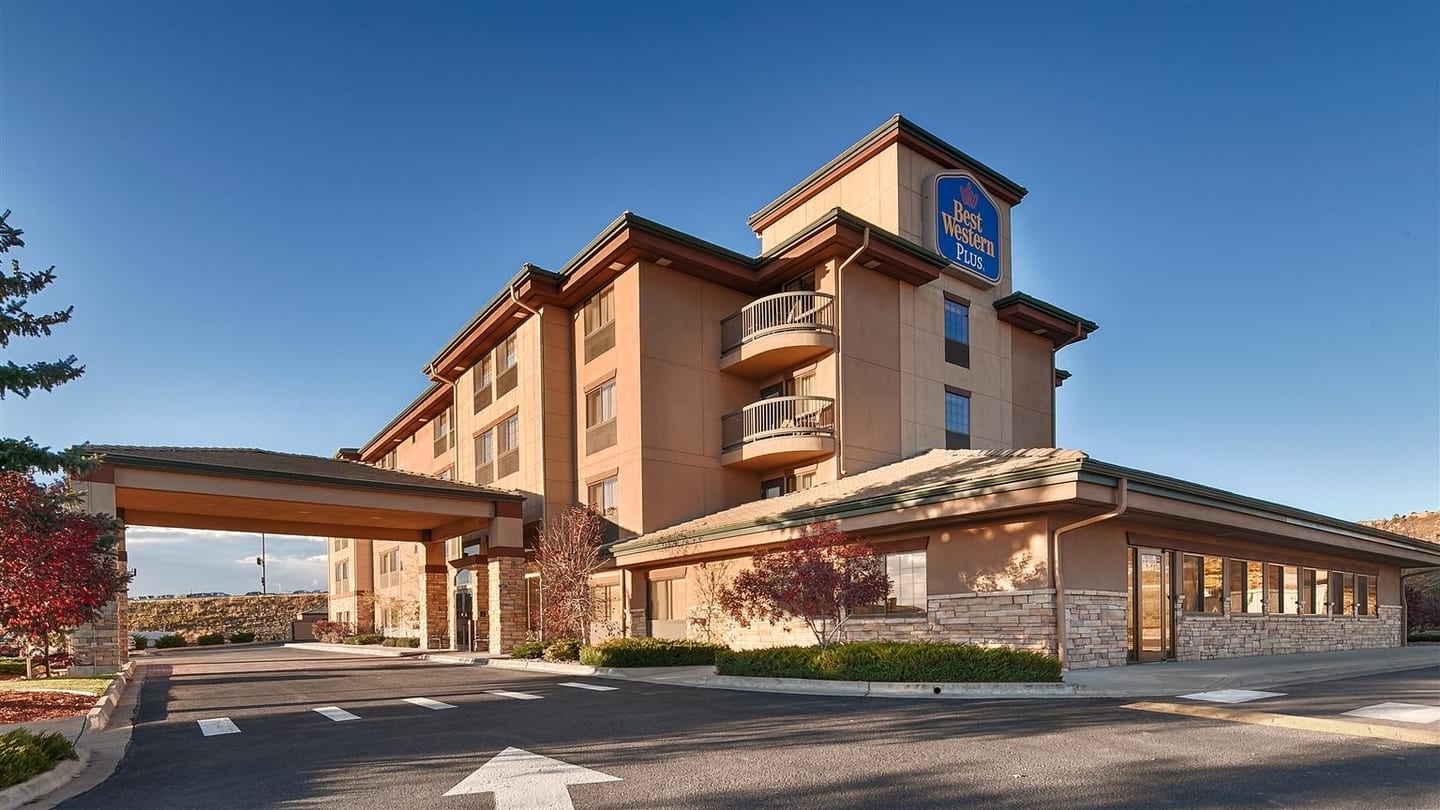 Best Western Plus may have that old motel vibe from the outside, but it's packed with amazing features and amenities that will make you enjoy your Castle Rock escapade.
Inside, you will be welcomed with this country home feel that features that classic brick wall encompassing a fireplace. The common area seating is so comfortable you can just sit here, lay back, and relax. Business travelers have a small, but comfy computer lounge where you can print, use a computer, and fax documents. The place is so cozy that you feel like this was just an extension of your home office.
The beds are one of the highlights here at Best Western Plus. Massive and comfy queen beds are placed in a spacious room. For suites, you can also enjoy private alone time in the room's sitting area. For groups and families, you can choose a bigger suite that has a kitchenette. The rooms and suites have been highly rated on multiple review platforms for their cleanliness and design. You can also have flawless views of outdoor Colorado from your room.
Aside from the suites and the home country aura, Best Western Plus has been known for two more features: great breakfast and an enjoyable swimming pool.
Hampton Inn Castle Rock – accessible and pleasant town location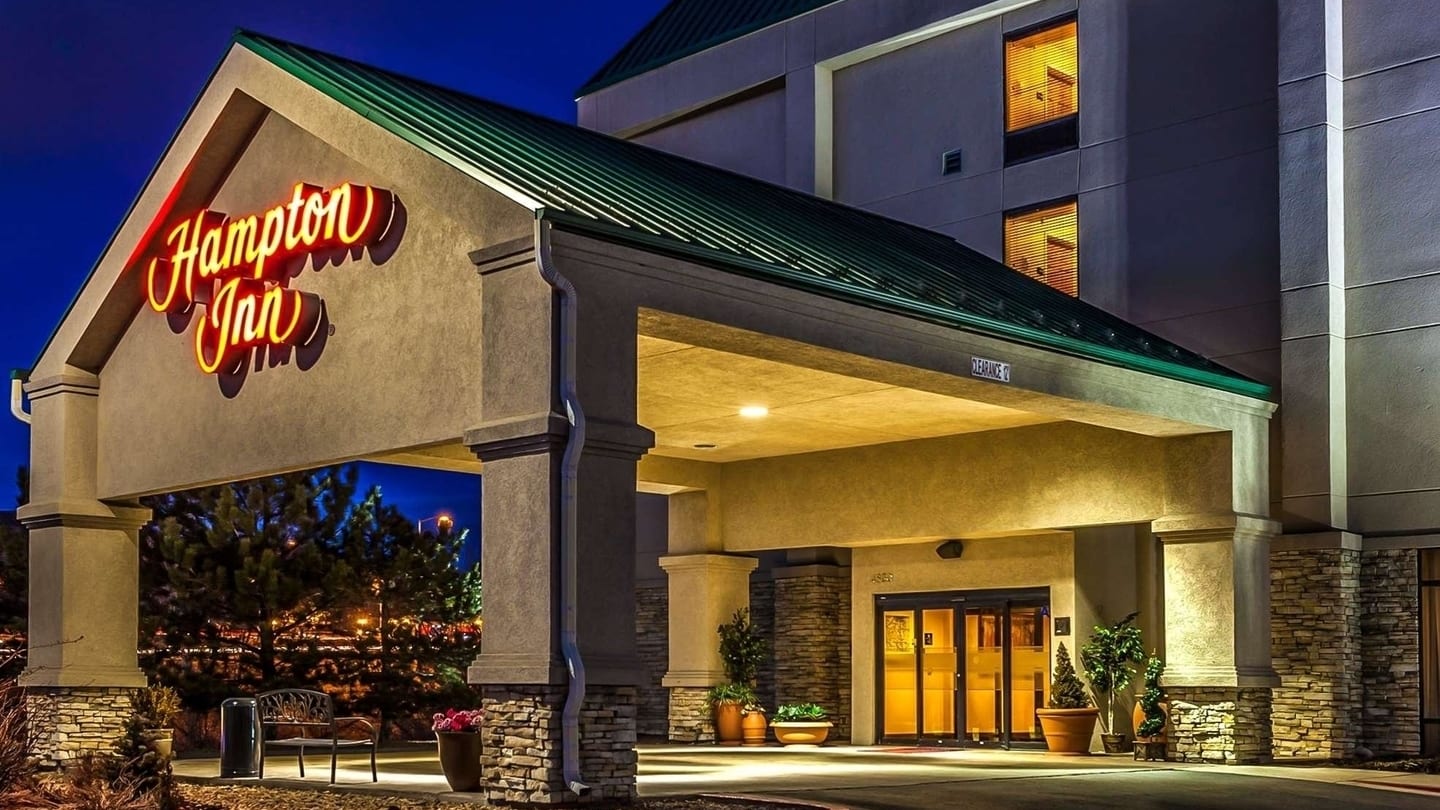 Enjoy the natural wonders of Castle Rock while exploring the vibrant community of the town. Hampton Inn is located at the center of everything, accessible through I-25, where you can go and dine in Castle Rock's top restaurants within minutes.
The accommodation at Hampton Inn is highly rated by previous guests who noted the suites are quite comfortable and spacious. The interiors are simple, with neutral tones, but this won't distract you from the entire experience. If you have a full Castle Rock itinerary, you would certainly like the fact that it's close to the major attractions of the town.
Whether it's dining, shopping, outdoor activities, or a flight back to Denver Airport, Hampton Inn's prime location is any traveler's luxury.
The location has a free hot breakfast, certified Hampton bed®, fitness center, pool, and ample parking spaces.
Hampton Inn also has handy extra amenities that will make your stay more smooth-flowing. They have baggage storage, coin laundry, digital key, and rollaway beds.
Plus, there's the high quality of service. Hampton has been in the hospitality business for decades now. No wonder the guests always feel like VIPs whenever they stay in any of their branches.
La Quinta Inn & Suites Castle Rock – Long-term Stay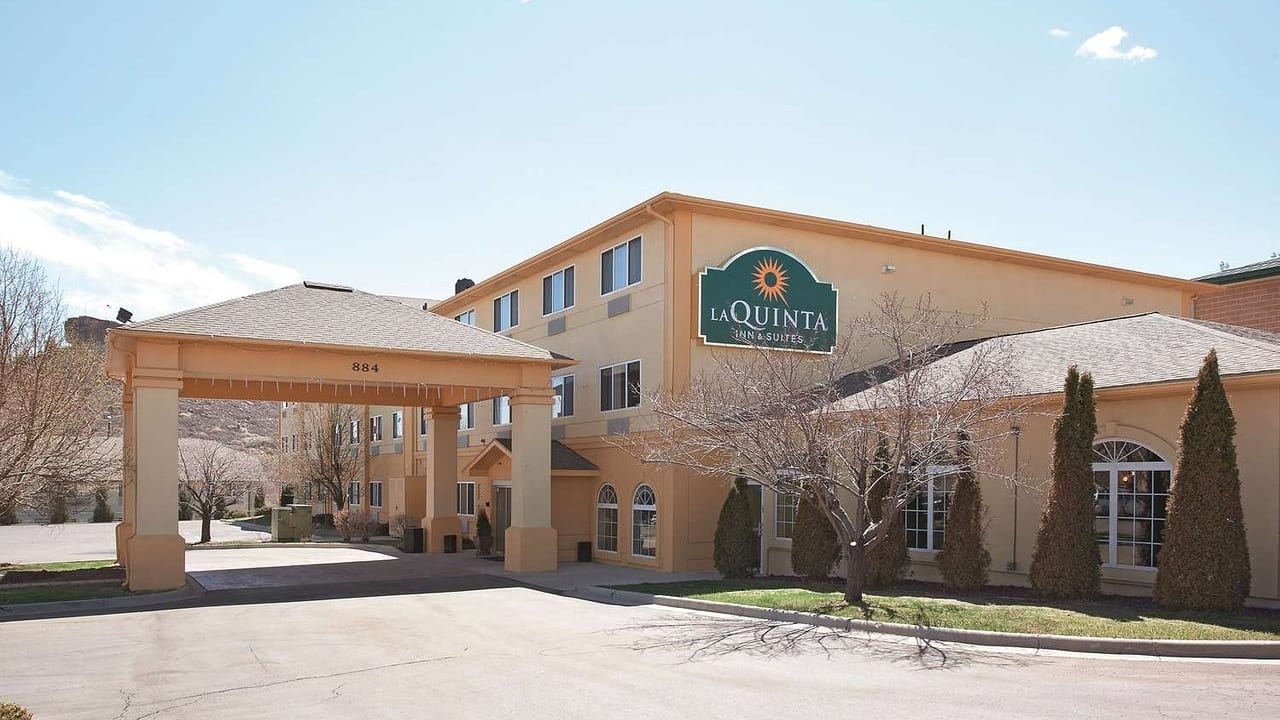 Castle Rock is a smaller town sandwiched between two other tourist spots. Nonetheless, the town is still filled with tourists and travelers every year. You can even stay here if you're planning a longer exploration around Castle Rock.
For backpackers, solo travelers, and small groups, La Quinta Inn & Suites has become a go-to accommodation. Aside from the competitive pricing, the hotel is filled with complete amenities to replace your household needs while you're away. Whether it's for your business needs (internet, fax, printing, business center, meeting rooms) or for leisure (kitchenette, luxurious bedding, pool, housekeeping, and concierge service), La Quinta has the features you need.
The hotel is actually quite big. Featuring 63 smoke-free rooms, it's the perfect choice for all types of guests. If you're also visiting Castle Rock during the winter season, make sure to book ahead of time because the hotel is more or less fully-booked by then. For other seasons, you can enjoy Castle Rock's 120 outlets located near La Quinta and take a hiking trip at the Castle Rock Formation.
Castle Rock is an adventure-filled town. Enjoy the Front Range climbing trips or walk alongside East Plum Creek. Thanks for checking out our list of top Castle Rock hotels!