Tucked away between Kremmling and Granby along Highway 40, Hot Sulphur Springs is home to one of the country's oldest natural mineral springs. This Grand County town boasts several top hotels and accommodations.
Although considered a sleepy mountain community of around 900 people, Hot Sulphur Springs has plenty to do given its idyllic location alongside the Colorado River. While it's smaller in population than neighbors Kremmling and Granby, it happens to be the county seat. For anyone looking for a Rocky Mountain getaway focused on R&R and the great outdoors, Hot Sulphur Springs might be exactly what you're looking for.
This section contains referral links. If you click through and take action, we may receive a commission, at no additional cost to you. 
Here are our choices for the best hotels in Hot Sulphur Springs, CO, in no particular order:
Canyon Motel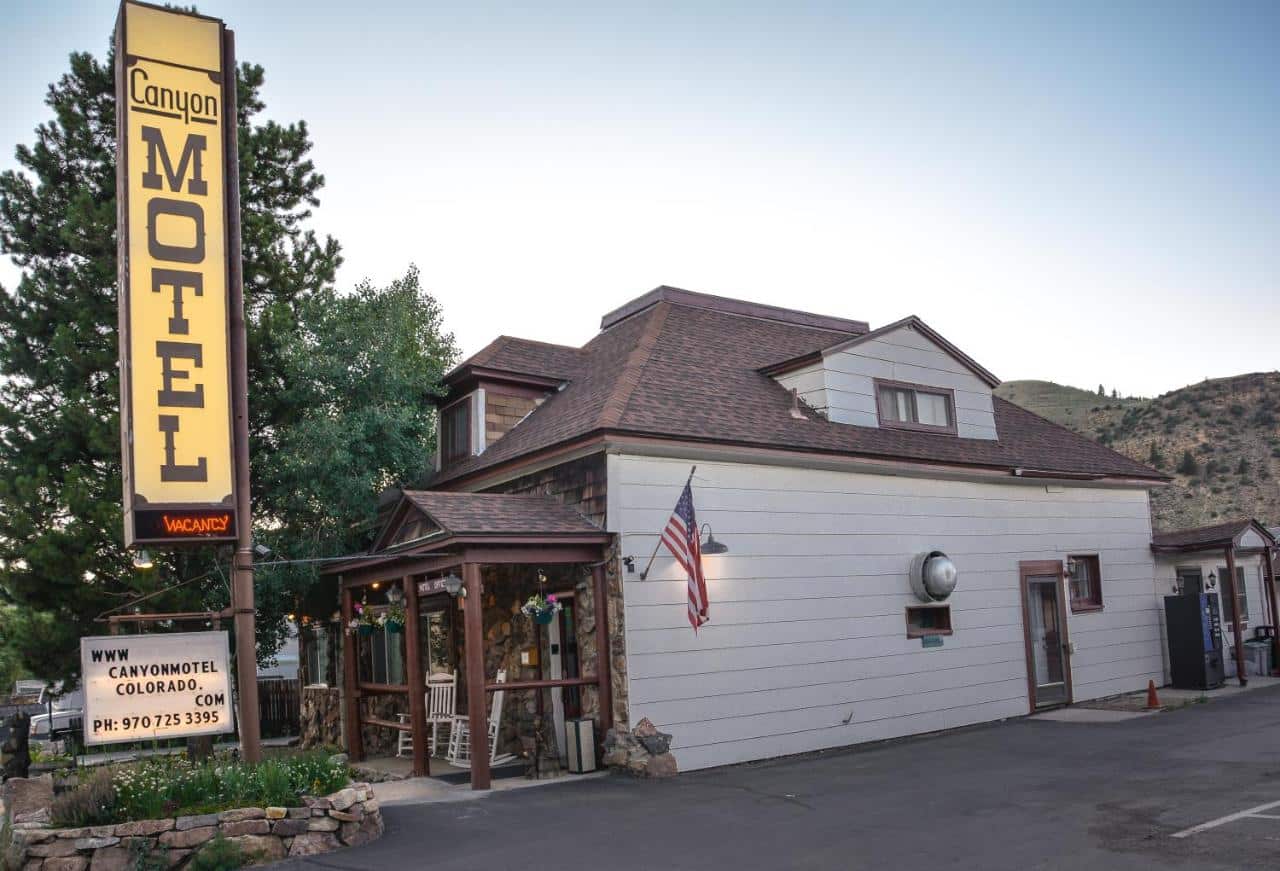 The Canyon Motel is a modest mountain lodge surrounded by beautiful Colorado vistas. The property has 14 cozy rooms and is conveniently located right in the heart of Hot Sulphur Springs, making exploring the town a breeze. Each room has a private entrance and an outdoor eating space at the motel. There is also a microwave, a small refrigerator, and coffee-making amenities.
WiFi is available all across the property, but many guests love taking the opportunity to unplug while staying in the fresh air and forest environment. Polhamus Park, Grand Meadows Park, and Kaibab Park are just nine miles away, while Grand Lake is about 25 miles away and takes around 30 minutes to get to.
221 Byers Ave, Hot Sulphur Springs, CO 80451 | 970-725-3395
Check prices, availability or book Canyon Motel
Hot Sulphur Springs Resort & Spa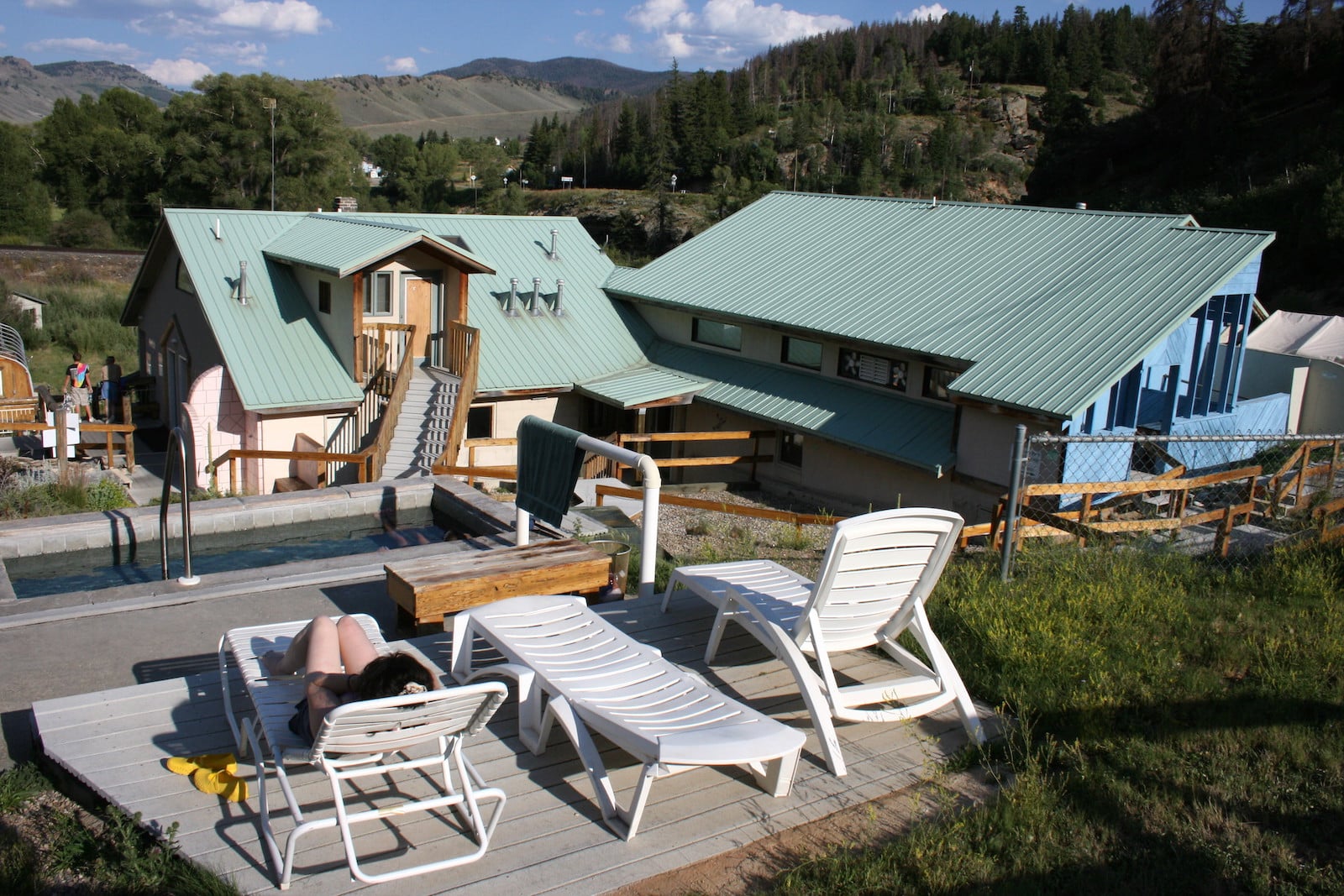 Hot Sulphur Springs Resort & Spa, located in lovely Hot Sulphur Springs, Colorado, specializes in first-class services and historic accommodations. The room options are all fairly standard and essential, offering guests a choice between one and two beds per room. Boasting a small-business or mom-and-pop type of environment, visitors feel welcomed and cozy when spending a few days here in the mountains.
The real reason people come to the resort is for the magical healing springs waters. Spread out over 22 pools of temperatures ranging from 95-112℉, and guests love indulging in the easy access to the geothermal tubs. A larger swimming pool, rehabilitation pool, private soaking baths, a solarium pool, and others are ideal for spending time in to unwind. The pools are open from 8 am to 10 pm.
The resort has more ways than one to help its guests relax. After a morning of relaxing in the hot springs, book a wellness treatment or massage at the on-site spa. The town of Hot Sulphur Springs is also very charming and a great place to explore before enjoying some downtime in the thermal waters and lodge.
Ute Trail Motel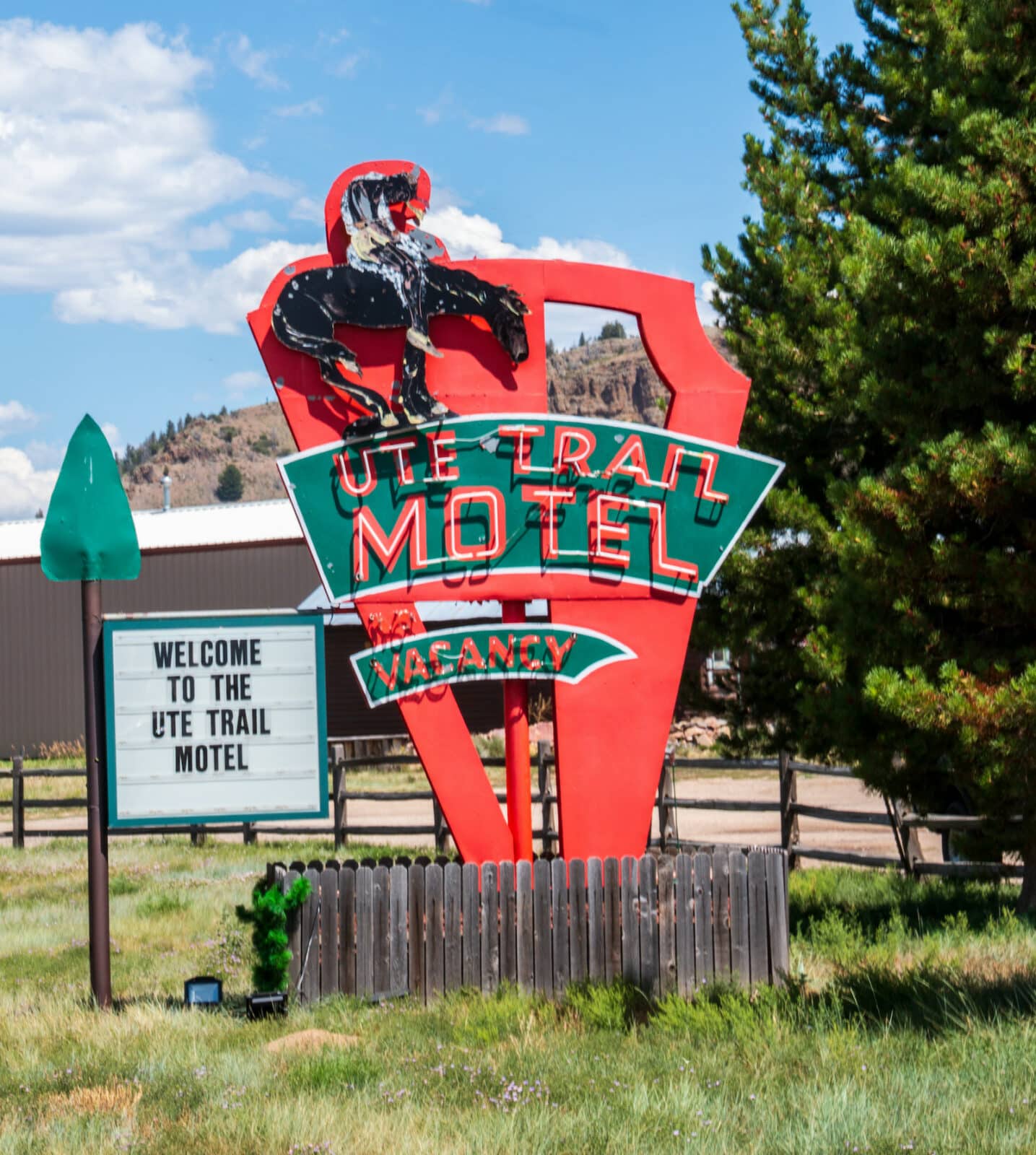 Built-in 1957, this iconic roadside motel has long welcomed visitors to the resort town of Hot Sulphur Springs. The 1950s-style lodge rests along Highway 40 in the heart of town. If you're looking for no-thrills, budget-friendly accommodation that'll bring pleasant memories, the Ute Trail Motel fits the bill.
Motel rooms all have views of the surrounding mountains, along with HBO/cable TV, and basic kitchen supplies, including a coffeemaker, a microwave, and a mini-refridgerator. Some of the guest rooms have larger kitchenettes with additional tools, and some have tables and futons too.
Pets are permitted for a reasonable fee. Remaining true to its vintage ambiance, this single-story property is less than a mile walk from the Hot Sulphur Springs Resort.
120 E. U. S Hwy 40, Hot Sulphur Springs, CO 80451 | 970-725-0123
Check prices, availability or book by calling
That trio of local lodging are our favorite places to stay in Hot Sulphur Springs. Enjoy your visit to this lovely, and one-of-a-kind, Colorado spa town.