Known as America's Switzerland, Ouray, CO draws in visitors with its picturesque landscape, hot springs, waterfalls, and quaint downtown. Centrally located in southwestern Colorado with plenty of hotels to accommodate, Ouray lies in a beautiful canyon at the base of the San Juan Mountains.
The town provides ample opportunity for outdoor fun. Visitors come for Ouray's therapeutic and healing sulfur-free hot springs, some of which can be enjoyed at several local lodging options. Its historic downtown offers plenty of shopping, dining, and art browsing.
Despite its tucked-away location, Ouray boasts a variety of lodging options. Find your home away from home at one of these top hotels in Ouray.
Probably Ouray's Top Places To Stay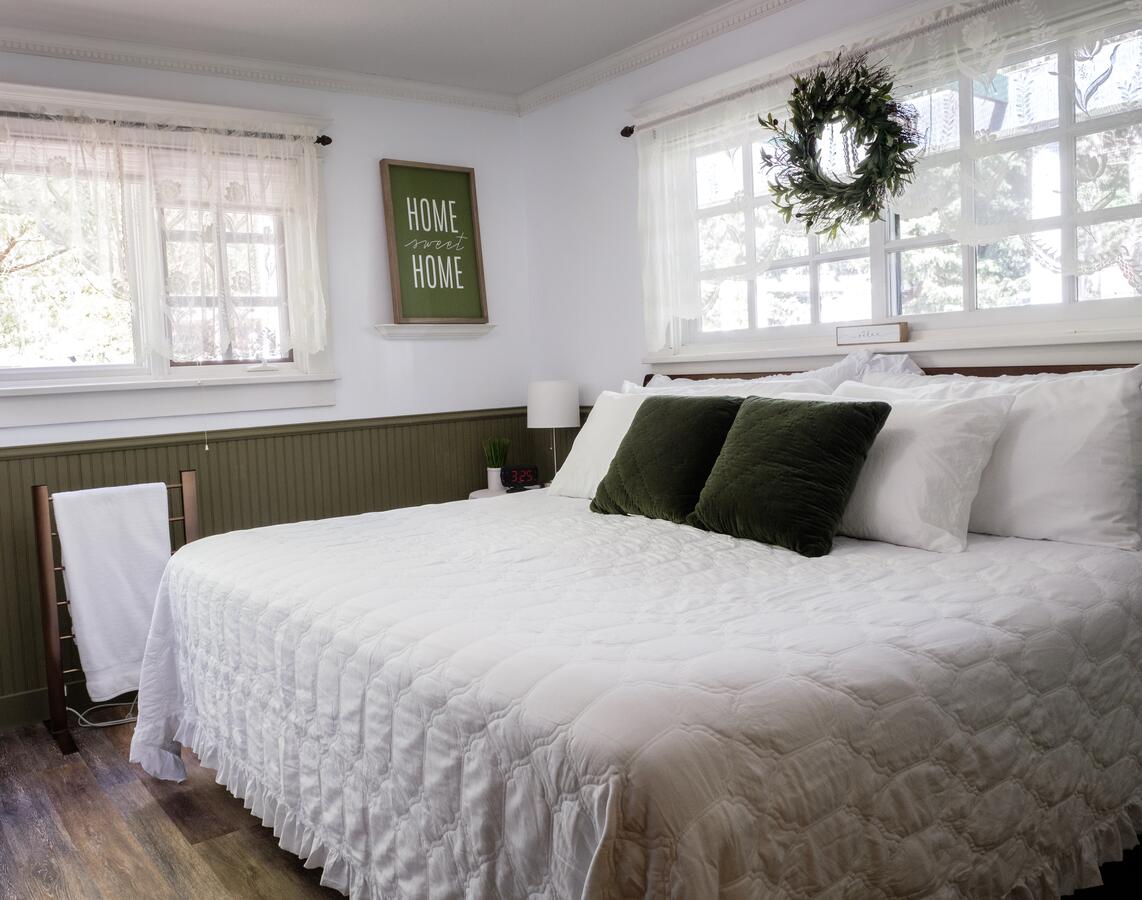 People flock to Ouray County for a variety of reasons, but all of them appreciate the beauty surrounding this box canyon town. One of Ouray's largest attractions is the Ouray Hot Springs Pool, home to a massive swimming pool and a hot soaking pool. There's no lodging on-site, but plenty of space to get out and relax or play.
Thanks to the warming nature of the hot springs, people come year-round to Ouray, even though there's no ski resort. There is an ice climbing park in town though, with an annual festival in January. In addition to the tourist spots in town, the surrounding wilderness offers recreation in both the San Juan and Uncompahgre national forests.
For a memorable experience, rent a Jeep in town and take the 4×4 Alpine Loop. It connects with Silverton and over the continental divide to Lake City, and back. It's a designated national scenic byway that's open throughout the summer. With all these tourists, Ouray has ample accommodations, ranging from historic hotels and luxury vacation rentals to unique hot springs lodgings.
This section contains referral links. If you click through and take action, we may receive a commission, at no additional cost to you. 
Here are our choices for the top hotels in Ouray, CO, in no particular order:
Box Canyon Lodge & Hot Springs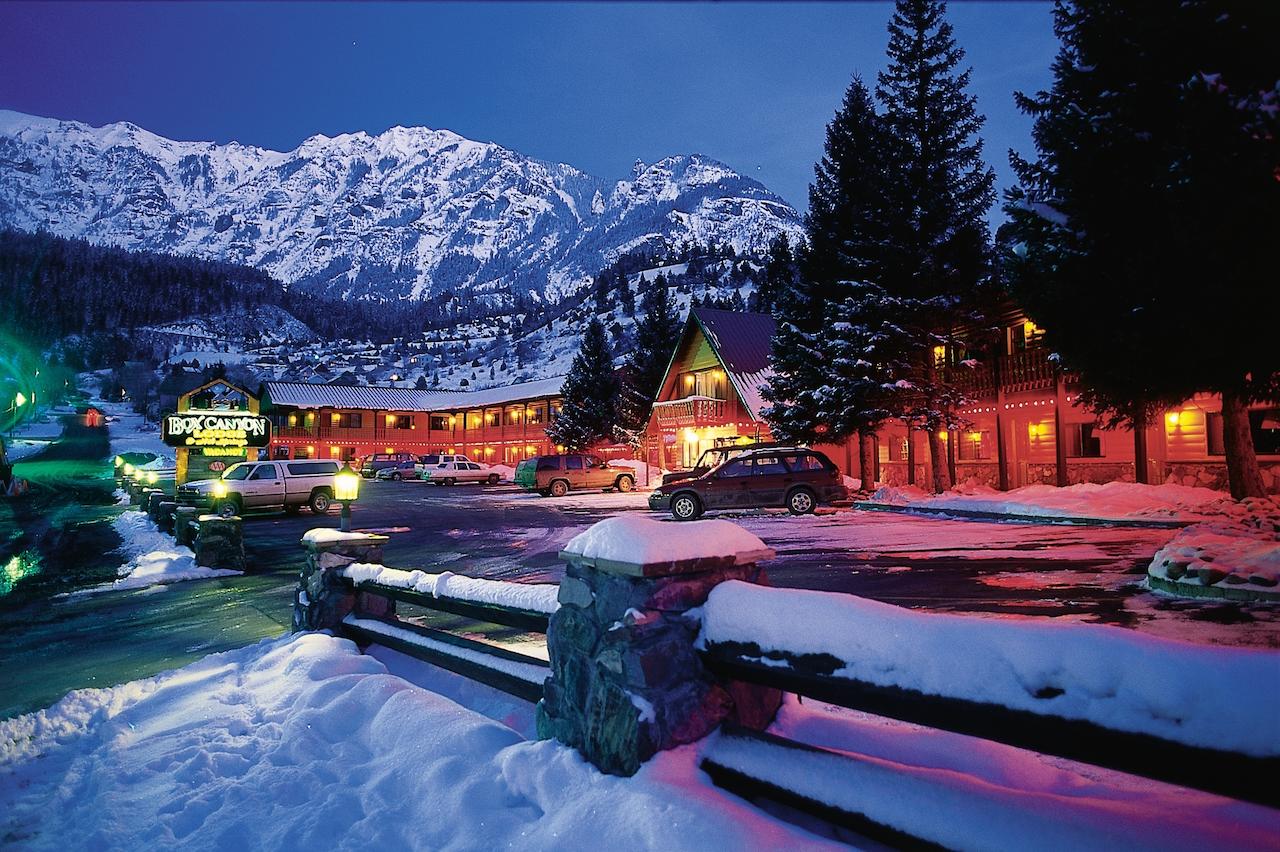 The Box Canyon Lodge & Hot Springs is probably the most popular lodging option in town. Visitors come for its on-site natural hot springs, available to overnight guests only, and unique rooms. Soak up the scenery and health benefits of the many outdoor mineral hot springs tubs terraced on the mountainside behind the lodge – each offering 360-degree views of the surrounding mountains.
Amenities:
On-site hot springs/pools
Outdoor seating area
Concierge service
Mountain views
Guest laundry
Business center
Free Wi-Fi
Guests can choose from standard rooms with queen, king or two queen beds, plus larger options with the honeymoon suite and the larger two-room apartment suite. Each room is equipped with A/C, mini-refrigerator, flat-screen T.V.s, and microwaves. And for the ultimate luxurious vacation, rent their Oak Creek House. Sleeping up to six people, the large home sits above Ouray and the lodge and offers backyard, deck space, and unbelievable views.
Hot Springs Inn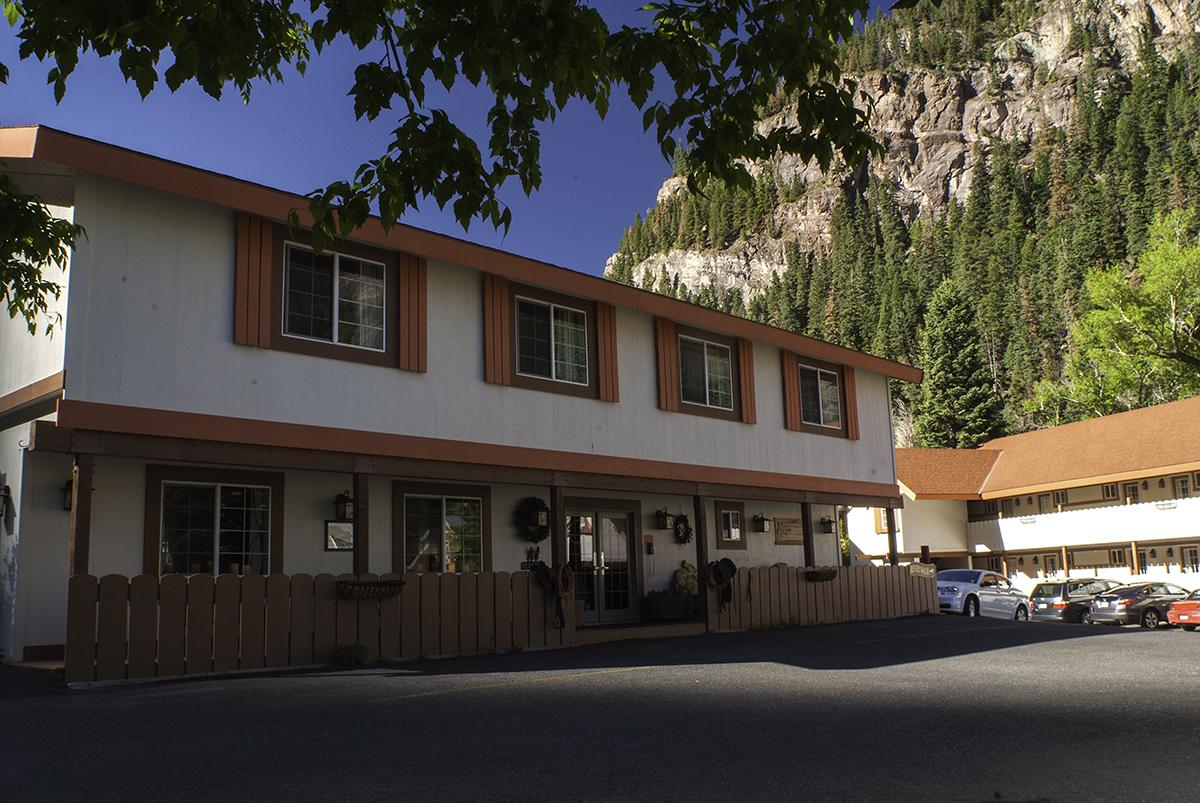 Rustic charm and character meet with today's modern amenities at the Hot Springs Inn. Located along Main Street, the Hot Springs Inn is in the perfect location to enjoy the best of Ouray. Enjoy private balconies that overlook the Uncompahgre River or sip on a glass of wine at their riverside outdoor deck.
Amenities:
Free continental breakfast
Beautiful views
Riverside outdoor deck
On-site laundry
Outdoor hot tubs
Excellent location on Main Street
Free Wi-Fi
Each spacious room offers a private balcony that overlooks the river, two luxurious King-size beds, a mini-refrigerator, microwave, A/C, and more. Despite the name, there are no hot springs pools on-site, just close by.
1400 Main St, Ouray, CO 81427 | 970-325-7277
Check prices, availability or book Hot Springs Inn
Black Bear Manor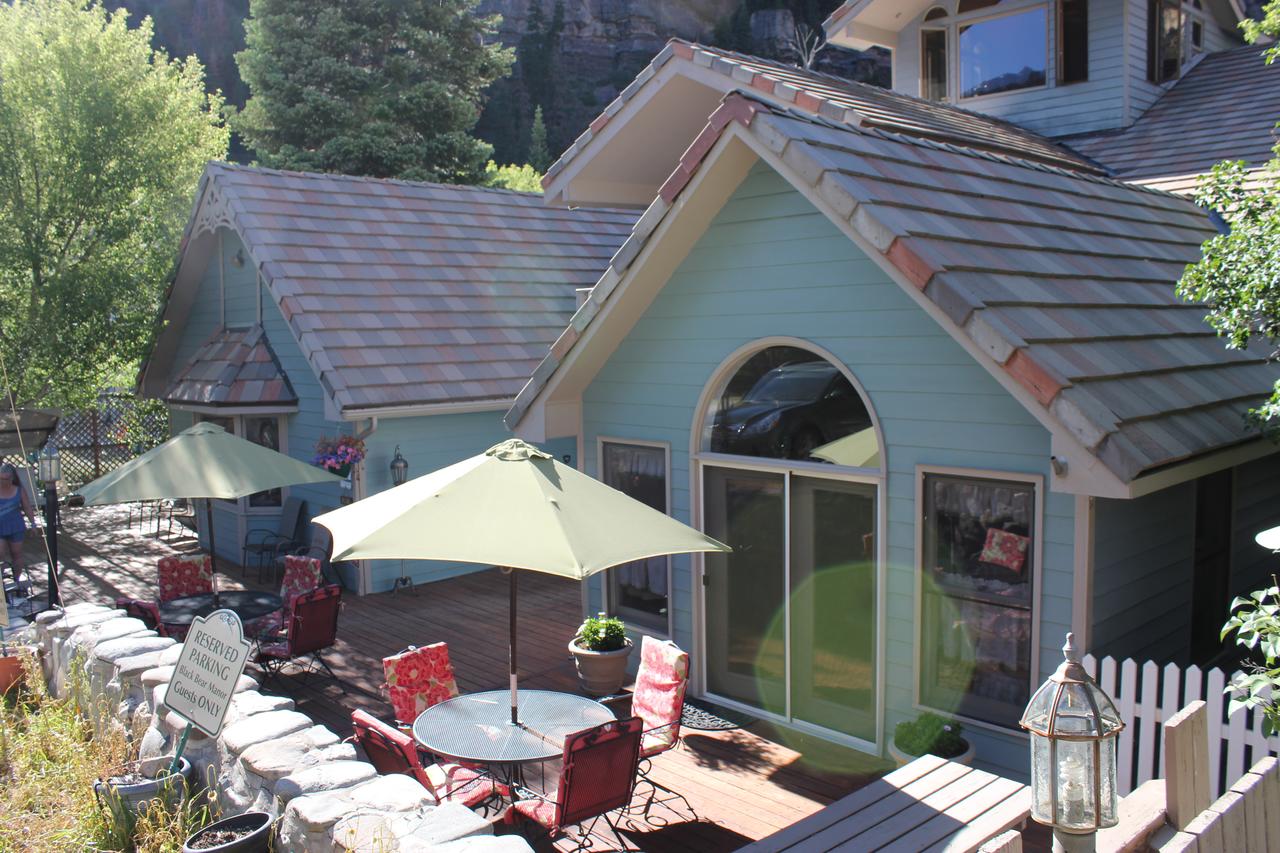 If you are looking for a cozy bed and breakfast in Ouray, Black Bear Manor is a great choice. Located in town, you are just steps away from restaurants, retail shops, and art galleries. Guests will enjoy a daily breakfast feast, relax in their outdoor hot tubs, and enjoy a glass of wine on their third-floor observatory or their downstairs seating area with a fireplace. Either way, there are plenty of ways to relax here.
Amenities:
Daily culinary breakfast
In-town location
Outdoor hot tubs
Complimentary happy hour with live music
On-site observatory with mountain views
Free Wi-Fi
Choose from nine distinctly appointed guest rooms, offering either a Queen-size or King-size bed. Each room is uniquely decorated, equipped with a private bath, and some with a fireplace and mountain or river views. All rooms have access to the outdoor hot tub and other on-site amenities.
118 6th Ave, Ouray, CO 81427 | 970-325-4219
Check prices, availability or book Black Bear Manor
Ouray Chalet Inn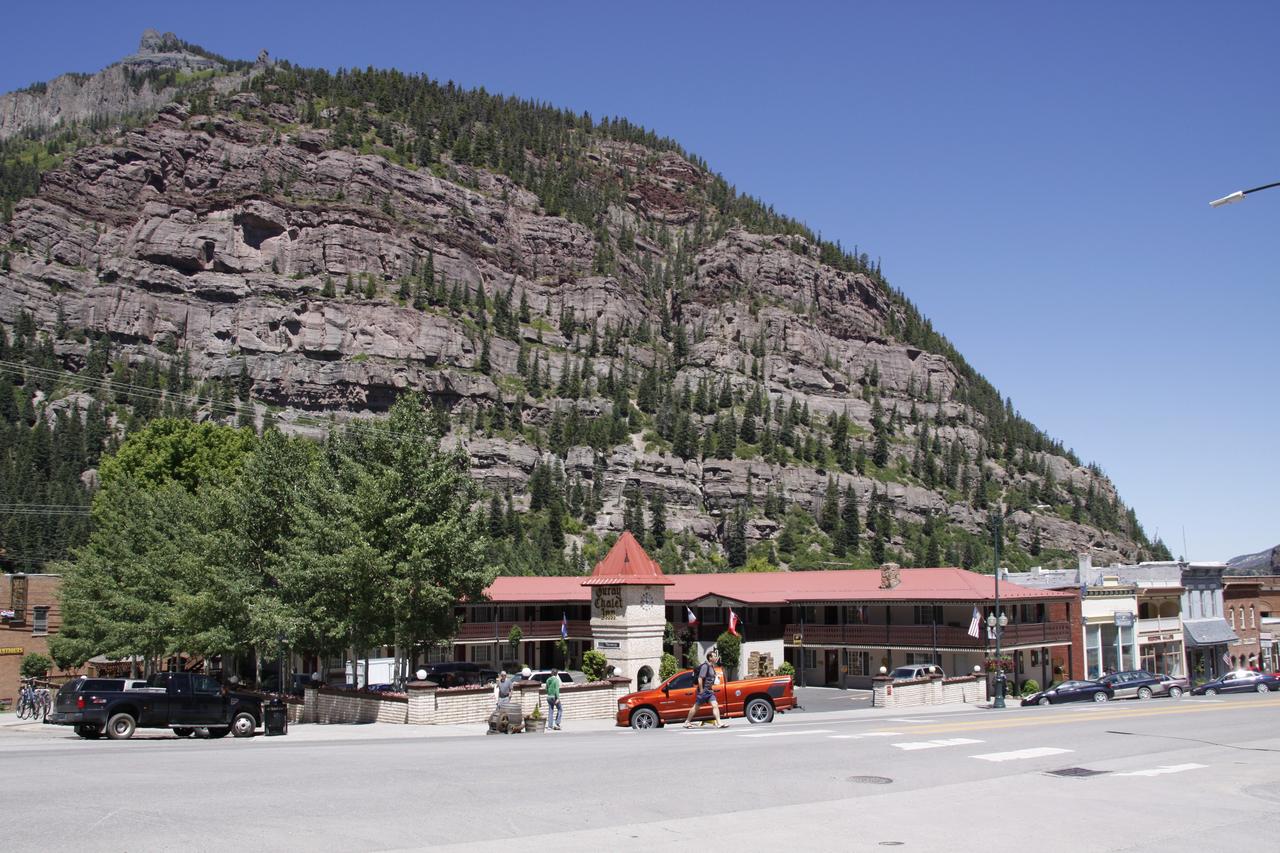 If you are looking to stay on budget, the Ouray Chalet Inn is your best bet. Located directly on Main Street, the Ouray Chalet Inn offers a great location at a great price. The family-owned and operated motel is centrally located, making it walkable to many of the sites in town. Plus, guests will enjoy free on-site parking and convenient grab-n-go breakfast.
Amenities:
Affordable
Downtown location
Grab-n-go breakfast
Free on-site parking
Hot tub
Free Wi-Fi
They offer several spacious and clean guest rooms with options including one King-size bed, one Queen-size bed, or two Queen-size beds. All rooms come with a mini-refrigerator, microwave, coffee and tea maker, A/C, and free Wi-Fi.
510 Main St, Ouray, CO 81427 | 866-337-3585
Check prices, availability or book Ouray Chalet Inn
Hotel Ouray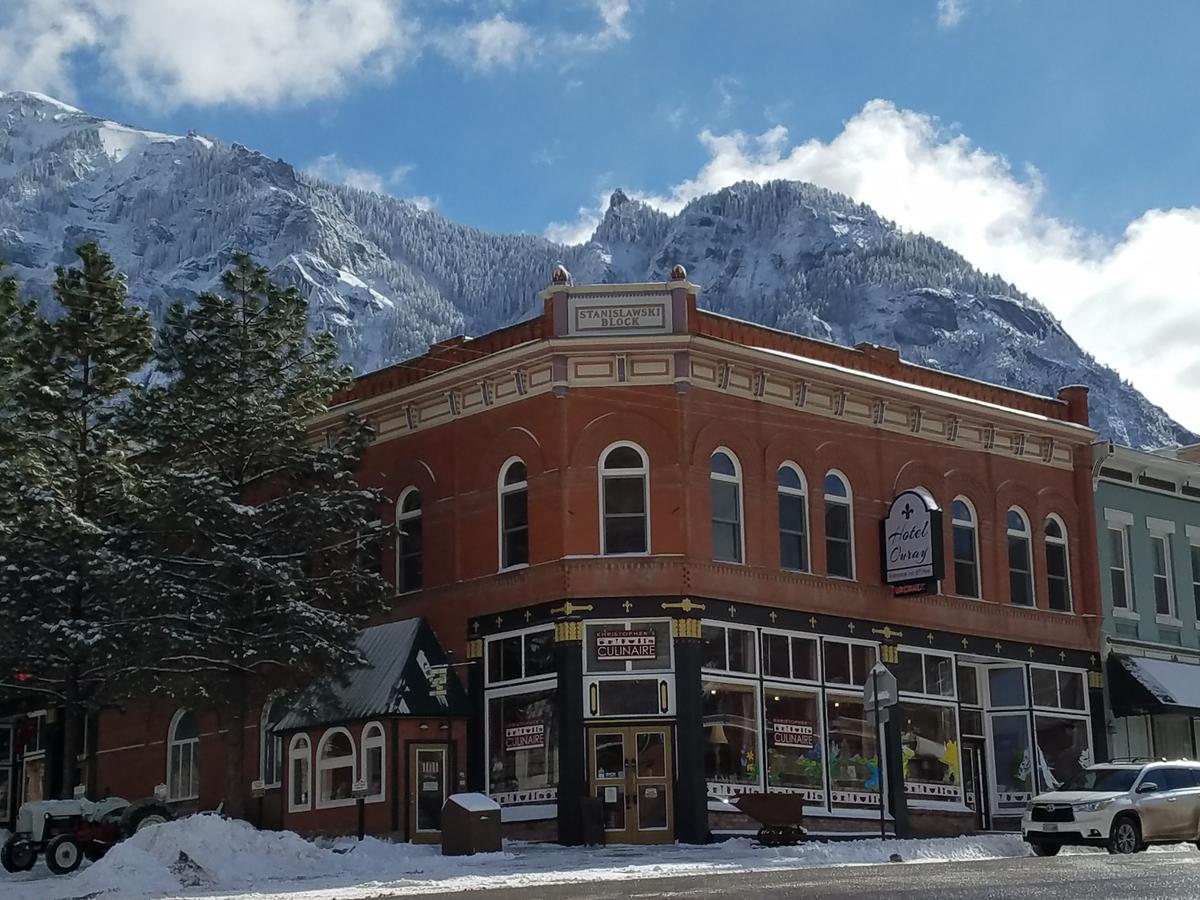 Hotel Ouray has been serving its guests with genuine hospitality and charming rooms since 1893. Discover a little bit of Ouray's history with its historical features and in-room antique furnishings. And to make your stay extra special, be sure to purchase some soaps, lotions, and oil – all handmade in Ouray, from their Powder Room.
Amenities:
Daily breakfast
Historic hotel
Downtown location
Free Wi-Fi
Each of the 14 rooms and suites is distinctly decorated with its own unique décor, beautiful artwork, and antique furnishings. Enjoy in-room amenities such as flat-screen T.V.s, mini-refrigerator, seating areas, large windows with views, and more. All rooms are located on the second floor and are accessed by the grand staircase. Hotel Ouray is only open to overnight guests 12 years and older.
303 6th Ave, Ouray, CO 81427 | 970-325-0500
Check prices, availability or book Hotel Ouray
Beaumont Hotel & Spa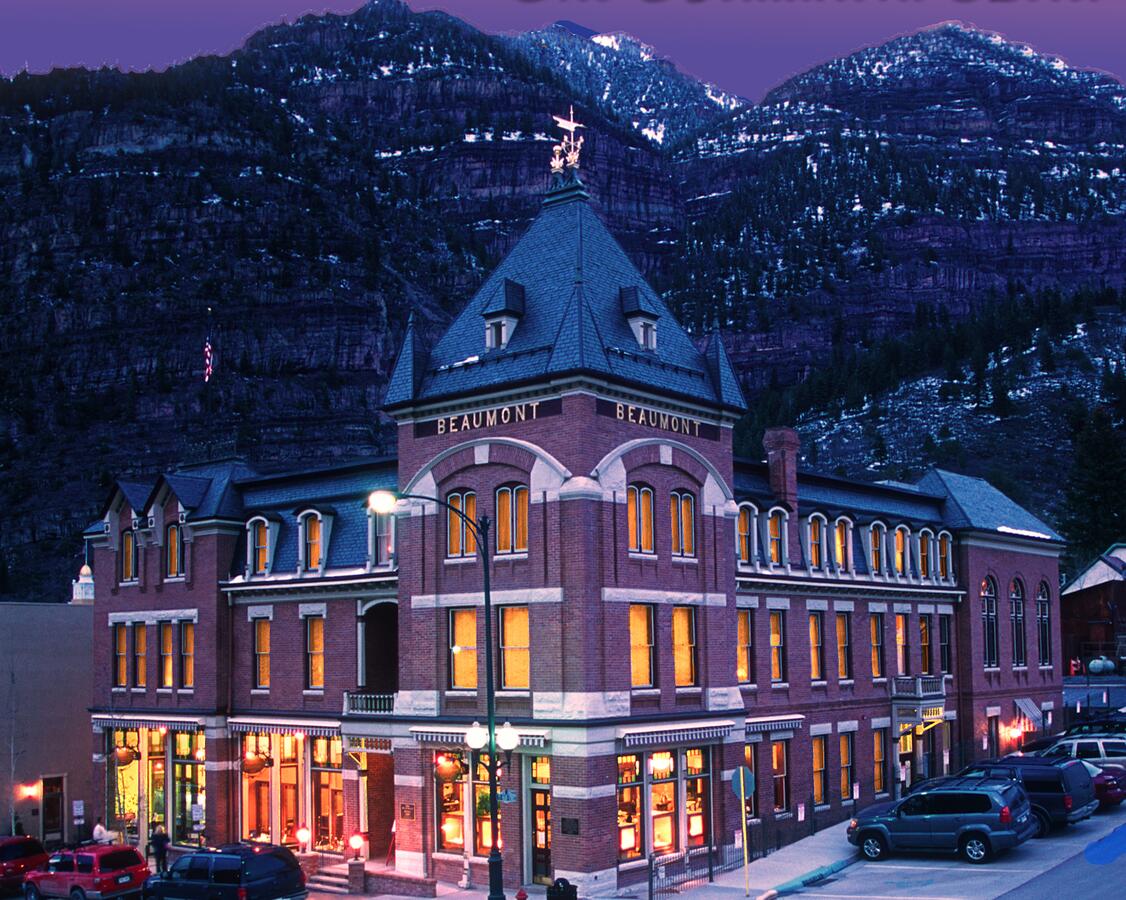 Known as the "Flagship of the San Juans," the historic Beaumont Hotel & Spa is the ultimate choice for a luxurious stay in Ouray. The award-winning hotel offers its guests the life of luxury in every detail, from the stately building to the fanciful on-site spa. Enjoy a relaxing evening or morning in their lush garden courtyard or relax at their on-site spa, with mountaintop views right from your treatment table.
Amenities:
Light grab-n-go breakfast
Concierge
Historic hotel
Off-street heated self-parking lot
Garden courtyard
Access to The Spa at Beaumont
Grand Ballroom and VIP lounge
Free Wi-Fi
Sleep comfortably in one of their 13 elegantly appointed rooms and suites, including a Presidential Suite. Each room features either a queen-size bed or a king-size bed, antique furnishings (some original to the hotel), plus a whole host of modern amenities.
In-room amenities include a Serta mattress, flat-screen T.V.s, spacious work-station, mini-refrigerator, microwave, and more. Plus, guests can enjoy a room with a view of either Cascade Falls, Twin Peaks, or Mount Abrams.
Wiesbaden Hot Springs Spa & Lodgings
If you are looking for a quiet restful hotel with hot springs, the Wiesbaden Hot Springs Spa & Lodgings are in your place. Offering world-class rejuvenation nestled amongst alpine elegance, the Wiesbaden is home to continuously flowing hot springs, perfect for your relaxing getaway.
The property offers three different soaking options: the Vapor Cove (108-degree soaking pool), an outdoor swimming pool at 104 degrees, and the Lorelei – a secluded outdoor soaking pool and waterfall. Plus they offer several massage treatments at their on-site spa if soaking in hot tubs isn't enough for you!
Amenities:
On-site hot springs pools and waterfall
Spa treatments
Historic hotel
Beautiful views
Free Wi-Fi
The Wiesbaden provides a variety of accommodations ranging from smaller rooms and suites to apartment-style accommodations and small houses. The two pet-friendly apartments are located on Main Street, two blocks from the mainstay. The historic house, just up the hill from the main lodge, sleeps up to eight people and offers beautiful mountain views.
China Clipper Inn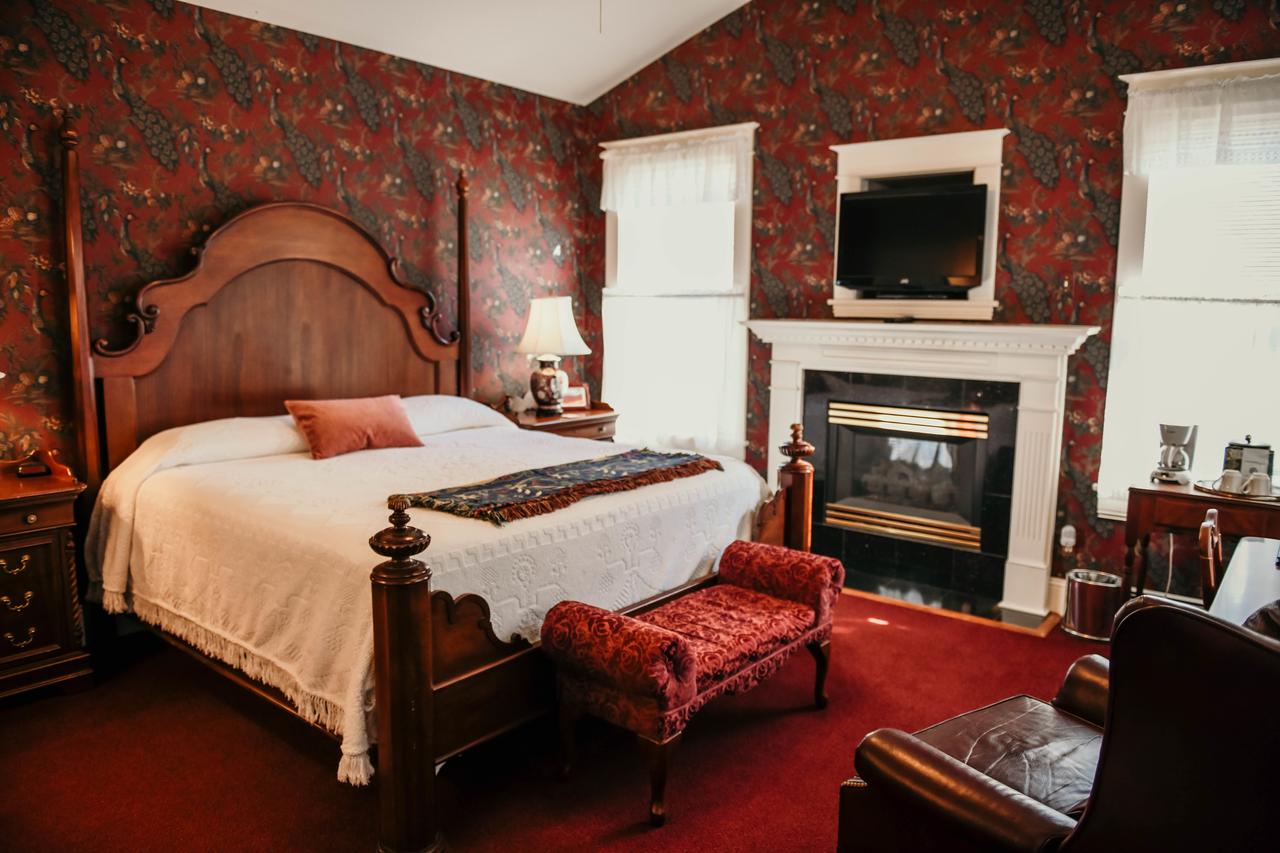 For another bed and breakfast option, choose the China Clipper Inn. Known for its warming hospitality, The China Clipper Inn is a beautifully decorated inn that offers classic details, comfortable surroundings, and charming rooms. Relax and unwind in their garden patio, complete with a hot tub and mountain views.
Amenities:
Made-from-scratch breakfast
Outdoor porch/patio
Mountain views
First and second-floor sitting rooms
Hot tub
Free Wi-Fi
Guests can choose from 12 different stylish rooms and suites, including spacious honeymoon suites. Enjoy in-room amenities such as stately four-poster beds, soft spa robes, private balconies, fireplaces, antique furnishings, and more.
525 2nd St, Ouray, CO 81427 | 970-325-0565
Check prices, availability or book China Clipper Inn
St. Elmo Hotel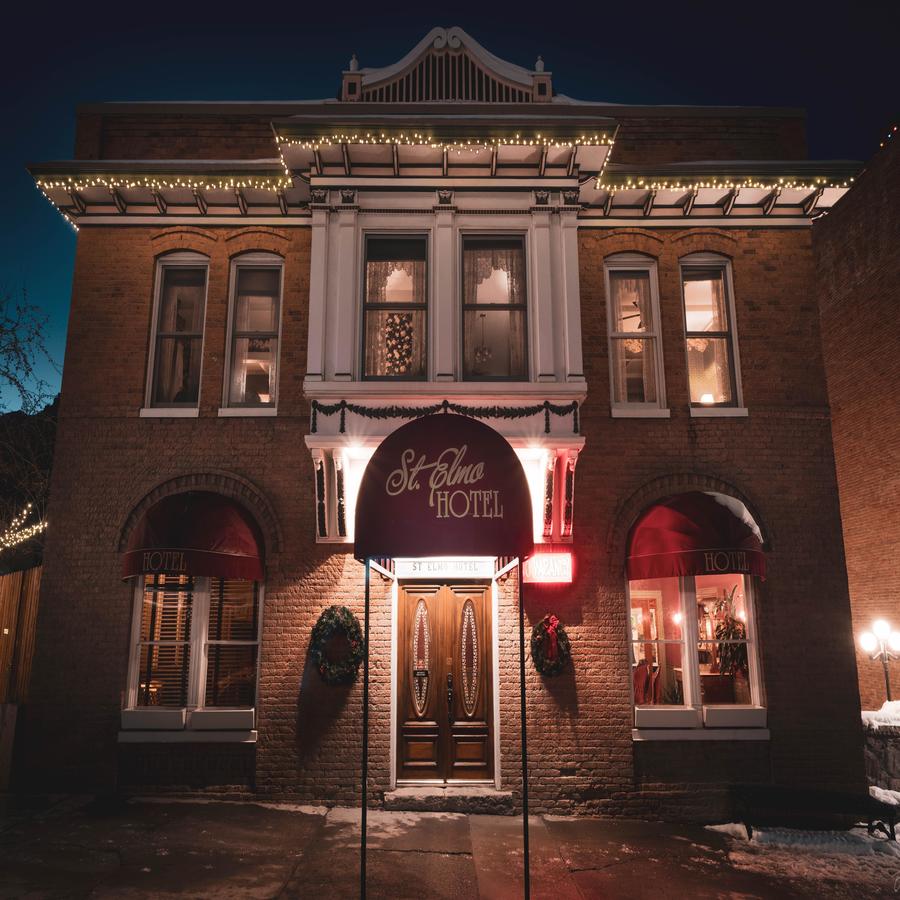 A turn-of-the-century hotel, the St. Elmo Hotel is a historic hotel and restaurant located in the heart of Ouray. In operation since 1897, the restaurant and hotel have been a favorite go-to for Ouray travelers with its antique features, cozy accommodations, and delicious restaurant.
Amenities:
Daily buffet breakfast
Outdoor hot tub
Historic hotel
Common dining area
Scenic views
Free Wi-Fi
Take a step back in time with their distinctly appointed rooms featuring antique details, floral-covered wallpaper, elegant draperies, and delicate linens. Choose from 10 rooms, featuring a private bath, sitting area, plus scenic mountain and downtown views.
426 Main St, Ouray, CO 81427 | 970-325-4951
Check prices, availability or book St. Elmo Hotel
Ouray Main Street Inn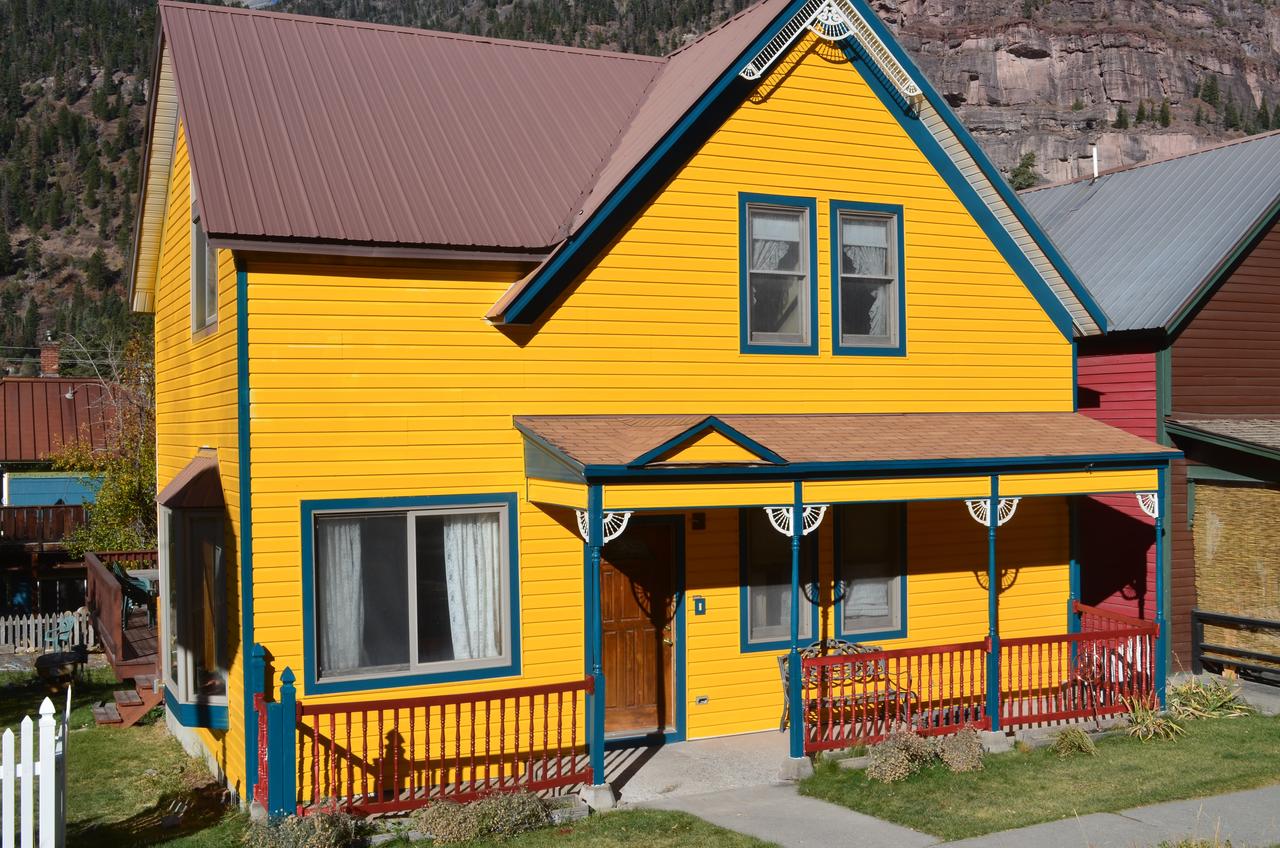 Stay in the heart of it all with Ouray Main Street Inn. Enjoy welcoming hospitality, convenient location, and charming rooms all at one of the best hotels in Ouray.
Amenities:
One block from downtown
Complimentary bakery basket upon check-in
Outdoor patio
420-friendly
Pet-friendly
Free Wi-Fi
Located in two 19th-century houses, The Ouray Main Street Inn offers eight unique units, each with mountain views, private baths, comfortable furnishings, and A/C. Three of the units offer a full kitchen, with other units equipped with a mini-refrigerator and microwave. Or stay in the Miner's cabin, a two-story, one-bedroom cabin for a true rustic-mountain escape.
Matterhorn Inn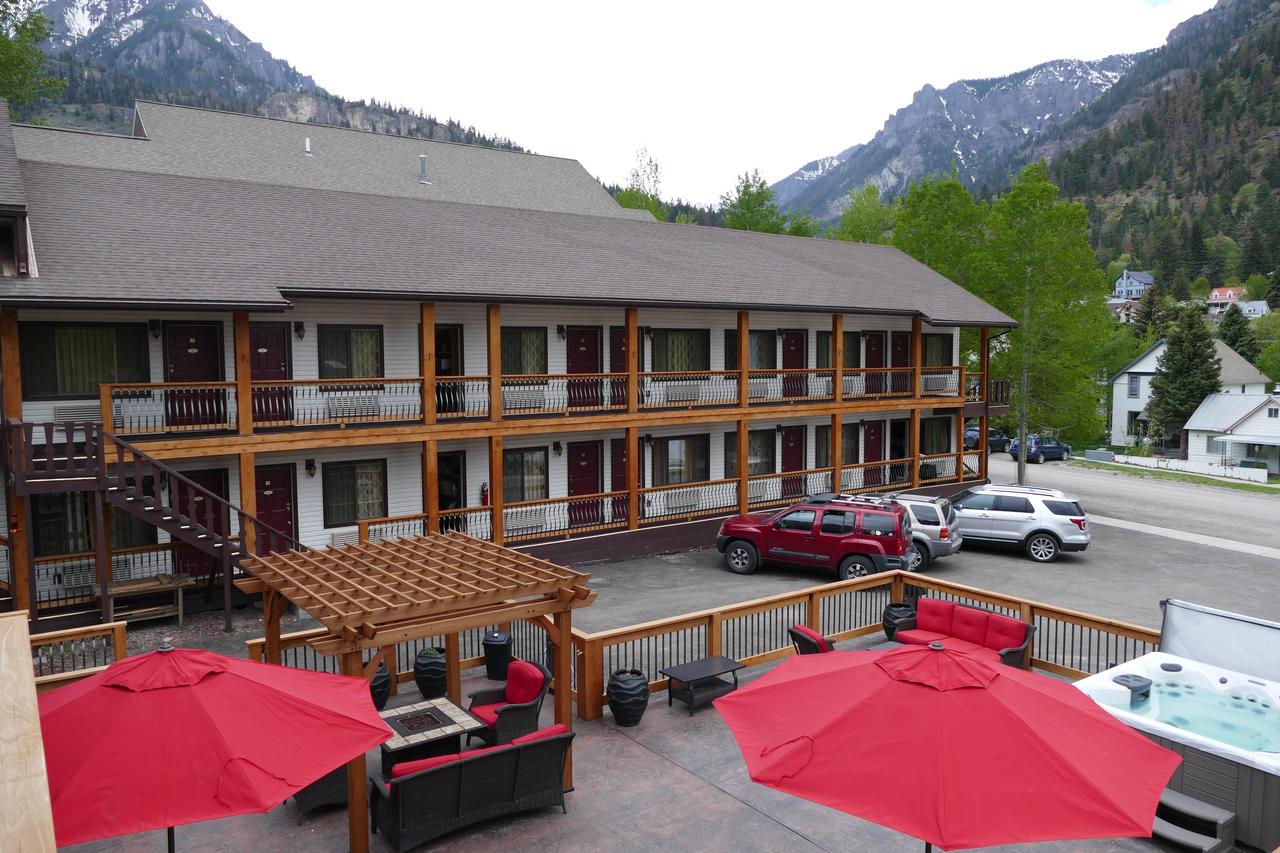 Located one block west of Main Street, the Matterhorn Hotel provides its guests with a great location at an affordable price in Ouray. Guests will enjoy newly-remodeled rooms, a daily breakfast, and a relaxing outdoor patio, complete with a hot tub and partial mountain views.
Amenities:
Affordable
Complimentary breakfast
Outdoor patio with hot tub
Mountain views
Close to downtown
Free Wi-Fi
Guests can choose from rooms with either a king-size bed, a queen-size bed, or two queen-size beds. Plus, suites are available that offer a little extra space. Rooms and suites feature pillowtop mattresses, flat-screen T.V.s, A/C, new hardwood floors, and mountain views.
201 6th Ave, Ouray, CO 81427 | 970-325-4938
Check prices, availability or book Matterhorn Hotel
Twin Peaks Lodge & Hot Springs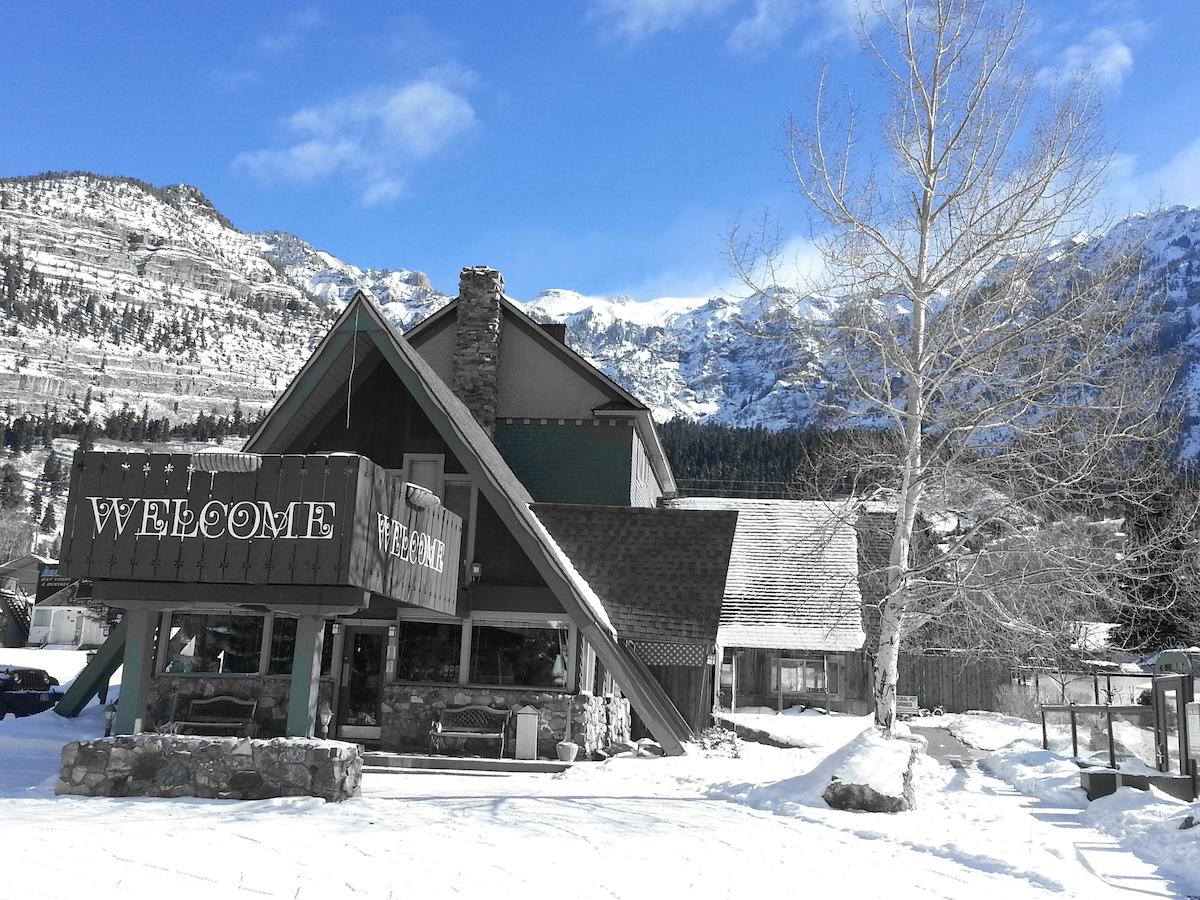 Last but not least, the Twin Peaks Lodge is another hotel with its own hot springs on-site. The three lovely pools they have are open to day guests as well, so you can stop by and pay for a visit, even if staying elsewhere. There's a big outdoor swimming pool and small soaking tub, both filled with hot springs water.
Inside is an adult-only hot spring soaking pool. You can eat on-site at the Mineshaft Restaurant and Tiki Bar. Spa services are on-site thru Sage Spa at the Twin Peaks.
Amenities:
Three natural hot springs pools
Complimentary hot breakfast and refreshments during business hours
Bathrobe rentals
24-hour gym
24-hour guest laundry
Soft-serve ice cream machine
Photocopy & fax services
Spa services
Pet-friendly
Mountain views
Tents available, Jeep and ATV rentals
Free Wi-Fi
The are several non-smoking rooms to choose from at this lodge. Choose from King Rooms, and several two-bed Queen and Double Rooms, as well as two-bed Suites. Several of the rooms are pet friendly! So bring Fido along, just inquire ahead of time to ensure you get an approved room. Flat-screened TVs are found in every room.
That's a roundup of the top hotels in Ouray, Colorado. Enjoy your stay in this Swiss-like alpine village, year-round.