The Mule Creek Outfitters Inc., formerly known as M Lazy C Ranch, is an authentic Colorado dude ranch with horses, campgrounds, and western activities on site. Have fun exploring this 1900s ranch and learn what it's like to be a real cowboy.
History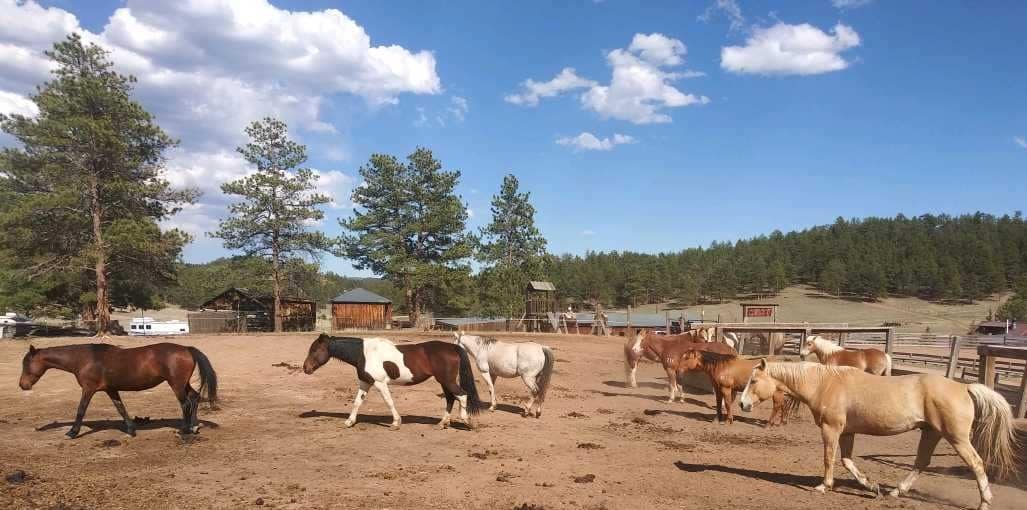 Originally built in the early 1900s for the Thatcher family, the M Lazy C Ranch supplied the Denver area with potatoes, vegetables, cattle, and other livestock. It has passed from owner to owner over the years, but many of the site's original structures still stand. The barn, blacksmith shop, and several cabins have been updated to keep the original western-style while adding modern amenities.
Today, the M Lazy C Ranch operates under a new name—The Mule Creek Outfitters, Inc. Despite the changes, it remains rooted in its western history.
Activites
There is plenty to do at Mule Creek Outfitters Inc. Whether you come for a weekend or a week, you'll never be bored.
Horseback Riding—Wind your way through mountain trails and get an up-close look at Pikes Peak. Rides are available for guests 6 years and older and last anywhere from an hour to all day.
Wagon Rides—Enjoy a wagon or hayride with your friends and family. Only available for groups with advance reservations.
Campfires—A central campfire area is located on-site and available to all guests. Enjoy cooking food over an open flame, or tell ghost stories as night settles in.
Hunting—First-rate hunting areas are available during the fall months, under Mule Creek Outfitters permit #888. There is a maximum of 6 hunters per cabin.
Hiking—Enjoy morning or afternoon hiking trips. The surrounding forest offers a variety of trails suitable for all guests and levels of experience.
Private Events—Plan your next wedding, anniversary, birthday, or corporate event at Mule Creek Outfitters Inc. Our event area is large enough to accommodate any size party.
Accomodations
Mule Creek Outfitters Inc. is less than an hour from Colorado Springs, in Lake George. It borders the Pike National Forest, with plenty of hiking trails that range in difficulty from experienced hiker to kid-friendly.
Camping – RV/Tent Camping is available and comes with different levels of service, including water, electricity, and sewer. Full hook-up sites are available but limited. Shared bathrooms and showers are accessible.
Cabins – For those who'd prefer indoor lodging, a variety of cabins are available. Cabins sleep from 1 to 8 guests and include linens and towels. Both private and shared bathrooms are available, depending on your selection. Soap and toiletries are not provided.
Amenities – There is a playground on-site, as well as a general shop for gathering limited supplies. Free Wi-Fi is available for all guests. Outdoor pens are available for guests with their own horses.
Dining – A dining hall and chuckwagon are on site, and provide guests with meals and snacks throughout the day.
Details
Address: 801 Co Rd 453, Lake George, CO 80827
Phone: 719-748-3398
Season: Year-round
Website: mlazyc.com