Cripple Creek is an Old West gambling town, located about an hour west of Colorado Springs. Downtown is lined with nearly all casinos and plenty of historic charm. The casinos aren't as large as in Black Hawk, but there's plenty to see and do in this fascinating town.
It's situated in Teller County in an area full of historic mines and surrounded by nature at an elevation of 9,494 feet. Combined with Victor, it was the "World's Greatest Gold Camp", and today there are about 1,155 residents.
History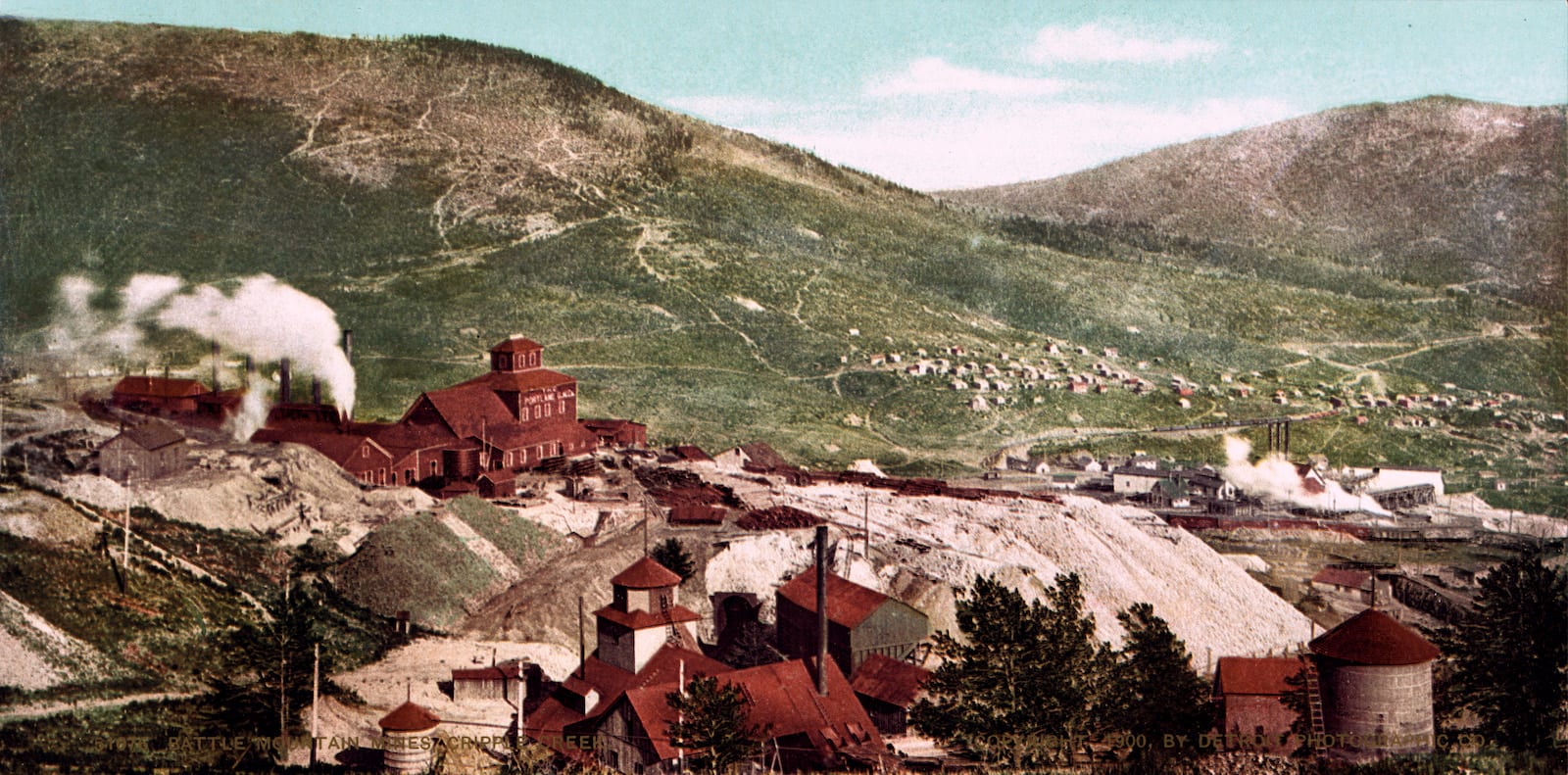 Cripple Creek became more than just a high-elevation valley in 1890 when a miner discovered an extensive amount of rich gold ore in the area. This spurred the beginning of the last of the Colorado gold rushes. Within a year there was a post office established and investors from larger cities were coming into town to plat and sell land.
Three towns were created by these investors: Fremont, Cripple Creek, and Hayden Placer. Eventually, they were combined into one large entity under the name Cripple Creek. The area exploded in its heyday, growing from 500 residents to over 10,000 in the span of three years.
There were two huge fires that ravaged many of the original buildings in the late 1890s. The town was rebuilt in only a few months, but this time builders used brick instead of wood to assure structural integrity. These tragedies didn't slow down the town's growth, however, with the population peaking at about 35,000 between 1896 and 1902.
The number of operating mines and residents slowly declined as the 20th century progressed, and by 1945 there were only 20 mines still active in town. Although the population dipped to only a few hundred, it never was completely deserted. The legalization of gambling in 1991 revived Cripple Creek, bringing in many new businesses and tourists to support the economy.
Main Attractions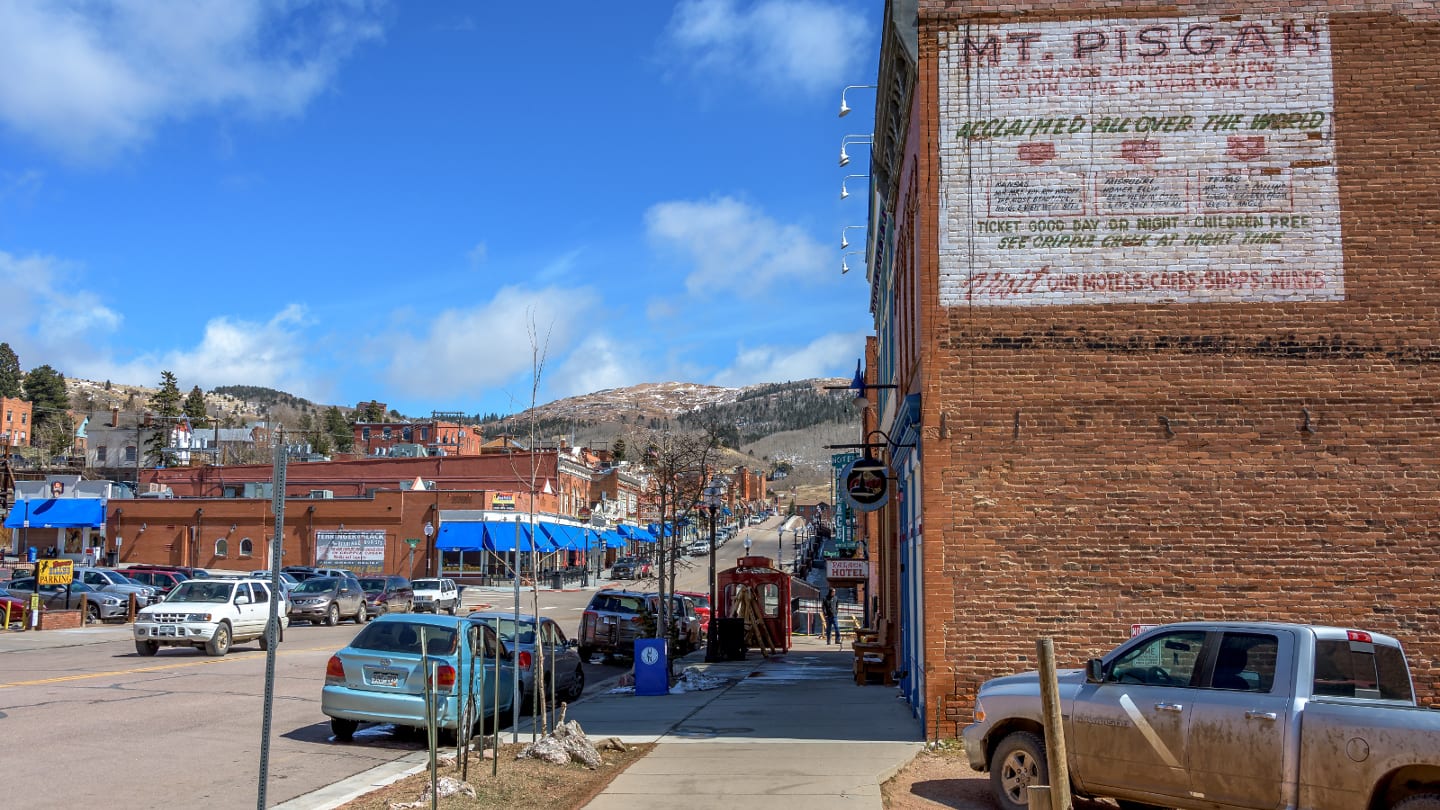 Casinos – Cripple Creek is one of only three casino towns in Colorado, along with Black Hawk and Central City. There are also two American-Indian-owned casinos in the Southwest. Many of the popular casinos in town are located within historic buildings and include:
Mine Tours – ​As part of the "World's Greatest Mining Camp", Cripple Creek got its start with silver and gold mining. Exploring the area's mines can be done at a variety of locations. The Mollie Kathleen Mine is a popular option, with a tour that takes you one thousand feet below the surface. The Gold Camp Road tunnels are also a fun option for more adventurous visitors.
Cripple Creek & Victor Narrow Gauge Railroad – This scenic, historic rail line loops down to neighbor and fellow mining town Victor. It's a forty-five-minute train ride along a gorgeous mountainside, running daily from mid-May to mid-October.
Read about the top things to do in Cripple Creek.
Recreation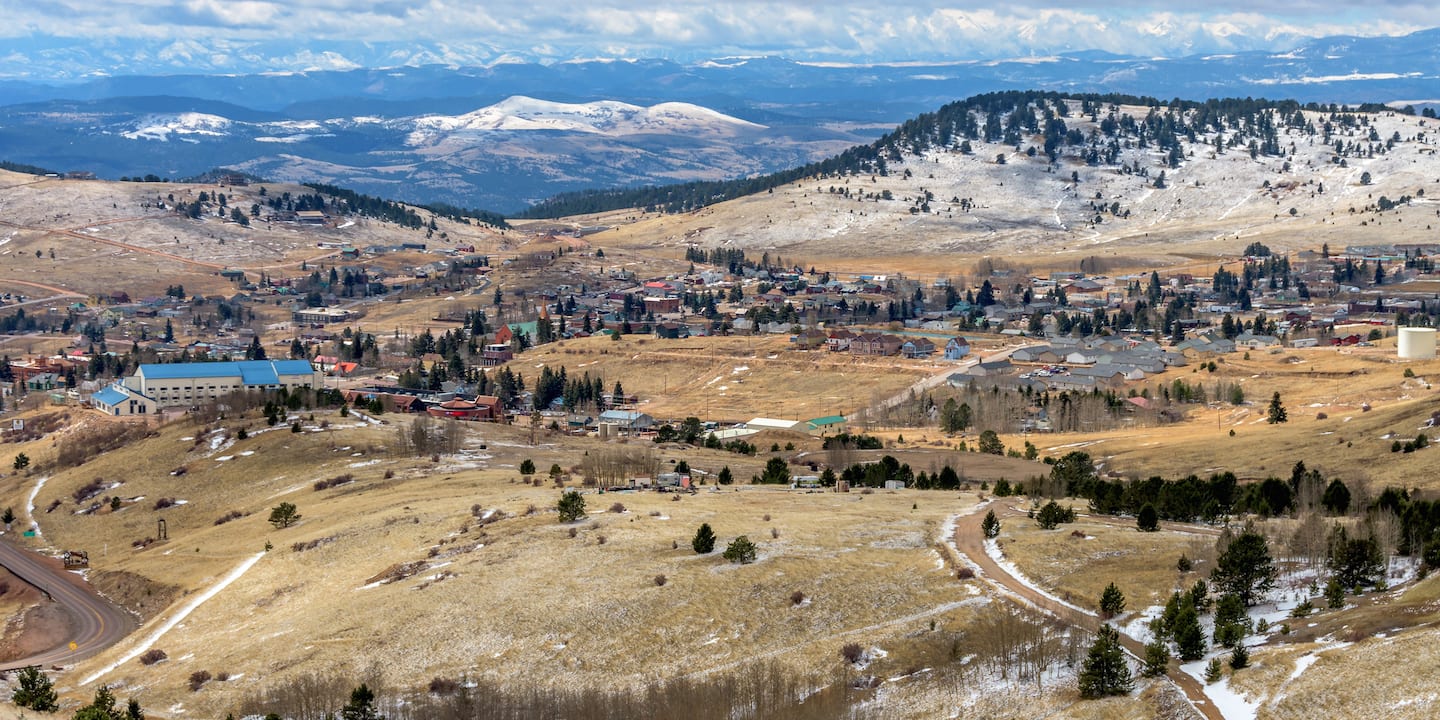 Biking – Mueller State Park to the north offers 19 miles of scenic, wooded trails to bike on. The trails aren't too technical and are great for beginner bikers or someone looking to have a gentle ride among the aspens.
Camping –
Fishing – Skaguay Reservoir is well stocked with rainbow trout and pike, and there are several small streams of the reservoir that have nice fishing as well.
Hiking –
Scenic Drives – One of the most historic and beautiful loops in the state, the Golden Loop Historic Parkway features 17 miles of ghost towns, old mines, and panoramic views between Cripple Creek and Victor.
Accommodations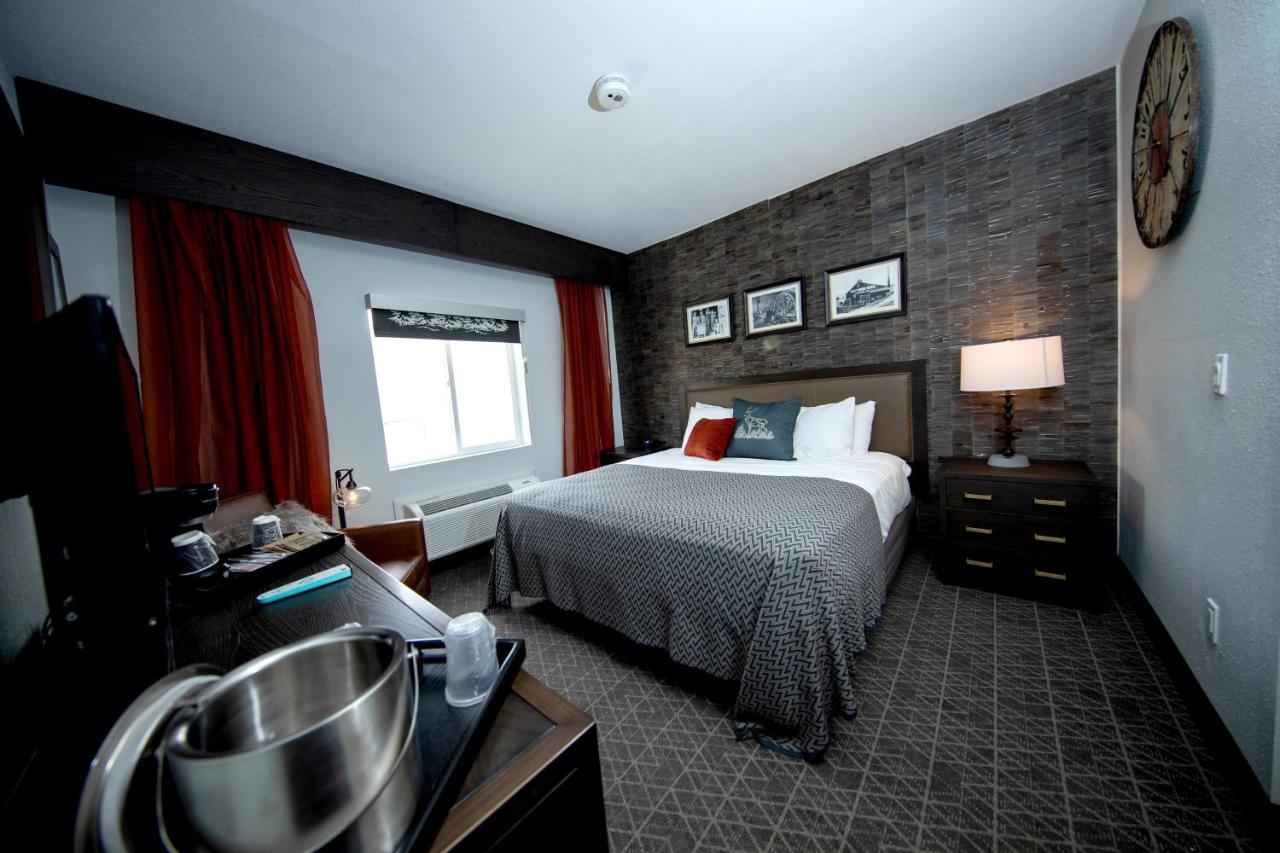 This section contains referral links. If you click through and take action, we may receive a commission, at no additional cost to you. 
Carr Manor – Known for their friendly service and charming hotel rooms, Bronco Billy's is a great option for an eat, play, and stay the weekend in Cripple Creek. Their local accommodations exist at Carr Manor.
Century Casino at Cripple Creek – Conveniently located on the main strip of casinos, Century is one of the largest in town. They offer a 24/7 casino, an on-site restaurant, and beautifully decorated hotel rooms to rest after a long night.
Double Eagle Hotel & Casino – Stay in one of Double Eagle's 6 room types while you try your luck at over 500 machines and various table games. Join their premiere club as well for free food and the ability to exchange machine points for free accommodation.
McGills Hotel & Casino – Part of the Triple Crown Casino group, McGills is a classic 24/7 casino with a hotel and restaurant for guests to enjoy. They also have a free membership club where you can rack up points during your visits to redeem for a variety of perks.
Midnight Rose Hotel & Casino – The Victorian-era decor in this casino makes it a hit among locals. There are 2 levels of machines, a huge poker room, and 2 restaurants to choose from. Their rooms offer plush bedding, free WiFi, and complimentary coffee.
Wildwood Casino & Hotel – You'll feel like you stepped onto the Las Vegas strip when you walk into Wildwood, one of the newest casinos in Cripple Creek. It sits above the town, overlooking the main street. Their partner hotel, the Gold King Mountain Inn, has even more modern rooms to choose from in addition to the ones offered within Wildwood.
Read about the best hotels in Cripple Creek.
Dining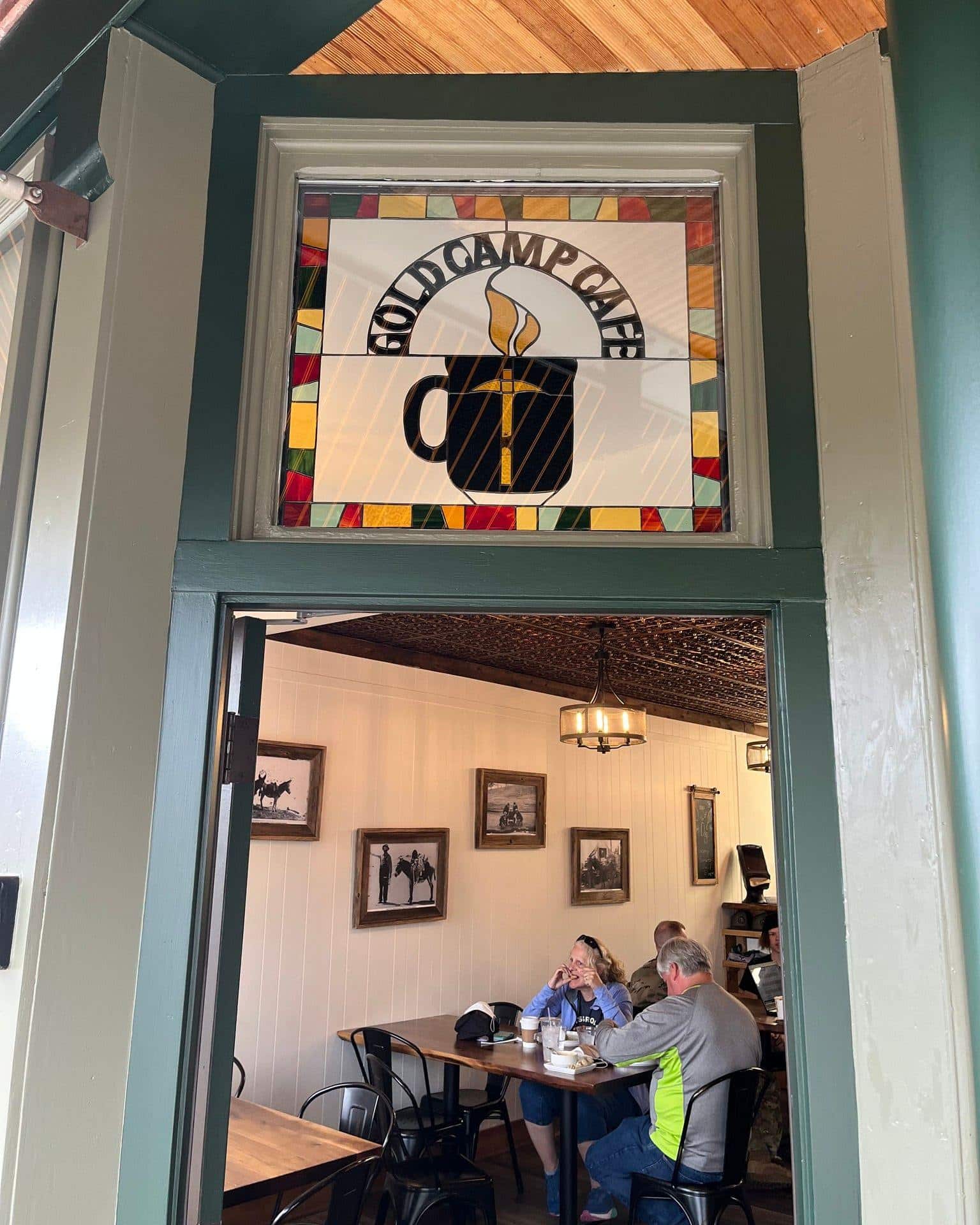 Maggie's – Friendly spot for any meal, this 21+ restaurant serves up an array of hearty main dishes and appetizers.
The Creek – Classic American comfort food with a fully stocked bar. Their menu includes a tomahawk porkchop, burritos, salads, and more.
Gold Camp Cafe – This cozy, locally owned spot has everything you need to fuel up in the morning. Craft coffee drinks, delicious breakfast burritos, and even gluten-free options mean there's something for everyone.
Special Events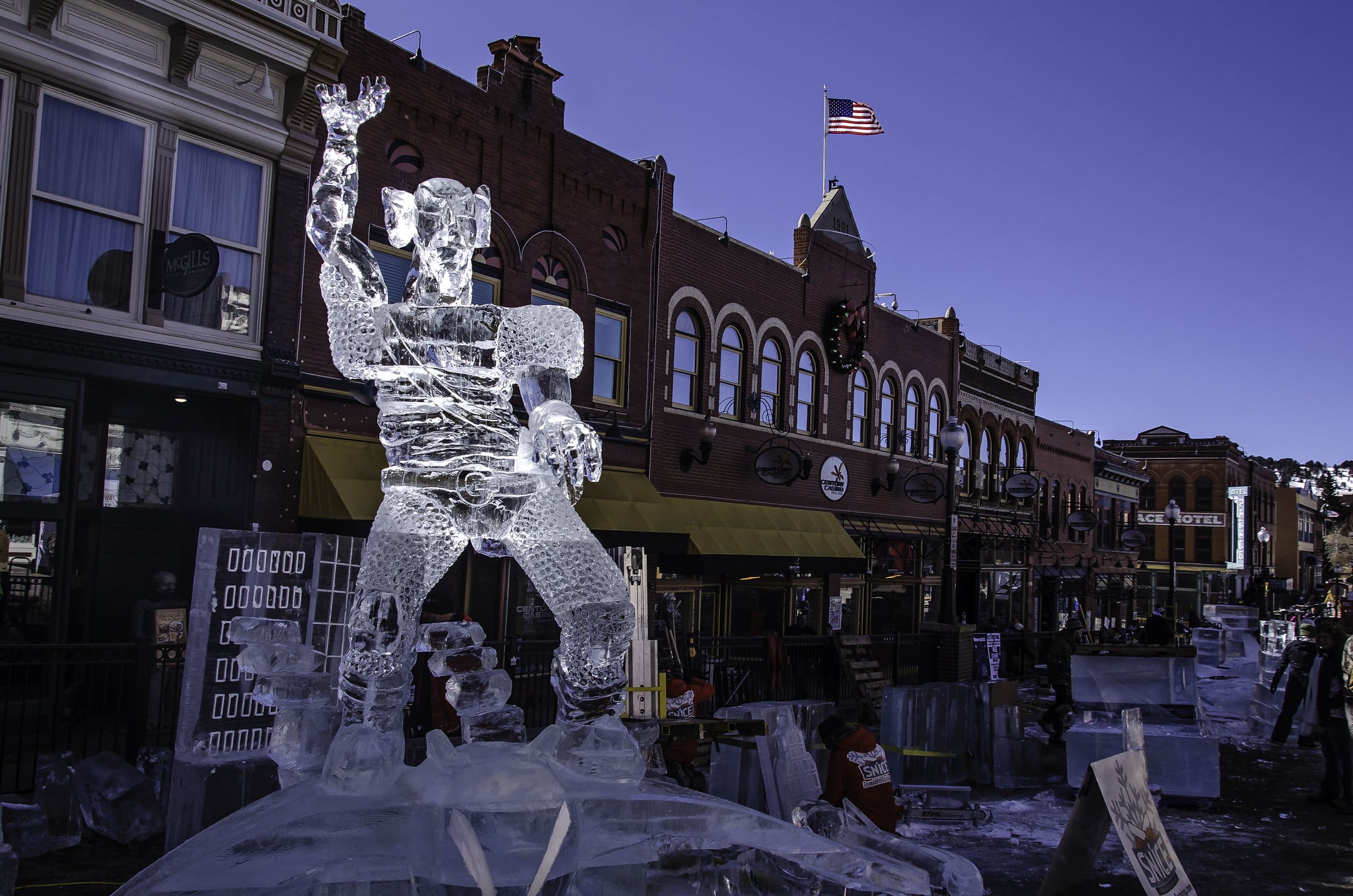 Feb – Cripple Creek Ice Fest – Best ice sculptors from across the country descend upon Teller county in February. Food vendors and bar service are available for a snack while you gawk at the sculpture scattered throughout the main street.
Jun – Once Upon A Time In The West Art Show – For almost 2 weeks each year, the Cripple Creek Heritage Center fills with paintings, sculptures, jewelry, and pottery from local artists. There is an annual theme that always ties in with local heritage and traditions.
Jul – Gold Camp 4th – Full day of events celebrating the summer holiday. Activities include a beer garden, roller skating, food vendors, and a firework show.
Jul – Pearl DeVere Day – This unique annual event is held at the Old Homestead House in remembrance of the historic Madam, Pearl DeVere. The day is filled with live music, a beer garden, and "bed races" consisting of teams of 3 on decorated wheeled beds battling it out in the street.
Jul – Teller County Fair – Classic 4-H fair promoting local agricultural endeavors. Of course, there are games, rides, and plenty of fried food as well.
Aug – Donkey Derby Day – Place your bets on your favorite resident Cripple Creek donkey and let the races begin! One of the most popular events in town, the day features multiple heats of donkey racing, live music, and food vendors.
Oct – Trunk or Treat – Put on your best costume and come out to this safe, spooky event hosted by Cripple Creek Parks and Rec.
Dec – Gold Camp Christmas Weekend – Get into the holiday spirit with a parade and winter light shows.
Activities near Cripple Creek
Casinos:
Factory Tours:
Federal Lands:
Ghost Towns:
Landmarks:
Museums:
Performing Arts:
Public Parks:
Railroads:
Scenic Drives:
State Parks:
State Wildlife Area:
Towns:
Latest in Cripple Creek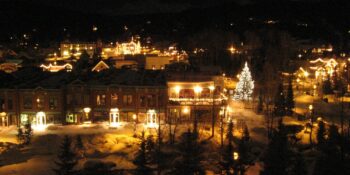 What better way to spend Christmas than in a quaint mountain town, blanketed with snow and…