Although only thirty minutes west of Colorado Springs and a practically a suburb of it now, Woodland Park feels like a world away in the "city above the clouds".  The relatively large mountain community of Woodland Park boasts a myriad of nearby national forest recreation, with ample campgrounds close to town.
Surrounding Woodland Park in all directions is the recreation-rich Pike National Forest. Everything from world class fishing to amazing natural landmarks is found here, along the front range mountains. Pikes Peak can be seen from town, reminding everyone about Colorado's most popular mountain and inspiration for "America the Beautiful". Hiking is exceptional around Woodland Park, with some really unique ones, like a mini Garden of the Gods.
Camping near Woodland Park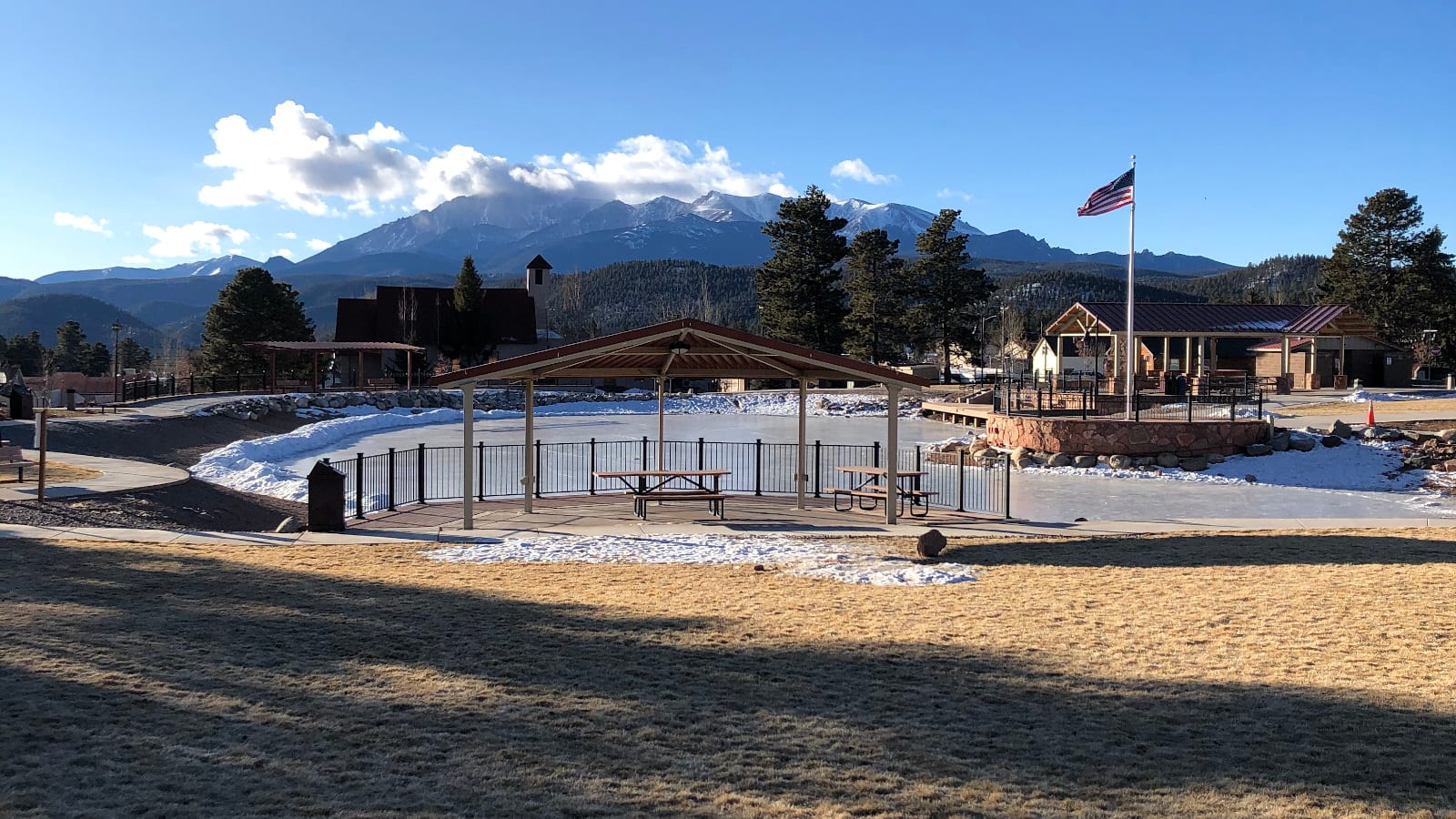 Most of the best campgrounds in Woodland Park are located directly north of town on Highway 67 towards Deckers, a fishing capital. In town there are a few RV parks, great for big vehicles and longer term trips. There are also a few campgrounds located nearby Rampart Reservoir to the east of town, which are covered below. At only 30 minutes west of Colorado Springs and I-25, Woodland Park makes a fantastic basecamp for your holiday.
Your next great wilderness adventure often needs a base camp to operate from. This RV Park with easy access to local laundries, grocery stores and parts supply shops is the perfect springboard to a vacation in the shadow of Pikes Peak.
Location, location, location it's the hallmark of a great outing in the wilds of the Colorado wilderness. This campground and RV park offers all the comforts of home, just a few short miles from the wonders of the Pikes National Forest. Set up camp and start your adventure.
A unique sandstone formation greets the large group of campers this campground can accommodate.  It's a perfect destination for family reunions, company get-togethers and any other group that requires a larger outdoor venue. Nearby Manitou Lake offers fishing and canoeing.
More than a rest stop on the historic Centennial trail, this campground has space for everyone with one of the largest number of campsites in one place in the Pike National Forest. A haven for bikers and hikers both, the well-groomed trails are a delight for easy to moderate intensity hikes.
Does your group need a place for a weekend getaway or a week-long stay in the pristine wilderness of the Pike National Forest?  This campground offers a lot of amenities for large groups of people. It's a very popular summer destination. The sand is usually flying at the volleyball court throughout the summer months. Best of all, it's free. There is no charge.
The red sandstone bluffs that give this campground its name resemble brush strokes from a giant hand on the windswept hillsides.  The natural rock outcropping is the scenic backdrop to an area full of outdoor opportunities. Trails, fishing, canoeing, and boating await the weekend traveler or cross country adventurer.
A popular family destination this campground has ample space near Manitou Lake. The trails leading out of the camp offer a variety of recreational travel modes from walking to just about any wheeled conveyance. Views of Pikes Peak to the south add beautiful vistas to your stay.
Camping near Rampart Reservoir in Woodland Park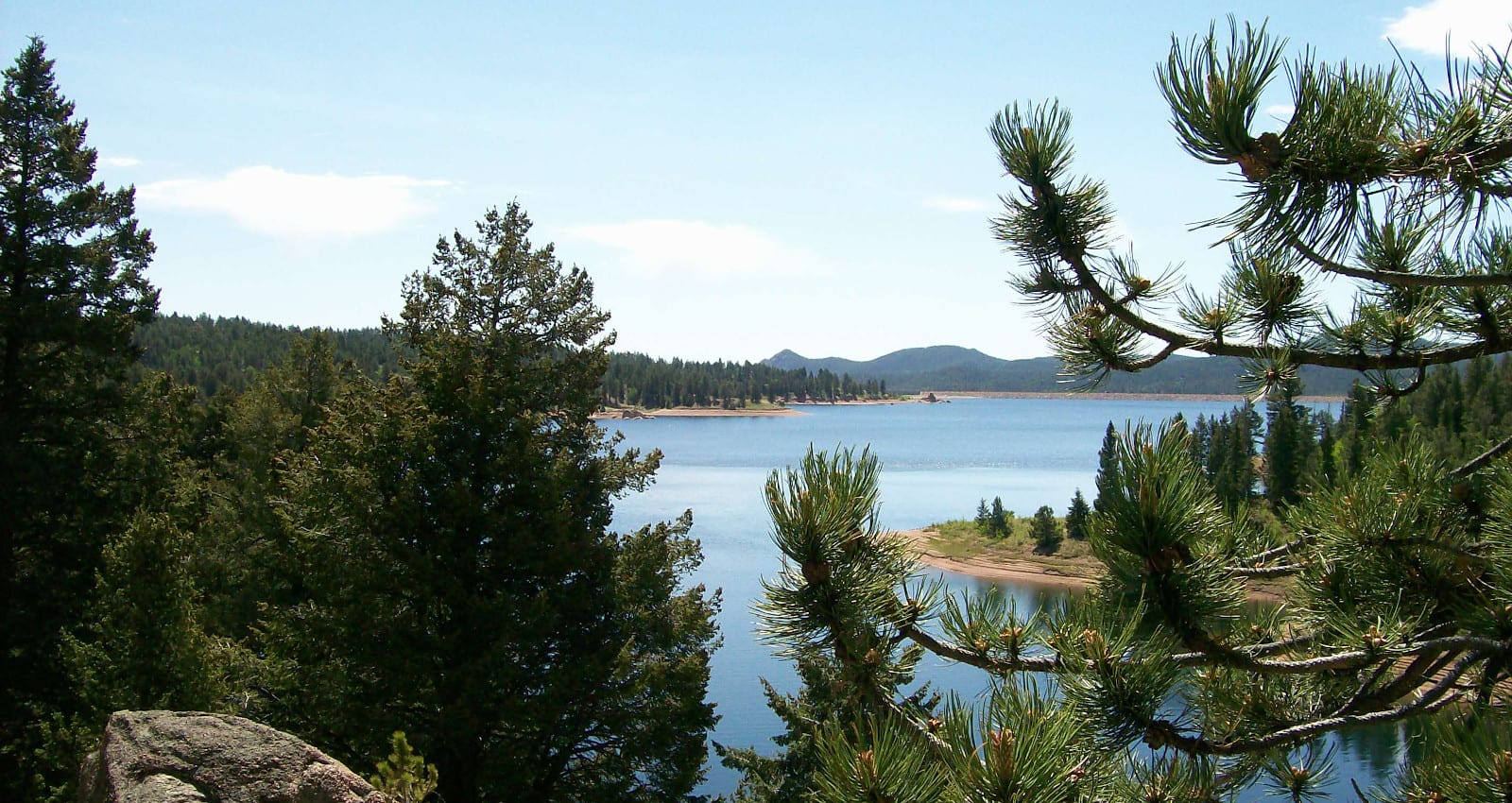 Located about 30 minutes east of Woodland Park is Rampart Reservoir, a year round escape that's especially popular for summer boating, fishing and mountain biking. There are a couple of campgrounds directly at the lake, Thunder Ridge and Meadow Ridge. Both are excellent choice. Another great comprise for closeness to both Woodland Park and Rampart Reservoir is Springdale Campground, located right in the middle, about fifteen minutes to each.
Looking for one campground that suits everyone's interests.  If your party enjoys the water in a pristine mountain setting this is the campground for you. Pikes Peak rises to 14,110 feet just a few miles south of the campground.
This is a very popular campground with heavy summer usage. Trails, streams flowing nearby, and trout fishing with mackinaw and rainbow trout awaiting the skilled angler in Rampart Reservoir are popular attractions.
A quiet respite in the heart of the Pike National Forest this campground is set in a ponderosa pine grove, interspersed with aspen trees.  Popular Rampart Reservoir is nearby, but you can avoid the noise and bustle of this popular mountain lake while still enjoying it after a trip of just a couple of miles.
Consider Deckers, Divide or Cripple Creek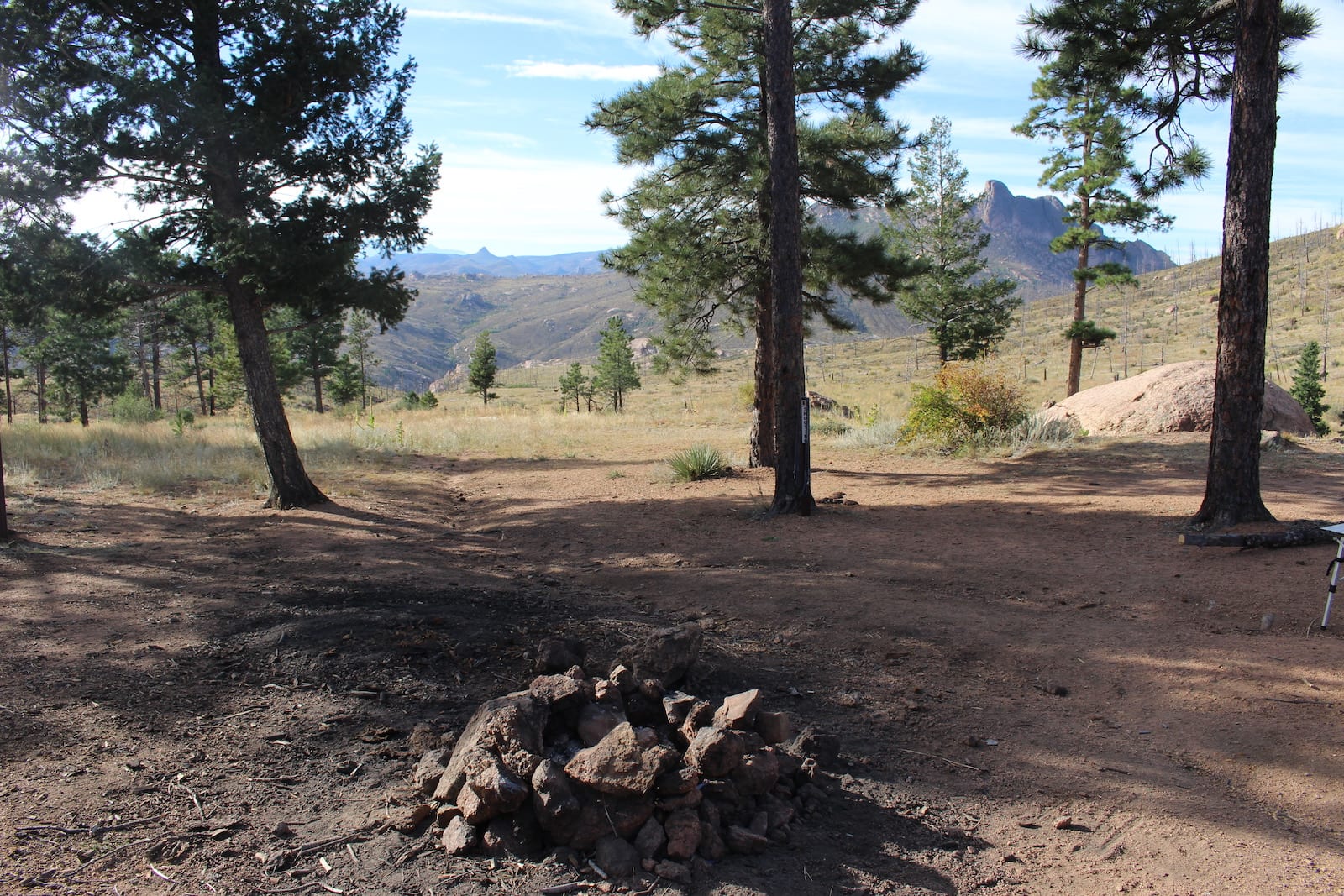 Highway 67 meets up with Highway 24 at Woodland Park. If you take the former north, you'll quickly get to the little fishing community of Deckers. It's most noted for the South Platte River that runs through town on its way to the front range. Several of the campgrounds near Deckers put you in close proximity to Woodland Park as well. If you're coming from the Denver area they are even close than the following in Woodland Park.
Highway 67 continues south 6 miles west in Divide. It leads you to the glorious casino town of Cripple Creek and its partner-in-mining Victor. This region is rich in natural beauty and gold rush history. Only 40 minutes from Woodland Park, Cripple Creek features a main street of historic casinos. North of that and just south on Divide on Highway 67 lies Mueller State Park, a fantastic place to camp.
That's a roundup of the campgrounds in and around Woodland Park, Colorado. Respect your campsite and clean up after yourself and the lazy people. Have a safe, fun camping trip!