Aside from the natural attractions within the Rocky Mountains, Denver and Colorado Springs are the state's two largest attractions. So it makes a lot of geographic sense to basecamp right between the two major cities, connected by I-25. Let's discover the best campgrounds around the interstate towns of Castle Rock, Larkspur and Monument.
The Pike National Forest lies to the west of I-25 from Castle Rock south through Colorado Springs. It provides easy outdoor adventure from any of these I-25 towns. There can be congestion on the drive between Denver and The Springs but not a problem if you're already at camp, or take the Highway 67 back way between the cities.
List of Campgrounds by Castle Rock, Larkspur and Monument, CO, in order of proximity:
Campgrounds near Castle Rock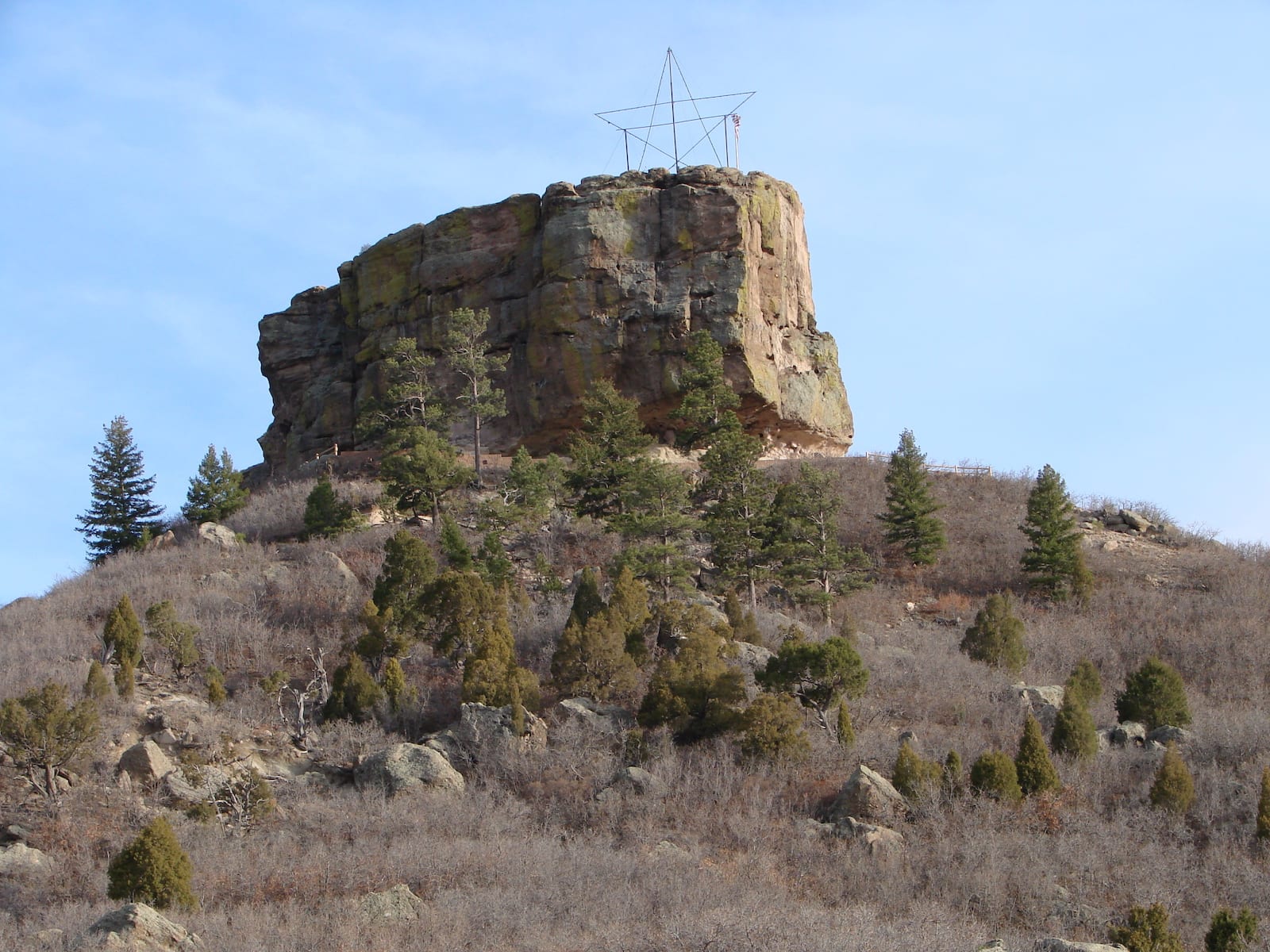 Castle Rock to the north, lies about 30 highway miles south of Downtown Denver, and only about 40 miles from Colorado Springs. It's a bit of a western town with its monumental castle rock and historic district. There's no campgrounds within the city limits. For RV and tent sites with a rolling plains geography, head east to Elizabeth or south to Larkspur for a private-run campground, the two closest options to Castle Rock. Franktown, just east of Castle Rock, is home to the day-use Castlewood Canyon, a must-visit state park for hiking and stunning views.
Summer games, activities, rodeos and festivals set in a wooded Colorado countryside.  This campground offers a variety of activities for adults, and children with sporting events, facilities for family reunions, group picnics, and gatherings of all types. Going between Castle Rock and Elizabeth on CO-86 you'll pass the turn off to Castlewood Canyon State Park in Franktown.
Closest town: Franktown (11mi); Castle Rock (16mi)
Specs: 25 RV sites, 3 pull-through sites,  water, restrooms, open year-round, tent camping only in summer
Amenities: Disc golf course, pavilion, rodeo event area, splash pad
Recreation: Stampede Rodeo first weekend in June, Celtic Festival third weekend in July, disc golf, camps throughout the summer, yoga, dog training, softball, volleyball, football, kickball tournaments
Reservations: Yes, at elizabethpr.com
Address: 4189 CO-86, Elizabeth, CO 80107 (Map)
Directions: From Franktown take Colorado Highway 83 North .2 miles. Turn right on Kelty Trail, go 1.2 miles. Turn right onto Burning Tree Drive .2 miles. Turn left on Colorado Highway 86 east, go 9.2 miles, the campground will be on the left.
Campgrounds near Larkspur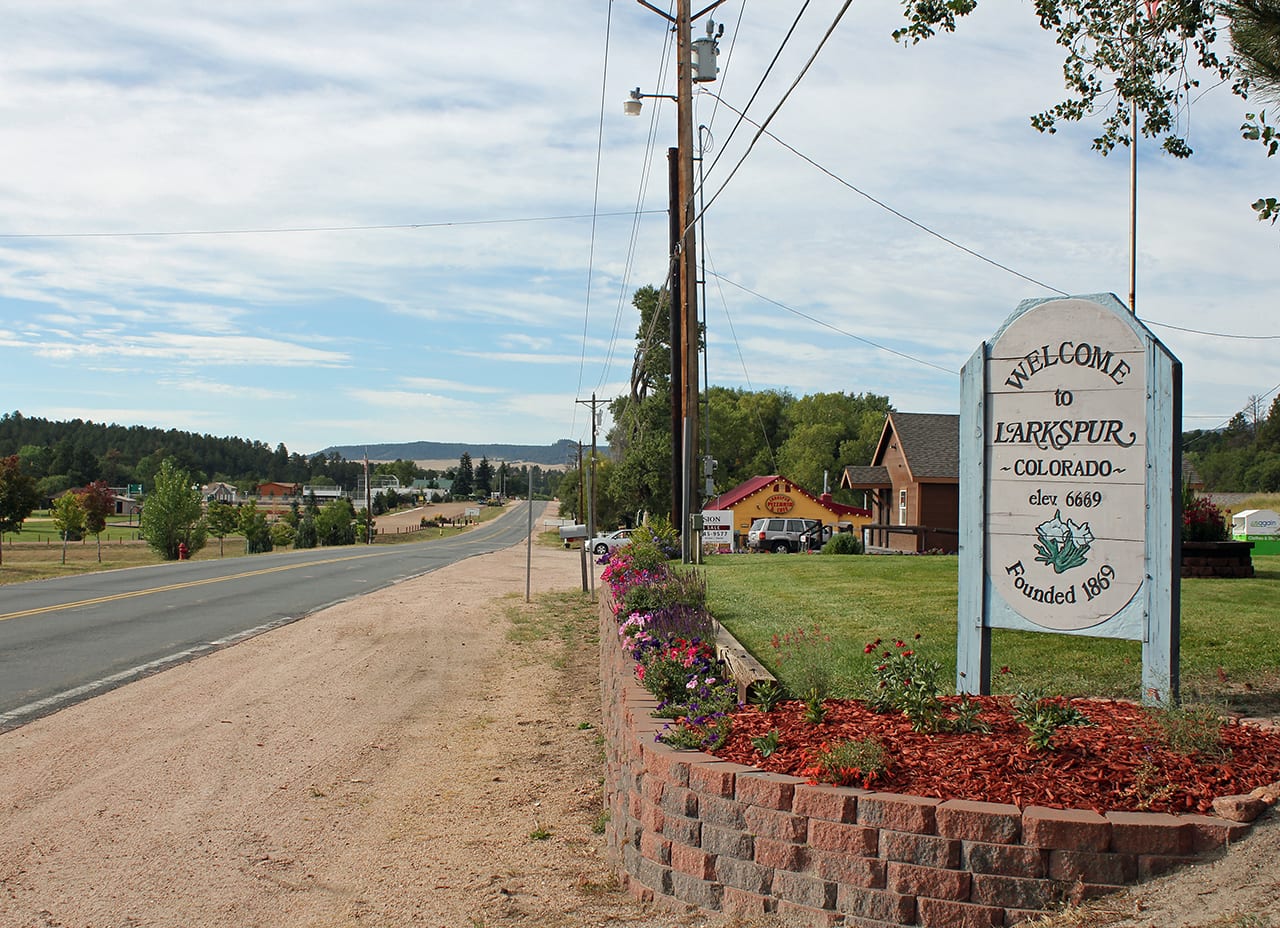 Larkspur is really only know because of the annual summer Renaissance Festival that goes on there. It makes a great festival to pair with a weekend camping. There aren't really commercial facilities in Larkspur, you'll head north to Castle Rock or south to Monument for shopping and dining.
Family fun close to the Denver Metro is yours at this newly renovated RV park.  You can relax on the 10-acre expanse of the campground or take part in the wealth of recreational activities offered. The Colorado Rockies shine against the western sky, making it the perfect backdrop to your weekend or extended vacation.
Closest town: Castle Rock (7mi)
Specs: 536 RV, tent, cabin and yurt sites, full hookups, 20/30/50 amp service, RV lengths to 45', open July 1 to October 18
Amenities: Water Park (Yogi Bear's Waterzone)  Different themed activities every week of the summer,
Recreation: Swim in the heated pool, family outings to the playground, wagon rides
Reservations: Yes, call 888-726-7807
Address: 650 Sky View Lane, Larkspur, CI 80118 (Map)
Directions: From  Castle Rock take I-25 south 6.8 miles to Exit 174. Turn right onto Sky View Lane and into the campground.
Campgrounds near Monument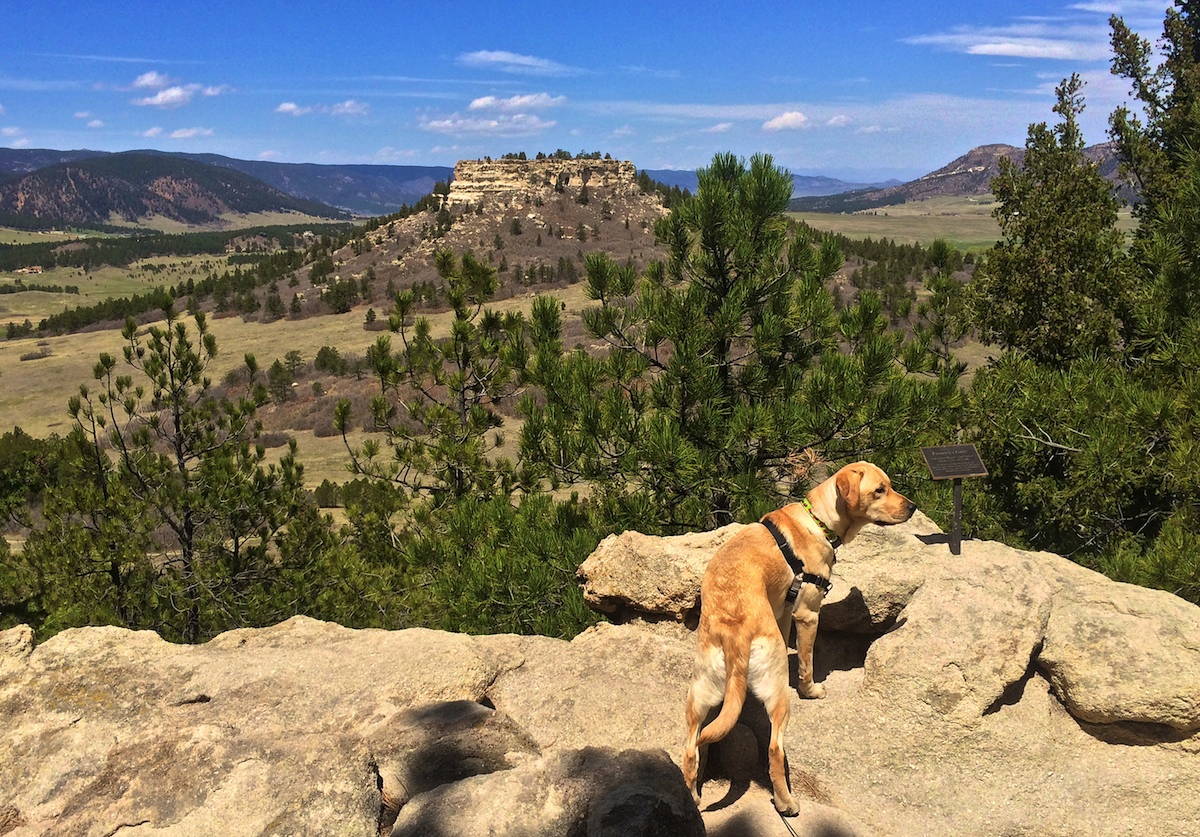 Monument is a fun, little foothills town of about 8,000 residents. It has a cool historic district and recreation in its backyard. Enjoy the stunning hiking trails along the front range, gaze a Monument Lake, or head a few minutes over to the town of Palmer Lake and its Regional Recreation Area.
Located only a couple miles north of Monument on I-25, Colorado Heights Camping Resort provides two hundred and fifty RV-friendly campsites on a more than two dozen acres. It's fast to access to Denver in 45 minutes and 30 minutes to Colorado Springs. There is a general store on-site to equip you with whatever your camping needs are.
Closest town: Monument (2mi); Castle Rock (19mi)
Specs: 200 full hookup RV sites, 50 partial hookup RV sites on 28 acres
Amenities: Special celebrations all summer including RC cars and boats, Death by Chocolate, Christmas in July and Hawaiian weekend
Recreation: Close proximity to trails, Garden of the Gods just 20 minutes away, the United State Air Force Academy near the campground,
Reservations: Yes, at  coloradoheights.com
Address: 19575 Monument Hill Rd, Monument, CO 80132 (Map)
Directions:  From Monument east on Colorado Highway 105 .9 miles. Turn left on Monument Hill Road go 1.4 miles to the campground.
Consider Sedalia/Deckers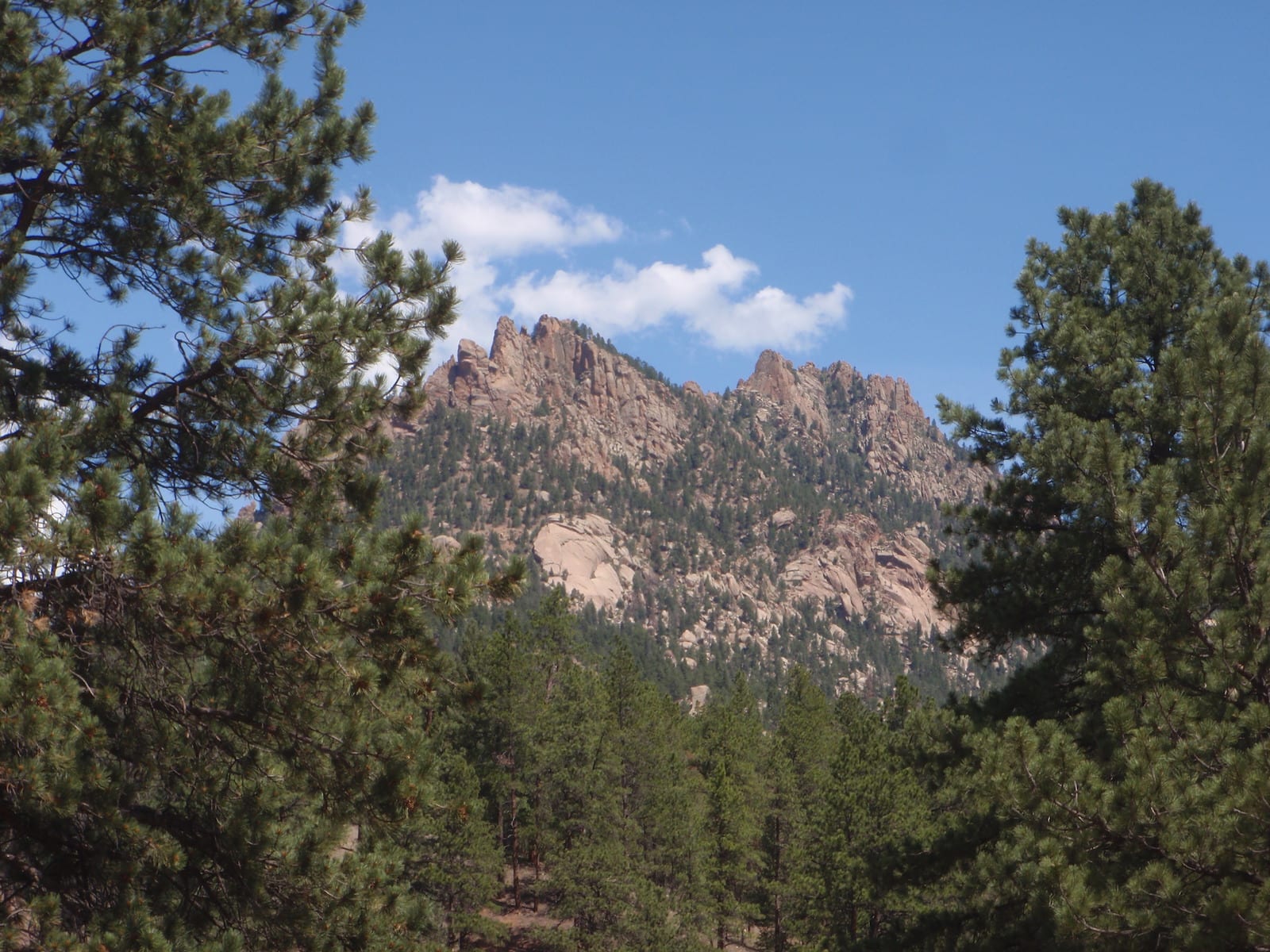 If you're looking to camp in nature near Castle Rock your best bet is the USFS campgrounds to the west in Sedalia/Deckers. They provide the in-mountain experience most look for in a Rockies camping trip. Sedalia is a tucked away southern metro town and gateway to the dirt biking, hiking and fishing within the Pike National Forest. Deckers in a tiny renowned fishing village in the heart of it.
From Castle Rock you'll just head west to Sedalia via Highway 85, and next Highway 67 further on to Deckers nestled along the South Platte River. Otherwise if you're okay with with a more rolling plains and foothills experience, opt for a privately-run campground south of Castle Rock in Larkspur or Monument, or due east of town in Elizabeth. All are very doable day trips from either major city.
That's a roundup of the top campgrounds between Castle Rock, Larkspur and Monument. Drive safe and make sure you get a chance to explore the Pike National Forest.