Boulder is a close neighbor to Denver, along Colorado's Front Range, and is a top destination for outdoor recreation, the arts, shopping, world-class cuisine, and hometown breweries. Complete your mountain getaway with these cabins to rent near Boulder, Lyons, and Nederland.
With its proximity to Denver, the Eldora Ski Area, and outdoor destinations like Rocky Mountain National Park and Golden Gate Canyon State Park, Boulder provides premier access to some of the best destinations. Experience the Boulder area with a stay in a cozy mountain cabin. From in-town cottages to rustic mountain cabins, there are a variety of rental options to choose from.
This section contains referral links. If you click through and take action, we may receive a commission, at no additional cost to you. 
Cabins in Boulder
Boulder is a popular destination for tourists who are looking to connect with both nature and culture. One perfect place for both of these is Chautauqua Park. This public park provides a lovely view of the flat irons and plenty of wilderness trails to get a taste of the Rockies.
There are cabins to rent nearby. In addition, you'll find plenty few AirBNB-type cabins for rental if you check online, though they likely won't be as historical as what you'll find blow.
Chautauqua Cottages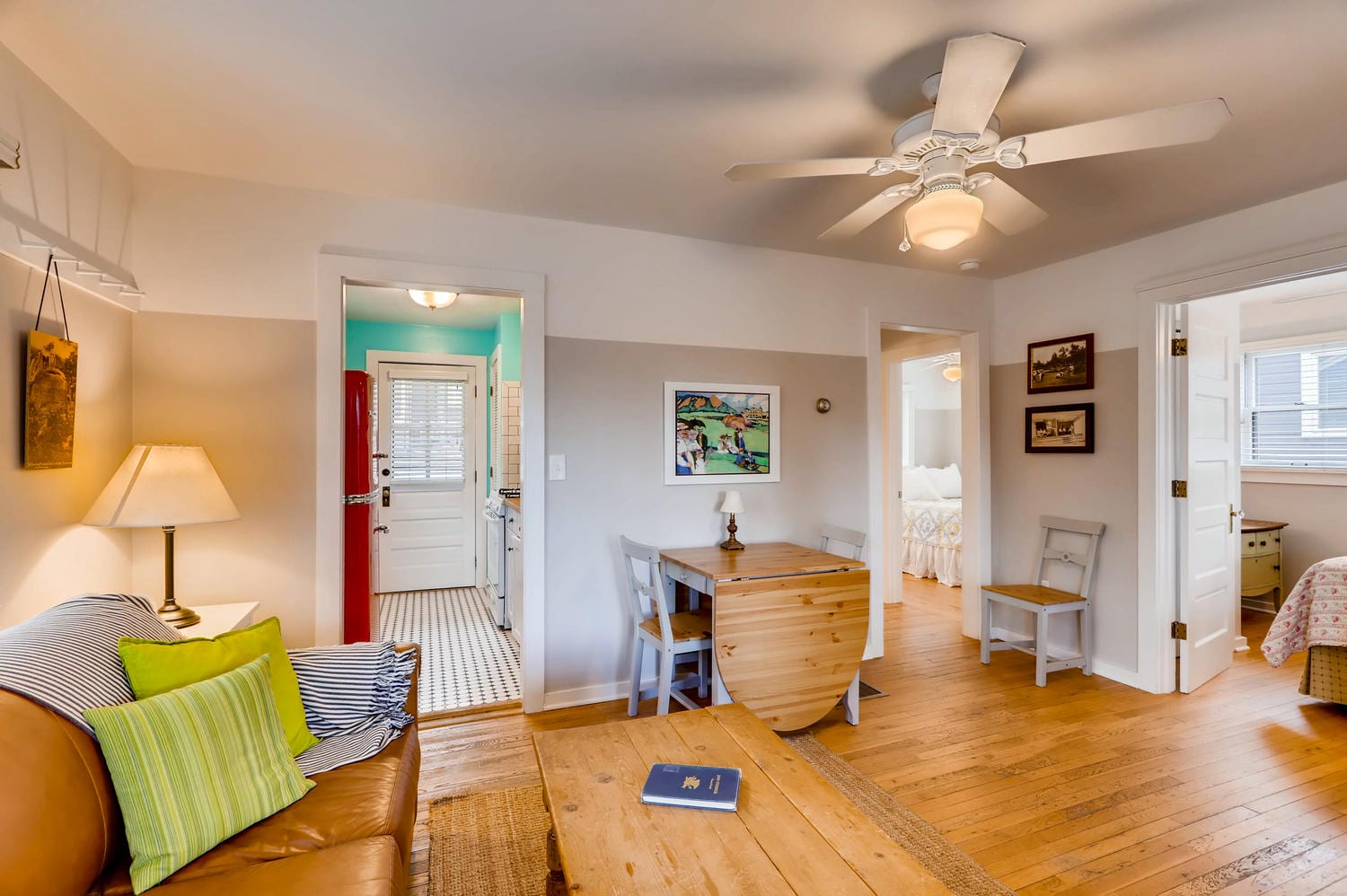 The Colorado Chautauqua in Boulder is the only Chautauqua west of the Mississippi River is still in operation since the 1920s. Chautauqua was adult education and social movement that brought culture and entertainment to rural America. The one in Boulder still operates today on 40 acres of land where they offer lectures, live music, films, and more.
Designated as a National Historic Landmark, the space offers a unique glimpse into Boulder's past with the modern features of today's world. Experience this historic location by staying onsite at the Colorado Chautauqua Cottages.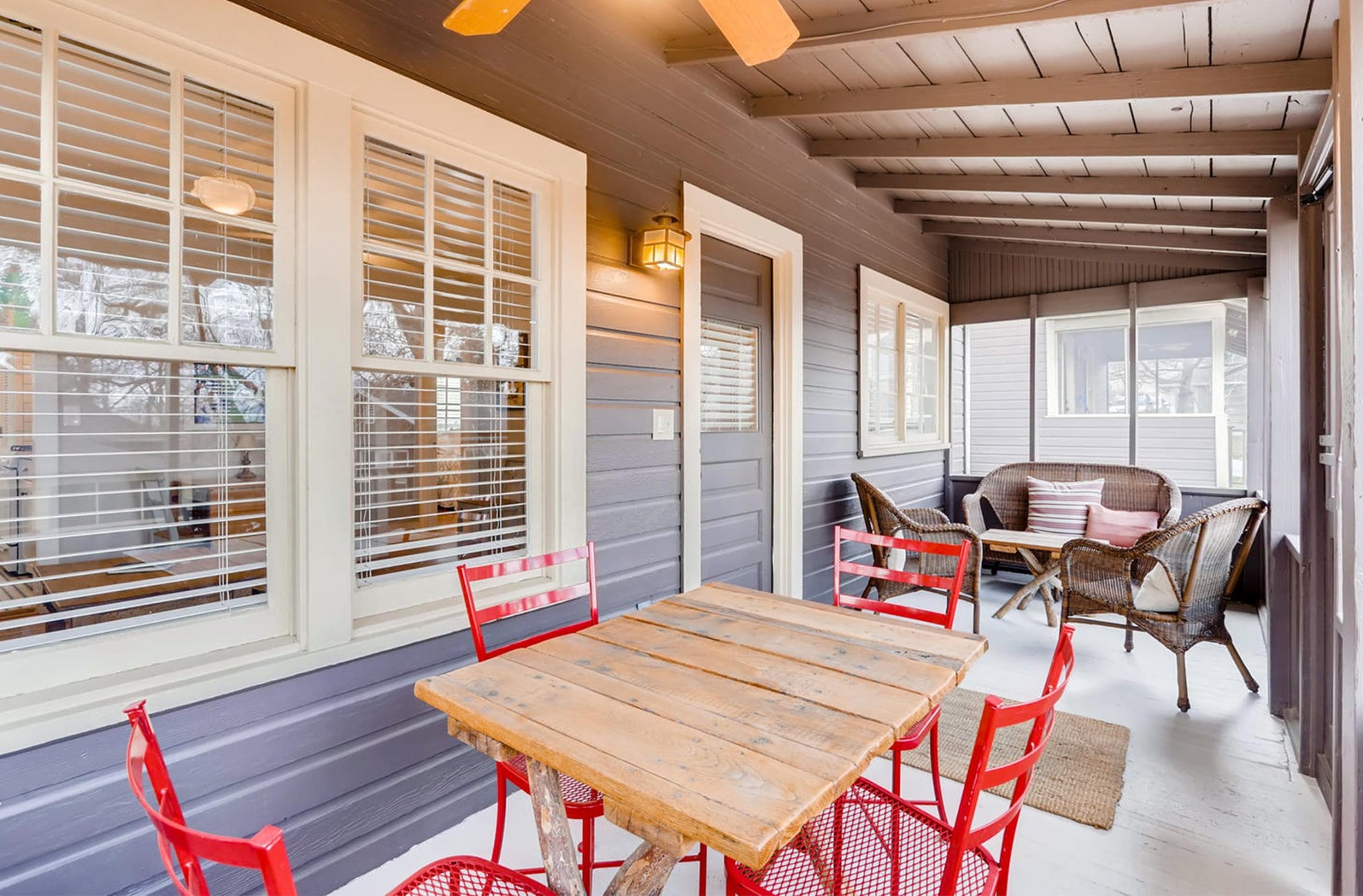 There are 98 cottages that were constructed between 1899 and 1954, and 58 are available to rent year-round. The accommodations are available in studio, one, two, and three-bedroom layouts.
Each cottage features a fully equipped kitchen, living area, updated furnishings, screened-in porch, and unique details that make staying here a one-of-a-kind experience. Cottages can be booked online.
Cabins in Lyons
Just twenty-five minutes north of Boulder along the front range sits the cool foothills town of Lyons. This fun spot puts you within reach of a whole new section of Roosevelt National Forest to explore that you wouldn't see heading straight west from Boulder. It'll be a lot less crowded too, as it's a little more off the beaten path.
These cabins make an excellent base for exploring RMNP less than a half hour north.
Hideout Cabins
If you're looking to get away from it all, then book your stay with Hideout Cabins. Choose from three different cabins located off HWY 7 in Allenspark and Raymond. All are just a short drive from Rocky Mountain National Park, Lyons, and Estes Park.
The River Hideout Cabin is a two-bedroom, two-bath cabin located on the banks of the river. Enjoy all your basic modern amenities including, a T.V., internet, beautiful views, a hot tub, an outdoor patio overlooking the river, a living area, a full kitchen, and a wood-burning stove. The cabin is updated with modern fixtures and furnishings for your comfort and convenience.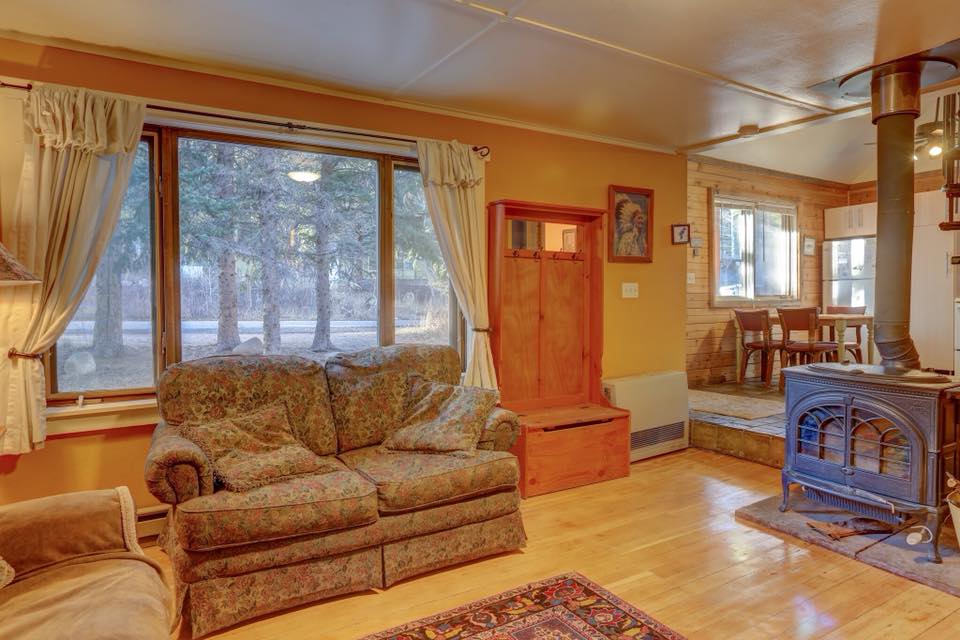 The Aspen Hideout Cabin is located in Allenspark on two acres of private land. Surrounded by a flowing stream and wooded forest, the three-bedroom cabin features a large hot tub, T.V., wood stove, two floors with a main-floor master bedroom, a full kitchen, washer and dryer, two bathrooms, and an outdoor patio with scenic views.
The cabin is updated with modern fixtures and furnishings and can be rented with the Honeymoon Hideout Cabin nearby.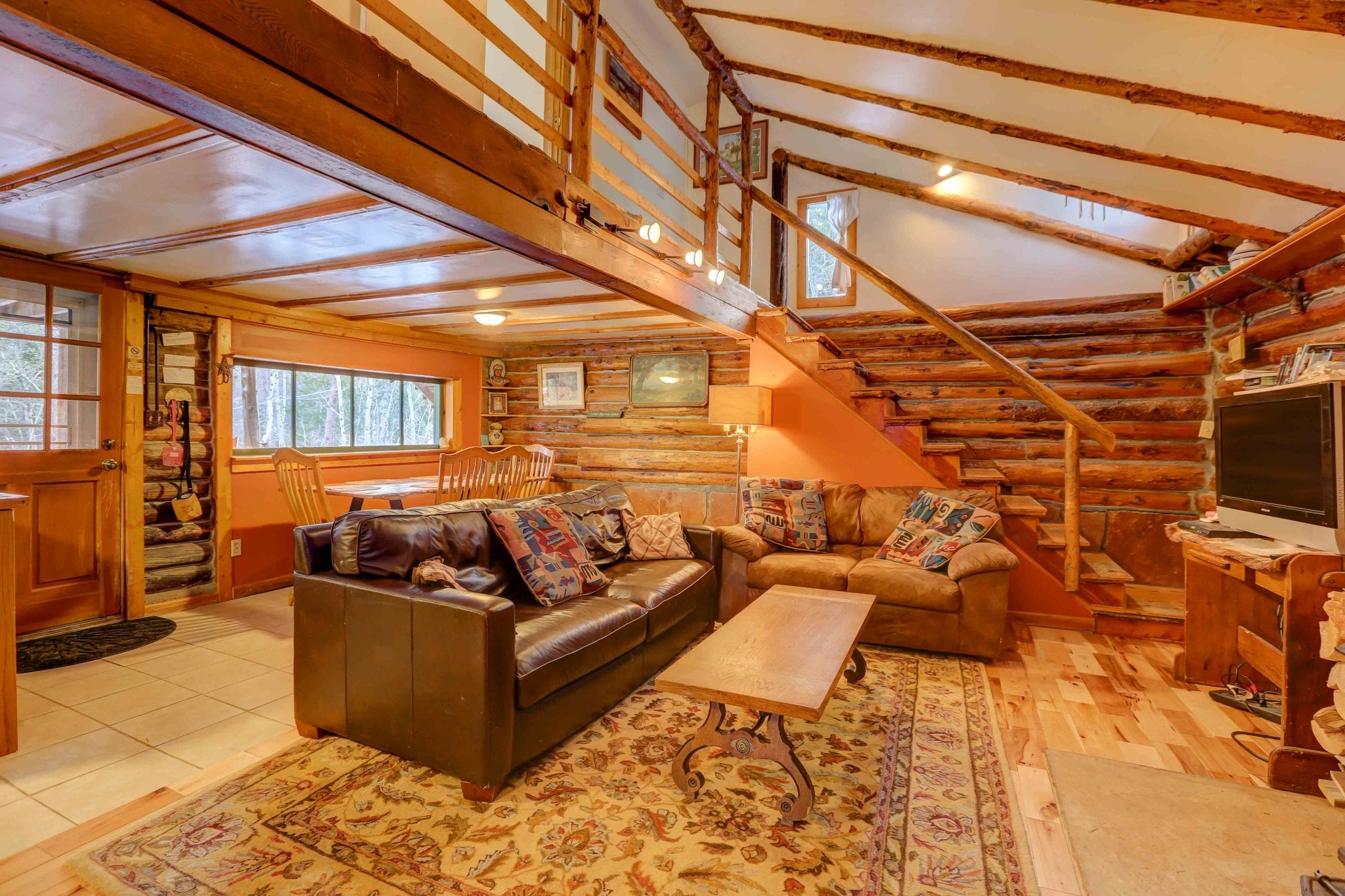 The Honeymoon Hideout Cabin is a cozy cabin for two that features a loft King-size bed and a full bath (futons are available for kids). Also, enjoy the convenience of a full kitchen, wood-burning stove, private patio facing the scenic landscape, and real log walls for that genuine mountain cabin getaway. The cabin is updated with modern amenities and features.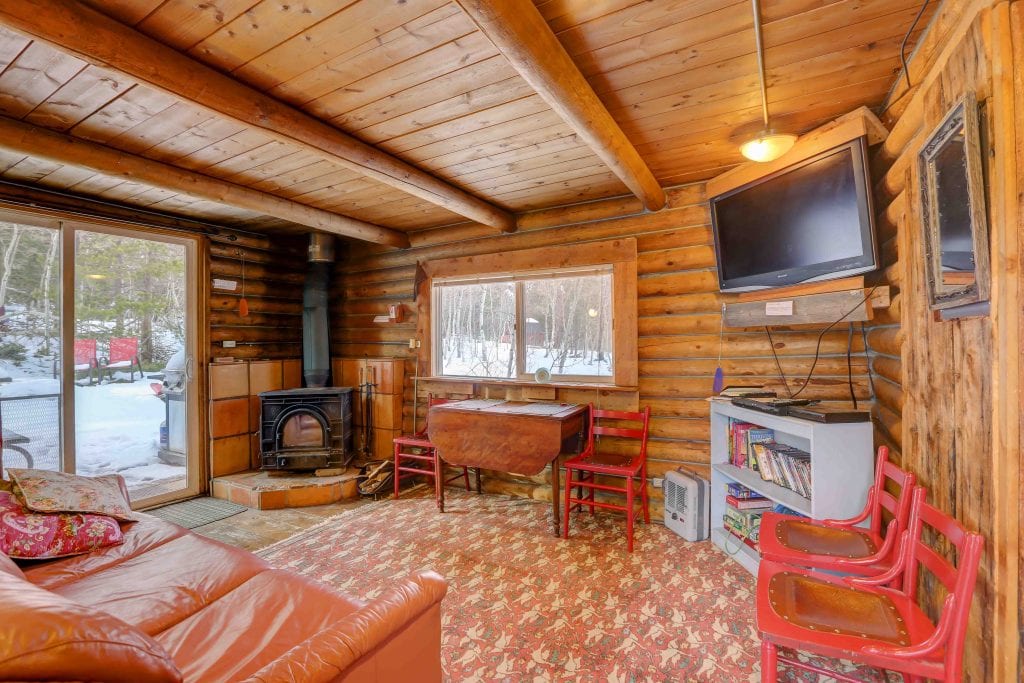 The River Hideout and Aspen Hideout are pet-friendly options. All cabins can be booked year-round online.
Stone Mountain Lodge & Cabins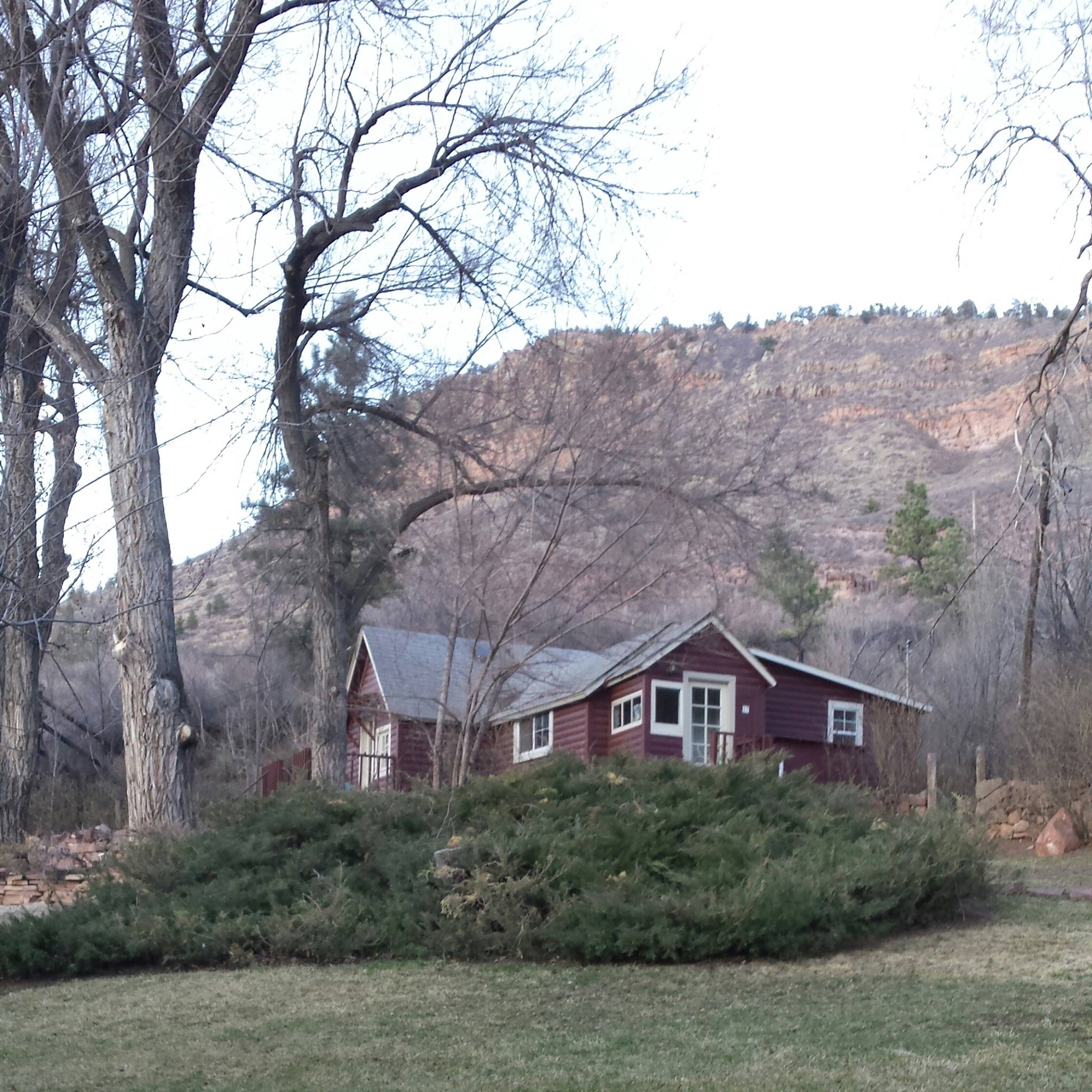 Offering 15 motel-style rooms and six cabins, Stone Mountain Lodge & Cabins rests along a mountainside with casual accommodations to complete your weekend getaway. Enjoy direct access to area trails and their seasonal on-site pool.
The fully furnished cabins offer historical elements along with modern touches including, jetted tubs, full kitchen or kitchenettes, and warming details like a wood-burning fireplace. Each cabin is equipped with your basic amenities including, a mini-fridge or full fridge, a coffee maker, a microwave, TV, and free Wi-Fi. One cabin is pet-friendly, and they all are available for rent year-round.
The Raymond Store & Cabins
Located in the sleepy town of Raymond, near Lyons and 30 miles from Boulder, the Raymond Store Cabins is nestled on the Middle Fork of the South St. Vrain River. The property offers three different cabins for rent near Boulder.
The historic Middle Fork log cabin was built in 1918 and features two bedrooms, which can sleep up to six, a full kitchen, a warming fireplace for those cool nights indoors, and a back patio overlooking the river. The Aspen Leaf and Bunk House cabins are ideal for two, fully equipped with everything you need on your mountain getaway.
With its proximity to Estes Park, RMNP, and Eldora Ski Area, you are close to it all, and yet you can feel like you've gotten away from it all. You can book directly with them online.
Cabins in Nederland/Eldora
Thirty minutes west of Boulder sits Nederland, nestled at 8,228′ in the Rocky Mountain Front Range. It's a laid-back mountain town with an authentic alpine charm and grit. It's the gateway town for the local Eldora Mountain, located just ten minutes west.
There are several great places to eat in this adventurous town and cabins for rent. Consider the following set of cabins for those looking to be in the mountains, but still close enough to Boulder.
Lil Frying Pan Cabin
Found through Google vacation rentals, the "Lil" Frying Pan Cabin in the small town of Wondervu (near Nederland) is this classic mountain cabin. The 100-year-old rustic cabin has been remodeled and updated while keeping its natural charm with details like bedroom walls made of beetle-kill pine.
There is no modern stove or oven but a fireplace and wood stove. Enjoy other amenities such as a refrigerator, running water, plumbing, and a T.V. The cabin sleeps up to four people with a master loft bedroom.
Guests enjoy easy access to hiking and biking trails, plus the Eldora Ski Area is close by for those who want to hit the slopes. Do note, if you're visiting in the winter it's advised to use a 4WD vehicle. You can rent this cabin on VRBO or Airbnb.
With Estes Park just under an hour away from Boulder, cozy cabin rentals near Rocky Mountain National Park aren't far away. As the gateway to RMNP, Larimer County makes the perfect mountain weekend retreat with these cabin rentals near Estes Park.
You don't have to travel too far for a little peace and quiet in the mountains with these cabins to rent near Boulder. Happy trails!