In Red Feather Lakes, Colorado, Bellaire Lake is a 10-acre public fishing hole that can be accessed in the Bellaire Lake State Wildlife Area. Bellaire Lake SWA is surrounded by the Roosevelt National Forest, which provides facilities for outdoor recreation during the summer.
History of Bellaire Lake
Bellaire Lake is named for the late 1800's West Lake area locals Jocelyn and Malcolm Bellairs. According to legend, the name Bellaire simply transpired as a typing mistake, exchanging the "s" at the end of the surname to an "e."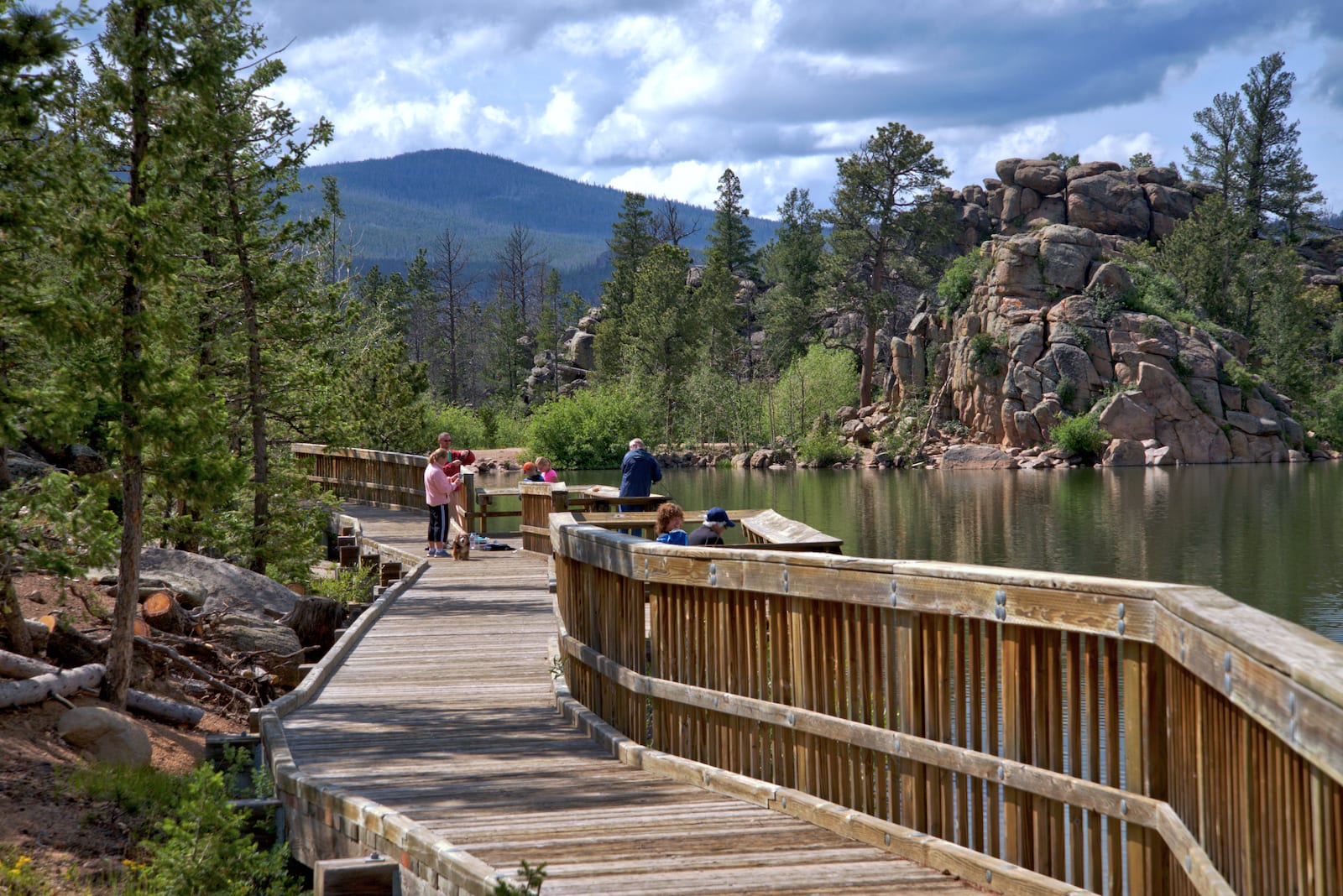 Activities at Bellaire Lake
Bellaire Lake sits at about 8.640 feet in elevation and is surrounded by forests, rock formations, and distant mountain views. Bellaire Lake is best enjoyed as a remote and scenic fishing, camping, or picnic site.
Boating: Electric motorboats, kayaks, canoes, and other hand or wind-powered vessels are permitted for use on Bellaire Lake. Gas-powered motors are prohibited.
Camping: The Bellaire Lake Campground is located adjacent to the shore, which has 26 well-spaced campsites available for a small overnight fee. Reservations can be made in advance and each campsite has a picnic table, fire ring, and space for both tents or RVs.
There are some electric hookup sites available, and all campers have access to the bathroom and drinking water facilities. Beyond the Bellaire Lake campground, there are also opportunities for free, dispersed camping nearby in the Roosevelt National Forest.
Read about the camping near Red Feather Lakes and Cache La Poudre River.
Fishing: A valid state fishing license is required for visitors to enter and fish within the Bellaire Lake State Wildlife Area. The lake offers cold water fishing with a maximum depth of 13 feet. A variety of trout can be caught here, with cutthroat and rainbow trout being stocked each year. Anglers often fish from boats, or else make use of the boardwalk, fishing piers, or shoreline.
Picnicking: The US Forest Service maintains the Bellaire Lake Day Use Area on the south shore of the water. Onsite, there are nine picnic tables with grills, a restroom, and potable water which can be enjoyed for a small day use fee.
Swimming: Swimming is prohibited at Bellaire Lake.
Wildlife Viewing: As a designated state wildlife area, encounters with native species are likely when visiting Bellaire Lake. The lake and surrounding forests are home to black bear, elk, deer, moose, eagles, owls, and other Rocky Mountain fauna, large and small.
Details
Address: Bellaire Lake, 4545 Co Rd 69, Red Feather Lakes, CO 80545
Phone: 970-472-4300
Season: 6/1 – 9/20
Hours: 24/7
Fees: Day Use and Campground Fees
Maps: cpw.state.co.us/learn/Maps/BellaireLakeSWA_geo.pdf