Estes Park is one of Colorado's favorite mountain towns, in no small part thanks to its neighbor, Rocky Mountain National Park. Between the national forest and national park surrounding Estes Park, there's a plethora of campgrounds to accommodate travelers.
Due the popularity of Estes Park, there are campgrounds, many open year round, suitable for everything from long RVs to primitive tent sites. In addition to the great hiking and sightseeing within Rocky Mountain National Park (RMNP), the nearby Roosevelt National Forest provides even more outdoor recreation. Bring your ATV, fishing rod, trekking poles, or whatever you're into, because you can find it here in Larimer County.
If you're coming in spring or summer be sure to check out the amazing waterfalls by Estes Park, many of which are in RMNP. There's no shortage of fun, adventure and camping around Estes Park..
List of campgrounds by Estes Park and RMNP, CO, in order of proximity:
Campgrounds near Estes Park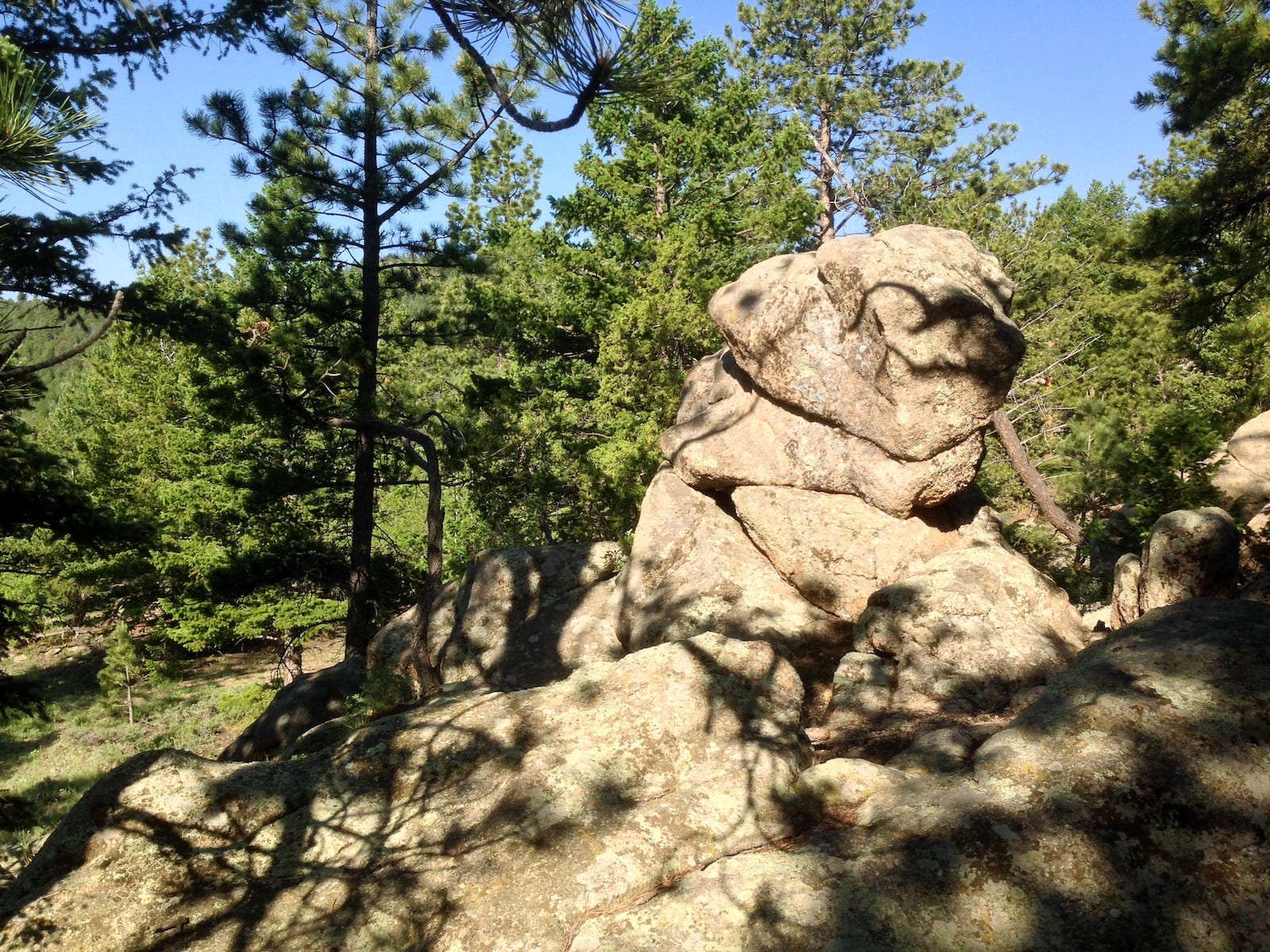 In addition to being the headquarters of RMNP, the lovely town of Estes Park is known for its charming downtown and abundant wildlife, notably elk. Every fall, they host the Elk Fest in honor of the annual elk rut, usually held in late September or early October. This is just one weekend event and excuse to visit this charming alpine town. To accommodate visitors Estes Park has several RV parks close to town with full hookups, as well as some cozier campgrounds perfect for smaller trailers and tents.
Located near the town of Estes Park this KOA is a perfect launching pad for adventures in Rocky Mountain National Park. A campground with all the amenities, a short distance from the eclectic downtown experience of Estes Park this could be your perfect destination.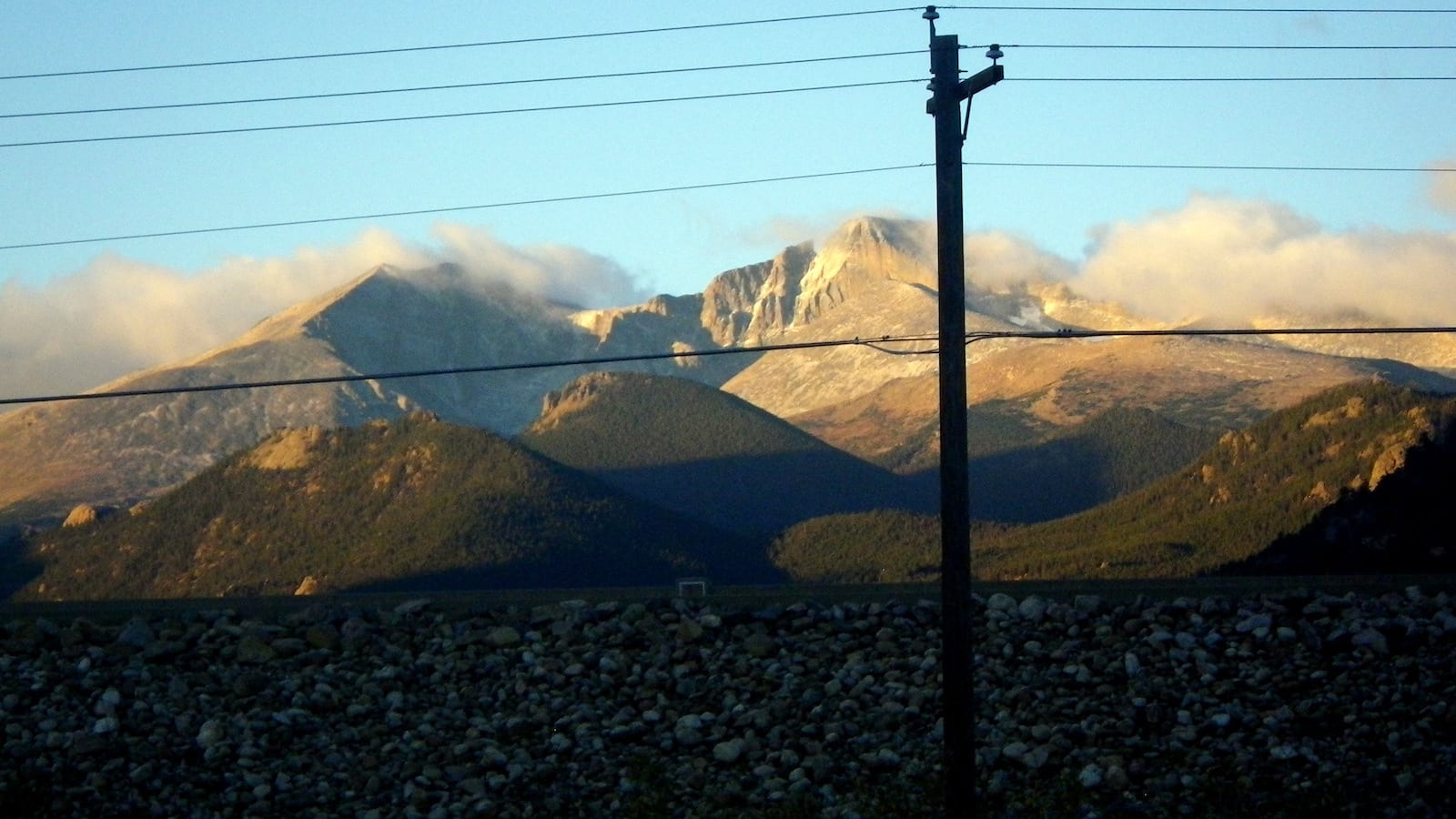 This fully equipped, modern RV park has everything you need to set up your RV or trailer for a day, a week or longer in exploring nearby Estes Park ,and the spectacular scenery of Rocky Mountain National Park.
A serene location with their own trout pond, this fully equipped, modern RV park is a great destination in itself. It's proximity to the activities in Estes Park and the wonders of nearby Rocky Mountain National Park make it the perfect place to explore during the day, and relax in the evening.
A concise, modern RV park with easy access, pull-through sites, and areas that will accommodate the largest RVs on the highway. This RV park has it all. Take in Rocky Mountain National Park during the day, relax in the pool at night and let the kids enjoy all the family amenities on site.
An established campground approaching it's centennial celebration. This historic campground is equipped with all the modern conveniences. Located on the Big Thompson River the campground features sites just above the bubbly waters of this majestic waterway.
Looking for a  campground that can handle every type of camping from tents to semi-tractor big rigs? This is the place for you. Adjacent to Mary's Lake and just a few miles from Rocky Mountain National Park this campground has myriad activities of its own and is the perfect base camp for day trips into the national park.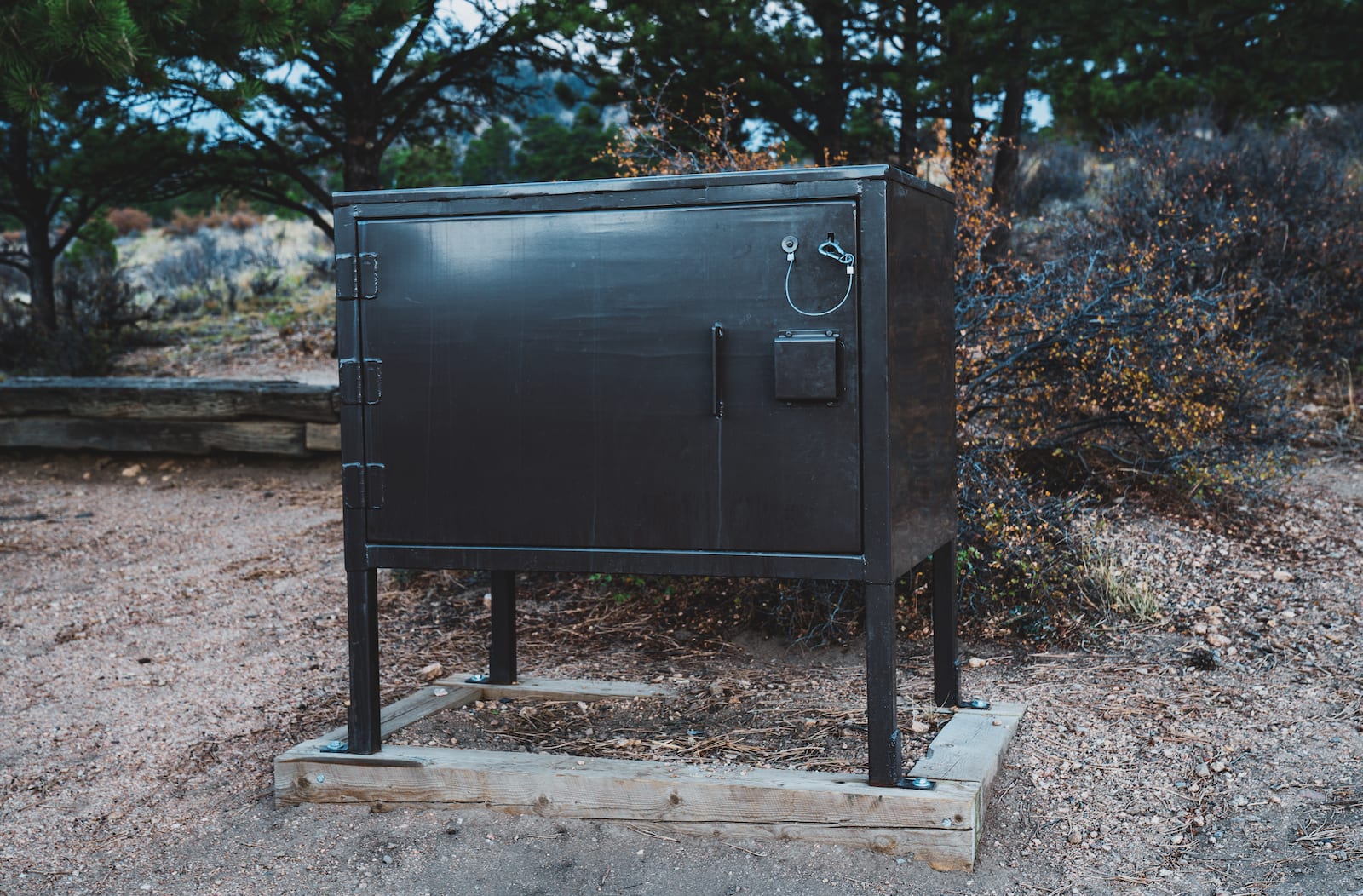 This campground operated by Larimer County is part of the 1,362 Hermit Park Open Space. Wetland meadows, ponderosa pine, and aspen groves provide scenic backdrops for the visitor. A group pavilion can host up to 175 people, making this an ideal location for gatherings and group activities.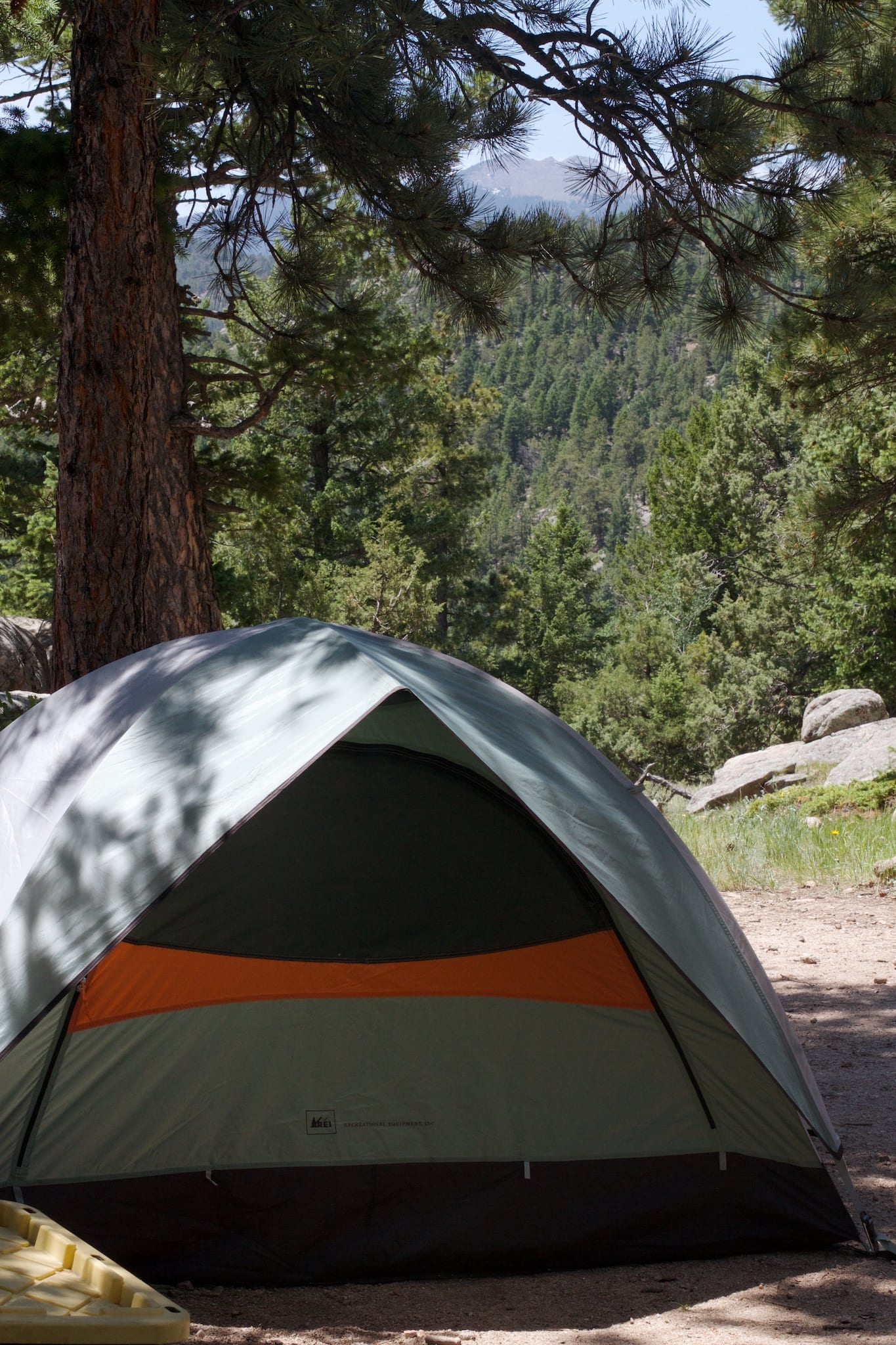 A cozy campground for smaller RVs and trailers this area features fantastic views of the Colorado Rockies in a quiet setting that is still just minutes away from bustling Estes Park and the myriad adventures in Rocky Mountain National Park.
Reacquaint your children and grandchildren with one of America's all-time favorite cartoon families. Yogi, Booboo, Cindy and Mr. Ranger come alive at this themed campground.  Loads of activities await the camping family along with close proximity to the natural wonders of Rocky Mountain National Park.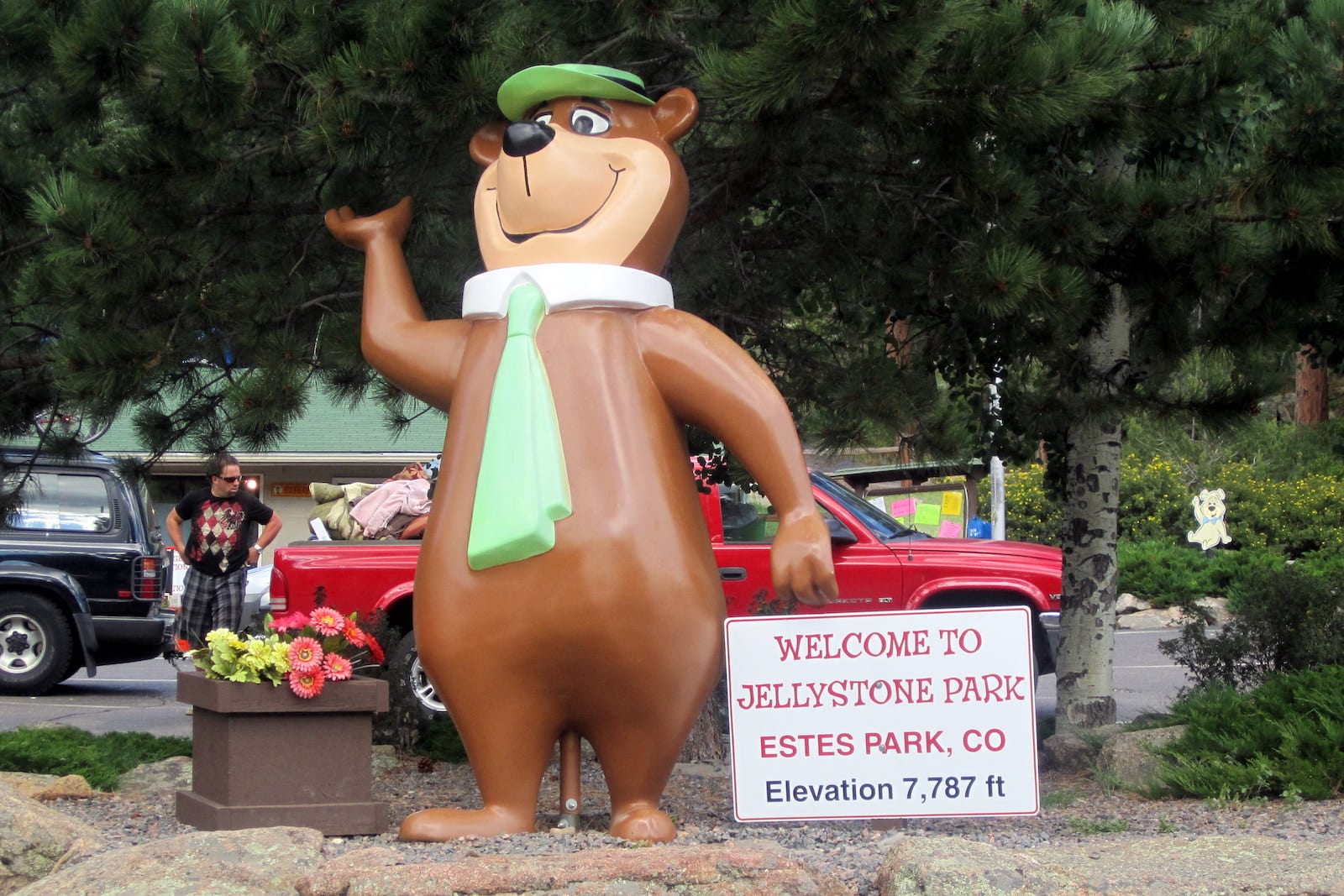 If you're the back to nature type, this primitive camping area is for you. It is a pack-it-in, pack-it-out area with no trash receptacles, toilets or other amenities. The views, particularly in early morning, late evening and under starlit skies are spectacular.
Camping in Rocky Mountain Nat'l Park by Estes Park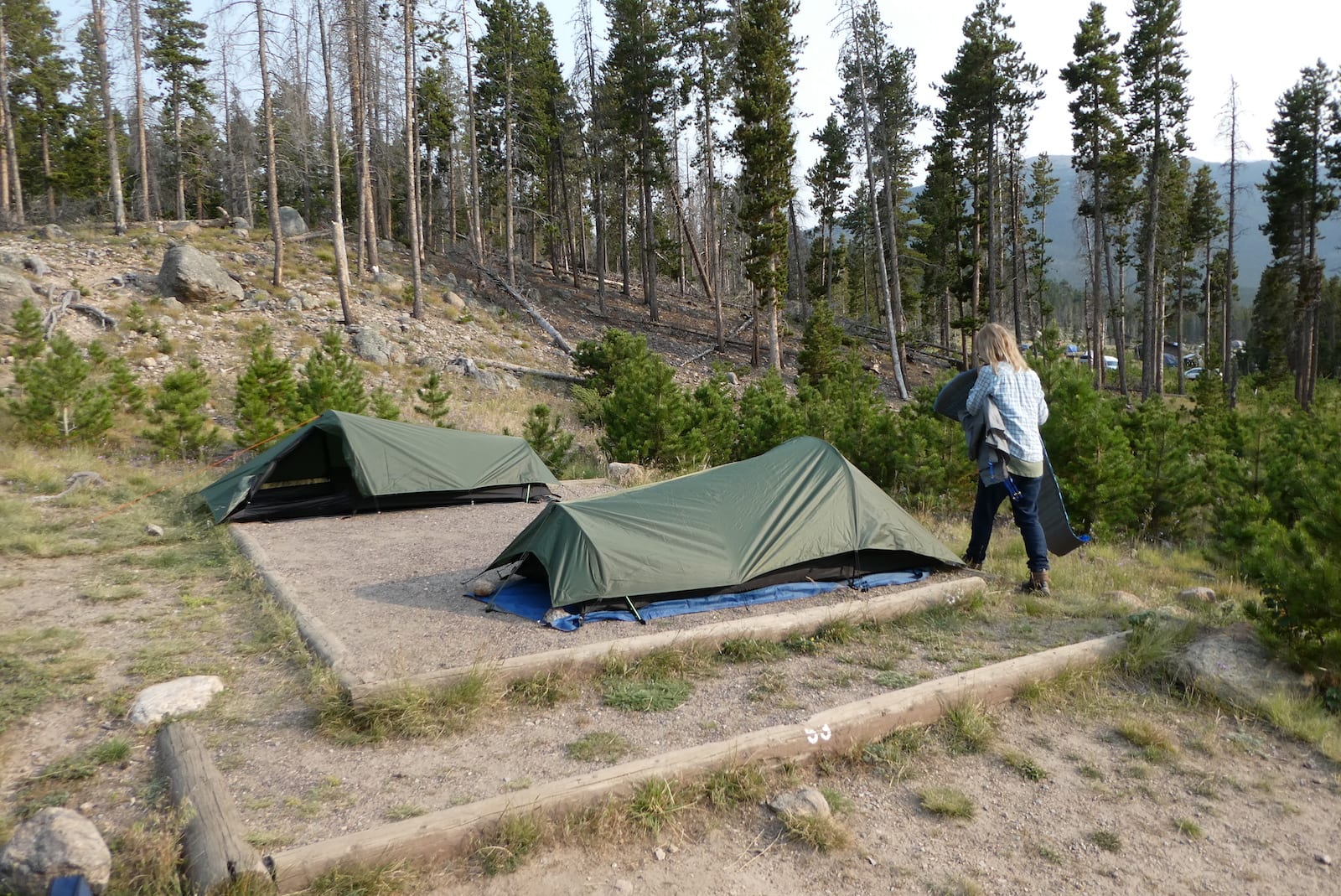 Colorado's most popular park welcomes visitors year round. There are five campgrounds at Rocky Mountain National Park, three of which are open year round. Four out of five of them are located by Estes Park, the other one called Timber Creek, is the only campground by Grand Lake in RMNP. You can reserve your campsite at Aspen Glen, Moraine Park and Glen Basin ahead of time, while the Longs Peak Campground is first-come, first-serve.
Located near the entrance to Rocky Mountain National Park this campground has features attractive to every outdoor enthusiast. Close access to all the wonders of the nearby national park with attractions of its own right inside the campground. This is a very popular site.
This campground has paved roads with gravel parking spurs. It is a popular campground for tent camping with a few RV sites available. The campground is set in a nice mix of Douglas fir, lodgepole pine and Ponderosa pine with most campsites offering at least partial shade. Wildlife is plentiful and easy to spot.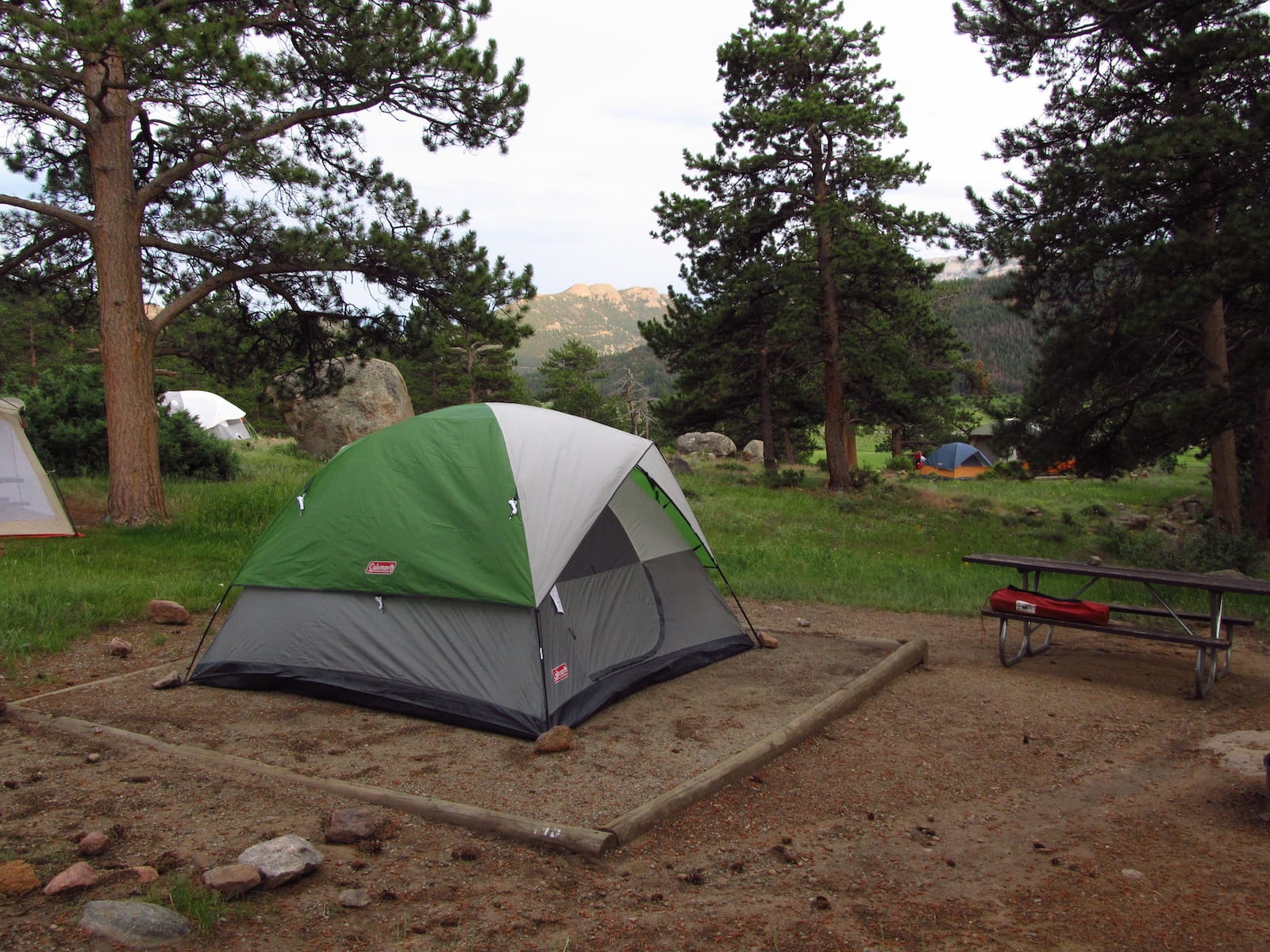 Located inside Rocky Mountain National Park this campground has access to dozens of trails, part of over 355 miles in total inside the park. Waterfall trails are nearby. Panoramic views are a standard feature along most of these trails. This popular campground has all the basics for a fabulous getaway back to a simpler time.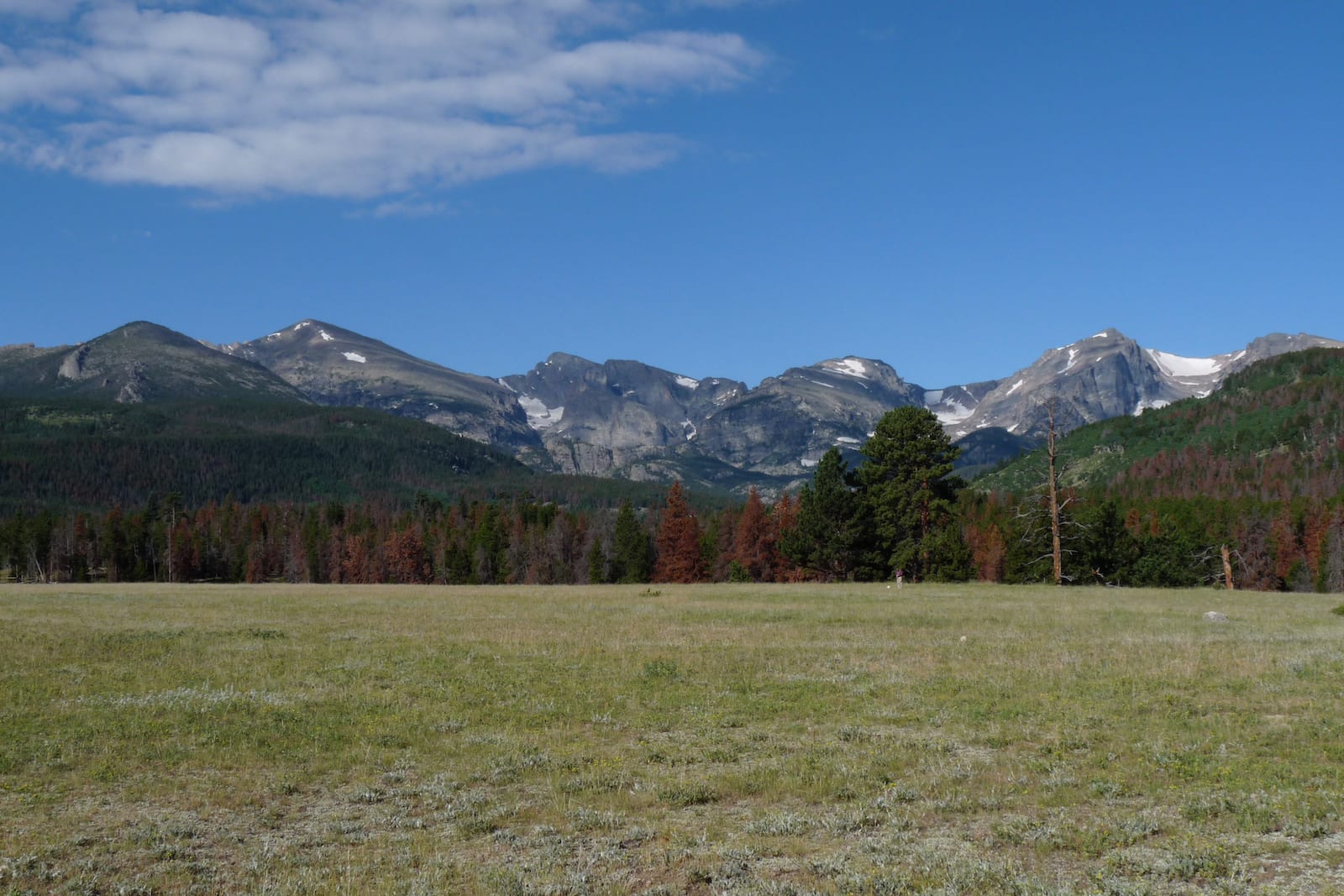 This primitive campground is a challenge to reach. With few amenities, this is tent camping at its simplest level. The views, wildlife and night skies make the effort well worth it to reach this campground.
Backpacking Campsites near Estes Park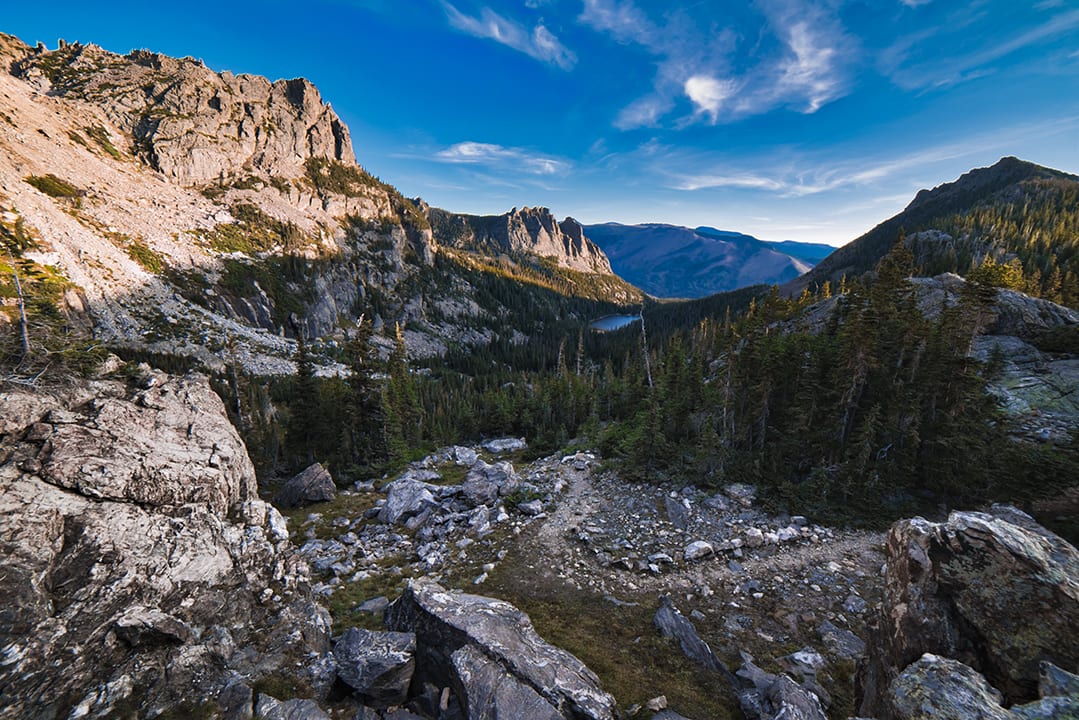 Mountain solitude awaits the hearty camper who makes the trek to this campground. Set in a pine / spruce forest just off the trail into the site, these three campsites are the essence of "rouging it" in the pristine wilderness. Wildlife is a common site in this scenic area.
It takes an intrepid camper to hike the trail that climbs 1,320 feet in altitude in a just a few miles to reach this campsite.  With no amenities the determined hiker can experience nature as it once was without the influence of vehicles or man-made accouterments.
This campsite waits at the end of a winding, the up and down trail that rises a total of 1,180 feet but reaches heights of 1,870 feet above the trailhead before descending back down to the campsite. Set in a subalpine spruce/fir forest at the end of Odessa Lake this is a pristine site for the experienced hiker.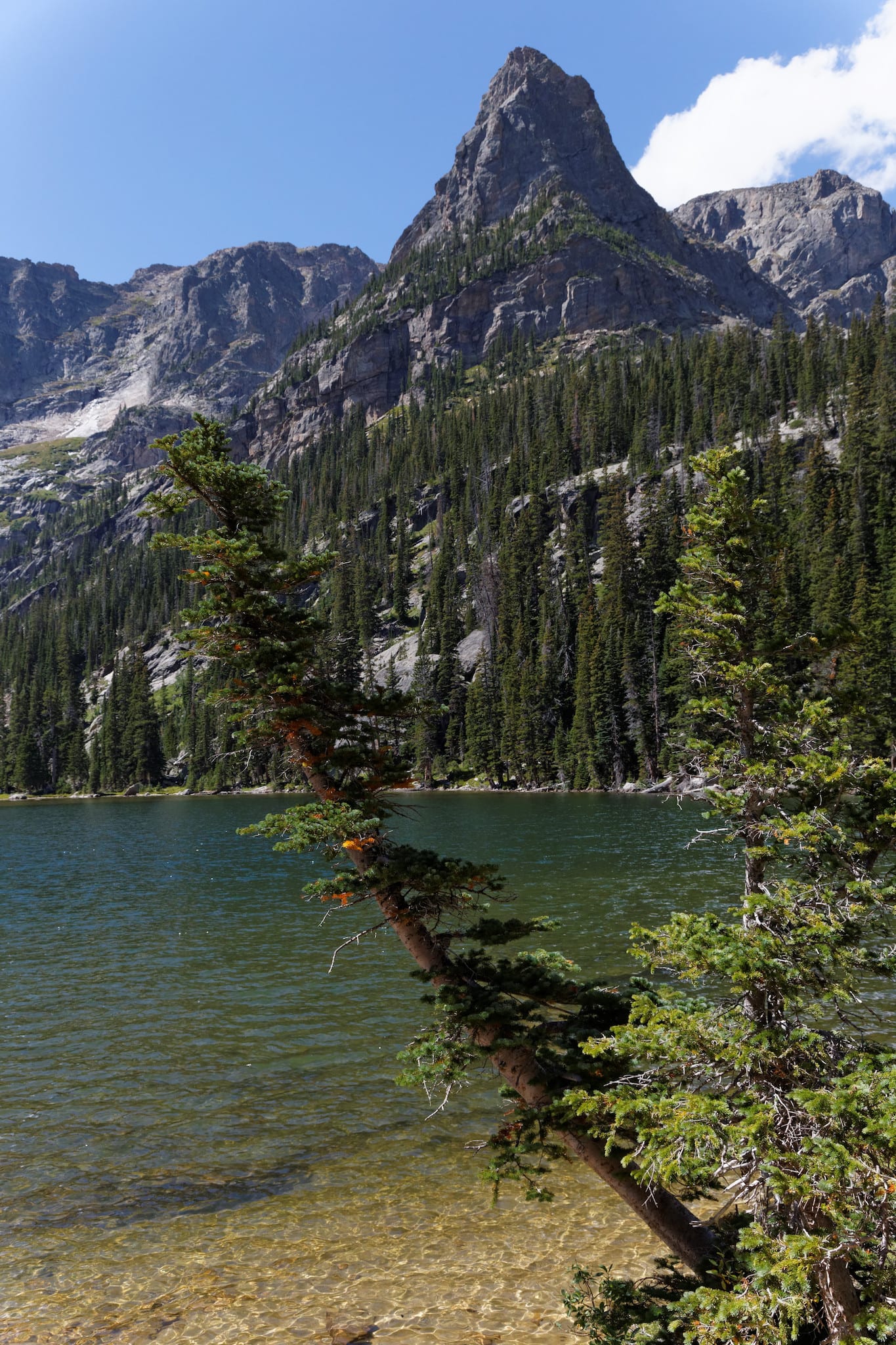 Picturesque Fern Lake adds the beauty of pristine water to the already spectacular mountain backdrop of towering spruce and fir trees at this campsite. It's a challenge to get there on either of the two trails leading to this campsite. The Fern Lake Trail is straight forward with a steady climb of 1,380 feet while the Bear Lake Trail undulates as it gains 1,180 feet but loses 1,130 along its path.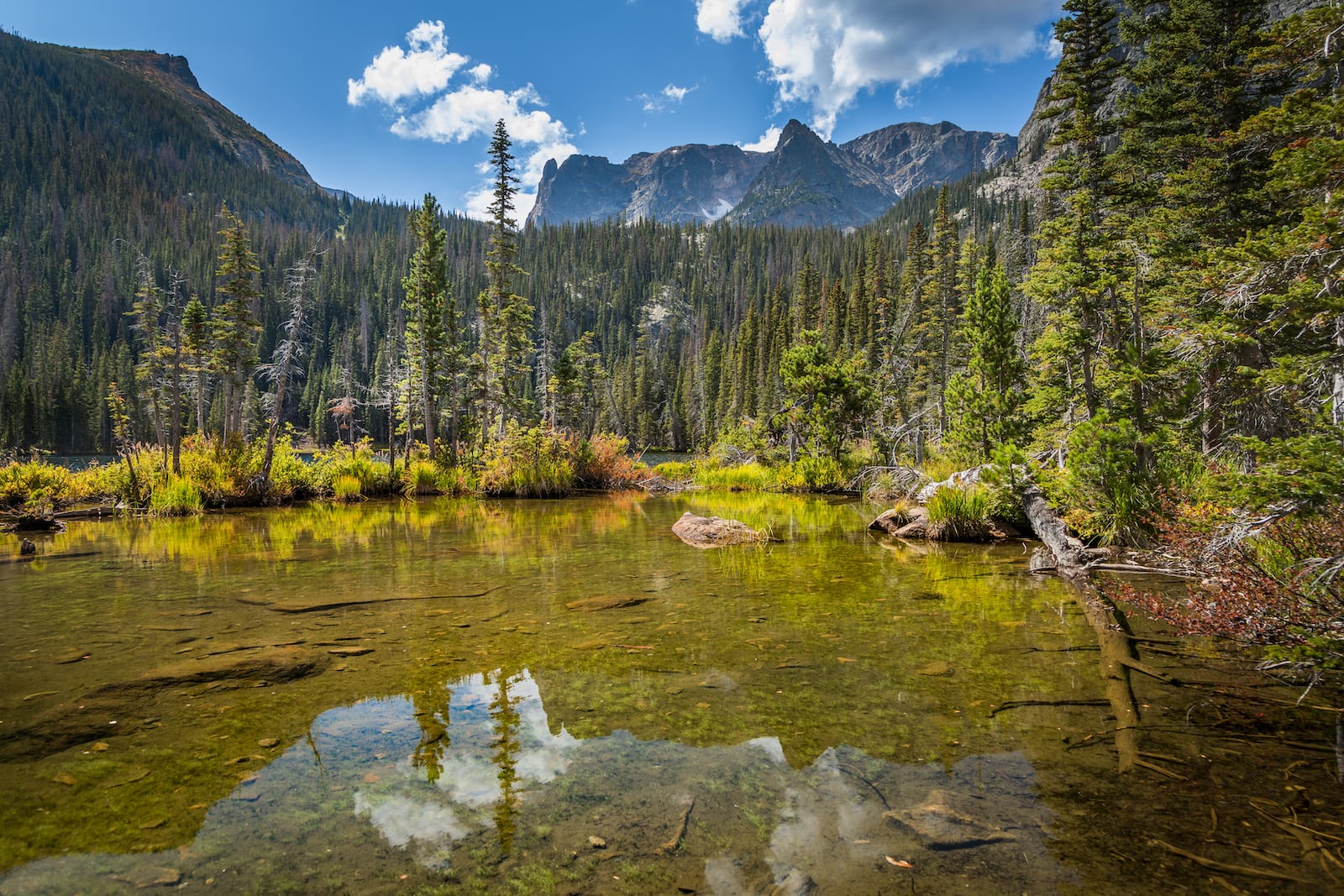 A pair of trails lead to this campsite.  The Fern Lake Trail has a net gain of 1,520 feet while the Bear Lake Trail has a net gain of only 190 feet. The 190 feet gain on the Bear Lake Trail is deceptive since this trail rises 1,380 feet then falls 1,190. A scenic campsite set in a spruce/fir forest waits at the end of either trail.
Consider Allenspark or Loveland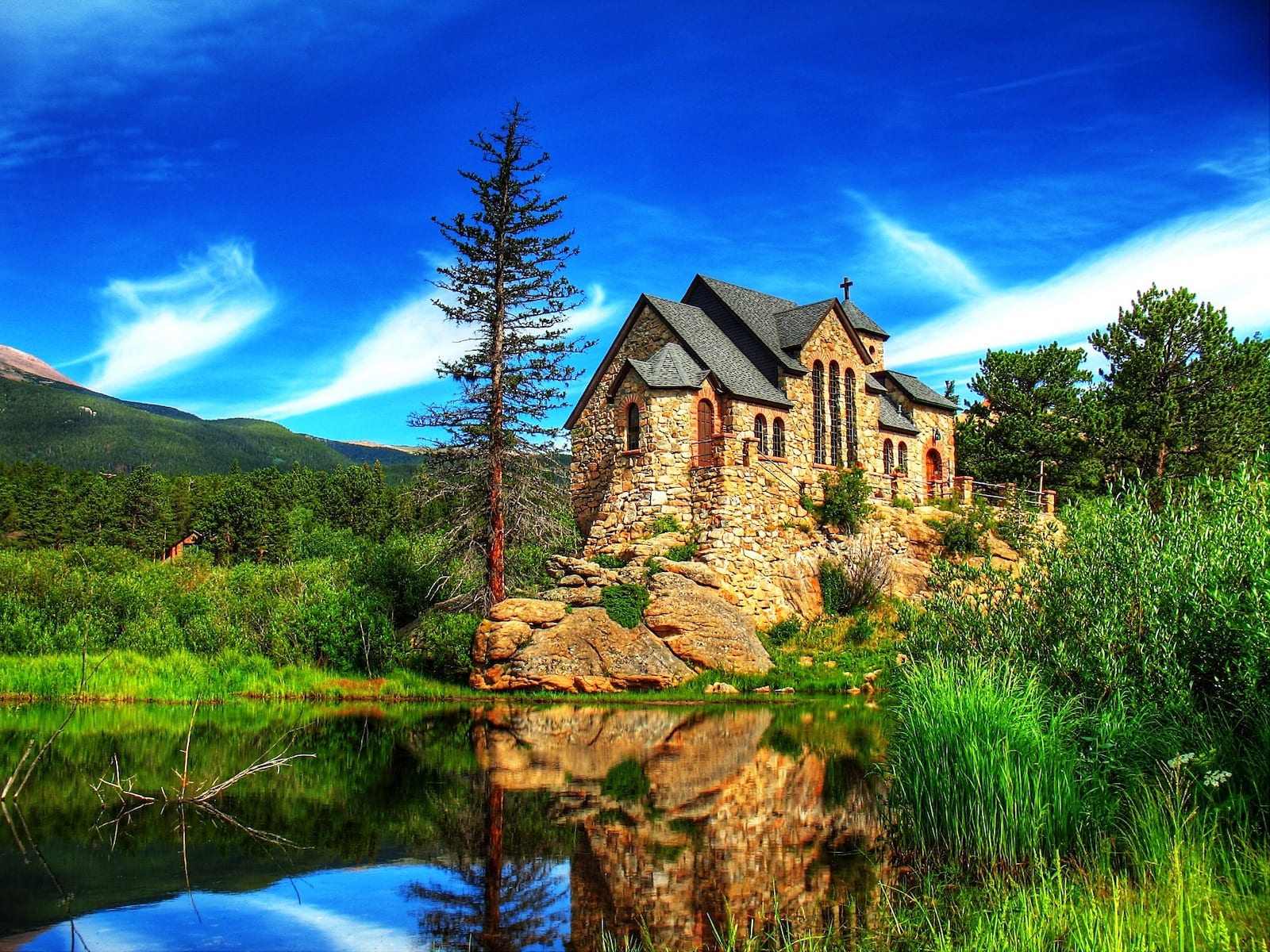 Estes Park is located at the northern start of the Peak to Peak Byway, which traverses three highways, CO-7, CO-72, and CO-119 on its 1.5 hour  journey south to Black Hawk/Central City. The first notable town you'll pass heading south on CO-7/S Saint Vrain Ave is Allenspark in 15 miles. This region boasts a lot of access to the Roosevelt National Forest, including camping. You'll find plenty of cool campgrounds near Allenspark, both suitable for car campers and those you have to backpack into to.
If you prefer to stay on the front range plains in closer access to the big bustling metropolitan, either Loveland or Fort Collins make a terrific base. These two northern front range towns lie only twenty minutes apart, and provide easy access to RMNP within an hour drive's. They are also little more than an hour north of Downtown Denver. There are a few state and public parks with campgrounds near Loveland and Fort Collins, which provide a touch of nature in the heart of the Larimer County
That's a roundup of the top places to camp near Estes Park, around the eastern side of Rocky Mountain National Park. Please practice leave no trace and have a fun time exploring one of Colorado's most exciting areas.