Within Rocky Mountain National Park, Bear Lake Road is a scenic alpine drive filled with opportunities for hiking, picnicking and seeing wildlife. Bear Lake Road is both extremely popular and accessible for park visitors all year round from nearby Estes Park.
13 years after Rocky Mountain National Park (RMNP) was established, Bear Lake Road was constructed in 1928. Since then, the road has become immensely popular with an estimated 2 million visitors each year.
In 2012, Bear Lake Road's first significant maintenance underwent. The construction improved the roads surfaces, widened the lanes to incorporate shuttles and snowplows, and rerouted around sensitive environmental areas.
Bear Lake Road Accessibility
Bear Lake Road is found within Rocky Mountain National Park, which requires a fee to enter. At the end of Bear Lake Road there is a large parking lot adjacent to the lake with bathrooms that are open seasonally.
Due to a limited number of parking spots and extreme popularity, access to the Bear Lake parking lot may be restricted if capacity has been reached. Instead, visitors can take a shuttle to access the Bear Lake Hiking Area.
Seasonality – For the most part, Bear Lake Road remains open all year round. With that said, the route is often closed during winter storms for snow plows to clear the road. As Trail Ridge Road is closed seasonally, Bear Lake Road is the most popular destination for winter visitors from Estes Park.
Vehicle Restrictions – If Bear Lake Road is open, then all passenger vehicles will be able to safely travel along it without the necessity for 4WD or high clearance. The route is paved and well maintained by the National Park Service.
Activities on Bear Lake Road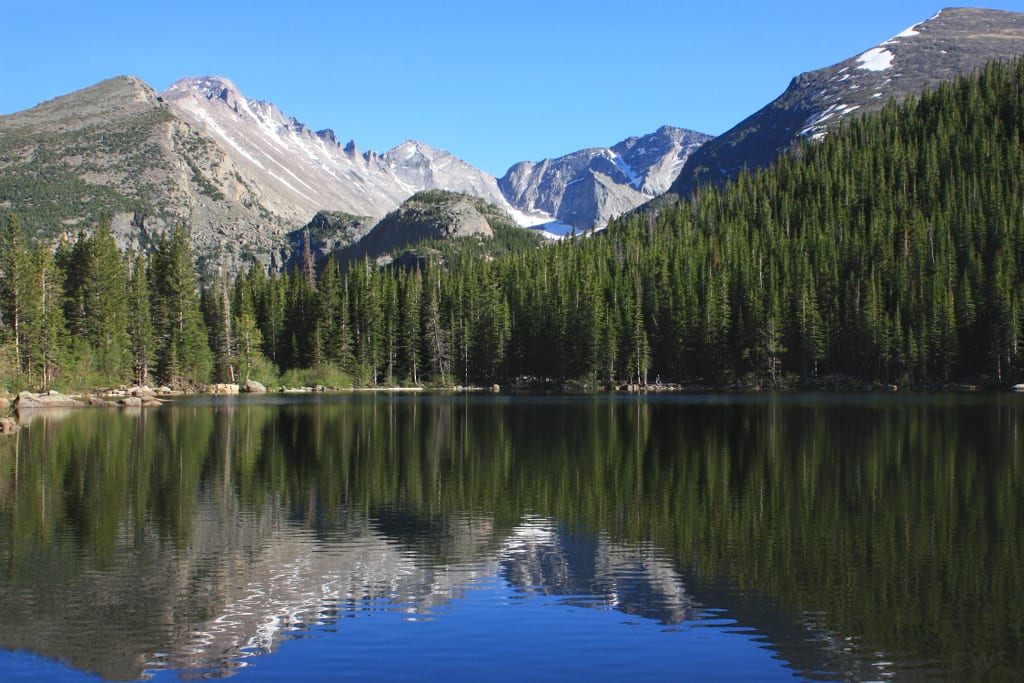 Bear Lake Road allows motorists and road cyclists to travel through 10.4 miles of breathtaking  alpine wilderness from 7,840 ft to 9,475 ft in elevation. It's among the best drives in RMNP for fall colors. At the end of the road, the Bear Lake Trailhead is a great place to start an afternoon hike or overnight backpacking trip.
Along Bear Lake Road, there are also plenty of other parking and picnic areas with access to hiking trails such as Bierstadt Lake and Hollowell Park.
Towards the end of Bear Lake Road the National Park Service operates the Sprague Lake and Glacier Basin campgrounds. Campsites are well connected to a series of scenic trails with space available for tent and RV camping.
Read about the camping near Estes Park and RMNP.
The main draw is naturally, Bear Lake, although only for sightseeing. Boating, fishing and swimming are not permitted in the waters.
Details
Address: Bear Lake Rd, Estes Park, CO,  80517
Season: Year-round (occasionally closed for snow plowing).
Elevation: 7,840 feet to 9,475 feet
County: Larimer County
Mountain Range: Front Range
Coordinates: 40°18'42.1″N 105°38'38.6″W
Access: South of US 36, near Beaver Meadows Entrance and Toll Station