Car camping is a great way to see a lot of sights, in a quick time, for not a lot of money. There's no worry about hiking into the woods with supplies when you're car camping. It requires no more than a few steps from your automobile.
Car Camping Checklist
The following checklist for car camping covers all gear necessary for an easy-going camping experience. It may take some of the "roughing it" out of it, but who minds. And you can always rent an RV near Denver if you'd prefer to glamp it up a level.
1. Tent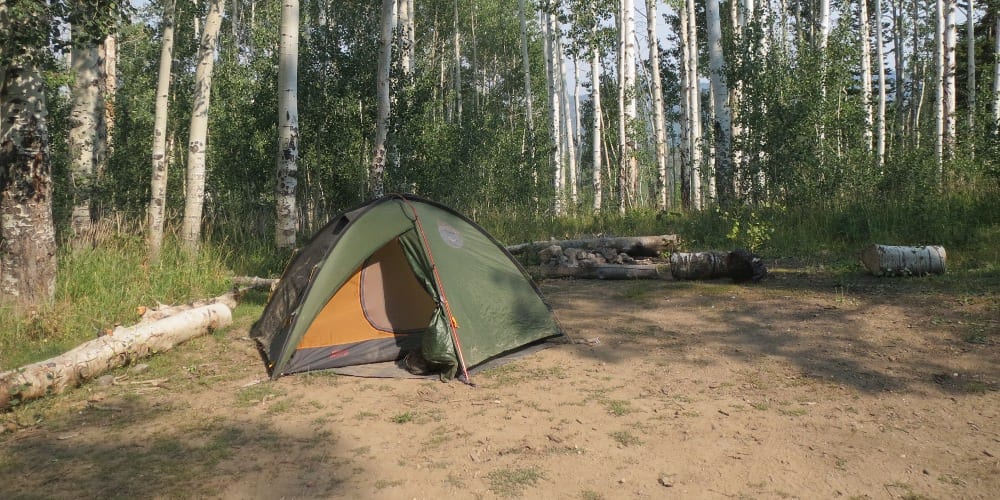 The most important part, especially considering Colorado's cool nights. In warmer parts of the country, a tent may not be necessary. It's also a good idea to know how to set yours up, before venturing out.
Tents range in price, size and just about every other detail. Some cool things to look for:
Vestibule – A covered space just before the inner-door of the tent. It's the ideal place for dirty shoes, a mallet, or anything you don't want in your tent. Tents generally have 0-2 of them. They are very handy.
Ventilation – You always want to have your tent ventilated, even on the coldest and rainiest days. Tents with ventilation near the top are nice since hot air rises.
Window – It's handy to be able to peak outside without unzipping the tent, but at the same time, the sun going to shine in the morning.
Footprint, tarp – Sometimes the ground is rough, why not protect your investment.
REI and Backcountry.com are both smart options for tents. They offer a wide selection and a clearance section for discounted tents, as well as 100% satisfaction guarantees and free shipping.
2. Sleeping Bag
A 40°F rated or warmer is necessary for Colorado summers. If planning on camping in the high mountains, a 30°F or better is recommended. If camping in early spring or into October, a 20°F might be a good idea.
For car camping where weight and space aren't much of an issue, most sleeping bags are fair game. The price usually goes up with degree rating – a 0°F rated would be more expensive than a 30°F. Design-wise most warm weather bags are more spacious inside, and the colder rated bags are more mummy-like.
3. Sleeping Pad
The ones that self inflate are great. They roll up nicely afterward and are available in a few sizes. If car camping, why not get the thickest 3.5″ super comfort pad.
4. Light
Having a few lights around is always nice. These three are a convenient combo:
Lantern – spread light over the campsite, can be gas or electric
Small hanging light – inside the tent
Traditional flash light – or headlamp to walk around with
5. Clothes
Pack smart, but light. A pair of jeans will be worn more than once. Socks, however, should be fresh.
Jacket – waterproof
Shirts, Pants – wicking materials are good if doing a lot of exercise
Hiking boots – nature's dirty
Sandles – nice to have for around the campsite
Socks – wool or anything wicking
Sunglasses, hat – it gets bright outside
Long underwear – if camping in the high mountains, they can add 10°F to a sleeping bag rating – wicking materials, poly or wool
Swimsuit – could come in handy, esp. if visiting hot springs
6. Chair
Something comfortable and compact is key. I went a season without a chair or a table. It was fine. But then I got a chair and table, and it was that much better.
7. Table
If you aren't camping in a campground, or even if you are, it's always nice to have a movable table around. Look for ones that set-up/dismantle quickly and don't take up a lot of space in the car.
8. Fire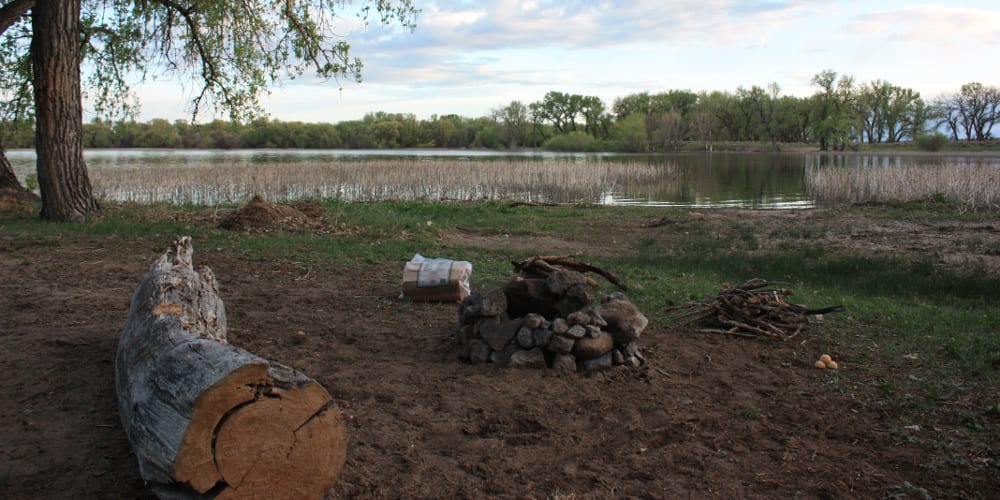 It completes the camping experience, so having the proper tools on hand is crucial. Many places do not allow gathering of firewood, some do. It's usually nice to bring some, just in case.
Weatherproof Matches – or a lighter, though lighters fail
Tinder – This is what you light with the match. It's the fuel. Good tinder can be found everywhere. Try dryer lint, or I like to use paper towels that have soaked up spare vegetable oil around the kitchen. Another DIY-tinder is adding petroleum jelly to the inside of cotton balls. REI also sells some good fire-starter. You could use strips of a pizza box.
Logs – These sustain the fire for the night. It's easy to pick up a bundle at a local gas station or supermarket for $5-$6. A bundle lasts 1-2 hours tops, so maybe pick-up a second.
Medium Sticks – Logs take a while to catch, so a good supply of medium-sized sticks are helpful initially to build the fire.
If looking for free firewood, try checking un-inhabited campsites for wood left behind. It's usually next to the fire pit. Maybe bring some trash bags to put it in too.
9. Water & food
No matter what I pack, I always feel short on ready-to-eat food. Everything requires cooking or preparation and so it just sits in my car. Chips, beef jerky, fruit, veggies, anything quick is good to have. Always pack a few gallons of water – especially in dry climates. Many campgrounds have water pumps. Bring plates, silverware, cups, paper towels, garbage bags.
Beer, if you like it, pick-up a local growler at a micro-brewery. They can be found across the state. Most breweries sell and fill growlers, as long as they have a surgeon general warning on the back. It costs $10-$20 for the growler, but once you have it, it's usually only $8-$11 for a refill. Each holds 4 pints, or 64 ounces/half gallon. Get a neoprene growler cozy too if they offer it—keeps it cold.
10. Cooler
Whether it's to store beers and burgers, or kale and leftovers, a cooler is important to have. There are a range of coolers available, from lunchbox-sized to those with wheels. REI makes a nice smashable cooler called the REI Weekend Cooler. It not only fits more than a similarly-sized hard cooler, but it keeps drinks cooler, longer.
A cool tip is to freeze plastic water bottles the night before. Add them to the cooler for a free freeze, that you can drink later. And your cooler stays clean and water free.
11. Grill
Usually hot food tastes better. There are a variety of portable gas grills that are easy to set up and store. A Jetboil can boil water within two minutes, or soup, or any liquid you add to it. The other option is being in close proximity to restaurants.
12. Speaker
The sounds of nature never get old, but adding music can elevate the mood further. Download some of your favoriting jams and bring a portable speaker. Most speakers hookup to smartphones or tablets through Bluetooth.
13. Map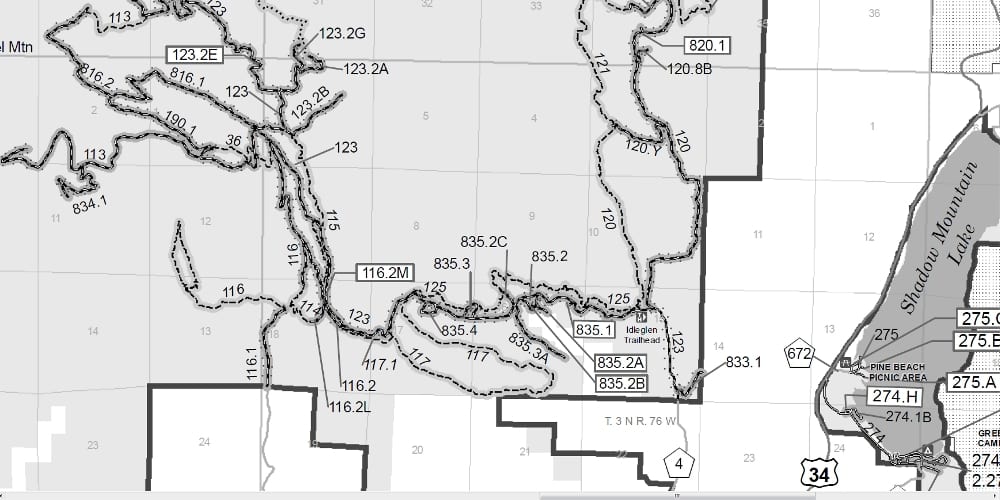 Cell phone coverage is unreliable, especially in the mountains. Colorado offers free state maps nearly everywhere there are flyers and business brochures – gas stations, visitor centers, hotels.
The U.S. Forest Services has motor vehicle use maps covering all 11 national forests and 2 grasslands in Colorado. They can be incredibly convenient, especially if you are looking for dispersed camping or 4×4 roads. Read over Free Camping In Colorado for a list of motor vehicle use maps.
14. Cash
If staying at a campground, bring a variety of bills and a pen for filling out paperwork. Camping fees range from $6 to $24 depending on place and amenities. Some have coin-operated laundry and showers, so bring quarters too.
15. Backpack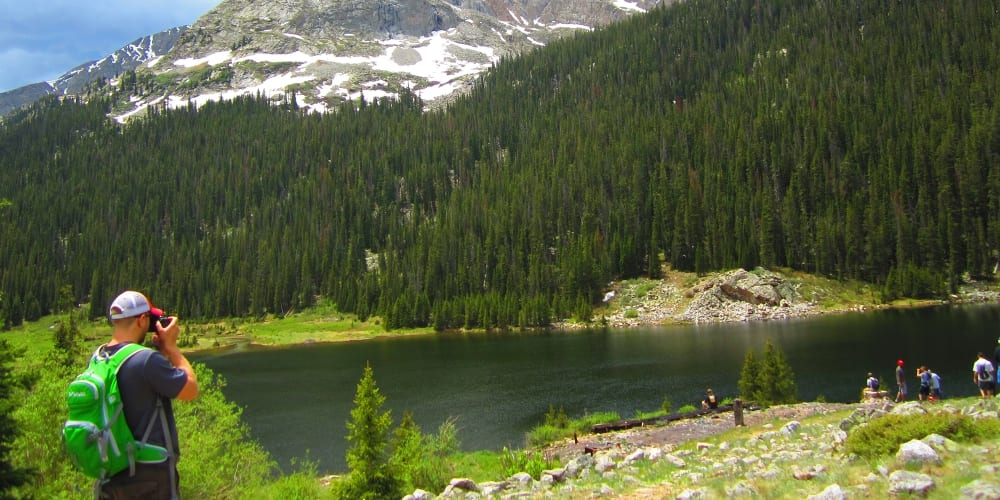 A backpack that's not super big and straps well to your back, always come in handy. Big backpacking bags are great too at fitting everything into one place.
16. Cellular Unit
Don't rely on coverage, but chances are you'll have your phone to use at some point. Keep it charged and use it sparingly – enjoy nature! There's plenty to capture while traveling.
Cameras are double as a digital camera for most people, so I left those off the list. Smartphones take great photos, so, unless you take need professional pixelation and DSLR capabilities, you should be fine, just keep in charged.
17. Toiletries
This includes sunscreen, which is necessary at high altitude. If dispersed camping, pack your own T.P. The general rule is dig a hole and bury it, or pack it out.
And safety first – bring a first aid kit. Most come standard with basic supplies, band aids, antiseptic wipes, gauze pads, blister treatment, scissors, tweezers, medication, etc.
18. Blanket
It could get cold. This item always comes in handy, from padding for tent floor to keep a soon-to-be hair infested blanket for the dog.
19. Knife
Why not carry a knife? I mean you're in the woods kicking it. Uses will include cutting an apple, slicing through packaging and relentless yielding at any opportune moment.
20. Pet supplies
Got a dog? Probably half of you do, so don't forget the four-legger. Leashes, bowls, food, snacks, toys, collar lights, bring it all. Store it in #17 duffel bag. Whoo!
Are there any essentials that I missed? Please leave a comment if you have any to add.