Situated only a few miles south of Nederland, West Magnolia offers twenty-two free campsites surrounded by gorgeous, high-alpine views. There are eight miles of multi-use trails that are open to hiking, biking, and horseback riding.
The park is located on the Peak to Peak Highway, which is a spectacular journey through Colorado's Front Range Mountains. Head south from town on Highway 119 for 2.8 miles, and turn right (west) onto County Road 132W. You'll see a sign for West Magnolia.
Free campsites near Boulder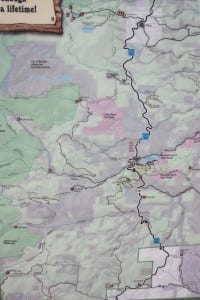 There are no facilities at any of the campgrounds or trailheads, but the town of Nederland is close and offers plenty of amenities. If you camp, please leave no trace. On our visit, there was a good bit of trash left behind previously, and one huge mess by one of the campsites (picture below).
If you go early on in the camping season, the gates may be closed, but you can still walk into the campsites. They usually open in June or later. The road status table shows you whether the West Magnolia gates are open or not.
There are numerous places to park your car and enter the trails, which are shown on the map below. Camping is only permitted at one of the twenty-two designated sites.