Tucked away in the Roosevelt National Forest, the Moffat Tunnel used to offer trips through the Continental Divide. Now it's widely popular for outdoor recreation, mainly camping, hiking, biking, and off-highway-vehicles.
The historic Moffat Tunnel is located about eight miles west off Highway 119 across from downtown Rollinsville. The town consists of a market, bar, and liquor store. The railroad tunnel is still used by Amtrak. So consider taking a train ride thru the Moffat Tunnel from Denver Union Station to Granby sometime.
Free Dispersed Camping near Nederland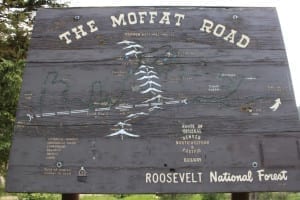 Once you reach the tunnel it dead ends, or you can continue on 4×4 Rollins Pass, which winds for 12.4 miles up to the Divide. It used to cross through the Needle's Eye Tunnel, but that's been closed. Sedans and wagons would be okay making if the conditions are dry, although it's a bit bumpy at places.
Dirt bikes and ATVs are two ways to summit Rollins Pass East. Both Yankee Doodle Lake and Jenny Lake are near the top and are fun to fish and hike around. There are also hiking trails from the tunnel.
Dispersed camping is permitted around the tunnel and on Rollins Pass in the Arapaho and Roosevelt national forests. The free, primitive sites start on County Road 16 when you start nearing the tunnel. Please use existing sites with a fire ring and leave no trace. There are vault bathrooms by the tunnel.