Nestled in the red rocks close to Denver, Roxborough State Park offers amazing landscapes open for exploration. It's a unique community of plant and animal life in an area between the plains grassland and the forests of the Front Range Rocky Mountains.
One of the most exciting features of the park is the Fountain Formation. Tilted red sandstones rise out of the ground at a 60 degree angle; the result of millions of years of erosion and uplift. Elevation ranges from 5,900 to 7,280 ft in an area of 3,329 acres.
It's a Colorado Natural Area and a national natural landmark. To preserve the park's natural state, no camping, mountain bikes, pets or horses are permitted anywhere in the park.
National Natural Landmark

This unique national natural landmark offers a significant illustration of vertical rising sedimentary strata in Colorado's foothills. In addition it preserves fossils, important hogback exposures, odd weathering in Fountain sandstone, and at least two rare plant communities on the front range.
The state park features a number of terrific hiking trails, as well as a visitor center and small gift shop. Snowshoeing and cross country skiing is common in the winter.
Roxborough State Park provides a remarkable sightseeing opportunity southwest of Denver. It's located just south of Littleton and west of Highlands Ranch. Designated in 1980, this 743 acre natural landmark is situate on state land. It's open to the public year round for a day use entry fee.
The rocks are of the same kind as those found in the Garden of the Gods and Red Rocks. There's an abundance of wildlife thanks to the park's unique ecosystems. A combination of landscapes can be found along the foothills, including grasslands, shrub-lands, mountains, forests and more.
Hiking is the primary and really only activity within the park. Biking and horseback riding are not permitted on any trails and pets are not welcome in the park. The fee for daily use is $7 or $70 for an Annual State Parks Pass. The Fountain Valley Trail is a 2.5 mile loop that takes about 1 to 1.5 hours to complete. It brings you by most of the park's most popular formations. Boating and fishing can be found at nearby Chatfield State Park.
Activities
Camping: No, day-use only.
Visitor Center: Has a small gift shop, a small theater and a few wildlife displays. It's open from 9am-4pm on weekdays and until 5pm on weekends.​ The bathrooms remains open until the park closes.
Winter Recreation: Snowshoeing and cross county skiing on designated trails, conditions permitting. Once the Denver area receives a quality snowfall, head out to Roxborough within a couple days to ensure you get some snow to play on.
Trails
Pets, horses and bikes not permitted on trails. Stay on trails, watch out for rattlesnakes and poison ivy. 14+ miles of trails.
Fountain Valley Overlook (0.5mi) – A nice short walk starting at the Visitor Center; Great views of red rocks, Dakota Hogback and Lyons Formation.
Fountain Valley Trail (2.3mi) – A loop through some of the most captivating land in the park. The top of the loop winds past some early 20th century buildings. It takes approx. 1 to 1.5 hours, depending on pace and stoppage. The Visitor Center offers a flip book to take on the Fountain Valley loop. It contains 20 numbered pages which coincide with numbered markers on the trail.
Lyons Overlook (1.3mi) – Puts you right in the middle of the Fountain Formation.
South Rim Trail (3.0mi) – Begins at the Visitor Center taking you through a variety of habitats; Remarkable views of the Fountain, Lyons and Dakota formations.
Willow Creek Trail (1.4mi) – A gentle trail known for its wildflowers and abundance of birds, who are attracted to the trails' scrub oak.
Carpenter Peak (6.4mi) – Just over six mile round-trip hike to the highest point in the park; Moderate to steep terrain; Spectacular 360° views from the top. Watch for golden eagles.
Details
Address: 4751 East Roxborough Dr, Roxborough Park, CO
Phone: 303-973-3959
Season: Year round
Hours: 7am – 9pm daily, 'til 5pm in winter
Fees: Yes, daily vehicle fee or annual pass
Pets: Not permitted in park.
Designated: 1980
Acres: 743
Ownership: State
Map: Roxborough (PDF)
Website: cpw.state.co.us/… | nps.gov/…
Latest in Roxborough State Park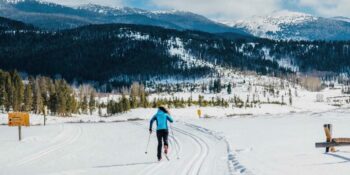 Wintertime in Colorado is one of the best times to play outside. With snow-covered peaks and…